Kitchen windows play an important role in bringing natural light and ventilation into the kitchen. No matter their size, location, or shape, they all have the same function. When it comes to decorating your kitchen window, there are many eye-catching ideas that make a pleasant and positive atmosphere. From attractively designed drapes and embellishments to potted plant displays, dressing up the kitchen window can completely change the entire look and feel of this room.
If you want your kitchen to reflect your personal style while providing a warm and welcoming atmosphere, then you should know how to decorate your kitchen window. Here we will share our most inspiring kitchen window decorating ideas to wake up your creativity!
Kitchen Window Decorating Ideas
Ceramic Roosters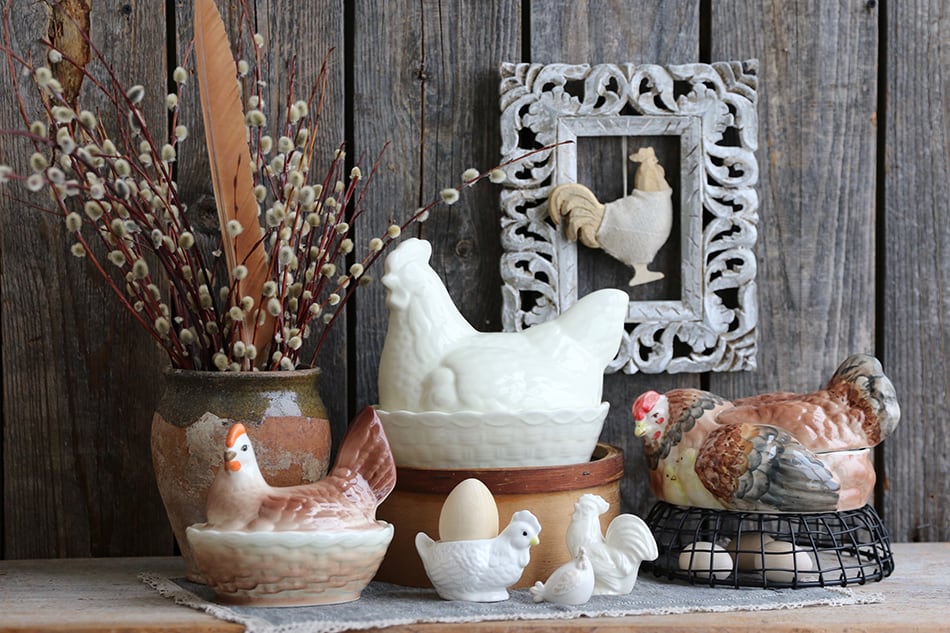 Using your kitchen window sill as a platform to display farmhouse-style ceramic roosters is a great way of showcasing your home's style. Ceramic roosters are the quintessential icons of interior decor, whether your home is decorated in French or country style. The colorful and fun nature of ceramic roosters add depth to any kitchen window and have maximum impact in a rustic-style kitchen.
When selecting your roosters, go for different heights and colors in order to coordinate with your kitchen colors. Try to mix in other ceramic items like teapots or rooster-shaped cookie jars to vary the collection. This idea is sure to create a focal point in your kitchen.
Elegant Candles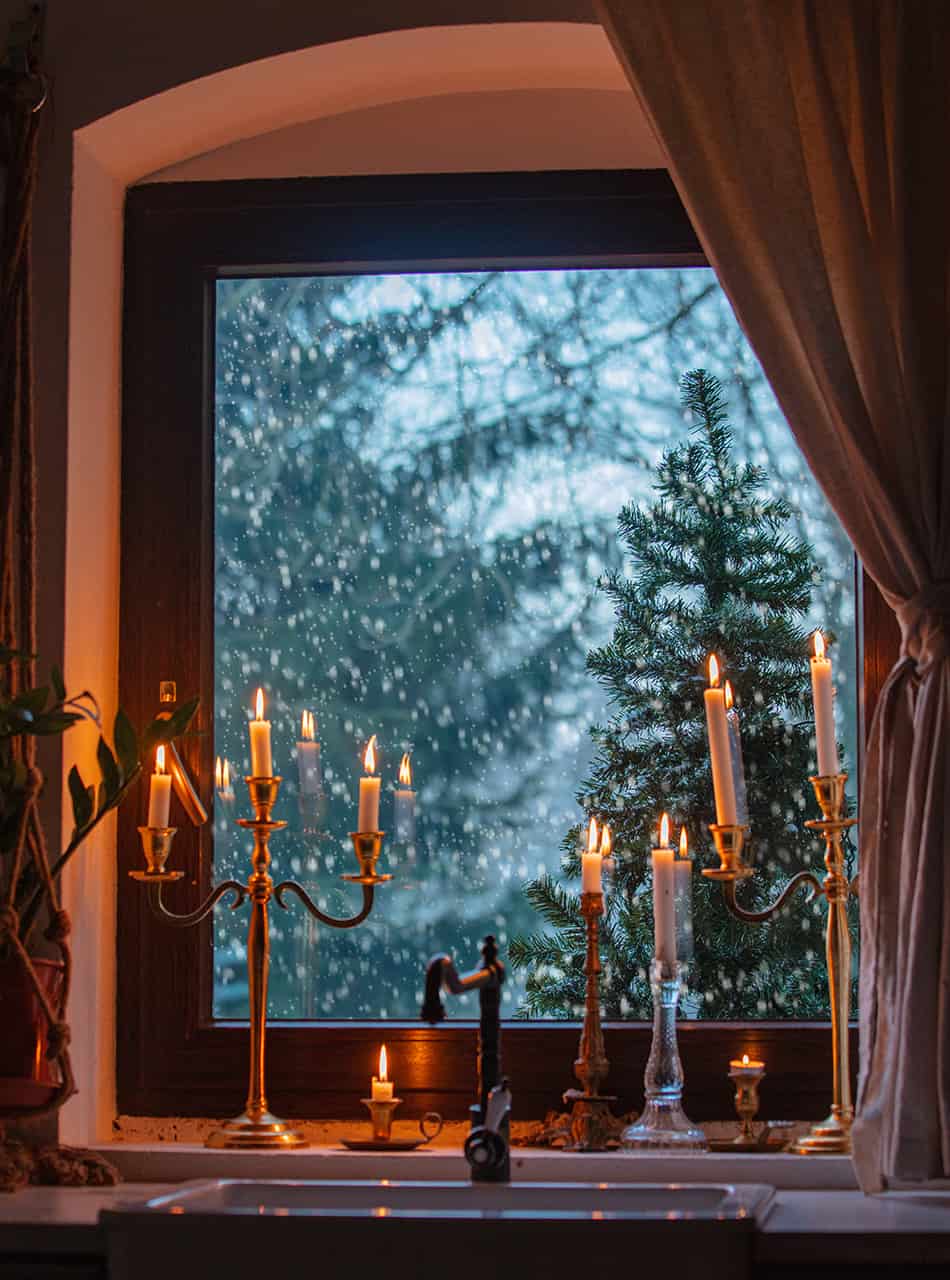 Dressing a kitchen window with elegant candle holders is a surefire way of accentuating this part of the room. Use black or white candlesticks in different heights and shapes for maximum effect. The color you choose will unify various styles and soften the look in a busy kitchen. Metal candle holders work especially well on window sills that are close to the sink area. Top the window sill with a few crystal bobeches as additional elegance next to the candle holders. This display is especially attractive at night when the candles are lit up.
Hang Pots and Pans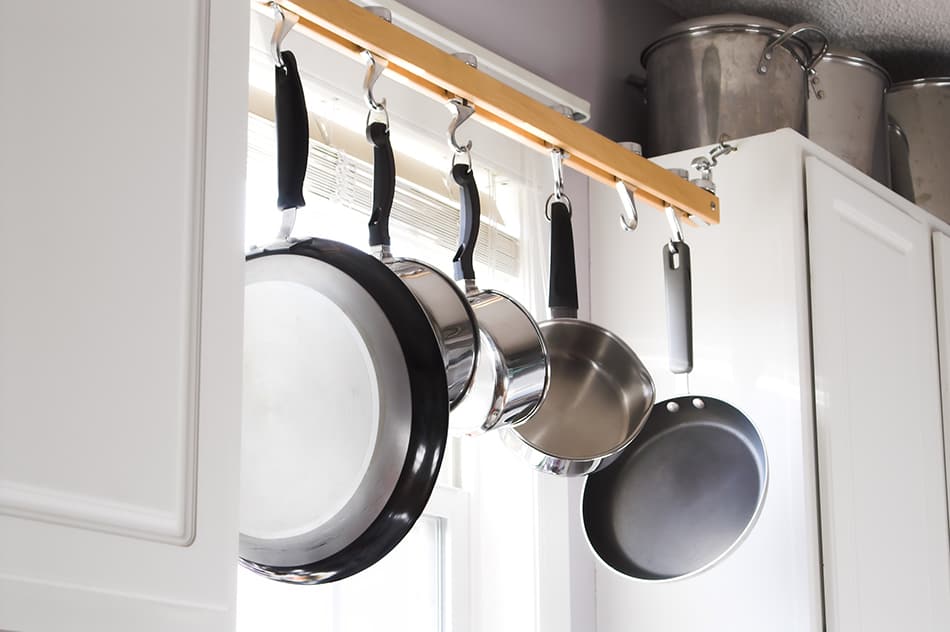 For tall kitchen windows, why not make use of the additional height by hanging pots and pans from the ceiling. This striking aesthetic will draw attention instantly to the kitchen window. Hanging pots and pans is an excellent way to keep these items within easy reach while saving cabinet space. The easiest hanging method of pots and pans is to attach their handles to hooks. And if you have extra room next to the pots and pans, add long-handle spatulas or cups to create a seamless flow in your kitchen.
Stained Glass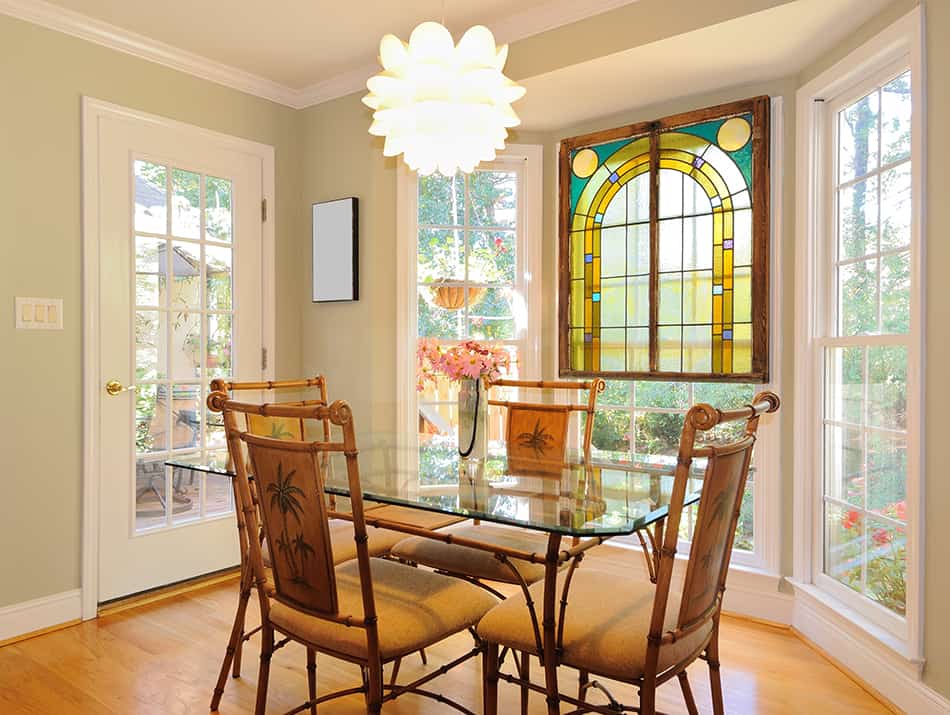 If you want extra privacy without having to opt for frosted kitchen windows, how about stained glass for added style and sophistication. Stained glass kitchen windows allow you to take advantage of bright sunlight without compromising privacy. These unique and colorful window glass designs are increasingly becoming popular for both modern and traditional kitchens, but they do come at a cost.
Stylish Shelving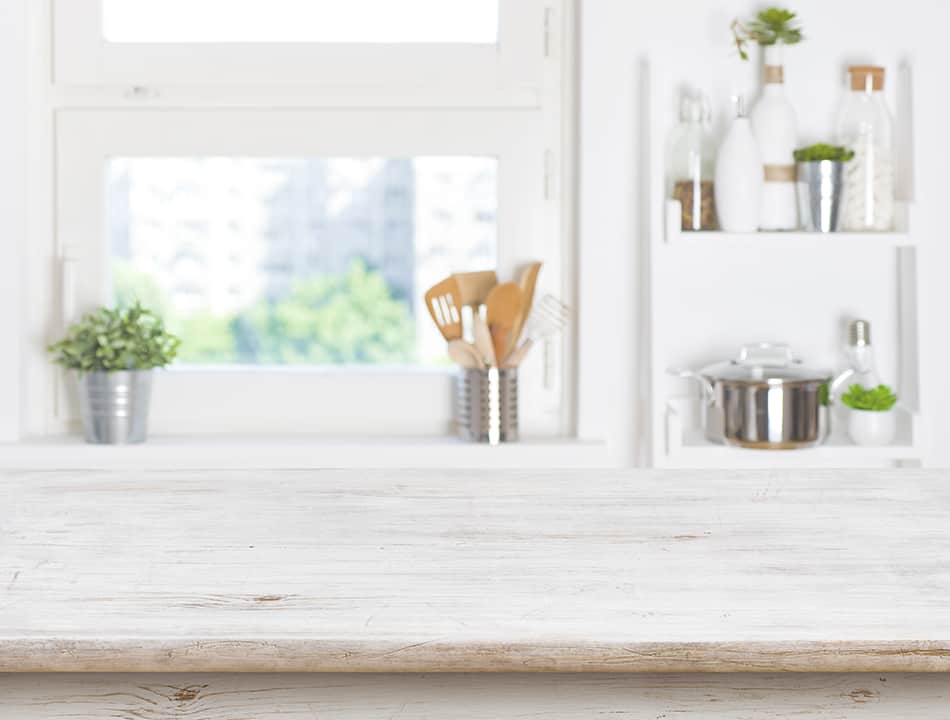 Installing wooden shelves close to the window sill will highlight all your kitchen accessories, such as jars, plants and other knick knacks. Plus it will make your window even more attention grabbing. Wooden shelves are a simple way to add character and help you utilize the space wisely. If you are into DIY, consider installing some shelves on your kitchen window before displaying your kitchen accessories on them.
Bamboo Blinds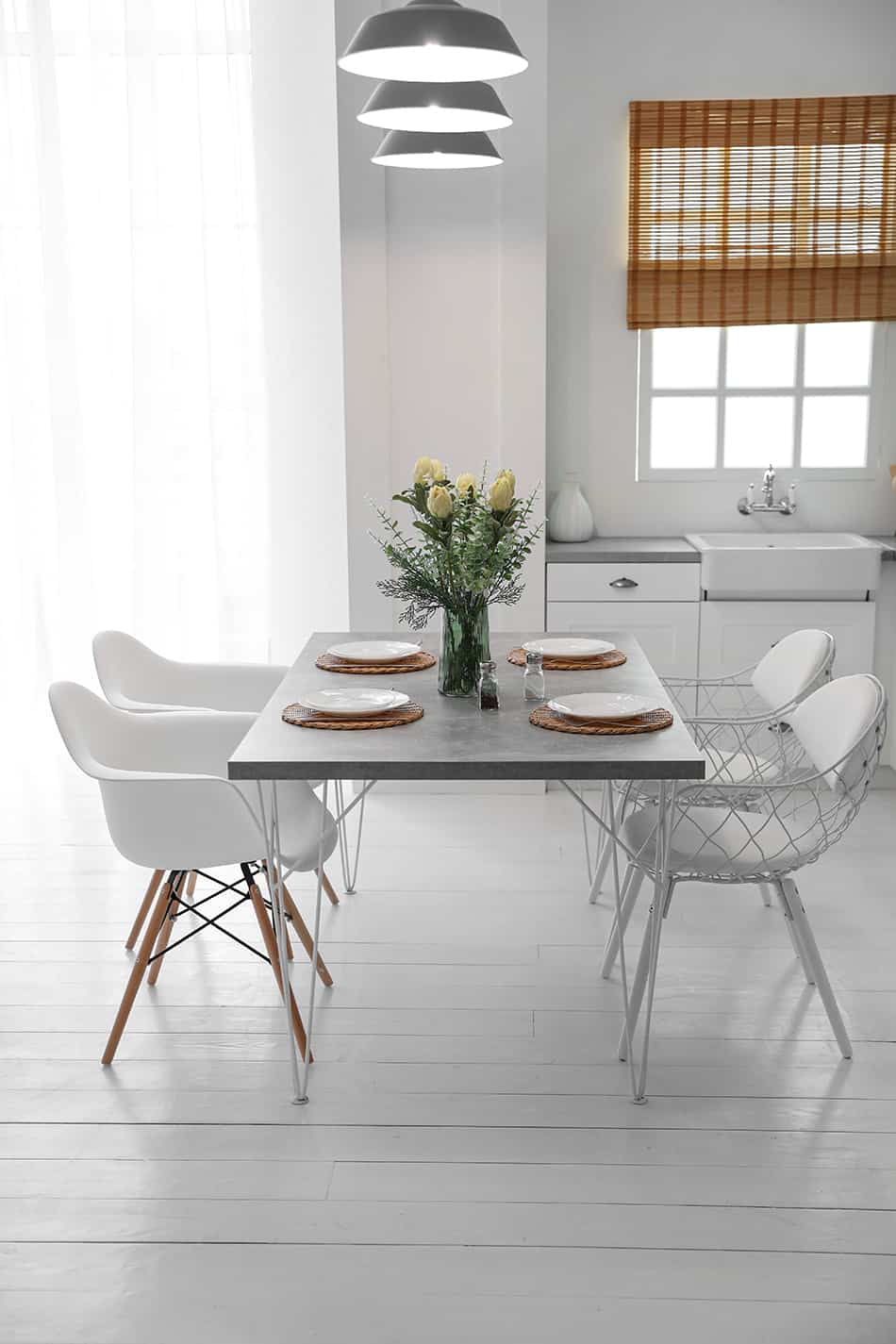 Bamboo blinds are a classic window treatment in any room, but when added to the kitchen window, they provide a clean and cohesive look. These blinds work well in both contemporary and traditional kitchens that not only improve privacy but also control the amount of sunlight coming through.
Other blinds that work just as well for dressing your kitchen window include Roman and Venetian blinds.
Indoor Folding Shutters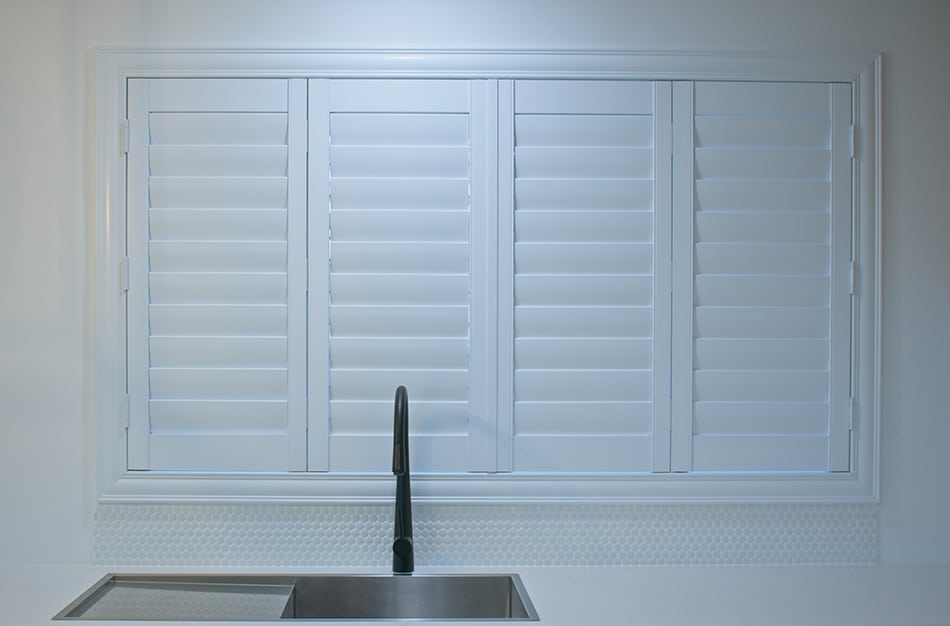 Indoor wooden shutters bring a classic look to any kitchen window. Whether you choose light or dark folding shutters, they both look equally inviting in cottage or farmhouse-style kitchens. For a truly traditional look, use barn door hardware to accentuate the shutters and make them stand out in your kitchen.
Sconces or Overhead Lighting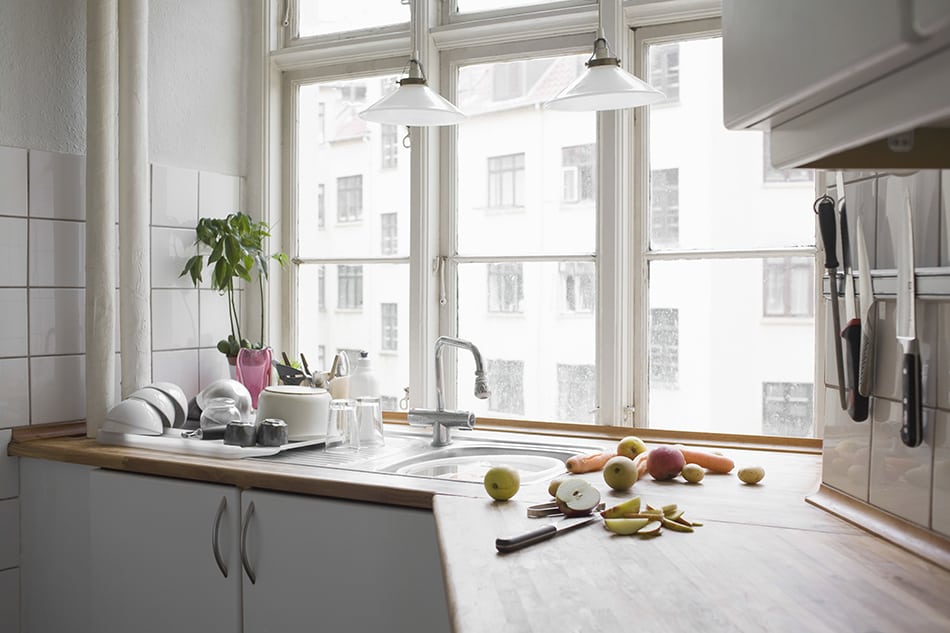 Sometimes, decorating your kitchen window doesn't have to directly involve the window itself. The window area can be dressed up with additional light to add character to the kitchen. Sconces, recessed light fixtures or decorative pendant lights are an element of customization that no kitchen can afford to be without. Some lighting fixtures don't even require hard electrical wiring to achieve the same result.
Shades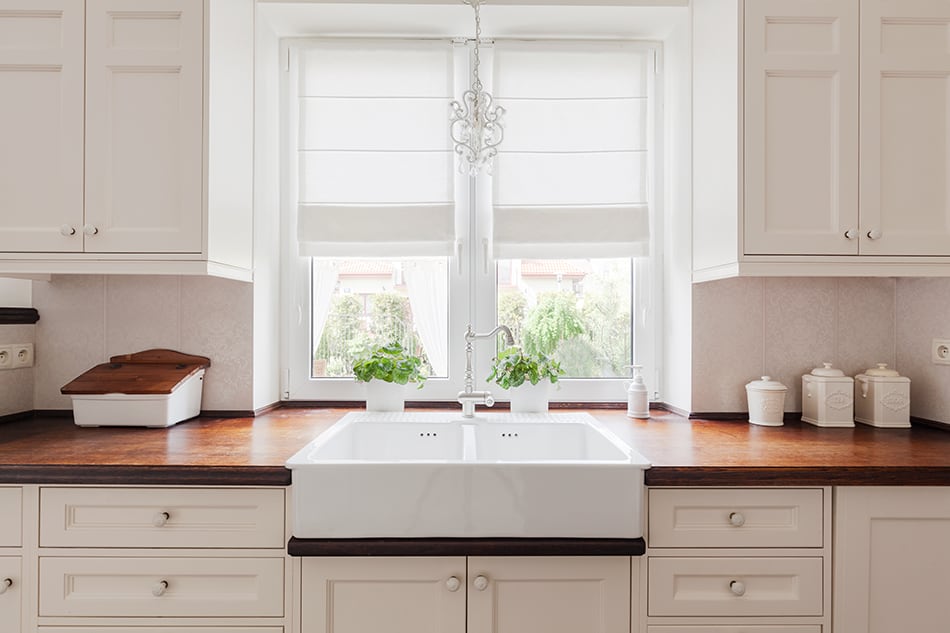 Window shades are excellent view blockers from the outside. Some shades still allow some light to enter the room and you can find them in numerous colors and patterns to match your kitchen decor. There are even no sew shades or woven ones that make the kitchen look cozier and rustic-like.
But if your kitchen style is more modern, opt for roller shades instead. These window treatment options are ideal for smaller windows and provide clean lines when fully raised. Just keep in mind that fabric roller shades are susceptible to food or grease stains so go for vinyl as it's easier to keep clean.
Decorative Trimmings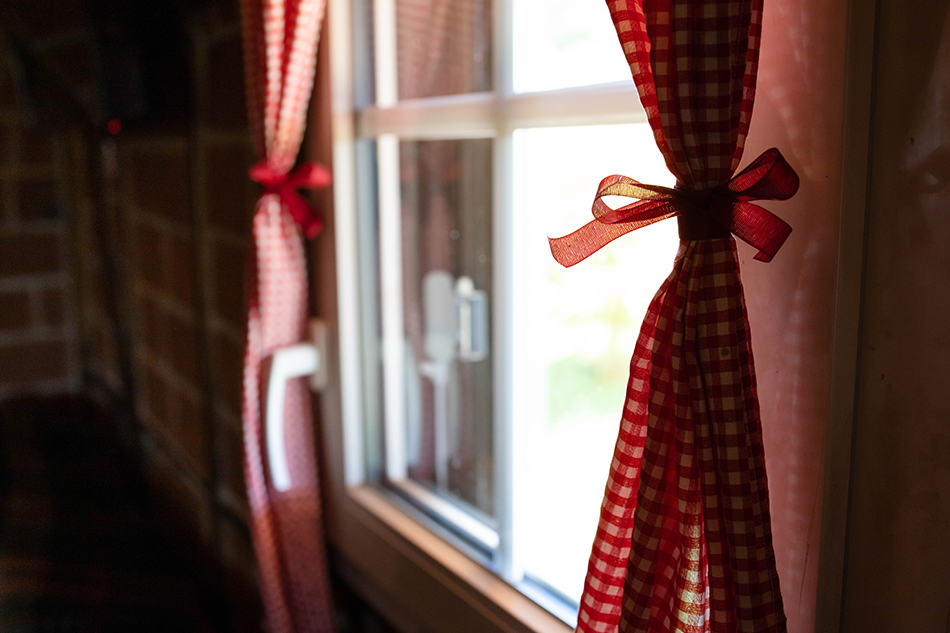 A kitchen window isn't complete without decorative trimmings! This is where you can get as creative as you like with pom-poms, ribbons, or anything else that adds flavor and versatility to your kitchen window. Decorative trimmings can be used as tie-backs to adorn your curtains, but if you prefer leaving your window more exposed, use twisted wood vines or grapevines for decorative appeal. This idea won't restrict natural sunlight or your view of the outdoors.
Here, you can see how beautiful the red and white checkered curtain is embellished with red ribbons to give the window visual interest.
Kitchen Accessories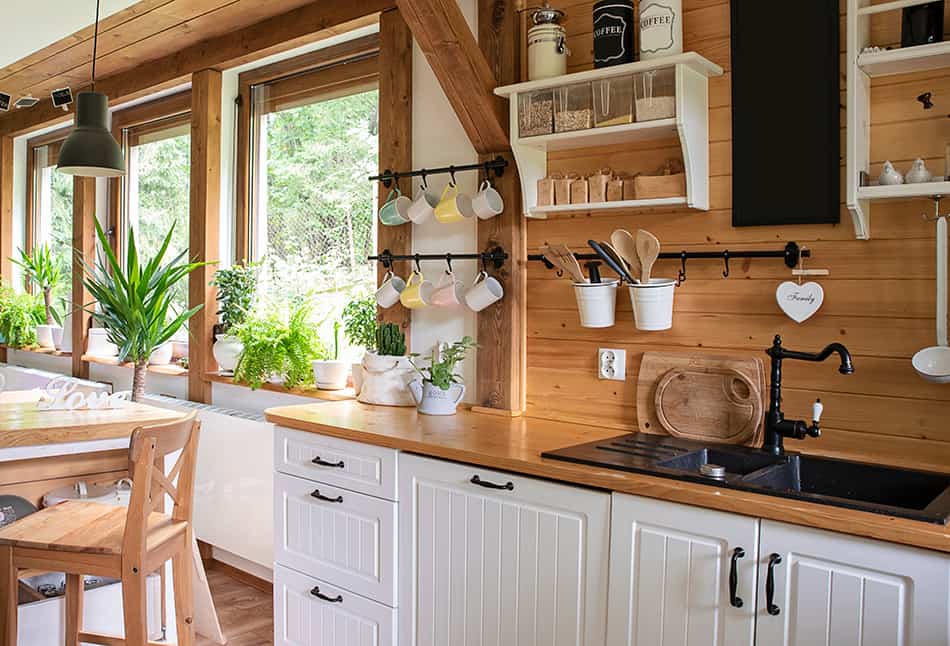 Aside from decorative trimmings, accessories also play an important part in dressing a kitchen window. Whether your kitchen window is small or large, you can decorate the sill with lots of accessories to create a trendy or retro look. To adorn this space, consider adding glass bottles, soap dispensers, canisters, cookie jars, kitchen towel holders, and just about anything else that you'll find useful.
In this rustic-style kitchen, the window sill is adorned with succulents and the entire window frames are made of wood for a touch of natural appeal.
Burlap Curtains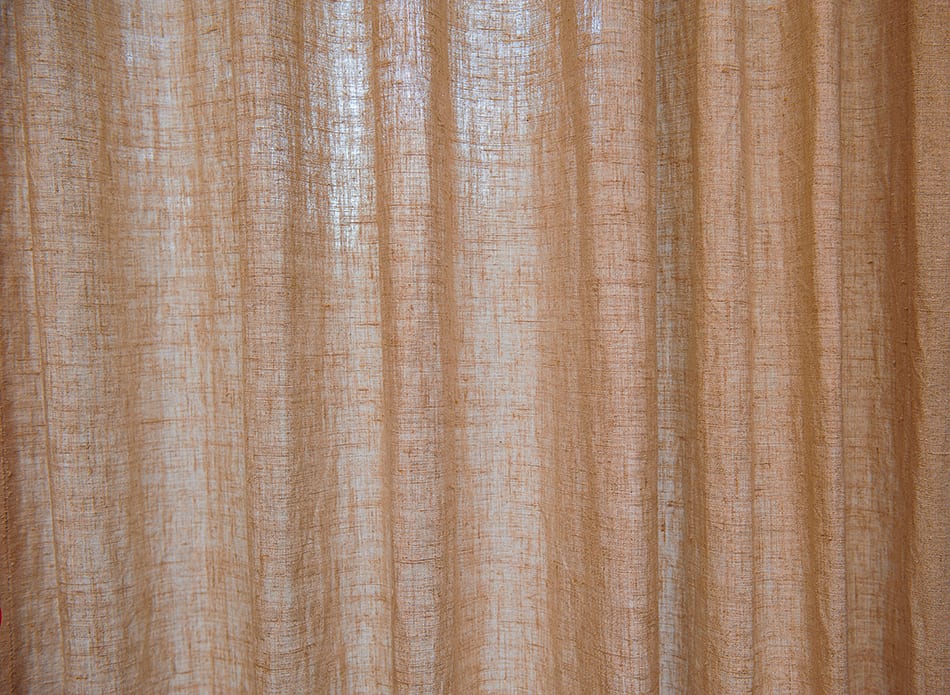 Burlap is a material that not many people think of when buying curtains. This fabric is usually woven from jute plant skins and contains strong fibers. Whether your kitchen has multiple windows or you only want to accent one window, burlap curtains will help you create a cohesive theme. These stylish curtains are the best way to maintain privacy while allowing just enough natural light to enter the kitchen.
Cornice or Valance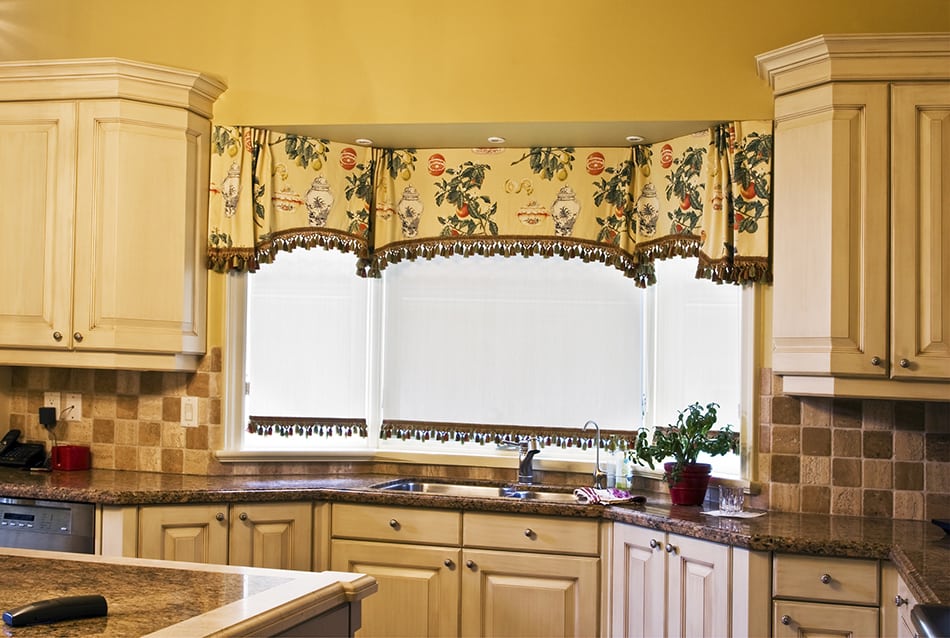 Sometimes the best window dressing option for enhancing privacy is a short-length shade. Counter height kitchen windows are ideal for valances. These decorative window coverings are short-length treatments that come in numerous patterns, colors and sizes. Wooden cornices work just as well and used to stretch across the tops of windows.
A curved or straight valance or cornice will bring your kitchen window a touch of visual appeal without sacrificing natural light. This elaborately designed top valance brings the whole look together nicely as a rustic window treatment option. There are also no-sew alternatives with hemming tape for quick installation.
Macrame Hanging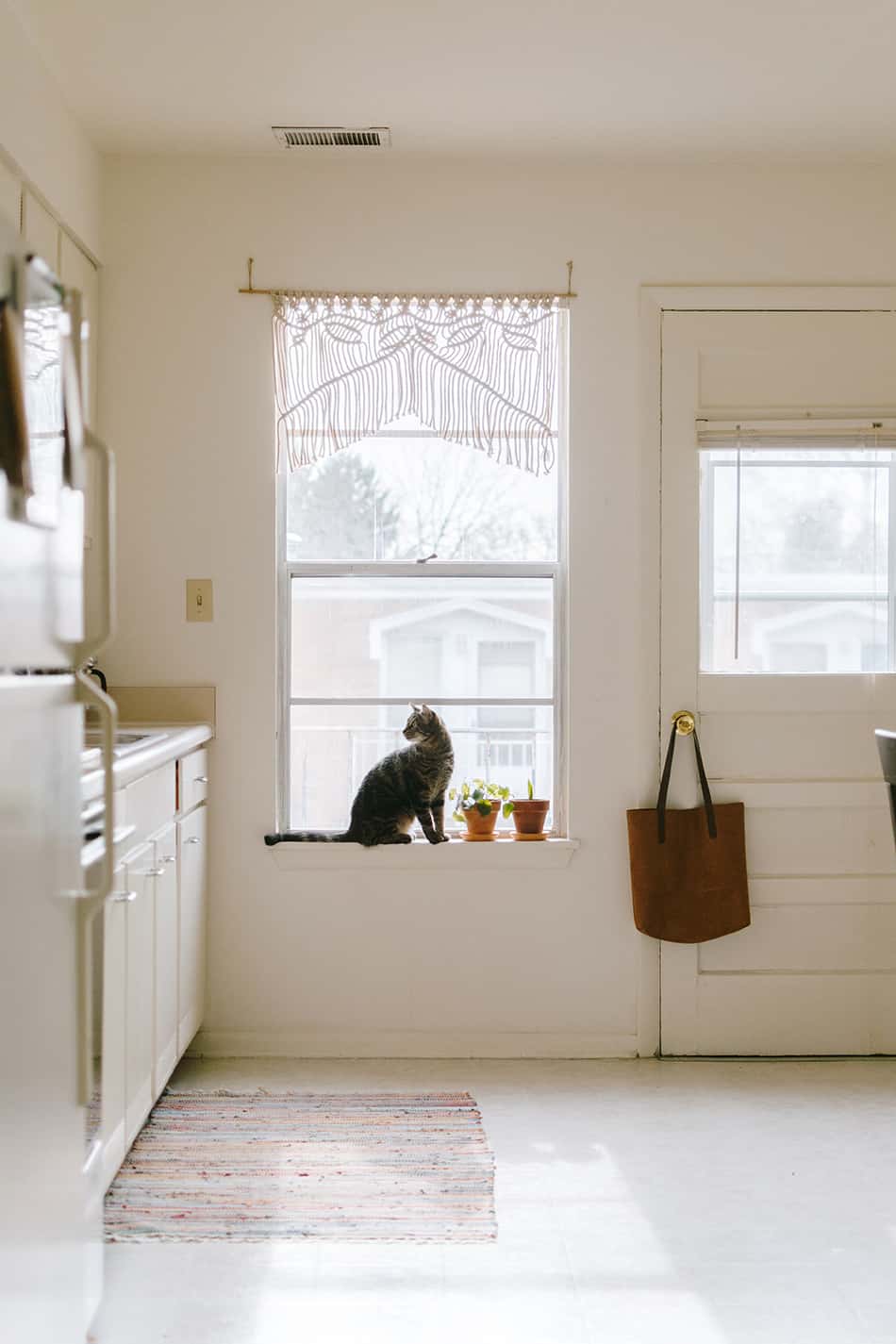 For a simpler alternative, go for boho-style macrame hanging. This idea works best in vintage kitchens with small windows. Macrame is typically threaded together with jute or rope and tied in numerous designs to complement your kitchen's style.
Full-length or Cafe Curtains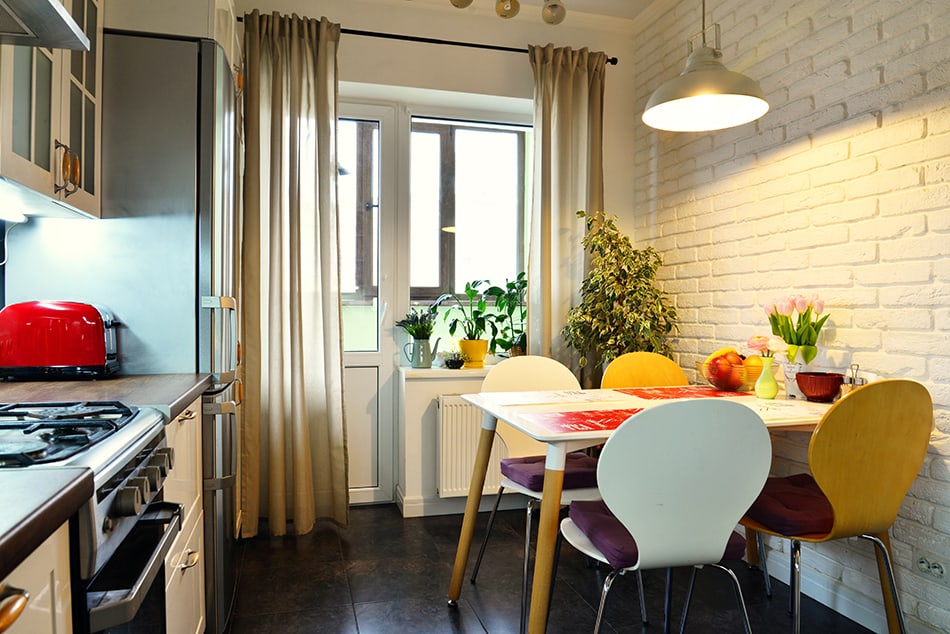 Another cool idea for a kitchen window decoration is to choose a full-length or short-length curtain. Long-length drapes provide more privacy than shades while cafe curtains (short-length) are mostly for decorative purposes. That said, cafe curtains are the perfect way to add some style to a kitchen window while letting natural light into the room.
As a rule of thumb, if your kitchen windows are tall and wide, go for long-length curtains. For counter or corner kitchen windows, cafe curtains or valances are the best decorative solution.
Flowers or Plants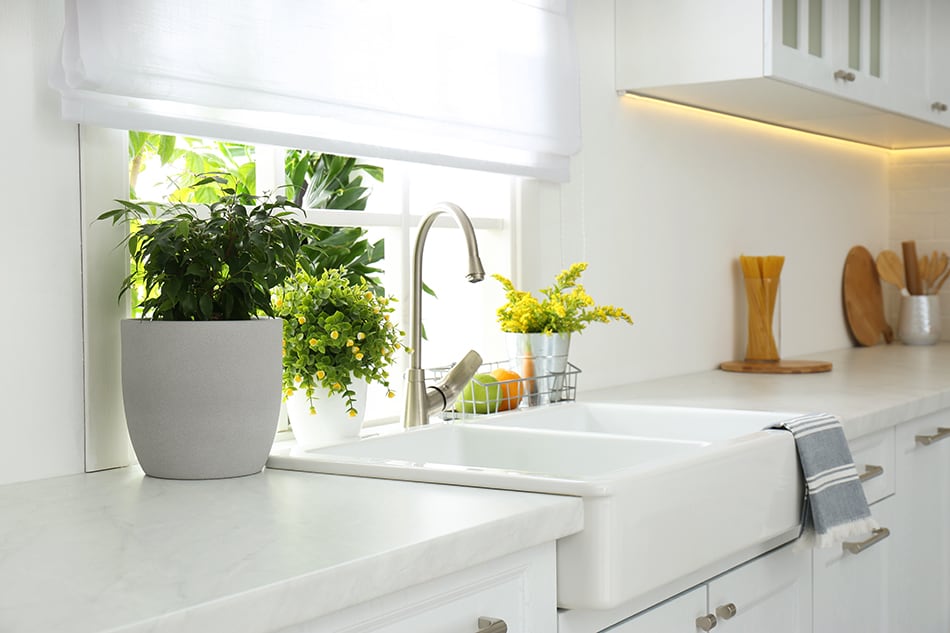 Fresh flowers or plants always improve the overall feel and look of a kitchen. The windowsill is the ideal environment for displaying your beloved light-loving plants. No kitchen should be without some greenery in the form of potted succulents, herbs, flowers or chilli peppers! Just make sure your pots have adequate drainage and trim them regularly to keep them green and lush. You may hang some of your plants in baskets and attach them to hooks on top of the window.
Wreath Decoration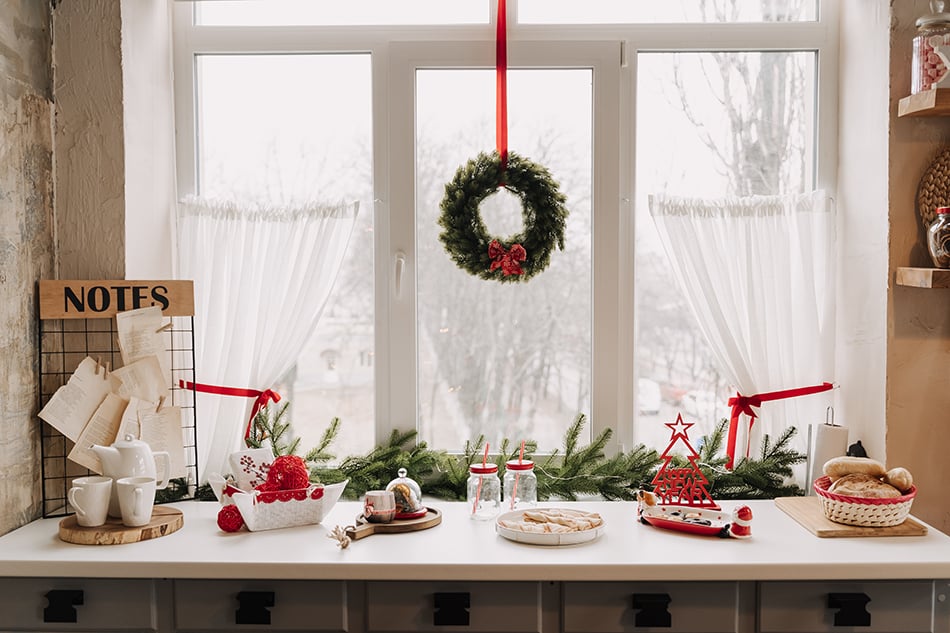 Who said wreaths are only for the festive season! Make your kitchen window even cozier by hanging a wreath from the top frame. This will instantly brighten up a classic farmhouse kitchen as shown here. Evergreen wreaths invoke a homely feel while keeping the kitchen smelling fresh. There are also handmade wooden wreaths and garlands that make highly appealing kitchen window decorations.
Window Seat with Decorative Cushions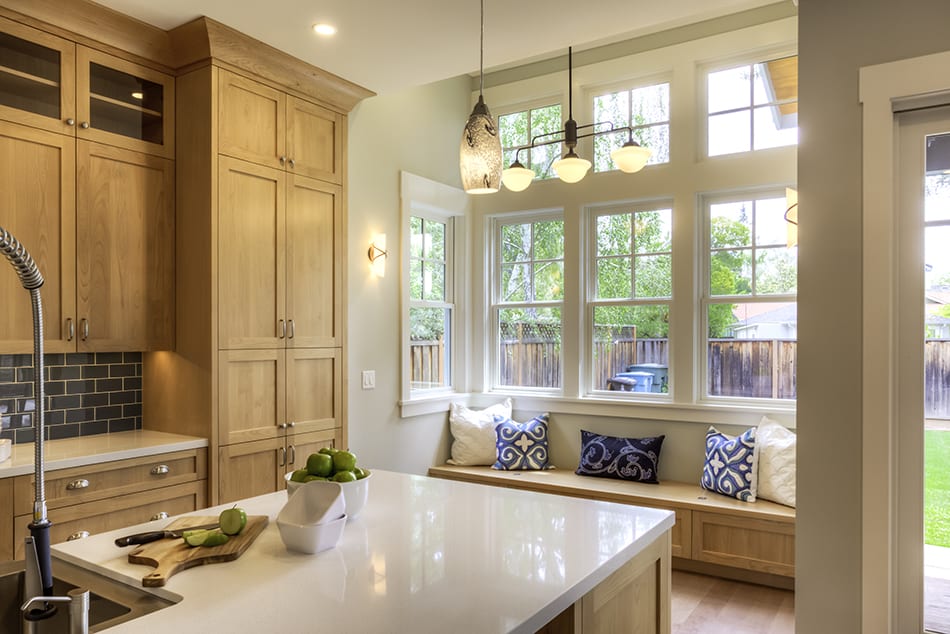 How about a stylish seating area by your kitchen window? Not only does a window seat provide a comfortable space for enjoying the views, but it also helps you put away any additional kitchenware that you don't use every day. Most window seats come with storage underneath and can even be used as a breakfast nook.
To enhance the look of your kitchen window seat, add some decorative pillows to it. Here, the seating area by the large kitchen windows is beautifully adorned with pillows for extra comfort. Of course, the idea of a window seat only works for kitchens with large windows that are separate from the cooking area.
Don't Clutter the Windowsill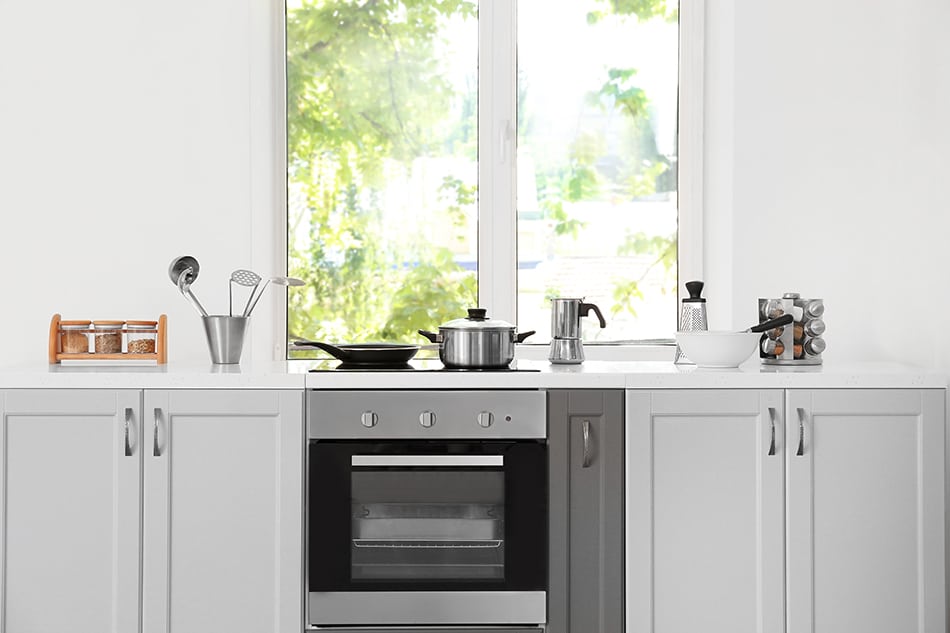 When dressing your window sill with accessories or knick-knacks, try not to overdo it. Only display the items that you need most for easier cleaning. This way, you won't be overcrowding the window sill with too many items and detracting the eye from the main decorative elements of the window.
See how clean and simple this kitchen window sill looks thanks to just a handful of necessary items displayed by the window.
Keep the Windowsill Practical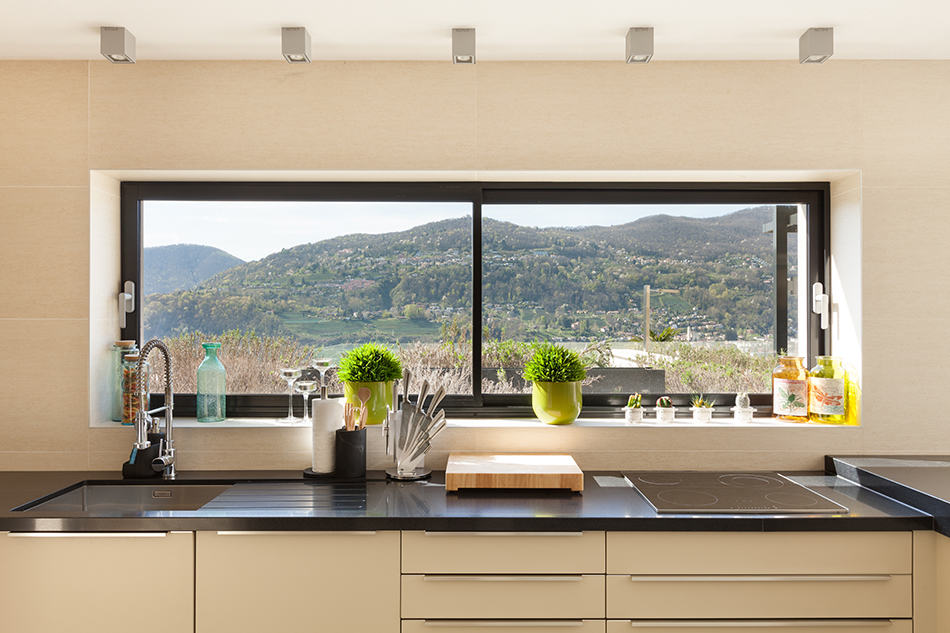 While clutter is never a good idea, you should still keep the space on your window sill practical by including all the necessary items you need. Cleaning products, cooking utensils, and even some recipe books will add personality to your kitchen window. Having these items on hand and within easy reach will make them more likely to be used.
In this modern kitchen, only the most necessary items are used to dress the window with. And since these items are close to the sink area, they make the window sill highly practical. Notice how the overhead lighting makes the window even more attractive – and best of all, the beautiful view hasn't been impaired by the displayed items on the window.
As you can see, there are lots of creative kitchen window decorating ideas you can use in your own kitchen. Whether you opt for inexpensive burlap curtains, macrame, or hanging pots, you can give your kitchen a personality of its own. Once you've decided the best way to dress your window, you're then ready to look for our suggested ideas online.