There are a variety of stair treads – they can be made with different types of wood and can be tiled with many material options. Learn all about stair treads in this article.
Wooden Stair Treads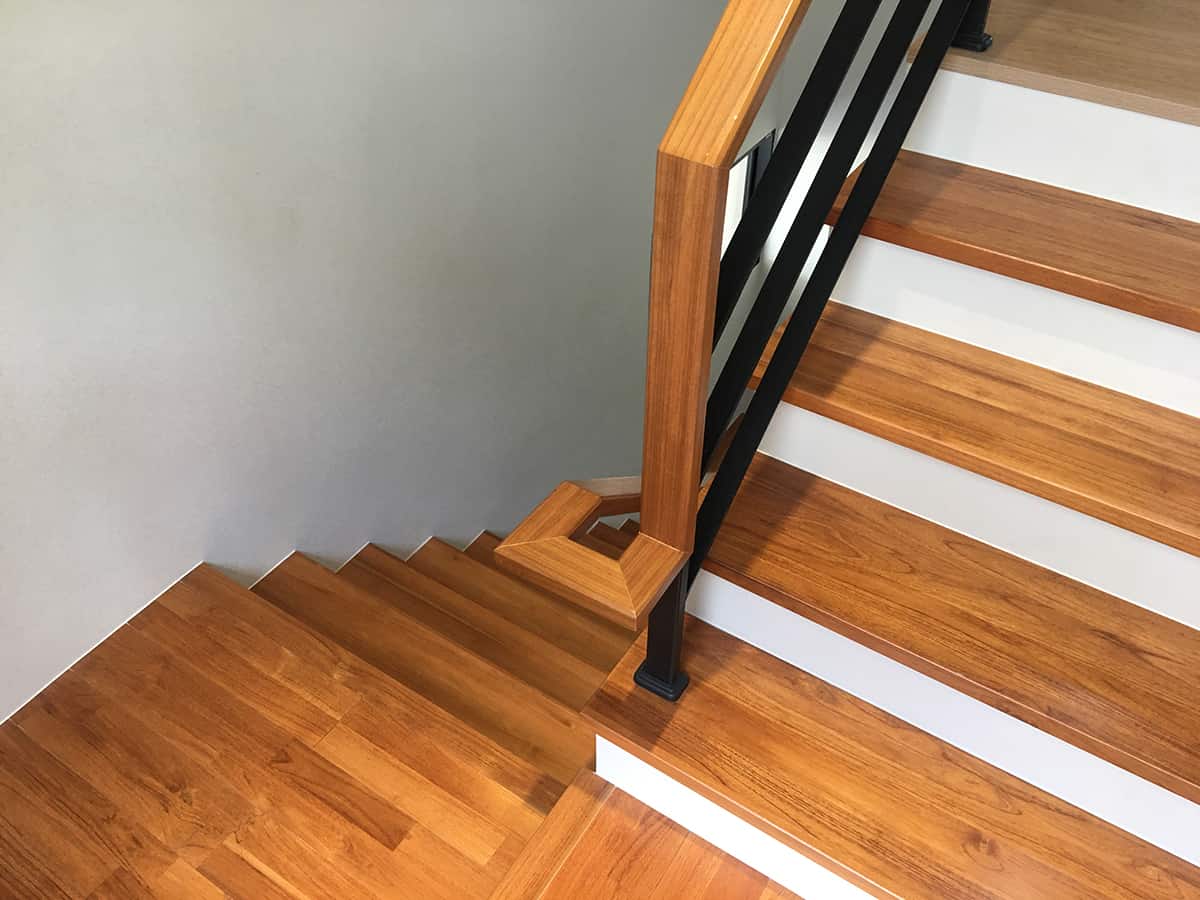 Wood is undoubtedly the most popular choice for stair treads on interior, residential staircases. Wood is strong and durable enough to withstand daily use while also having a softer feel compared to materials like stone and steel.
Most types of wood also have a warming effect which makes a space feel more homely, and they are versatile in that they can be sanded back and painted or stained if you want to change the look of them.
If you are looking for new wooden stair treads, then these are some of the types of wood you are likely to encounter:
Oak
Both white oak and red oak are great choices of material for interior wooden stair treads. They are strong and robust hardwoods with medium flexibility, which means the treads won't crack under heavy use. Red oak has a pinkish tinge to it which makes a space feel warm and cozy, while white oak is creamier and more classic looking.
Oak stains well, so you can change the color of it if you wish; however, it has a very stylish and sought-after look that most people prefer to use a wax sealer or varnish to protect oak treads without compromising on color.
Oak is a very in-demand choice for stair treads, and it possesses a lot of desirable qualities. It is one of the more expensive types of wood to buy; however, this is balanced out by the fact that it will last many years, making it a good long-term investment.
Hickory
If you are looking for wooden stair treads that are guaranteed to stand up well against heavy use and daily wear and tear, then hickory is going to be your best option. This is a hardwood that is incredibly durable, even more so than oak.
It has a muted brown and beige color that will work well with most decor styles since it is very subtle and neutral. Hickory has a mid-range price point which makes it excellent value for stair treads since it tolerates heavy foot traffic extremely well and will last for many decades.
Maple
Maple wood is very durable and, therefore, a great choice for interior stair treads. It is slightly less durable than hickory, though this would probably not be noticeable by most people. Maple has a creamy color which sometimes has a beige or pink tint, and it is very resistant to abrasion, which makes it ideal for standing up against heavy foot traffic.
When it comes to cost, maple will have a similar price point to hickory and oak and is expected to last an equal amount of time. It represents a solid investment and can be stained in other colors or painted if you change your mind about the color over time.
Walnut
Walnut is a very popular choice for stair treads and interior hardwood flooring because of its rich brown color and interesting grain. This wood is able to hide dust and dirt better than paler-colored wood, and as a result, it is a lower maintenance choice because you can get away with sweeping or mopping it less frequently.
However, despite the fact that people love the look of walnut, it actually isn't the best choice for stair treads. It is not anywhere near as durable as hickory, oak, or walnut and, therefore, may sustain dents or scratches with heavy foot traffic and may need to be replaced sooner than stair treads made from a stronger type of wood.
Interestingly, since walnut wood is so desirable, stair treads made from this material are among the most expensive wooden treads you can buy. Walnut stair treads will cost more than oak, hickory, or maple, in spite of the fact that they are not as strong and durable.
When choosing stair treads, it's really important to consider the practical points of the material and which is going to be best long term, rather than choosing stair treads based on appearance where you may find yourself with stair treads that aren't going to look new for long.
Poplar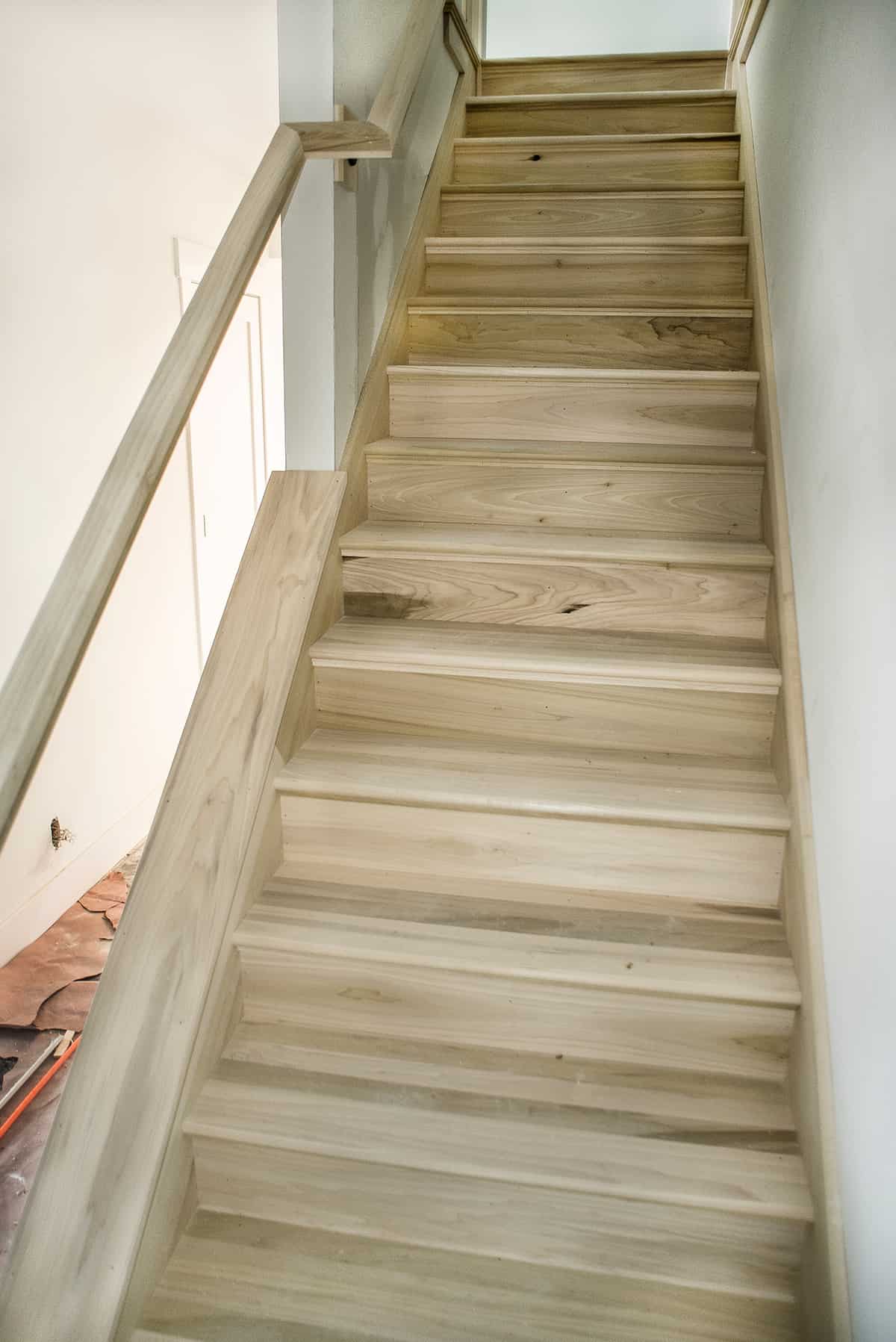 This wood has a rich beige or tan color that can add a really homely warm feel to a space. It is one of the least expensive types of wood to use for stair tread, but this is because it is not particularly durable.
Understandably you may want to save money on your stairs project, but balance this with the fact that poplar may not last for very long, or it is likely to sustain some dents and scratches, which can ruin the look of it.
Reclaimed Lumber
If you like the rustic or industrial style, then you could use reclaimed lumber for your stair treads. This is old wood that may have originally been used as scaffolding or in a barn, which can be repurposed as stair treads.
It will be full of character and personality, and the great thing about using reclaimed wood for stair treads is that any additional scratches or dents you make on the stairs will just add to the rustic look. Reclaimed lumber can also be more cost-effective to buy compared to new wood, or you can opt for new wood which has been distressed to achieve the same look.
Cherry
This is a strong and durable wood that will stand up well to heavy foot traffic and regular use, making it a sensible option for stair treads. However, it is not moisture resistant, so don't use it in any areas of the home that might have increased levels of moisture, for example, the kitchen or a damp basement.
Cherry wood can be paired with many colors – it has a rich and deep reddish-brown color which can add warmth and character to a home. When exposed to natural light, the color of cherry stair treads will darken over time.
Pine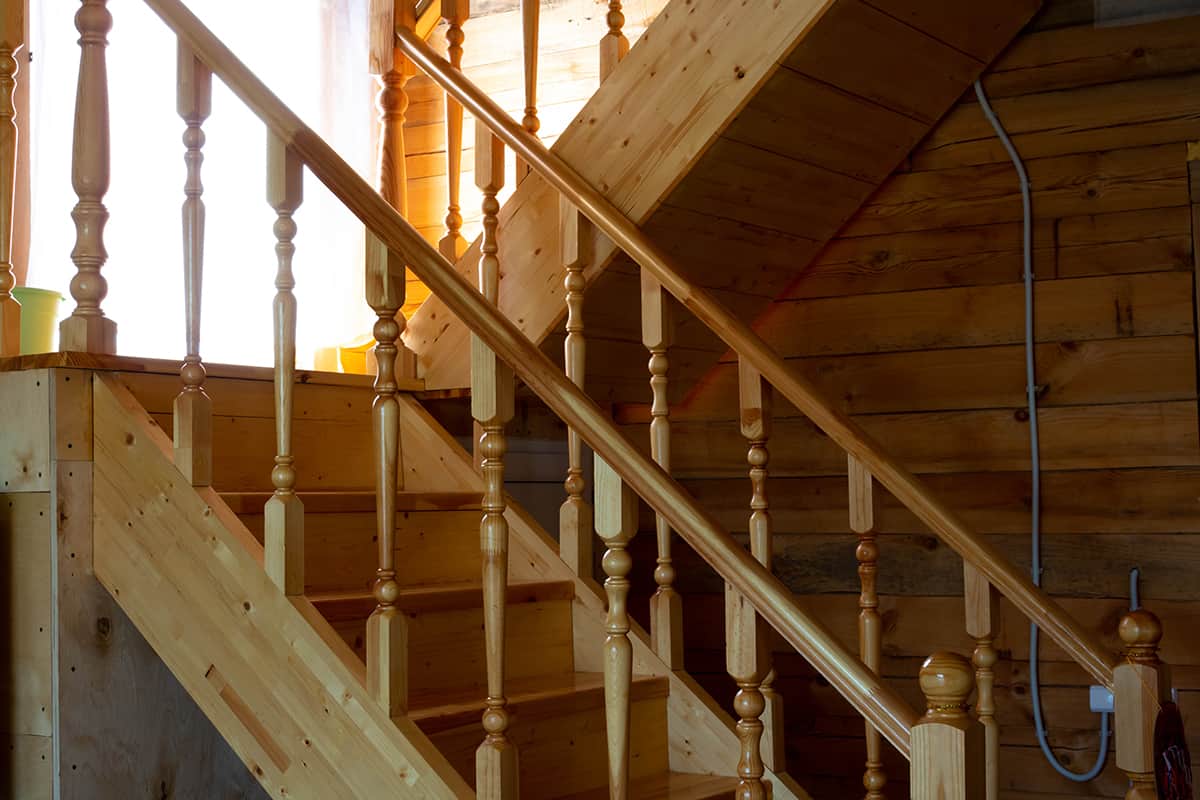 Pine is a popular choice of wood for a variety of uses in the home because it is inexpensive. It can be used for stair treads and will look great in its natural form in relaxed and casual decor styles, such as coastal-themed homes.
It also stains well, so you can make it look like a more expensive wood while paying a much lower price. The problem, however, is that pine will not behave like a more expensive wood. Pine is quite soft, and as a result, it can dent or scratch easily.
If you have a family that is not particularly careful when using the stairs, or if you have pets that use the stairs with claws, then pine should be avoided as a tread material because it will look stressed quite quickly.
However, if your stairs do not get heavy use, then pine stair treads can be a good way to save a bit of money on your staircase project. Using a high gloss varnish type to coat the pine stair treads will make them more tolerant of foot traffic if you are happy to have a shiny finish.
Teak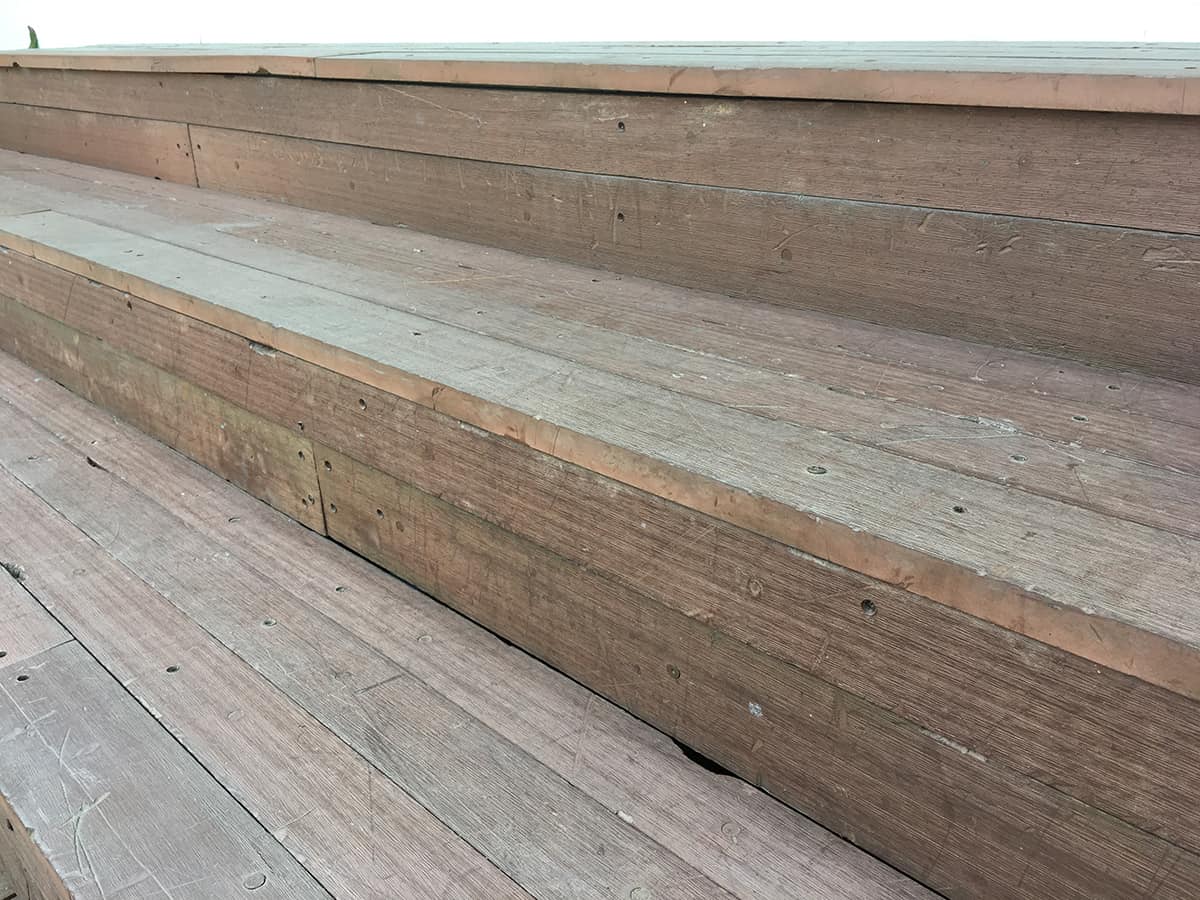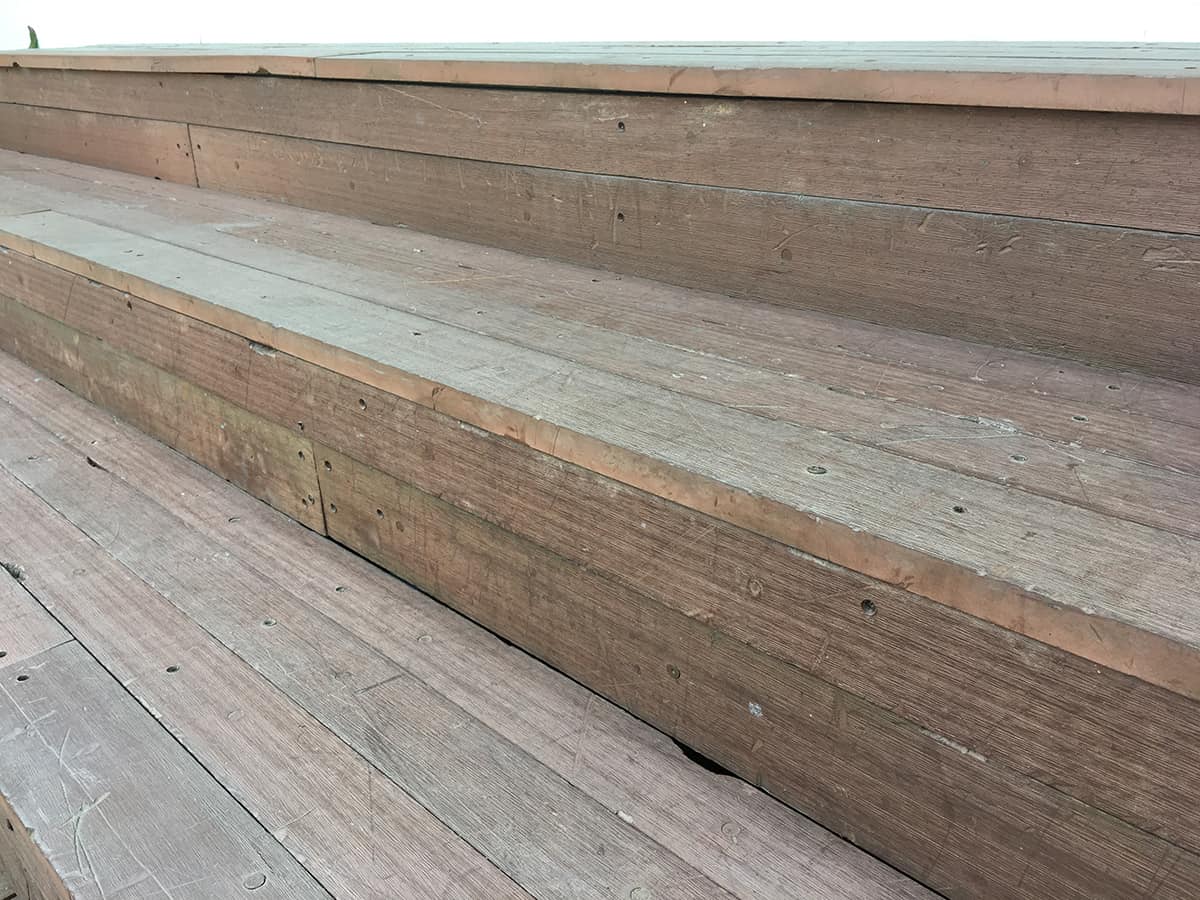 Teak is the ultimate wooden material to use for outdoor stair treads because it is resistant to rot, pests, decay, cracking, and splitting. It contains natural oils, which make it able to withstand a wide variety of conditions, and it is also very strong and durable. In changing weather conditions, such as humidity or dropping temperatures, teak will not swell or shrink and instead will hold its shape to avoid warping.
Outdoor stair treads made from teak will last for many years even if they are not regularly maintained; however, if you take care to clean and seal the wood each year, then it will last a lifetime. Unfortunately, teak is one of the most expensive types of wood to buy since it has been overexploited in many places around the world, and as a result, it is now in short supply.
Acacia
This is a great choice of wood for outdoor stair treads because it is resistant to insects and rot. It is popularly used in boat building because of its ability to resist moisture. An added bonus is that acacia is also one of the more affordable types of lumber, so you can complete your exterior stairs for a fraction of the price of other woods.
Acacia does not need to be sealed, but it will last for longer and maintain a better color if it gets sealed every few years. Once sealed, this wood has an attractive deep golden brown color.
Tile Stair Treads
Tiles are a popular option for both interior and exterior stair treads because they are impervious to pests, moisture, and rotting. They also present a lower maintenance option compared with wood because they don't need to be oiled or sealed. Tiles can be applied to both the stair treads and the risers for a cohesive look, or you can buy steel stair tread pans which the tiles are fitted into.
Choosing tiles for your stair treads gives you much more variety in terms of the look you can opt for because, unlike wood, tiles come in any color you can imagine. You can even get tiles that simulate the look of real wood if you want the style of wood without the maintenance.
Tiles vary enormously in cost depending on which type you choose; this means that if you want a luxury look, you can choose a more expensive tile, but tile also presents a budget-friendly option for people who want to keep their expenditure low. Tiles are easy to keep clean, and they can last for decades when treated carefully.
One drawback of using tiles as treads is that they can crack if you were to drop something heavy on them, and they are also very hard, which means you are more likely to injure yourself on tile stair treads compared to if you were to fall on wooden stair treads.
Glass Stair Treads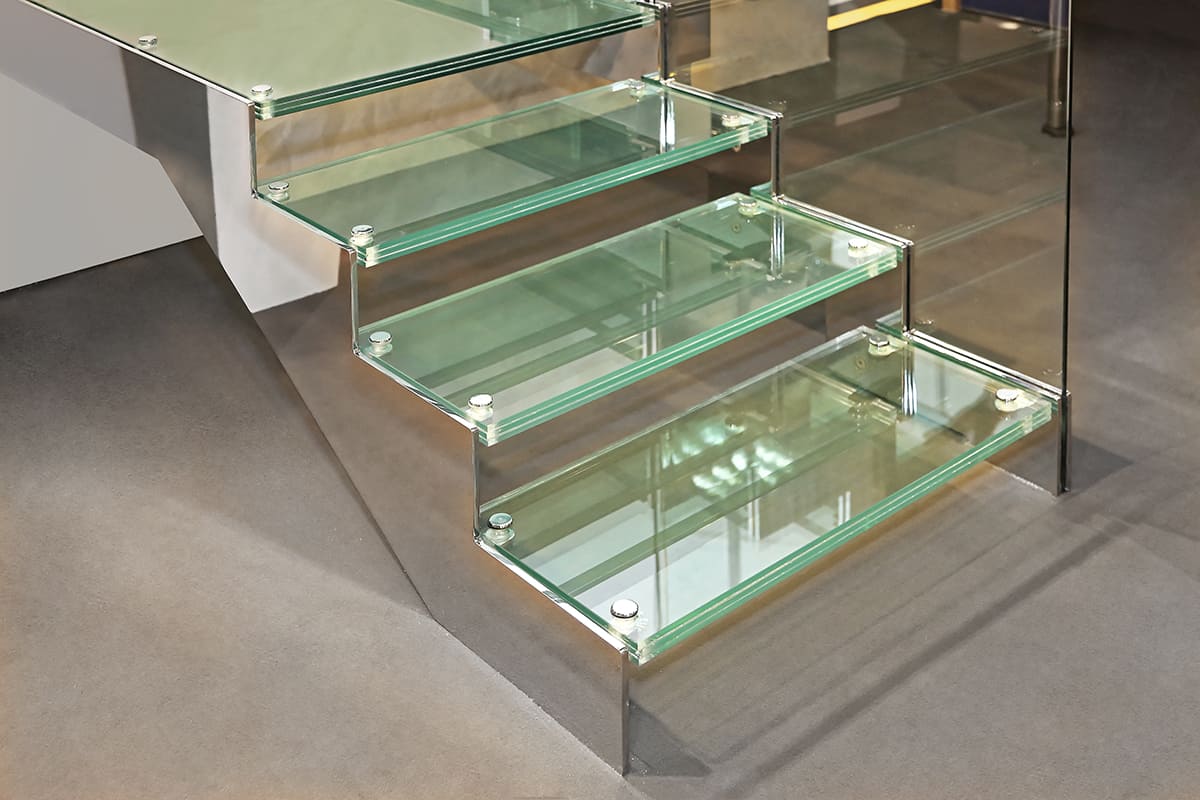 Glass stair treads are likely to be found in modern office buildings and futuristic-style homes, but they can work in any type of indoor space. They are made from thick safety glass, which will be extremely difficult to smash or crack and can sustain heavy daily use. The glass will also be treated so that the surface of each stair tread is anti-slip to ensure safe use.
Glass stairs are easy to clean, but they can be difficult to keep clean, and you may find yourself polishing these stairs every day. They come in a variety of options, for example-colored glass or textured glass, to create a customized look in your property.
Stone Stair Treads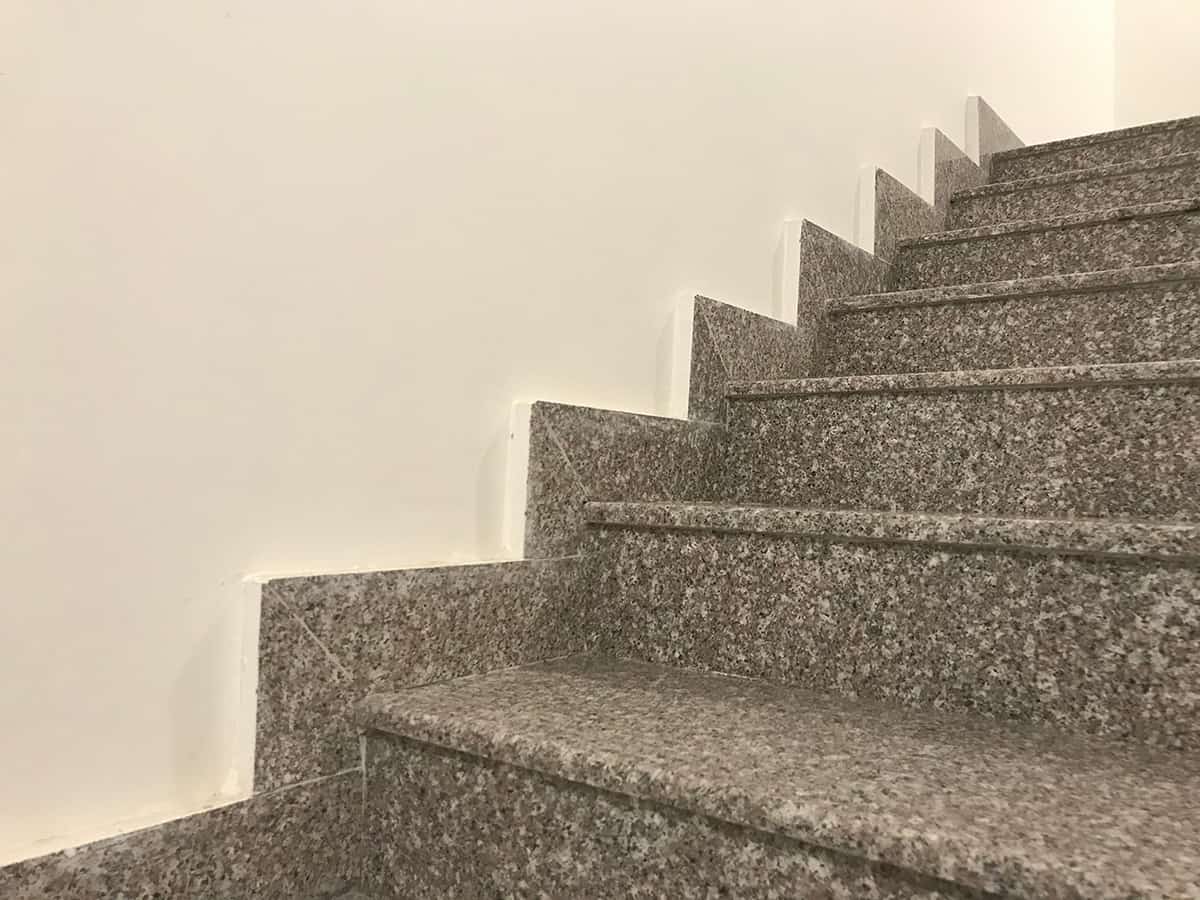 Stone treads can be used for interior and exterior projects. They blend well into outdoor environments since they have a natural appeal, and they can look very contemporary for indoor applications. Types of stone that work well for stair treads include limestone, brownstone, and bluestone.
They are very strong, but they can crack under a lot of pressure. Be careful to avoid slipping on natural stone stair treads because you can cause serious injury if you land on this material. For interior stone stair treads, they can be polished to a high shine for a modern look, but the surface of the treads will need to have anti-slip properties.
Steel Stair Treads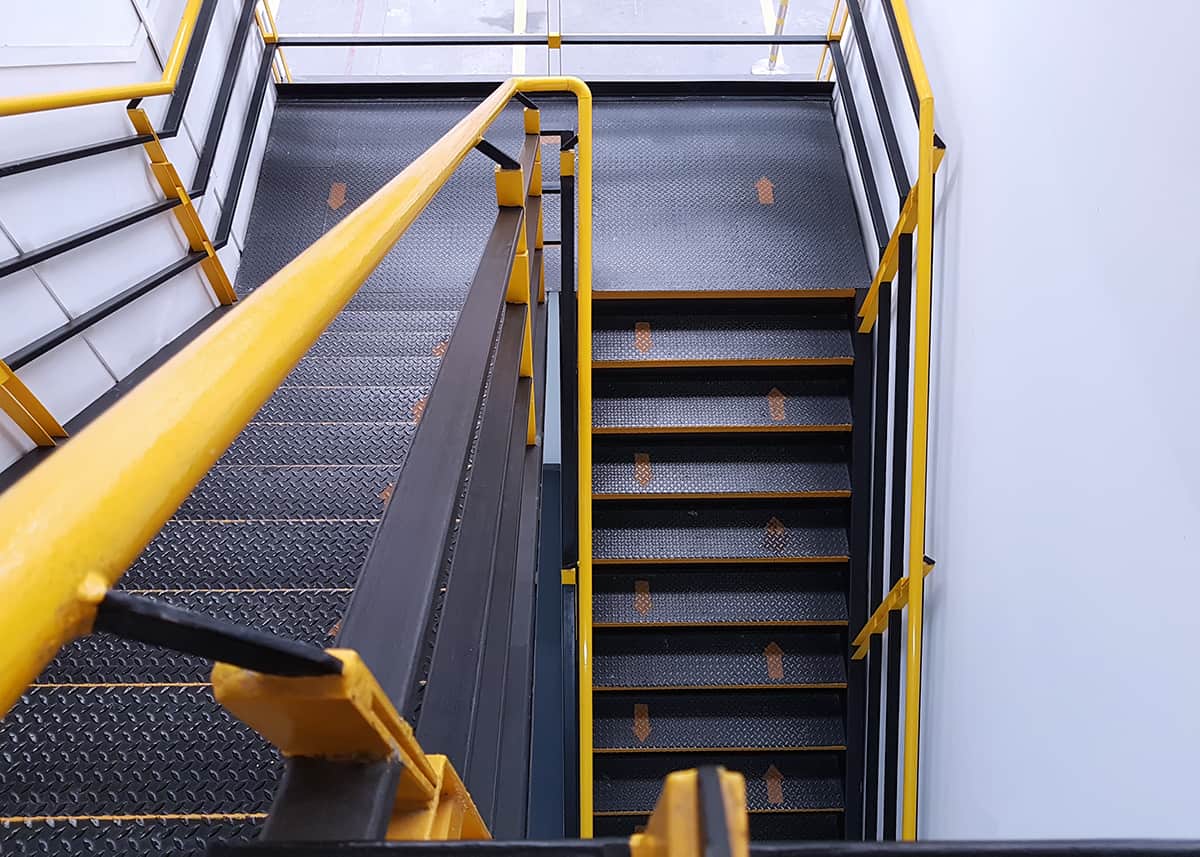 Steel stair treads work well for indoor and outdoor staircases, as well as in residential and commercial settings. Steel stair treads are among the most affordable, and they create a cool industrial look that will work well in loft apartments and contemporary homes. Steel stairs need to have an anti-slip surface to help prevent accidents, such as diamond plate.
If you opt for steel stair treads, you can expect them to last for a really long time. Steel is very strong and durable, and it should not bend or warp over time, even under heavy pressure. You also have the option of painting steel treads with metal paint if you want to change the color of them at a later date.