The floorings for stairs are not high in the list of priorities for builders and homeowners. People tend to overlook the importance of the stairway because it isn't exactly the focal point of a home interior.
But what if your staircase needs to be refinished? And what if you simply want your stairways to look more modern or at least in sync with the look and feel of your home? What are the types of floorings for stairs that you can choose from? Continue reading as we list and discuss the types of floorings for stairs.
What's the Best Type of Flooring for Stairs?
There's no single correct answer to this question. The best flooring for stairs depends on the location of the staircase and how it's utilized. To give you a better illustration, consider the staircase visible from the front door of your home.
Due to its strategic placement in the house, it needs a different type of flooring than the staircase at the back of the house, leading to the basement. The staircase that leads to the second floor of the house needs to complement the theme of the room adjacent to it. But this need not be the case for the staircase that leads to the basement of the house.
Still, homeowners and builders have plenty of options to choose from for the flooring of stairs, such as:
Carpet
Cork
Hardwood
Paint
Premade Stair Treads
Stair Runner
Tile
Vinyl
Let's take a closer look at each option.
Carpet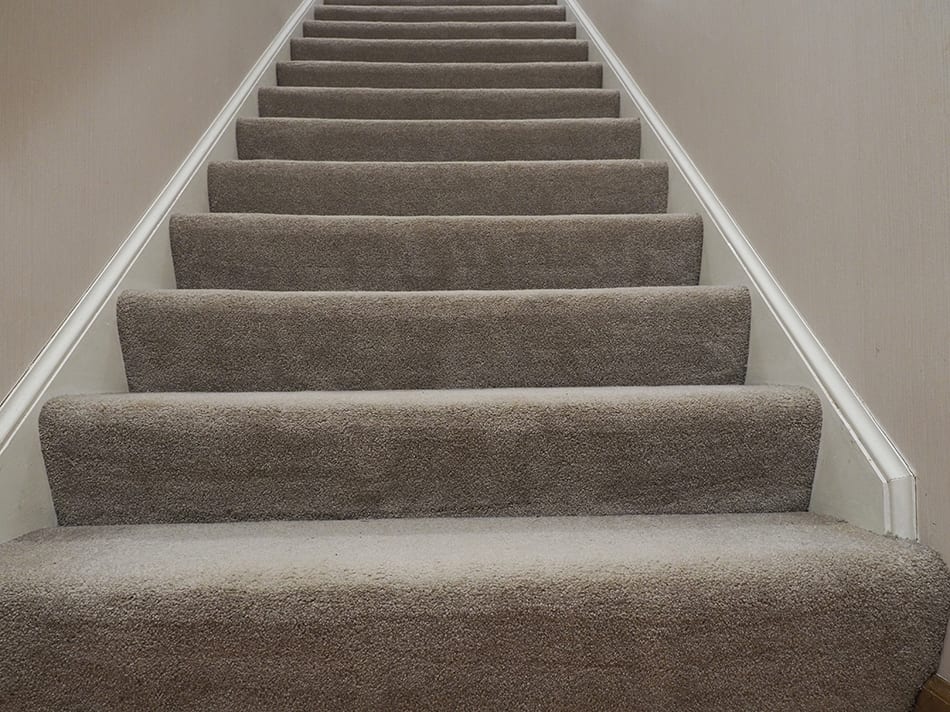 Carpet is a common and popular flooring option for the stairs. Many people think that carpet is often used on the stairs because of aesthetic reasons. That's partly true, but there's a more practical reason as to why carpet is used on the stairs– it's to prevent slipping. Hardwood is slippery, and carpeting the stairs give it enough traction to prevent slipping and consequent trips to the emergency room.
Aside from that, you can consider carpeting your stairs if your house has carpet upstairs and downstairs. The carpet options on your stairs would serve to complement the other neighboring carpeted areas of the house.
You may also consider carpet if you want to hide or cover an unfinished staircase. You should also consider carpeted stairs if you have small children. The carpet can serve as a cushion in case of a tumble.
But what's the disadvantage of opting for carpet as the flooring for stairs? Arguably the main downside to this flooring option is that it is a magnet for dust and dirt. Expect to vacuum your stairs a lot more often if you opt for carpeted stairways.
Cork
With the trend or demand for green or eco-friendly products, it is not surprising why cork has become widely popular these days. Cork is derived from the bark of the cork oak tree. It is a completely natural and replenishable material.
Aside from being eco-friendly, another reason why cork is widely popular is its affordability. Compared to hardwood and other types of floorings for stairs, cork is cheaper and easier to install. It is also durable and long-lasting as long as it is well-sealed.
Of course, there are downsides to cork. It's not as durable as tile or hardwood. Sharp objects can easily puncture it. Heavy furniture can also cause indentations on it. But since you won't be placing heavy furniture on the staircase, then you might as well go for cork as the flooring for the stairs.
Hardwood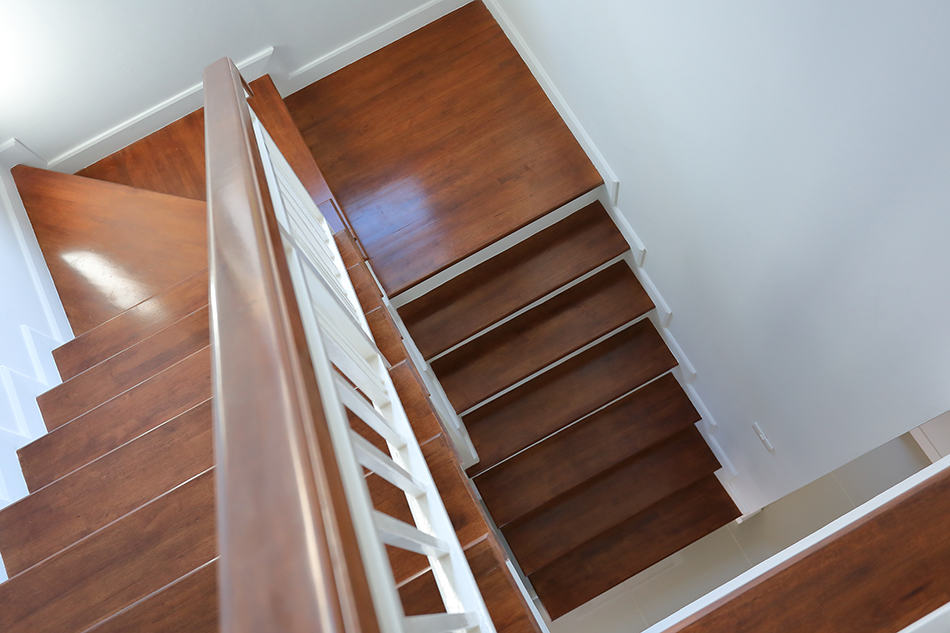 This is considered as the traditional flooring or finish for stairs. There are numerous reasons why homeowners and builders still opt for hardwood despite the emergence of other flooring options for stairs. One is that it is highly versatile. It can easily match or compliment the flooring upstairs or downstairs.
Hardwood like rosewood, cherry wood, walnut wood, etc. is also a favorite of many homeowners because of its versatility. It can make your house look more modern and contemporary. And you can always refinish hardwood floors that begin to show wear and tear. It's not particularly expensive and time-consuming that you can even do it yourself.
There's also the ease of maintenance of hardwood flooring for stairs. It is no secret that the stairs are one of the high-traffic areas of the house. It can accumulate a lot of dust and dirt as a consequence. But with hardwood flooring, this won't be the case. Hardwood flooring on the stairs does not gather as much dirt and dust as other stairway flooring options.
Yet like the other types of floorings for stairs, hardwood has its weaknesses. The primary concern that homeowners have with this material is it being slippery and thus a major cause of accidents at home. You must reconsider having stairs made of hardwood if you live with small children and elderly people.
Paint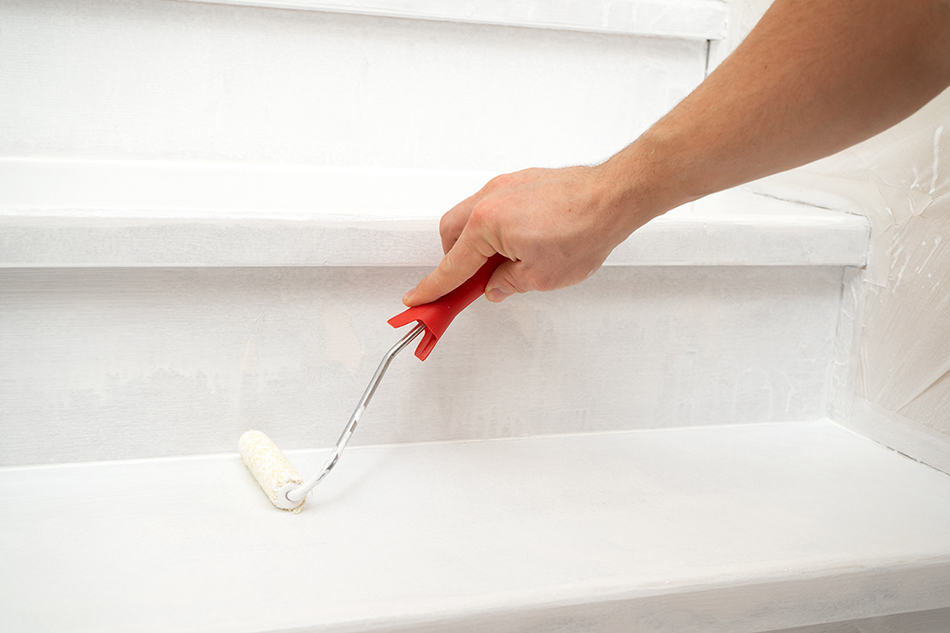 If you are on a budget, then carpet and hardwood are likely off your list. Paint may be the most practical option for you then. It is the cheapest alternative for finishing a staircase. It is particularly recommended if your staircase is sturdy but needs a cosmetic upgrade. Painting the staircase can easily enhance its look and go along well with any decor in your home.
You can also handle the painting of the staircase instead of hiring a professional. This can add up to your savings. Remember, though, that you will have to sand the finish of the floors first to its bare wood. It is only after completing that task that you can start painting or staining the staircase with a color of your choice.
Start by painting the stairs at the top so you can wipe off the drips as they happen. And because stairs are high-traffic areas, it is recommended that you use at least two coats of paint and another coat of polyurethane paint to finish this part of the house.
Premade Stair Treads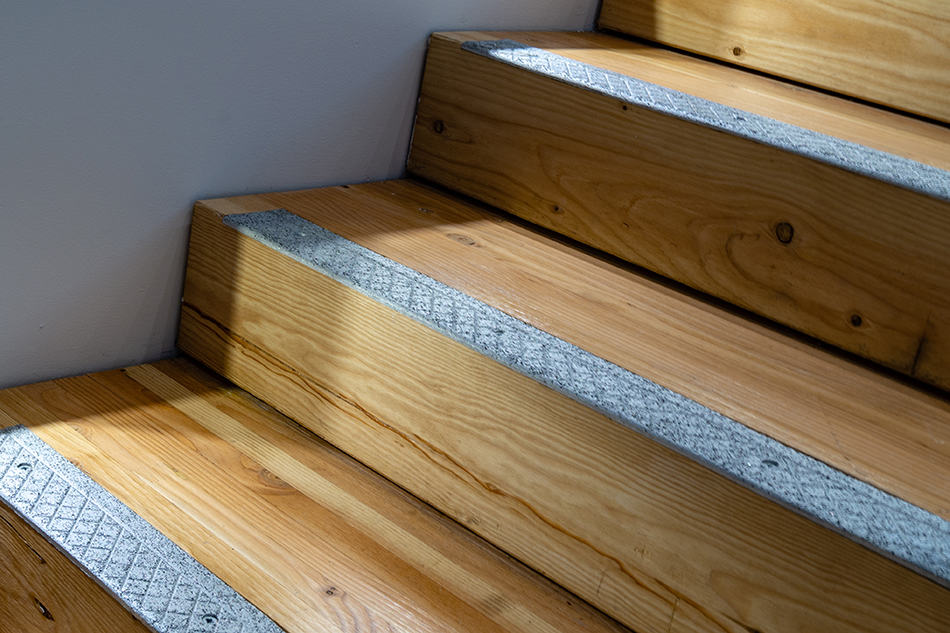 Pre-made stair treads, as the name suggests, are already finished. You can just fit and put them in place to give your staircase a classic look. It's available in a wide variety of finishes ranging from vinyl, laminate, and hardwood. You can also buy risers to match the premade stair treads.
Although premade stair treads are fairly easy to install, you would also need a stair tread gauge to do so. This tool would enable you to accurately measure and move the width of the stair tread to the pre-made tread. Although the depth of the tread is often a straight cut, you will have to measure the angle on the width for each step.
Stair Runner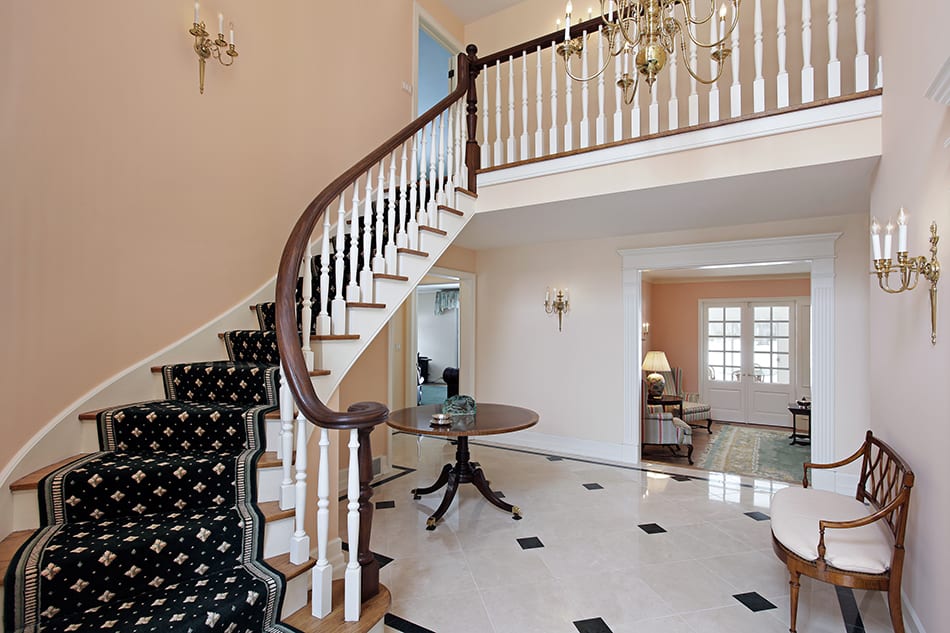 If you're simply looking to enhance the look of your stairs, then you should consider a stair runner. It's highly advisable to use a stair runner if your stairs are in good shape. It is made of carpet.
However, unlike the carpet, which covers the entirety of the stairs, a stair runner covers only the middle part. For many homeowners and builders, a stair runner combines the good qualities of hardwood and carpet. It can retain the classic look of hardwood but enhances its safety, just like a carpet would to a staircase.
Much like carpets, stair runners are installed with a pad underneath. Tackless strips are then used to nail it down. It can also be installed with staples and carpet tape, although it isn't that durable.
Tiles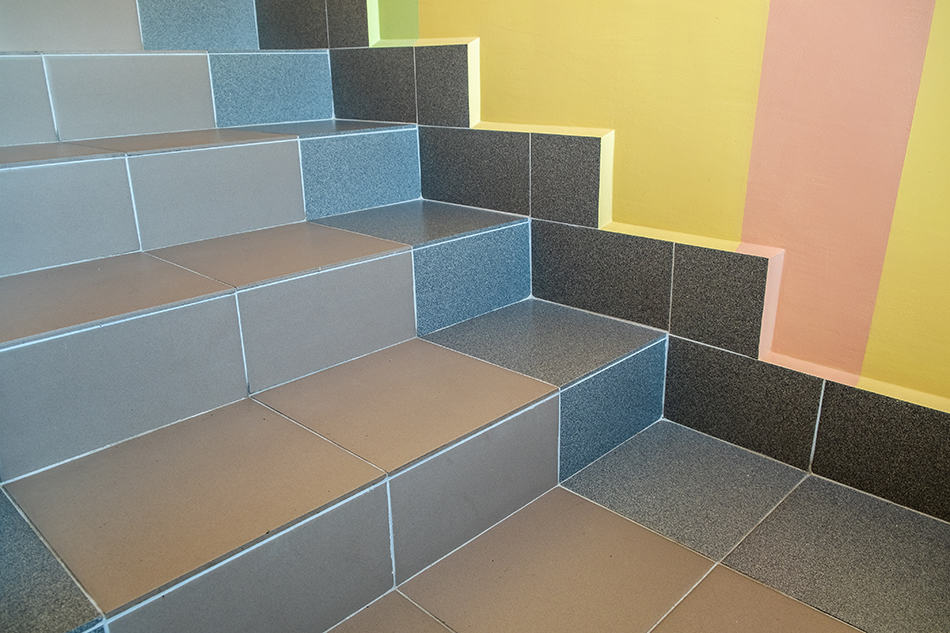 This is a beautiful and durable flooring option for your staircase. But like hardwood, it can be slippery, so you must think twice about installing it in the stairways if you have small children. Another consideration is that tiles can impact the height of the risers; therefore, you should check first with your contractor regarding your area's building codes.
Tiles are highly recommended if you're considering visual continuity in your home interiors. Simply put, the tile that you'll install on your stairs should match the rest of your home design. You don't want to put tiles in the stairs that would clash with the colors and textures in your home interiors.
Vinyl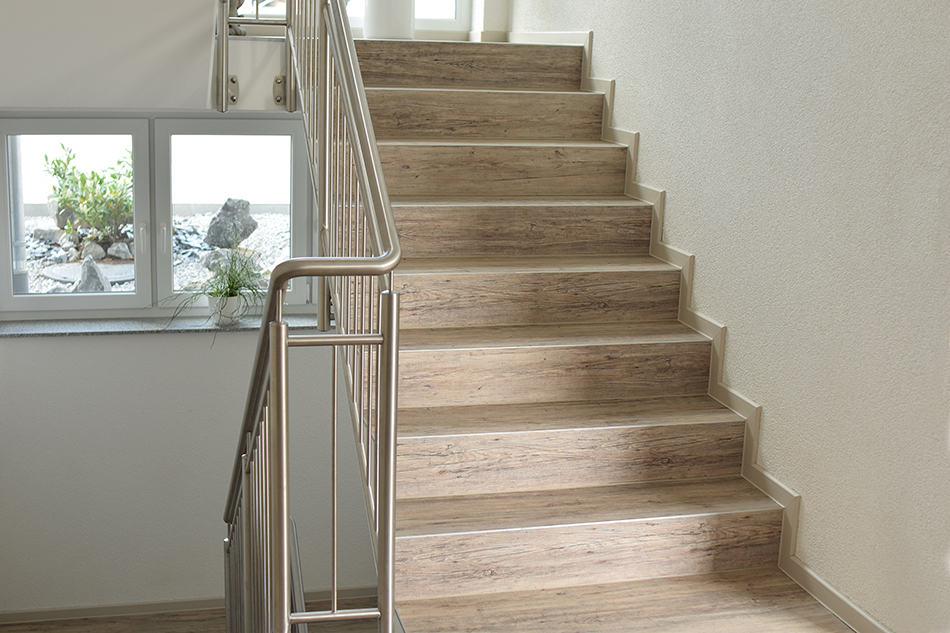 Finally, there's vinyl. This is the option you'd want for your stairways when your flooring is also vinyl. Another advantage of using vinyl planks is that they can easily fit your stairs due to their small size.
You may also install the vinyl planks yourself. You must, however, correctly prepare the surface of the stairways because you don't want imperfections to show through. You must also ensure that the treads are level.
Use caulks to seal the joints and then in covering the screw holes. After that, you need to sand down the rough surfaces before smoothing the underlayers. It is only after preparing the surfaces that you can start applying vinyl to the stairway.
Conclusion
As you have realized, there are plenty of choices for stairway floorings. You can choose the right flooring for your stair given your budget, the placement of your stairs, and the theme or look of the adjacent areas of the house.