The staircase wall is one of the largest areas of blank canvas in most homes, yet it is also the most underused. The great expanse of the wall along the side of a staircase will usually be double height, making it a prime spot for real estate to create a feature.
However, since it is usually an odd shape, following the diagonal tilt of the staircase, added to the fact that it's not in an area that people will sit down and spend time around, means that most of us don't utilize the staircase wall as well as we could. Here we explore ways to maximize your staircase wall's potential with several decorative ideas.
Top Ways to Decorate a Staircase Wall
Feature wallpaper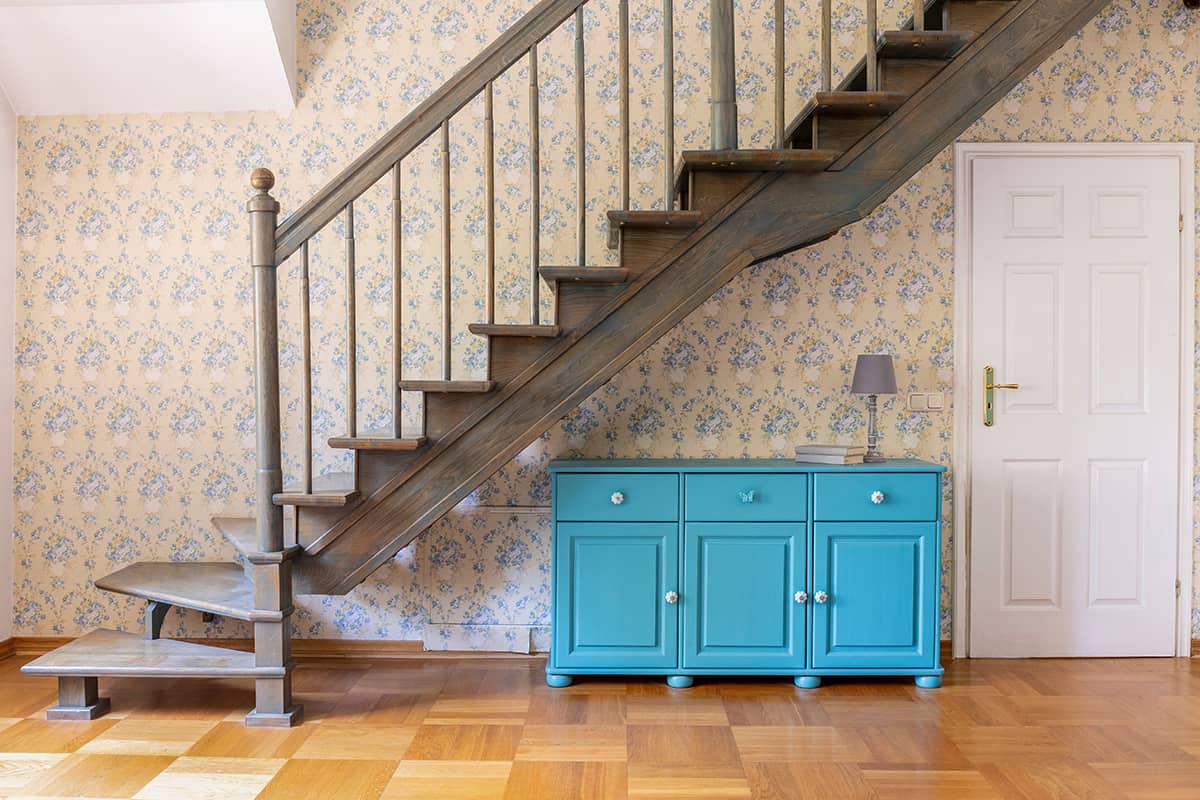 If you want to make a feature from your staircase wall, why not choose a patterned or textured wallpaper? Wallpaper is an excellent choice for a staircase wall because the expanse of surface allows the wallpaper to be seen at its best. When used in a room, the wallpaper will often be interrupted by windows and doorways or pieces of furniture in front of it.
On a staircase wall, you can cover the blank wall in exciting wallpaper and enjoy it to the maximum. When using a feature wallpaper, opt for something that is in keeping with the style of the rest of the space; for example, you'll want it to be within the same color scheme as the hallway and upstairs landing.
Most feature wallpapers will use a bold pattern, so in order not to overwhelm the space while also allowing the wallpaper to take center stage, ensure the rest of the decoration on the stairway is simple or plain. For example, choose a plain carpet for the stairs instead of a patterned one.
Paneling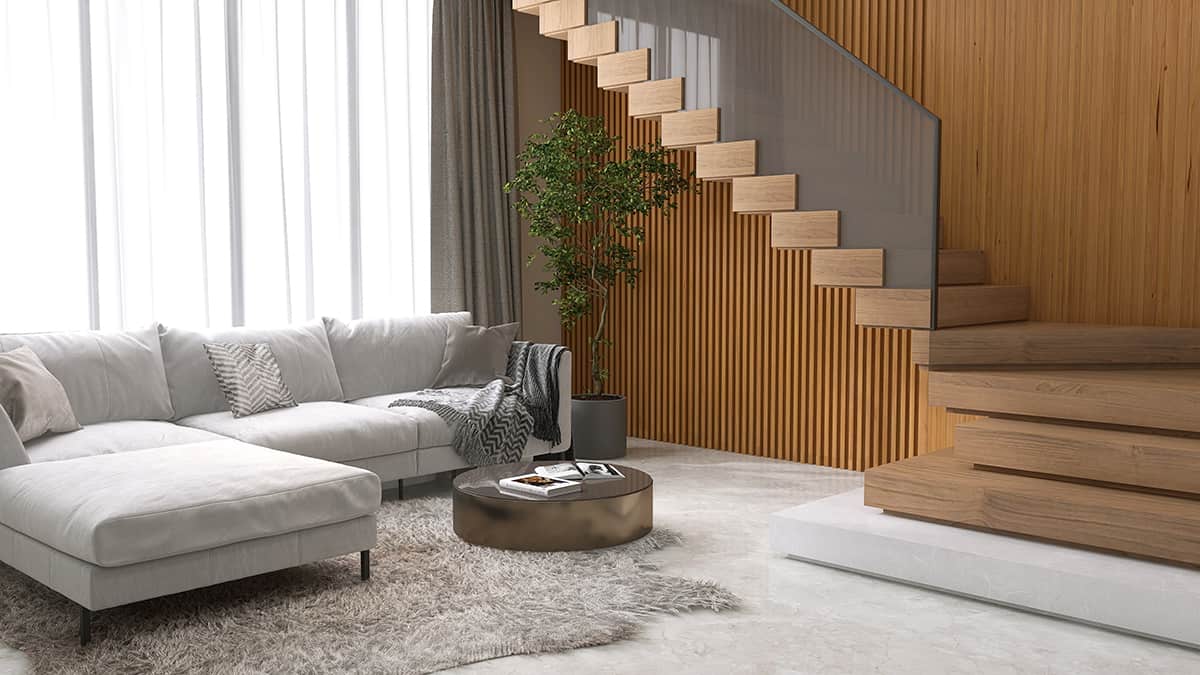 Paneling has become popular over the last few years, as more and more of us are turning our hands to DIY and following Youtube tutorials to improve our home's aesthetics. Paneling a staircase wall creates a look of grandeur, and therefore it works especially well in larger homes.
Paneling has a classic appeal, but it will appear modern and stylish when painted in a modern, muted color such as olive green. You can panel the entire wall for a bold effect or just panel halfway up the wall for a slightly more relaxed feel. Paneling a staircase wall is a project that can be achieved on a weekend if you have all your equipment and supplies ready.
You can paint the wall in the same color as the paneling for a sleek and understated style or use different paint colors for the staircase wall and paneling to create some contrast. You can hang picture frames or art over the paneling or leave it blank.
Gallery wall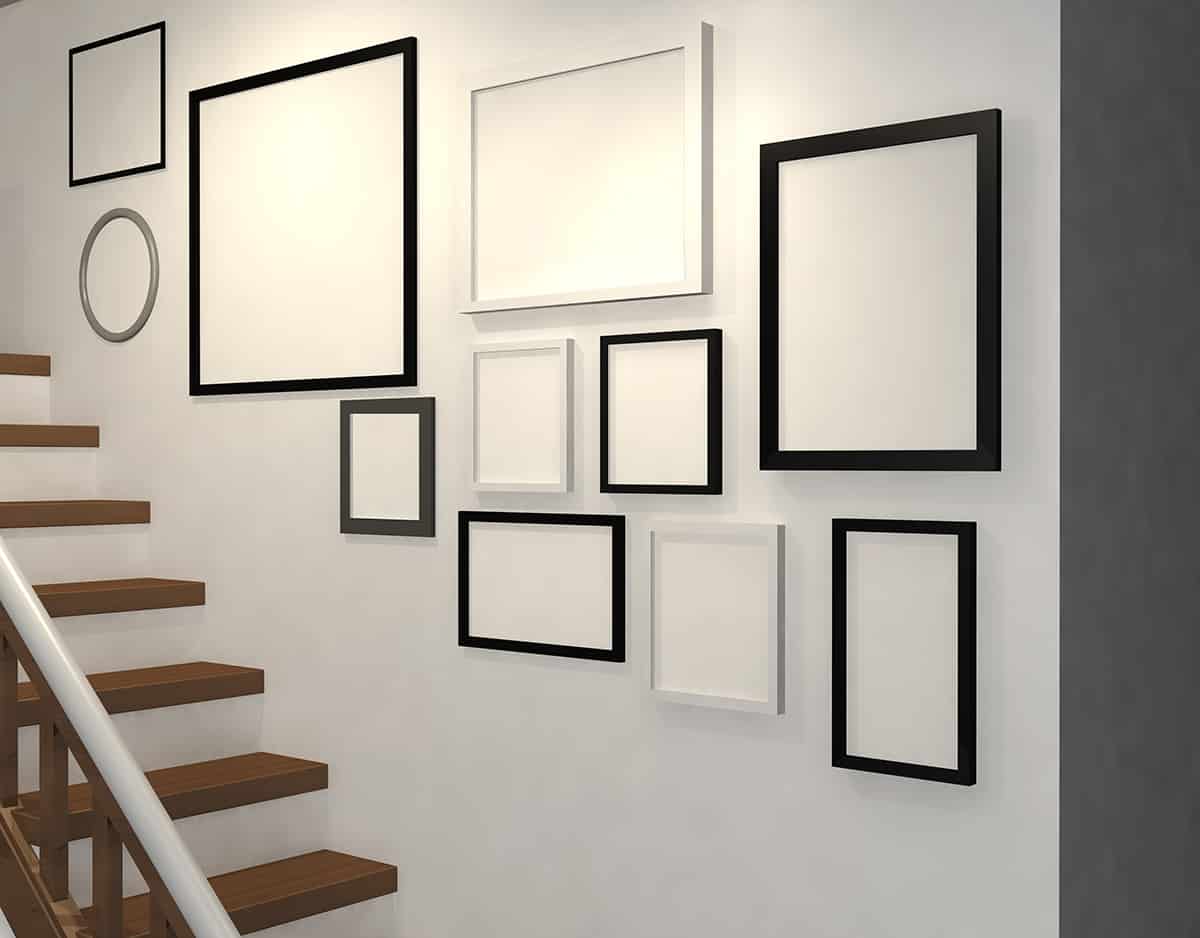 One way that many people add interest to the staircase wall is with a gallery. This looks engaging while also providing the perfect place for you to display your much-loved family photographs or pieces of art. There are many ways a gallery wall can take the shape of a staircase wall, and all of them can be equally effective as long as some theme is followed.
For example, use a wide array of photographs from different events and different colors, but display them all in frames that match, such as all-white wooden frames. You could use a variety of small, medium, and large frames arranged in what appears to be a random order, or you could use all frames the same size for a more uniform, formal look.
To avoid creating a mismatched wall, you could print all the photos in black and white or in a sepia finish to aid consistency.
Collection display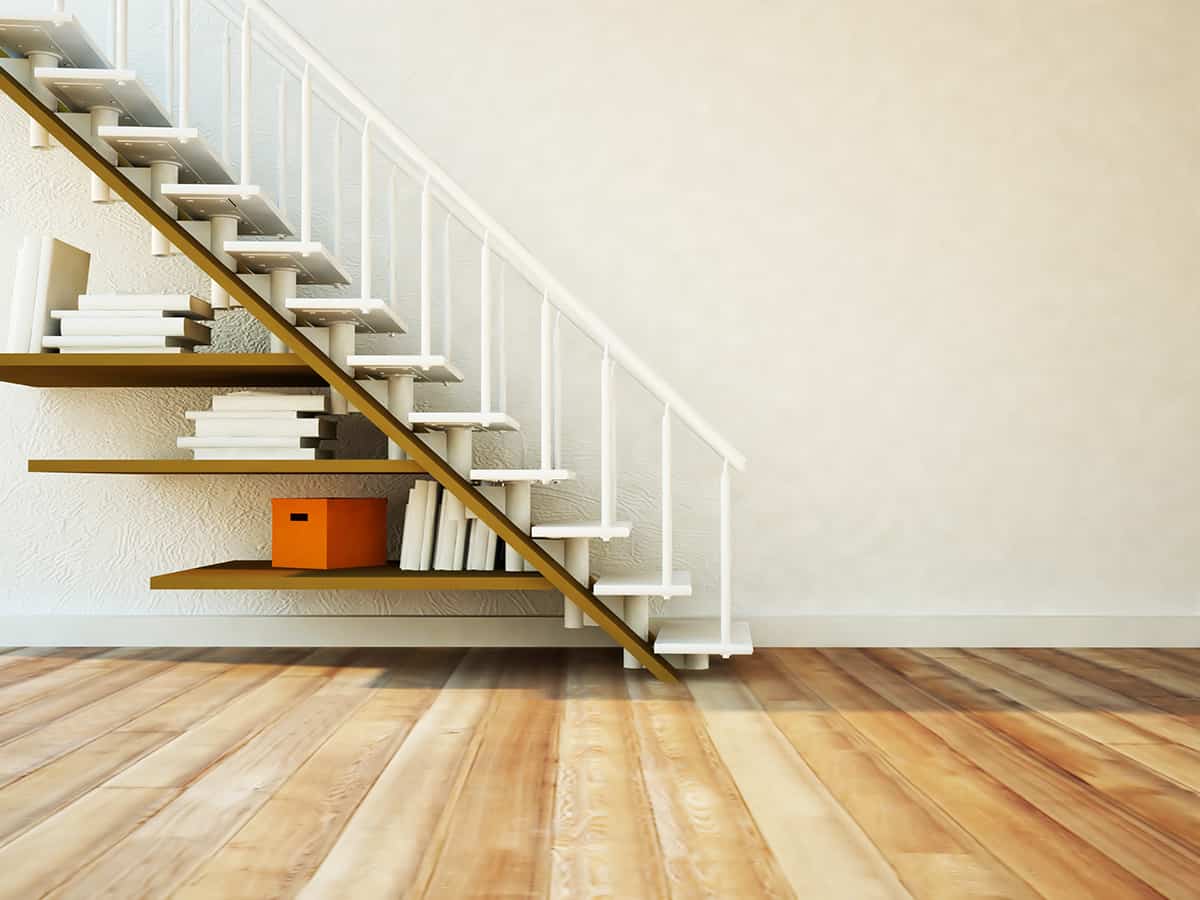 If you are a collector of novelty items or memorabilia, then the staircase wall is ideal for displaying your collection. The stairway is an area that gets to be viewed daily. However, it isn't a space where you will sit and spend much time. This means you can enjoy a quick glance at a collection display without having it become a centerpiece in a living space.
The objects you could display on the stairway wall are only limited by your imagination. You could display a collection of old postcards or a collection of stamps. You could hang a collection of plates on the wall or a collection of dried flowers.
Mural
The staircase wall is a large expanse of blank surface, making it the ideal place in the home to paint a mural. If you're a creative person, you could draw and paint your own mural in this space, or for an easier option; you can buy ready-printed murals on paper applied to the walls in the same way as wallpaper.
Instead of repeating patterns, these sheets combine to create one large picture. The type of mural you opt for could reflect your personality or family, or you could choose something that reflects the atmosphere you want to achieve. Potential murals include a beach scene, a snow-covered forest, or a city skyline.
You can also find companies online who will blow up a photograph of your family or a photo you have taken and turn this into a mural that can be stuck onto your staircase wall.
Living wall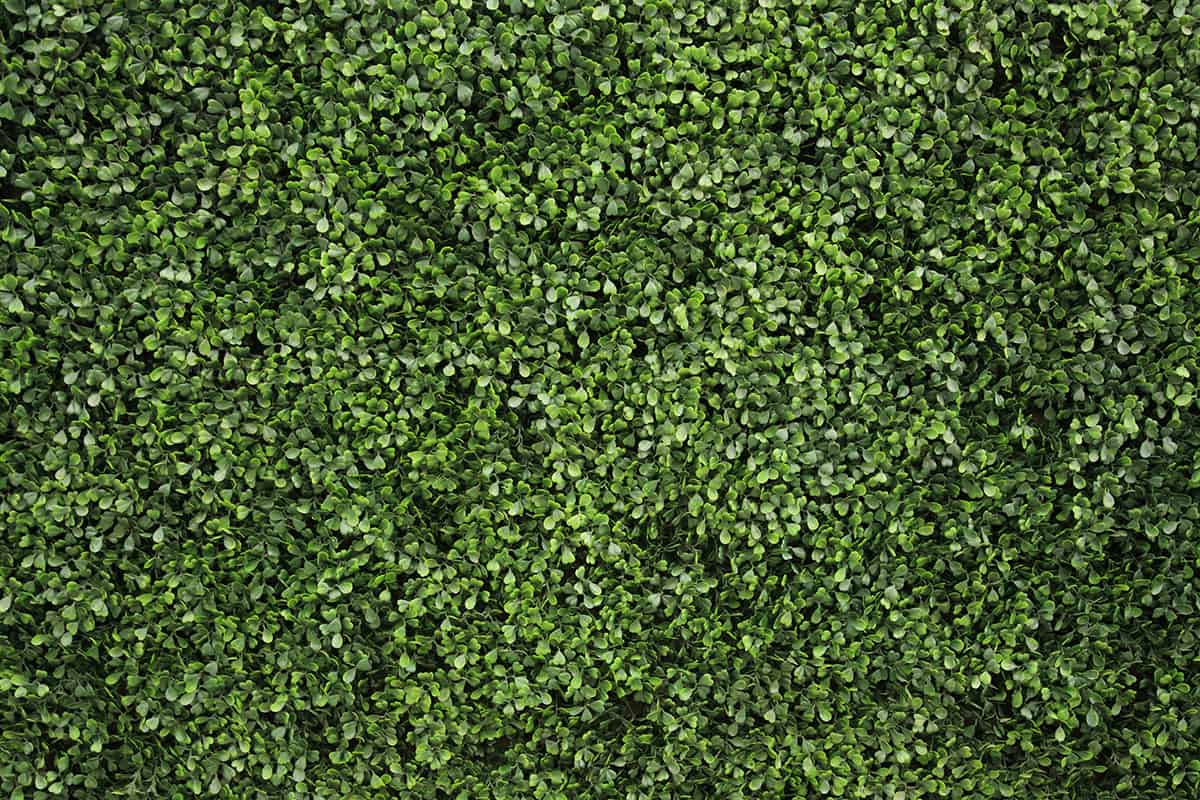 A living wall is a wall that is entirely covered in live plants. This makes for a striking look featuring color, texture, and depth. The first step in creating a living wall on your staircase wall is to assess if your stairway gets enough light to keep a living wall alive and then choose plants that are appropriate for your lighting level.
Climbing plants are hanging plants that work well for indoor living walls because they will trail up a structure to help entirely cover your wall, and they won't stick out from the wall to block your way up and down the stairs.
In a well-lit stairway, choose plants like Pothos, Raphidophora tetrasperma, and a trailing Philodendron. If your light is on the lower side, you could grow a wall of English Ivy which will thrive in shaded conditions.
There are a number of ways you can create your living wall, depending on how much you want to commit to this idea. For a fully hidden wall behind a mass of green foliage, you'll need to install a structure for support first. The best option for this is a metal trellis installation made up of long pieces of wire overlapping each other in a crisscross pattern.
These can be fixed to the wall with screws or brackets to hold them, and plants trail over the structure. Chicken wire cut to the size of the wall could also be a good option. Plants will then need to be secured to the wall in their pots, and their stems can be trained to grow in various directions until all of the walls are covered.
Should Staircase Wall be the Same as the Hallway?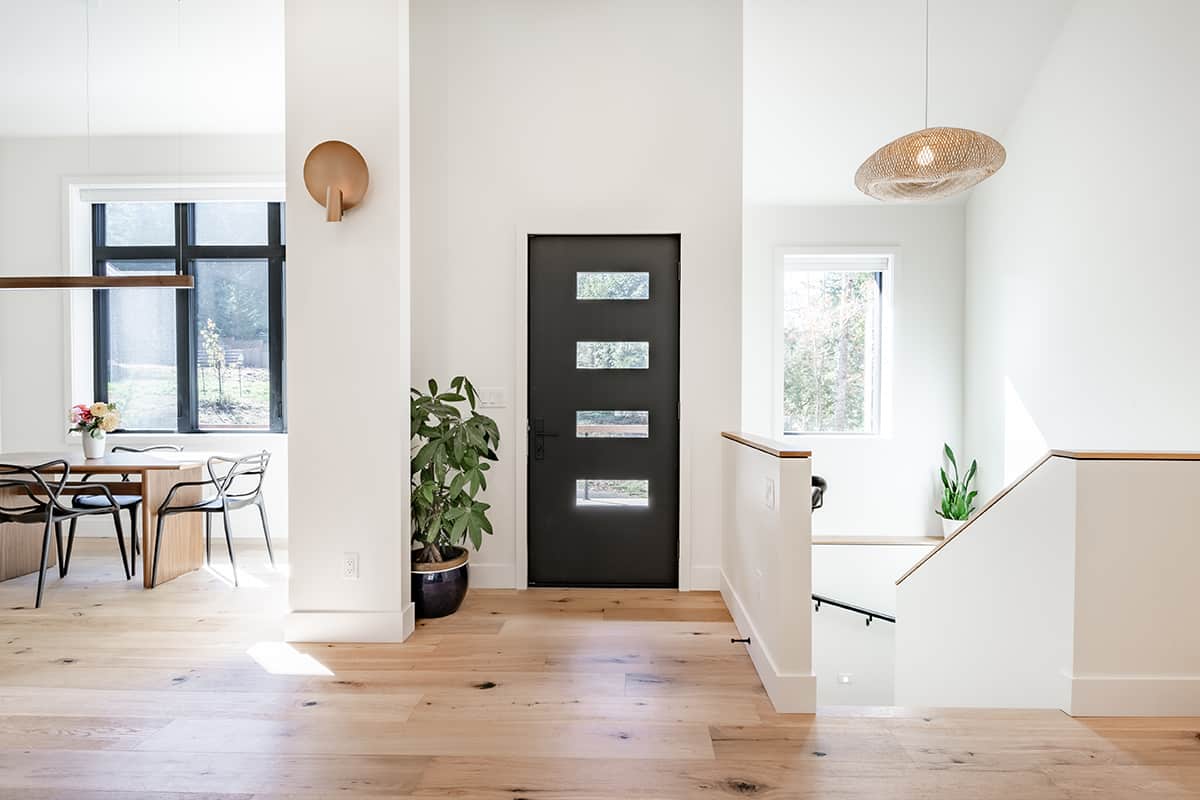 In most modern homes, the hallway and the staircase are joined together, which begs the question, should the staircase and the hallway be decorated the same?
The choice, of course, all comes down to personal preference. Essentially, when a hallway and staircase are decorated similarly, a sense of continuity helps tie the spaces together. This can help maintain a consistent feel throughout the home as you navigate from one room to another.
However, the hallway and staircase do not need to be decorated exactly the same, though it makes for a more peaceful transition when they at least coordinate.
For example, suppose your hallway features pale dusky pink walls and weathered oak hardwood flooring. In that case, it's a good idea to continue a similar theme up the staircase by having beige carpet on the staircase and painting the staircase wall in a deep shade of dark pink, with weathered oak photo frames displayed on the wall to tie in with the oak hallway floor.
This helps to create continuity without all of the elements needing to be exactly the same.
Can You Wallpaper a Staircase Wall?
Yes, absolutely. The wallpaper looks great on a staircase, and though you might think it will be hard to install because of the diagonal angle, it can turn out easier than wallpapering a regular room because you won't have to work around plug sockets and doorways.
The additional height of staircase walls means you will need a set of ladders to reach the top, and it's advisable only to attempt this job when there are at least two of you. Alternatively, hire a professional decorator to install the wallpaper if you aren't experienced in DIY.