Cozy and comfortable blankets are the essential items that every home needs during those cold wintry nights or cool summer evenings. These bedding accessories are ideal for snuggling up with when you want to watch TV or laze about on the sofa. A comfortable blanket won't just keep you warm, but it can also enhance your home's interior decor.  
Blankets come in a wide range of patterns, colors, and materials, and styles. You can wrap them around yourself like a shawl or put them at the bottom of the bed to keep your feet warm during the cooler seasons. But how do you pick the right blanket for you?
The following is a list of 19 different types of blankets based on their materials as well as the pros and cons of each one.  
Types of Blankets by Materials
1. Cotton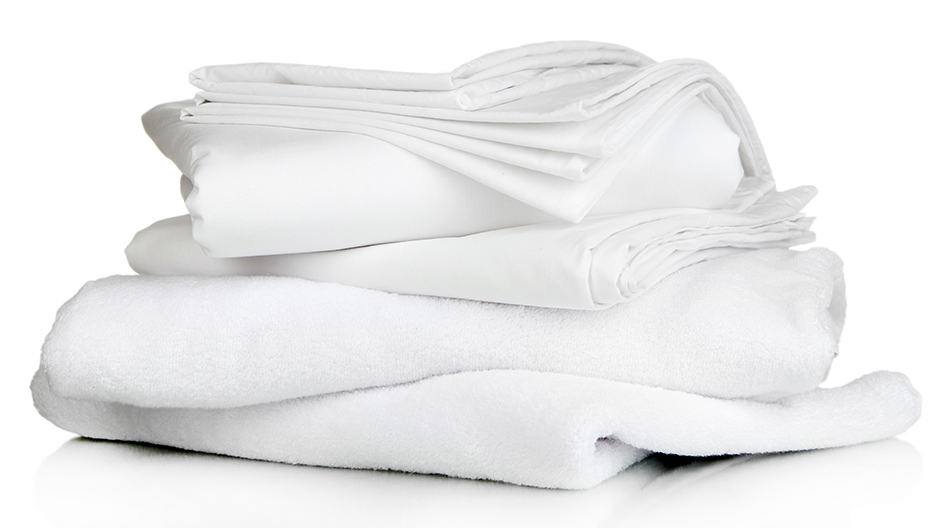 Cotton blankets can be used all year round and are excellent material to choose because of their high breathability and comfort benefits. They provide additional warmth in the fall when used in conjunction with a thicker blanket. These blankets are made from 100% cotton fabric and the most popular type is the Egyptian cotton variety, which is more durable and of higher quality.
Another high-quality material is organic cotton that's better suited for people who suffer from allergies. If you have sensitive skin, you may want to opt for organic cotton blankets in order to minimize the chances of experiencing an allergic reaction.
Pros:

Breathability of cotton helps regulate body temperature, thus perfect for summer
Comfortable feel against the skin
Cotton is 100% hypoallergenic, which makes it perfect for babies and anyone with sensitive skin
Very popular material for bedding and garments

Cons:

Cotton is lightweight so it's not suitable for cold winter nights
The color can fade over time 
2. Silk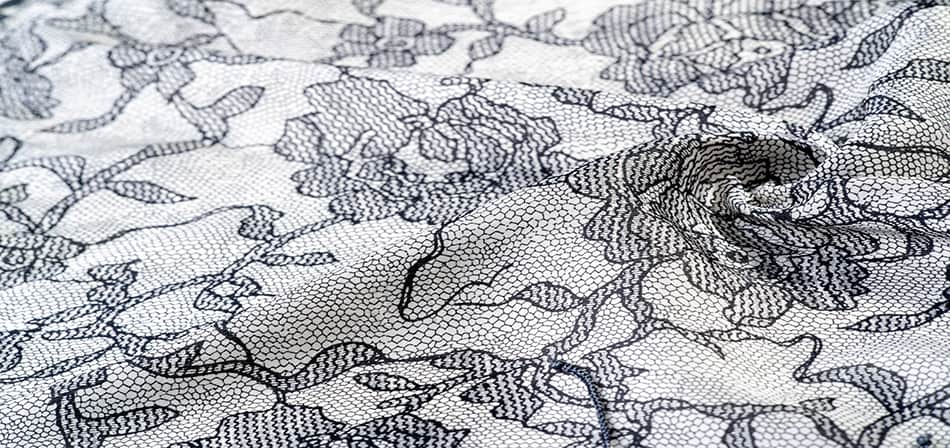 Silk is another popular blanket material for those who prefer a more luxurious bedding than cotton. This weighted material is expensive but feels great against the skin and is incredibly comfortable to sleep in. Not only is silk extremely soft to the touch, but it also comes in a variety of patterns and colors to match your bedroom. That being said, silk is much less durable than many other materials and very difficult to care for.
Pros:

100% hypoallergenic
Luxurious-feel and look
Dust and mites proof
Mold and bacterial resistant
Very soft to the touch

Cons:

Expensive, especially if it's pure silk
Not breathable
It can fade easily, especially under direct sunlight

3. Down feather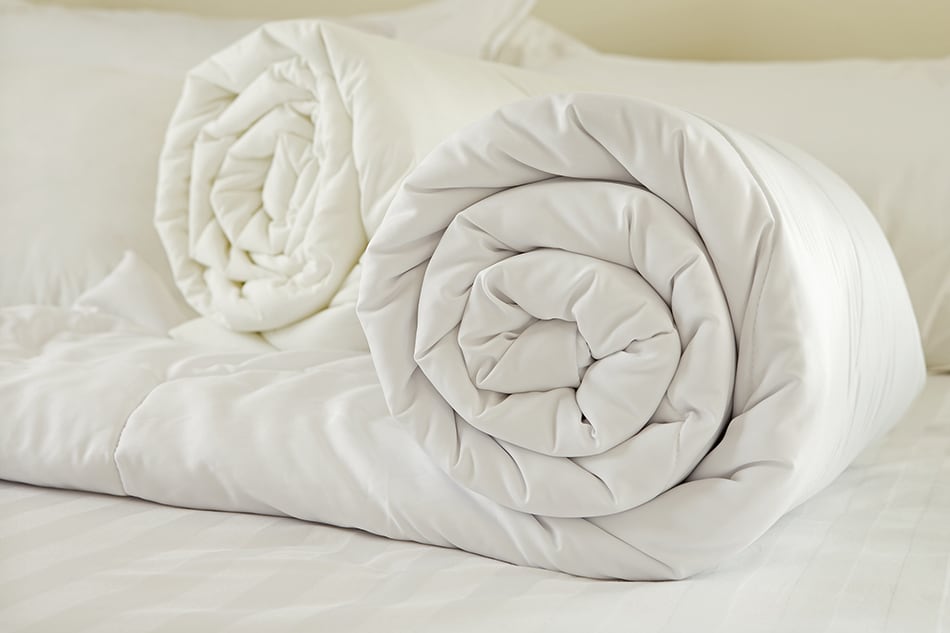 Down feather blankets are mostly made from geese or duck feathers as a filling in the blanket. These types of lightweight natural blankets are designed to trap heat, which makes them ideal for cold winter nights. Down blankets are very comfortable and you can choose from thinner versions depending on the season you want to use them for. 
Down feather blankets are perfect for people who find comforters too warm, but bear in mind that these blankets can also be just as warm as thick comforters that may cause nighttime sweating.  
Pros:

Exceptionally hard-wearing material that can withstand extreme wear and tear
Easier to clean
Ideal for cold winters

Cons:

Some people are allergic to duck or geese feathers
More expensive than cotton
4. Linen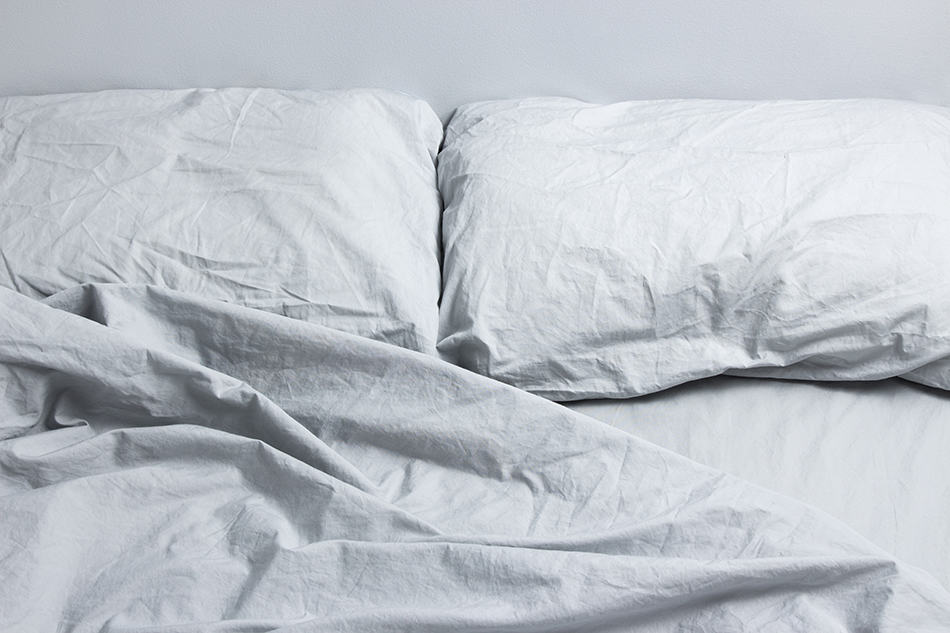 Linen blankets are ideal for summer as they help relieve the skin from excess heat. These types of blankets remain clean for longer and don't stick to the body. Unlike cotton blankets that can eventually lose their color after each wash, linen is more likely to stay soft and retain its original color no matter how many times it gets washed.
Linen is also known for its environmentally-friendly properties. This material is free of pesticides as it has the natural ability to prevent mold or bacterial growth from forming in the fabric. The health benefits of linen blankets stretch to quicker recovery and healing, which make this material the best for summer blankets.
Pros:

Linen takes the top place for being the most durable natural fiber and twice as strong as cotton
Withstands extreme wear and tear, which makes this type of blanket ideal for toddlers and pets

Cons:

Linen can feel quite rough to the touch, but it will soften after a few washes
Softer linen blankets are more pricey
Can wrinkle easily
5. Fleece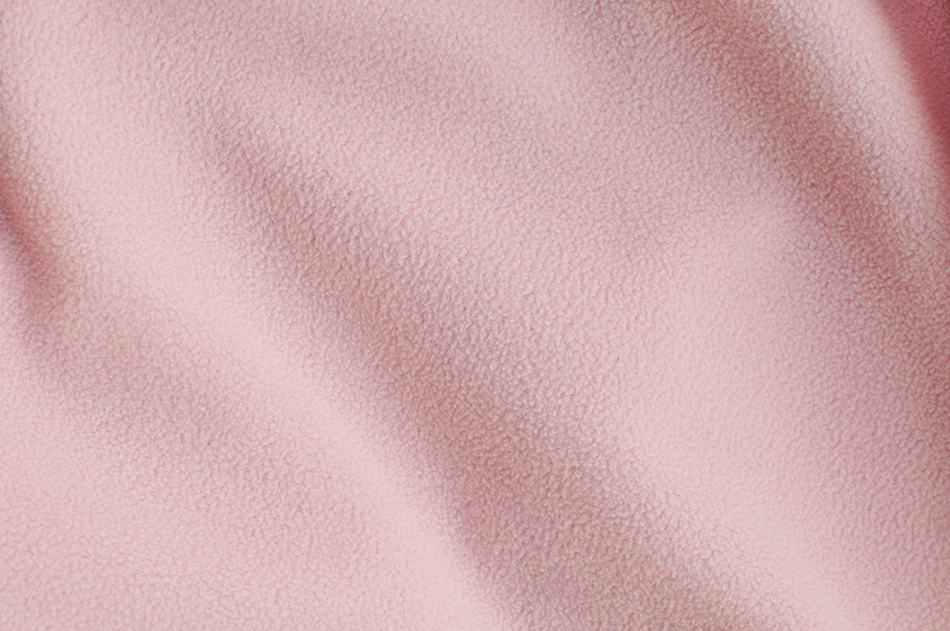 Fleece is a soft and delicate material that keeps you warm on cold wintry nights. Most fleece blankets tend to be made from just a single layer of polyester fabric. This means you'll get a softer and warmer blanket that can be used as a secondary layer or as the bed cover.
Pros:

Inexpensive and versatile to use as a throw blanket
Soft to the touch
Lightweight material
Environmentally friendly as it can be made from recycled materials

Cons:

Not very breathable
Doesn't absorb moisture
Not fire retardant 
Can cause static electricity in dry and cold air conditions
Some people are allergic to this material
6. Woven acrylic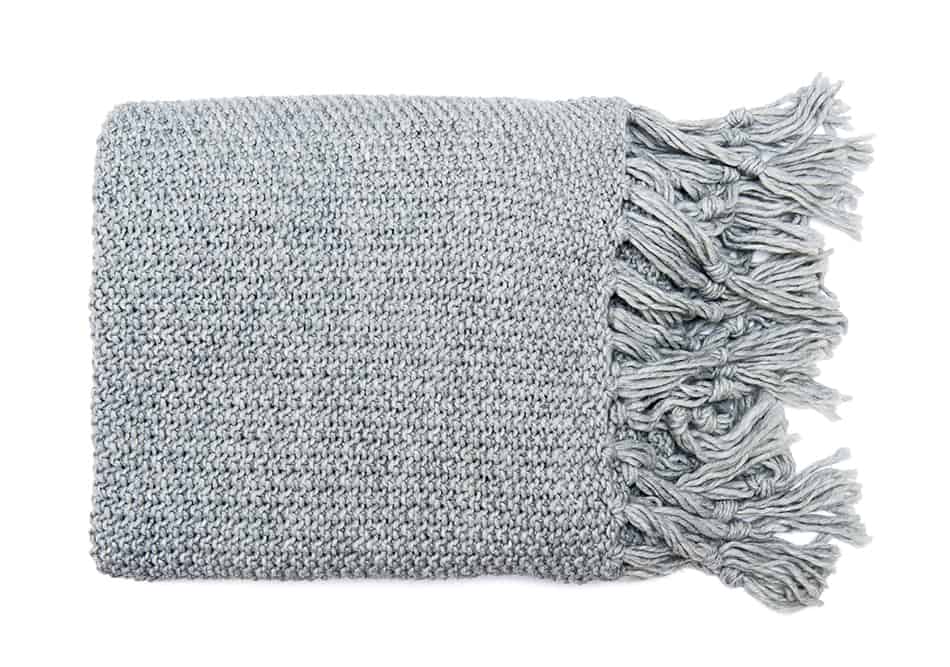 Woven acrylic is often used as an alternative to cashmere or wool since it's cheaper to buy and lighter in weight. Acrylic is an easy material to care for, and even though it's a synthetic material, it does look very similar to natural fibers. Woven acrylic blankets are washing machinable and their colors won't fade over time. Furthermore, due to the synthetic properties of acrylic, it is more resistant to damage from moths.
The downside of acrylic blankets is their possible toxicity risk to some people who have sensitive skin or allergies. Acrylic isn't an environmentally-friendly material as lots of different chemicals are used in the process.  
But that's not the only downside to acrylic blankets. This item of bedding can get rougher with each wash, although it's durable and doesn't wear out quickly. Still, after a dozen or so washes, the blanket won't feel very nice against your skin. It may be best to use the blanket as a top layer instead.
Pros:

Highly durable fabric 
Inexpensive
Doesn't wrinkle easily

Cons:

Non-breathable
Gets rougher after a few washes
Not suitable for sensitive skin
Some people are allergic to acrylic
7. Polyester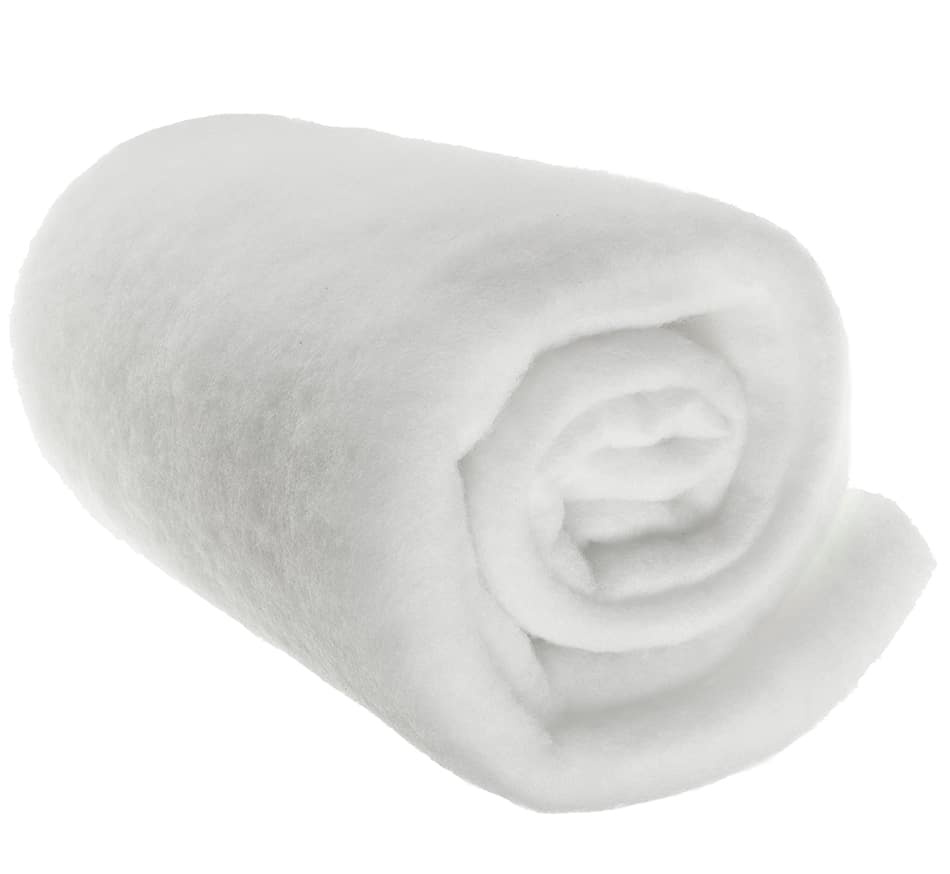 Polyester blankets can be washed many times over and still retain their original color and shape. A popular choice of blanket is the polyester and cotton blend, which is soft to the touch and highly durable.  
But just like acrylic, polyester is a synthetic fabric that can be toxic to some people's skin since it's made from lots of petrol-containing chemicals; so if you're allergic to such material, it's better to opt for the pure cotton blanket as a safer alternative.
Pros:

Wrinkle-free material 
Highly durable and withstands wear and tear
Inexpensive
Colors don't fade after each wash
Doesn't shrink after each wash

Cons:

Not as breathable as cotton
Can be static
Gets rougher over time
Unsuitable for people suffering from certain allergies or sensitive skin
Can stick to the skin when wet
8. Microfiber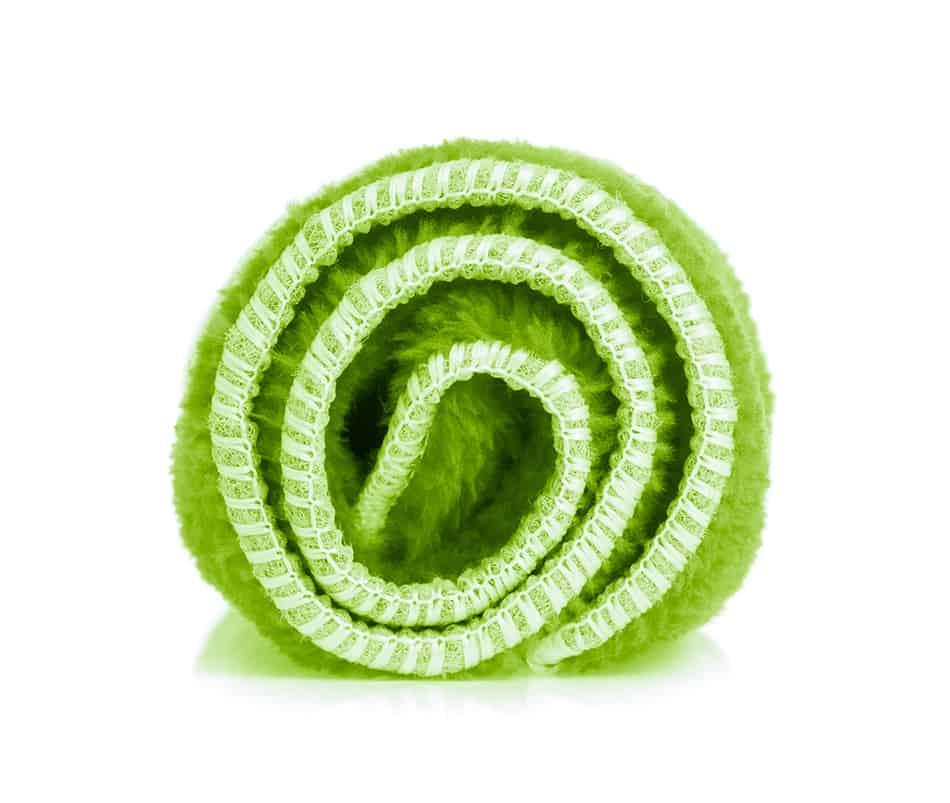 Microfiber blankets are perfect for cold wintry nights, especially if you choose the heavier types. This material is a blend of polyester, wool, and other fibers for extra smooth texture.
This unique blend of fibers is an affordable option that feels luxurious and smooth to the touch. In fact, microfiber blankets are much cheaper than silk, but with the same luxurious and soft texture.
The beauty of such blankets lies in their threading process. The microfiber sheets comprise of more than 700 threads per square inch. The heavier variety is composed of around 1600 threads per square inch. This threading process is intricately down to create a strong and at the same time, thinner surface.
The small weaving of microfiber threads allows the fabric to be much more resistant to stain than many other fabrics. This is because the woven material is so tightly threaded that it protects against liquid penetration and stains. This results in a highly stain and liquid resistant man-made fabric that requires minimal maintenance.
Pros:

Very easy to clean. Simply put them in the washing machine on high heat
Inexpensive
Lots of colors to choose from
Soft to the touch
Withstands wear and tear without losing its shape
Stain-resistant
Wrinkle resistant

Cons:

Flammable
The blankets are made from chemicals, which are bad for the environment
Human and pet hair fibers can stay in the fabric if not washed properly
The thinner varieties of microfiber blankets won't keep you warm in winter
Attract static electricity
Some can shrink after the first wash if not properly dried
9. Chenille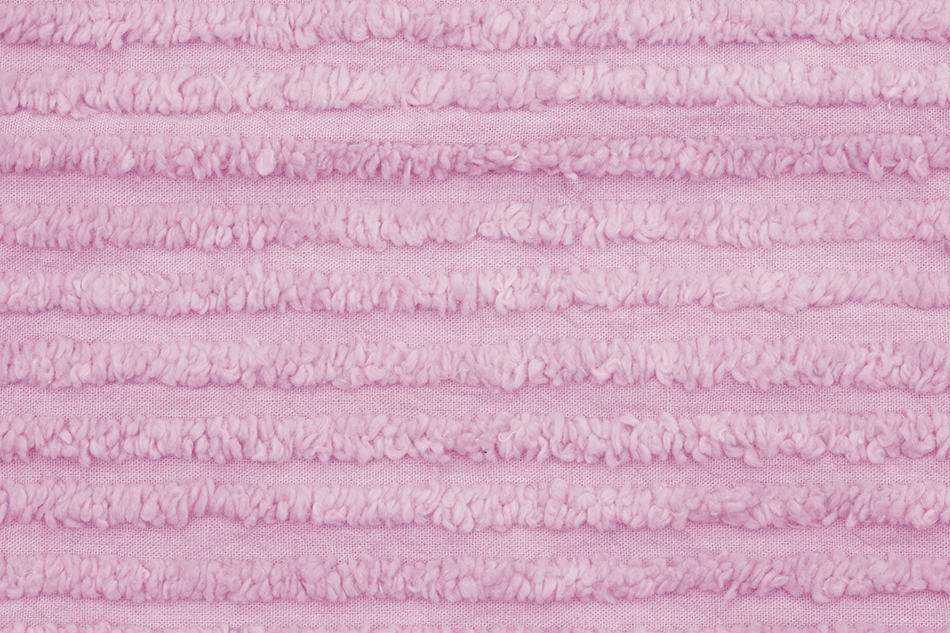 Chenille blankets consist of a dense and soft surface that comes in a wide variety of designs. These blankets are mostly made from cotton, but you can also find other material blends like acrylic, polyester, or rayon.
To create a vintage or retro look in your bedroom, a chenille blanket would be the ideal option. They were made popular back in the 50s as shawls, and are now also used to make throws, blankets, and garments.
Chenille blankets are incredibly soft to the touch and have a luxurious look that will complement any room decor. These blankets aren't just highly decorative, but they also have the ability to keep you very warm in the fall and winter.
Pros:

Very soft to the touch
Water absorbent
Abrasion-resistant
Retain heat
Thick and strong
Versatile fabric

Cons:

Can be quite difficult to care for
Prone to distortion or stretching
Can shrink with age
Require dry cleaning 
10. Wool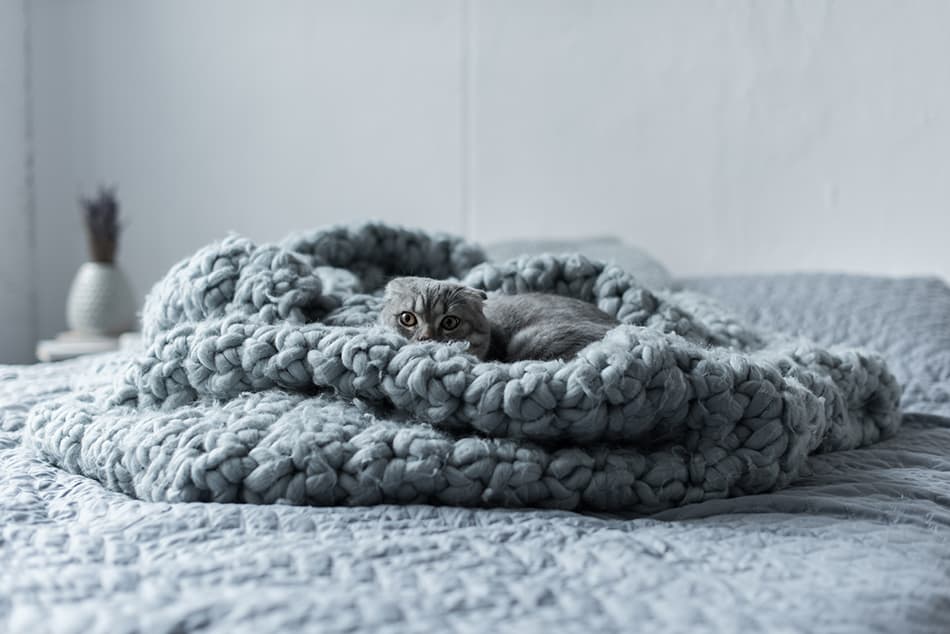 While you may think that wool is only made from sheep, this textile can also be made from the fur of other animals like goats, camels, alpacas, and others. It's the cashmere variety that mostly comes from goats.
Wool blankets are mainly suitable for cold climates but one of their main drawbacks is how rough and scratchy they feel against the skin. But having said that, they do a great job in keeping you warm and dry in the wet and cold seasons. This is because wool is water repellent and offers excellent insulation, thus retaining the heat.
However, during the warmer months, you can feel uncomfortably hot under a wool blanket. It is better to opt for a more breathable material in the warmer seasons for a more comfortable and relaxing night. On the other hand, if you live in a cold climate, wool would be the best option.
Pros:

Completely biodegradable, which means it's environmentally friendly and a renewable resource
Has antibacterial properties, which doesn't provide a suitable environment for bacteria, mold, or germs to breed
Since wool is antibacterial, it does not need to be washed often
Flame resistant
The best blanket material to keep you warm and comfortable in very cold climates
Highly durable and strong
Available in many different designs to match your room decor

Cons:

Good quality wool blankets come at a price
When soaked in water, it will take a long time to dry and feel heavy
11.  Bamboo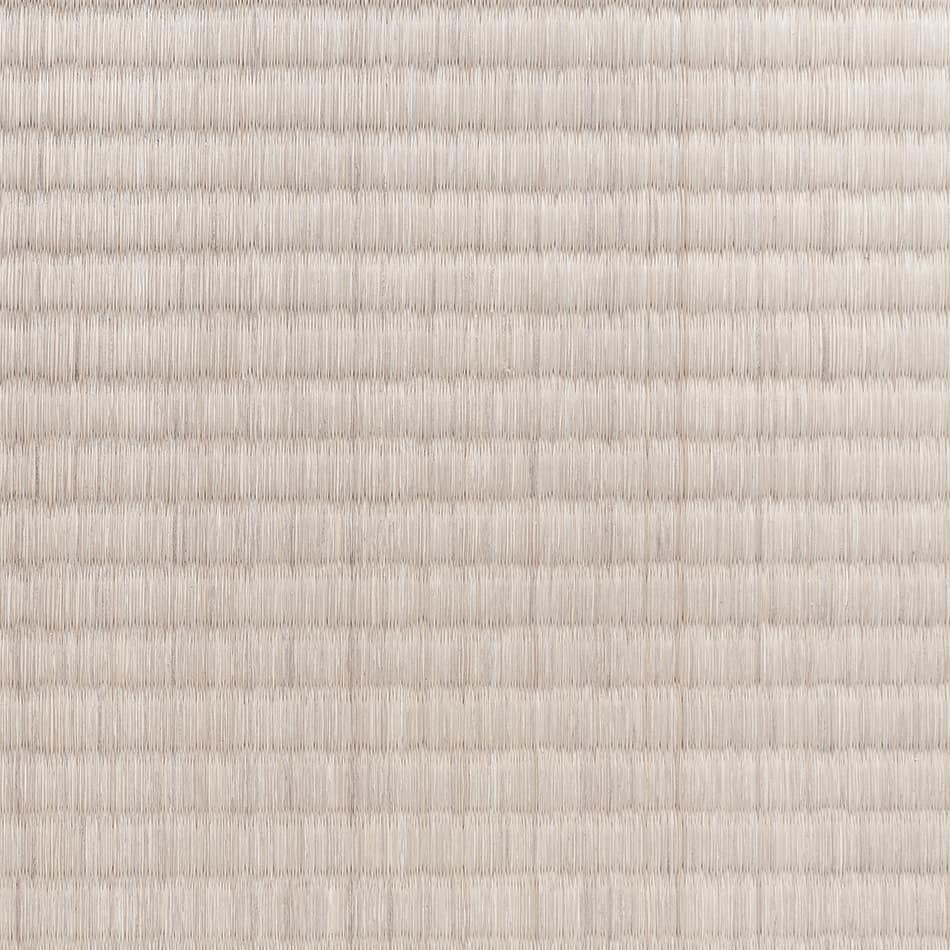 Bamboo blankets are one of the best materials to keep your body heat stable at night. This is because bamboo absorbs perspiration and prevents body heat from escaping through the fibers. You'll be kept adequately insulated and dry, without having to worry about the sweat absorption since bamboo blankets are antibacterial and antimicrobial. In simpler words, they don't create odors by holding bacteria so you can truly enjoy a good night's sleep under a bamboo blanket.  
Bamboo is in fact more breathable than cotton and is now becoming the preferred type of blanket for hot sleepers.
Bamboos are durable enough to be used as quilts or blankets, but their biggest advantage is their incredible softness. These hypoallergenic blankets ward off allergies and dust mites from your bed as they reduce moisture. They are extremely breathable fabrics that make an excellent bedding choice.
Overall, bamboo blankets are very easy to maintain, very soft to the touch, and comfortable to lay on.
Pros:

Feel like cashmere
Machine washable
Absorb moisture more than cotton
Has antibacterial and antifungal properties
Odor-resistant, which makes them last longer
Biodegradable and a renewable resource
Hypoallergenic, which makes them ideal for people with allergies
Last for many years

Cons:

While the price of bamboo blankets is high, the benefits you get in the long term will override the initial cost.
12. Vellux
Vellux blankets are most often seen in hotels. They are mainly made from foam and nylon, but some are also made from pure polyester. These types of blankets are very durable and warm thanks to their layers of polyurethane foam insulated with soft nylon. These fibers create a strong and warm blanket that can be washed in the washing machine without shrinkage. You can use a vellux blanket on its own, or as an additional layer under a comforter.
Since vellux blankets are made from two layers of foam between nylon fibers, they can withstand wear and tear. In fact, vellux blankets are more likely to last for several years (as long as 30 years!) than many other man-made fabrics.
These blankets are hypoallergenic, which makes them a good choice for allergy sufferers. And thanks to the 9 different color varieties that range from light blue to dark red, you'll certainly be spoiled for choice.
Pros:

Extremely strong and durable man-made material that will last for years
A top choice for hotels and families with toddlers
Very soft, plush-like texture
Get even softer with each wash
100% hypoallergenic
Highly comfortable material as a blanket

Cons:

Not great for people who sweat a lot
Foam isn't breathable
Not environmentally friendly since vellux is a man-made material
7 Most Popular Types of Blankets by Styles
13. Afghan Blanket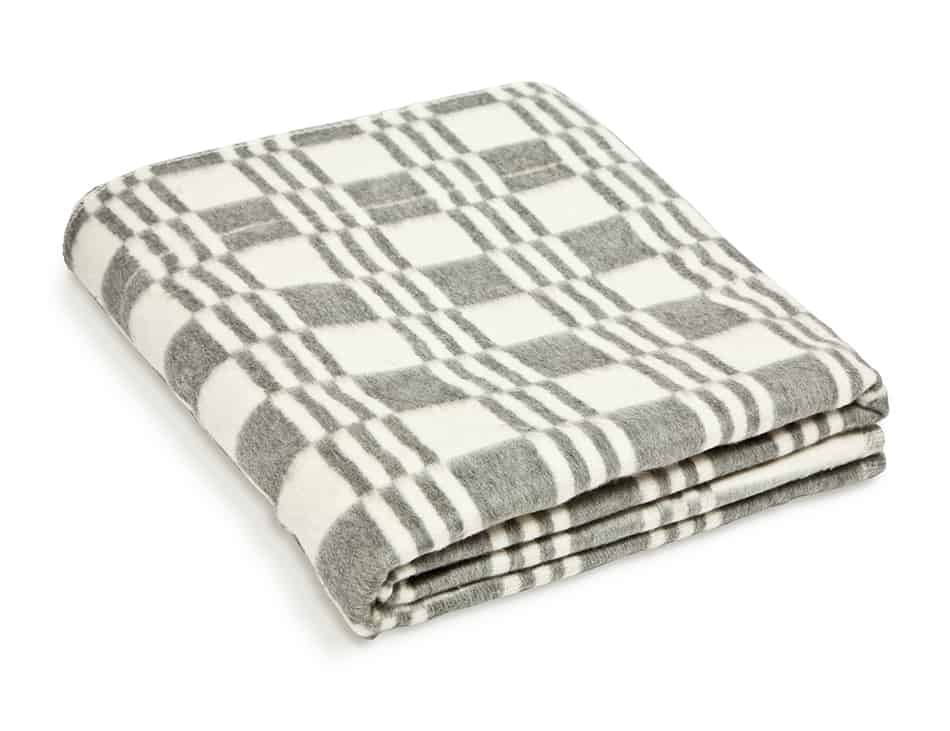 These are blankets that are usually made of wool or other natural materials. They serve the same purpose as most other blankets. This means that they can either be used for warmth at night or for decorating the house.
Afghan blankets can be made either by knitting them or through the use of crochet. Also, more often than not, these blankets are placed on the back of chairs and couches for decoration. They are called Afghan Blankets because the Afghans are known for their distinctive textiles and way of making them. Therefore, the name "Afghan" was deemed fit for blankets that are knitted or crocheted.
14. Duvet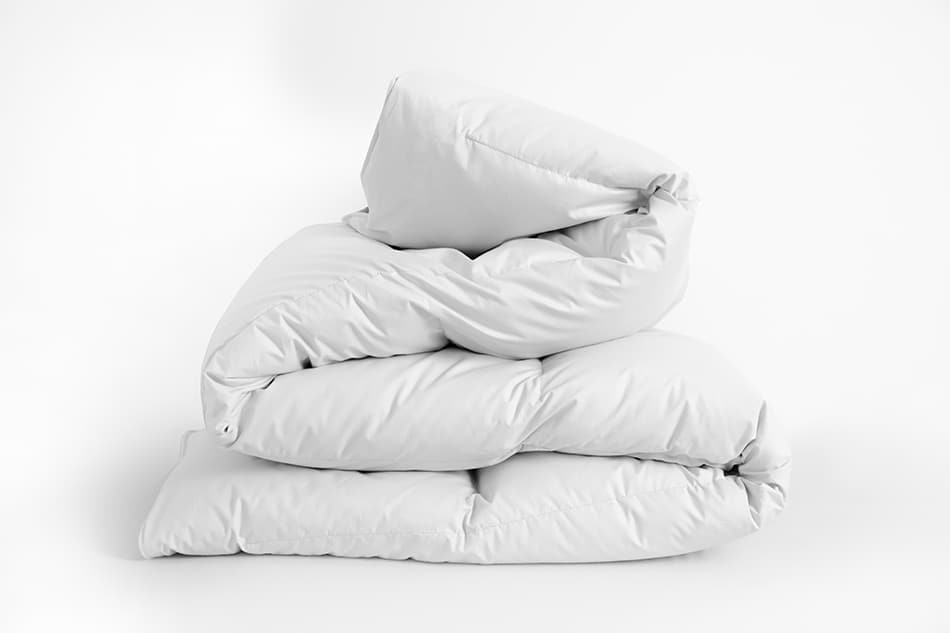 The Duvet is a very thick type of blanket that is used to keep the body warm. Contrary to the Afghan blanket, the Duvet is not necessarily used for decorative purposes but instead to help regulate your body temperature.
Duvets are always filled with cushion materials such as feathers, polyester, down, cotton, wool, or a manufactured alternative to make them soft, fluffy, and comfortable.
A duvet also needs a duvet cover. This cover shields the duvet from damage and ensures that it lasts longer. Duvets are also quite pricey and difficult to clean, and this is why the duvet cover is important. Furthermore, the duvet cover allows you to switch up easily the look of your bed and room. By simply changing the cover, you can redecorate your room.
Sometimes, the duvet can have ties at each corner to help fasten it to the duvet cover. However, as a result of their thickness, duvets are not suitable for a warm climate.
15. Comforter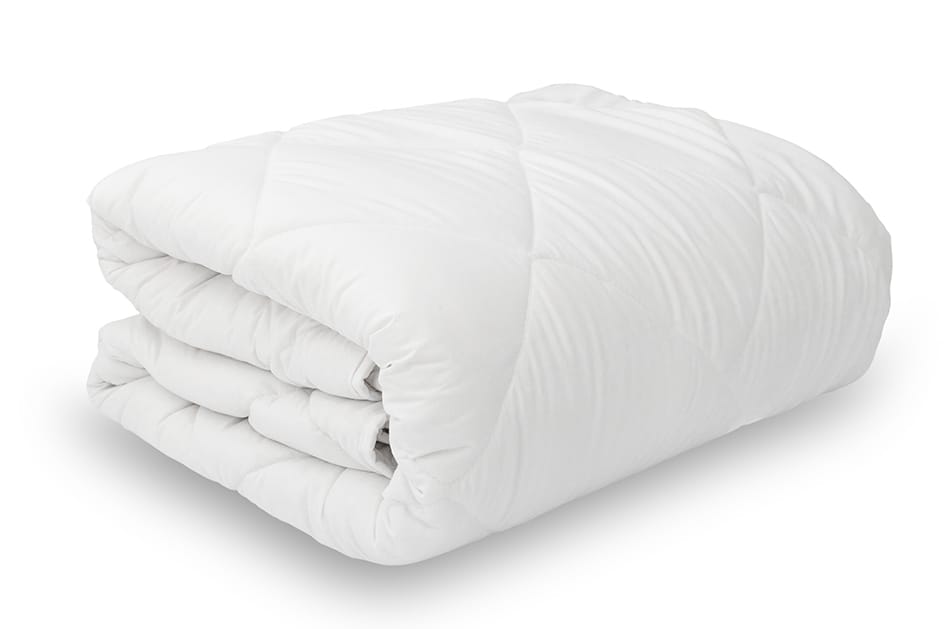 A comforter is very similar to a duvet. What makes the comforter different from the duvet is that the comforter doesn't need a cover. It can be used as a single piece of your bed linens.
Comforters can be used for warmth and decorative purposes because they come in various alluring patterns and colors. Additionally, whenever you want to change the look of your room, you can simply put your comforter in a duvet cover.
In comparison to duvets, comforters are less heavy and are easier to care for. Also, if you prefer and want a layered look, the comforter is the blanket for you.
16. Quilt
The quilt is a type of blanket that is not necessarily used for its ability to keep you warm, but rather it allows you to be flexible in terms of selecting the colors and design for your room. This is because quilts are featherweight and not as thick as comforters or duvets.
Quilts are very decorative as they come in mishmash patterns of various fabrics. They are made from three pieces of fiber. The top is a lean filling of cotton and wool, and the back is made of an interwoven fabric.
Additionally, quilts need to be dry-cleaned regularly, and they are suitable for warm climates.
17. Coverlet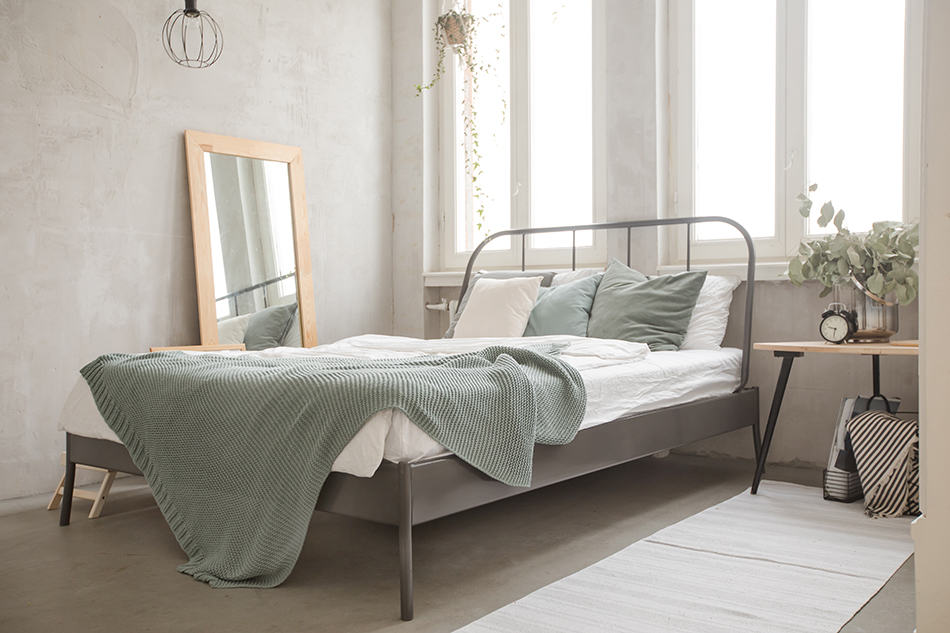 The coverlet is a type of blanket that is majorly used for decoration. It is made solely for decorative purposes. Unlike the quilt, the coverlet has only one layer of fabric.
Coverlets hang a few inches down the side of your bed but don't touch the floor. If your coverlet has a decorative trim at the edge, show it off by leaving it untucked.
Coverlets can be laid directly over your duvet or comforter, and you can also fold them in between your duvet and sheets. Furthermore, during summer, your coverlet can be used as your blanket because it is lightweight and won't cause much heat.
18. Bedspread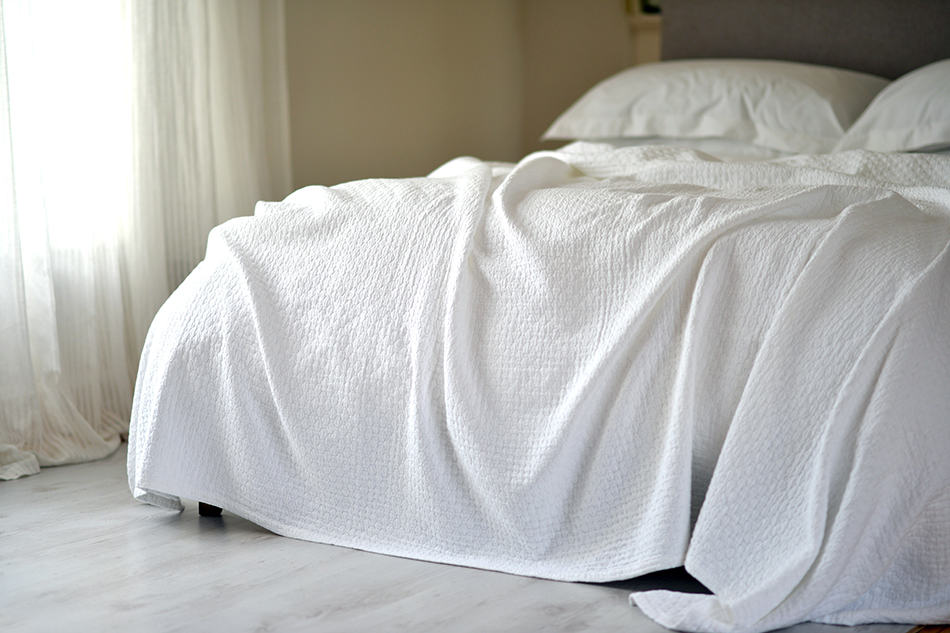 Bedspreads are currently out of vogue, but it was formerly the most popular type of blanket. Just like a quilt and coverlets, bedspreads are lightweight and decorative. They are easy to clean, and you can change them easily whenever you want to remodel your room's look.
However, contrary to the coverlet, bedspreads not only cover the bed; they also go over the pillow and reach the floor. They do not provide much warmth, so they are best suited for you if you live in a place with warm weather or during summer.
19. Electric Blanket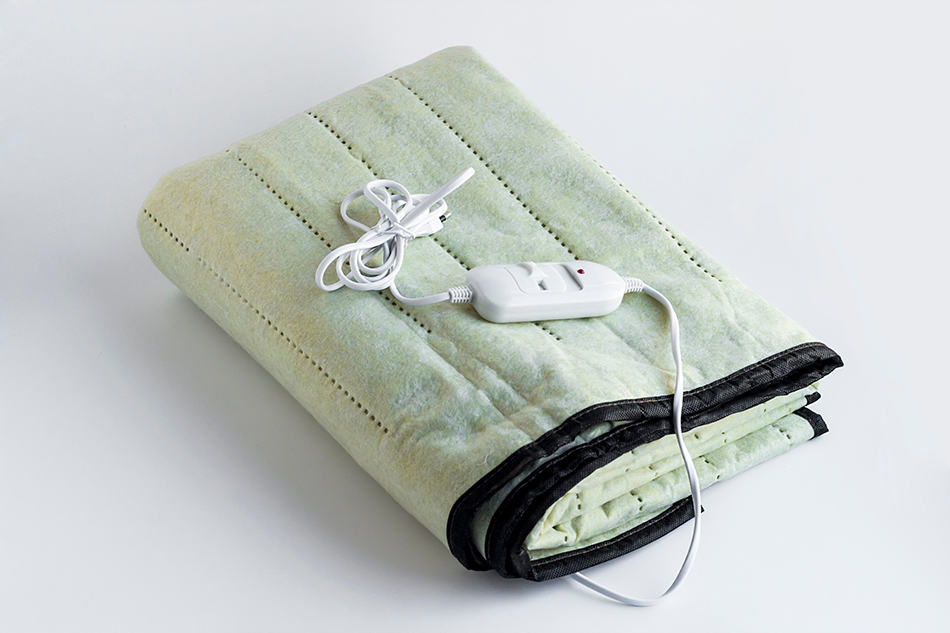 Electric blankets are one of the newly popular trends in blankets. These blankets consist of interspersed heating wires that you plug into electricity to keep you warm or warm your bed.
These blankets also have inbuilt temperature regulators that you can use to set them cooler or as warm as you want. Electric blankets are best suited for winter as they can help you warm your bed as quickly as possible.
All the same, electrical blankets also come with certain safety concerns and guidelines. Before buying an electric blanket, ensure you speak to your doctor to know whether it is suitable for you. Also, never use an electric bed for an infant or in a room that children have unrestricted access to. Do not keep your electric blanket all night; instead, it is best to use the blanket to warm your bed before you sleep.