What's not to love about bathtubs? You can bathe yourself in them, you can bathe your kids in them, and you can even bathe your dogs in them. Little wonder there are so many types of bathtubs available in today's markets.
The types of bathtubs vary depending on their designs and the materials with which they are made. They include:
Generic Bathtub
These kinds of tubs are typically white, they are properly enclosed to allow for ease while sitting and standing in the tub, and they also come with a showerhead at the top of the tub.
Soaking Bathtub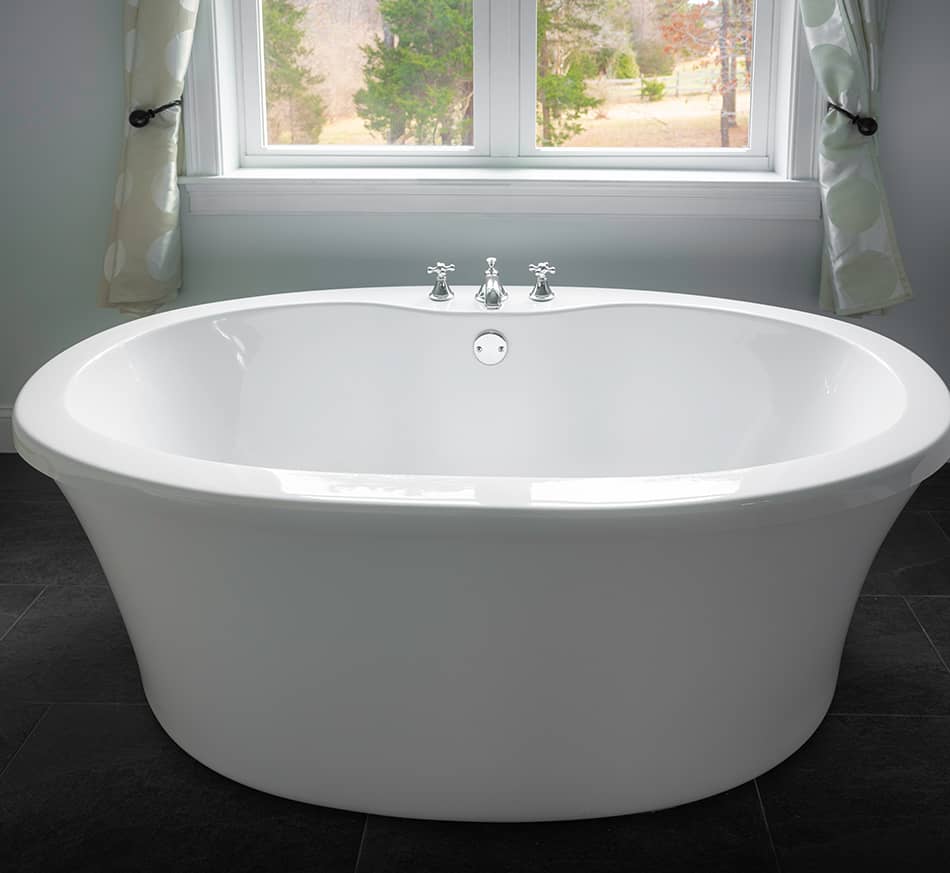 You haven't taken a real bath until you've had a chance to immerse your entire body in a tub filled with water, and this is exactly the kind of comfortable bath a soaking tub provides.
They are built to have a lot more space than the generic tubs so that they can take in more water and provide deeper bathing experiences. The soaking bathtubs come in several kinds of sizes, styles, and shapes.
Walk-In Bathtub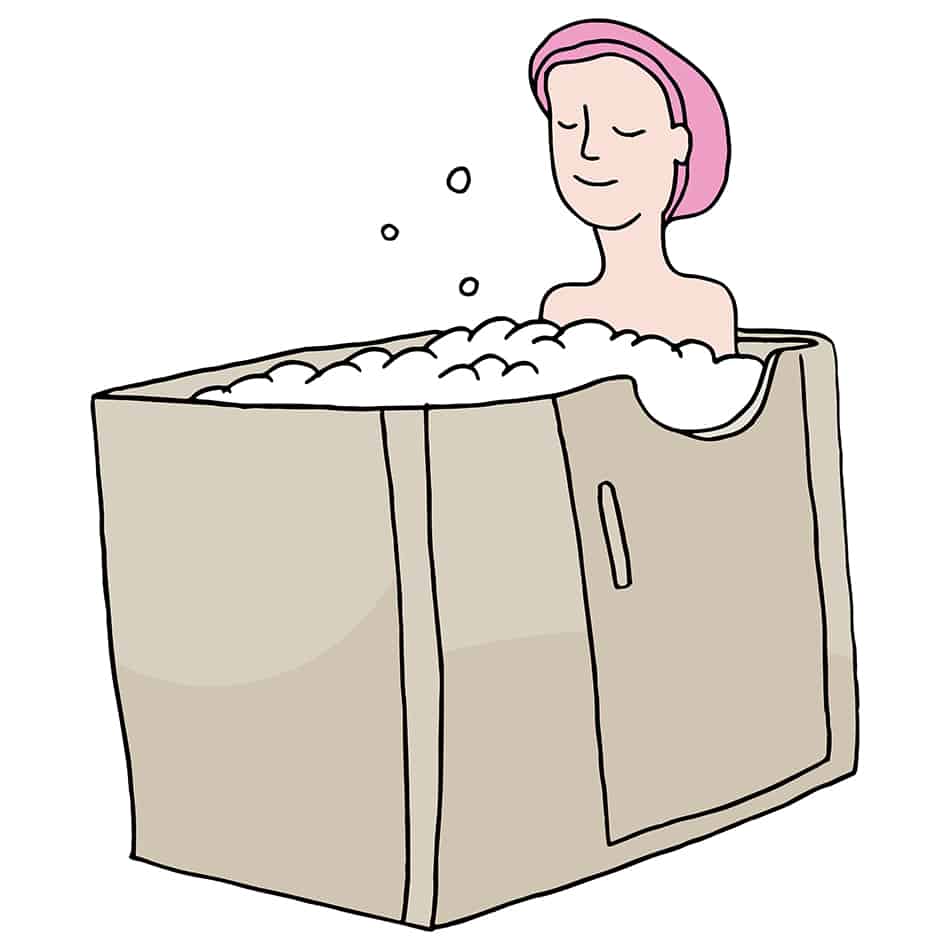 Just as the name implies, this kind of tub allows you to walk in on a level surface instead of having to step across a high side of the tub. They are perfect for older persons and others with mobility issues.
Even though this tub has a side that's flat to allow entry, water doesn't just pour out of this entrance because a special device is usually installed at the door to serve as a seal that contains the water. You have to press a button to release the water after each bath.
Whirlpool and Air Tubs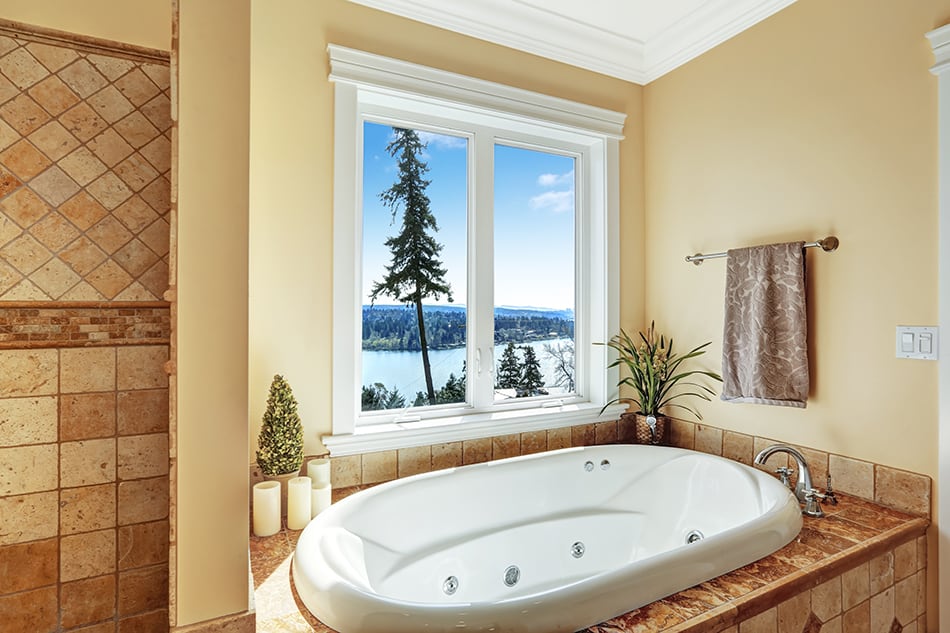 These kinds of tubs allow water to pulsate out of the tub and massage every part of your body.
It's one of the most fun ways to relax, especially after a hard day's job. These kinds of tubs are typically expensive but worth the cost
Cast Iron Tub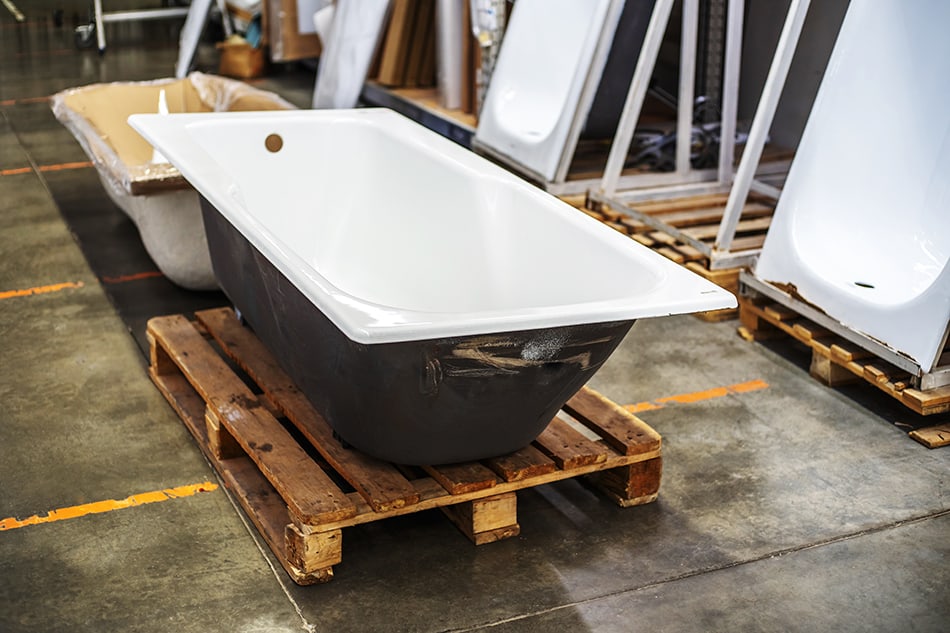 This kind of tub is perfect for a family with young kids as the tubs are really strong and can withstand all kinds of shower time play that may arise when kids are present. Cast iron tubs are nearly impossible to damage.
They are made of iron and coated with a veneer porcelain enamel, giving them a shiny and smooth surface. You clean these types of tubs by simply using soft clothe to wipe then rinsing afterward. Cast iron tubs always need a good foundation for installation because they are really heavy, especially when filled.
Enamel Tub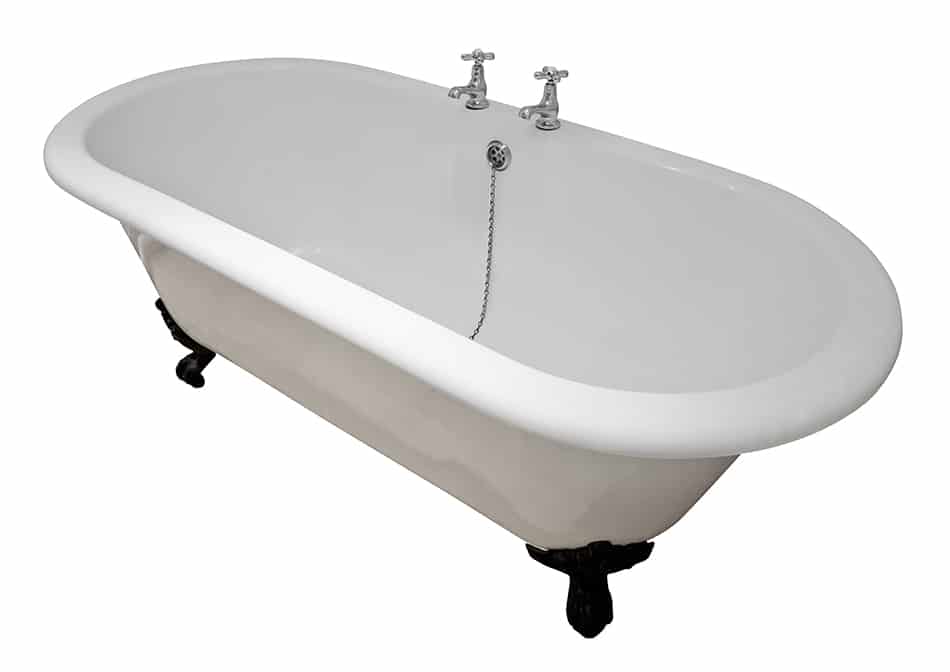 Enamel tubs describe a kind of tub that's made of steel but coated with enamel. They're a lot less heavy than tubs, made with forged iron, and also a lot easier to install. You have to clean and dry the tub each time after use so that the luster from the enamel continues to shine for as long as you have the tub.
One downside of getting an enamel tub is that the material can start chipping or cracking after a while. When this happens, you'll begin to see rust in your tub, and that's never a pleasant sight.
Acrylic Tub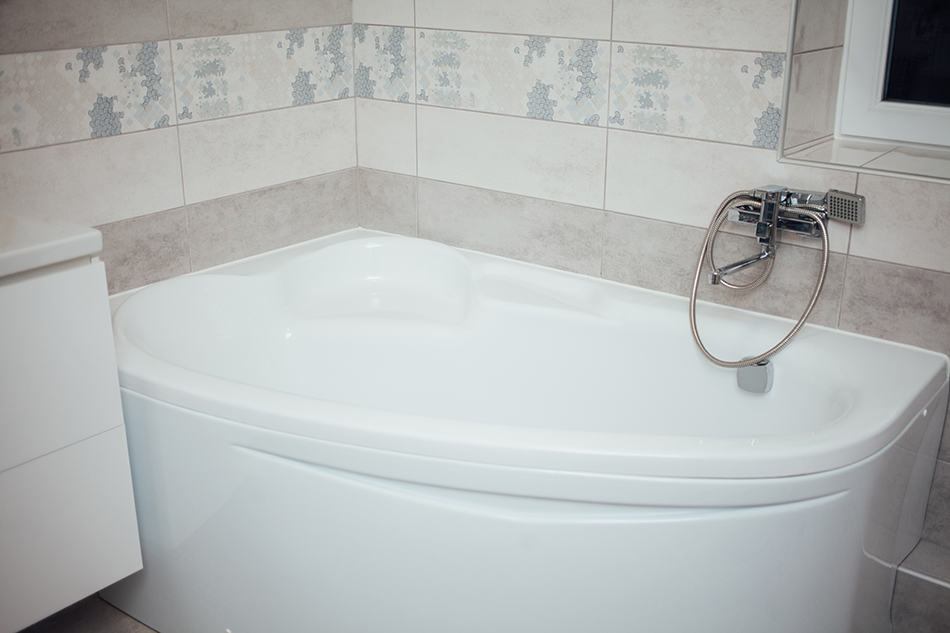 Acrylic tubs are not only rugged and strong, but they are also smooth and glossy and reflect sunlight. They can stay shiny and look new for years if properly maintained. They are a bit harder to scratch than porcelain or enamel surfaces.
They are used to make spas and whirlpools because of how sturdy acrylic can be.
Fiberglass Tub
This kind of tub has a layer of shiny, smooth material known as 'Gelcoat.' This material can be found lying over the fiberglass. The layer beneath the Gelcoat is made of reinforced polyester, and it provides strength for the fiberglass.
Fiberglass tubs are lightweight compared to enamel or acrylic tubs, which makes them easy to move and install. Despite being light, they are strong and long-lasting and can remain shiny for years if well-maintained. A con of buying this kind of tub is that Gelcoat can sometimes allow water to seep through, staining the tub.
Composite Tub
A composite product is obtained when two or more components are joined to fabricate a better product. A mix of several materials is used in the manufacturing of composite tubs, from resin to plastic to carbon fiber.
These materials are all lightweight, which means a composite tub is also lightweight. The tub weighs less than half the weight of a forged iron tub. You'll find this kind of tub in the bathrooms at luxurious high-rise apartments.
When finished, composite tubs are covered in enamel, and they appear glossy and beautiful. They need regular maintenance to retain their beautiful surface and to ensure chips or cracks don't get on the tub.
Cultured Solid-Surface Tub
These kinds of tubs are always stylish and luxurious and leave one wondering what kind of materials the tub is made of. They are made from real chunks and pieces of stone produced in a crushing machine and then mixed with some liquid polyester resin to provide sturdiness and durability.
These tubs have several similarities with quartz, another tough mineral often found in certain rocks. A Gelcoat is often added on top to provide a powerful and smooth surface for the tub. These tops are high-end and give a luxurious look to your bathroom.
They do not require as much maintenance as many other kinds of tubs because their surface can neither stain nor absorb water. It is quite easy to hide scratches on this kind of tub; however, cracks are a lot harder to conceal
One advantage of having this kind of tub is that it has a mold and mildew-proof surface. Mold and mildew are sometimes hazardous. The best way to maintain a cultured solid-surface tub is to clean it with a soft sponge and avoid cleaning with abrasive sponges and cleaning products with heavy chemicals.
Specialty Wood & Glass Tubs
The Japanese believe that wood tubs clean the soul and purify the body after a bath, so wood tubs are popular among some people. Wood comes with several advantages that you may not find with other tubs.
For one, they hold warm water for longer. Wood tubs can come in oblong, oval, or round shapes. They are often made with sturdy and beautiful kinds of wood.
Alcove Tubs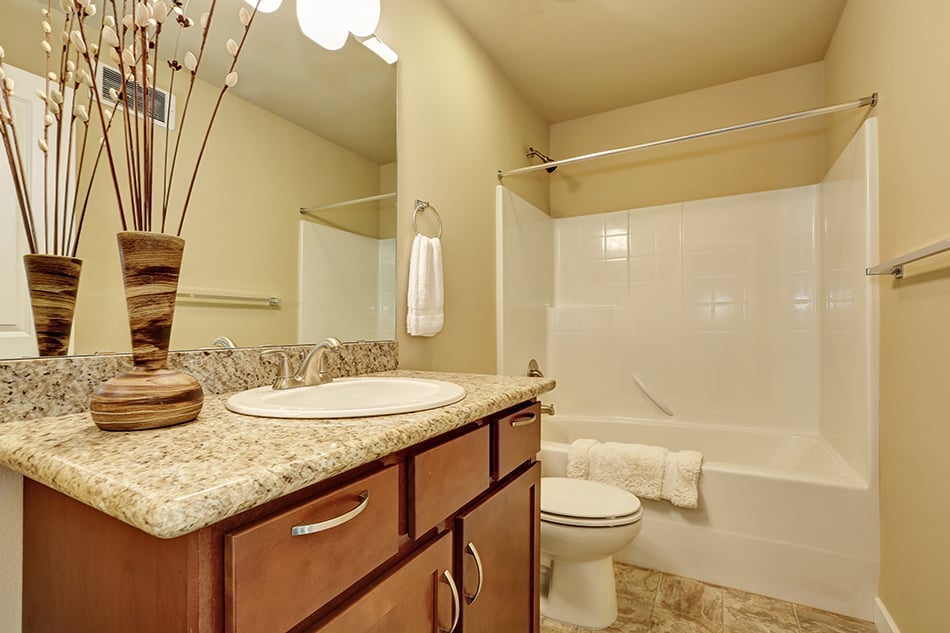 These kinds of tubs are also called the 3-wall design. They are of two kinds, the simple and the luxurious alcove tubs. Alcove tubs are a very functional kind that possesses both beauty and practicality.
The showerheads in these kinds of tubs are located at the top, and they are made to be extremely convenient. They are most suited for smaller spaces, such as small apartments. You'll find these tubs in many homes today.
They are often about 20″ to 50″ wide and 70″ to 80″ long. Because of their small size, these bathtub types typically hold about 40 – 60 gallons of water.
The pros of having an alcove tub are that it has great aesthetic quality yet very functional. It's cheap compared to some other kinds of tubs, yet you can decorate it to give it a more luxurious look. Alcove tubs are also easy to wash and maintain. One major con of this type of tub is its generic appearance.
Freestanding Tubs
Generally, freestanding tubs have a beautiful aesthetic quality. They give your bathroom a much more striking appearance. You can install them close to a wall or in the center of the room, as opposed to alcove tubs that need to be by a wall.
Some of the pros of having this kind of bathtub include its versatile appearance. They lend an artistic presence to the home and increase its resale value. They can go perfectly in modern-style bathrooms, and you can install them anywhere on the bathroom floor.
Some cons of freestanding tubs are the lack of storage space for toiletries. This means anyone using a freestanding tub must also install a toiletry caddy, a stool, or similar things to hold one's soap and shampoo.
They are also hard to clean when they're situated close to the wall, as there is not enough space to move around and clean all corners of the tub thoroughly. Furthermore, when these tubes are placed in the middle of the bathroom, they take up a lot of space that could be used for other things in the room.
These tubs are also not the easiest kinds for kids and people with limited mobility. They are pretty expensive and are said to be extremely heavy, so you need to be sure that your bathroom floor can safely carry the weight before buying one.
Freestanding tubs are of four varieties, and these include:
The claw-foot style tub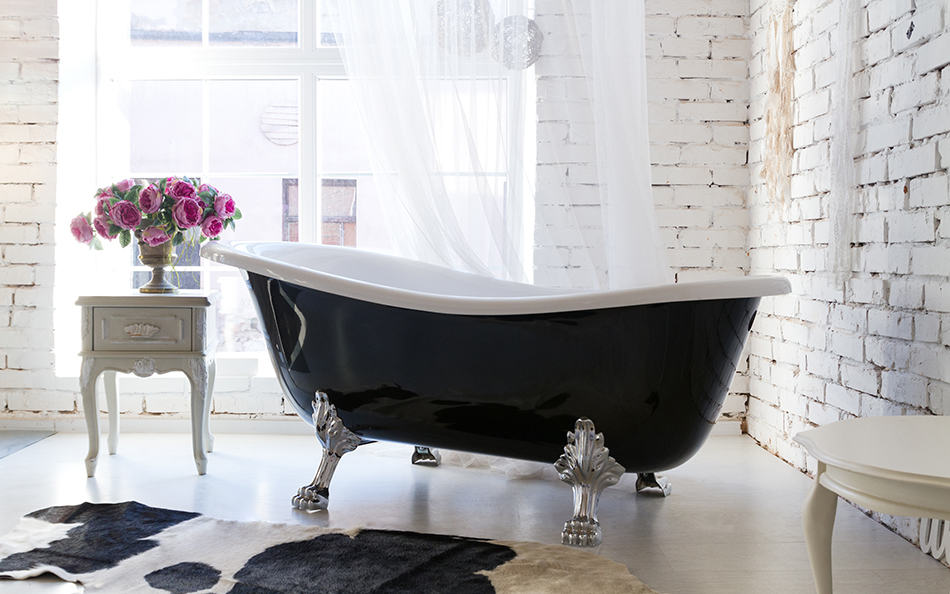 These tubs are designed to have clawed feet and are simply beautiful yet very practical. They come with high and deep walls and are often seen as romantic. They are better placed in the middle of the room for easy accessibility when cleaning.
They are 20″ to 50″ wide and 70″to 80″ long. One of the pros of having this kind of tub is that it adds a vintage feel to your bathroom. Its high walls allow you to soak deep and relax when having a bath, and they are also very easy to install.
Some cons of having this kind of bathtub include the fact that they are often really small, and there is a small selection of clawfoot tub sizes and shapes. They only suit certain bathroom décor types, and there is no storage room around the tub for toiletries.
The soup-bowl freestanding tubs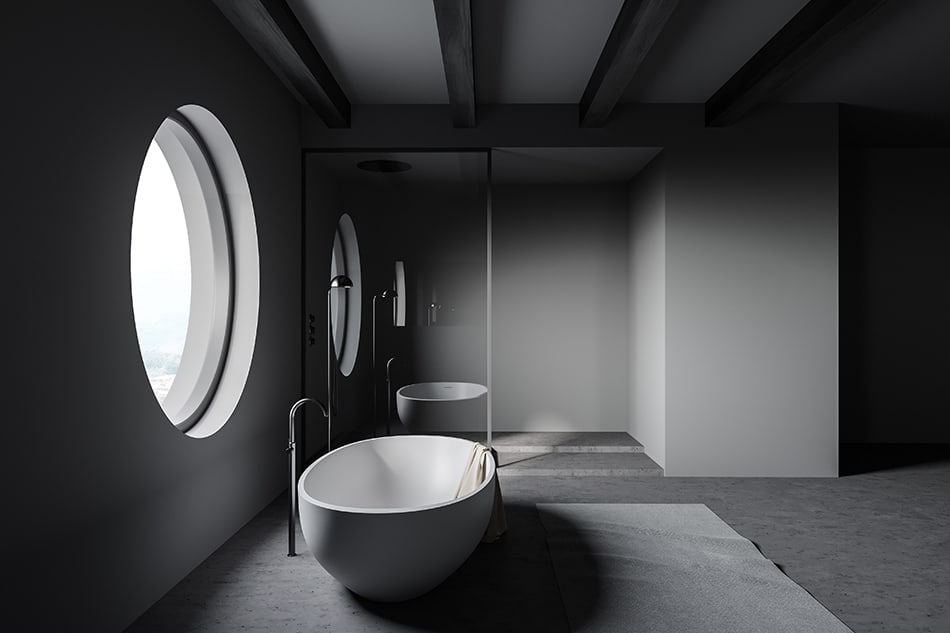 These are large and round, just like a soup bowl.
Contemporary Solid-Base Tubs
These kinds of tubs are modern styled with a solid base.
Freestanding tub in an alcove
You get this kind of tub when you place a freestanding tub in an alcove.
Built-In / Drop-In Tubs
These are also called deck-mounted or platform tubs. Their drop-in designs mean that the rim of the tub is flush with the deck on which it's mounted; you'll often find this type of design with whirlpools or air tubs.
They can be rectangular or triangular shaped or deep-walled. Some pros of having this kind of tub include the fact that they are high-end and therefore have a luxurious look. They have premium bearings and are built to allow for deep soaking, which makes them very functional.
They come with grip handles which makes them a lot safer than some other kinds of tubs. Cons include the fact that their high walls make them not so easily accessible. There are different varieties of drop-in tubs, some of which include:
Standard drop-in tub
Step-up built-in tub
Corner drop-in tub
Corner tubs come in two kinds. Triangular and rectangular-shaped corner drop-in tubs.
Corner Tubs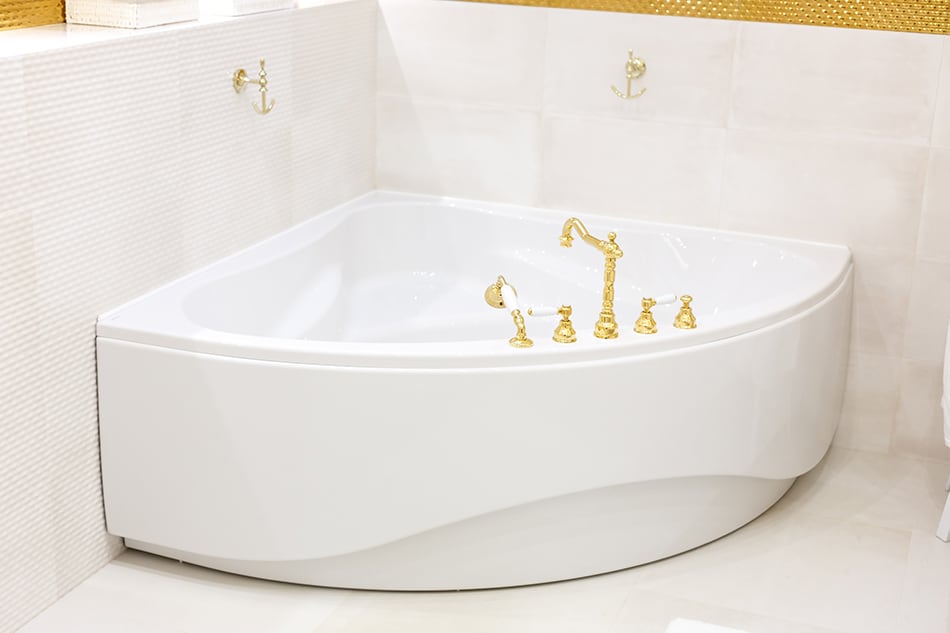 Corner tubs are known for their versatility. They are often situated on a high platform in the corner of a bathroom where two walls join. They maximize space and are out of the way. They can even be enclosed with glass to give them a more aesthetic feel; however, they can also be drop-in or open.
Some cons of this type of tub include the fact that the tub cannot be accessed from all sides due to the wall obstructing access from certain sides. Furthermore, you can't place this tub anywhere else apart from an extreme corner space.
Undermount Bathtub
These kinds of tub styles are almost the same as the drop-in or platform tub styles. However, in undermount bathtubs, the rims are roofed, which is not the case in the drop-in style tub. The rims on undermount tubs are often covered with either stone or tile.
And the tub is often placed on top of a strong deck. Undermount tubs can be made from various materials, some of which include tile, granite, stone, or wood. They have a luxurious high-end feel.
They often give bathrooms a spa-like look. They are very strong and durable, and also easy to clean. On the downside, they are often difficult to remove because of the decks on which they're often placed.