If you are planning on installing a clawfoot tub in a bathroom, then you need to take into account the standard clawfoot tub size, as well as the clearance space that is required around this type of bathtub.
Unlike regular bathtubs, clawfoot tubs are not fit neatly into a corner or against a wall. Instead, clawfoot tubs are a type of freestanding bathtub, and therefore they require some clearance space around them.
Here we look at the standard clawfoot tub size and other dimensional considerations you should take into account when planning a bathroom layout with this classic type of tub.
What is a Clawfoot Tub?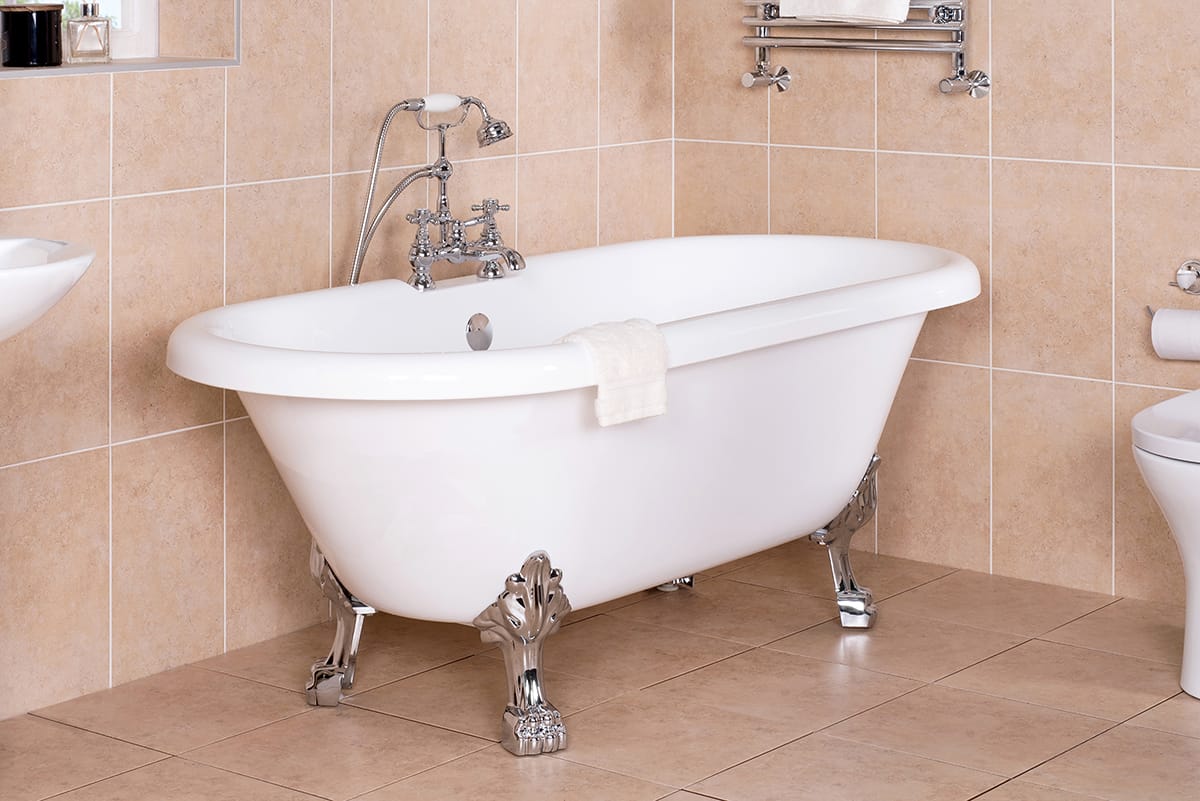 A clawfoot tub is a type of bathtub with a traditional classical style. This type of bathtub is believed to have originated in the 1700's, but it didn't gain widespread popularity until the latter half of the 1800's.
The design of this bathtub features a tub that is freestanding. The tub element itself is raised a few inches above the floor and held in place by four 'feet'. The style of the feet can differ between tubs, but the most common look is a ball and claw design, giving rise to the name 'clawfoot tub'.
Many people will use the term 'clawfoot tub' interchangeably for a freestanding tub and a clawfoot tub, but the true clawfoot tub must have feet that are curved to emulate the look of clawed feet.
Traditionally a clawfoot tub would have been made from heavy cast iron, coated with enamel. Nowadays, you can find plenty of clawfoot style tubs made from acrylic, offering the classic style in a modern material. Cast-iron bathtubs can require extra support from additional floor joists due to their weight, and they are difficult to move and install for the same reason.
Enamel clawfoot tubs also scratch easily and get very cold in the winter. By comparison, acrylic clawfoot tubs are lightweight, they don't get cold, and they are generally much less expensive to purchase. Acrylic tubs can also be buffed back to a clean shine if they suffer from scratches.
What is the Standard Clawfoot Tub Size?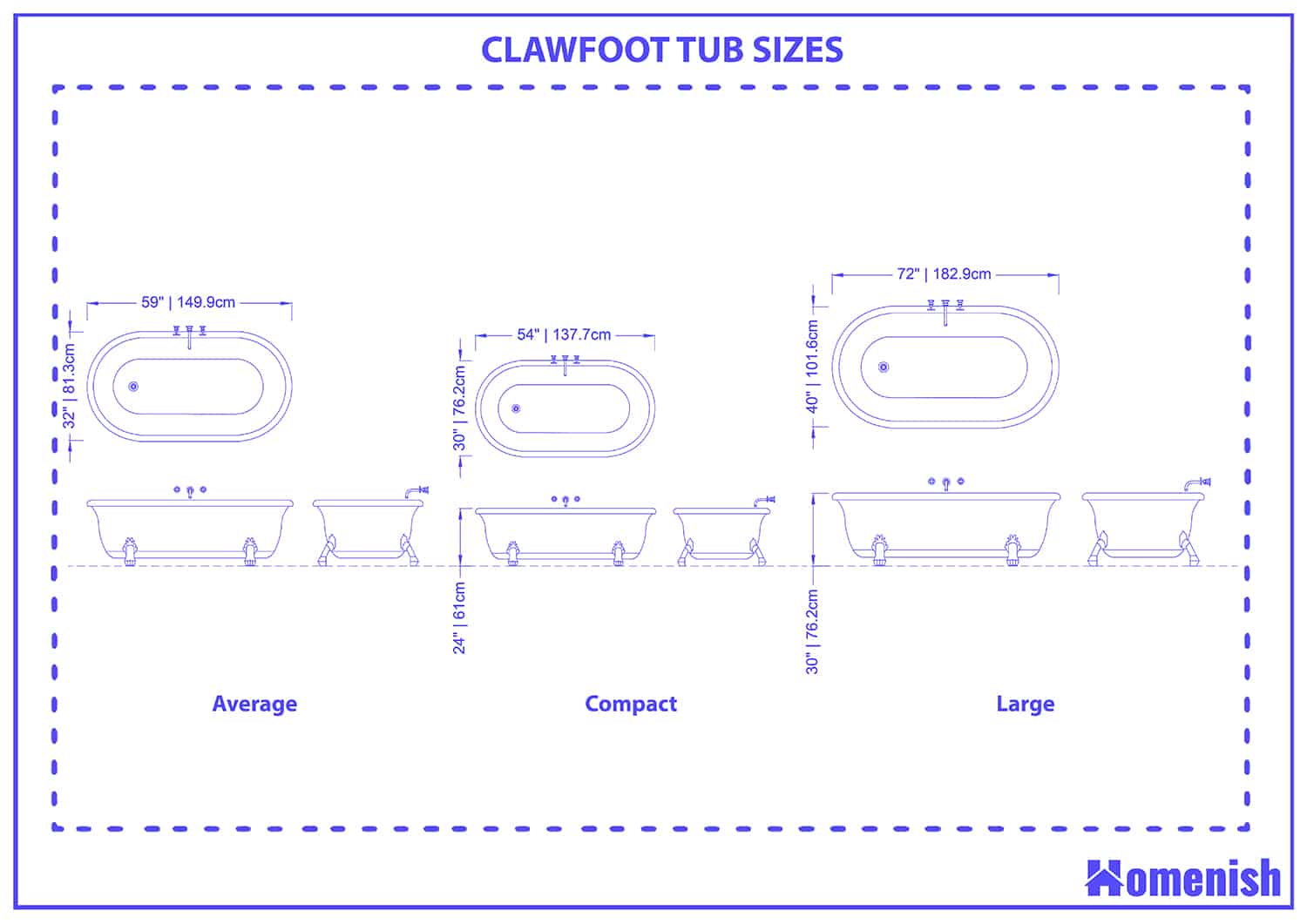 Like most types of bathtubs, clawfoot tubs come in a range of sizes. Commonly, clawfoot tubs offer generous proportions, making them a popular choice in luxury bathrooms.
High end hotels and spas also lean towards the option of the traditional clawfoot tub to evoke a sense of grandeur and ultimate relaxation.
Average Clawfoot Tub Size
Although there is not a set standard size for clawfoot bathtubs, there is an average size. The most common dimension of a clawfoot tub is 59 inches in length and 32 inches in width.
When it comes to the depth, you can expect an average clawfoot tub to measure around 28 inches from the upper rim to the interior base.
Compact Clawfoot Tub Size
Clawfoot tubs are typically found in large and luxurious bathrooms because they are synonymous with extravagance. They are generally thought of as being larger than regular types of bathtub, however this isn't always the case. If you love the look of clawfoot tubs but only have a small bathroom, then you could purchase a compact size clawfoot tub.
This style of tub has surged in popularity over the last decade, and as a result, more manufacturers are making clawfoot tubs in a wide range of sizes to suit different types of homes and spaces. The dimensions of a compact clawfoot tub are typically 54 inches in length, 30 inches in width, and 24 inches in depth.
Large Clawfoot Tub Size
Clawfoot tubs are usually larger than regular types of tubs, offering generous proportions for a deep and relaxing soak. However, there are some scenarios where you might like an oversized clawfoot tub. For example, if you have a very large bathroom and want to fill the space so it doesn't look vacant, then a large clawfoot tub will work perfectly.
An oversized clawfoot tub might also work well if you enjoy sharing a bath with another person, or if you have several children to bathe at the same time. The typical dimensions for an oversized clawfoot tub are up to 72 inches in length, 40 inches wide, and 30 inches deep.
How Much Space is Needed for a Clawfoot Tub?
Installing a clawfoot tub in a bathroom is more complex than making sure the tub physically fits into the space. From a practical perspective you will need to consider clearance, in order to ensure that it is safe and comfortable to emerge from the tub without bumping into a vanity unit or toilet.
You may also want to consider how the position of the tub within a room affects the overall aesthetic.
Clawfoot Tub Clearance Requirements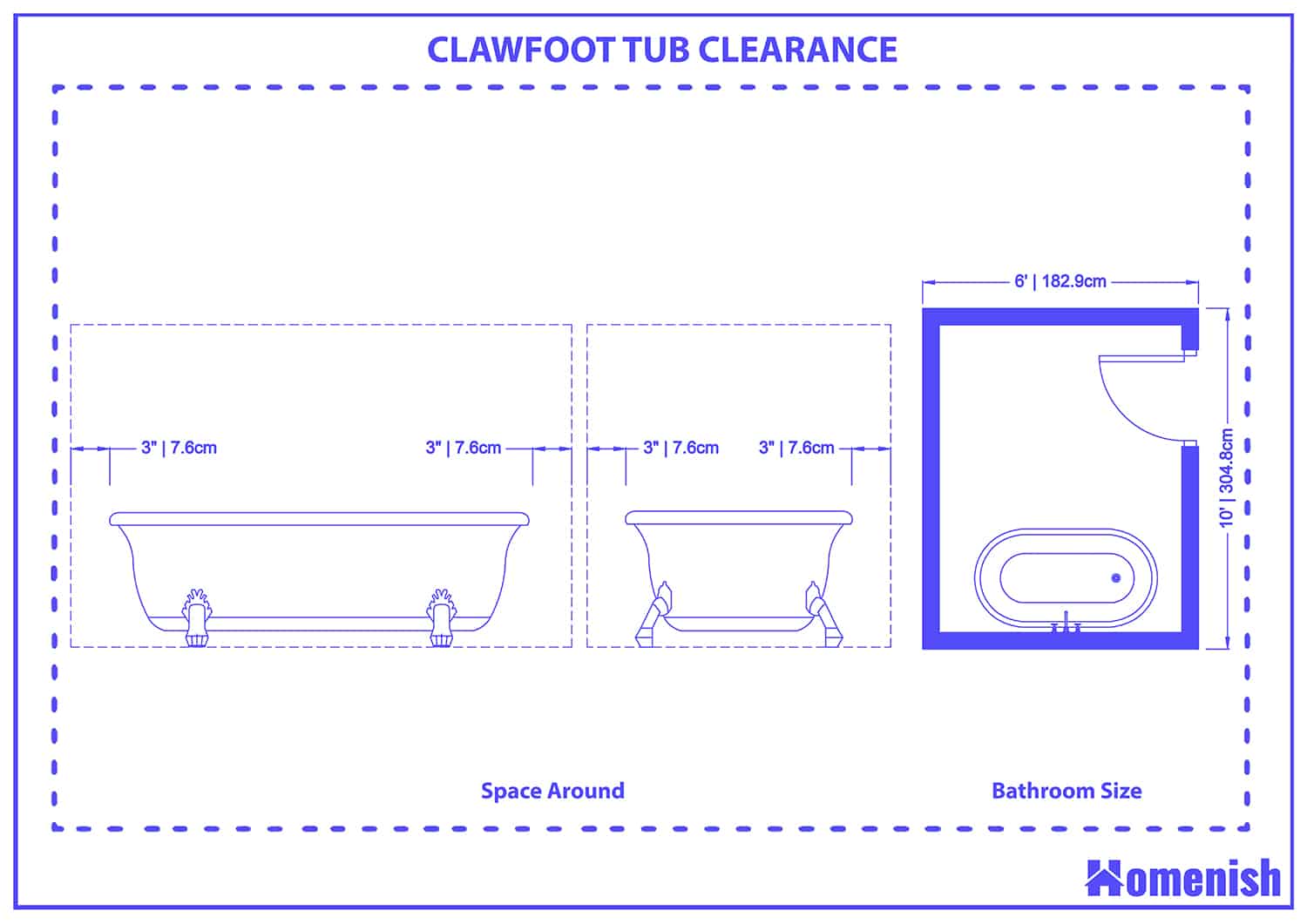 The kind of look you want to achieve can determine how much space you should allow between the tub and the nearest walls. A clawfoot tub with 1 or 2 feet of space around it will look elegant and luxurious, while a clawfoot tub that has been squeezed into a corner could appear cramped and have the opposite effect you were intending.
At a minimum, you should allow for 3 inches of clearance between all the edges of the freestanding tub and the nearest walls or fixtures. This will ensure that the space is both safe and stylish.
The consensus among interior designers is that your bathroom should have dimensions of at least 10 feet by 6 feet to accommodate a standard size clawfoot tub.
Clawfoot Tub Positioning
In a traditional style bathroom, a clawfoot bathtub can run parallel to a wall or at an angle. If you have a large space to work with, clawfoot tubs look great when positioned towards the center of the room.
If you are struggling for space but have your heart set on a clawfoot tub, consider thinking outside of the box in terms of positioning. Vancouver-based interior designer Jamie Banfield recommends installing freestanding tubs at an angle to make them fit better into corner spaces, and create visual interest.