If you have a large flat-screen TV, it's not always a good idea to mount it on the wall. This can be a time-consuming and messy task, which may damage your wall. Instead, why not sit your flat screen TV on a console table?
Console tables are versatile pieces that can be used as TV stands and more! These tables come in a variety of sizes and designs so they make an ideal TV stand.
No matter which room you place your console table in, sitting your TV on these attractively designed tables can create a focal point. You may even balance the look by adding decorative accessories on either side of the TV. And if there is enough room underneath the table, add shelves with your collection of video games and DVDs.
Here we'll explain more about console tables, their dimensions, and their uses so you can decide for yourself if they make good TV stands.
What is a Console Table?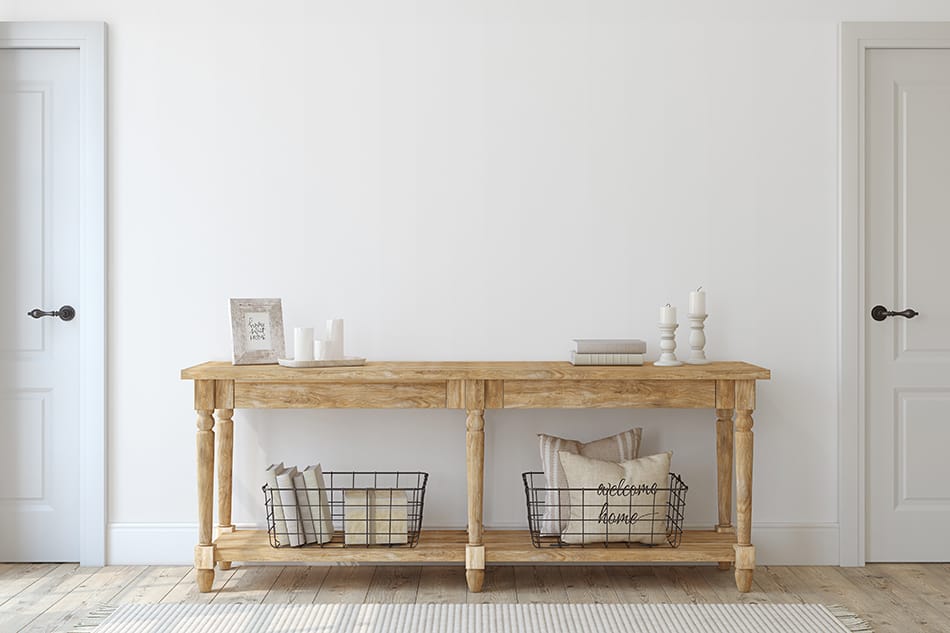 Console tables were first introduced in the 17th century in France. They were originally shaped like rectangular slabs supported by brackets. But over the years, these tables have evolved into beautifully designed items of furniture.
A typical console table is around 30 to 36 inches in height and features a wide or shallow top. However, there are designs that can range between 28 and 32 inches in height. It is usually square or rectangular shaped, but there are also demi lune console tables as stylish alternatives. The wide and shallow top is the signature of these tables.
Since console tables are narrow in shape, they are perfect for hallways or entryways where the square footage is limited. These tables can be placed just about anywhere in the room, thanks to their unobtrusive presence.
Console tables are most often placed at the back of the sofa, where it is out of the way. These tables are made to be high enough for easy access to objects, and low enough so as not to stand out from behind the sofa.
How Much Weight Can a Console Table Handle?
A standard console table can handle weights from 10 to 400 pounds. But how much weight you can put on it depends on the following:
The size of the console table
The sturdiness of the table
The material it is made from
Whether or not it can be fastened to the wall
There are several types of console tables, each with different weight capacities. These are:
Light-weight console tables: small yet sturdy, these tables can hold more than 50 pounds of weight on the tabletop and an additional 20 pounds on the bottom shelf.
Medium capacity console tables: up to 66 pounds of weight can be handled by these tables. Having said that, there are some that can hold up to 100 pounds so you can safely place your large screen TV on this table.
Heavy-duty console tables: up to 500 pounds can be supported by these tables. Although they boast a narrow design, the heavy-duty tables are made of steel frames that can effectively hold excessive amounts of weight.
What is the Difference Between a Console Table and Side Table?
A console table can either stand against the wall or alone behind the sofa. A side table, on the other hand, is best used next to the sofa or chairs. Just as the name implies, a side table is designed to sit beside the person who wants to have access to their drinks or magazine. This type of table can be placed next to the sofa or bed, and its main purpose is to ensure the items on the table are within easy reach.
Side tables have a low height, which makes them convenient for placing items like magazines, phones, or drinks on the tabletop. A console table is wide and narrow, so it's not a suitable side table for such purposes.
Side tables mainly serve as a surface to place your essential items on when you're sitting on the sofa or chair. Whereas console tables are usually the focal points of the room and are often used as decorative rather than functional purposes. Having said that, there is no reason why you couldn't place your flat screen TV on a console table instead of mounting it on the wall.
What are the Uses of a Console Table?
Console tables aren't just decorative pieces; they can also be used as functional furniture items to hold a TV and other items. Some console tables come with drawers or shelves for additional storage. This is a great advantage as console tables are shallow and don't have much tabletop space.
You can use your console table in a variety of ways. The sleek, narrow designs are the signature of these tables as they allow you to place the table in a narrow room.
Console tables are commonly seen in hallways and entryways. Most people tend to use them to display their family photos, antiques, and vases. So these tables aren't just suitable for holding a flat-screen TV. Any decorative piece you want to showcase can sit on these tables.
Since newer TVs are much thinner than older models, it makes sense to use a console table to set your flat screen on. Some console tables come with cabinet space underneath so you can store your favorite DVDs, remote controls, games, and other accessories. The extra space under the table helps keep the clutter out of sight in your living room.
Aside from entryways and hallways, living rooms are the third most common rooms that you can use your console table in. As mentioned before, these tables are often found behind the sofa against a bare wall, where they are out of the way whilst still providing access to the items on the table.
Where Else Can You Use Your Console Table?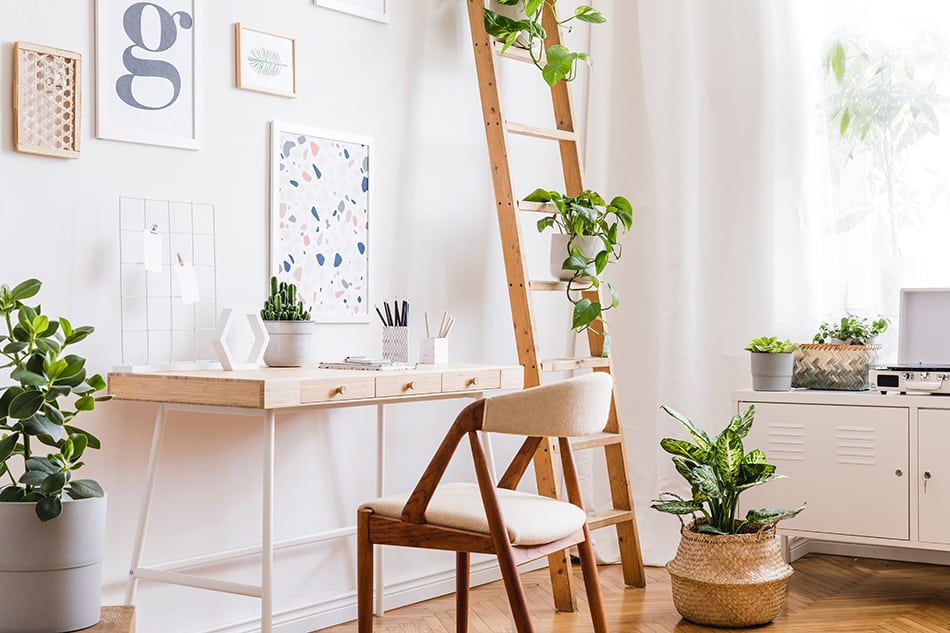 Aside from your living room, hallway or entryway, you may want to put your console table in a home office or theater room. Due to the table's narrow size, it is versatile enough to fit anywhere.
Thanks to the shelving or drawers of console tables, they provide a functional way of storing all your TV accessories. Not only can you use your console table as a TV stand in your living room or dining room, but you can also store all your DVDs and cables underneath the table. Tip: to add extra storage under the table, place some wicker baskets or shelves with lids as extra storage.
How to Decorate Your Console Table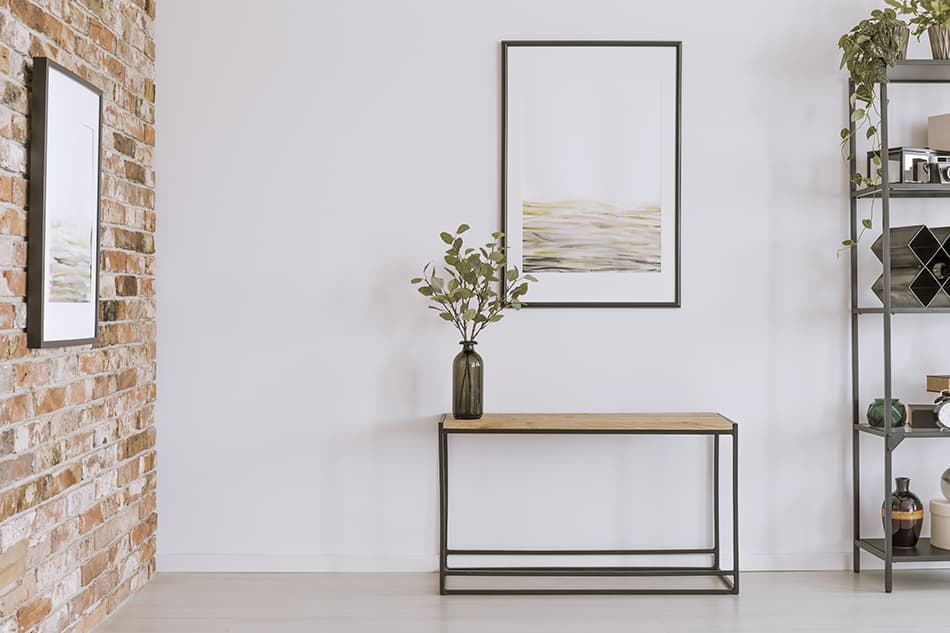 There are a number of ways you can style or decorate your console table in order to make it stand out in your home. After all, you want the table to represent your character and showcase your interests. This is why you must add some decorative items to bring extra flair to your space.
First, start by adding some height to the table. By height, we don't mean you raise the legs of the table. Simply place some tall vases with fresh flowers on both ends of the table. Adding indoor plants to your console table will make it more vibrant and lively.
To make the table even more versatile, think about how you want to use it in the particular room you've chosen. A flat-screen TV on the table doesn't have it feel lonely as you can add the plants or flowers next to the TV as well as some family photos in between. And if there is room underneath the table, you can arrange all your magazines, books and DVDs in the storage units.
There are also the cables of your electronic devices to hide as these look unsightly and messy. Consider adding shelves to the table if it doesn't already come with any. Since console tables are designed as accent features, you don't want any wires showing around them. By adding decorative items to the tabletop, you'll enhance its visual appeal even more.
Just like any other interior decor, console tables will always look more attractive when they are styled with photos, plants, or flowers. You must make sure your decorative items on the table match the rest of your interior design decor. For example, if you have a bohemian-style living room, it makes sense to add some wicker baskets underneath the table to seamlessly hold your movie collection.
Conclusion
There are endless possibilities of how you can use a console table. But without doubt, this table is ideal for sitting a flat-screen TV on the tabletop while storing your essential items underneath it. No matter how you choose to decorate and style your console table, it is a great alternative to standard TV stands.
These tables fit in almost any room and can hold up to 500 pounds of weight, depending on the model you choose. The tables are so versatile that you can use them in multiple ways. We hope our article has convinced you to use a console table as a TV stand, not just as a decorative focal point of your room.