A round dining table is one of the key pieces of furniture in a house, often proving to be the heart of the home. The round dining table sets the scene for family meals, game nights, and dinner parties. It can also double up as a space for children to complete homework or for you to work from if you lack a dedicated home office.
Here we explore the standard round table dimensions for varying numbers of guests, including table height, table diameter, and how many dining chairs you can seat at different table sizes.
Standard Round Table Dimensions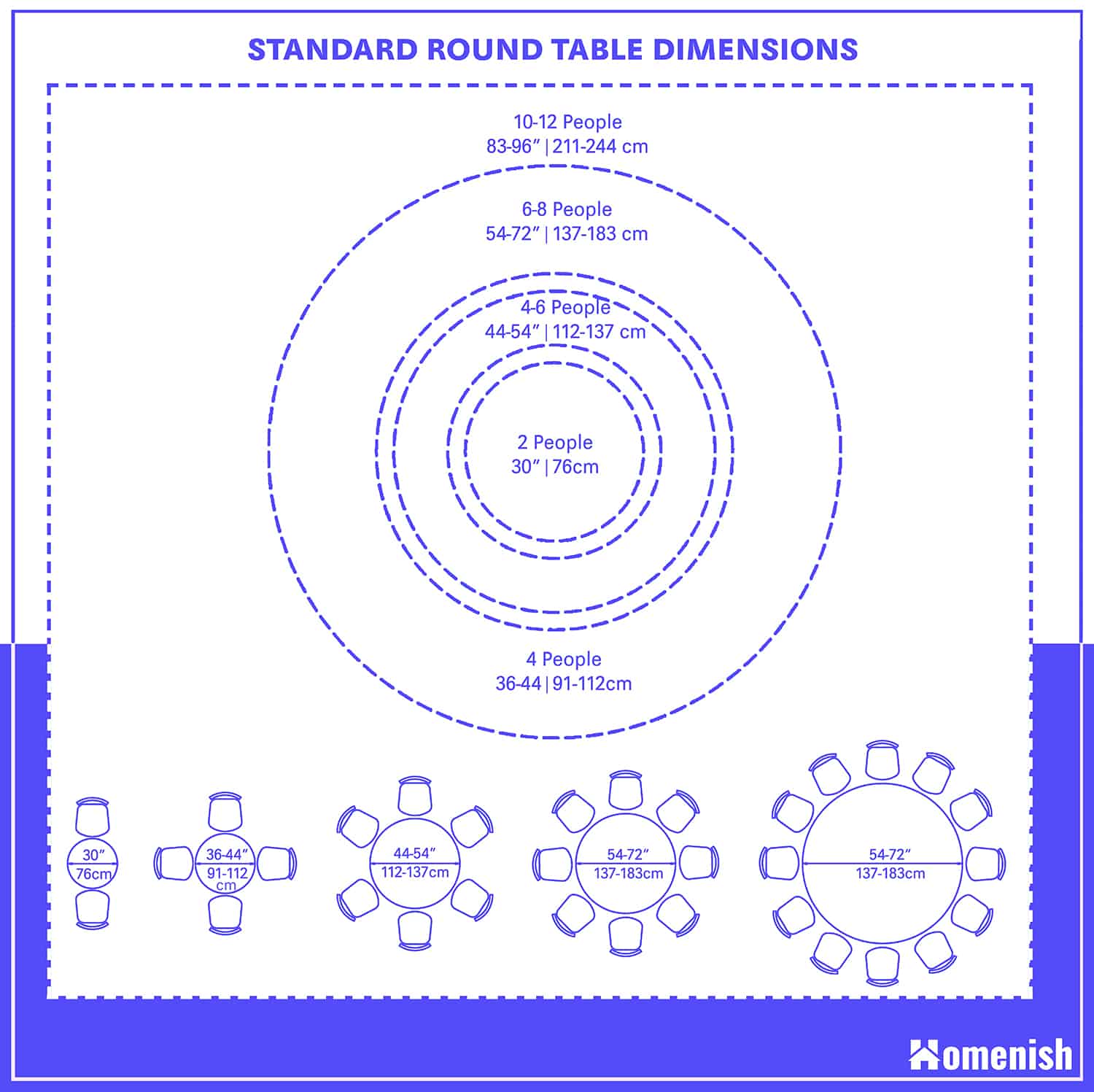 Round tables come in a variety of dimensions. The size that you will choose will depend on the number of people who will use the table. The various round table dimensions are:
2 People– The smallest round table can accommodate two people, and it has a diameter of about 30 inches.
4 People– Round tables that can seat four people have a diameter of about 36 to 44 inches.
4 to 6 People– A medium-sized round table can accommodate four to size people, and its diameter will range between 44 to 54 inches.
6 to 8 People– Round tables that can seat six to eight people will have a diameter ranging from 54 to 72 inches.
10 to 12 People– A large round table can seat up to 10 to 12 people, and it has a diameter of 83 to 96 inches.
When buying a round table, you have to keep in mind that each individual who will sit on the table should at least have two feet of space. Additionally, your table should also have a diameter of 36 inches so that it can provide ample space for your food and dining set.
Round Table Size for 4
A standard round dining table will have a diameter measurement of between 36 and 44 inches. This size of the table will work well for small families of 3 or 4 people, but if you regularly entertain friends or members of the extended family then you will struggle for space at this table.
A round dining table that seats four people can be useful if you have a compact dining area because it won't take up very much space. The standard dining table height for any dining table is 28 to 30 inches, and this also applies to a round dining table for 4. Dining chairs should be 17-19 inches tall to comfortably fit beneath the table and ensure each diner is seated at the right height.
Round Table Size for 6
The standard round dining table that seats 6 people will have a diameter measurement of between 44 inches and 56 inches. This sized table can be useful for small to medium-sized families, and they also work well if you enjoy entertaining. The table height will be 28 to 30 inches, accommodating dining chairs of 17 to 19 inches in height.
Round Table Size for 8
Round tables that seat 8 people can have a diameter of anything from 56 inches to 72 inches. This is a very large table that will be excellent for dinner parties or for hosting game nights, but bear in mind it is going to need a generous-sized dining room to accommodate it.
You don't need to just fit the dining table into the space; you also need to allow enough space for dining chairs to be pulled out from the table when people get seated.
Round Table Size for 10
The ideal diameter of a round dining table that seats 10 people will be around 92 inches, but you can also find 10-seater tables with a diameter of anywhere from 82 to 96 inches.
The table height will be between 28 and 30 inches, with dining chairs measuring between 17 and 19 inches in height.
Advantages of Round Table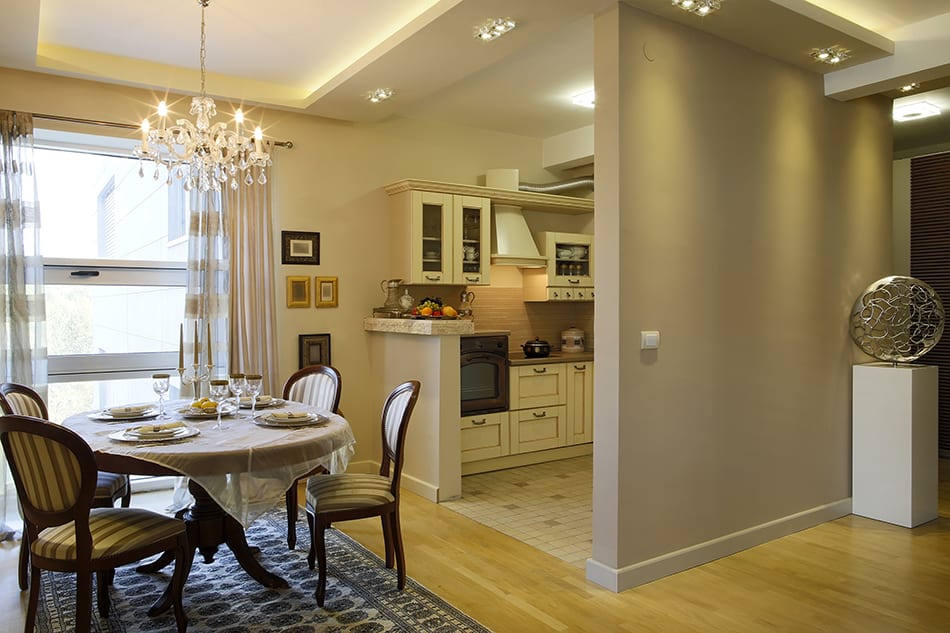 When you're looking for a dining table you'll probably notice that the rectangular-shaped table is the most common type. Most of us will have grown up eating meals around a rectangular dining table, and these remain enormously popular.
However, there are other shapes you can opt for, like a round or circular table. This shape can offer several advantages, which include the following:
Better Flow and More Space
One way to maximize your dining room space is to opt for a round table. In fact, this table shape can create more space for you to walk around because it doesn't have corners. Plus, this feature allows you to sit or move around the table with ease.
Sometimes, rectangular-shaped table sizes won't allow you and your guests to sit comfortably, especially in tight spaces. A round table is a better choice because it can prevent bumping when you're trying to move or sit on your chair.
More Personal Interaction
With a round dining table, you and your family can have a more personal interaction because all of you are facing each other. As such, you are able to converse properly and listen to one another.
Another benefit of using a round table is that you don't have to pass the food from time to time because everyone can reach them. Thus, everyone can enjoy their meals and the conversation.
Perfect for Tight or Small Spaces
Because a round table doesn't have corners, it has a small footprint compared to other table shapes. As such, a round table will be able to fit in small rooms. Plus, everyone sitting at the table can eat comfortably. The reason is that you are seated at a slight angle at a round table; thus, you won't feel cramped.
How to Choose the Perfect Round Dining Table?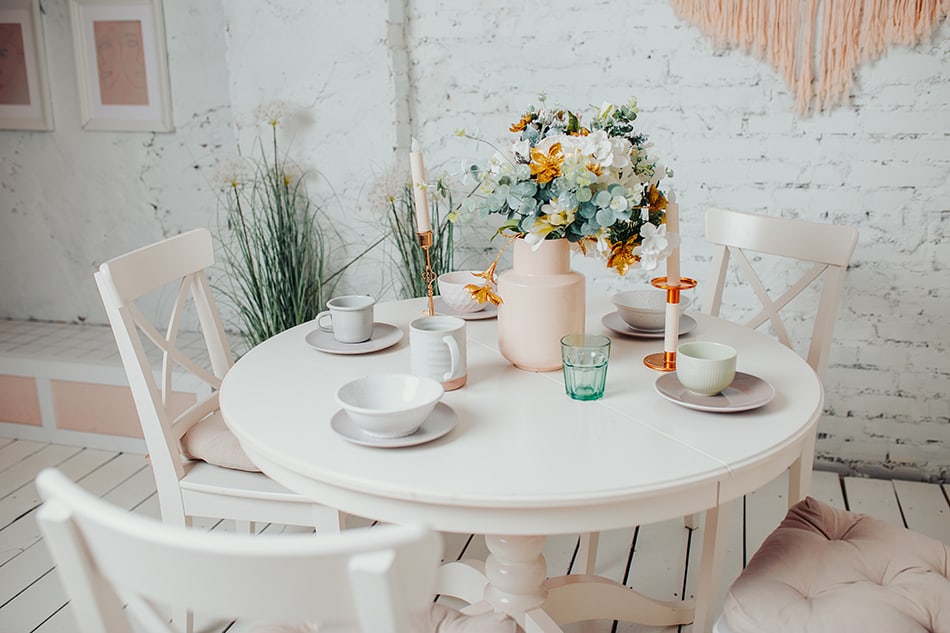 Knowing the different round table dimensions is vital to choose the right dining table size. Aside from the size, there are other factors you need to consider, which include the following:
Space
As mentioned, round tables are suited for small rooms. Still, you need to consider your dining room's space when buying this piece of furniture. As much as possible, opt for a table that can leave enough room so that people can walk around it with ease. Plus, you should also be able to get in and out of your dining chairs easily.
Material
Tabletops are made with various materials, including wood, marble, glass, ceramic, and medium-density fiberboard (MDF). Most homeowners opt for wooden tables not only because they are durable but also because wood has a natural beauty that can bring warmth and comfort to any room.
If you're searching for a sleek and modern-looking table, you can also opt for a table made with glass. However, this type of table is high maintenance, and it can be easily scratched.
Style
Always remember that the style of your dining table should match the overall design of the room.
Typically, wooden tables are great for rooms with a traditional look, while glass tabletops are ideal for modern dining areas. You can also add a touch of luxury to your dining room by opting for round tables with marble tabletops.
Table-to-Wall Clearance
Aside from the dimensions and size of the round table, another important factor you need to know is the table-to-wall clearance.
This measurement will ensure that the people eating at the table will be able to get in and out of their dining chairs with ease. As a general rule, the distance between the wall and the table should be from 42 to 48 inches.
Conclusion
Overall, a round table is an excellent option if you have a small dining room because it can help maximize your space. Even so, you still need to know the different round table dimensions to ensure that the table will properly fit in your dining area.
Aside from the size, you also need to consider its material and style. As much as possible, opt for a table that will not only match your decor. It should also be able to stand the test of time.