Shower rods are a length of pole which is fixed from one side wall of your bathroom to the other in order to create a surface that a shower curtain can be hung from.
Despite bathrooms coming in all sorts of shapes and sizes, there are just three standard shower rod lengths. Learn about these and the various types of shower rods available below.
Shower Rod Sizes
Shower rods come in three standard sizes. These are 41 inches, 60 inches, and 72 inches. To find out which size you need in your bathroom, measure in a straight line from one side wall in your bathroom to the opposite parallel wall.
If your measurement is not going to work with one of the standard shower rod sizes, then you have two options. You can buy a shower rod that is too big and cut it down to size, or you can buy a tension shower rod, which has an adjustable length.
Types of Shower Rods and Their Sizes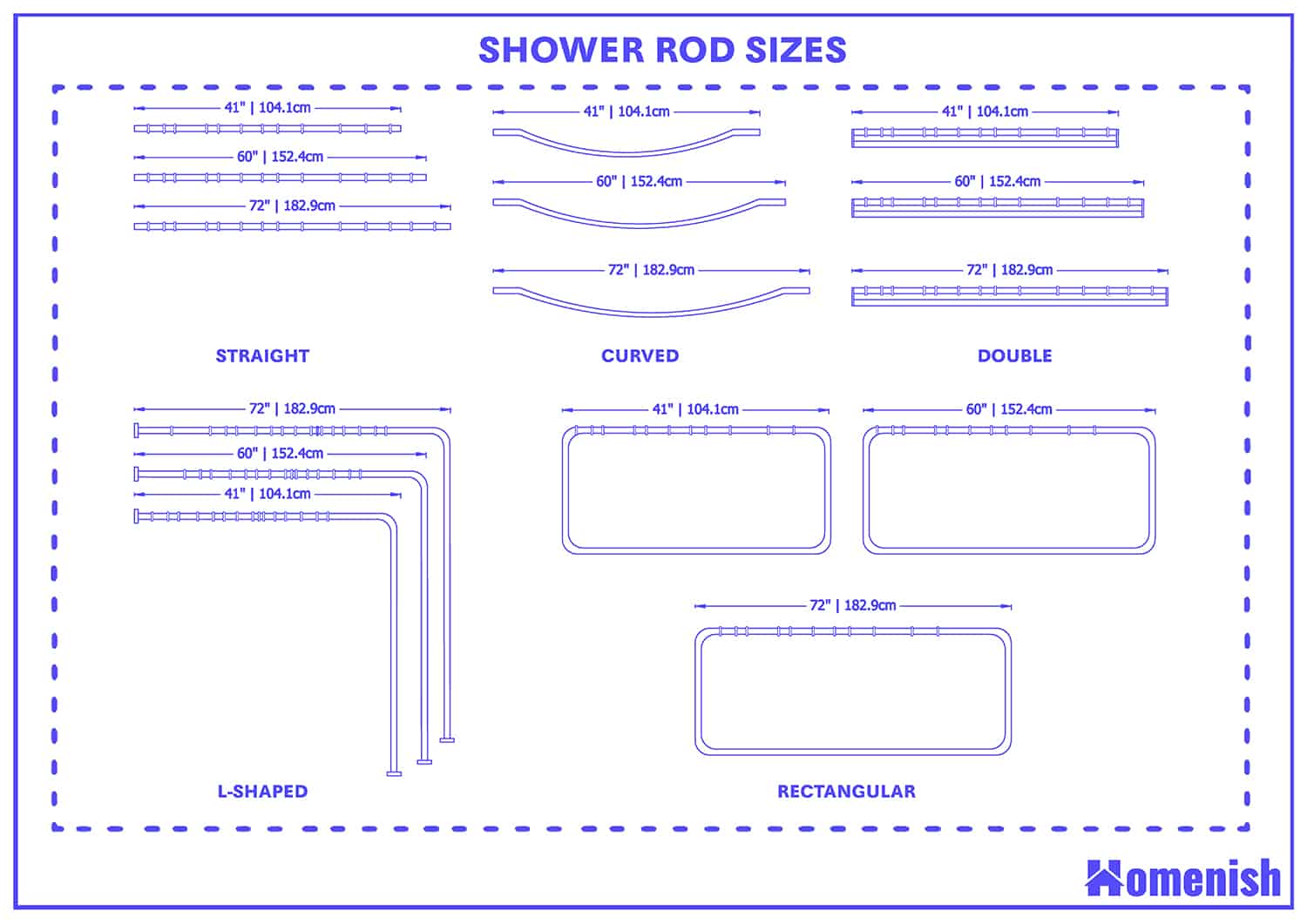 Straight
A straight shower rod is the typical type of shower rod that most people are familiar with. It is pretty self-explanatory and is simply a single straight rod that goes directly from one wall to another to hold a shower curtain. These types of rods are by far the most commonly used, and they come in a range of materials and finishes.
Plastic shower rods are the cheapest type, usually coming in a white finish, and can be picked up for just a few dollars. You can also get stainless steel straight shower rods for a high-end finish or a matte black metal shower rod for a contemporary industrial look.
A straight shower rod will either be fixed or tension mounted. A straight fixed shower rod will come with two brackets that need to be screwed into the walls at either side, and the rod then slots into the brackets and is supported by them. A tension rod is held up using tension.
These rods have a minimum and maximum length measurement and are ideal for bathrooms where you need a shower that falls outside of the standard size range, and they are also great if you don't want to damage your walls by screwing a fixed shower rod into place.
If you have tiled walls, then screwing the brackets on can cause them to crack, so a tension shower rod will also be more appropriate in this instance. Be sure to use a lightweight shower curtain with a tension shower rod, and advise any children not to pull on the curtain, as it can be pulled down with too much pressure.
Curved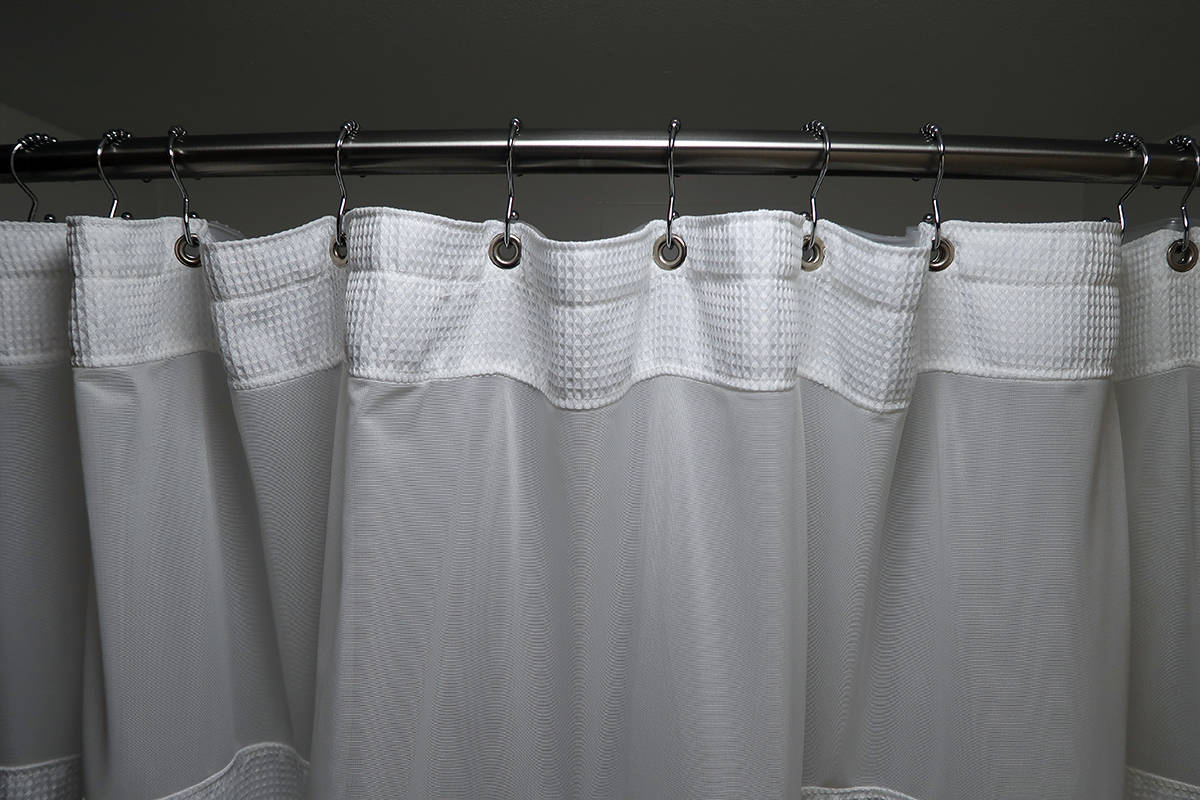 Curved shower rods will look much more in keeping with the style of your bathroom if you have a curved or oval bathtub. These rods curve outwards in the middle, in a direction pointing away from the person using the shower.
This also means they are a good option if you have a small tub that feels cramped when the shower curtain is closed because the curved rod will take the curtain further away from you to give you a few more inches of space.
A person who doesn't like the feel of a wet shower curtain touching their skin might also be happier with a curved shower rod. These types of rods are available in both fixed and adjustable tension varieties. They come in standard lengths to fit a space of 41 inches, 60 inches, or 72 inches, though the actual rod itself may measure a little more since it has the curved shape.
Double
A double shower rod is simply two shower rods that are parallel to each other, joined together at each end. A double shower rod will use the same amount of fittings as a single shower rod. The benefit of a double shower rod is that you can hang two curtains at the same time.
Ordinarily, people will hang a functional PVC shower curtain on the inside of the shower and then hang a more attractive decorative shower curtain on the outside rod. This means that the decorative curtain won't get wet and will not need to be cleaned, and it will also have a longer life span as a result.
Having a decorative curtain on the outside of the shower which never gets wet also means that your bathroom will always look fresh when guests visit, rather than having a soggy shower curtain hanging in the room. A double shower rod could alternatively provide a handy space to hang a towel while you're in the shower.
These types of rods are available in both straight and curved designs and in the standard sizes of 41 inches, 60 inches, and 72 inches. Double shower rods do not typically come in tension adjustable varieties; however, if your shower is a non-standard size, then you can cut down the shower rods to fit.
L-Shaped
An L-shaped shower rod is designed to be used with bathtubs that are not set in between two walls and therefore are open at one end. An L-shaped shower rod will mean that a shower curtain is able to create a contained area around the side and end of the bathtub to prevent any water from spraying out onto the floor or onto fixtures and fittings.
These types of rods are longer than standard since they go around two sides of the tub, and they must be screwed onto the wall at either end and onto the ceiling for added support. They will require extra long shower curtains.
Rectangular
A rectangular shower rod is designed for use with a bathtub that is not positioned against a wall, such as a clawfoot tub or freestanding tub.
The rod hangs from the ceiling instead of being attached to a wall and provides an entirely enclosed space around the four sides of the tub. You will need a specially designed extra wide shower curtain, or you could use two standard-sized shower curtains next to each other.