Neutral bathroom colors, including gray, are fast becoming trendy for all kinds of interior styles. Such versatile colors can easily blend with both bold and soft hues, so you have the freedom to incorporate them into any bathroom design.
Gray is one particularly popular color that's associated with balance. This cool-toned hue makes a room feel cozy and modern. But when it comes to deciding what color shower curtains go with a gray bathroom, you might not be aware of your options. Fortunately, gray is a versatile color that can be paired with many other colors, including neutrals and vibrant hues.
To give you some inspiration, take a look at our selected examples right here:
Shower Curtain Colors that Complement Gray Bathrooms
Classic White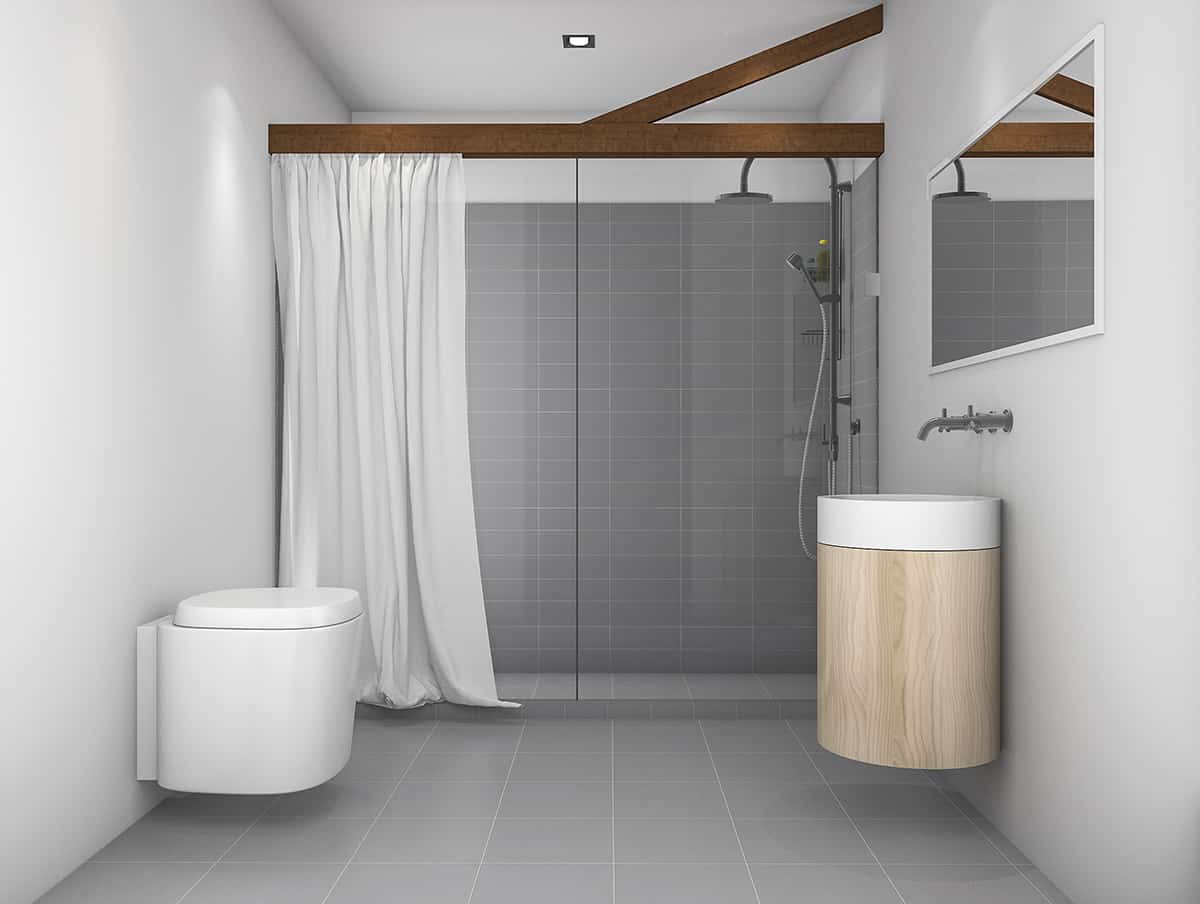 Sheer white shower curtains highlight the gray tone of your bathroom walls. But to create a visually exciting pairing, use a gold or brass rod for a classic look.
A bright white sheer shower curtain won't take the attention away from your gray tiles, but it will add a brighter feel to the space. You may use patterned sheer white or a plain one, depending on whether your gray tiles are already patterned or not.
Warm Cream or Beige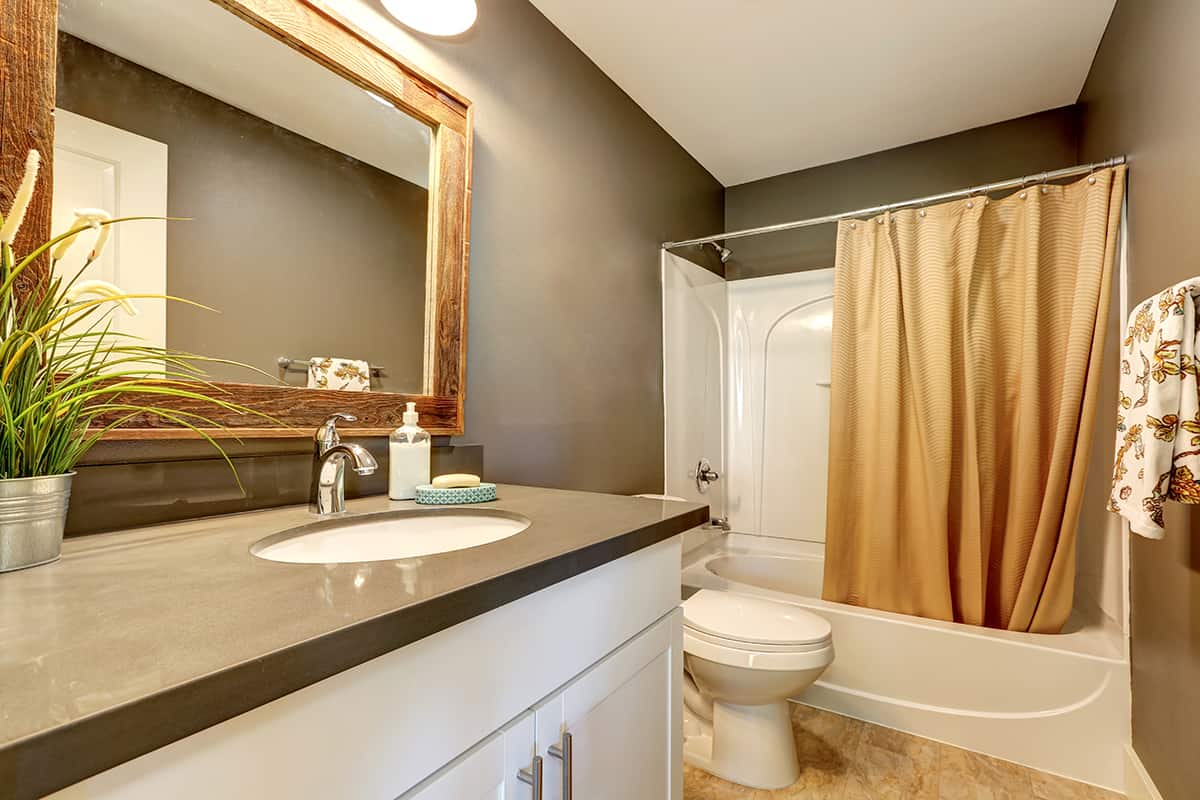 As a warmer alternative to white, beige or cream shower curtains can be a good pairing with gray bathrooms. These neutrals add a warm glow to your space, and they look great next to other neutral colors.
While a bright white shower curtain pops against gray, cream, or beige stands out as a softer, less distracting contrast.
Purple
While many pastel colors go with light and dark gray bathrooms, we think purple shades like violet, lilac, and lavender look particularly gorgeous against gray tiled walls. But if you're not a fan of soft, light purples and still love purple, opt for a solid shade like plum or mauve.
An excellent example of a purple shower curtain is this heavy-duty solid purple we've picked from the brand GoodGram. It comes with rust-proof metal grommets for durability. The curtain is both water-resistant and waterproof.
Blush Pink
Pink is the color we usually see in baby girls' nurseries. But as shower curtains, they can work very well next to cool-toned gray walls. This sophisticated color adds a light and feminine vibe to a gray bathroom – as long as you pick the right shade.
Our favorite pink shades for a gray bathroom shower curtain include dusty pink, blush pink, and coral. These soft pink shades make the right amount of impact and pop next to gray.
You can try this beautiful soft pink shower curtain from Amazon Basics. The 100% polyester fabric features an elegant linen-style weave with integrated ring holes that make installation super easy. The pink curtain goes with green towels and white bathroom fixtures.
Bright Yellow
Yellow is one of the most attractive complementary colors to pair with gray bathrooms. Whether you choose a bright sunny shade or warm citrus, your yellow shower curtain can bring a refined look to your gray bathroom.
Any shade of yellow will pop against gray walls and add a stunning aesthetic to the room. But if you want to create a warmer glow, consider mustard yellow. This is the ideal shower curtain color for a feminine-themed or contemporary gray bathroom.
Take this heavy-weight yellow shower curtain, for example. Its waffle weave design stands out, whilst the heavy fabric prevents the curtain from creasing. It comes with metal grommet hooks for a sturdy installation. The soft fabric is 65% polyester and 35% cotton.
Torquoise
Another fun color that pops against gray tiles is the vibrant turquoise. This blue shade creates a bright contrast in a gray bathroom and works especially well next to dark gray tiles.
When coordinating a turquoise shower curtain with a gray bathroom, add darker shades of blue as accents to tone down the brightness of turquoise. For example, you can add navy towels and mats for a cohesive color match.
This waffle weave shower curtain is a beautiful shade of blue that is sure to stand out in your gray bathroom. The water-repellent curtain comes with 12 rust-proof, stainless steel hooks to ensure long-term durability. The heavy-weight polyester fabric feels ultra soft to the touch, with a weighted lower hem and sewn corners.
Navy Blue
Just like pink and yellow, navy is also a fabulous color to pair with your gray bathroom. However, to avoid creating a dark, heavy feel, make sure you only use this color for light gray bathrooms or large, airy ones with dark gray tiles. After all, you don't want the navy blue to make the entire room feel compact or dingy.
Take a look at this thin, lightweight, navy blue shower curtain. It is 100% water resistant and specially designed to repel water from its surface. It is an excellent color pairing with a light gray bathroom.
Ombre
To make a big impact in your gray bathroom, opt for a striking shower curtain like an ombre. This is a set of colors in one, with the lightest starting from the top and the darkest to the bottom or vice versa. In other words, an ombre shower curtain is a design that slowly fades out with a burst of soft colors.
This white-to-gray linen shower curtain is a good example of an ombre design from Creative Home Ideas. It is made from wrinkle-resistant polyester and features hook holes. The fade-resistant fabric comes with 12 durable metal hooks with a reinforced header.
Earthy Green
Those who are into earthy, nature-inspired colors should consider shades of green for their gray bathroom shower curtain. Any shade of green will work next to light or dark gray, including mint, olive, grass, or lime. Green is a versatile color, and as a warm-toned hue, it provides a cozier feel next to cool-toned gray walls.
But by far, our favorite shade of green has to be sage. You'll instantly fall in love with this waffle weave sage green shower curtain featuring a transparent top window. The see-through panel allows light in while allowing air to circulate. The curtain comes with 12 hooks and is 100% water-repellent.
Dark Gray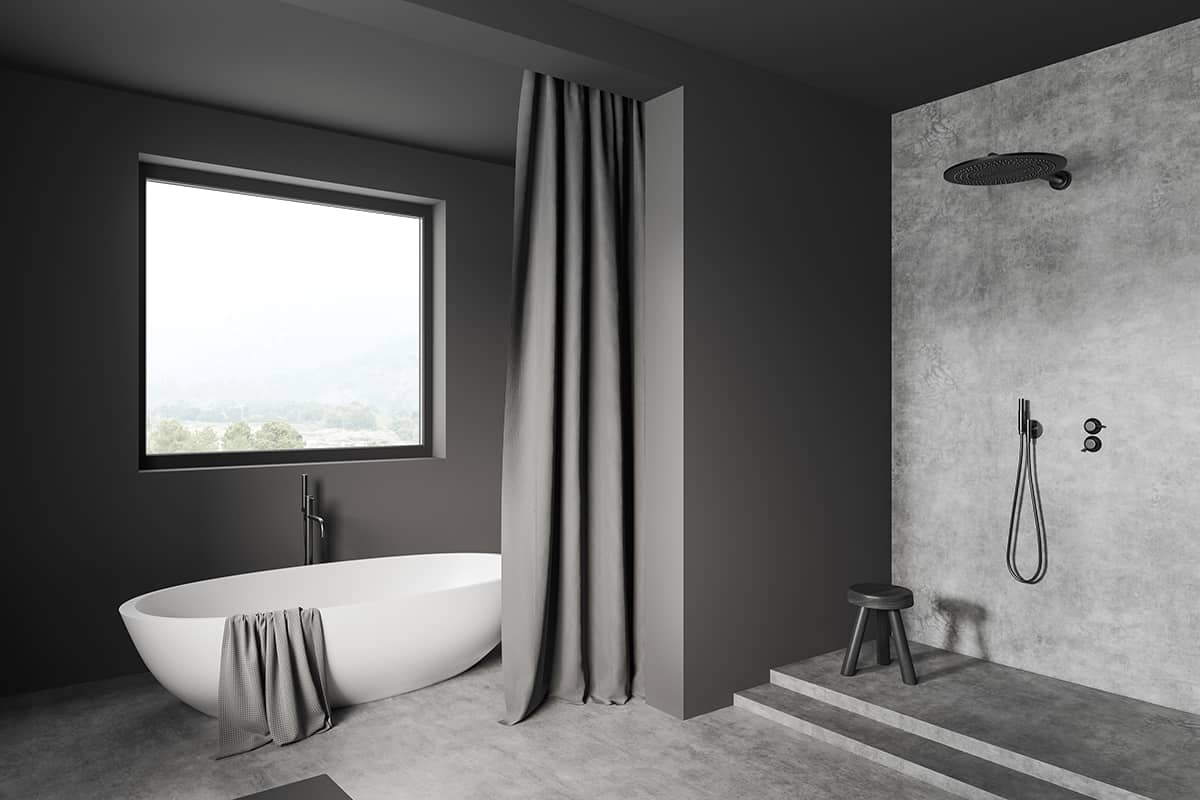 A gray shower curtain paired with a gray bathroom can emit an ultra-modern flair that's stunning to look at. Dark gray, like charcoal, next to light gray walls, can be a sleek combination.
Similarly, a dark gray shower curtain with dark gray walls will also work as long as the room has plenty of natural light. In masculine bathroom designs, charcoal gray with dark gray walls works especially well, as you can see in this example. Add white towels to this color scheme for a modern flair.
Vibrant Floral
A vibrant floral shower curtain can be an enhancing addition to a gray bathroom. Patterned shower curtains are especially preferred for feminine or traditional-style bathrooms. While some people may feel intimidated by the cluttered look of patterns, floral designs, on the other hand, will not make a neutral bathroom look busy.
To prove just how stunning a floral pattern can be in a neutral bathroom, here is a beige floral shower curtain by the brand Niidder. This ultra-smooth curtain resists water and keeps the bathroom clean and dry. You can use it in bright and airy gray bathrooms to enhance the overall aesthetic of your space.
Black and White Stripes
Speaking of patterns, why not add a more dynamic yet neutral color option by going with a black and white striped shower curtain? This neutral color scheme can be a great match with both light and dark gray bathroom walls. The striped shower curtain can add class and depth to the entire space by bringing a layered look.
Just like this striped black and white shower curtain, it can pop next to gray bathroom walls while adding some warmth and texture. The polyester fabric is 100% waterproof and very easy to install in standard-size showers or baths.
Abstract or Geometric Designs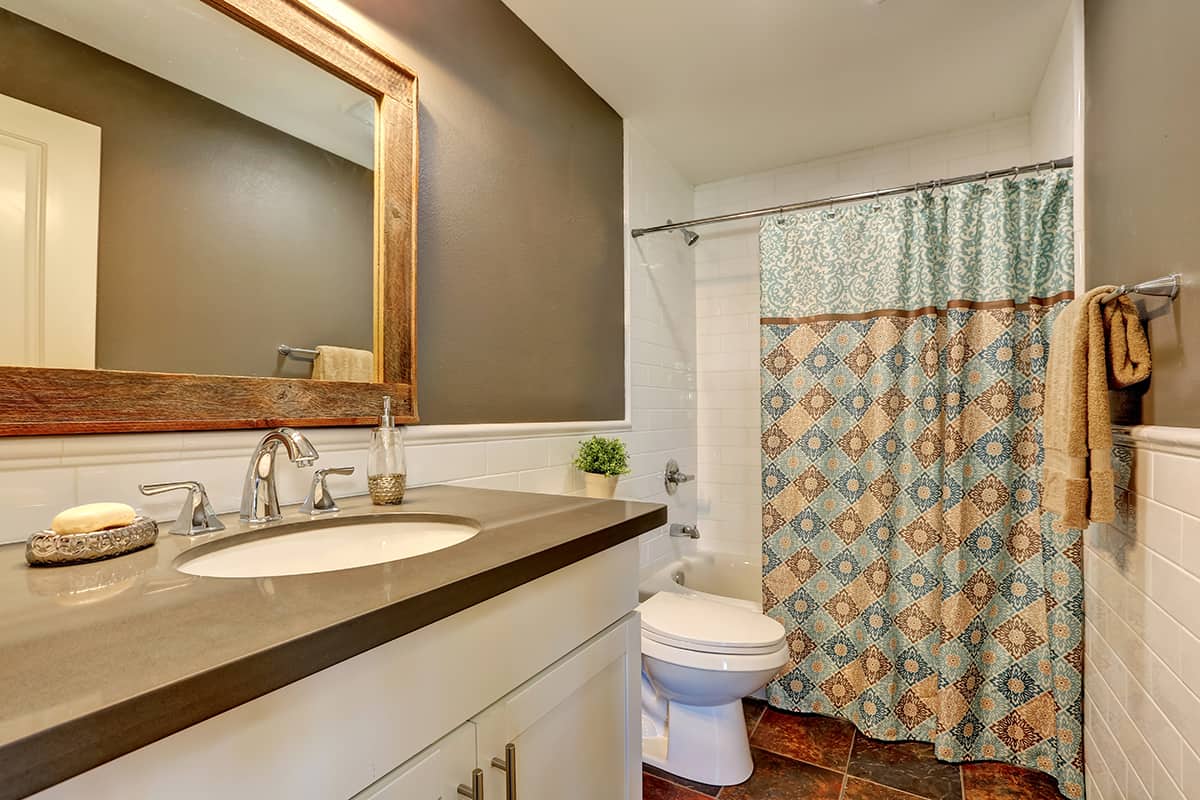 Abstract-patterned shower curtains bring a fun and whimsical vibe to a gray bathroom. You can choose one with a light blue base as a cool-toned match with your gray walls. And as for the patterns, go as bold or understated as you like.
Abstract designs like geometric shapes, polka dots, and other exciting prints are a welcome addition to a neutral, gray bathroom. A combination of blue, gold and brown prints also brings a brighter effect to your bathroom, as shown in this image.