If you're currently in the process of building your dream bathroom or simply renovating an old one, it's natural to wonder about shower pan or shower base sizes. A shower pan, also sometimes referred to as a shower base, is the part of the shower you stand on when having a shower.
The shower pan does an important job of directing all water from the shower down the bathroom drain. For this reason, during installation, shower pans are slightly tilted so that they are on a slope. This way, all excess water from the shower easily rolls off it and right into the drain. It functions just the way a funnel would, in channeling water in the right direction.
When it comes to standard shower pan sizes, you'll find they usually come in even-numbered measurements. They range from a cozy 32×32 inches all the way up to a spacious 42×60 inches.

As for shower pan depth, aim for a minimum of 2 inches above the drain, and you can go up to a luxurious 6 inches. If you're going for a sloped floor, calculate the slope per foot and then subtract 2 inches to get your minimum shower pan depth.
Understanding the standard sizes and some of the influencing factors will help us make an informed decision for our shower pan selection. Keep reading.
Common Shower Base Sizes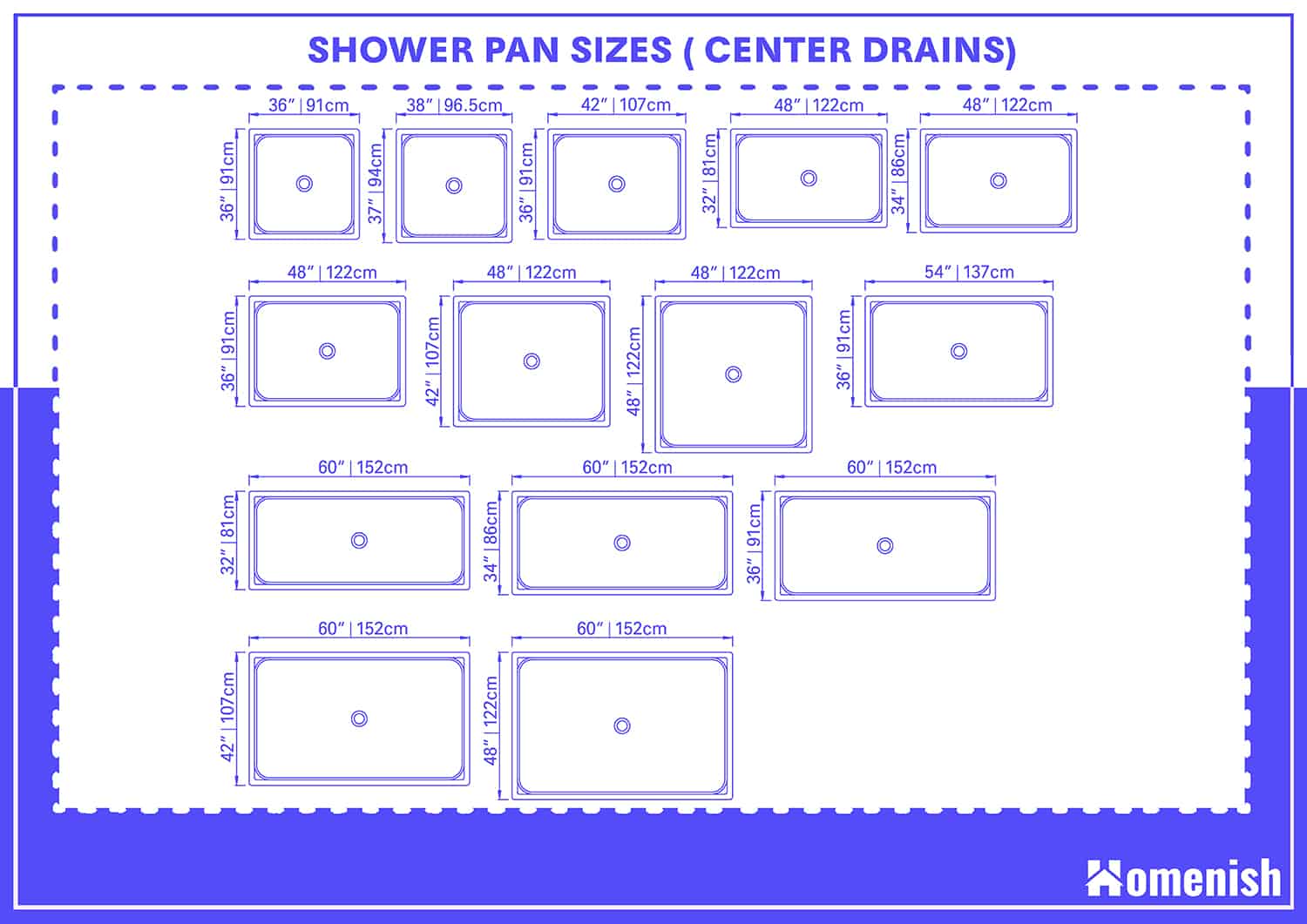 Shower pans are made in even-numbered measurements, so they range from 32 inches x 32 inches to 42 inches x 60 inches. See the diagrams above for the common shower pan sizes on the market. There are also neo-angle corner shower bases that typically measure anything from 36 inches to 60 inches.
Their drain location is typically set either as an on-edge drain, an off-set drain, or a center drain. Your plumber needs to remember the position of the drain when replacing old shower pans or choosing new pans so that the shower pans work effectively with the drain.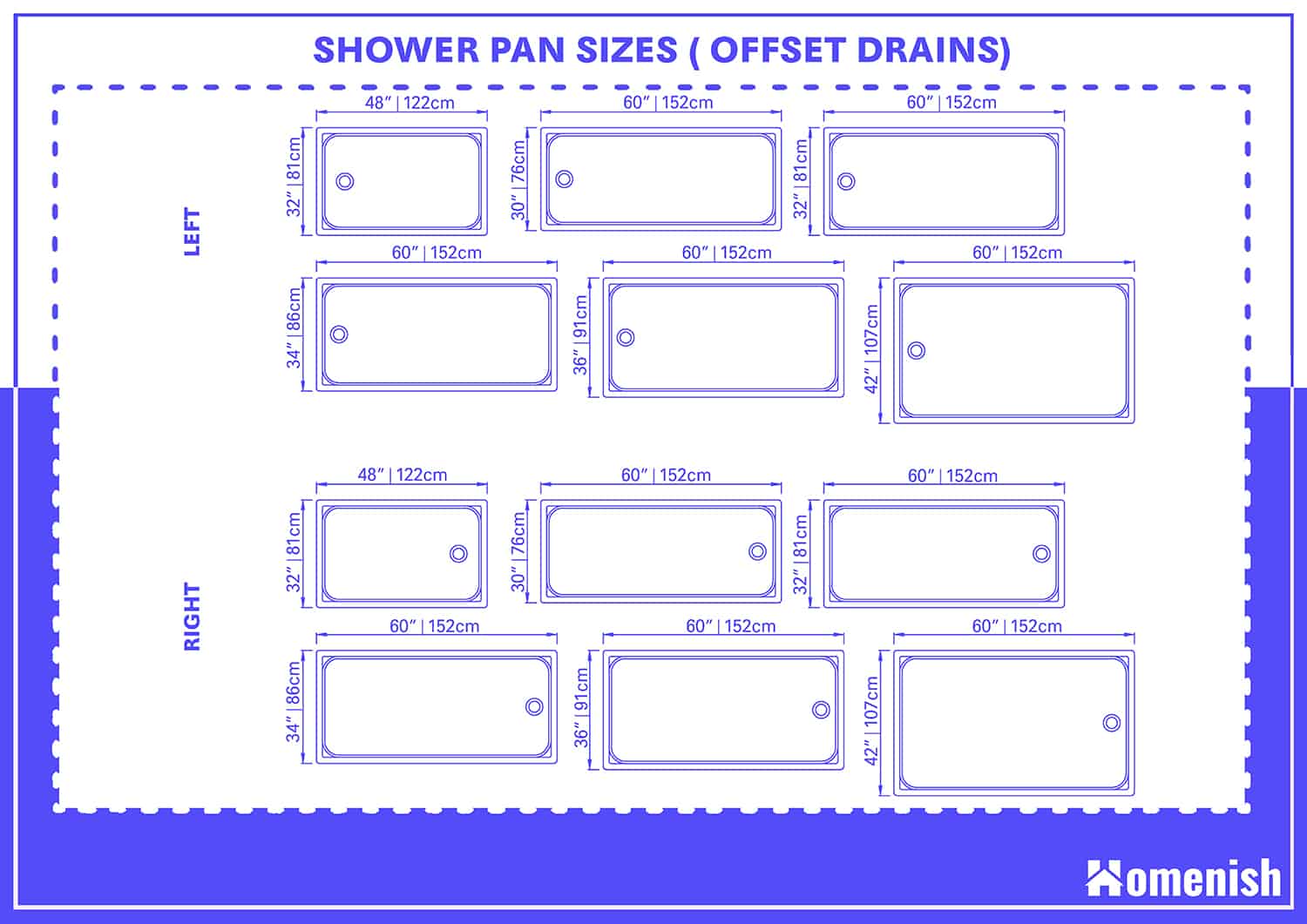 Shower pans can also either come as individual pans or as an entire kit. Pre-manufactured shower pans designed for walk-in showers come in various sizes, such as 32″ x 48″, 36″ x 60″, 42″ x 60″, and 48″ x 60″.
These shower trays are usually designed without a threshold or curb, making them a popular choice for people with mobility or balance issues.
If all standard sizes don't fit you, there are also custom shower pans. These pans can be tailored to work in larger spaces or accommodate specific design requirements, ensuring a seamless integration into your bathroom.
What's the Depth of a Shower Pan?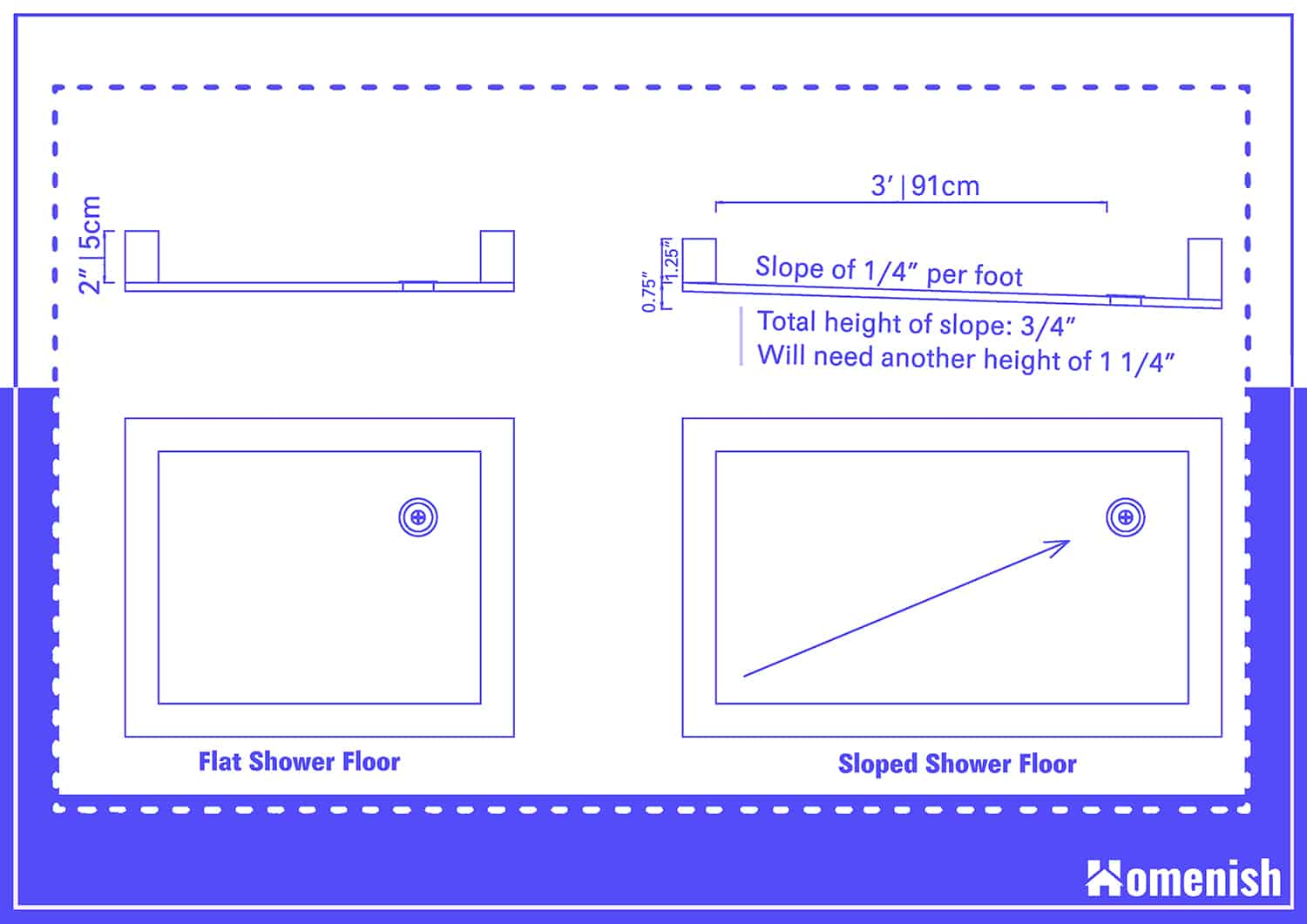 The depth of shower pans, or the shower curb height, should be at least 2 inches from the top of the drain and be as high as 6 inches. That is the height/depth for a flat shower floor.
With a slope shower floor, you need to figure out the slope per foot, then subtract by 2″ to have the minimum shower pan height.
Factors Influencing Shower Pan Size Selection
As you explore the world of shower pan sizes, there are a few key factors to consider to get the perfect fit for your bathroom.
Bathroom Size
One of the first things to consider when choosing a shower pan dimension is the size of your bathroom. The available space will largely dictate the size of the shower pan that will fit well and allow enough room for the rest of the bathroom fixtures. For example, smaller bathrooms may require a more compact shower pan size, such as the 32 x 32 inches option. On the other hand, larger bathrooms can accommodate more spacious shower pans, like 60 x 36 inches or even 60 x 42 inches.
It's important to not only measure the space where the shower pan will be installed but also consider other factors such as the placement of doors, windows, and ventilation. To ensure the shower pan will fit well in your bathroom, always take accurate measurements before purchasing.
User Preference
Another aspect to consider when selecting your shower pan size is personal preference. Some people prefer a more spacious shower experience, while others are content with a more compact design to save space.
It's essential to think about who will be using the shower and what their preferences might be. For example, if accessibility is a priority, a shower pan with a width between 32 and 48 inches may be ideal to provide enough space for easy entry and exit.
Moreover, the shower's functionality and appearance should also align with your preferences. Various shower pan sizes and styles can complement the overall design of your bathroom. So, whether you opt for a walk-in shower, a corner shower, or even a custom-built shower, selecting the right shower pan size is essential for both practicality and visual appeal.
Are Shower Pans Important?
Shower pans are necessary for bathrooms today. They serve as a sure method of waterproofing. These pans are usually made of materials that are waterproof, such as PVC and fiberglass.
Even if you plan to use other flooring materials, such as tiles, on your shower floor, it is still necessary to install a shower pan as they provide a waterproof area for you to do your flooring.
Shower pans protect the subfloor and shower floor from unnecessary leaks that might otherwise have gotten through. Most other materials such as concrete or grout used on the shower floor are never completely waterproof, so it's important to have a shower pan to prevent unexpected and annoying leakages.
This shower pan is available to purchase on Amazon.
Is it Possible to install my Shower Pan Myself?
If you have a good grasp of plumbing, why not? However, if you are a plumbing novice, definitely not! Shower pan installation is better left to professionals who understand how to calculate the correct angles of slope required for the shower pan to drain water properly.
Also, your shower might be one of those that need custom-sized pans, which might be difficult to find at your regular store, and you'll need a professional to either make or find this kind of shower pan.
Furthermore, if you DIY your shower installation, there is a risk that you may have standing water left over in your bathroom whenever you use the shower. There's also a risk of potential leaks, which could cause costly damage to your subfloors and floors. This leakage and wetness could also cause the growth of mildew and mold, which could be harmful to the health of both you and your family.
Top Benefit of Shower Pans
Why go through the hassle of installing a shower pan in your bathroom when you could take a shower without it? Well, the answer to this is pretty simple. Shower pans are not just there to make your bathroom look good.
They're also really practical. It's one way to ensure that your bathroom does not encounter unexpected damage. Some of the most important benefits of shower pans are discussed below.
Prevents Water Leakage
One of the most persistent problems in badly built bathrooms is water leakage. A shower pan does a very important job of ensuring that there are no unexpected leakages in the bathroom. These pans could come in square and rectangular shapes.
These shapes influence the direction of the flow of water. Naturally, water flows in a direction where there is the least resistance. A shower pan ensures that there is no such path for water in the shower except down the drain.
More still, the shower pan directs water to flow in the right direction towards the drain. During installation, they're tilted so that water quickly flows down the drain once it hits the floor.
Ease of Installation
Shower pans come in standard sizes, which makes installation quite easy, especially if the person in charge of the installation has some plumbing knowledge. There are a variety of shapes, sizes, and materials of shower pans available in stores, so it's pretty easy to choose one that suits your bathroom.
Shower Pans Save Time and Money
It is a lot more practical to just install a shower pan that suits your needs than remodel your entire bathroom just because you want to change your shower requirements. This not only saves time and money but also saves the energy that would have been spent on labor.
It is both economical and practical yet stylish. Shower pans allow you to enjoy showering in your bathroom with as few hassles as possible, ensuring you don't have to worry about water damage in the rest of the bathroom.