A staircase is more than just a functional addition to a home. It serves to enhance the interior beauty and stand out. Since we spend a lot of time going up and down the stairs every day, it makes sense to give this creation an attractive makeover.
Stair trim is an excellent way to accentuate your staircase without disturbing its natural design flow. Whether you add molding to the rails or install wooden boards, your staircase can easily become the focal feature of your home.
Interested in finding out about stair trim ideas? It can be quite overwhelming to decide on the best staircase trim designs, but we've put together some pictures to help you get inspired – and creative! So let's get started…
Stair Trim Examples
Make it Traditional with Waitscotting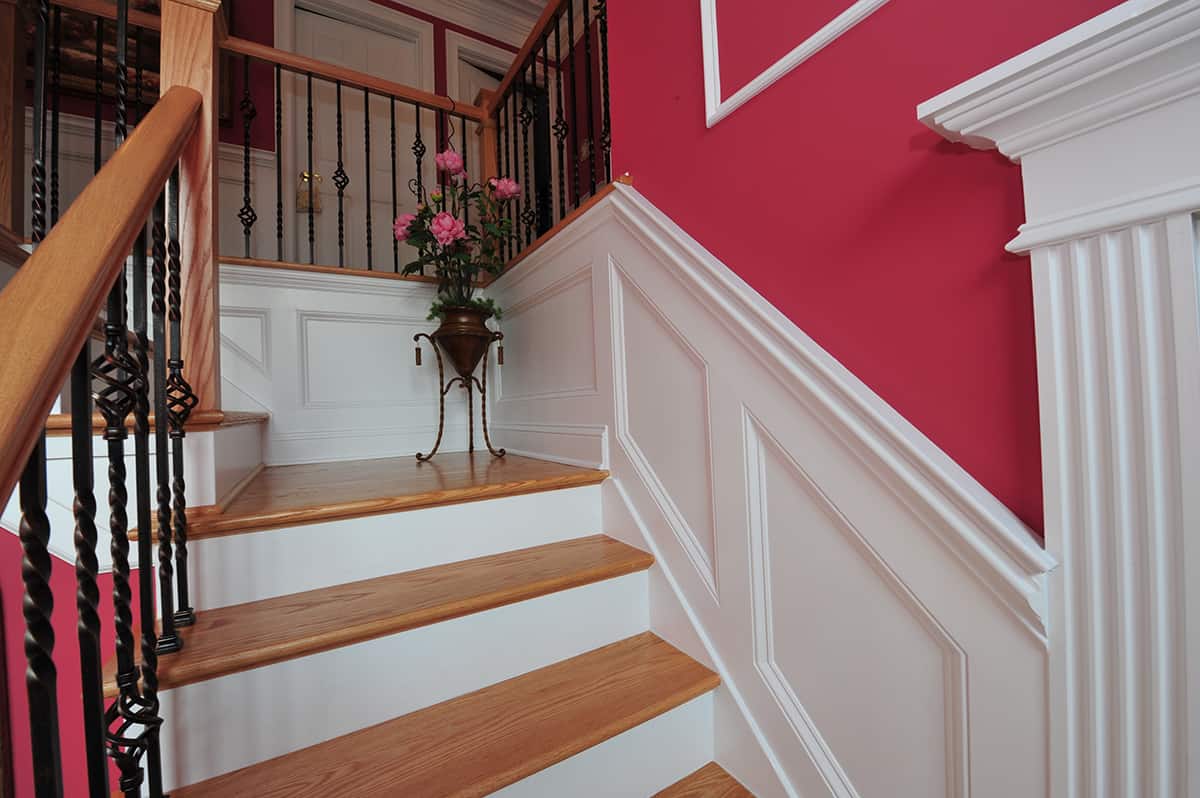 Wainscotting involves the use of paneling or boards on the walls or in the form of wooden frames, which are mounted to the walls in order to come up with a geometric design.
In traditional homes, wainscotting is square-shaped frames that are installed next to one another on the wall. It is a decorative feature that can enhance the beauty of the staircase.
Wainscotting was first introduced in the 18th century as it insulated the walls and was seen as a durable option.
The popularity of this decorative wall feature never waned in traditional-style homes. Indeed, the wooden panels can be added to any space to bring out its elegance, including a plain staircase wall.
See how defined and luxurious this staircase looks thanks to the wainscotting feature on the wall. The crisp white paneling on the wall is paired with iron balusters and a red wall for ultra-luxury. With this idea, you're sure to create a cozy and sophisticated feel in your traditional interior.
Use Beadboard for Texture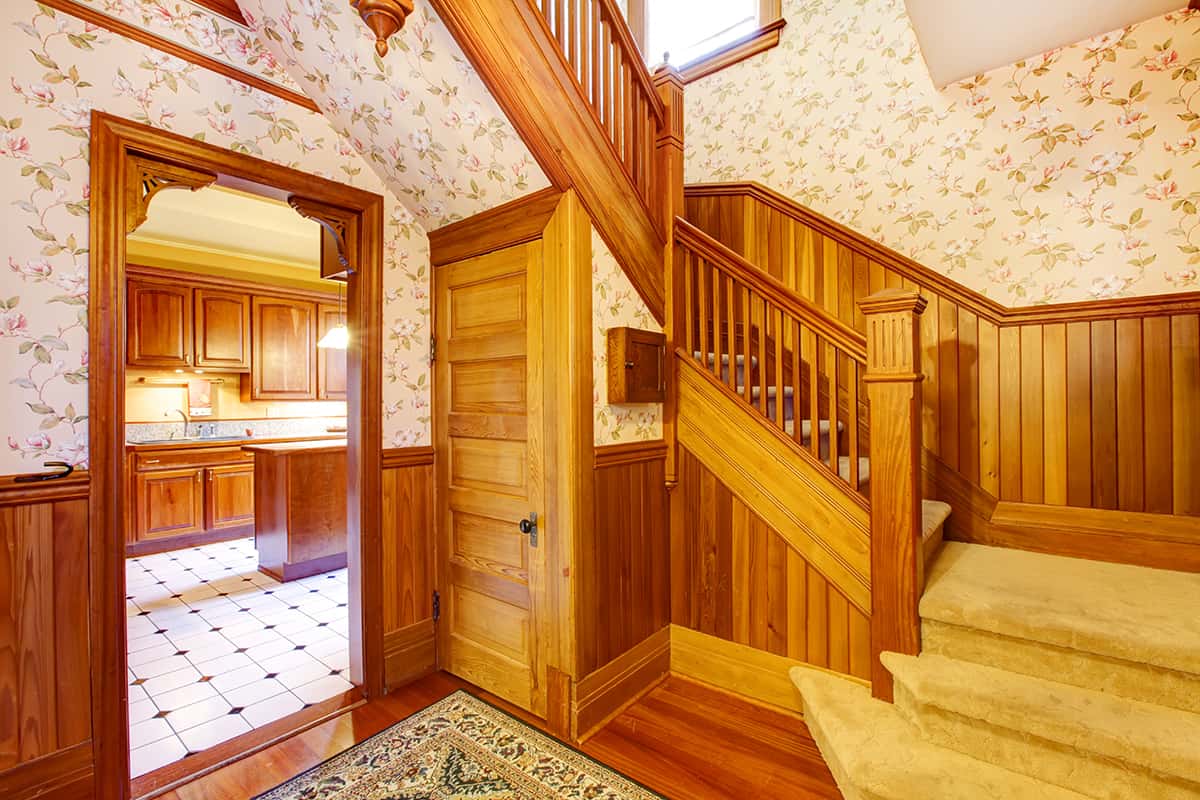 Just like wainscotting, beadboard is another popular trim idea. The textured wooden panels add a warm and rustic feel to the staircase and have long been used in Colonial and Victorian homes.
But you don't have to live in a traditional or farmhouse-style house to mimic such a design. If you have wooden stairs, this idea will work perfectly to add texture to your staircase.
All you need to do is install wooden planks that are usually 2 inches in width. The reason they are called beadboard is because of the bead placed between each plank. This beaded design ensures the slats are securely fastened using a tongue on one plank and a groove on the other plank.
As you can see here, the beadboard trim looks traditional and rustic, with the door and frame matching the wood stain of the staircase trim.
Shiplap to Highlight the Staircase Walls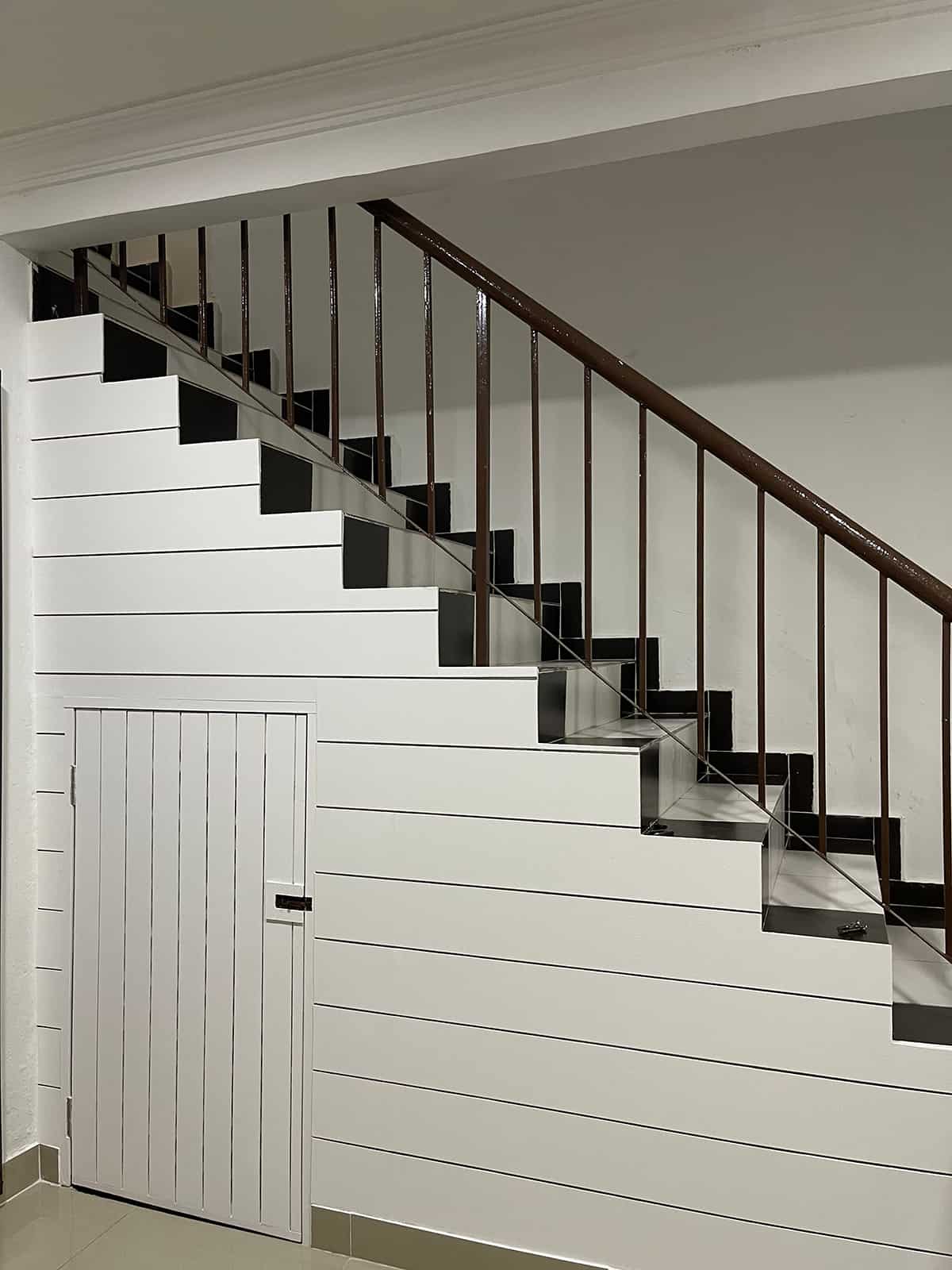 Now instead of vertical beadboard for stair trim, consider shiplap, which consists of horizontally installed thin wood planks on the wall.
These wooden planks are typically between 4 and 6 inches long. The reason why they are called shiplap is due to the similarity to the body of wooden ships. The wooden boards are fitted tightly together for a watertight finish.
Most shiplap walls are painted white, but you can leave them unstained for a rustic finish. In this example, the staircase railing is black so it makes sense to paint the shiplap wall white.
Coffer the Walls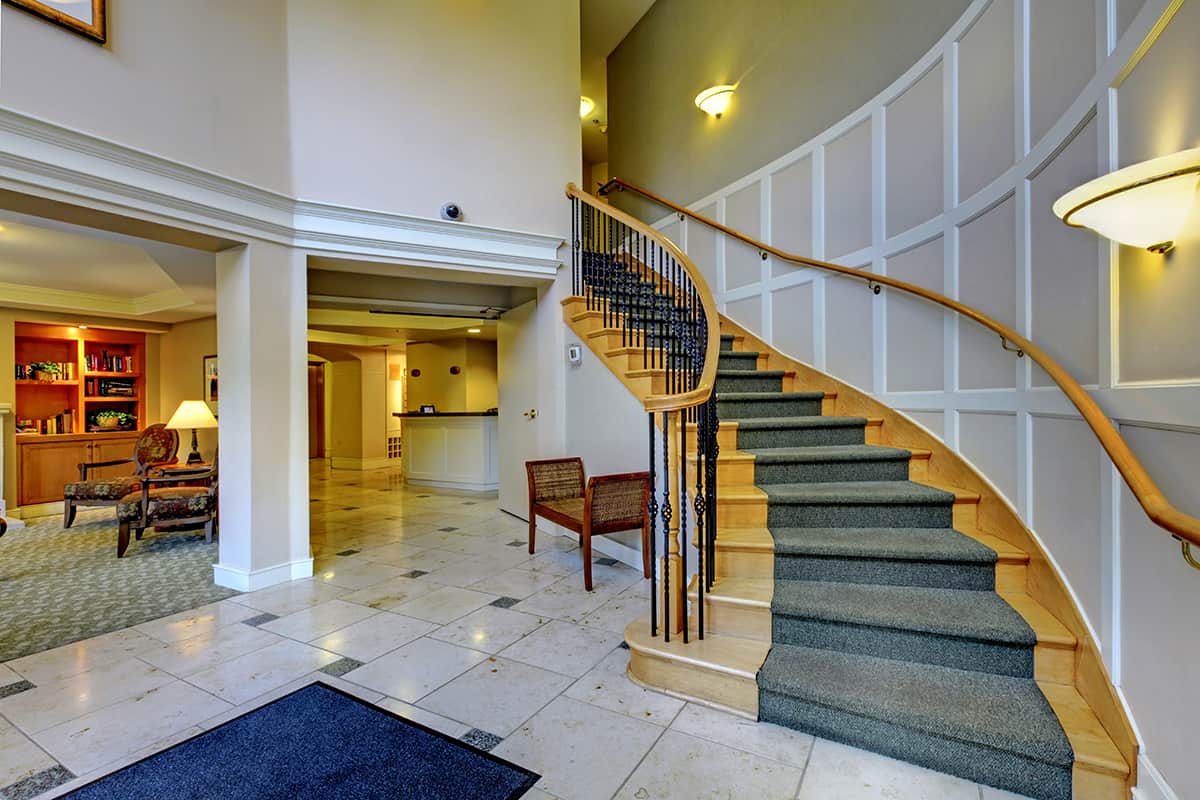 Coffered walls or ceilings consist of sunken panels. These architectural panels can be in different sizes or shapes, including octagons, squares, or rectangles. Wooden coffered walls can be arranged in a grid pattern as though boxes are framed.
But unlike beadboard, which only covers half or part of the wall, coffered panels usually cover the entire wall from ceiling to floor. This beautiful architectural feature may look simple, but it makes a big statement in traditional homes.
A good example of coffered walls can be seen here. The elaborately designed staircase is highlighted by the wall coffering. The subtle effect of this coffered wall draws the eye immediately to the staircase thanks to the contrasting colors used for the railing, steps, and the wall.
If you want to take this idea to the next level, you may continue the coffering to the ceiling above the stairs.
Install Baseboards and Skirt
Baseboards and skirting are the trim found alongside the lowest section of the walls next to the steps. You will often see the same color and design throughout the house in order to achieve a cohesive look. Baseboard planks can easily be cut to shape for an elegant finish.
Once you've installed the baseboard to the bottom of the wall, a skirt is mounted as the finishing. The skirt is usually from a solid wood plank, which slides between the stairs and the wall. This DIY trim will accommodate the tread and risers of your staircase and is by far the most inexpensive trim idea for the stairs.
Choose Elaborate Metal Handrails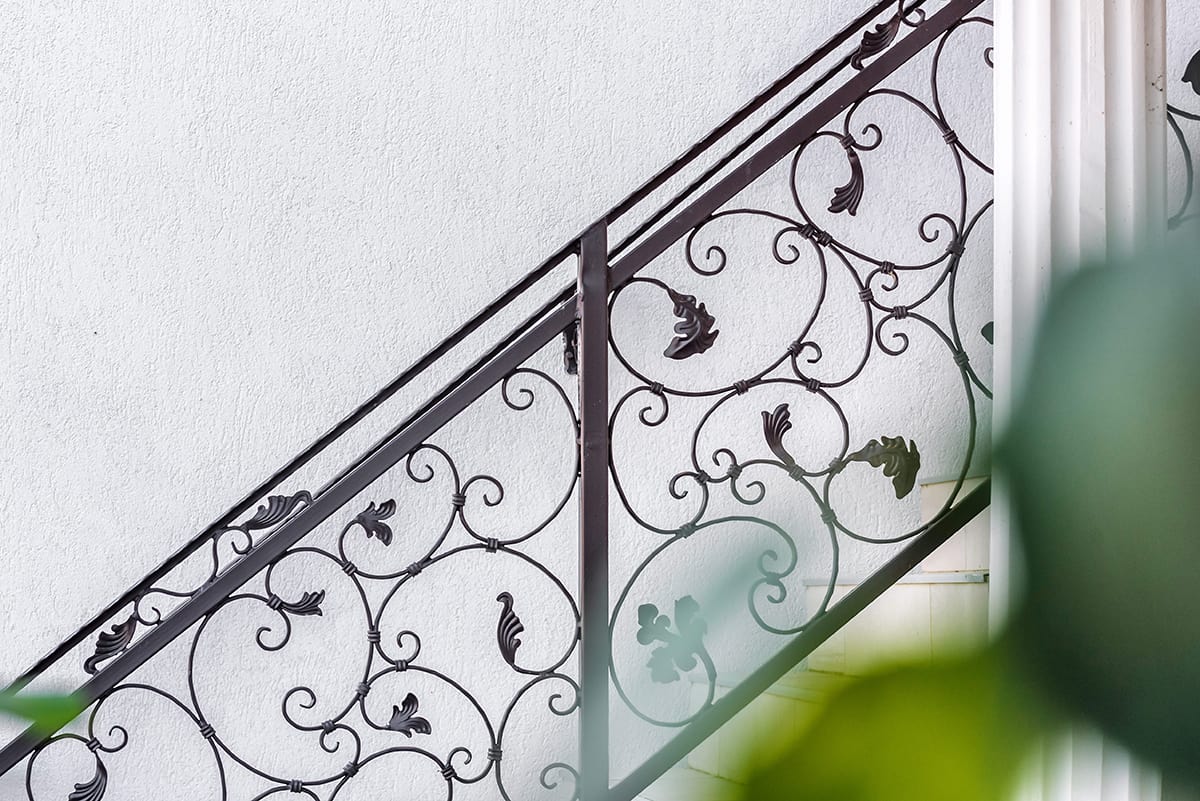 The handrails of a staircase serve as a safety feature, but why settle for just any handrail when you can add a sense of class to your home? Choose a handrail that coordinates well with your interior decor.
Metal handrails are solid designs available in numerous shapes and sizes. Nowadays, you can find a wide range of black metal balusters and handrails in home improvement stores. But you can also have them custom-made according to your wishes. The beauty of metal is that it can be painted any color to suit the rest of your staircase.
Whether you prefer copper, brass, steel, or wrought iron handrails, there is no denying how smooth and sleek this safety feature will look on your staircase. Metal handrails and balusters can be made to order, with the most popular designs being the brushed and hammered finishes.
Add Finial as a Finishing Touch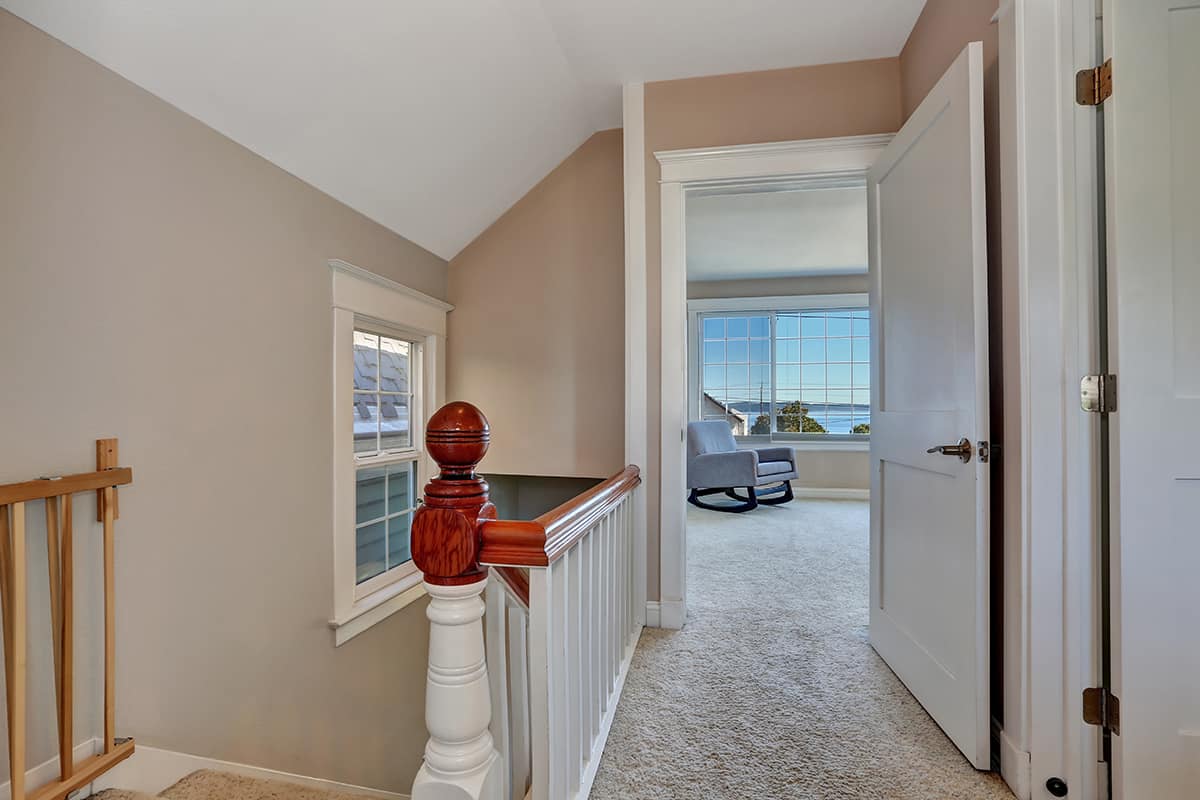 A finial is a decorative section on top of the stair's newel. This feature can be anything from a simple, round-shaped knob to a pointed cap or an ornately designed piece. The finial is the finishing touch to a staircase trim, as, without it, your stairs won't look quite right. But what kind of material and design should you choose?
For a wooden staircase, a simple knob with a slightly pointed cap might suffice. But if you want a more elaborate version, you may custom order a wooden finial with a beautiful base for a unique touch. Look for such designs in antique stores or alternatively, opt for a less expensive replica made from polyurethane instead of solid wood.
There are also other finial designs that include urn or orb shapes. Some are specifically made to look like fruit or animals. The floral or embossed leaves also make a stunning statement on a wooden staircase.
Go for a Bullnose and Volute Design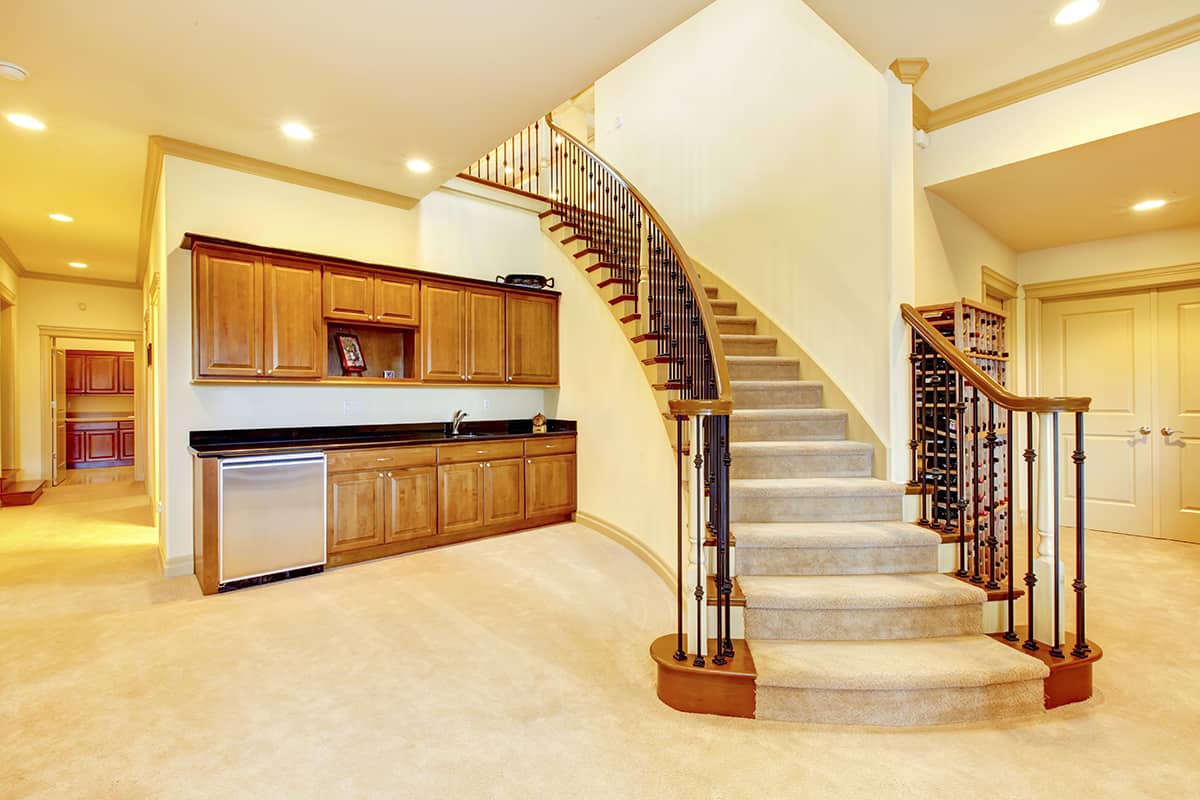 Not everyone has heard of bullnose and volute as the stair trim. A bullnose is the very first step you see at the foot of the stairs. The shape of a bullnose is different from the rest of the treads as it extends from the corner of the stairs and almost always has rounded or curved edges as shown in this example. The bullnose may even contain several starting steps that lead to the main stairs.
A volute is the other essential part that must go with a bullnose. This curved handrail always follows the bullnose step and connects to the top of the newel. The design of a bullnose and volute trim can be circular or semi-circular on metal or wooden balustrades.
Use Recessed Lights as the Trim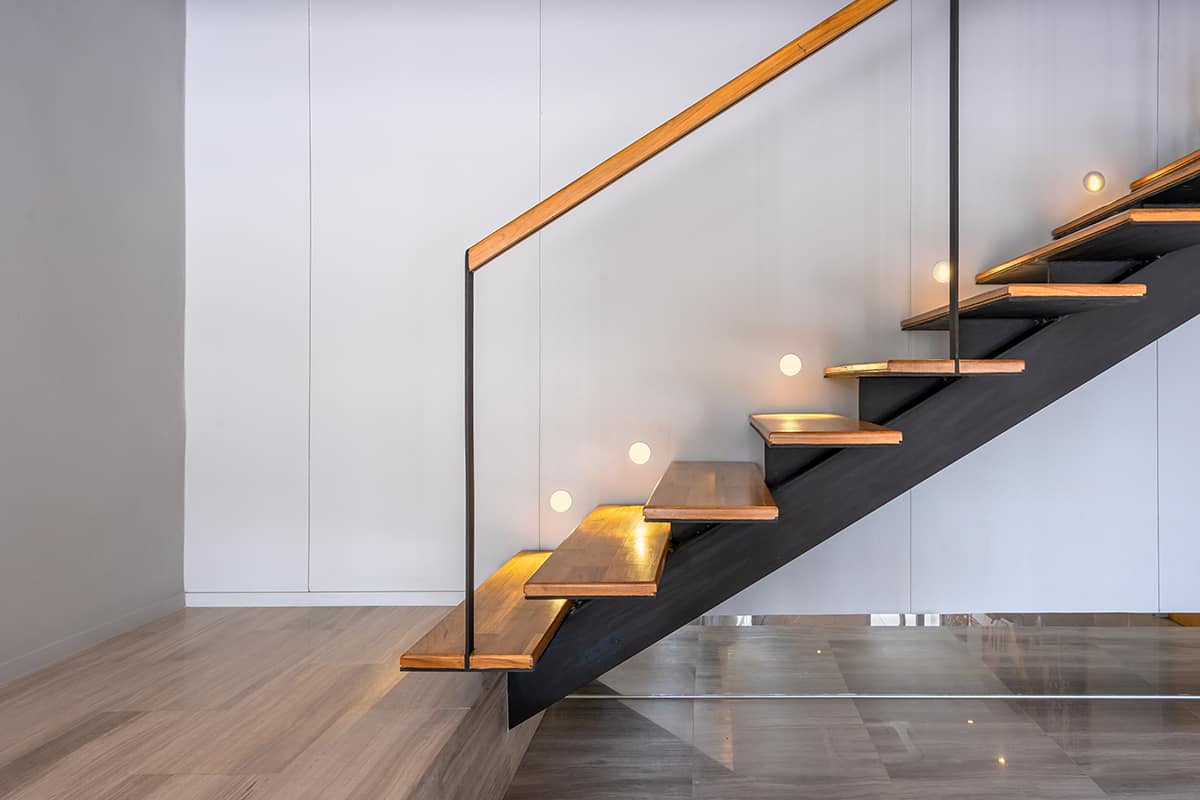 Who said your stair trim has to be ornately designed with fancy handrails and other decorative touches? If you have a tight budget but still want to transform your staircase into an attractive focal point, then consider adding recessed lights.
Make sure your lights coordinate with the rest of the decor and blend well with the staircase. For example, if your stairs are metal, go for an industrial vibe and use metal-framed lights. Recessed lights are very practical features that can easily be installed along the baseboard trim.
In Closing
Stair trim is a necessary finishing touch to your staircase as, without it, your interior can look rather bland or bare. From metal handrails and finials to coffered walls and baseboards, we must not overlook this part of the interior, especially as we use the stairs on a daily basis.
We hope our list of stair trim ideas has helped you enough to get your creative juices flowing!