The decor style used on a staircase is an important, yet often overlooked, part of designing your home's interior. The staircase in some properties is on view as soon as somebody steps into the foyer or entrance hallway, and therefore will be one of the first impressions visitors get of the house.
The staircase links the upstairs to the downstairs, so it's a good way to introduce people to the type of style they can expect in the upper rooms of your home, working as a sort of transition space between the two. Here we look at staircase wall color combination ideas for a stylish stairway.
Monochrome
Black and White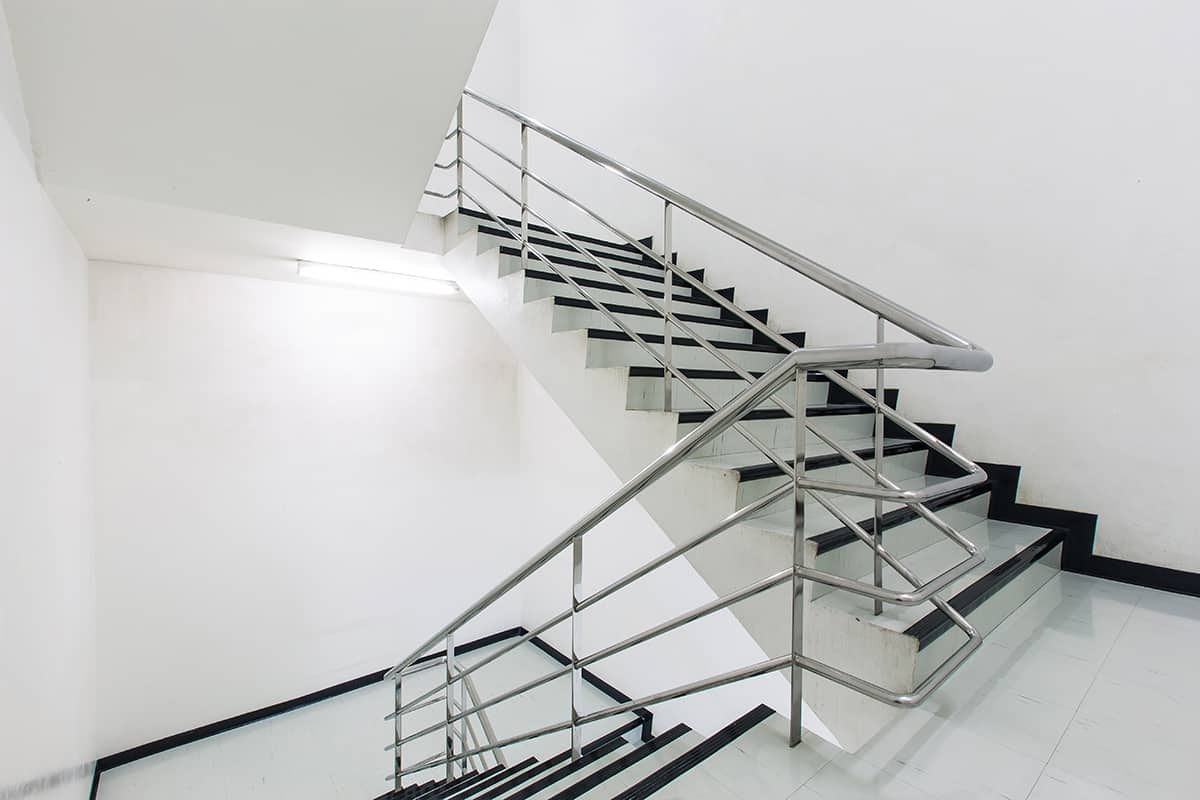 For a classic yet striking look on a staircase, use simply black and white for a strong monochromatic theme. To ensure an elegant feel, opt for white walls and white marble stairs, and contrast this with black trim and some black and white vintage prints hanging on the walls in minimalist black frames.
Gray and Ivory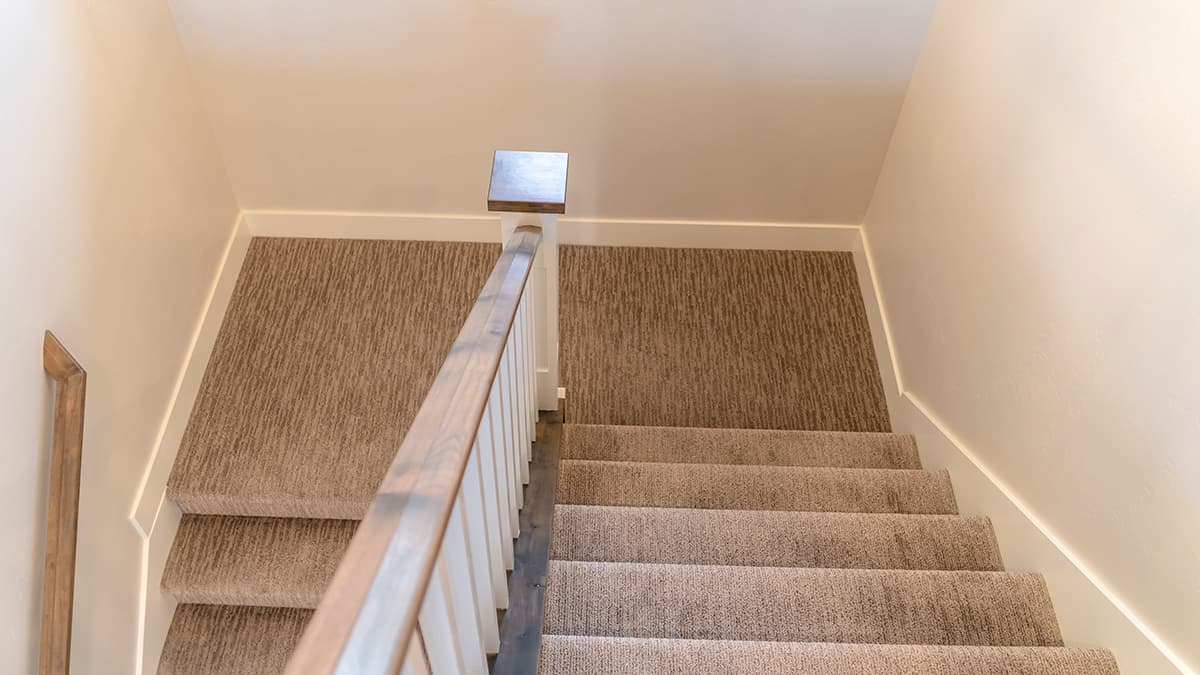 Gray and ivory make for a more neutral take on monochrome if you think of ivory as a variation of white and gray as a variation of black.
Choose a dark gray such as charcoal to create the most impact or a medium shade of gray for a more subtle contrast. Gray stair carpets and gray stair banisters set against white walls will look timeless and sophisticated.
Silver and Black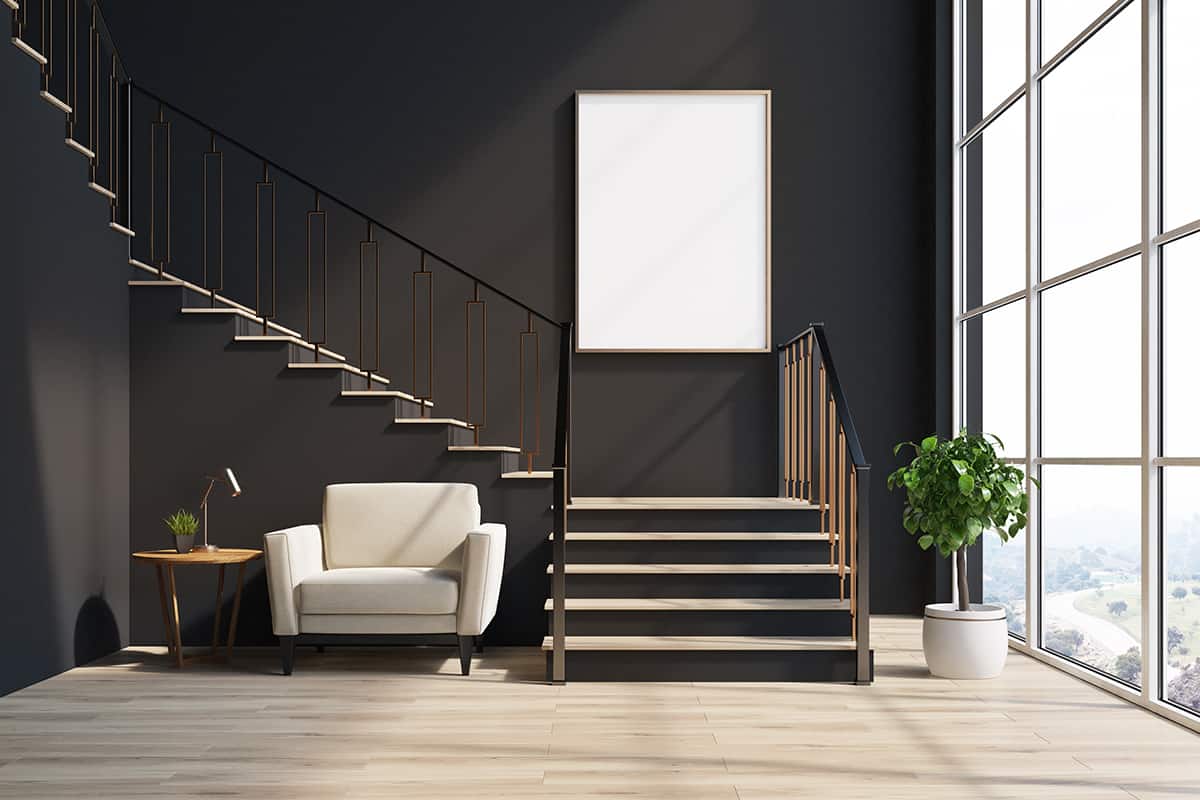 Black and silver offer a more glamorous alternative to the typical monochrome look. For the most stylish results with this color combination on a staircase, choose a black surface for the stairs themselves, such as wood that has been stained black or a black tile staircase, and use a black wallpaper with a textured pattern.
An example of this could be a black matte wallpaper with a black flocked pattern on it or a black matte wallpaper with a black glossy pattern printed on it. This will add texture and depth to the staircase without adding additional colors.
You can then add silver highlights such as silver picture frames on the walls and silver light fittings. Alternatively, choose a black wallpaper with a metallic silver pattern printed on it.
Classic Neutrals
Beige and Brown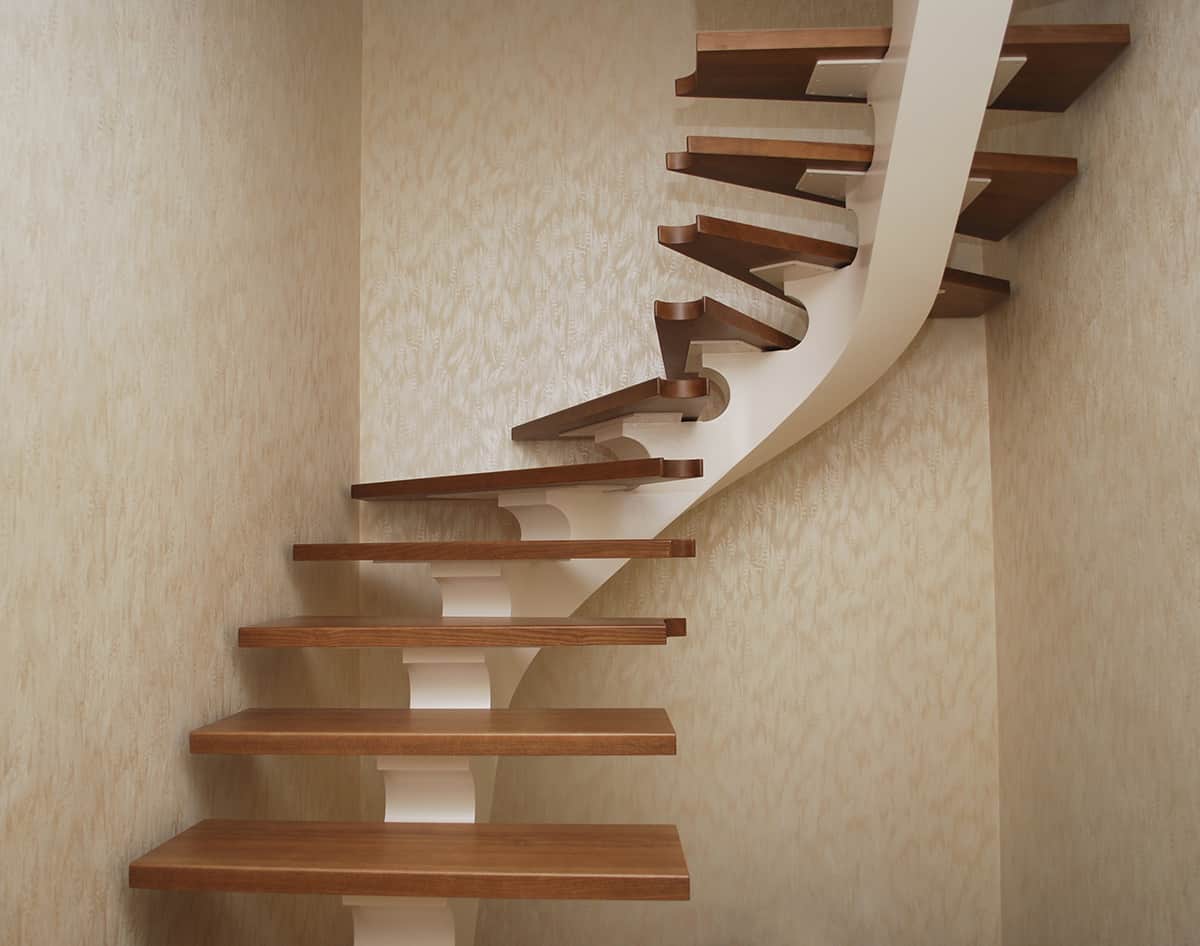 Beige and brown are both warm tones that are easy to live with and create a wholesome, welcoming atmosphere in a home. These are also both natural tones that have links to the outdoor world, which again add to their ability to make us feel safe and soothed.
Use these colors on a staircase to create a tonal effect by choosing colors in the same tone but with varying shades. For example, you could opt for a pale tan color for your staircase carpet and a dark tan color for the wall paint. Alternatively, create a contrast by choosing more severe shades, such as cream and chocolate brown.
White and Gold
White and gold is a simple color combination that can be really effective on a staircase area because these are generally small spaces. Choose a warm color of hardwood for your staircases, such as oak or chestnut, and paint the staircase banisters and the walls in pure white.
Add gold accents such as gold picture frames on the walls and gold light fittings. You could also choose a white stair carpet runner and fix this in place with gold carpet runner rods to continue the gold and white theme.
Tan and Cream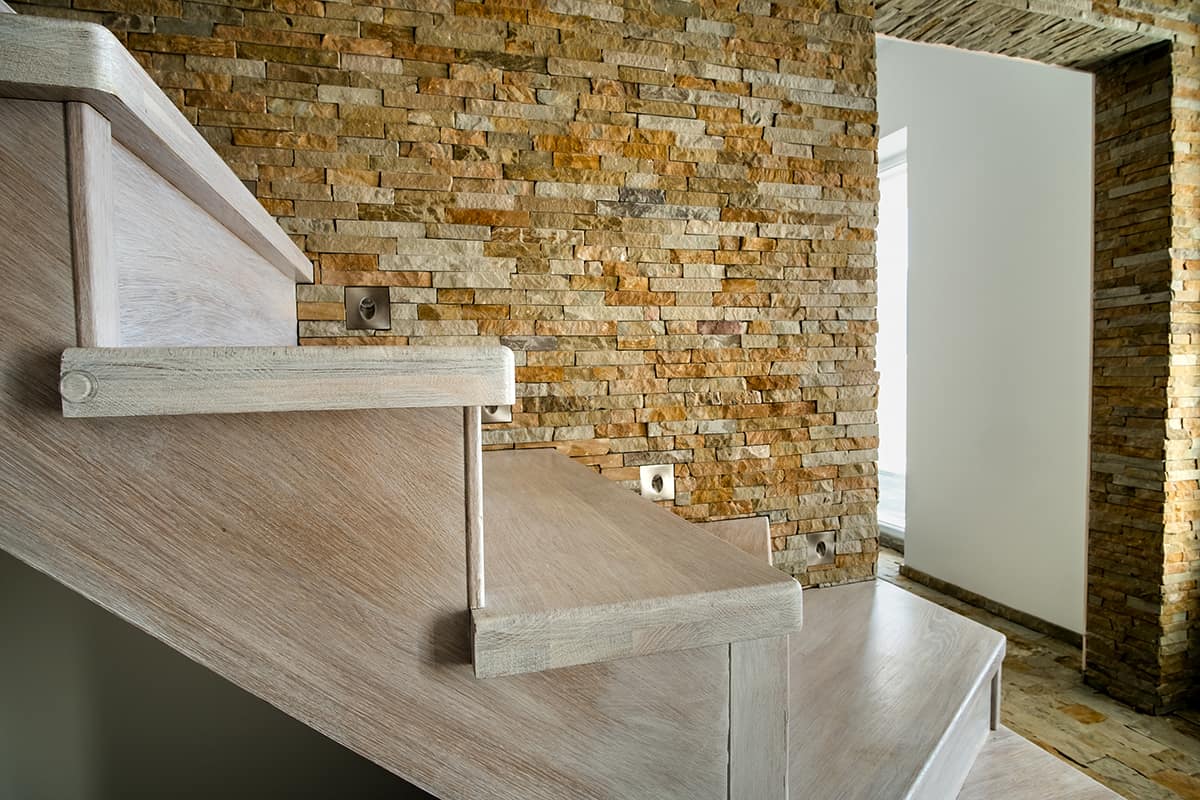 Tan and cream make for a luxurious neutral color scheme. Choose deep pile cream carpets for your staircase and paint the walls tan, then add cream accents such as wall planters or a cream enamel chandelier.
This will also work in reverse with tan-colored flooring and cream walls, though this will read as more breezy and airy compared with comforting and cozy.
Black and Tan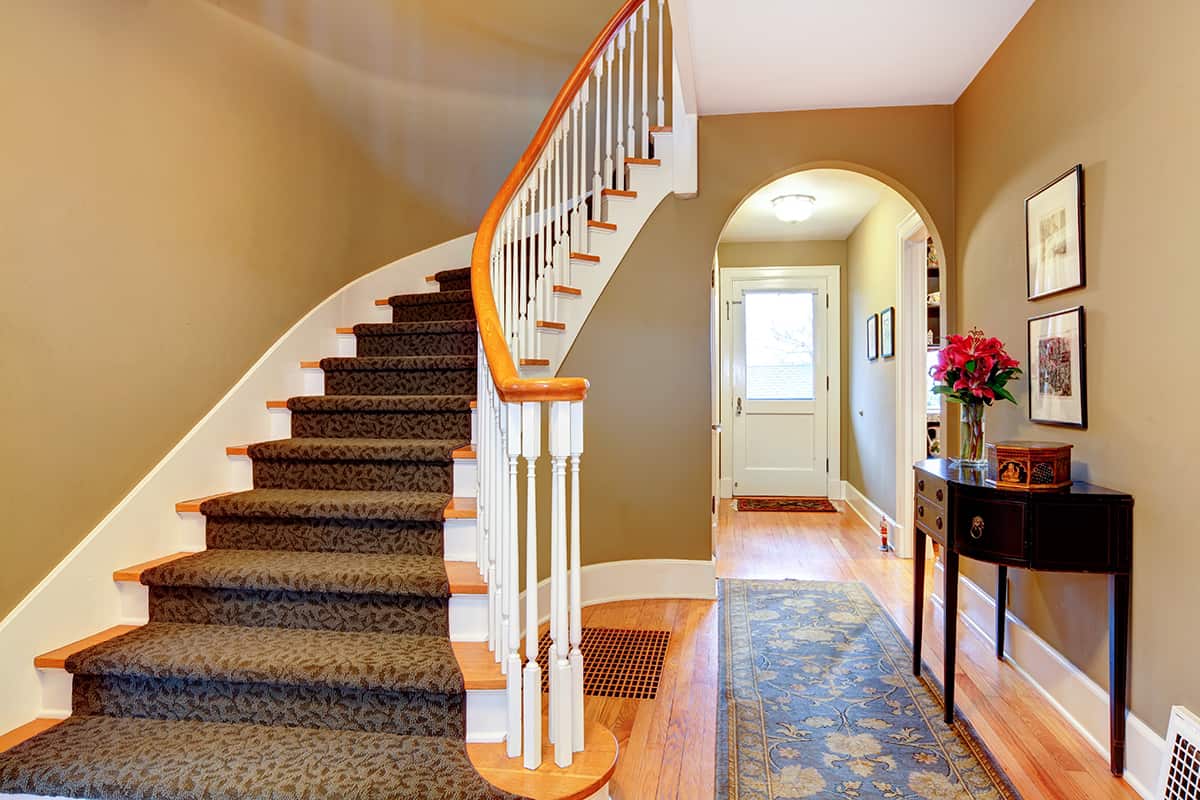 Black and tan are both neutral colors, but when used together on a staircase, they will make for a more moody and dramatic look, as opposed to the soft and pale look you might associate with neutrals.
Choose a tan-colored floor surface for the stairs themselves, such as an oak stain on hardwood flooring, and continue this on any wooden stair banisters, then paint the walls in black. Ensure continuity by fixing wooden decorations to the stairway wall in a tan color, such as a hanging rattan heart wreath or wooden decorative signs.
Alternatively, select a black floor surface for your stairs, such as black carpet, or paint wooden stairs in a hard-wearing black paint, and then paint the walls in a rich tan shade. Complete the look with an arrangement of black frames in various sizes showcasing family photographs going all the way from the bottom of the staircase wall to the top.
Modern Neutrals
Dark Gray and Olive Green
Dark gray and olive green are both modern neutrals because they are colors heavily associated with nature, such as gray rocky mountains, gray clouds, and gray pebble beaches, as well as olive green foliage and mossy hills.
When used in an interior room, these two colors really compliment each other to create a contemporary natural look. On a staircase, stain wooden stairs in a gray tint, or opt for gray carpets. Paint trim in dark gray, and walls in olive green. Fix white wall planters to the staircase wall, with hanging houseplants draping down against the olive green backdrop.
Burnt Orange and Pale Gray
Burnt orange is a dark shade of orange that verges on brown. It is a color that was popular in the 1970s and 1980s, but it takes on a completely different style when paired with pale gray, which makes it feel much more modern.
Consider hardwood floors in brown tones with pale gray walls, and add burnt orange accessories. If you have space at the bottom of your staircase, you could use burnt orange-glazed plant pots to bring in splashes of this color or a burnt orange accent chair. Use a cool-toned pale gray, which will be balanced out by the rich warmth of burnt orange.
Forest Green and Soft Gray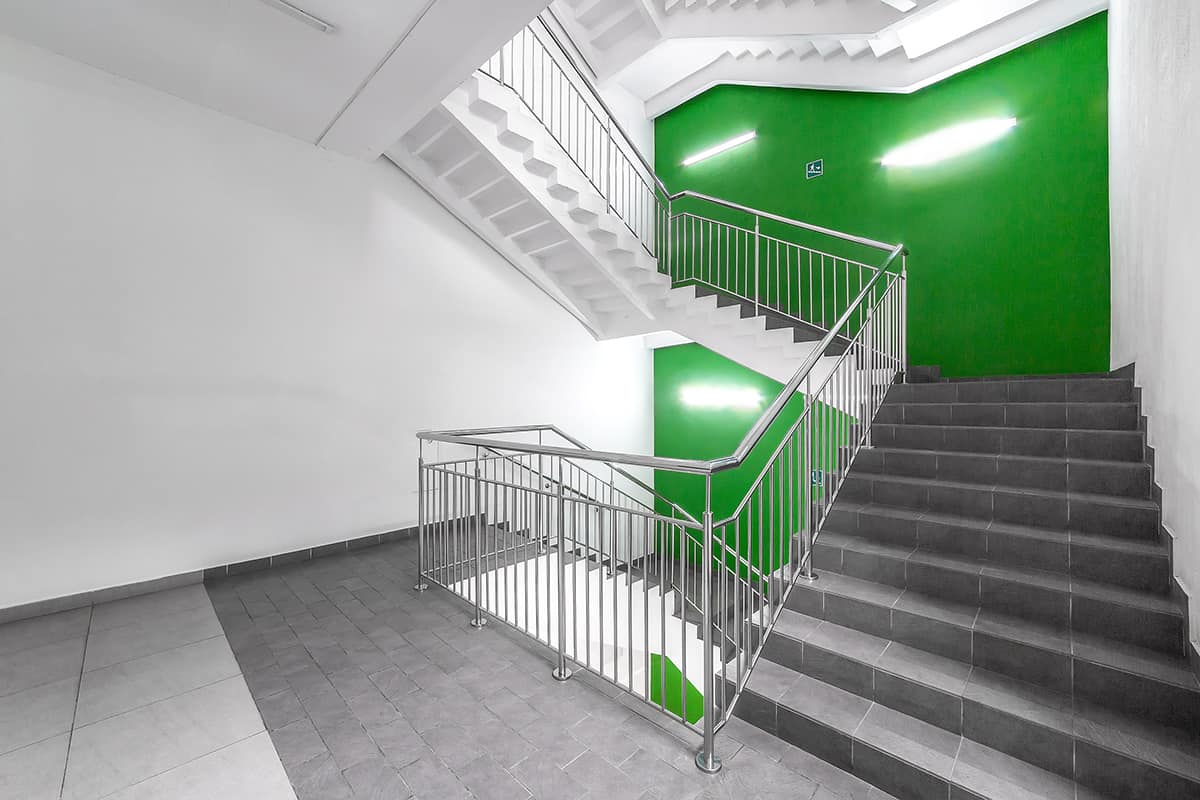 Forest green looks dark and moody when used as a wall color, and this will be further intensified if your staircase lacks natural light. Choose a soft gray carpet to add a little light to the space, and continue with the theme of modern neutrals.
Contrasting Colors
Emerald Green and Blush Pink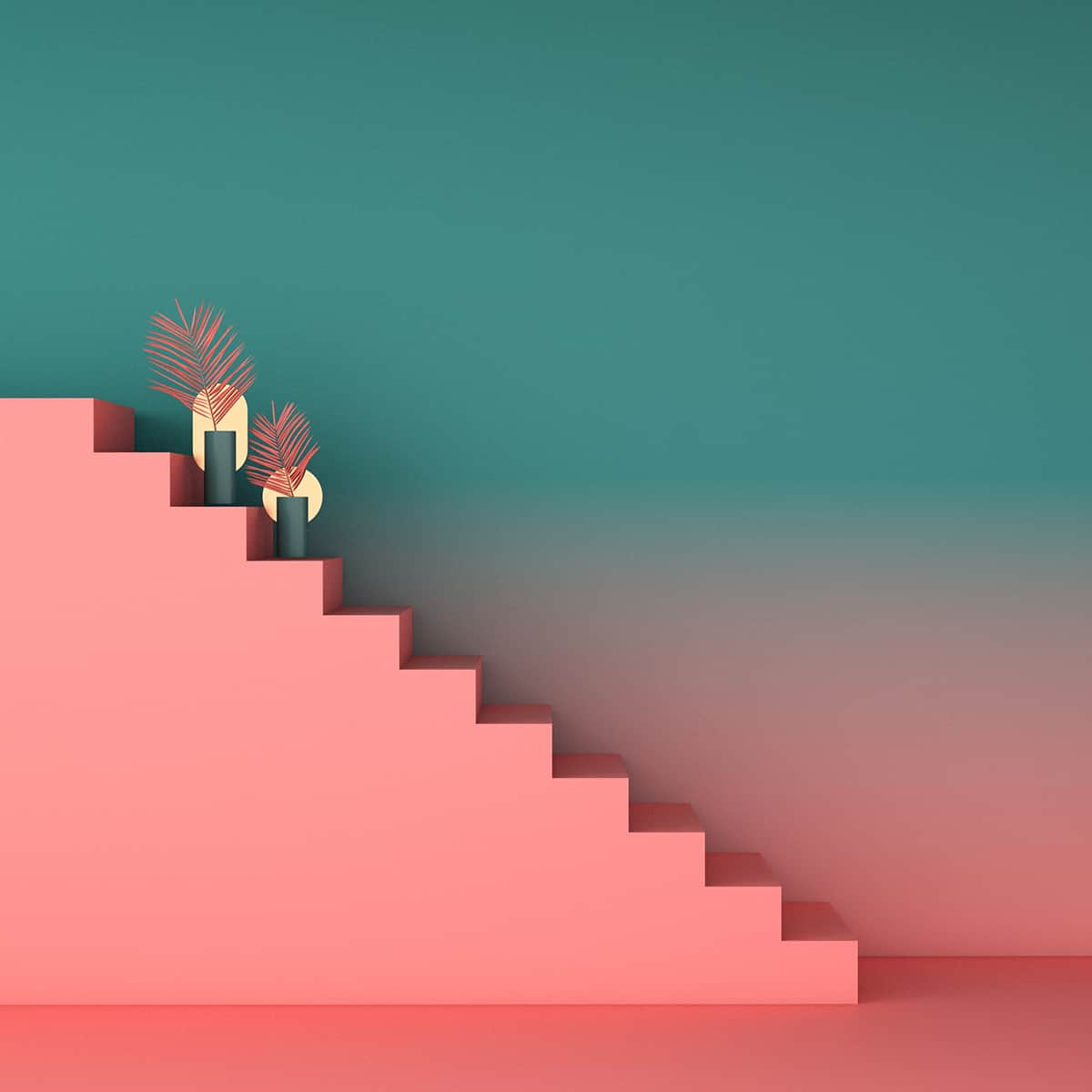 Red is the contrasting color of green, but this color pairing can be too intense, so pink as a close relative of red makes for a nice alternative. Emerald green and blush pink create a luxurious and sultry look that can be a nice way to style a staircase as a way to introduce people to the more romantic rooms upstairs.
For a more lowkey look, use blush pink as a wall coloring with a neutral floor such as cream carpets or gray marble tiles, and add touches of emerald green with hanging houseplants on the walls and art prints with green motifs.
For a moodier look, choose emerald green wall paint and contrast this with blush pink painted stair railings and rose gold framed mirrors hanging on the walls.
Navy Blue and Terracotta
Navy blue is a popular color in interior design, and it can be a great choice for a staircase wall to make a bold statement. Add terracotta accents in the form of terracotta planters at the edge of the lower stairs. Terracotta works as a great contrast with navy because it is a shade of orange, which is the contrasting color for blue.
Turquoise Blue and Hot Pink
Turquoise and hot pink make for a really vibrant and playful contrast, so step outside of the box with these colors and have some fun with them. Paint the staircase wall in turquoise, and choose a shade of white or off-white for the stairs themselves.
Then contrast the turquoise by painting the stair railings in hot pink. Continue with flashes of pink by adding a painted pink wooden chair at the bottom of the staircase, or hang a pink sign on the turquoise wall. A bold printed wallpaper can also work really well on a staircase wall because it operates much like a feature wall.
Choose a turquoise and hot pink wallpaper, and paint the rest of the walls in white to allow it to really stand out.
Lilac and Lemon Yellow
Purple and yellow are opposite each other on the color wheel and are, therefore, contrasting colors. Lilac and lemon yellow are both softer shades of purple and yellow, so they make for a more subtle contrast. For a modern take on a country classic, choose golden beige carpets on your stairs with a lilac and lemon yellow printed wallpaper on the staircase wall.
A dainty floral print will enhance the country cottage vibe, or use a plaid print in the same colors for a pretty traditional look.