When it comes to hanging new curtains or drapes in your home, there are so many decisions to make: from the fabric and style to the color and design. But the most important factor is how you'll be hanging your curtains as this will ultimately determine how well they fit in the room's interior. One common question people ask themselves is: should curtains touch the floor?
Since most windows don't extend all the way to the floor, drapes or curtains will look best when they touch the floor. However, how low you want your drapes to hang will depend on what you're looking to get out of them. Here we will look into the most common curtain lengths and decide whether curtains should touch the floor or not.
What is the Standard Curtain Drop Length?
While there is no standard drop length for curtains, most come in drops of 54 inches, 72 inches or 90 inches. You will even find extra-long curtain drop lengths of 108 inches for rooms with higher ceilings. To achieve the perfect length, you may want to consider altering the drapes at a tailor or do it yourself.
Common Curtain Lengths
Lightly Touching the Floor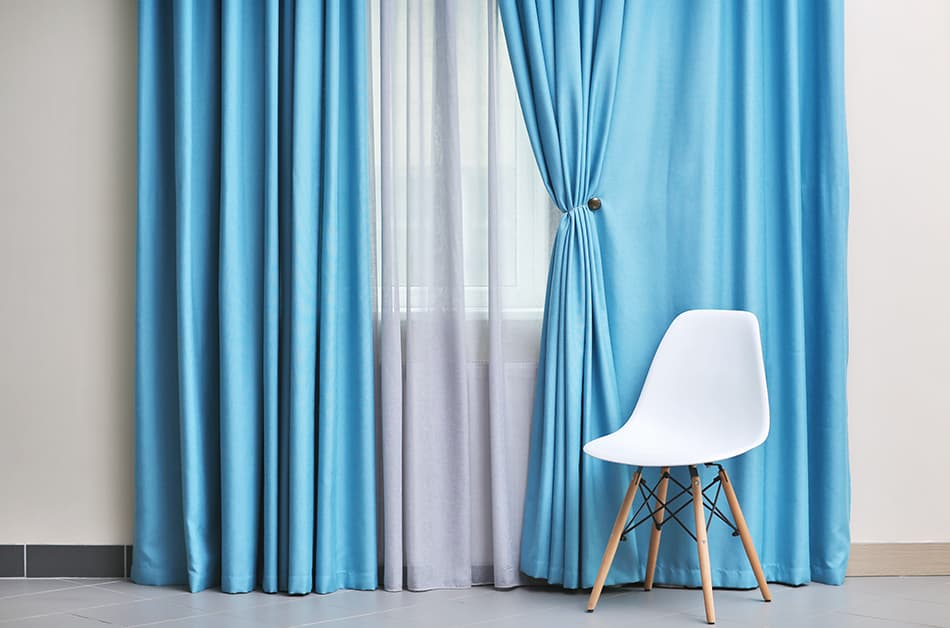 Curtains that lightly brush the floor are the most stylish. However, great care needs to be taken when hanging these panels so as to ensure they are precisely hemmed. That said, it is well worth investing the time to make sure your curtains are hung correctly and lightly touch the floor.
Floating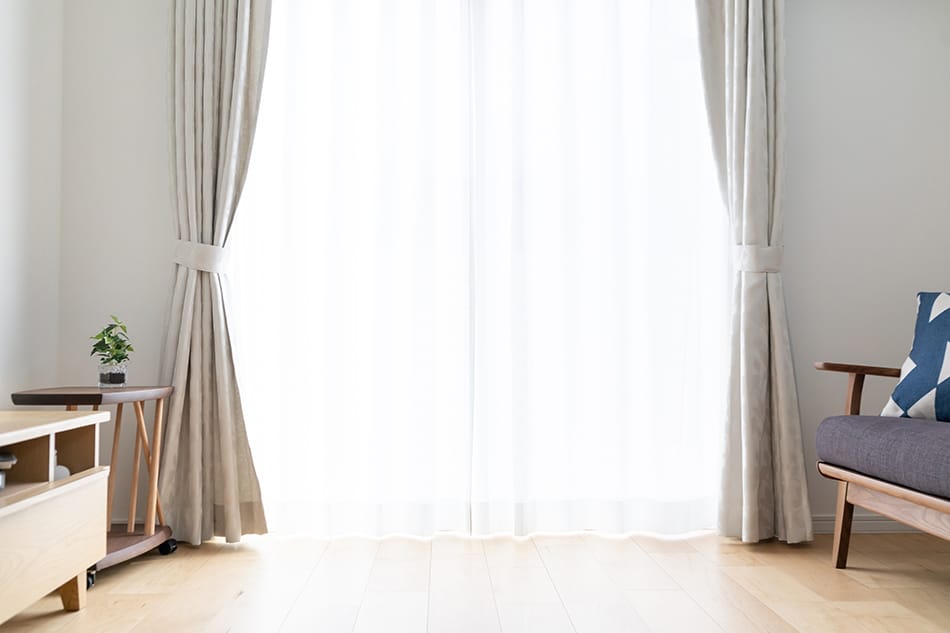 One of the easiest curtain lengths to maintain is the floating drop. To achieve the look, aim for the hem to be about half an inch above the floor. This makes the curtain length easier to measure, simpler to vacuum and keep clean. A floating curtain length is a great option if you're planning to open and close it a lot as you won't need to rearrange the length every time. In addition, the curtain will remain clean since it's not brushing against the floor!
Breaking at the Floor
This curtain length extends to the floor and is mostly seen in modern interiors. The look can be achieved with just an extra 3 inches of fabric. This type of curtain length is ideal in formal rooms as the curtain will extend 3 inches past the ground. When choosing the best style, opt for thick fabric so that it stays in place once hung.
Puddling
Want a more formal setting? Then go a few inches further than breaking curtains by opting for a puddling fabric. You have the choice between shallow or very deep puddles. Keep in mind that in order for such drapes to work in your interior, you need to select the pattern and fabric carefully.
Puddling drapes are usually 6-10 inches more than the floor's length. These luxurious curtains look beautiful when hung correctly, but they are not designed for opening and closing often. They are also not recommended for households with small children or pets as the extra fabric on the floor will collect dust, pet hair, and dirt. Your child or pet is more likely to grab the fabric and use it as a climbing rope. So if dust, pets and children aren't a concern, then this floor-length is your best bet.
Puddling drapes will make your room look very formal and elegant. A beautiful sheer linen, for example, will create a bohemian look, while a velvet fabric will puddle gracefully on the floor.
Short-Length Curtains
Visually speaking, short length curtains aren't the most appealing. Some people may even say the shorter length curtains are dated. But most importantly, these curtains can cut the visual height of the room so they may not be suitable for your interior. However, there are certain situations in which you might want to consider using short-length curtains. These include:
For kitchens and bathrooms where long curtains aren't the best option
Small windows don't look good with long curtains
Short-length curtains have their advantages and disadvantages, but from a practical standpoint, they are better suited for children' s rooms as you can limit sticky fingers from touching the fabric.
In rooms with heat-producing radiators and heaters, shorter length curtains also make a better choice than long ones. If you do select this style, make sure the curtain doesn't extend more than 3 inches past the windowsill in order to achieve a cohesive look.
Cafe Curtains
Similar to short-length curtains, cafe curtains are also short fabrics that only extend halfway up the window. You can hang these curtains on their own or add a valance along the top edge for a decorative look. This style is ideal for bathrooms as it allows privacy while letting natural light enter the room. Cafe curtains are also excellent for farmhouse style or rustic kitchens.
Are Short Length Curtains Out of Style?
Short-length curtains are still in style and found in both modern and traditional-style homes.  In fact, you're most likely to see such curtains in minimalist interiors and most people tend to prefer these curtains over long, frilly ones. These timeless window coverings add some privacy, style and color to the interior, plus they are much easier to keep clean.
Tip: to make sure your short-length curtain remains in style, choose a length that extends no more than 3 inches past the bottom of the windowsill. Window coverings that only reach halfway between the floor and the windowsill look dated so always select the length carefully.
So Should Curtains Touch the Floor?
The answer is, it depends on your particular taste and style needs. If you want your drapes to block light and protect your furniture, then you may want to consider long-length curtains. These floor-to-ceiling drapes are especially stunning in formal settings. To add height to the room, then such drapes will make a beautiful statement. On the flip side, curtains that let light in are typically at medium length. The ultimate decision, however, is down to your personal preference!