Having a room with a pool table is a luxury most can't afford to miss. A billiard table is the centerpiece of any room. However, it needs to complement the rest of the decor.
Otherwise, it will look out of place. Space is the biggest concern when planning a room with a pool table. After all, you must think about the seating capacity, adequate movement, and of course, where to place the billiard table.
If you're lucky enough to have space for a pool table in your house, there are plenty of ways you can decorate your room in a fun and inviting way.
Remember to choose a room with a high ceiling and at least 18-foot by 14-foot dimensions. The standard billiard cue is 58 inches long, so you need to be able to maneuver it from any angle. The billiard table sizes range from 3.5 feet to 7 or 9 feet so the bigger your room's space, the better.
With that in mind, let's now take a look at our design recommendations for rooms with a pool table:
Rooms with Pool Table Ideas
Place Your Pool Table in Living Room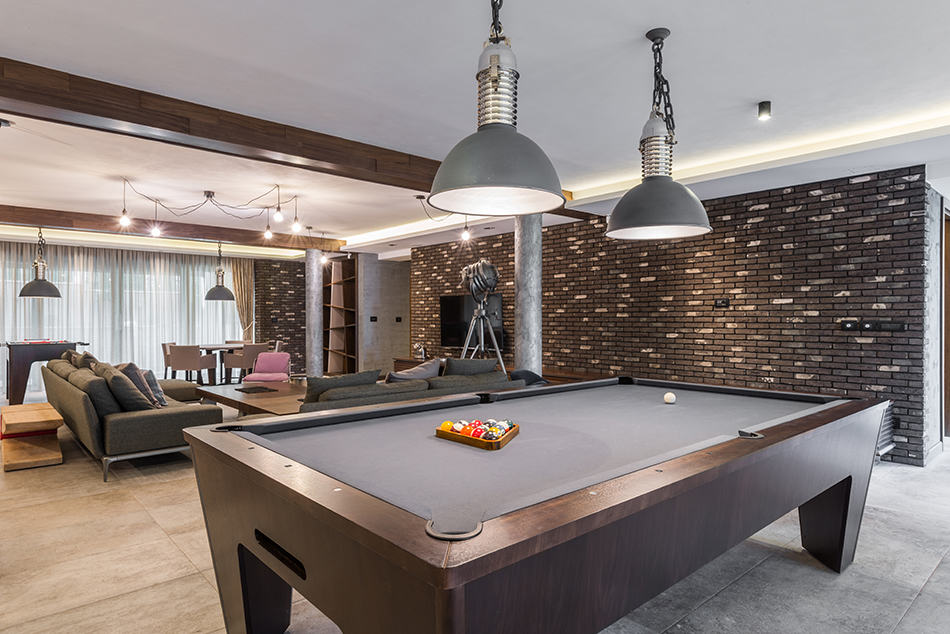 A spacious living room is a great place for a billiard table. After all, it is in the living room that guests are entertained, and family gatherings take place.
If your living room has adequate space in the dining section of the room, you can place the billiard table there.
Leave at least 6 feet of space all around the table for generous cue strokes, and pick your furniture accordingly. You don't want to cramp the room with too many furniture items as all the pool players need adequate space to maneuver around the table.
Take a look at our example: a luxury living room with a sleek interior design that coordinates perfectly with the pool table. The dark furniture and feature wall match the color of the billiard table, so it doesn't look out of place here. The design of this room emits an inviting vibe for enthusiast pool players.
Pool Table in the Basement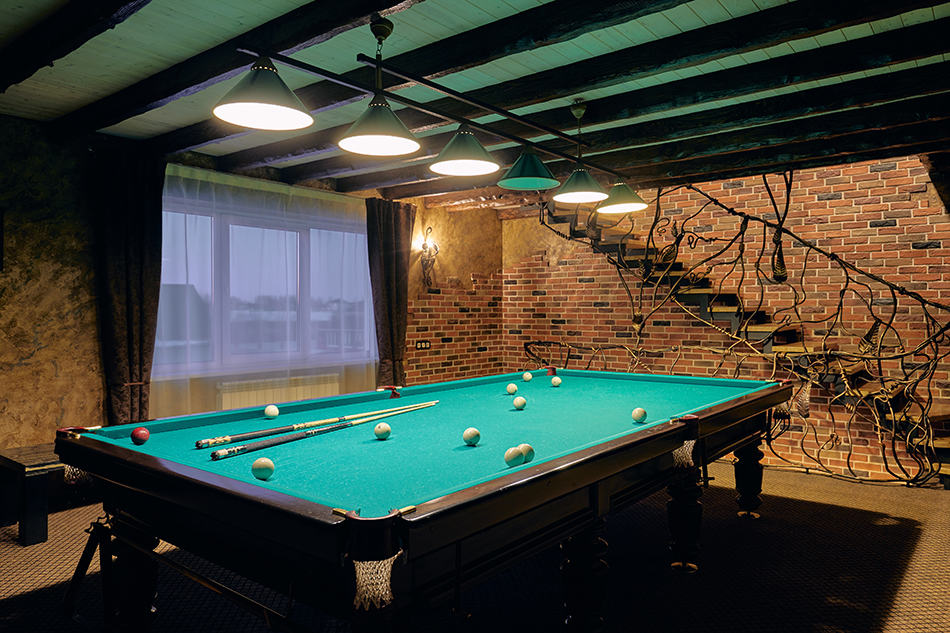 If your living room isn't spacious enough for a pool table, there is always the basement you can convert into a comfortable games room. A basement is the ultimate place for a billiard table and believe it or not, it is a popular trend for a game room. All you need is some seating, lighting, and a snacking corner.
Make sure you install adequate lighting as most basements lack natural light. Add some wall decor and pool table accessories to complete the billiard room.
This industrial-style basement features a pool table with lots of overhead lighting to brighten up the darkroom. Although most basements lack natural light, even if they have a window, it makes sense to install lots of overhead lighting above the pool table.
See more inspirations in our guide ' 47 Amazing Basement Bar Ideas '
Sync Your Decor with the Billiard Table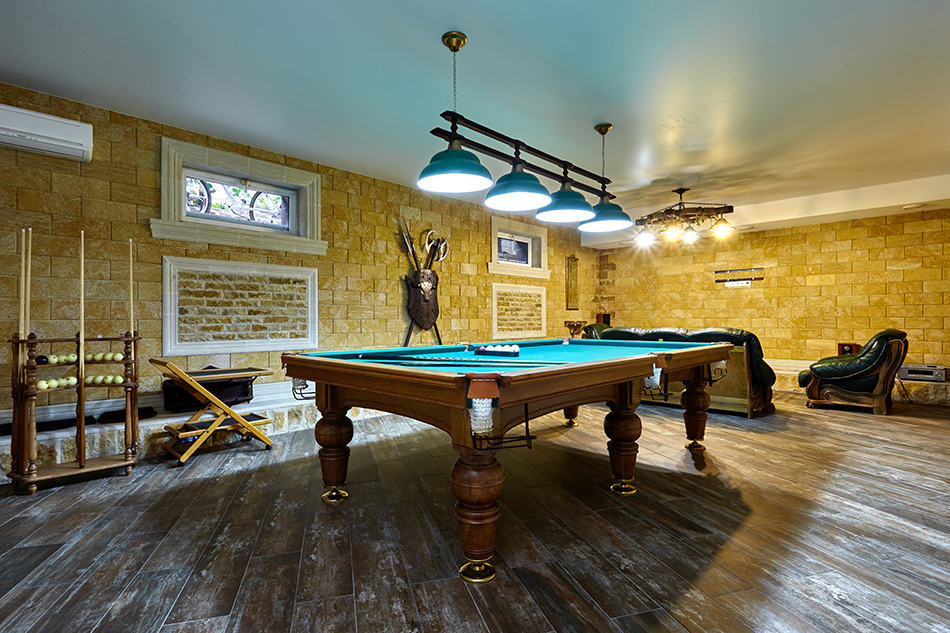 The color of your furnishings should complement the color of your pool table, if not match it exactly. You can find plenty of wall decor for the billiard room to help you with your decorating ideas.
For example, posters of your favorite billiard players, a chalkboard for keeping score, and some memorabilia or trophies will make excellent wall decor ideas to sync with your pool table. You can even go for themed wallpaper to make it even more playful.
The beautiful interior of this billiard room is truly in sync with the pool table. The room isn't cluttered with furniture. All the balls and cues are neatly arranged in the corner, and there is a decorative wall sculpture that has given this room a masculine vibe. A perfect man cave indeed!
Overhead Lighting for Pool Table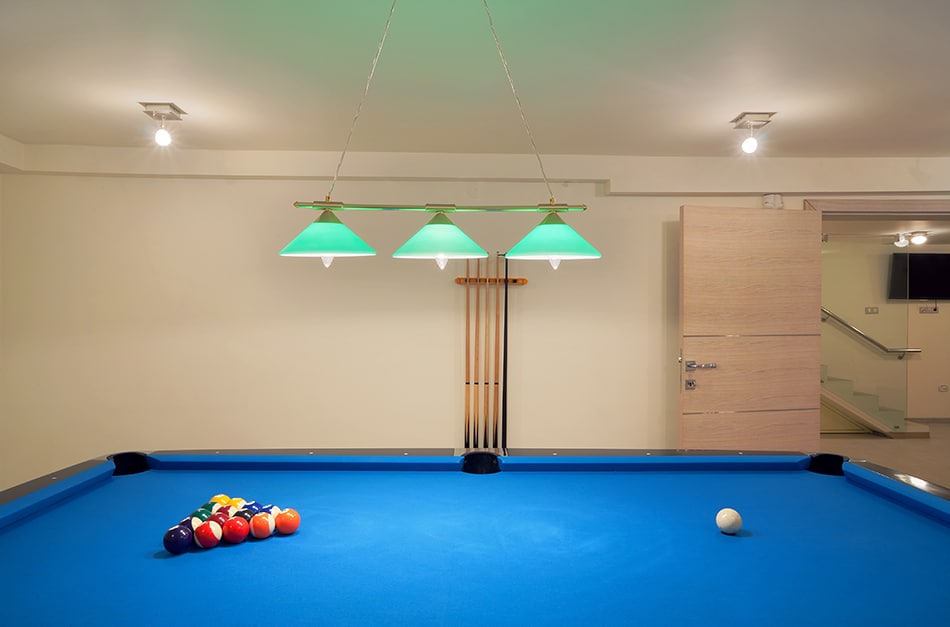 The most important decor element for your billiard room is the lighting. Too little illumination can affect the game immensely. For better performance, choose overhead lighting in appropriate length and distance in order to add an extra dimension to your billiard room design.
If you recall, we recommended a room with a high ceiling as you'll want substantial ceiling height for drop-down lighting above the pool table. Stain-glass in quirky shapes or pool ball sconces are some great examples of overhead lighting for a pool table. Just remember to coordinate the lights with the table color.
For example, the color of this pool table is dark blue, which goes with the light blue overhead lighting. There are also additional ceiling lights to further brighten up the space.
A Statement Rug is a Must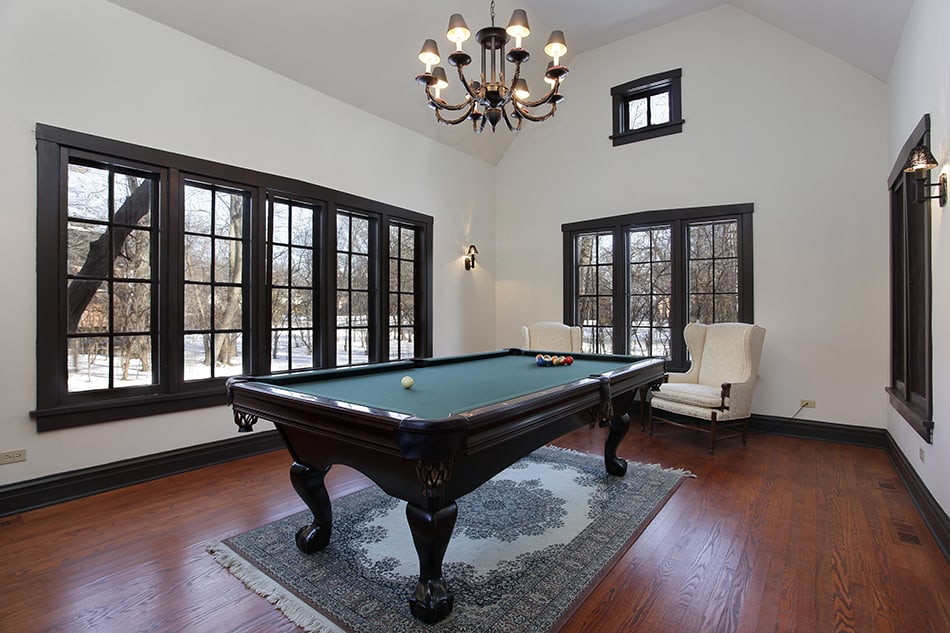 An Oriental rug will certainly define your billiard room and help absorb sound. A Persian rug, for example, will create a cozy and comfy vibe in a traditional pool room. It is all about the style of your interior matching the rug you choose. So if your pool room leans more toward rustic, go for a Persian rug. If, however, your interior is modern, opt for an area rug instead.
In this traditional pool room, the dark brown wooden framed windows work in harmony with the overhead lighting, the pool table, and the Persian rug. It's a beautiful combination of wooden elements in a white pool room.
Choose a Neutral Wall Color for an Elegant Touch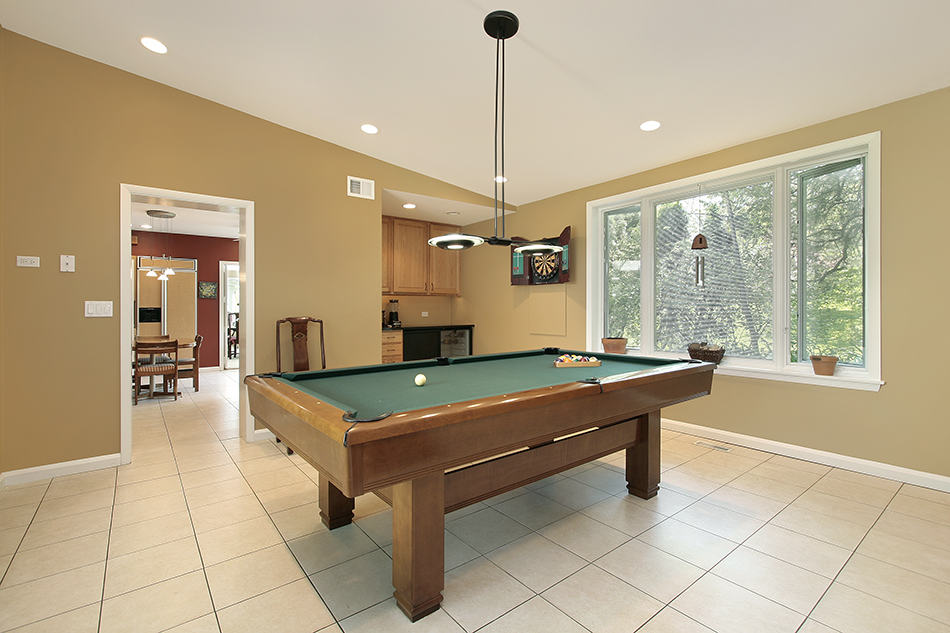 The key to creating a luxurious and elegant decor for your pool game room is knowing which textures or colors to choose. The safest and simplest option is to go for neutrals.
You could paint your pool room's walls beige or light brown with a few dark colors as furnishings. If you want modern decor, focus on dark leather seating with industrial-style overhead lighting. Any stylish accessory will work in a neutral setting, even if you prefer a few bold accents here and there.
In this modern pool room, the walls are painted beige to coordinate with the off-white flooring. Since most pool tables are brown, it makes sense to choose a neutral wall color to go with brown hues.
Keep the Billiard Room Clean, Contemporary and Simple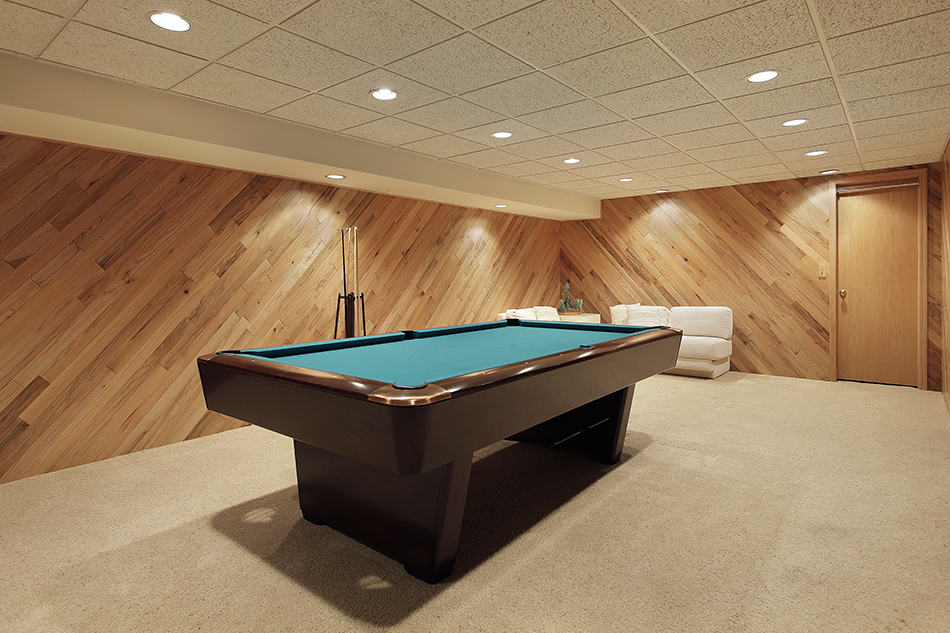 You don't need to spend a lot of money on fancy accessories to make your billiard room visually appealing. Minimalist decor is all that's required to create a comfy pool room. Contemporary billiard rooms should always include warm decoration as well as interesting lighting fixtures rather than too many accessories to clutter the space.
Whatever color palette you prefer, make sure the ambiance of the playroom leans more towards peaceful relaxation rather than clutter. Keep the decor simple and clean throughout the room. In general, you don't want to go all out on expensive furniture or decoration for this particular room.
See how stylish this contemporary game room looks, thanks to the simple wood paneling on the walls and the ceiling lights. It doesn't need any additional decor or furniture to clutter the space, don't you think?
Make Your Play Room Funky with Pops of Color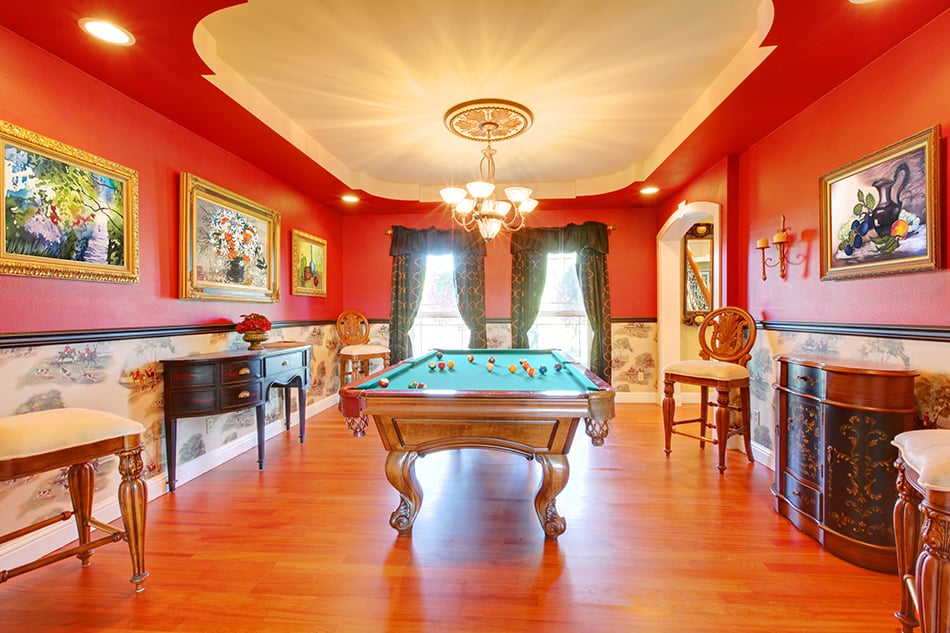 For those who love bold colors and loud patterns, a funky billiard room in a vibrant color is the way to go. A pop of red will play nicely with the rest of the decor, especially in a sophisticated playroom with lots of antique decor.
This theater-style room with a pool table is a vision of color with its red walls and cherrywood flooring. The room oozes elegance with everything you'll need to play your favorite game in style.
Every Billiard Room Needs a Bar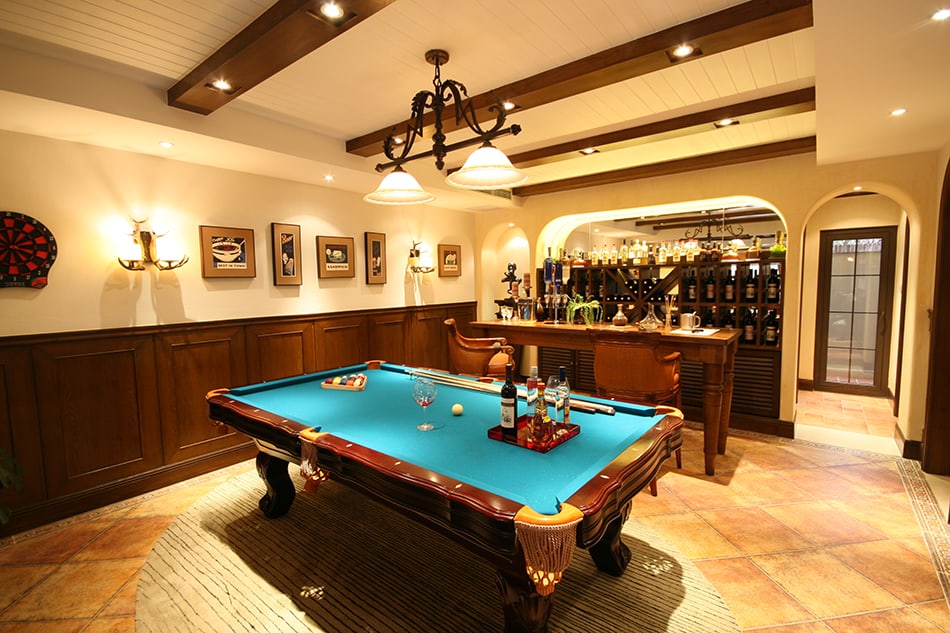 When you play pool with your friends, you'll often need to take a break. Having a corner bar to sit at to enjoy a drink or two with your buddies is definitely a game changer, so to speak.
Every room with a pool table needs a bar, but it doesn't have to be a complex project. If you don't have space, simply place a table with wheels in the corner of the room and add your favorite drinks and snacks for everyone to enjoy during intervals.
Conclusion
As you can see from our examples above, there is so much you can do with billiard room decor. The playroom is like an open palette for you to design how you want. Feel free to add quirky lighting like the ones with pool balls. Billiard-themed murals on the wall can also make a strong statement.
And don't forget to add unusual seating for the players to sit and relax on. A bar area is just as a great addition to a pool table as statement wall decor and flooring. If you need detailed floor plans, we have a big post on pool table room layouts.
The design possibilities are endless, so use your creativity and enjoy playing your favorite game with your friends!