Whether you're building a new home and want to include plans for a bar on your lower level, or you're renovating your home to include a hobby area, these are some of the most unique basement bar ideas you'll see.
As you look through pictures of the bar setups we're highlighting below, let them inspire you as to how you can decorate your own bar. Think about the ambiance you want your bar area to have. Do you want to be clean and modern, retro and vintage, beach and party?
How many people do you want to be able to entertain in your space? Is it a place for playing games or simply sitting and talking?
These are all questions these basement bar ideas will help you to answer.
Modern Basement Bar Ideas
These basement bars look very upscale with their white paneling and décor, bright lights, tall ceilings, and wide spaces. At the same time, they're not as expensive to build as they might like. If you have a mid-range budget, you can replicate these looks with the right furniture and light fixtures.
Modern Bar for Two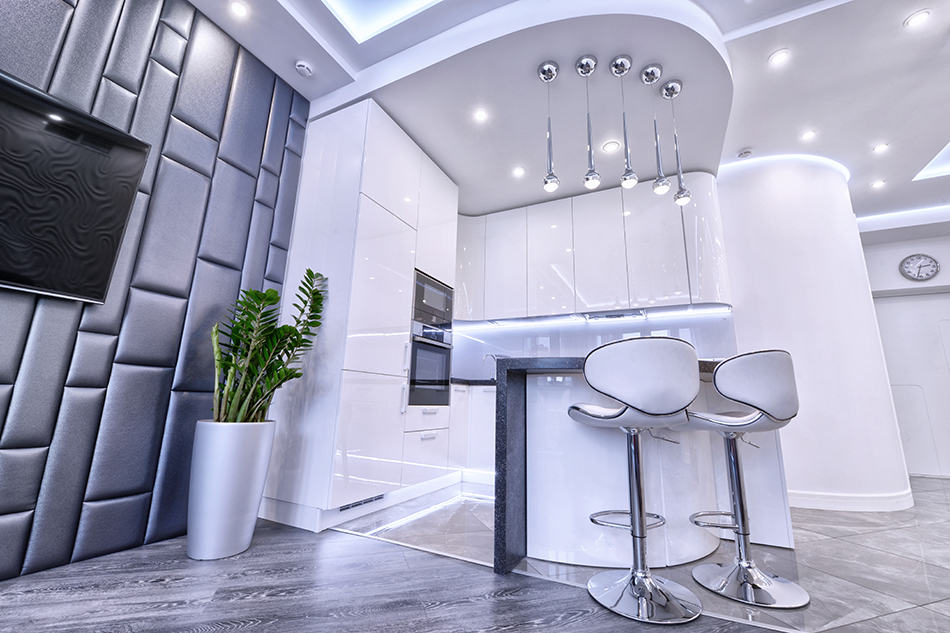 Besides the bright lights and white walls, there are quite a few things I notice in this picture. First is the kitchen area. There are plenty of cabinets for keeping bottles and glasses but also a refrigerator for keeping cold drinks and snacks. There's even a small oven and microwave for cooking.
The plant stand and TV add to the feeling that this room is meant for entertaining guests. But it's a small room, so it's not meant for inviting a lot of guests over. This bar area is more for wining and dining a date or hanging out with a single friend.
Also, notice the two different styles of wood panel flooring. When you make your bar area, don't worry about having everything match; the key is coordination. Your colors, furniture, decorations, etc. should all complement each other, but they don't need to look like you bought at once to go together.
Bronze Bar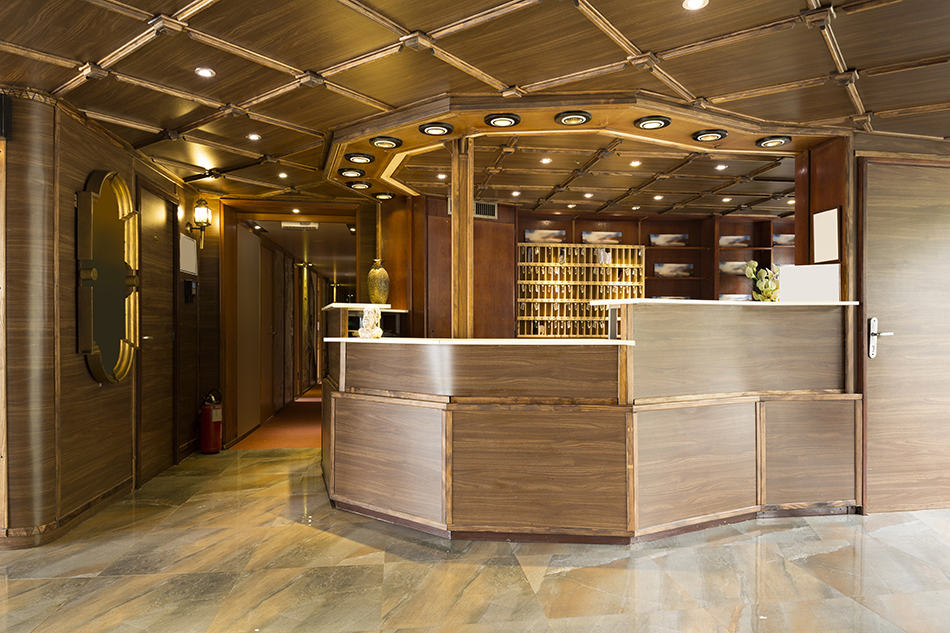 This bar area looks very cool with its mix of geometric designs and angles. And though interesting to look at it, the design isn't too flashy as it uses mostly all browns, bronze, and gold. Also, notice the area has a lot of ceiling lights, but the lights aren't too bright, so you get just the right amount mix of being an inviting but relaxing atmosphere.
City Apartment
If you love the look and feel of city life, try a simple bar area with steel or iron décor. The metal cage above looks like a catwalk or fire escape outside a New York City apartment. The wood and white make everything look clean and simple, as you might have living the city apartment life, while the yellow couches make it all look a bit retro-modern. The window boxes for the shelving on the wall add a bit of artistry.
Minimalist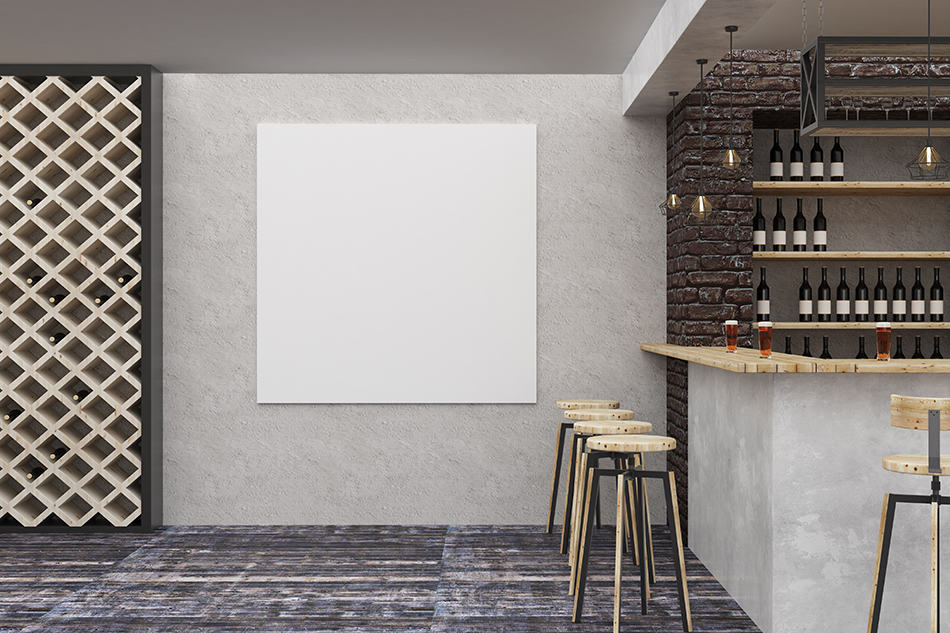 The black brick and trim, dark flooring, concrete bar and wall, and wood stools and counter make this bar area very interesting without trying to be decorative in any way. Also, notice the wine rack and whiteboard next to it to write the selection available. You might want to write out your inventory and let your guests choose the next bottle to open.
Basement Kitchen and Living Area
This basement bar is situated right next to the TV and recliners for taking your drink to watch the game during the day or a movie at night. There's also a full kitchen area for preparing food for your guests. Again, notice all the white and bright lighting, which gives everything a clean appearance. The wood striping on the floor and wood cabinets complement the dark countertop.
Bar and Fireplace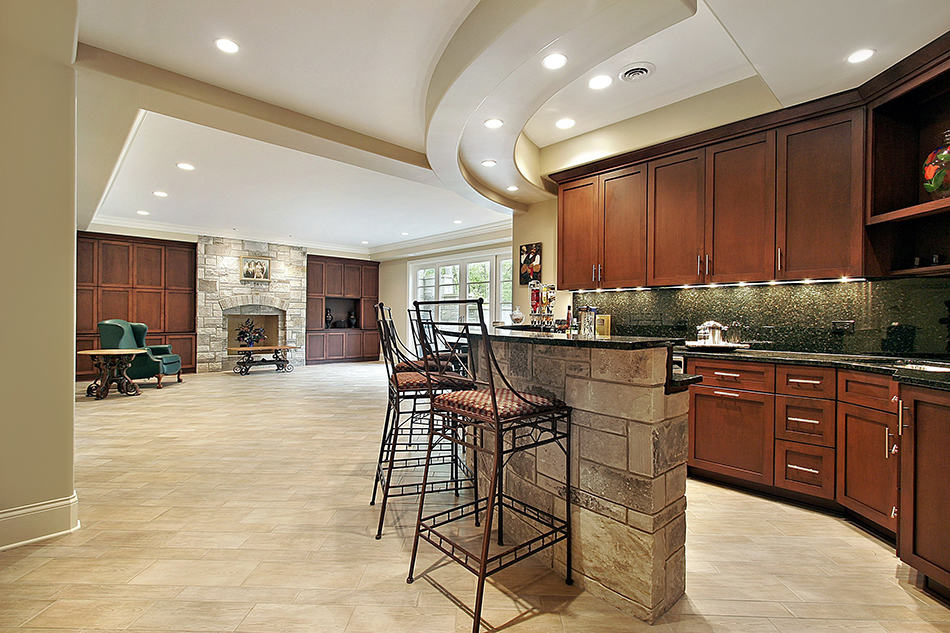 Here you can see the basic modern trend of using white and dark wood. This bar area also features a fireplace, and the matching stonework of the bar pulls the room together. If you have a walkout basement as this barroom does, you can have your guests come straight to the bar. If you have smokers in your group, they can conveniently step outside without feeling too far removed from everyone else.
Arched Support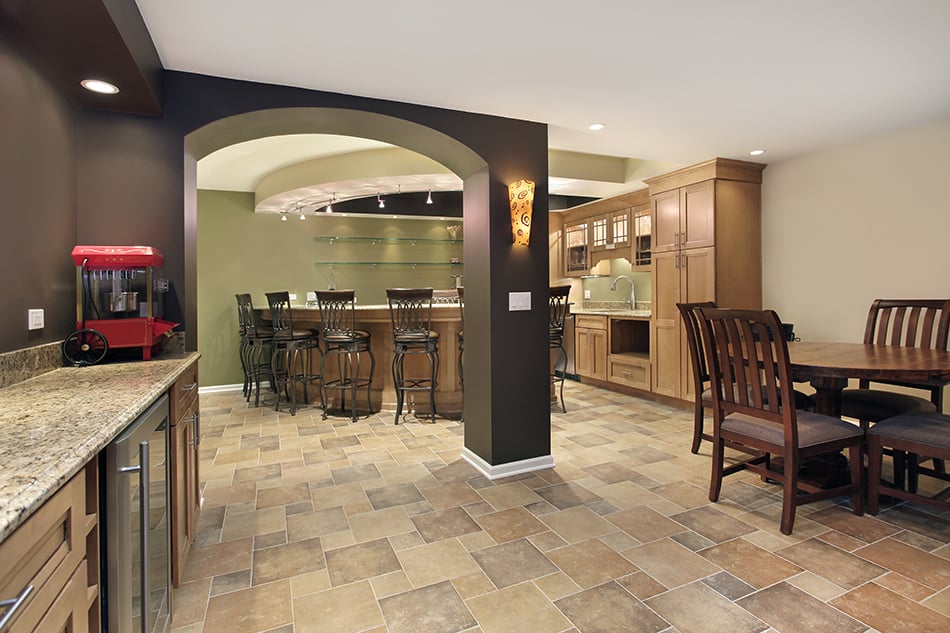 This home had two rooms in their basement, then cut most of the wall out to make one large room. This gave them enough space to have a bar area without feeling too cramped into a tiny room. They still had to keep the pillar in place to support the ceiling, so they made an architectural feature out of it as a room divider and arched entry.
Combining the two rooms allowed them to have extra seating and another countertop for laying out food.
Basement Bar Ideas with a Commercial Flair
Do you want to recreate the look of your favorite drinking hole? How about the hip atmosphere of a nightclub or restaurant? These bar areas show you what you can do to make your home bar look more like a commercial area.
Nightclub Décor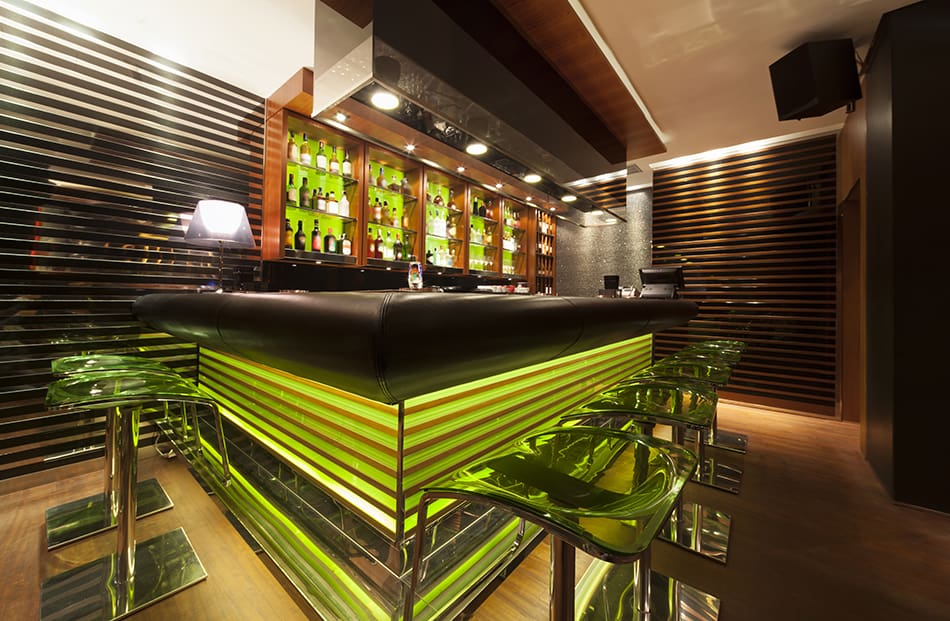 Check out the glass stools, neon green lighting around the bar, and black panel shades that coordinate so well with the black bar top. This basement has definitely been converted as an area to impress friends. And while the area is well-lit (the light flooring helps), the lighting is also subdued to provide a more relaxing atmosphere.
There's no kitchen area behind the bar to make food, but there's plenty of shelving for glasses and liquor. You could also keep a small refrigerator and some snacks and bowls below the bar.
Retro Inn Bar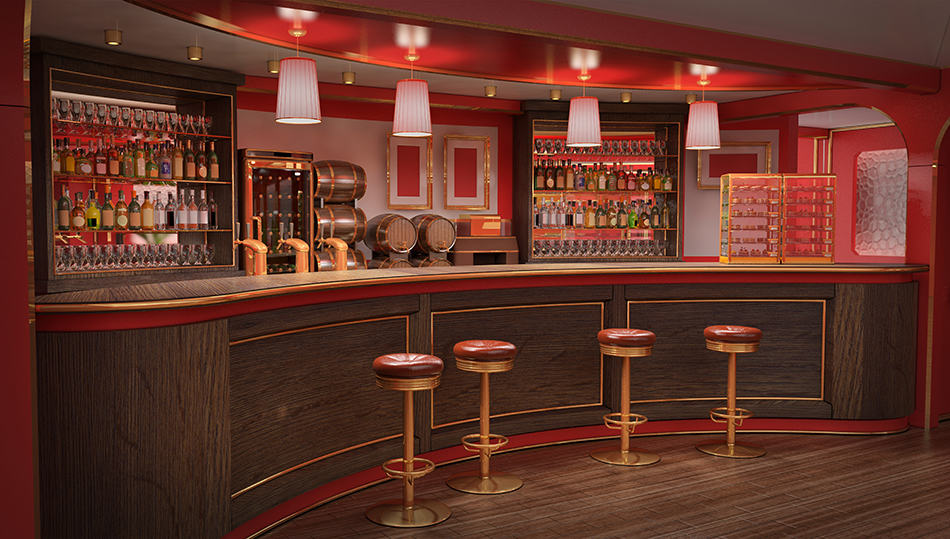 This bar space reminds me of something you'd see in the lobby of a restaurant or hotel half a century ago. The red coloring and gold-plating on the stools and around the bar give it a commercial look.
Also, notice the curved bar that makes the people sitting in the stools feel more like a group, separated from the person serving them behind the bar. If you want to replicate this in your home, just make sure you come out from behind the bar in between making drinks to make it clear that you're part of the company.
The kegs and beer on tap are a nice touch adding to the commercial inn feel, and the bottles on racks make it easy for people to see what they can "order."
Cabana Bar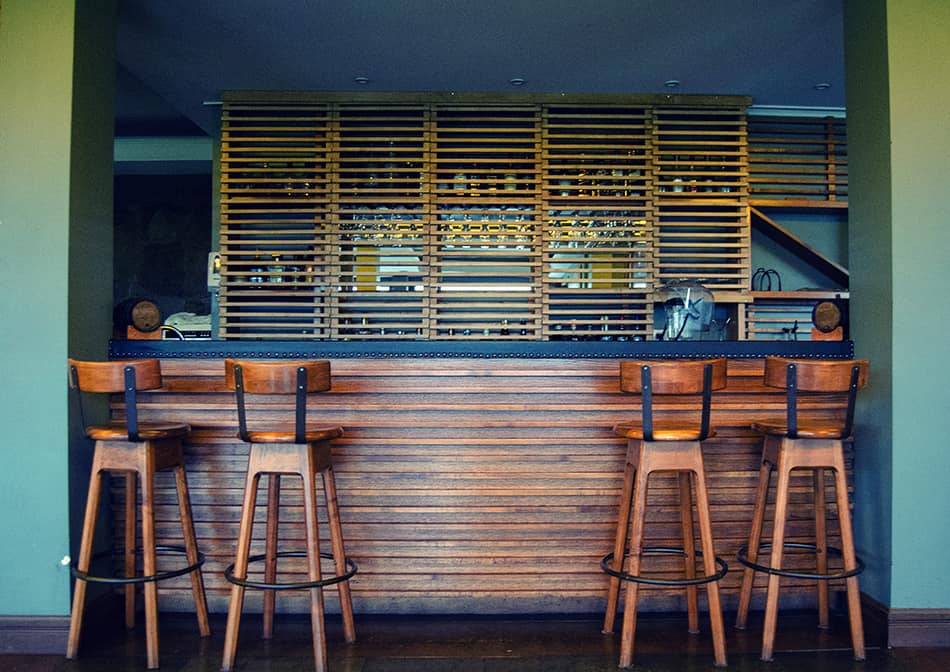 The colorful paint and wood bar and chairs make this basement bar look like it's outside at the beach. The closed cabinets give it a commercial feel as if you have to protect your stock until you open for business again. If you really want to complete the beach atmosphere, add some fake palm trees or other tropical décor surrounding the bar.
Jazz Club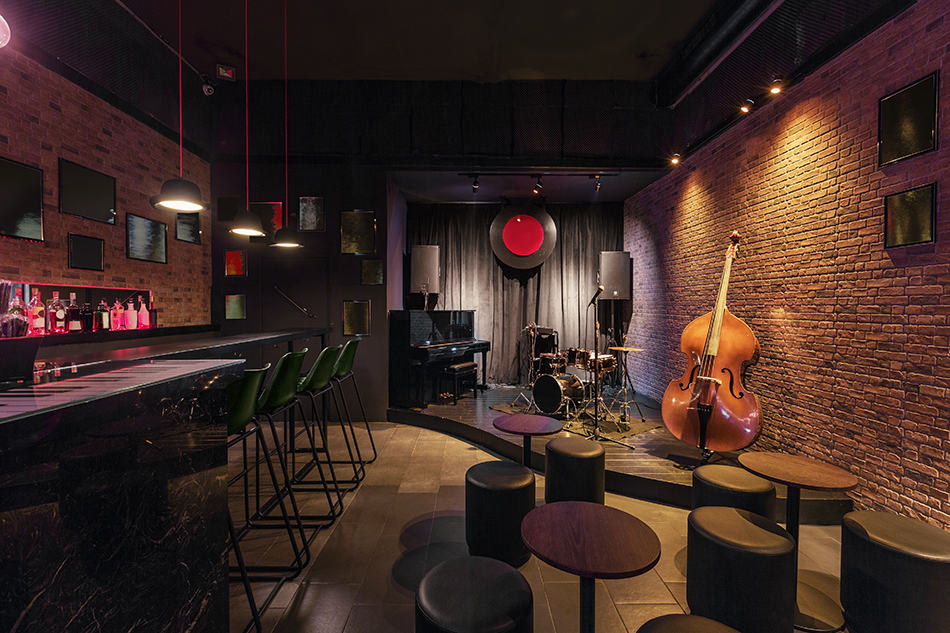 Whereas you may not have live music in your basement bar, you can still recreate the feeling with low lighting, spotlights, and table and chairs to accompany your bar. Small tables, rather than a large table, and chairs make it look like you have a larger space. Oh, and don't forget to play the jazz music. Installing surround sound speakers playing music quietly in the background would be a great touch.
Retro Diner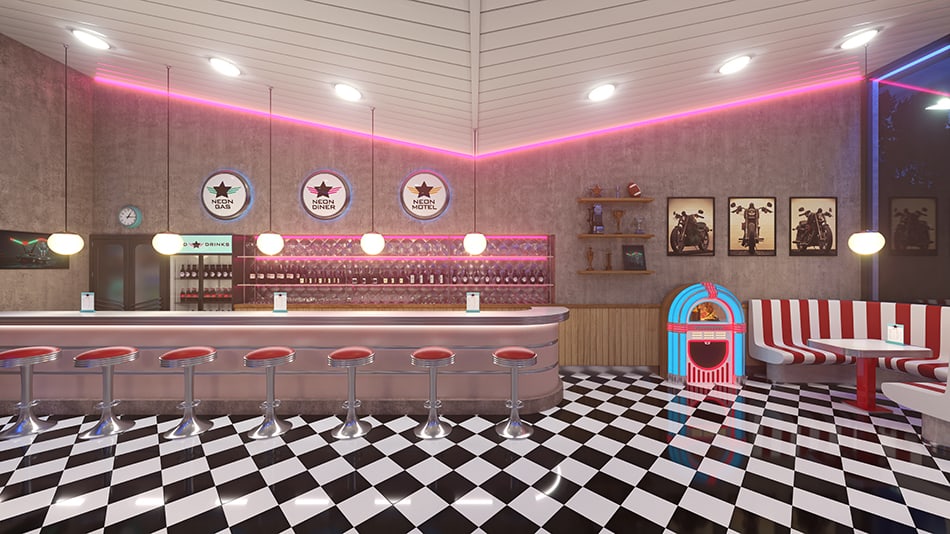 This basement has been converted to look just like a '50s diner, complete with a jukebox, checked tile floor, and booth seating. You might not want to copy this exact style, but having some of these elements can really summon the nostalgia for yesteryear. Whatever decade you were young in, recreate that feel with a stereo system, furniture, and décor. You may even want to have an open area like this for dancing.
Watering Hole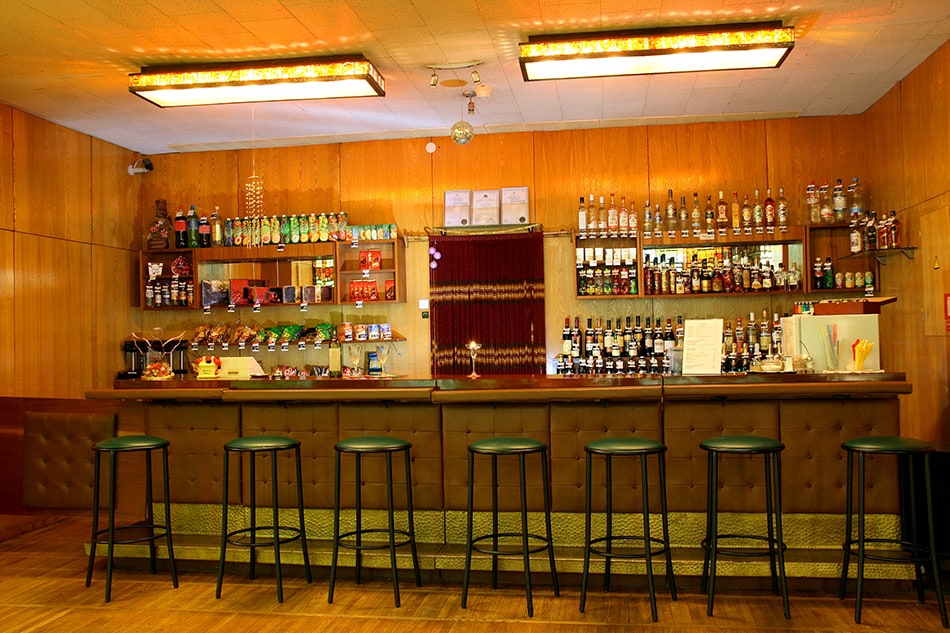 This is what I think of as an after-work bar. You have just enough room to store your favorite drinks and have enough room to sit with your friends. Have a quick drink here or spend a little more time chatting about the day.
Gentleman's Club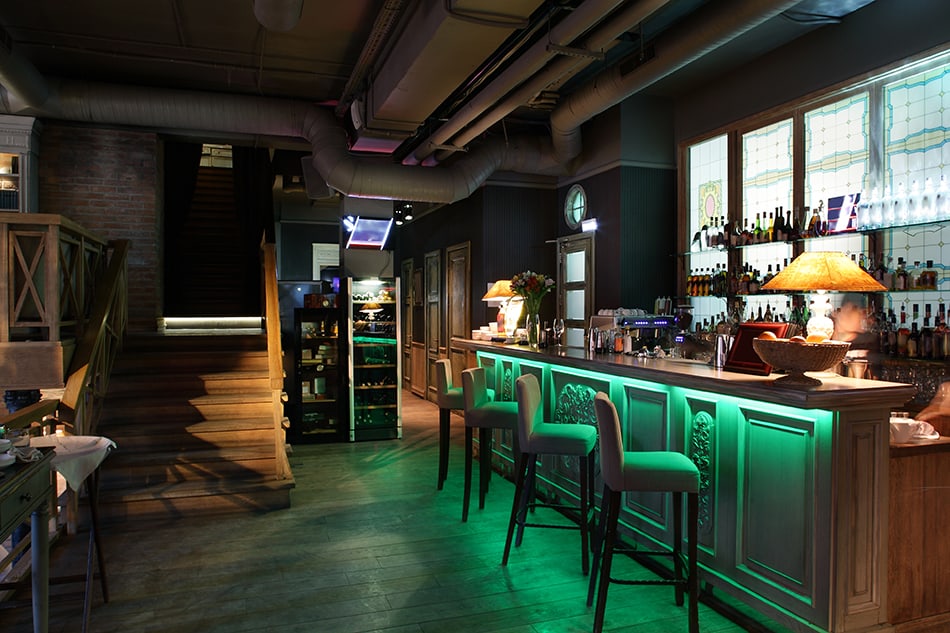 No, we're not talking about a place where you pay to have ladies strip in front of you; this décor brings back the idea of a place where men would pay for a membership to go and relax in polite society. You can create that same ambiance by making this a place to gather with your friends or an exclusive couples' hangout. Stained glass, lamplight, and decorative paneling complete the look of being an upscale establishment.
Café Bar 1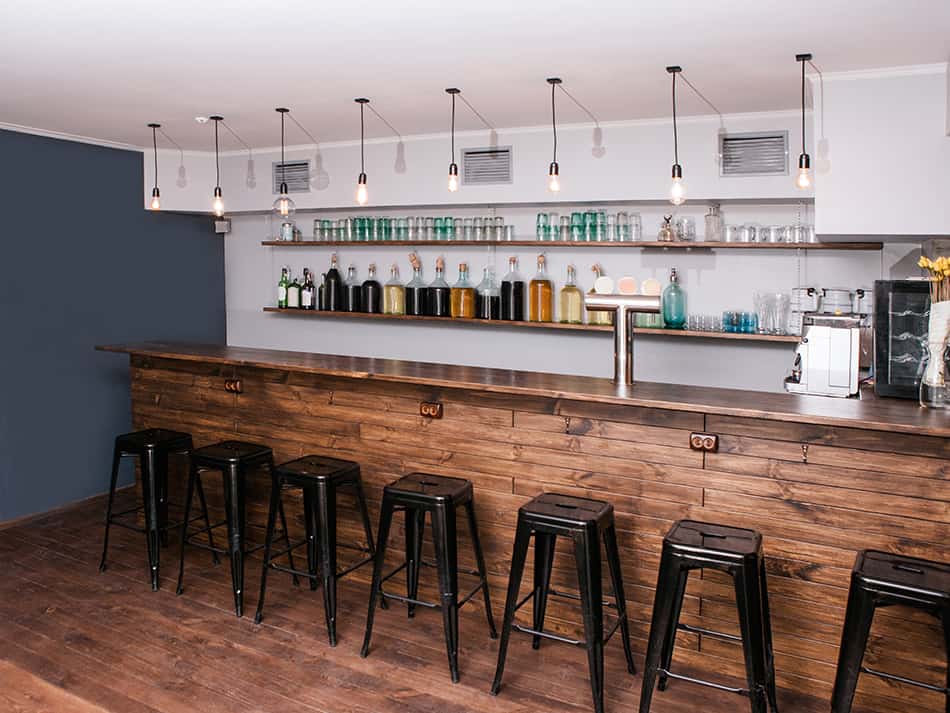 This could be a coffee bar or a liquor bar, depending on what you serve. You might have an espresso machine or beer on tap. The display case completes the look of a commercial establishment. If you're hosting a coffee party, stock it with desserts. If you're serving beer, maybe some hot pretzels or hot dogs?
Café Bar 2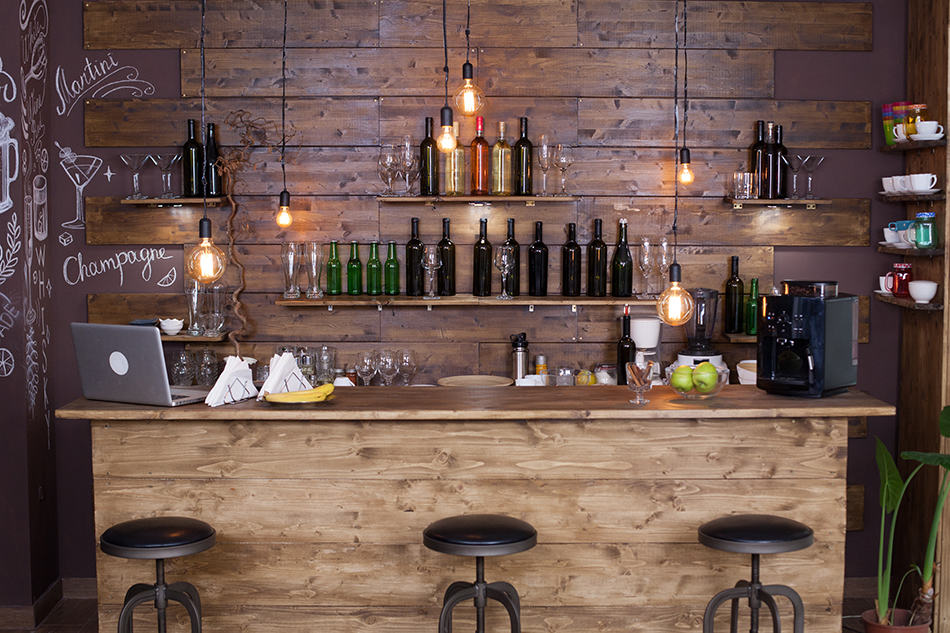 This bar area also has a coffee shop vibe, except for walking up the counter to order your latte, you sit at the bar and enjoy your drink. This bar also has somewhat of a loft bar look to it with the long lights hanging down. While I like the look and atmosphere of these lights, I would suggest not letting them hang down below head-height so that they don't get in your way.
Rustic Bistro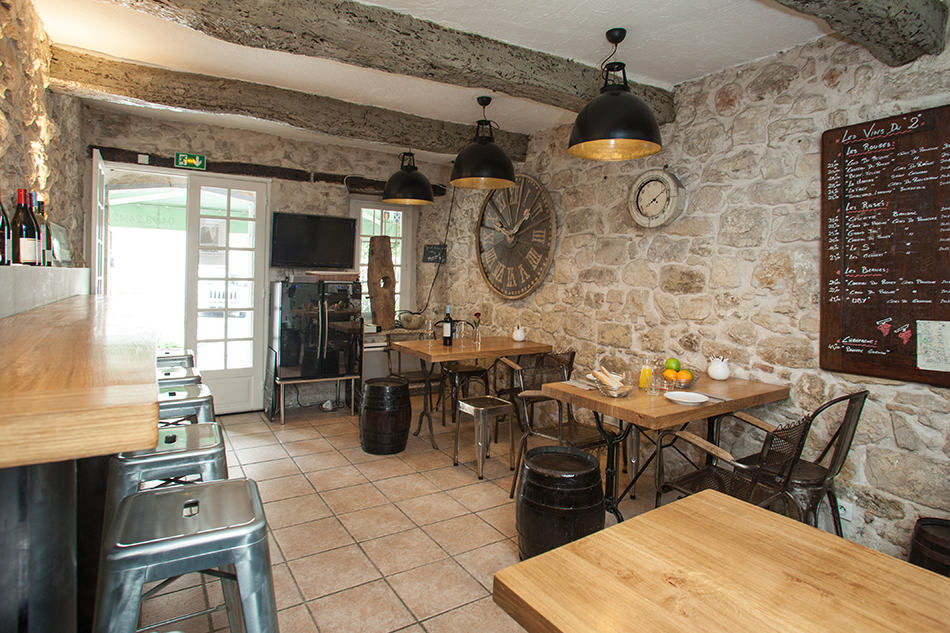 The unfinished wood rafters and stone wall provide a rustic look, while the blackboard menu makes it look commercial. Use any kind of plain stool or high-backed chair in this setting, along with a butcher block or raw wood bar counter. For the menu, write out your current selection of drinks.
Modern Saloon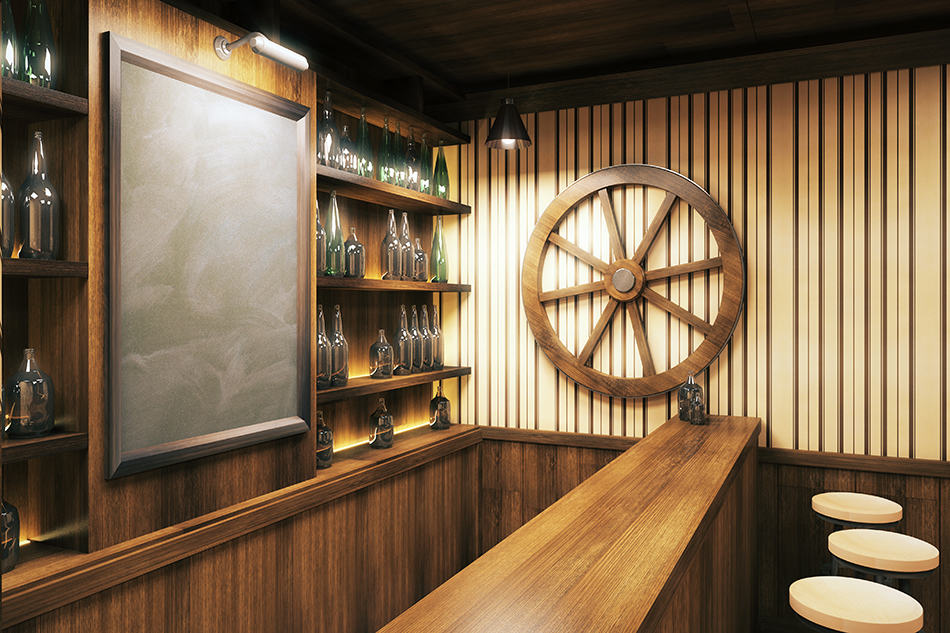 The antique bottles and wagon wheel, along with the wood paneling and plain wood bar top, give this room an ol' timey feel. Write your drink specials on the blackboard, and play some country music, and your guests will feel like they've stepped into the Wild West.
Cocktail Bar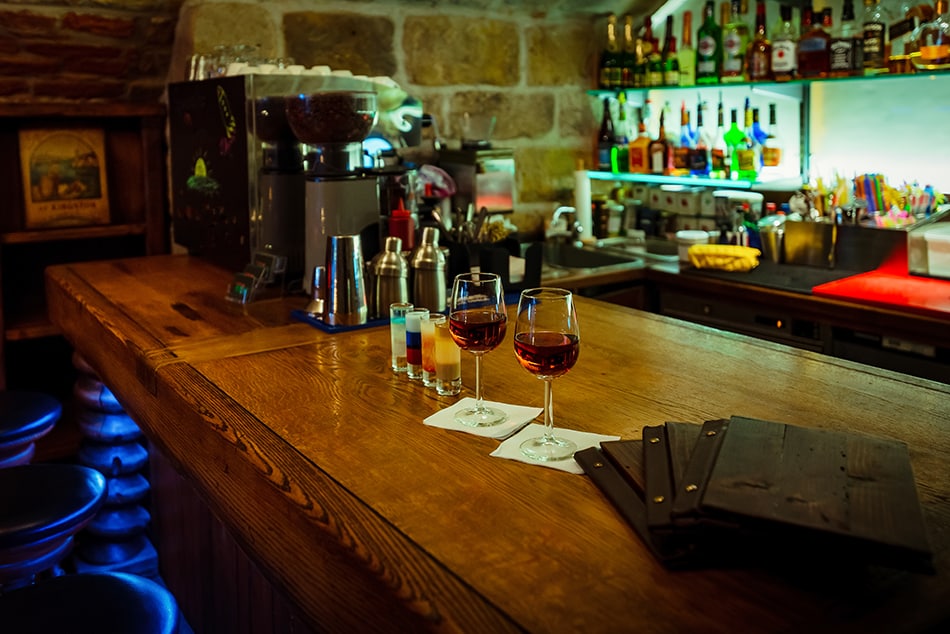 Here's another example of the classic bar feel. Notice the wood grain bar with blue metallic chairs. The cocktail napkins and backlighting on the liquor shelf really sell the look, though. Plus, the brick wall makes it all seem just a little bit seedy and somehow '70s.
Loft Bar Ideas
This style is popular with young adults. It features an unfinished, slightly industrial look mixed with a coffee house vibe. They're called loft bars because they look like they're built in the wide-open upper floor of a high-rise building. Luckily, the same look works just as well in an unfinished basement.
Loft 1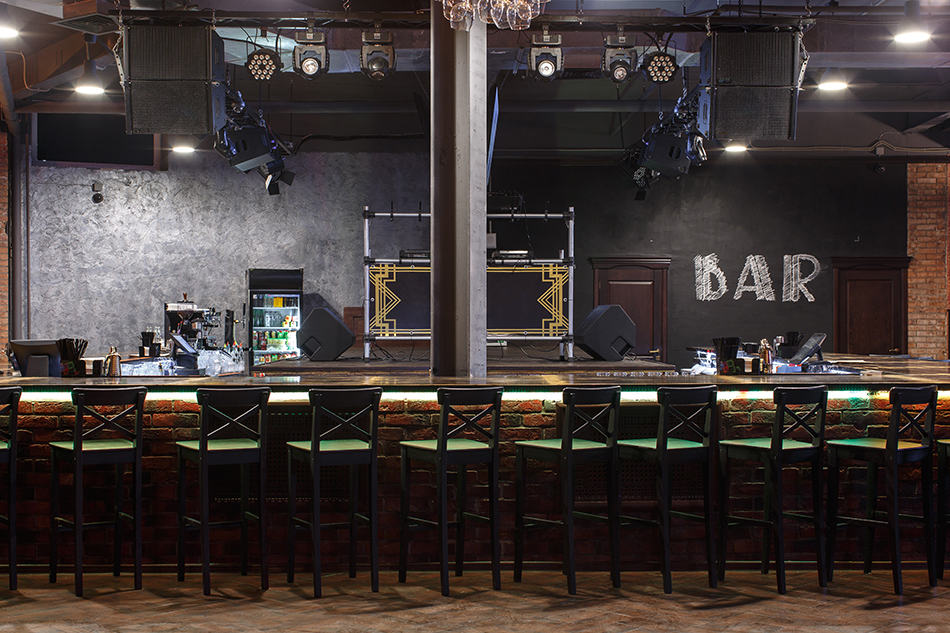 Notice the unfinished ceiling and mix of materials, including a slate wall surrounded by brick. Even the bar is brick with a countertop laid on top. The lighting is subdued but provides much of the décor in the room, including under lighting and spotlights. The "BAR" sign in chalk lends toward the coffee house feel, while the surround seating brings it back to a bar feel.
Loft 2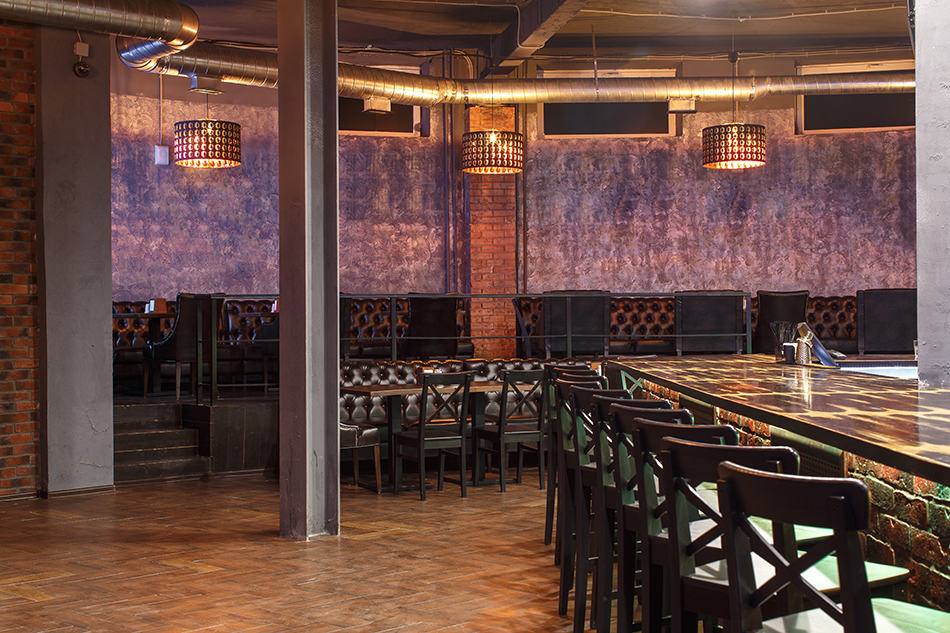 Again, notice the industrial appeal, with the brick bar, metal pillars, and exposed ventilation ductwork overhead. It also has the wraparound bar. A loft-style bar is a great idea for basements because you don't have to be concerned about finishing the area. Leave some of the electrical and plumbing exposed.
Loft 3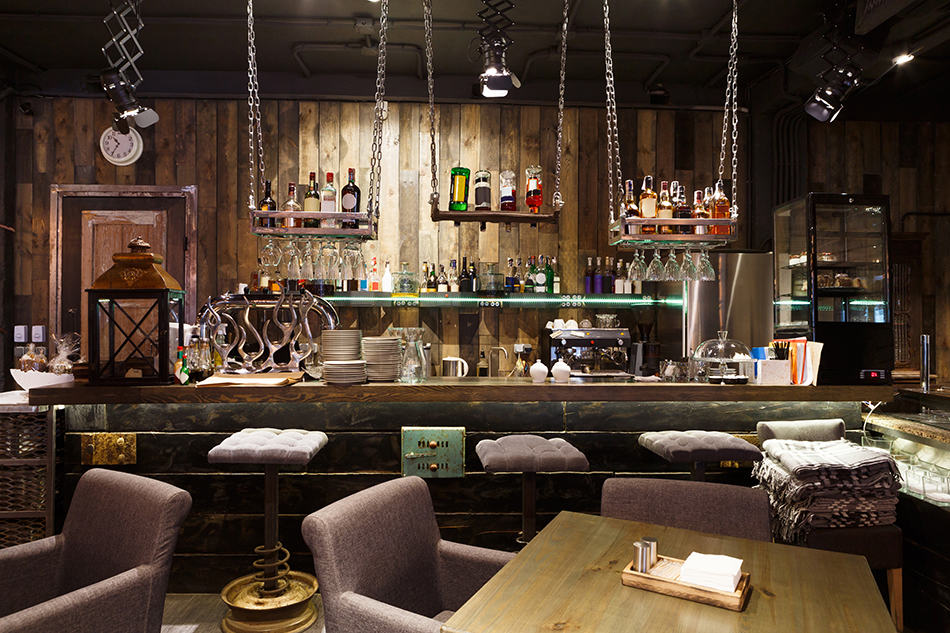 This loft isn't as wide-open as the others, but notice the raw wood wall, the hanging shelves held up by chains, and the spotlights, along with other metallic décor.
Loft 4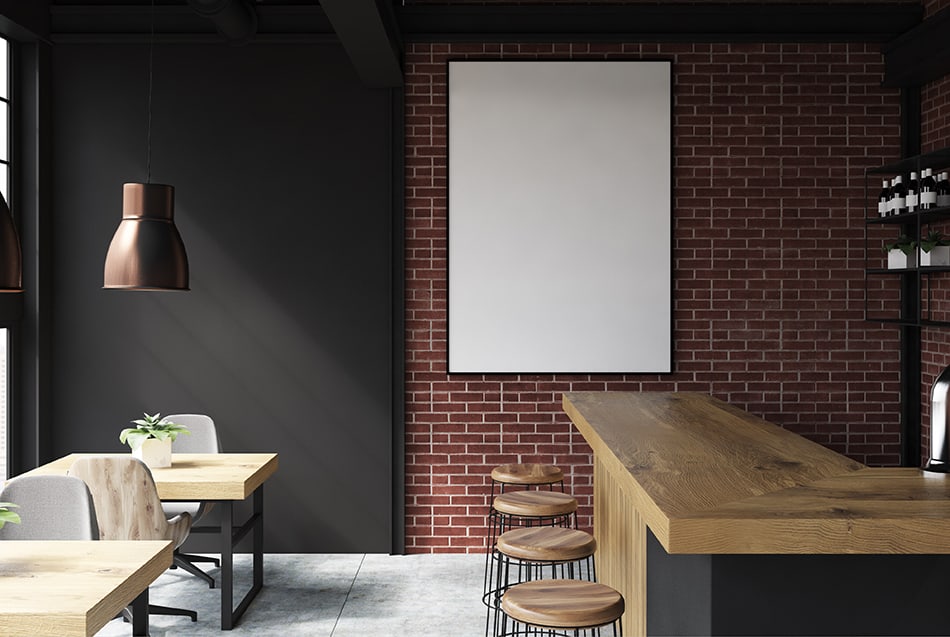 This is the most finished loft bar we're showing. It has an L-shaped bar and stools as well as a couple of small tables. You can see the utilitarian brick and metal wall. It also a whiteboard for writing down the drinks of the day.
Loft 5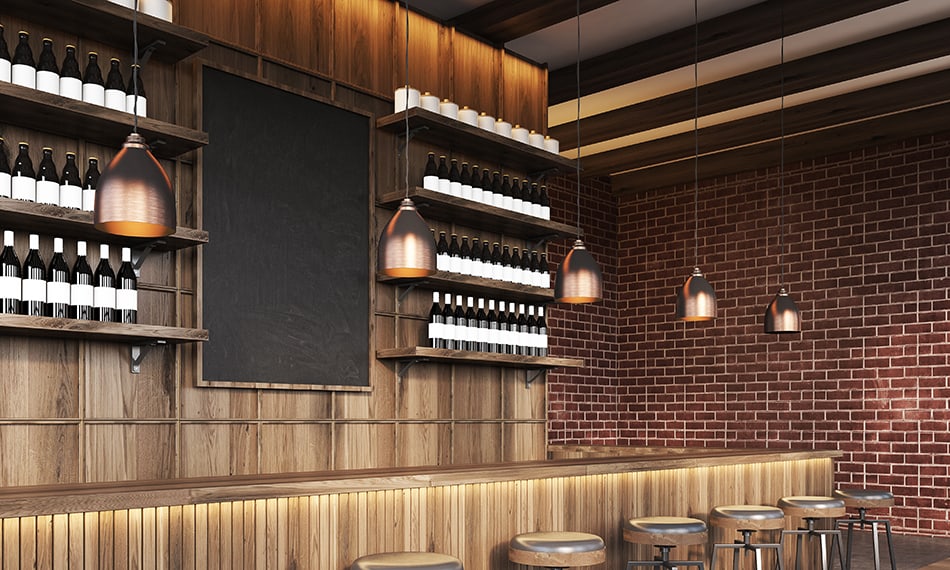 This loft bar features bronze pendant lights, a brick wall, and wood paneling. It's a little more finished than most loft bars would be, but you can see what you can do in your own basement. Also, notice the blackboard for writing out what drinks you have available.
Loft 6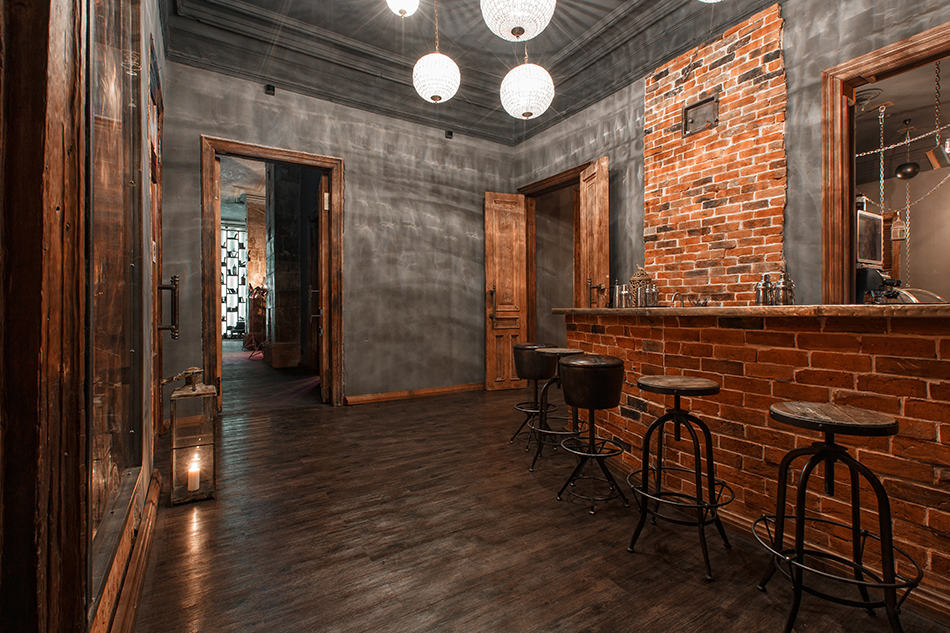 Here, the property owner has used brick walls with unfinished but painted drywall walls and ceiling. The contrast of the dark floor and bright globe lights makes it seem even more industrial. The raw wood doors and trim, along with the wood and metal stools, complete the look.
Loft 7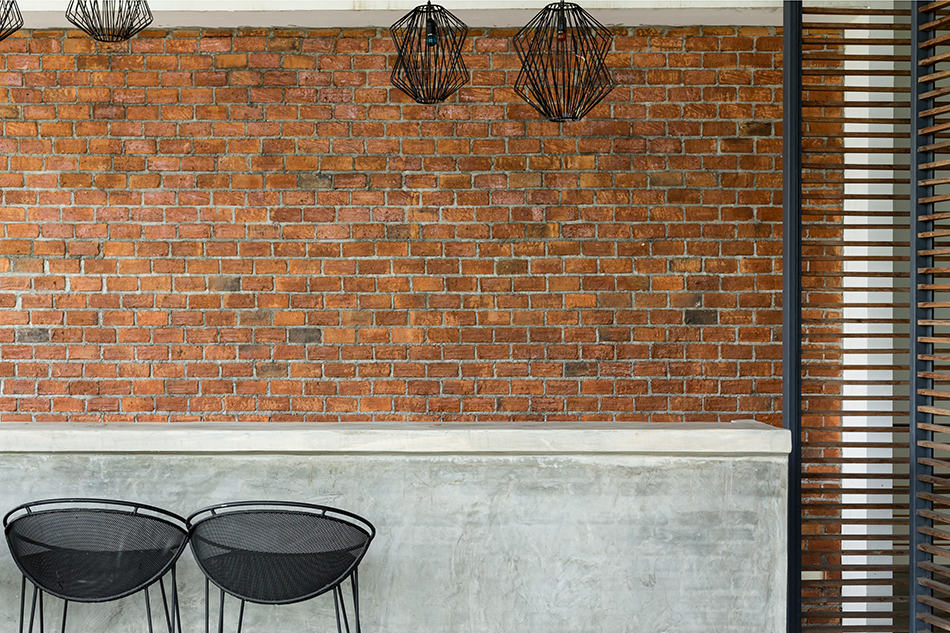 Brick, concrete, and steel are all you need for a loft bar. The concrete bar might not be very comfortable to lean on, though. Also, notice the metal wire decorations hanging from the ceiling. They do surround the lights but aren't necessary; their main purpose is to add more metal to the room to make it look more industrial.
Bar Ideas with a Home Touch
These bars make you feel like you're at home, relaxing with friends and family. The décor is all different, but the feeling is the same.
Homey Bar
In this basement, there's room four to six at the bar, while others enjoy the game sitting on the couch. There's also a full kitchen area for serving snacks. The wood paneling floor, raw wood bar base, natural material stools, and wood pillars and cabinets all go great together. This is obviously a first-floor bar, as you can see the window, but notice how well-lit the area is. You can do the same thing by adding recessed lighting in your ceiling and undercabinet lighting around the bar or other fixtures. For the most inviting atmosphere, make the lights a warm light rather than too bright.
Neoclassical Kitchen Bar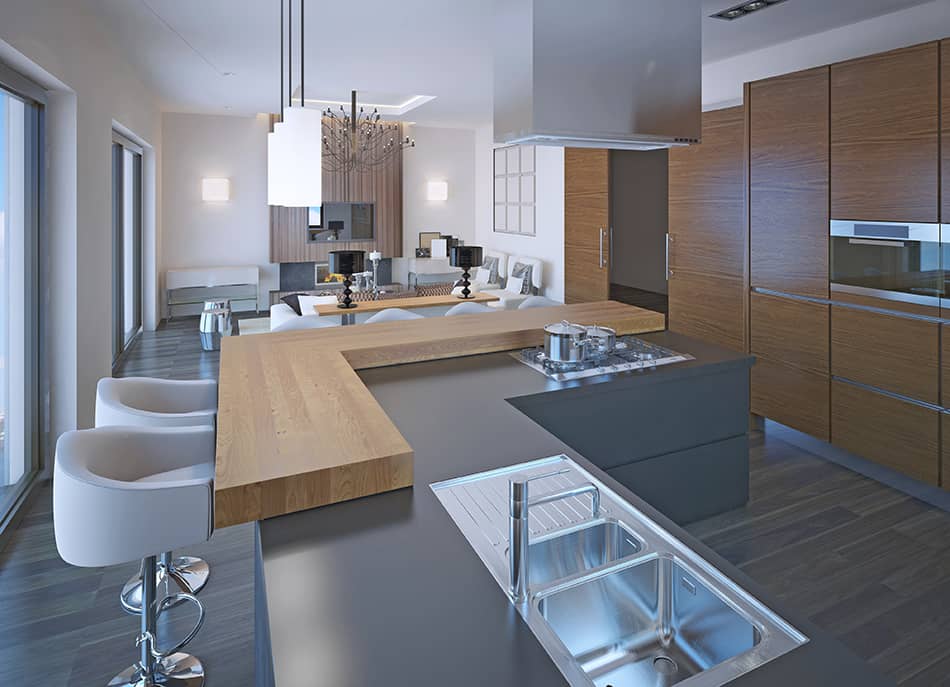 This unique-looking bar area is simple yet elegant and very comfortable. Notice the wood bar and cabinets mixed with chrome handles, sink, cookware, and bar stools. The dark countertop and flooring make the chrome pop even more, and the barstool cushions find the middle ground between the chrome coloring and the dark gray of the counter and floors. The seats also look very comfortable and relaxing.
With the L-shape bar, there's room for six to eight people to sit, and the cooking area gives you a way to feed them while you all enjoy a drink together.
Fold Out Bar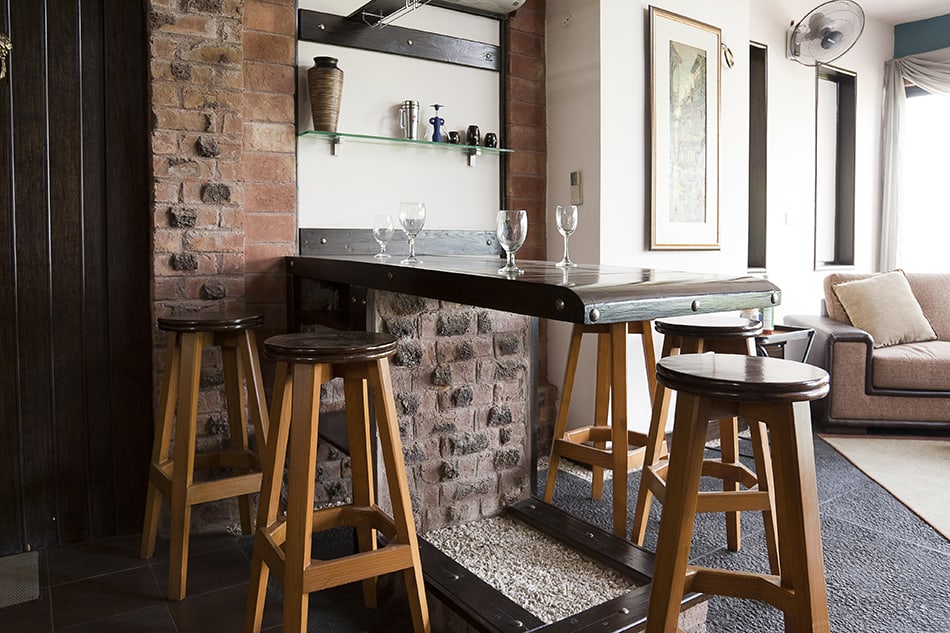 If you don't want to have your bar set up permanently, consider installing a fold-out bar. It'll save space when you're not using it, and ff you make your recess deep enough, you could even install shelves for liquor and glasses. This might be a good idea for keeping your bar area locked up as well.
Simple Is as Simple Does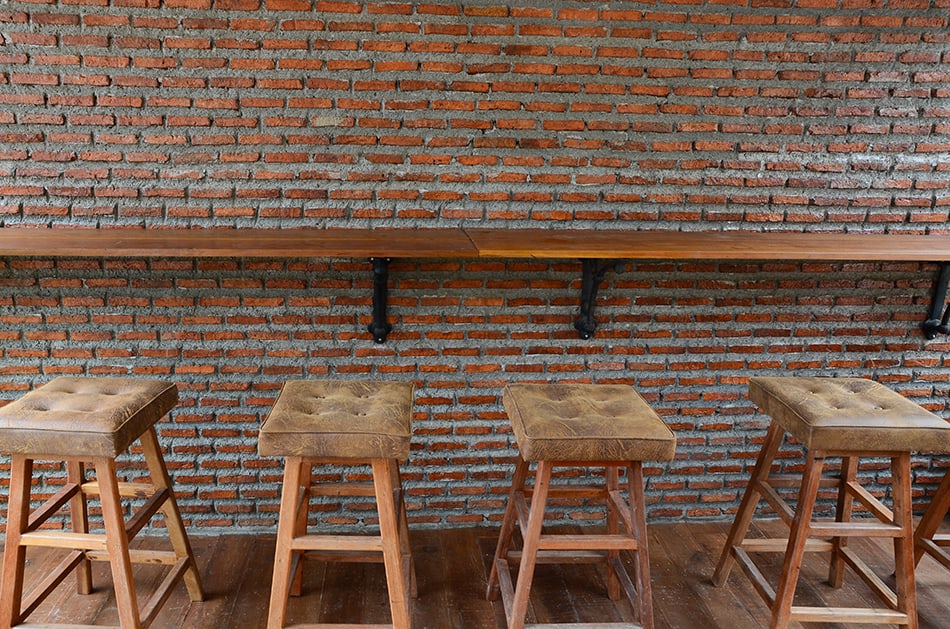 You don't need to get fancy with your bar area if you don't want to. All you really need is some counter space to set your drink on and a place to sit. This homeowner used a wood plank and stools.
Wall Bar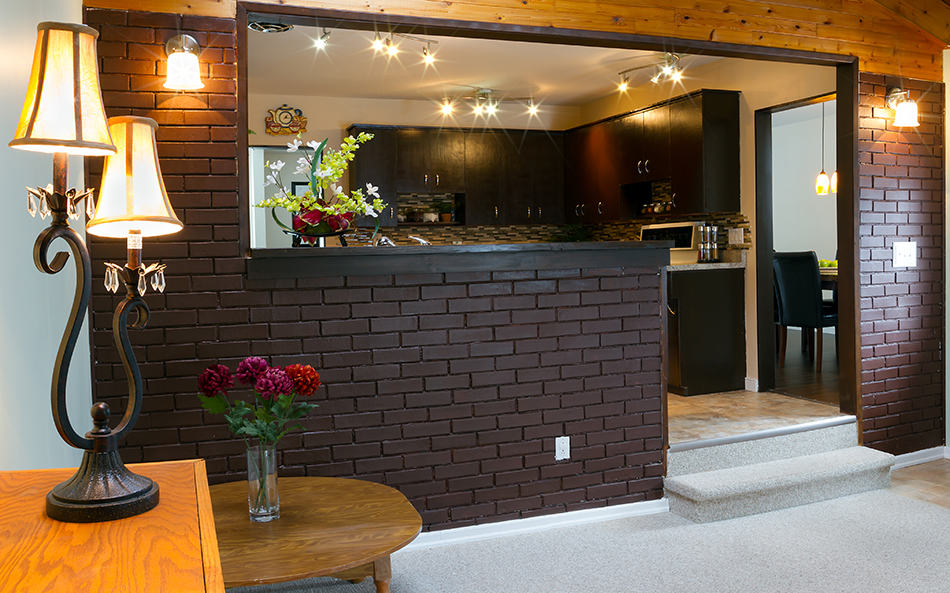 If you don't have room in your house for a bar, you probably have room to make a cut-out for a bar. Simply find a wall adjoining two rooms and cut a hole bar-height. Since all you need is a place to sit and place your drink, the width of a wall works just fine. You could even extend the width of the bar top by installing a wood plank overhanging the wall. Pull some chairs or stools up, and you're done!
Multi-Purpose Room Bar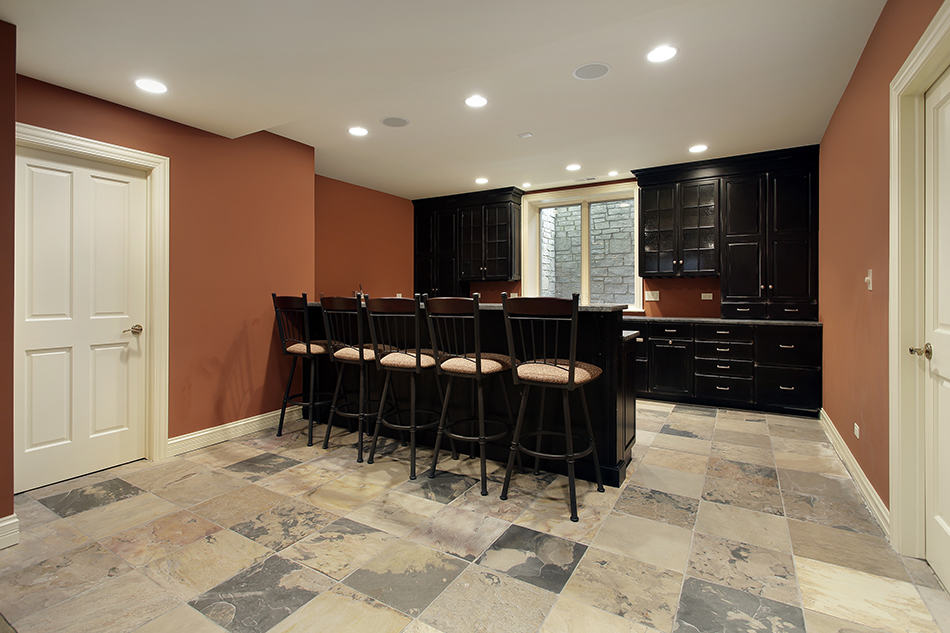 As you can see, the homeowners could use this room for multiple purposes. Rec room for the kids? TV room? Workshop or storage? But they installed cabinets and a simple bar area for serving drinks to company. The black décor makes it very stylish, and the recessed lighting can be dimmed to create the appropriate mood.
Retro Man Cave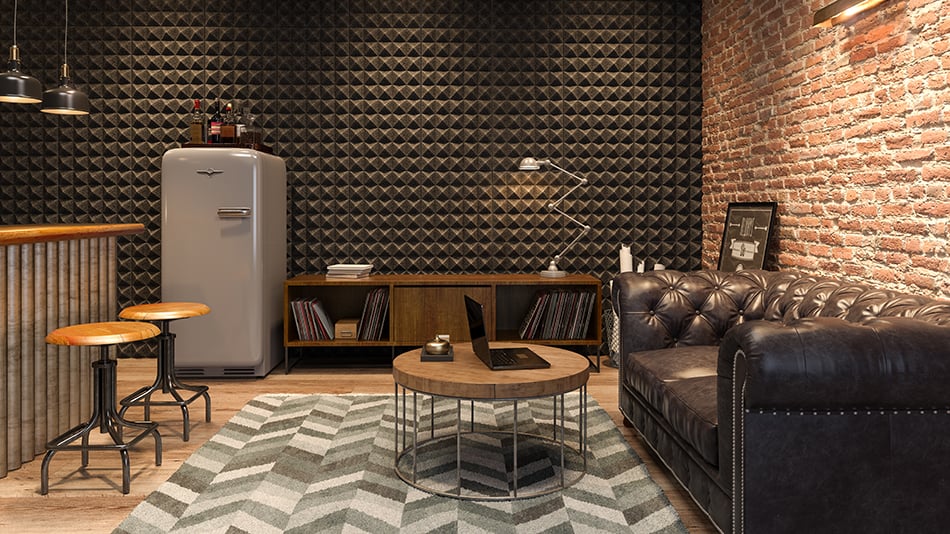 This basement became the perfect hangout for the man of the household with a bar area and comfy leather couch. The small fridge is perfectly sized to hold a couple of cases of beer.
What to Include in Your Basement Bar
Besides the bar top, you can complete the look and functionality of your bar area with these ideas.
Brewery Equipment
Do you make your own beer or liquor? Show off your equipment and methods next to your bar area. Your friends will love seeing how you make your beer, along with the taste tests that come with it.
Wine Cellar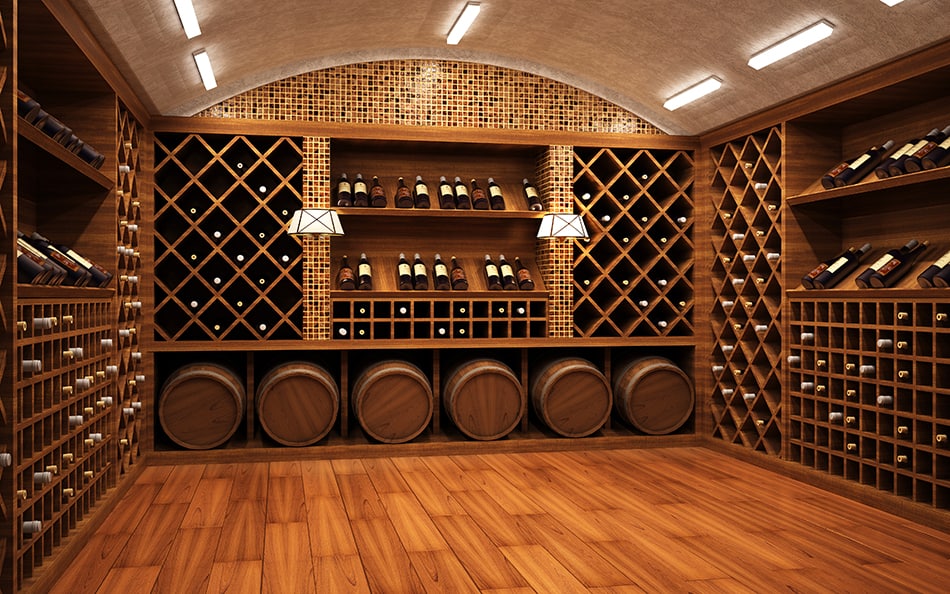 How large is your basement? Do you have a room for a bar area and a storage place for your liquor? Rather than making the wine cellar a separate room, consider building this type of area as the storage space behind the bar. Keep all your bottles and kegs organized like this, with glasses and a refrigerator under the bar.
Homemade Shelving and Cabinet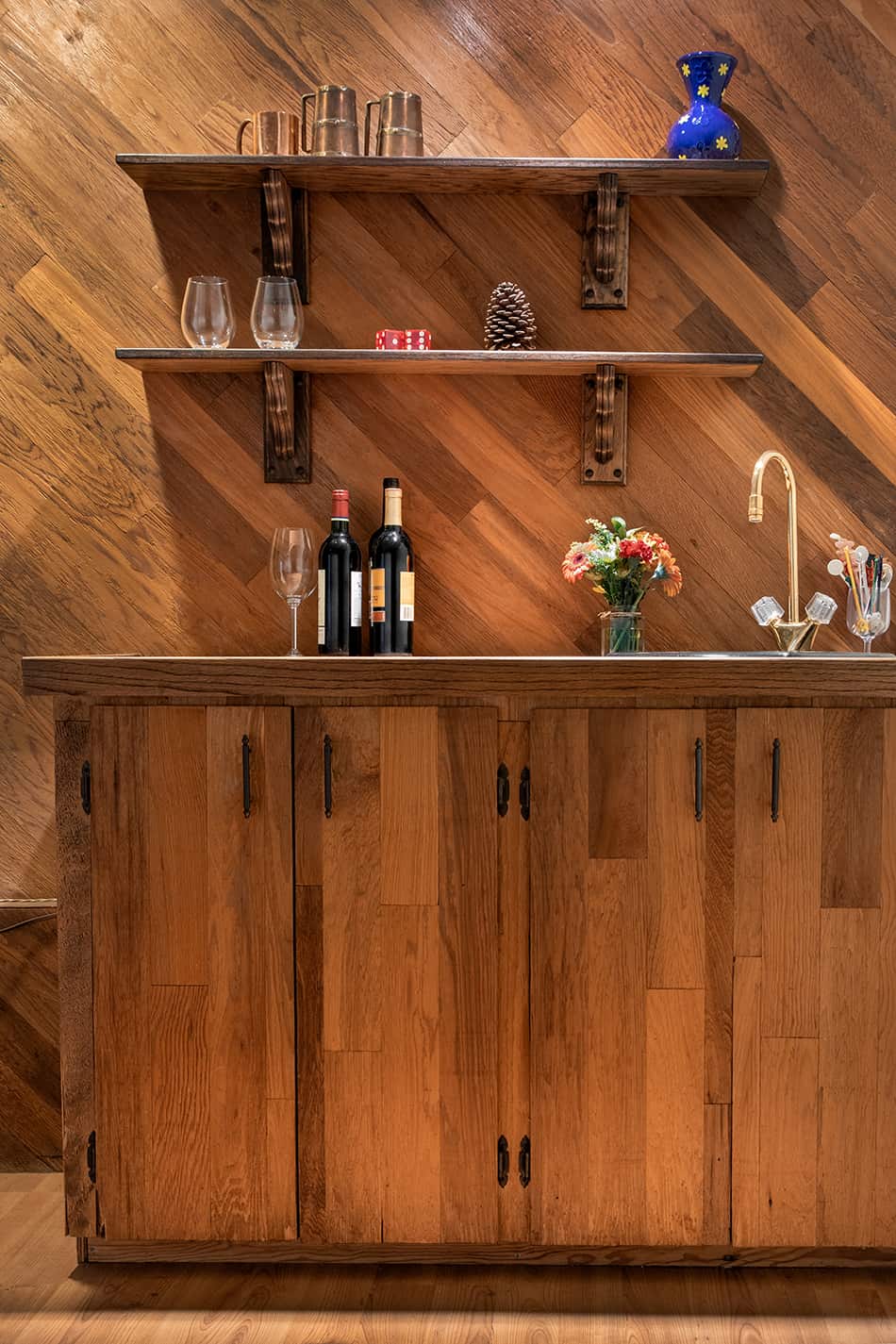 This homeowner made their own cabinet and shelves after refinishing the basement floor and wall with laminate wood paneling. Remember, your bar area doesn't need to be large; it just needs to be big enough to store and serve whatever you want to drink.
Wine Shelf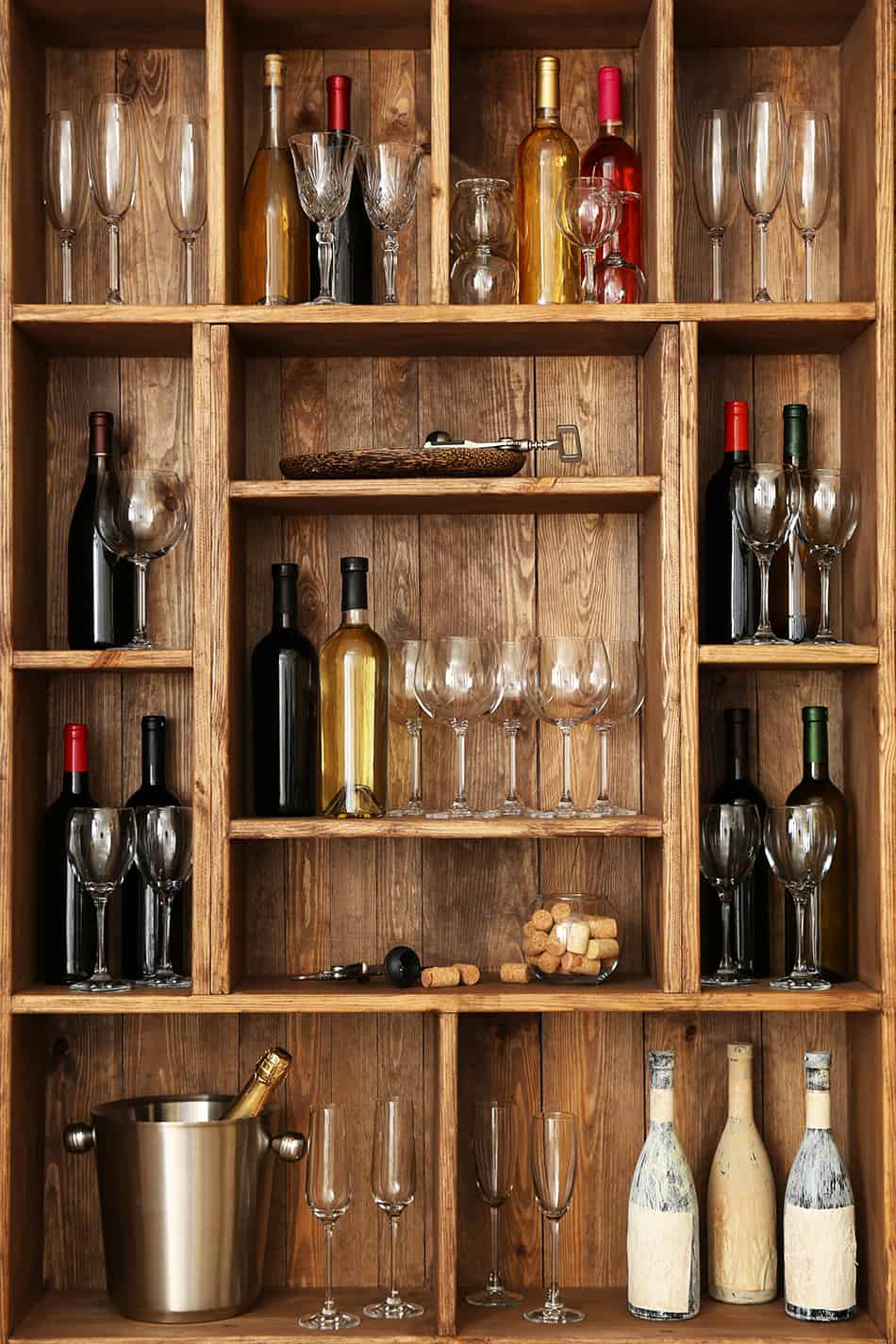 Here's another style of shelf for storing your wine and champagne supplies. It's decorative, functional, and could be a lot of fun to build yourself.
Worn Bar Sign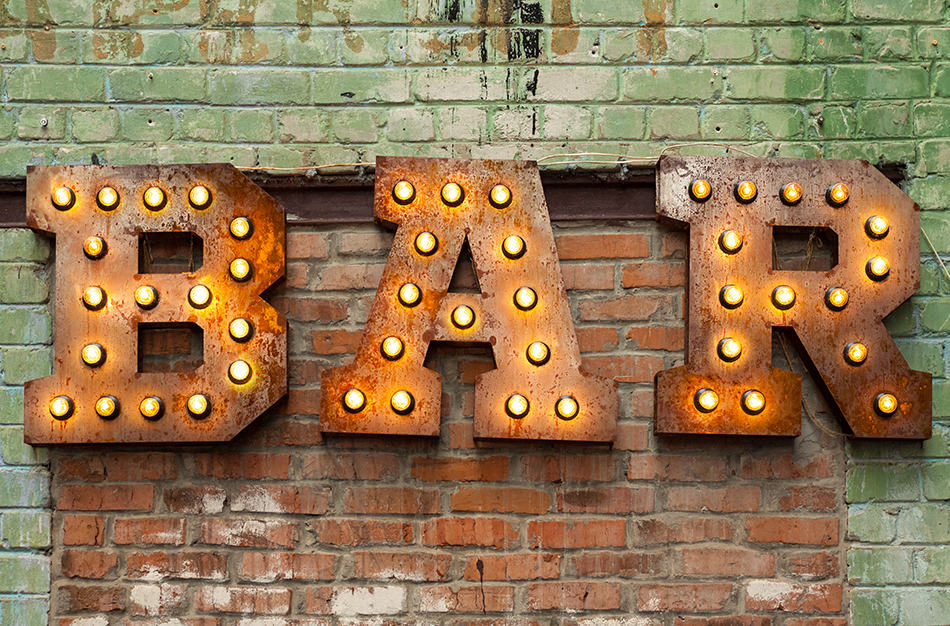 A lot of basements aren't finished. You might have a concrete or brick wall that doesn't look as nice as something you would have in your upstairs living area. If that's the case, don't worry about putting drywall up; capitalize on the look with matching décor. Age adds character, so don't be afraid to let your basement bar look like it's been around for a while.
Pointing Bar Sign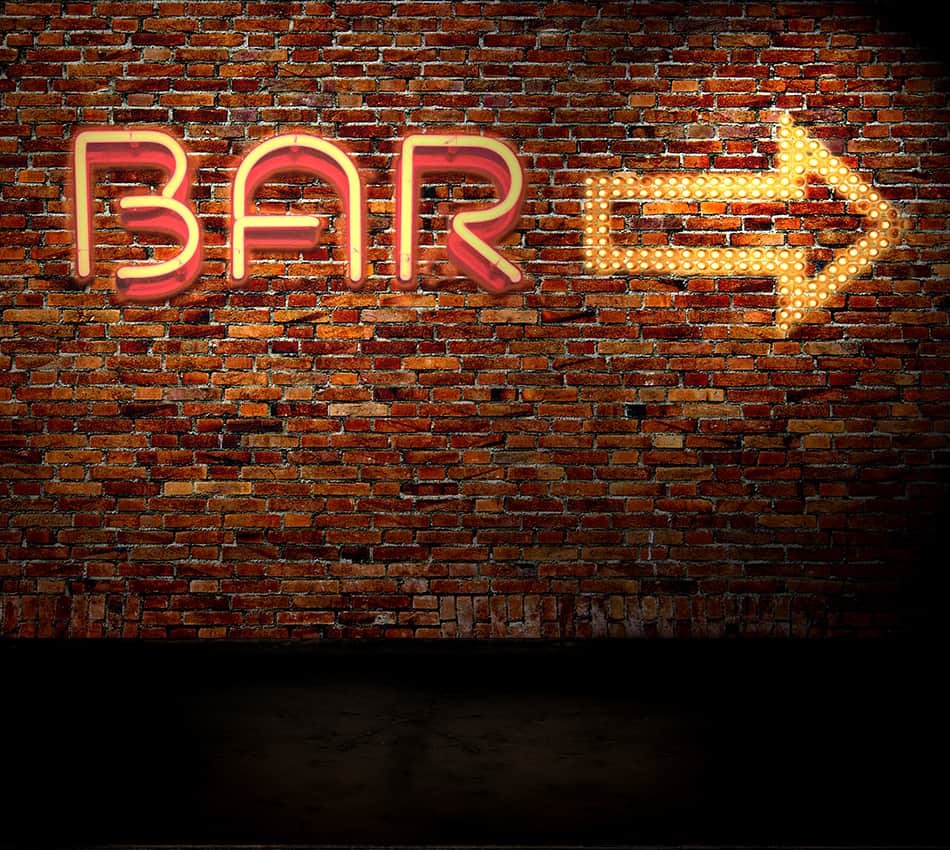 You might also want to add some "advertising" for your bar. A sign like this adds to the idea that your bar is a fun place to be. It also makes it seem a little exclusive, as if not everyone would be able to find it, so you need a sign pointing the way.
Lighting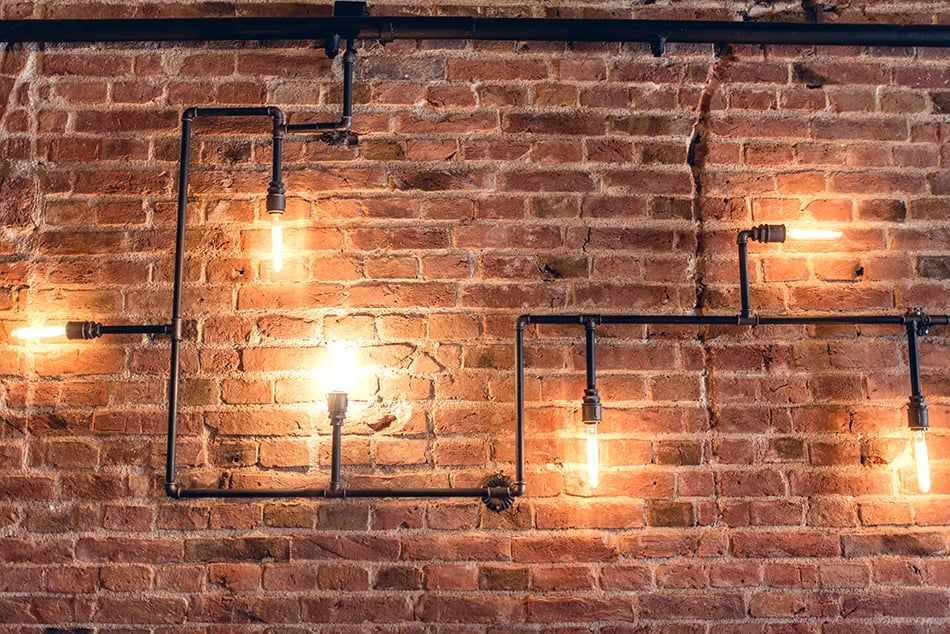 As you've probably noticed from the rest of the pictures, lighting is a big part of a bar's décor. Not only is it functional, but it also creates the right atmosphere and provides a point of interest. You can get as creative as you like with your lighting, even to the point of having it be part of your wall decoration. I like these because not only do the lights fit an industrial/unfinished design, but they provide a warm glow as they reflect off the brick. You can create the same ambiance with a set of large-bulb string lights hanging against the wall.
Bottle Opener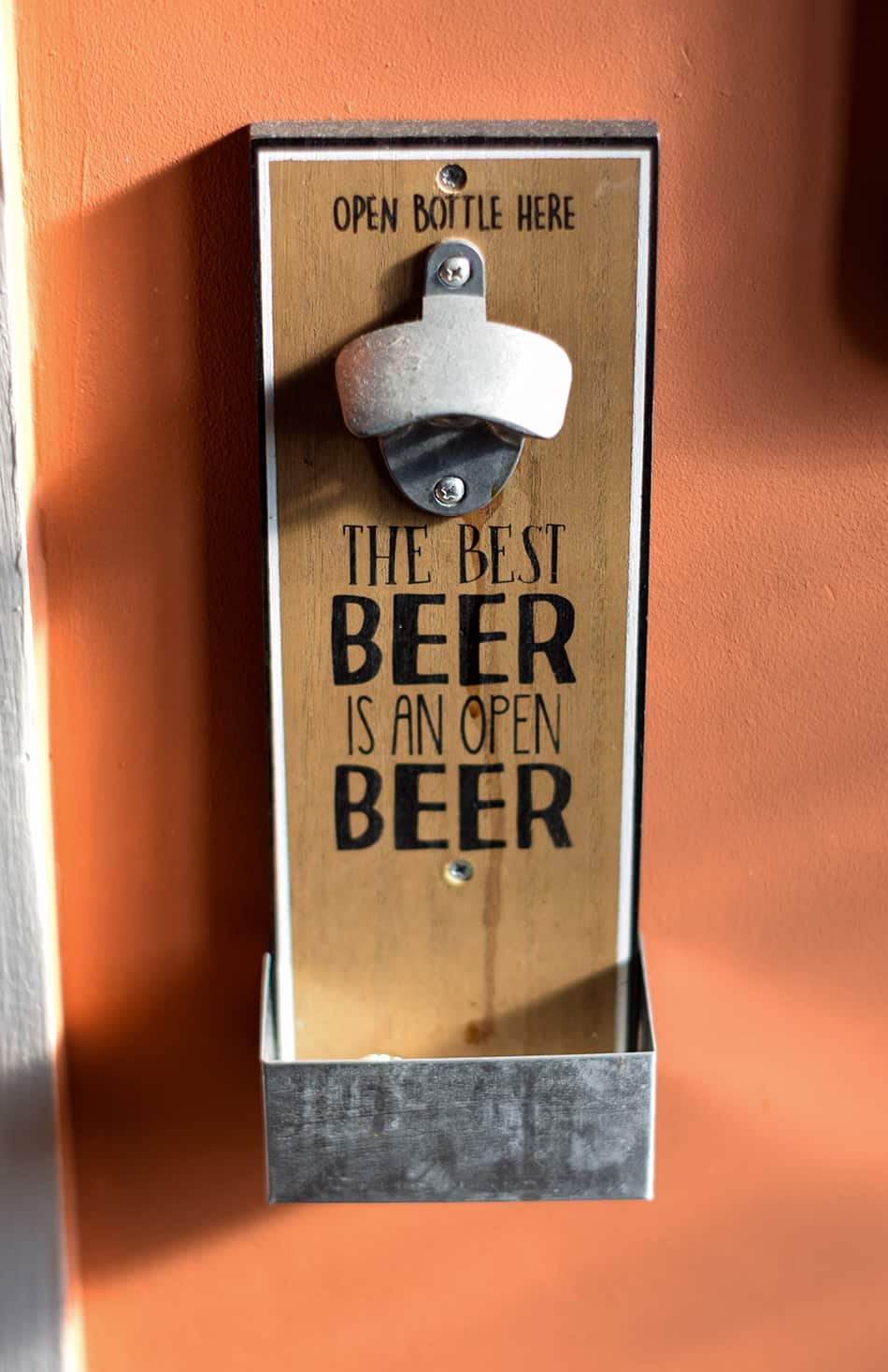 Do you know what goes great with beer? A way to open it! Don't worry about losing your bottle opener when you have one attached to the wall. Plus, if you make it part of the décor, it serves two purposes. Some wall bottle openers have pithy sayings like this; others might be shaped like an animal mouth biting down on your bottle.
Chairs and Tables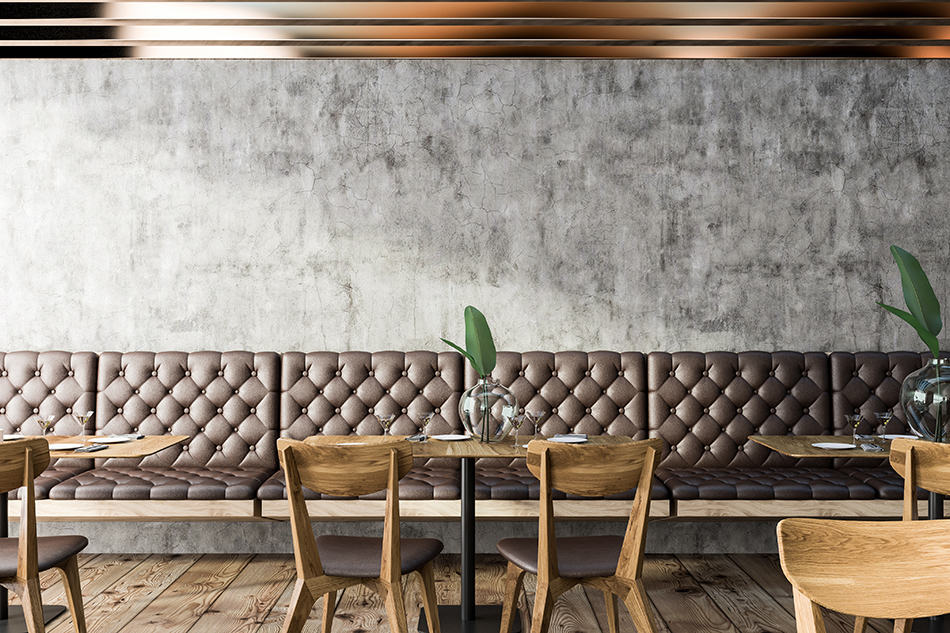 Notice this bar area has no "bar," no countertop to sit at. Instead, it has tables and chairs. I'm simply including this to help you think outside the box on what your bar area can be. You can meet the same need in your own home without necessarily having a bar to serve from.
Chairs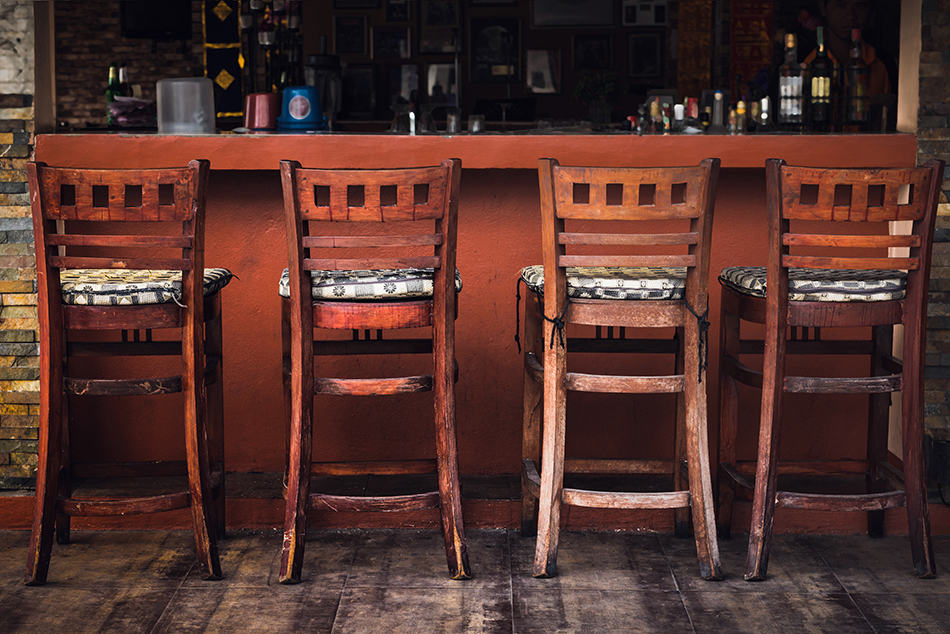 Here you can see a row of vintage wooden chairs at the bar. With a plain wood bar and a rug underneath, these vintage chairs are right at home. You can use any kind of seating you want for your bar area to complete the décor. Stools and high-backed chairs are the most common, depending on if you want to sit forward to lean on the bar or sit back with a drink in hand. Just make sure to check your furniture once in a while to make sure it's stable.
Entertainment Ideas for Your Bar
Entertain your guests with a gaming area. Simple games that everyone knows how to play are best for bars because anyone can jump in play without having to learn a new game.
Bar with Billiards Table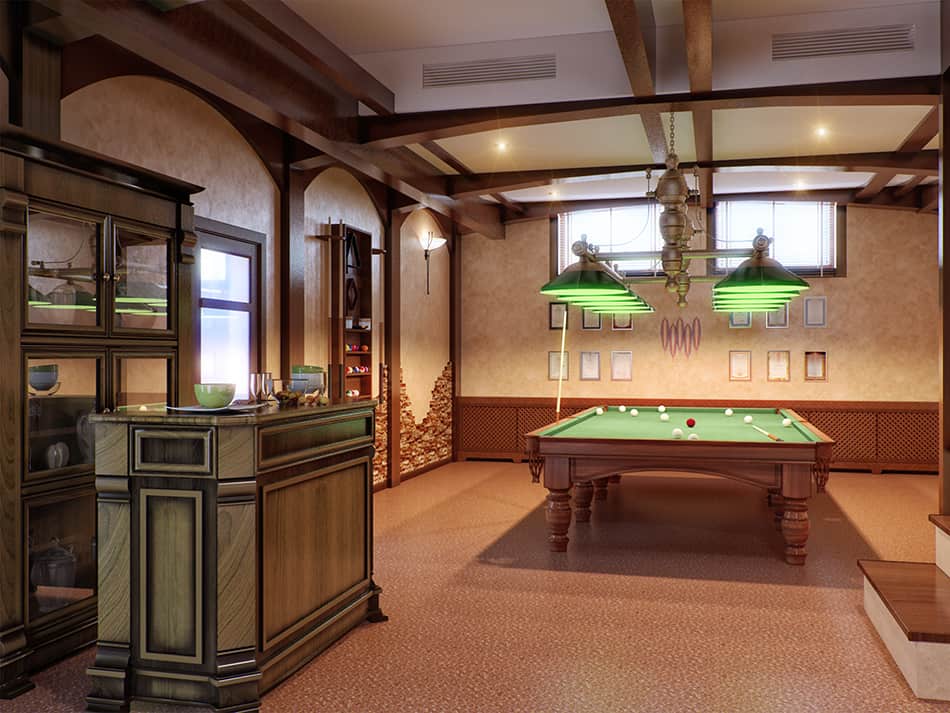 This basement doesn't have a very large bar area – just enough room to store some bottles and glasses. You could also add four stools around the bar if you want. The big attraction, however, is the pool table. This room isn't meant for sitting and drinking. It's for playing a competitive game with your friends while enjoying a drink.
Bar with Billiards Table 2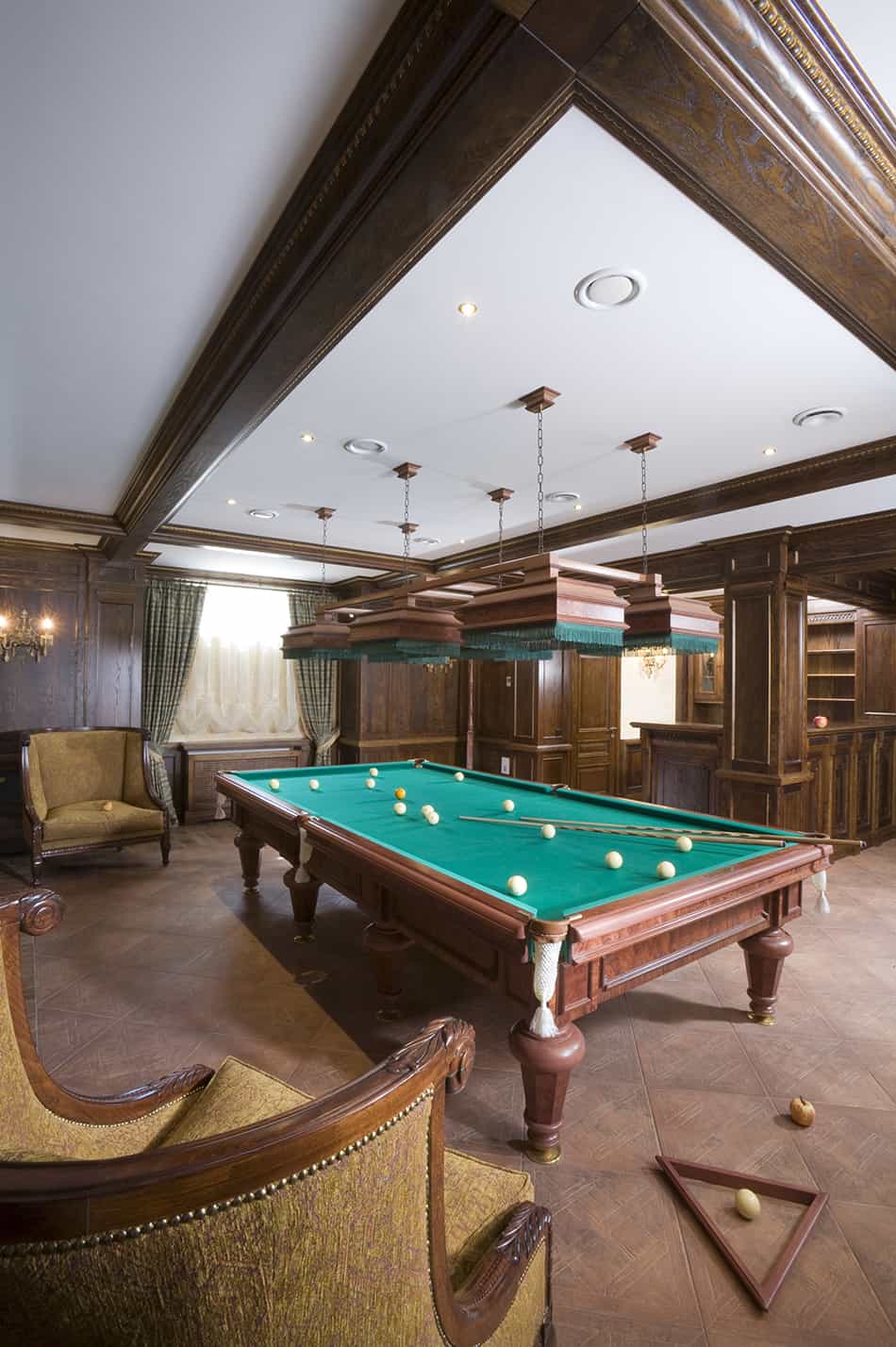 Here's another room that has more billiards than bar. You can see the bar in the background. What I like about these pictures is it shows you can have a bar in your basement without the bar having to take up your entire space. You'll probably have room for other furniture or game tables.
Besides pool, you can consider foosball, air hockey, pinball, or arcade cabinets.
Dartboard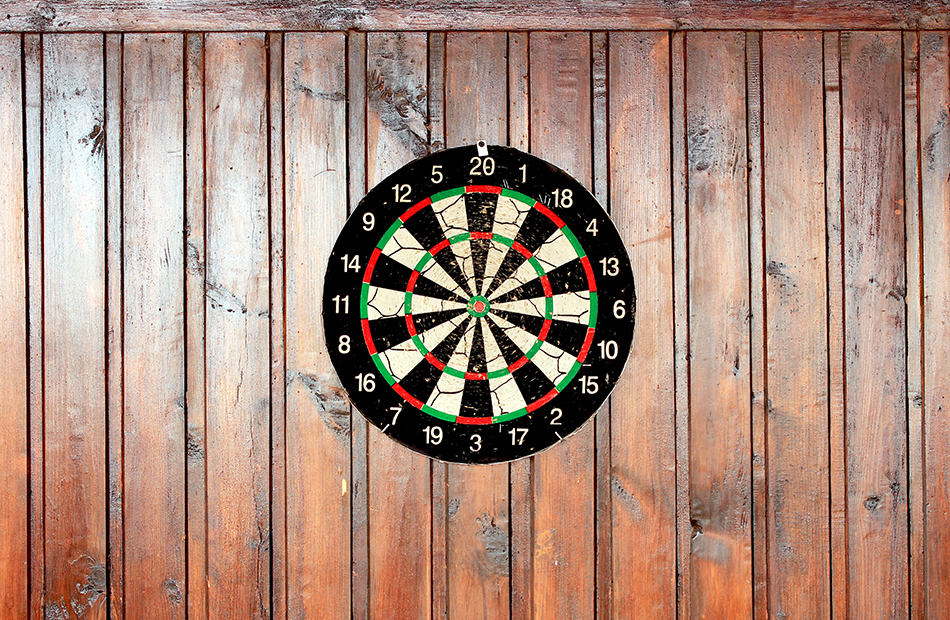 If pool isn't your thing, or if you want to add an alternative to billiards, a dartboard is an inexpensive purchase. Just make sure to place the board on a wood surface so that neither the wall nor the darts will be too damaged by errant throws. Also, be careful which wall you hang the dartboard on. You don't want to place it near a doorway or have people throwing darts across a walking path.