A placemat, also known as a place setting, is a familiar fixture in many dining tables. It assigns a spot setting for an individual, unlike a table cloth which is designed to cover the entire dining table.
The main purpose of placing a mat is to protect the dining table from food stains and watermarks as well as damage from heat. Another function of placemats is for aesthetic purposes. Placemats serve as decor, especially those produced using silk or ribbon. In commercial establishments such as cafes and restaurants, placemats are even used in promoting menu items and specials. You may even have dined in restaurants where placemats serve as a canvass for games.
Many people tend to overlook placemats until the moment they realize that they need to get one for their tables. Are you one of them? Do you know the standard size of a placemat? Continue reading to know more about the sizes of placemats.
Common Shapes of Placemat and Their Sizes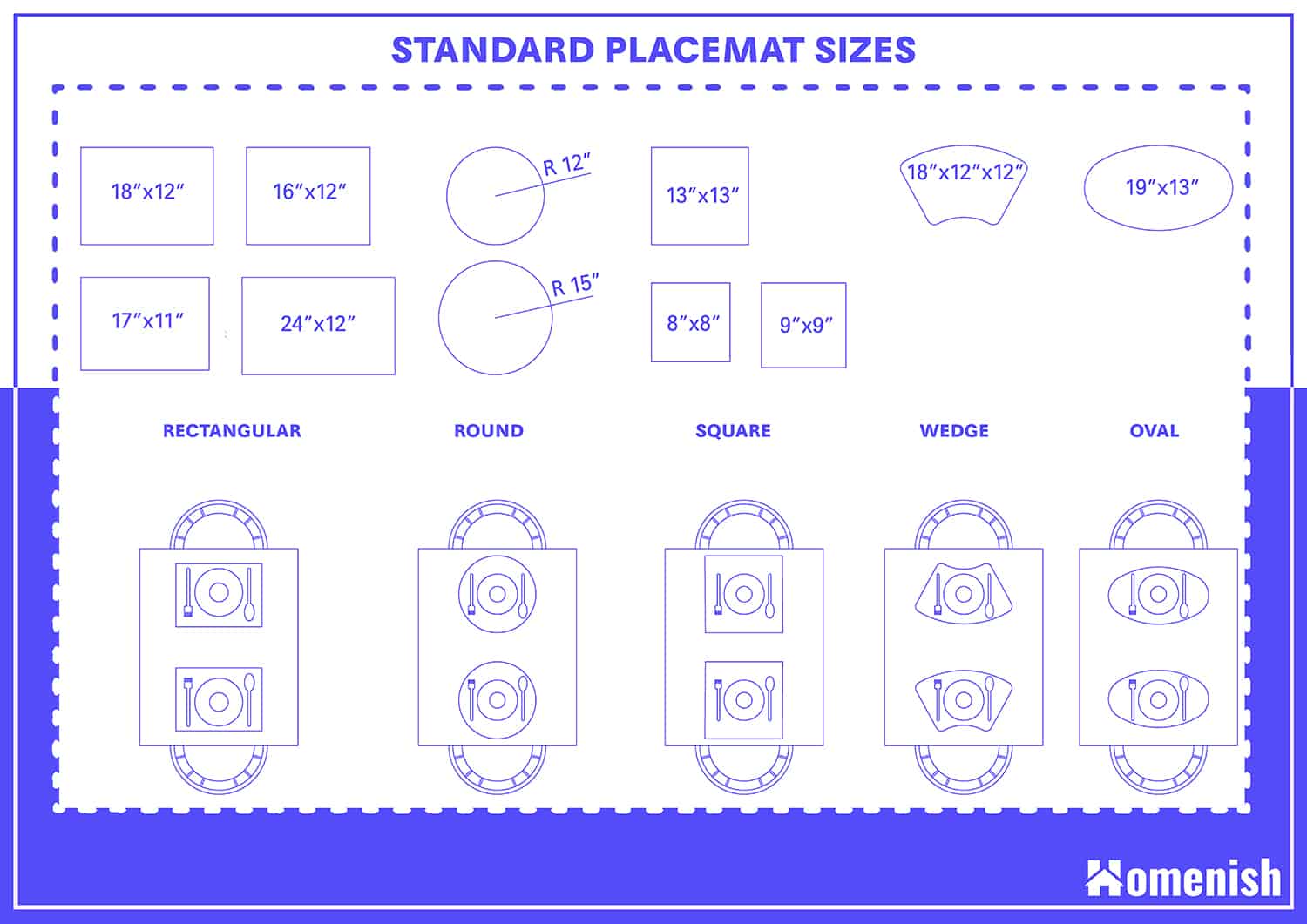 To better understand the standard placemat size, let's take a look first at its most common shapes. After all, the size of the placemat would largely hinge on its shape.
Here's one thing to know about placemats– they come in various shapes and sizes, that it's quite tricky to determine which size is best suited on your dining table. In short, there's no one-size-fits-all standard for placemats.
Rectangle and round, however, are the two most common shapes of placemats in the market. But you can also find placemats in different shapes such as oval, square, and wedge.
Let's take a closer look at the standard sizes of these placemat shapes.
Rectangular Placemats
A rectangular placemat is widely used because the shape can cover all of the surface areas beneath it. The shape adequately protects the table from spilled food and drinks. Also, it can provide a nice backdrop for the dishes.
The standard size for a rectangular placemat is 18 inches in length and 12 inches in width. But due to the differences in table measurements, you can also find other smaller or bigger rectangular placemats. You can come across rectangular placemats that are 16 inches long and 12 inches wide. And you may even hand-sew a rectangular placemat that's smaller at 17 inches long and 11 inches wide.
In the market, the largest rectangular placemat that you can come across is 24 inches long and 12 inches wide. This huge placemat is best used for long rectangular tables or when you want to put all your dinnerware on top of it, from forks, knives, spoons, and glasses.
Round Placemats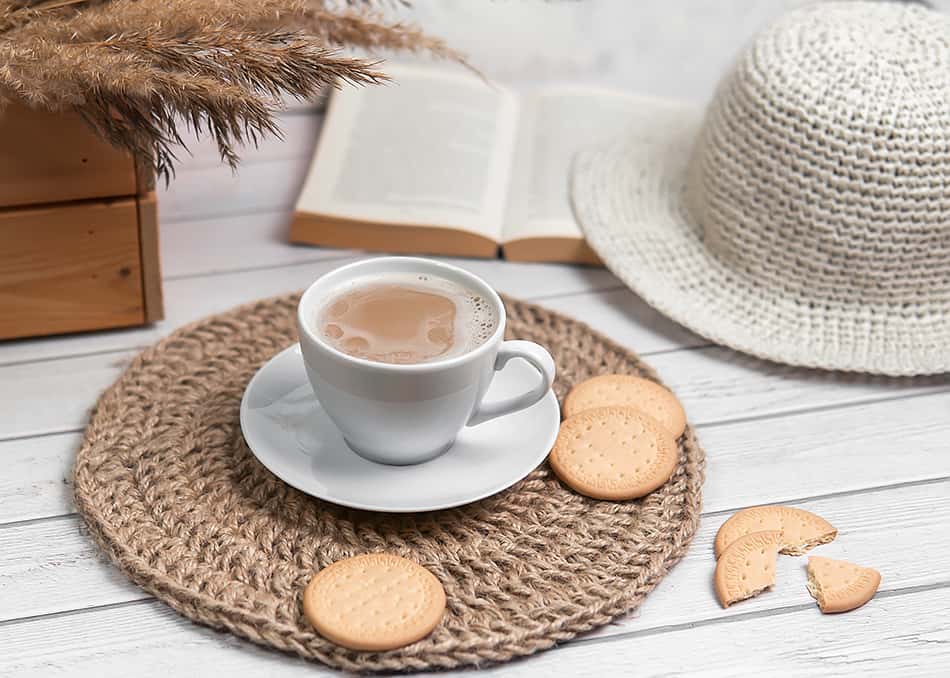 Not far behind in terms of popularity is the round placemat. Its size is measured in diameter. It may come as either 12-inches or 15-inches. The 15-inch variety is more common as having a larger surface would let users place the dinnerware.
But don't take a smaller round placemat for granted as it has its own charm, too. This placemat shape is best for use on oval and even rectangular tables. A round placemat would provide an interesting contrast to the shape of a rectangular table. However, keep in mind that round placemats don't suit every table, so you should be good at visualizing how a round placemat would look on your table.
Square Placemats
Unlike round placemats, square placemats offer more in terms of sizes. You can find a small square placemat measuring 8 inches wide and 8 inches long. There are also large ones that measure 16 by 16 inches.
But the standard size of a square placemat is 13 x 13 inches. This is best used for square tables as well as rectangular ones.
One disadvantage of a square placemat is that it offers limited surface protection compared to other placemat shapes. For instance, a typical 10-inch dinner plate may overlap on a standard square placemat. Therefore, you might have to use a smaller round plate measuring 8 or 9 inches if you are to use a standard square placemat.
Wedge Placemats
Wedge placemats aren't as widely available as rectangular placemats. But you may find them useful or appropriate for round tables. A wedge placemat can be an attractive addition to a round table.
The standard size of a wedge placemat is 12 inches on the flat side and 18 inches on the wide curve side. The standard height is 12 inches.
Oval Placemats
Like wedge placemats, oval placemats are not widely available. But if you come across one, it's most likely of the standard size of 13 x 19 inches. As you may guess, the oval placemat is best for use in an oval table because it would fit the curved edges without overlapping. Moreover, an oval placemat placed on an oval table helps create a cozy and harmonious atmosphere in the dining area.
Quilted Placemat Sizes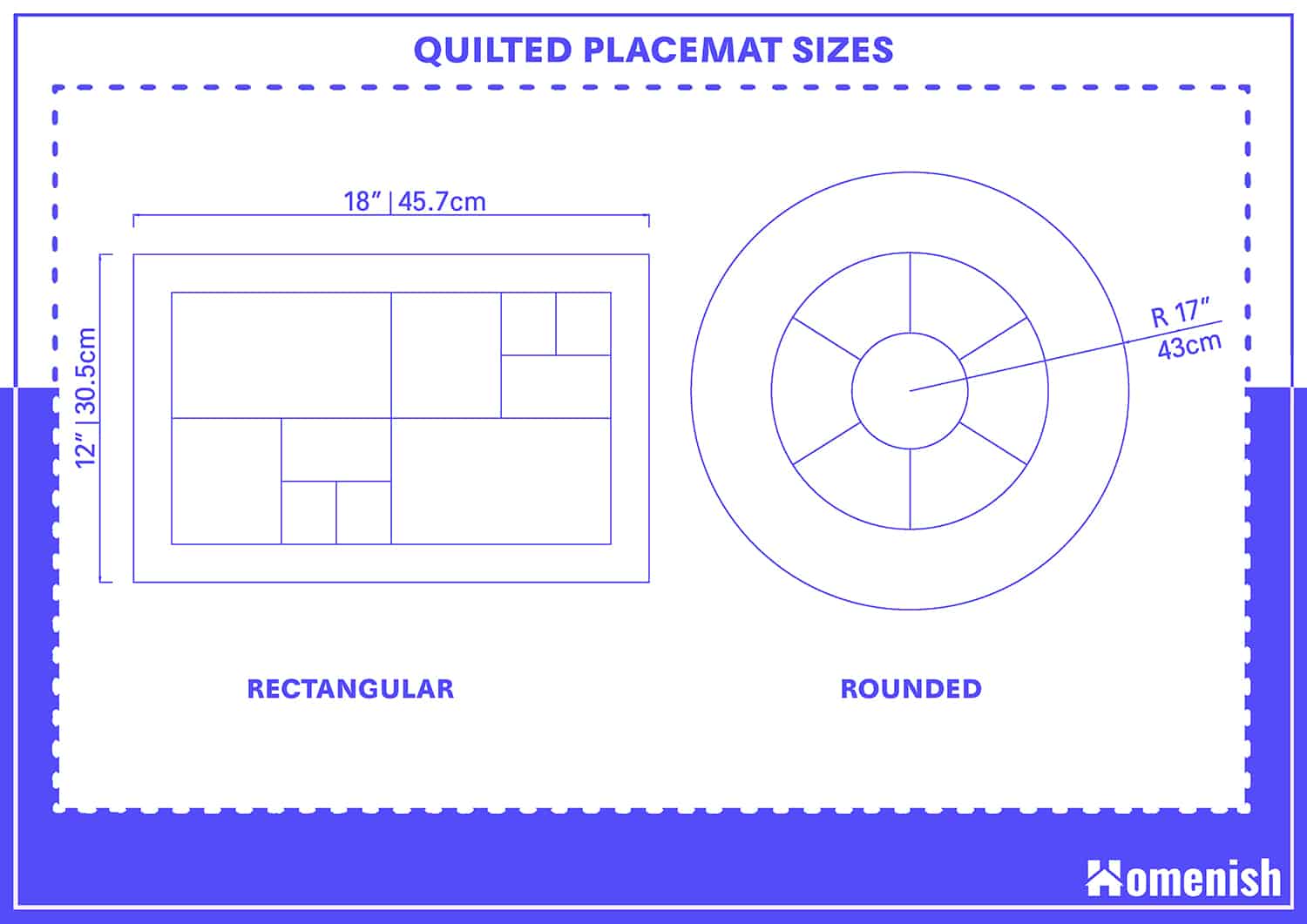 Quilted placemats also have different sizes, depending on the shape. Quilted placemats may be rectangular, round, or square and sometimes have non-linear cuts.
A rectangular quilted placemat, for example, has a standard size of 12 x 18 inches. Rounded quilted placemats are larger, meanwhile, with a diameter of 17 inches.
In choosing a placemat size, always remember that it should be coordinated with the size of the dining table. A large placemat over a small dining table will make the latter look overcrowded.
A small placemat over a large dining table would be useless because it may not be able to provide sufficient protection. It won't also be able to hold all the cutlery, forcing you to place some of the tableware on the table itself. But it may be appropriate if you desire to serve many dishes in larger pots.
Wrap Up
To sum up, the two most common shapes of placemats are rectangle and round. The standard size of a rectangular placemat is 12 inches wide and 18 inches long. Meanwhile, round placemats may either be 12 inches or 15 inches in diameter. Choose a placemat size depending on the shape and size of your dining table.