Range hoods are essential if you want to rid your kitchen of moisture, heat, grease, and odors while you are cooking. They come in numerous designs with various features, but before you narrow down which style you want, you'll need to settle on a size.
Here we uncover the standard sizes for range hoods and which will work best in your kitchen.
Standard Range Hood Sizes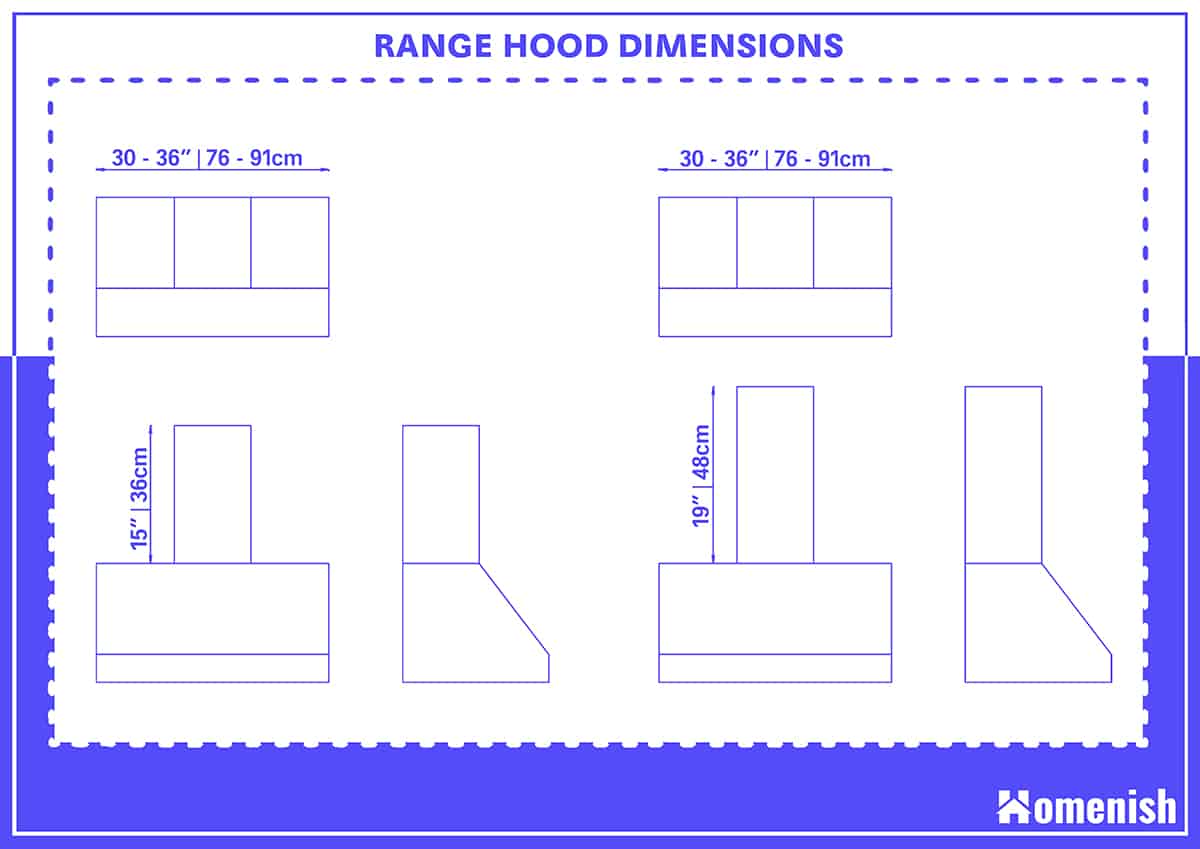 Range hoods come in a small selection of standard sizes to coordinate with the standard sizes of ranges and cooktops. This makes sense from both a design and functional point of view. The width of the range hood should match the width of the cooktop, giving it a uniform appearance and also ensuring that the odors and fumes from the cooktop are captured by the overhead hood.
Most residential ranges and cooktops have a width measurement of between 30 and 36 inches, so range hoods also come in these sizes. Some compact cooktops will be just 24 inches wide, and in this case, you should opt for a 30-inch range hood. Although range hoods should be the same width as the cooktop, this is actually a minimum requirement, and you can choose a larger range hood if you wish.
The length of a range hood is much more variable because the height of rooms is far less standard. Most range hoods will come with a selection of chimneypieces of different lengths so that you can select the most appropriate size to fit your ceiling height. Typically a standard range hood will come with 2x 19-inch chimneypieces and 2x 15-inch chimneypieces.
These can be used in various ways to achieve the correct size for the hood to meet the ceiling. This range hood length size will be suitable for the vast majority of homes with 8 or 9-foot ceilings; however, if you have a very high ceiling of over 9 feet, then you will need a chimney extension for your range hood.
How to Measure for a Range Hood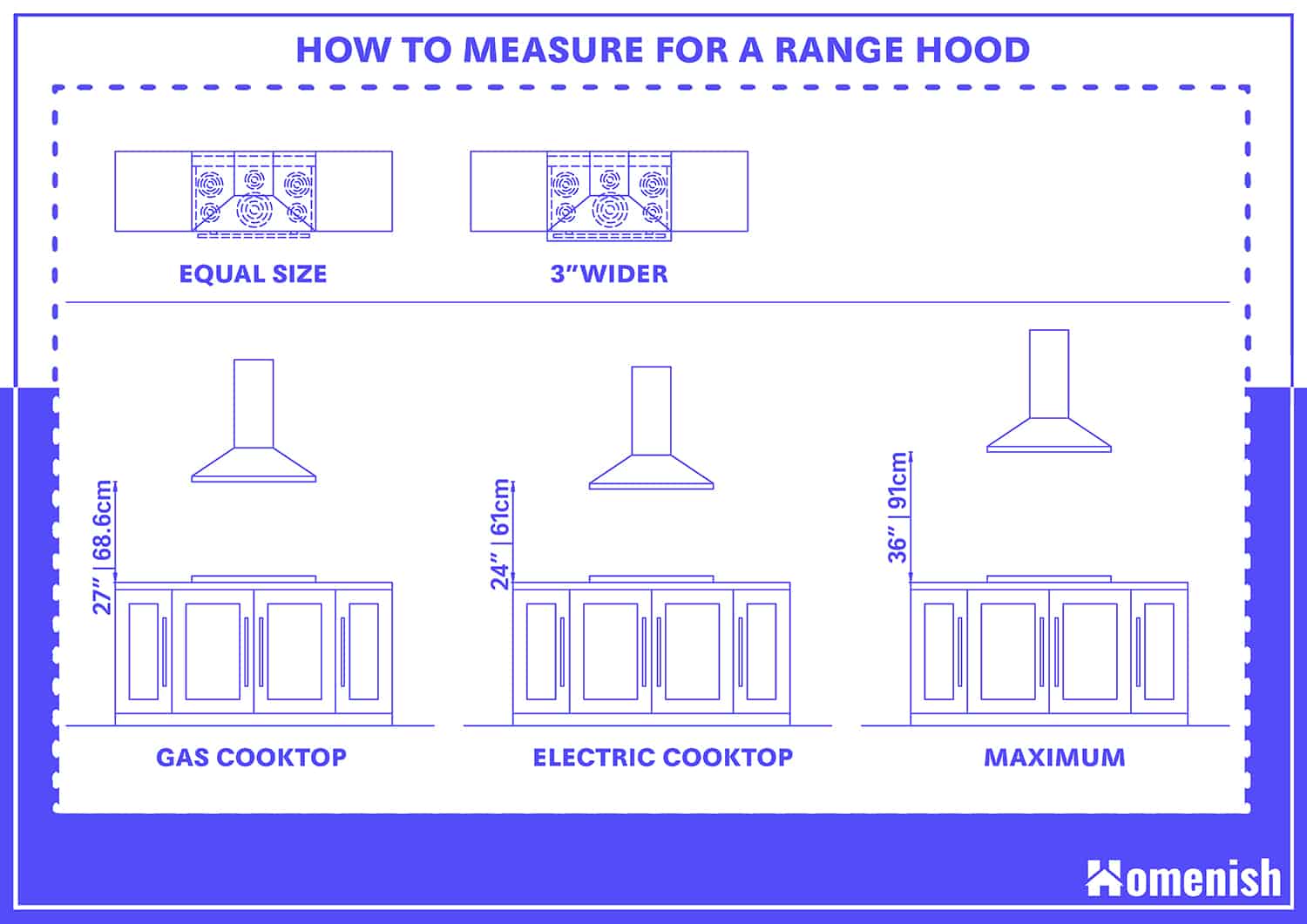 If your kitchen does not currently have a range hood and you want to install one, you'll first need to figure out the size you need. To do this, measure the width of your current cooktop. You will need a range hood that is at least an equal size in width to your cooktop or up to three inches bigger on each side.
Next, you'll need to make sure there is adequate space on your wall to fit the range hood if you are opting for a wall-mounted hood. If you have cabinets on the walls over the cooktop, you may need to rearrange them to allow enough space for a wall-mounted hood.
Alternatively, you could opt for an under cabinet range hood which slots underneath the cabinets. These will extend further forward than the cabinets to ensure they cover more of the cooktop for efficiency. Another measurement you'll need to take is the distance between the cooktop and where the bottom of the range hood will reach.
If you have a gas cooktop, you will need a distance of at least 27 inches between the stove and the range hood. For electric cooktops, this measurement is slightly smaller, at 24 inches. There also needs to be a maximum measurement between the cooktop and the range hood of 36 inches, as any distance further than this will negatively impact the effectiveness of the hood.
Types of Range Hood and Sizes
Wall Mount Range Hood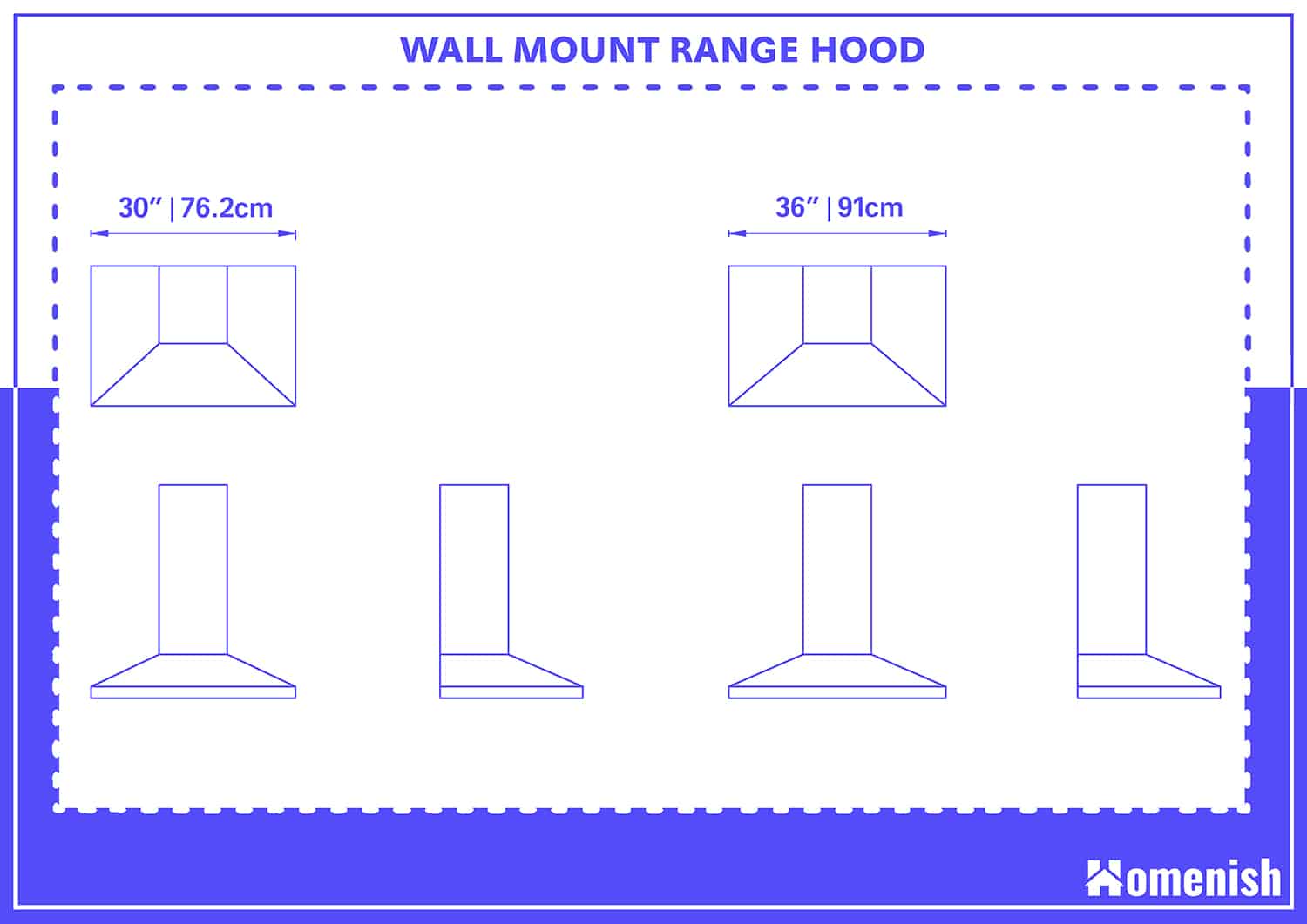 As you would expect from the name, these types of range hoods are mounted to the wall. They are fitted directly above the cooktop surface and should be at least equal to, if not larger than, the size of the cooktop. As these range hoods are fixed to the wall, they only have three finished sides. The back part of the range hood is usually open, as it won't be seen when it is installed in place.
The chimney part of the hood works as a cover to hide the actual vent or ductwork inside the hood. This is the most common type of range hood, and it comes in a wide range of styles to suit various interior decor styles. The wall mount range hood most commonly comes in two standard sizes, 30 inches wide and 36 inches wide, as this corresponds to the standard width size of cooktops. A wall mount range hood should be fitted to an external wall in the home so that it can be vented outside. Bear this in mind when planning a new kitchen.
Island Canopy Range Hood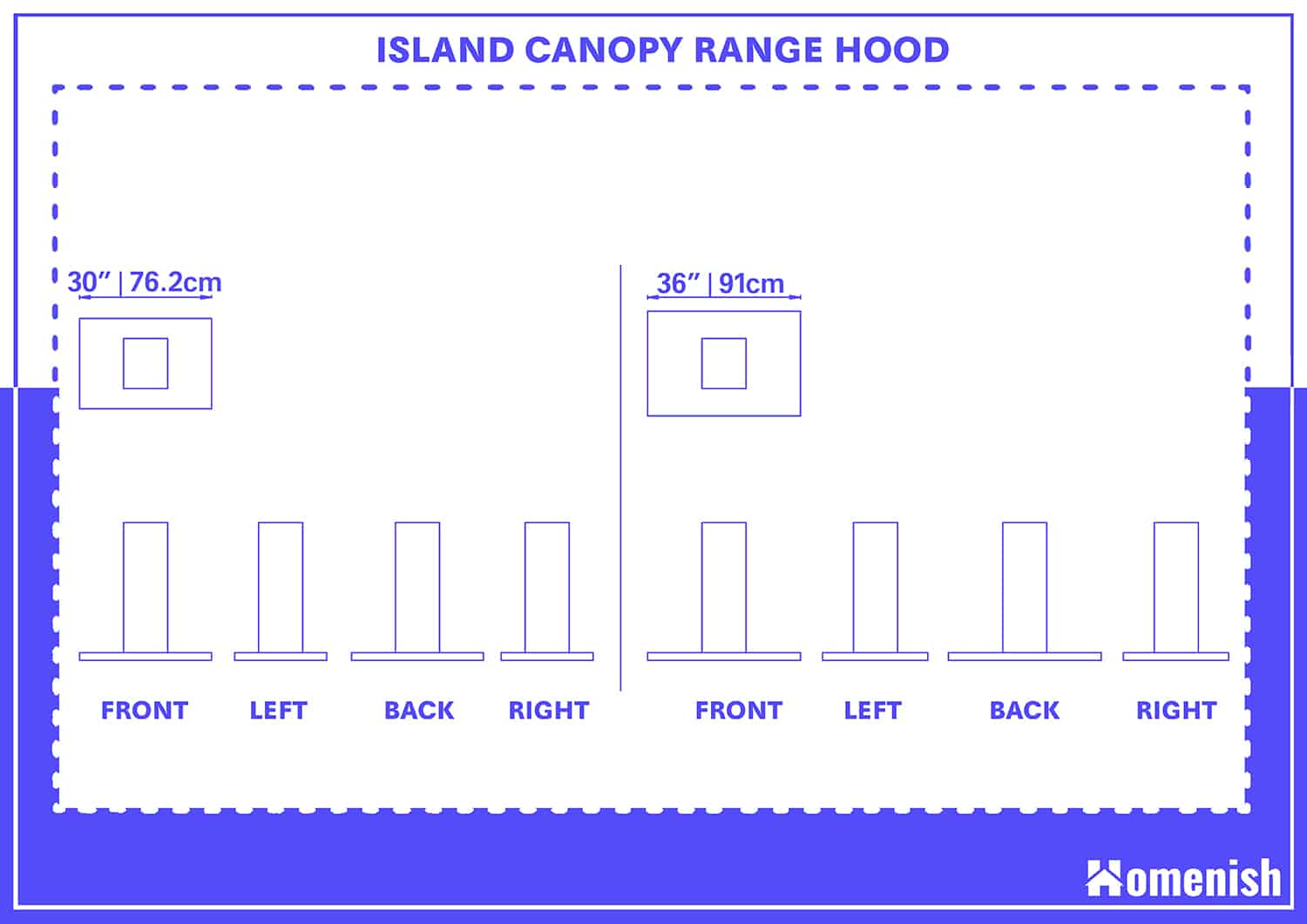 These range hoods will be fitted over a kitchen island in instances where the cooktop is installed on the island. They are fitted to the ceiling rather than a wall and therefore have four finished sides because they can be viewed from every angle. These types of hoods are less common, and they tend to be more expensive.
Some island range hoods are designed to look like light fittings that hang over the island. They also come in standard sizes of 30 inches and 36 inches to accommodate standard cooktops. The biggest drawback of island canopy range hoods is that the ductwork needs to be fitted in the ceiling. This can present additional work on installation, and in some instances, may not be possible if your home doesn't have enough space to fit in the necessary ducts and vents.
Under Cabinet Range Hood
These types of range hoods are smaller in size, as they fit underneath the upper wall cabinets in a kitchen. These are a good choice if you don't like the look of range hoods or if you want to maximize cabinet space. Under-cabinet range hoods will measure 30 or 36 inches wide, though they are more commonly available in 30-inch sizes. They will be deeper than the cabinets so that they cover all burners on a cooktop so they are not completely hidden away into the cabinet.