The home printer has become ubiquitous today, especially with many people staying in and working from their homes. Maybe you've wanted to own one for your home office or the small business that you have.
Knowing the typical dimensions of a printer can help you determine if you have the space for this piece of equipment. Continue reading to know more about typical printer dimensions.
What's a Home Printer?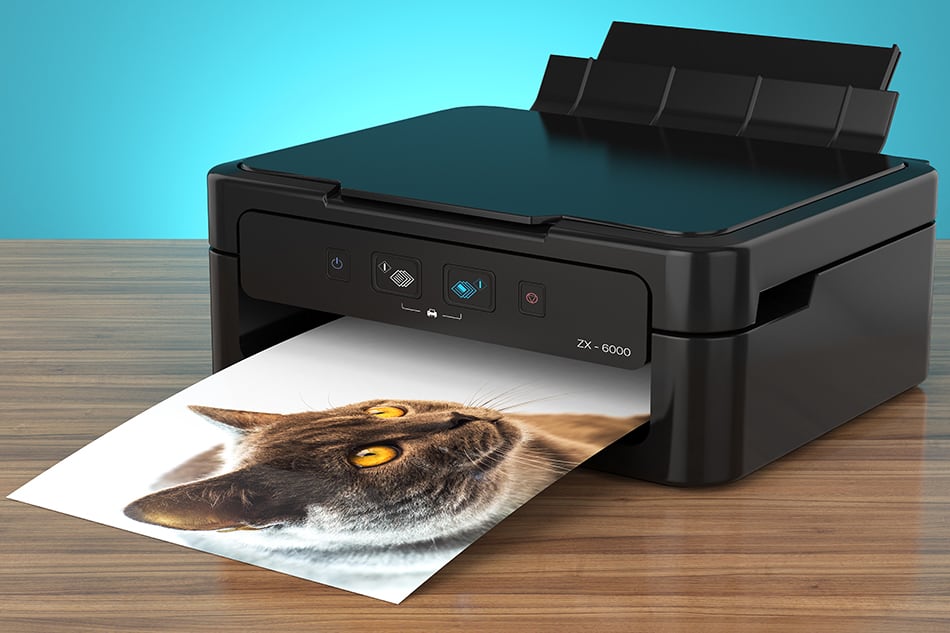 A home printer is an electronic device used in converting digital files such as text and images into physical copies. It uses specialized software to convert those files into a language that the printer can understand. The printer then recreates the file onto paper using a series of tiny dots.
Home printers have evolved through the years. These electronic devices are no longer used in printing documents but also in printing images. You can also use printers in copying printed materials like pages of books, magazines, and the like.
Standard Printer Dimensions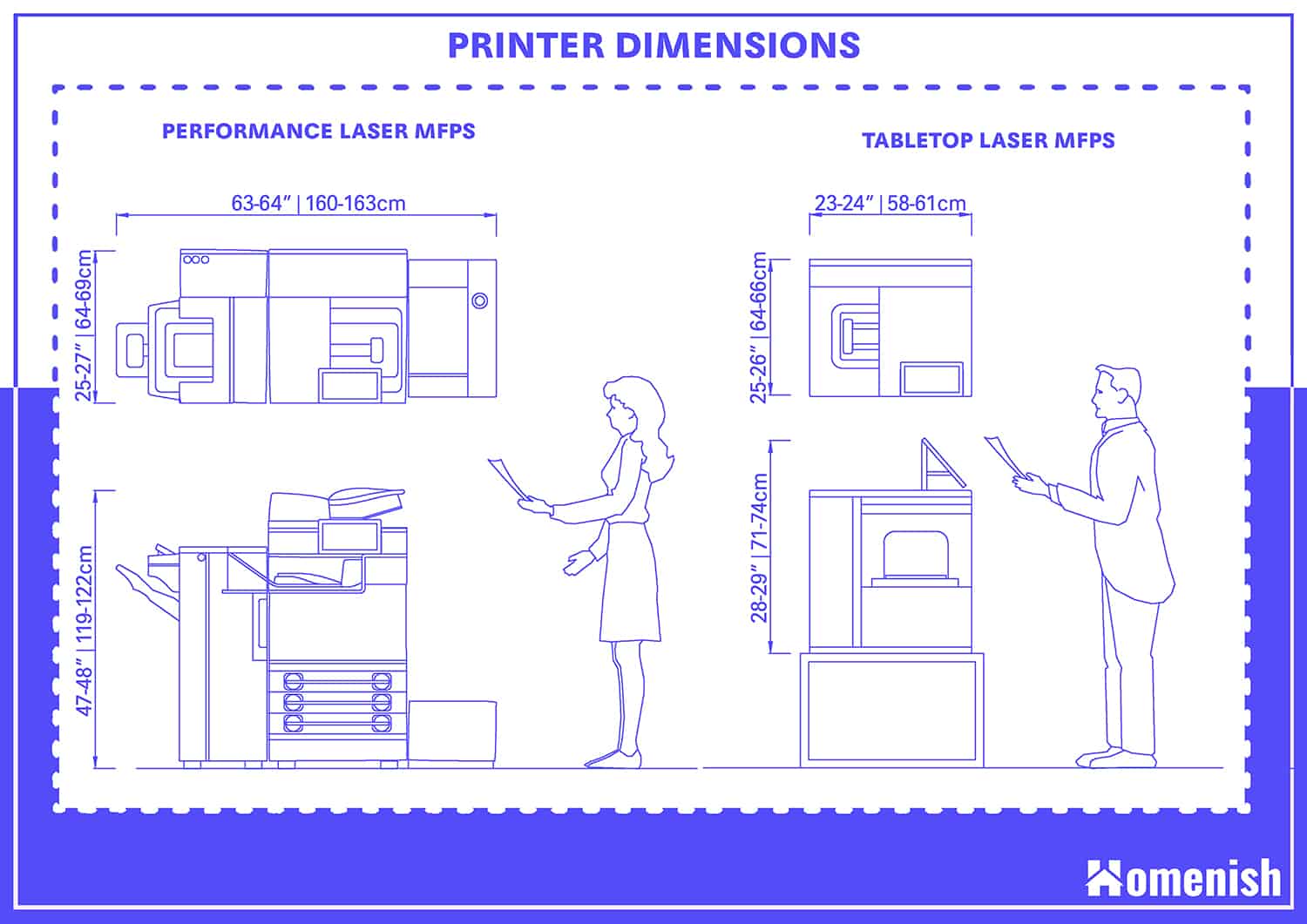 Printers can be classified into two: performance laser multi-functional or performance laser MFP and tabletop laser multifunctional or tabletop MFP. Let's take a closer look at each type.
Performance Laser MFPs
Performance laser MFPs are practically the more advanced type of printer. It is a fixture in most offices. Combining other functionalities with printing, such as copying, faxing, and scanning, a performance laser MFP is a versatile piece of office equipment. Apart from those functions, another key feature of a performance laser MFP is the addition of paper cabinets, finishers, punchers, and feeders.
Performance laser MFPs are known for customization, meaning the dimensions may also vary depending on the model and the brand. However, most performance laser MFPs have a width of around 63 to 64 inches, a depth of 25 to 27 inches, and a height of around 47 to 48 inches.
Tabletop Laser MFPs
Tabletop laser MFPs are a smaller and less expensive version of performance laser MFPs. This is the mid-range printing solution if you have a home office.
It is compressed into a tabletop form and still performs functionalities like printing, faxing copying, and scanning. Like performance MFPs, it can also be equipped with extra paper feeders and finishers.
Tabletop Laser MFPs are typically 23 to 24 inches wide, 28 to 29 inches tall, and 25 to 26 inches deep.
How to Choose the Right Printer
Knowing the dimensions of the printer is just half the battle in as far as choosing the right printer for you is concerned. With so many models and specs to choose from, it can be quite confusing for you to pick just one unit. Don't worry, as we'll help you sort out the right printer for you.
There are several things that you need to consider when choosing the right printer.
Volume of Printing
First is the volume of printing you'd need. If you will be using a printer for personal use, then a tabletop laser MFP is the right one for you. But if you are looking for a unit that can cater to a larger workgroup, then there's no doubt that a performance laser MFP is the most appropriate choice.
Input Tray Capacity
A tabletop laser MFP would be able to hold around 150 pages, while a performance laser MFP should be able to hold at least 250 pages. You may also want to get a unit with a separate tray for scrap paper if you want to lessen paper consumption.
Printing requirements
Are you printing only black text-based documents? Then you'd rather settle for a mono laser printer. But if you need to print more colored documents or images, then you may have to shell out for more.
In the past, inkjets were the only printer models for printing in color. Yet, with the advancement in technology, you can now explore the prospect of using laser printers. You should be wary, however, of cheaper color laser printers as these are notorious for printing irregularities like 'banding.'
Multi-Functions
You must also determine if you need more than the printing functionality of a printer. As mentioned above, printers today come with other features or functionalities like copying and scanning.
Printers with more features also command a higher price tag. But if you think your primary need is printing, then you can do away with the other features.
Print Speed
In previous years, speed was only a feature found in laser models. But now, even inkjet models have fast print speeds. This is particularly important when you are printing voluminous documents. Therefore, you'd want a printer that can print at least 20 pages per minute (ppm).
You must also ask yourself: "what would I be printing?" Would you be printing only documents? Or would you be printing labels and pictures from your recent trip on photo paper? If you need a printer to print a lot of labels, then you may need to get a specialty label printer.
Connections and Hubs
Lastly, determine how you'd want to connect your laptop, PC, or smartphone to the printer. Printers these days have a direct to computer USB connection.
This works well for most personal desktop computers. But there are also advanced models which can be wirelessly connected to a tablet or smartphone through Bluetooth or Wi-Fi connection. These models may be more advisable for you if you are always out of the office.
Conclusion
To summarize, there are two types of printers available in the market: performance laser multifunctional printers or performance laser MFPs and tabletop multifunctional printers or tabletop MFPs.
Performance laser MFPs are bigger with standard dimensions of 63-64 inches wide, 25-27 inches deep, and 47-47 inches tall. On the other hand, tabletop MFPs are around 23-24 inches wide, 28-29 inches tall, and 25-26 inches deep.