Bathroom cabinets are the main piece of furniture in a bathroom, and the color of the cabinet is going to be the biggest deciding factor on whether the cabinet is a bold feature in the room or fades into the background.
In a small room, you might prefer the cabinet to recede into the wall to make the space feel bigger, or if you have a unique style of cabinet, you might want to make it the dominant feature and coordinate it with your color scheme.
Consider the color of the cabinets in relation to the other colors in the room and whether it is going to be contrasting or complimentary. Here we look at some of the most on-trend colors for painting bathroom cabinets.
Why Paint a Bathroom Cabinet?
Easy update
Painting a bathroom cabinet is an easy way to refresh the look of a bathroom, and it can be achieved in the space of a day. Compared with having to find a new bathroom cabinet and have the old one taken out and the new one installed, painting represents a much easier option. It is also a task that anyone can carry out simply with just a pot of paint and a paintbrush.
Cost-effective
The price of a tub of paint is going to be much less than the price of an entirely new bathroom cabinet, so if you are bored with the look of your cabinet but want to keep costs down, then painting it is definitely the way to go. Painting the cabinet can completely transform the look of it on a really low budget, with minimal effort required.
Eco-friendly
Upcycling items we already own is much better for the planet than disposing of them and buying new ones. Saving products from ending up in landfills and not buying into the manufacture of new non-essential items all help towards becoming a more eco-friendly society.
You can also buy low-VOC paint that minimizes the effect of pollutants on the environment and is, therefore, more eco-friendly than regular paint.
Top Colors for Bathroom Cabinet Paint
Dark gray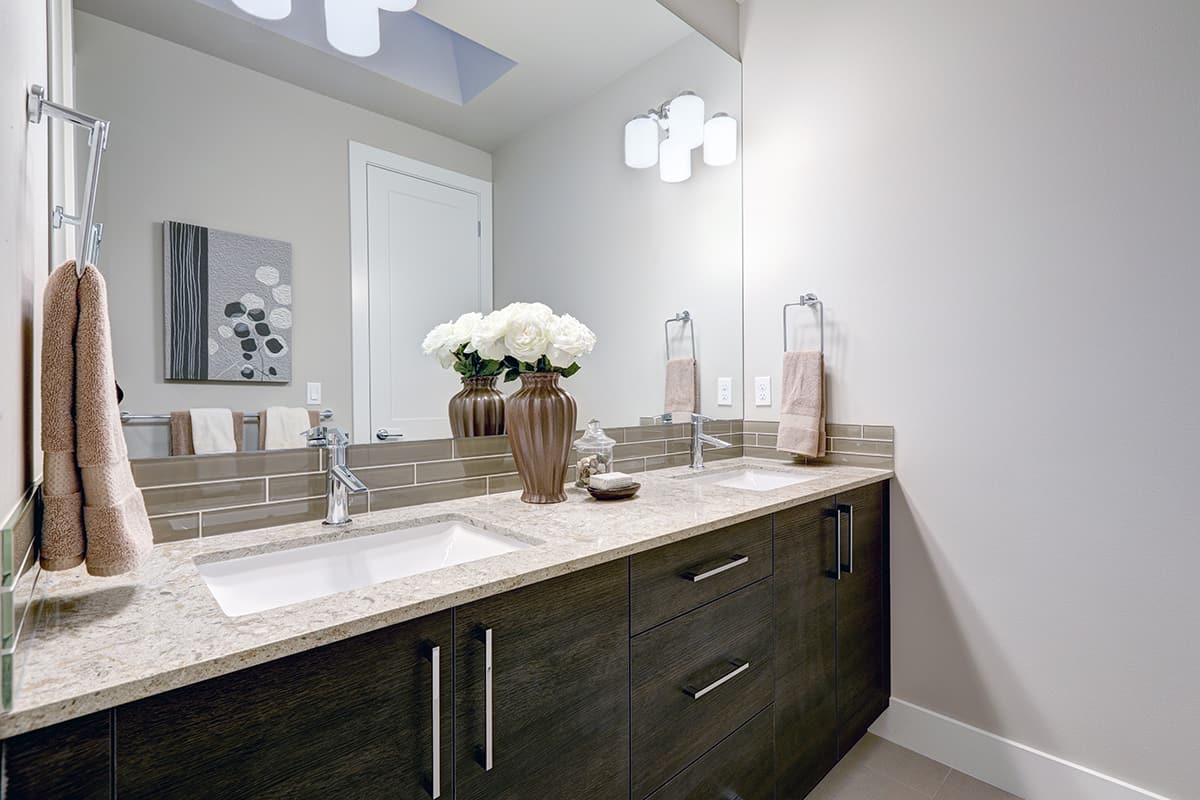 Dark gray is a color that is neutral yet modern and stylish. If you want to update the look in your bathroom, but you don't want to choose a bold color, then dark gray is a great compromise for your bathroom cabinets. It creates a look that is both fashionable and classy.
Dark gray cabinets will work with a range of wall colors, so when it comes to painting your walls, it won't be limiting.
You can try out a monochrome theme with white or off-white walls or opt for a contemporary feminine style with blush pink walls and dark gray towels to match the cabinets.
Light gray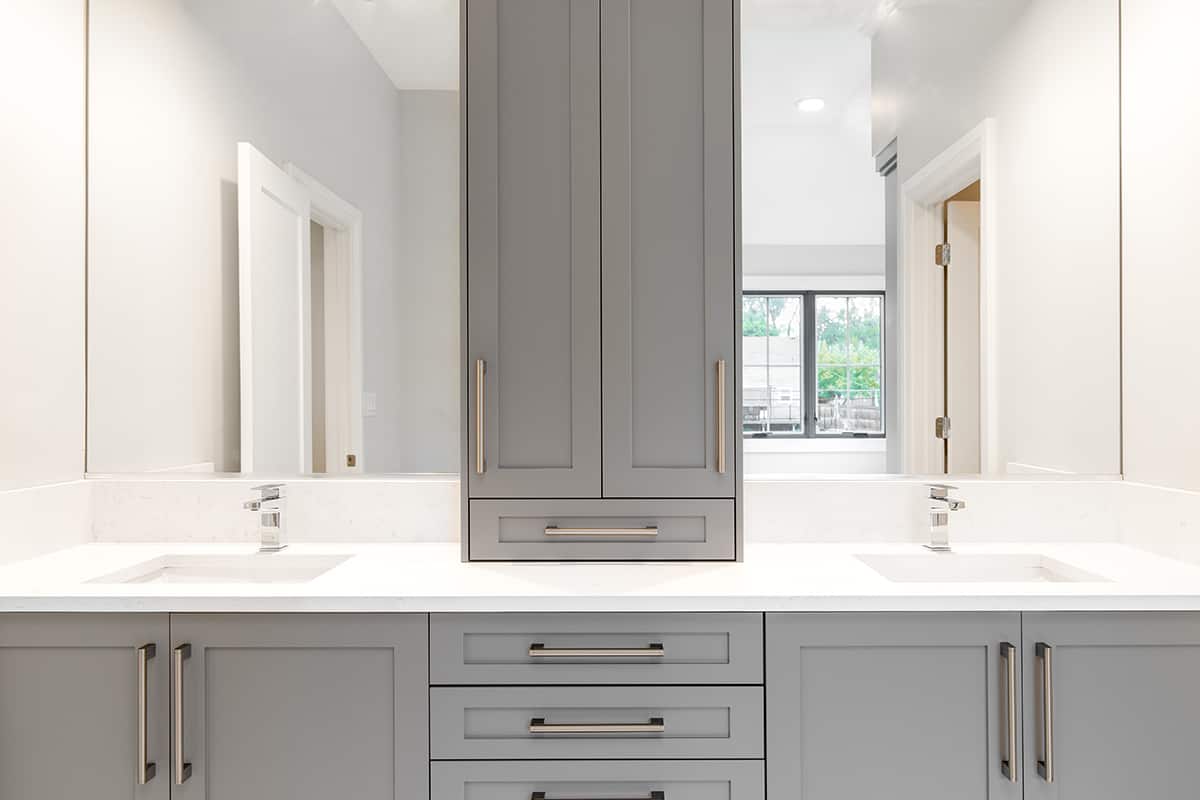 Light gray is another shade that is modern and stylish without being bold or potentially offensive. It is a neutral and bright shade that works well in small rooms to create a feeling of space and airiness, or it can make a nice contrast against rooms with dark walls.
Choose light gray as a paint color for bathroom cabinets if you are going to paint your walls in a bold color and want an easy cool neutral for the accents. Soft dove gray shades will work well or opt for a gray that is so pale it is almost off-white.
If you would prefer a more moody look in your bathroom, then pair light gray bathroom cabinets with wall colors such as dark gray in deep and saturated shades.
Gray is such a versatile color when it comes to interior design, as it can go well with almost any style and a variety of other shades. Light gray can be used to tone down a bright bathroom or add a classic feel to a more simple style bathroom.
Gray presents a more modern take on neutrals, so if you want to bring the style of your bathroom up-to-date, then choose a light gray cabinet over warm neutrals like beige or brown.
If your bathroom does not get a lot of natural light, then this may be the one time when you want to avoid using light gray in your interior design color scheme.
This is because despite being a neutral color, gray typically has cool undertones, which can make a space feel unwelcoming and clinical if it lacks natural daylight.
If you have your heart set on gray cabinets despite having a dimly lit bathroom, you can opt for a warm shade of gray. This will be a gray color that has brown, orange, or yellow undertones. Use warm shades of light gray for your bathroom cabinet and coordinate it with shades of taupe, brown, or green.
Pastel blue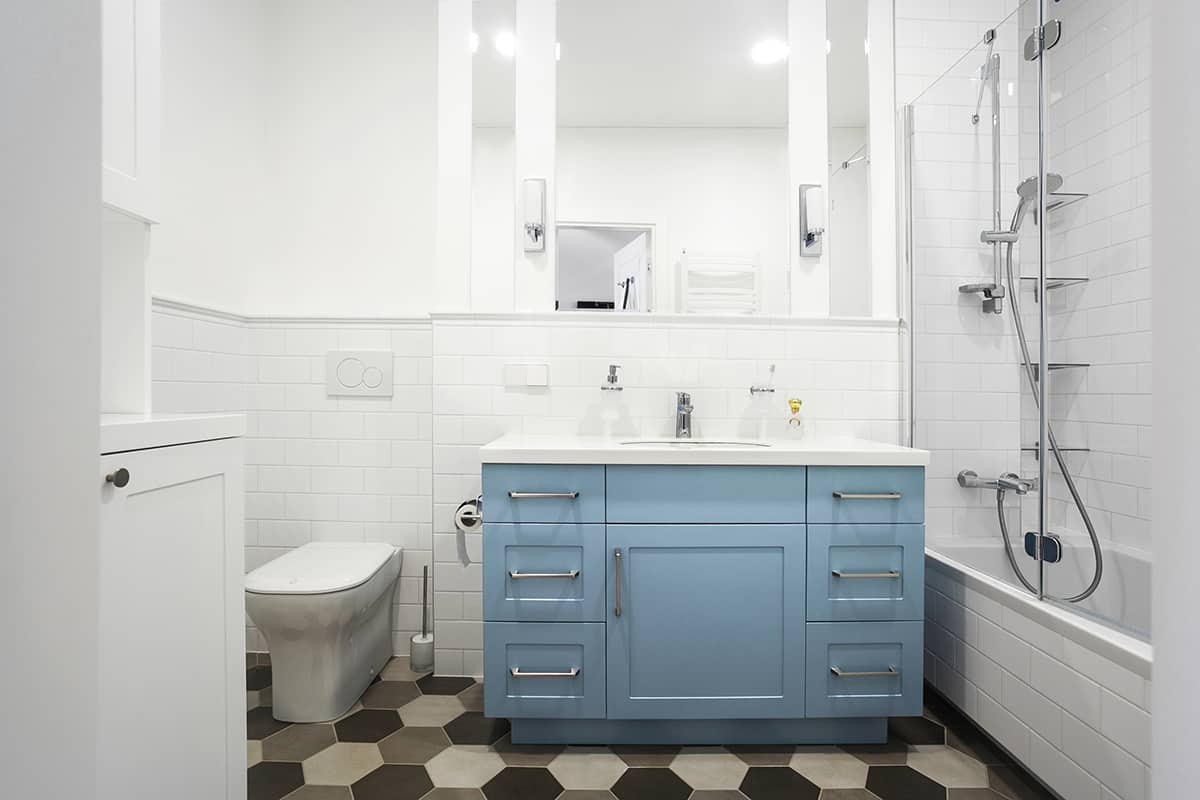 Blue is a color that has long been popular in bathrooms since it is associated with the ocean and the coast, much like bathrooms which are the predominant source of water in our homes. Create a contemporary beach style in your bathroom with off-white walls and a pastel blue painted cabinet, along with gray marble tiles and pastel blue towels.
Blue is a soothing and calming color, especially in pastel tones, which makes it ideal for a relaxing bathroom with a large bathtub where you can unwind and wash away the day. Pastel blue bathroom cabinets will also look great with sage green accents or peach decor.
Navy blue
This dark shade of blue can be used for bathroom cabinets to achieve a number of styles. Pair it with gold accessories such as a soap dispenser and towel hook for a luxury glam look, or opt for a white marble counter on the vanity unit and white fluffy towels for a modern hotel vibe.
Navy blue can work as a neutral, so it's a good option if you want to paint your bathroom cabinet in a color that feels new and fresh without making too much of a bold statement. Coordinate a navy cabinet with a navy bath mat and navy accessories for a sense of continuity.
Forest green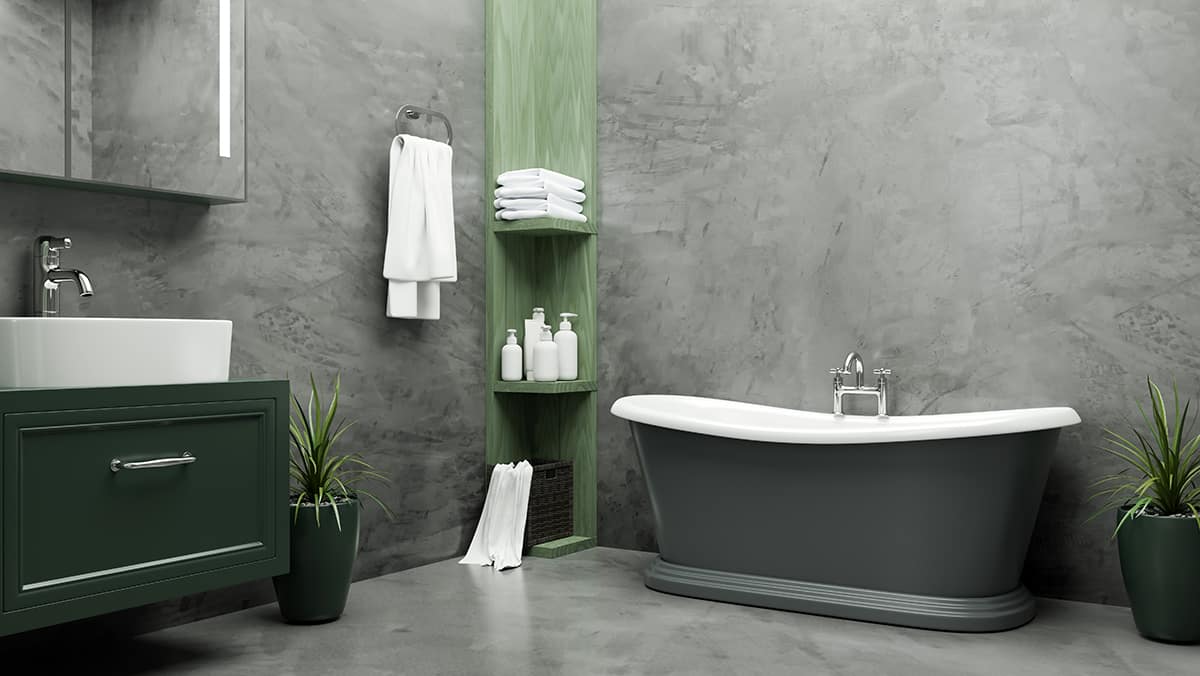 Forest green is a very popular color in interior design right now, but it might not be a color you immediately think of when decorating a bathroom. However, the link to nature makes this color a perfect choice to create a refreshing and invigorating feel in a bathroom.
Paint the cabinet in forest green and coordinate this with other shades of green, such as houseplants on the bathroom windowsill and dark green floor tiles. For an earthy feel in the space, paint walls in beige and opt for gray towels, or for a glam rainforest style, paint walls in tan, fix a gold-framed mirror to the wall, and use leopard print towels.
Sage green
Sage green is a muted shade of green that is great for creating a cool and soothing feel in a bathroom. Add a refreshing touch to this color scheme with white towels or a luxe vibe with bronze handles on the sage cabinet.
For a natural feel, use a matte finish of sage green paint on the cabinet and a distressed wood countertop with a protective coating to prevent water damage. Sage green will work well with a soft gray color scheme, or choose charcoal gray for a more dramatic effect.
Greige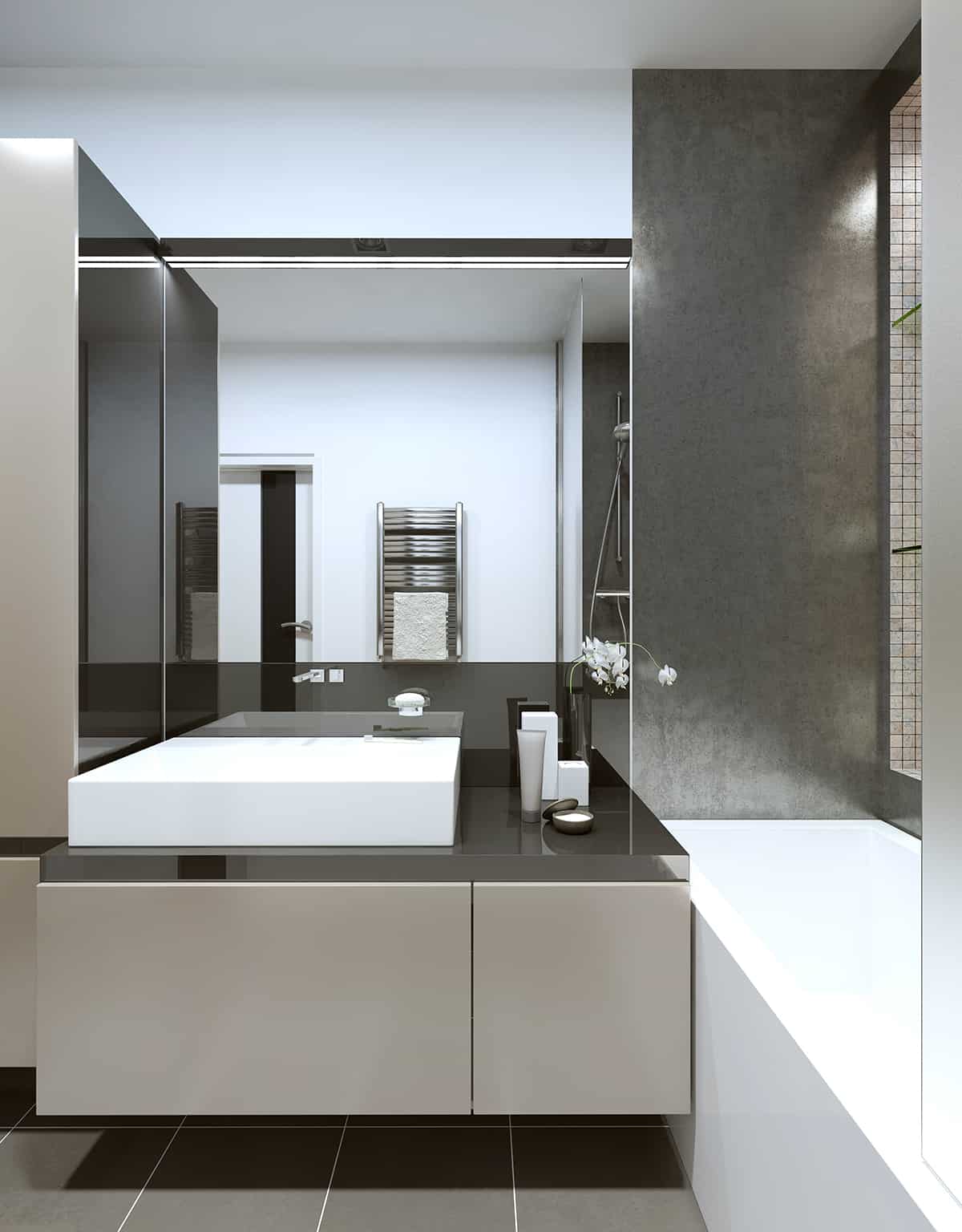 Greige is one of the most popular colors of the moment in interior design, combining the classic neutral look with cool undertones for a modern feel.
Use greige paint on a bathroom cabinet and match this to a greige-colored wall and floor tiles. Black accents will look sophisticated with greige, or choose white accessories for a more laidback effect.
Beige
If you want your bathroom to feel warm and classic, then beige is a good cabinet color choice. This is a neutral color that comes in a variety of shades that can work for both small and large bathrooms.
Opt for a brown marble countertop on the vanity unit, rich brown towels set against beige walls, and a beige-painted cabinet. Keep the color scheme neutral for a spa theme, or add accents of another color to add a more personal touch to the space. Green or blue accessories would work well for candles or plant pots in the bathroom.
Dark beige bathroom cabinets can add drama to a space and make it feel more intimate, while paler shades of beige can create a warm yet uplifting feel. Beige bathroom cabinets can look very chic with white walls. Tie in the beige cabinets with the rest of your color scheme by adding beige accents such as towels, soap dispensers, or candles.
If you have a predominantly brown bathroom, then beige cabinets can create a nice contrast without being too stark or bold.
If your bathroom is quite small, then consider painting the walls the same color as your cabinets, as this will help the cabinets to fade seamlessly into the background rather than stand out. This visual trick can create the look of a larger bathroom, even in a small space.
Brown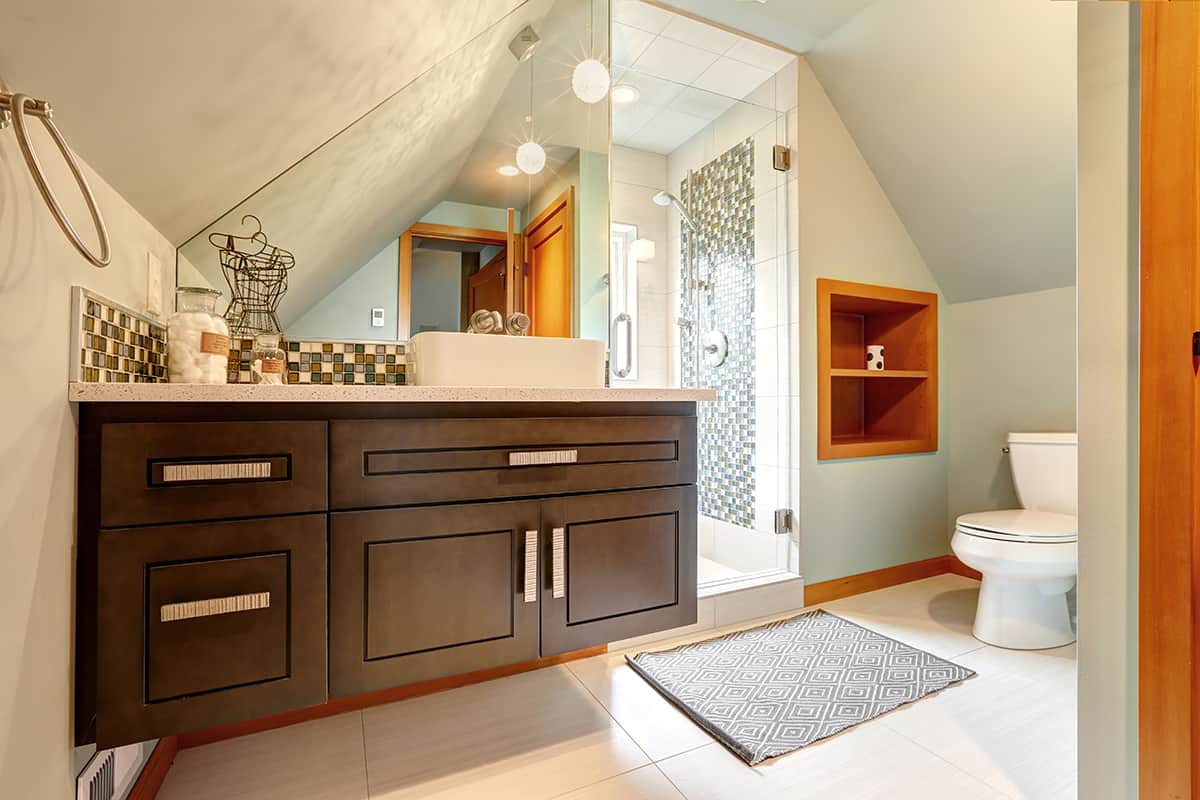 A brown bathroom might initially sound drab, but if you pick the right shade of brown and incorporate luxury textures, then the result can be beautiful. Choose an espresso brown paint color for the cabinet and tan paint for the walls.
White towels will look fresh and clean against this warm color scheme and create a style you might expect to find in a high-end hotel. Use matte finishes for an earthy atmosphere or glossy surfaces for a sleek look.
Blush pink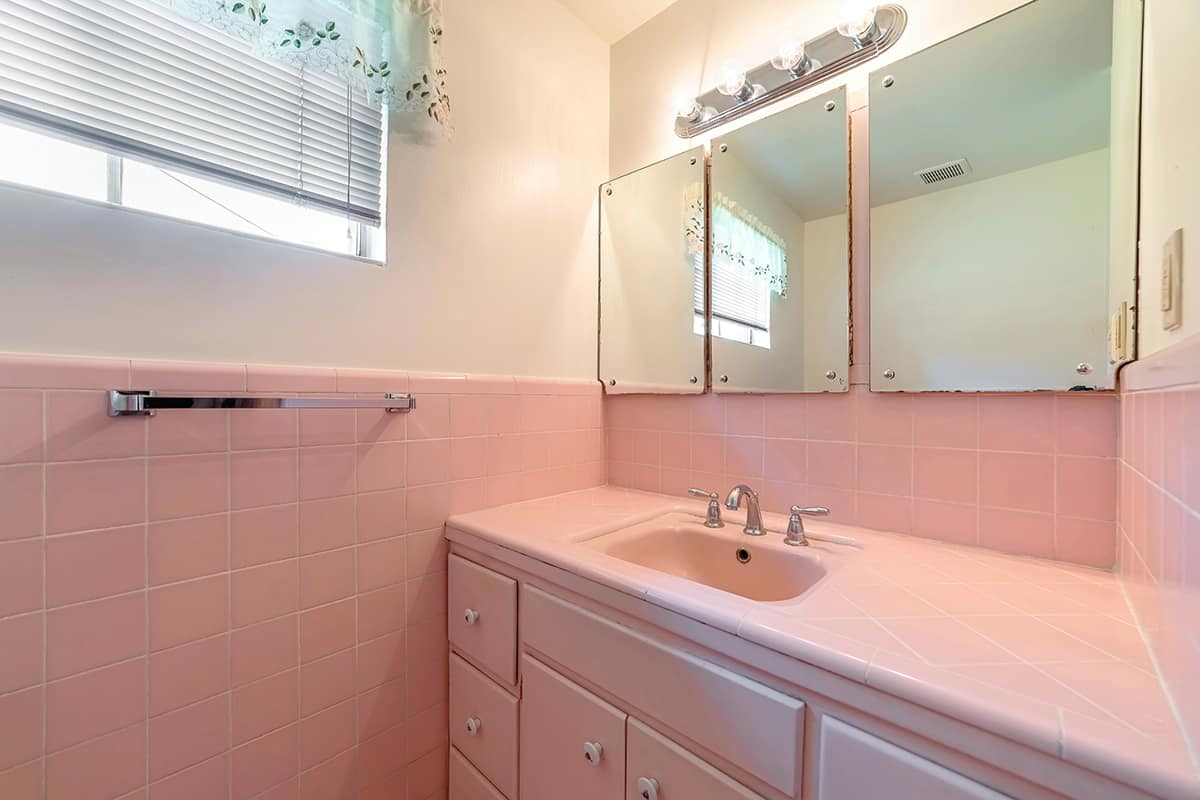 Blush pink, also known as millennial pink, is a muted and dusky shade of pink that is very on-trend. Use this color to update bathroom cabinets with a subtle feminine look that is contemporary and sultry.
This color works well with so many other shades; use it with dark blue walls for a stylish contrast or with gray for a cool modern look. Match the paint color to the color of your bathroom towels for a consistent color scheme.
White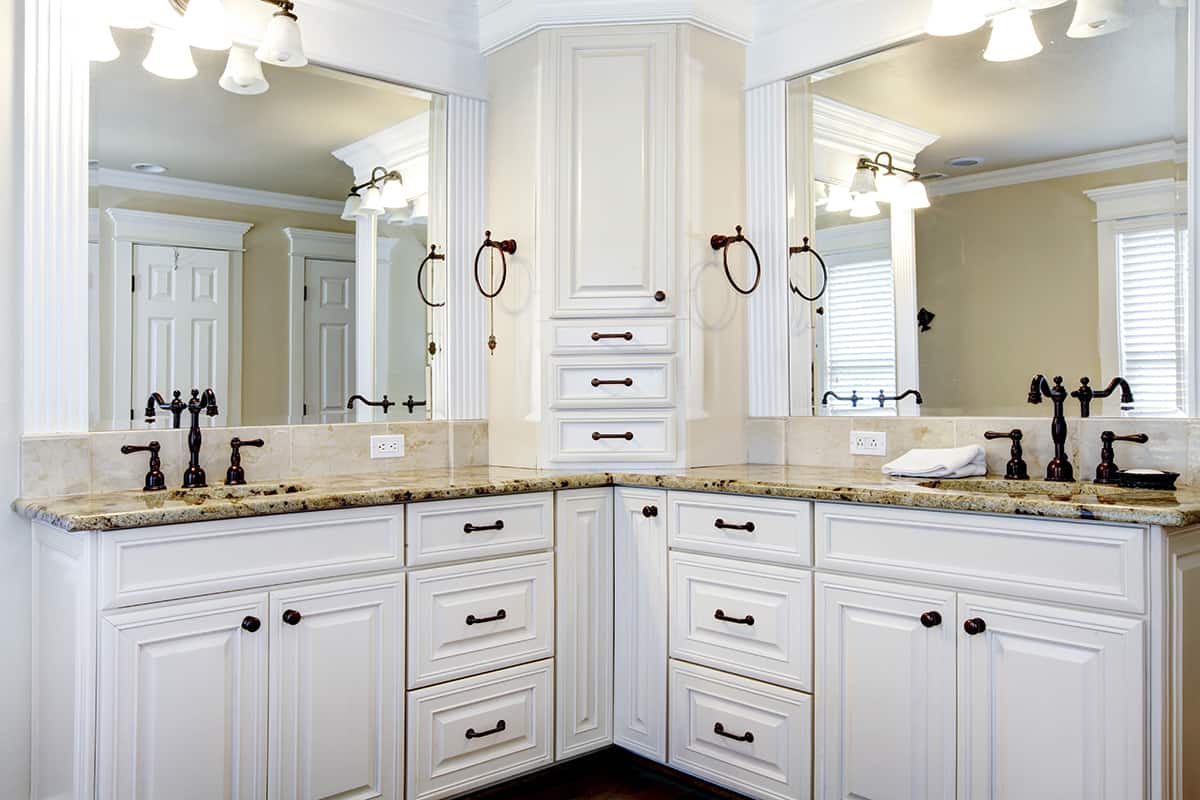 If you want to make your bathroom cabinet fade into the background, then paint it in white to match white walls. This will make the cabinet appear to be receding into the wall and can make the bathroom look bigger, so it's a good trick to use in small spaces.
Use a bright color to add a fun personality to the space, such as lime green or aqua blue towels, or opt for neutral tones like beige or gray to keep the color scheme simple and classic.
Black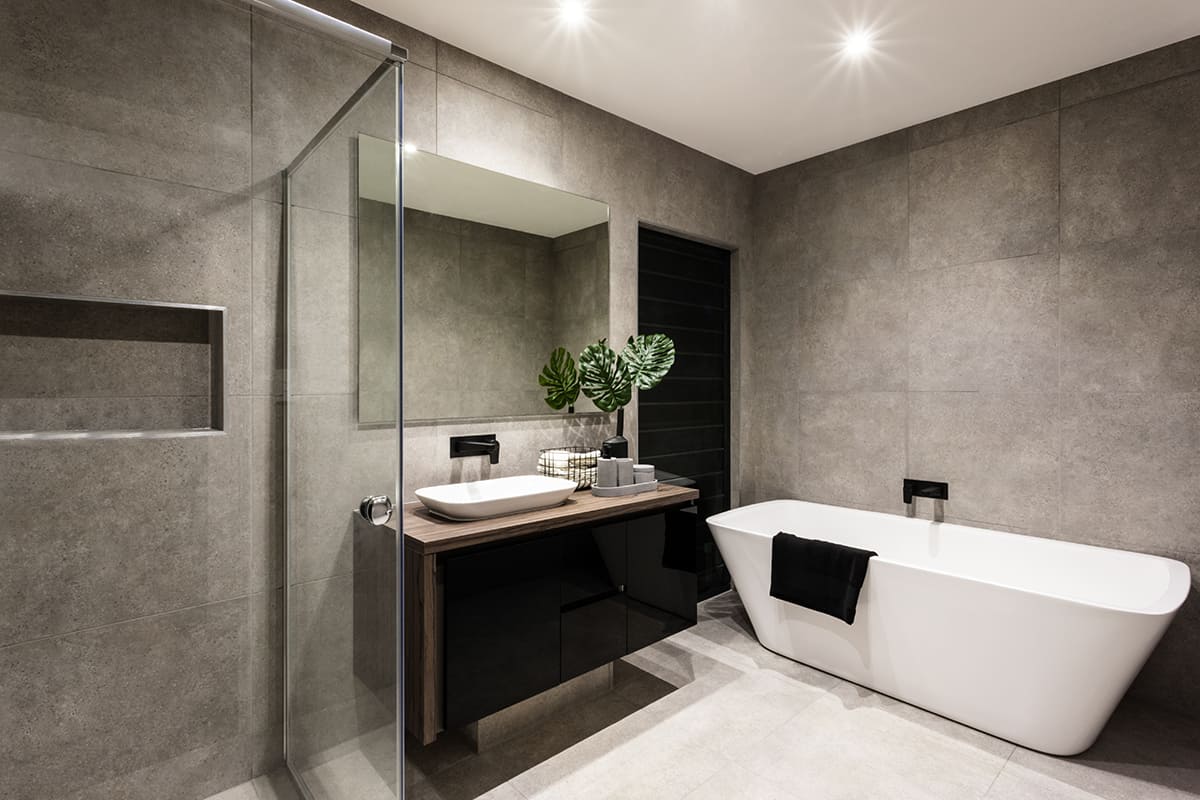 Painting trim and interior doorways in black is a trend that is growing, and you can extend this to also include kitchen and bathroom cabinets. Black painted cabinets will look sophisticated and dramatic.
Black will work with any other color, so when painting cabinets in black, you are guaranteed that they will work with the rest of your color scheme. Black cabinets against dark green walls will create an intense atmosphere, or set black cabinets against off-white walls for a contemporary monochrome style.
Mirrored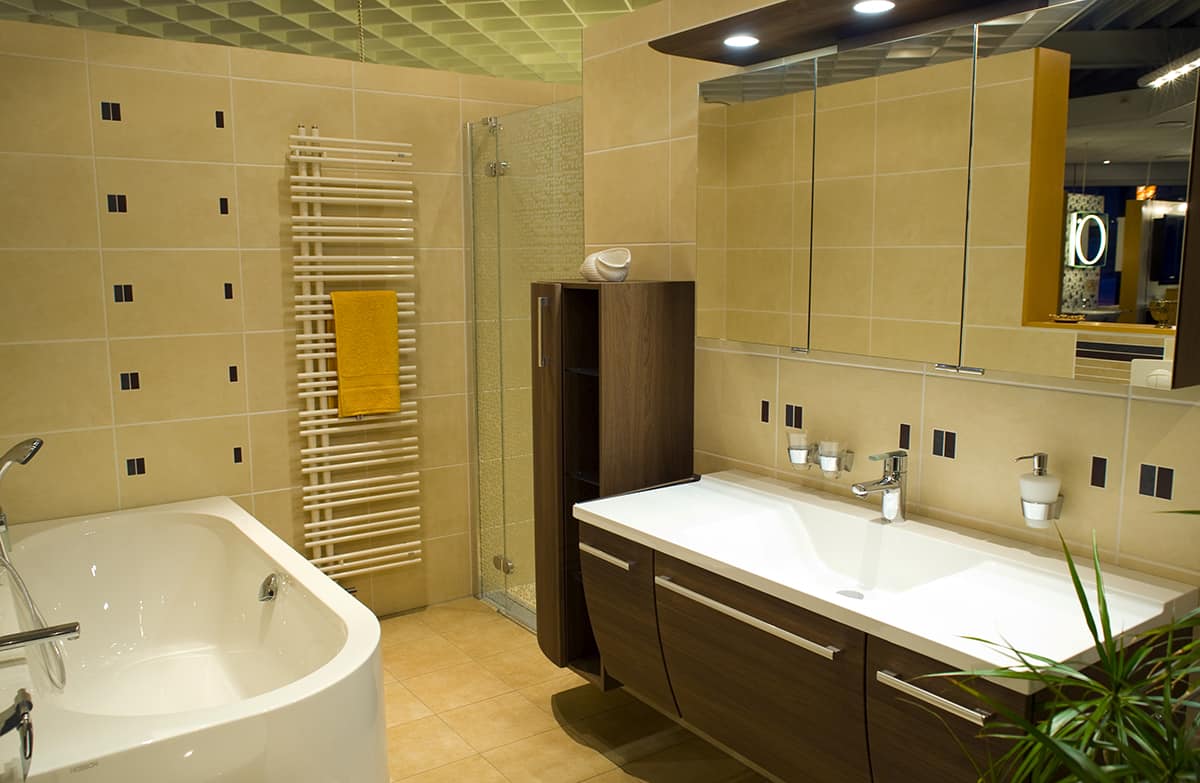 Bathroom cabinets which have mirrored doors once very on-trend however some people now find that they look dated or old-fashioned. However, mirrored bathroom cabinets can be very functional and practical.
If you have a bathroom cabinet at head height above your sink where you store your toiletries and toothbrushes, then having a mirrored door means that your cabinet will double up as a reflective surface for you to get ready.
Mirrors also reflect light and can make a space feel much bigger than it really is. Mirrors add additional depth to a room which can be extremely useful in small bathrooms.
Wooden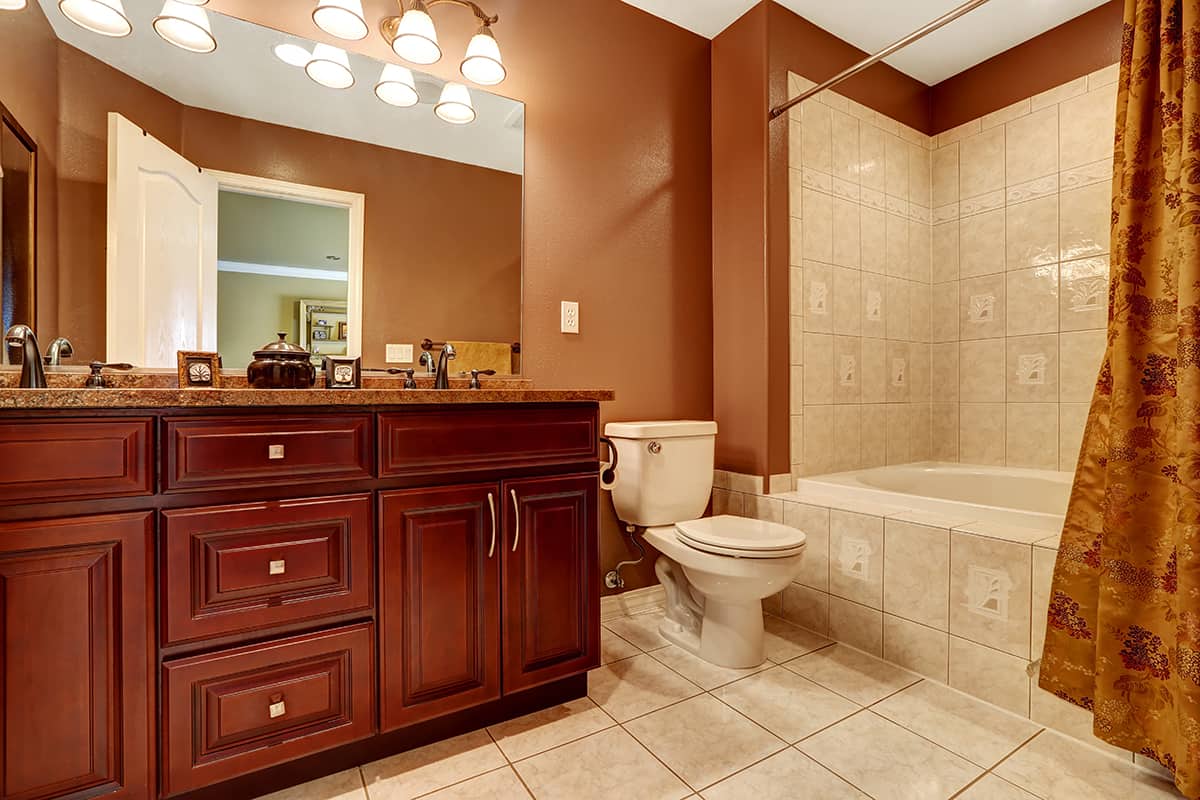 Bathroom cabinets with wood front doors or panels can add real warmth and character to a space. If you find that your bathroom feels cold or uninviting, then adding wooden textures can really improve this dramatically. Types of wood with warm undertones such as oak and walnut will instantly bring a sense of comfort to a bathroom.
However, you can also add wooden cabinets in cooler tones to your space, and the impact of the wood grain will add texture and warmth.
Wooden bathroom cabinets can look traditional or modern, depending on your styling. Avoid trying to match types of wood in your bathroom and instead opt for a tile or vinyl floor over a hardwood flooring surface in a room with wood-fronted cabinets.