An ottoman is a piece of upholstered living room furniture. It usually matches other furniture, such as a sofa or armchair, but this isn't always the case. An ottoman can be bought as a separate item. If you are going to buy one for your living room and are wondering how tall it should be, we'll give you an answer in this article.
Depending on the purpose used, the standard ottoman height can vary from 13 inches to 18 inches. Here are the suggested dimensions.
Footrest: 13″ – 18″
Extra Seating: 15″ – 18″
Coffee Table: 16″ – 18″
Storage: 16″ – 20″
History of An Ottoman
Ottomans were introduced into Europe in the 18th century from Turkey, the center of the Ottoman Empire. Europeans adopted the piled cushion layout – which typically lined a majority of a room's wall space – and made it into a smaller version that could be placed in the corner of a room. With time, ottomans became available in various choices – shapes and sizes to fulfill multiple purposes.
Today, the modern ottoman is used to put your feet up, sit on, as a table upon which you can rest items, or for storage. An ottoman, which is also called a footstool, pouf, hassock, or tuffet, is also simply bought as a decorative element.
Standard Ottoman Height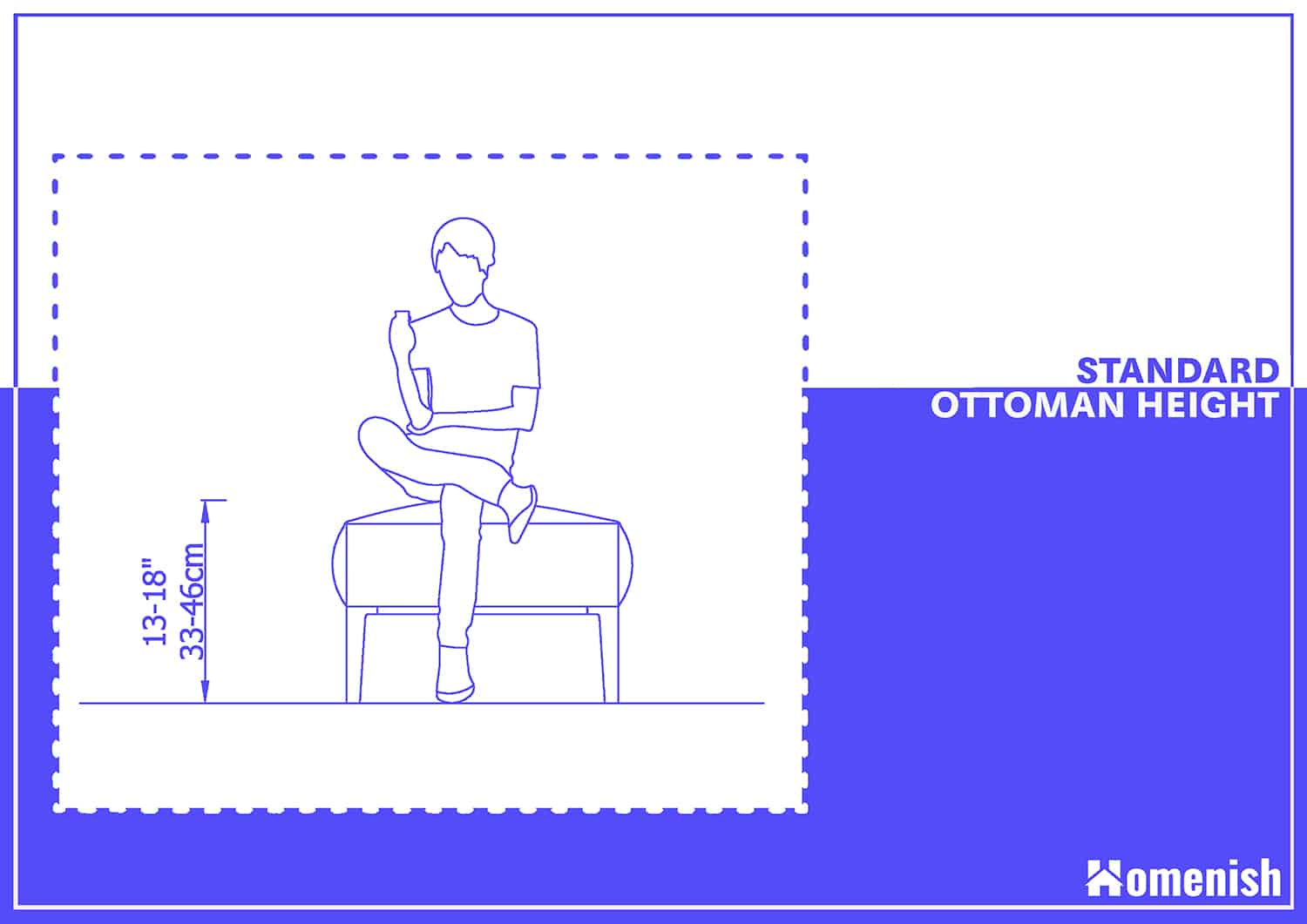 The right height for an ottoman depends entirely on how you want to use it. You may simply want a small and low rectangular ottoman with just enough space for you to rest your feet. Or you could be looking for a larger size with plenty of storage space or one that you can use as a coffee table.
What you also need to keep in mind when deciding on the ideal ottoman height is the size of other furniture pieces in the room.
If you have a low couch, a too-tall ottoman will look awkward and throws off the room's balance. You'll find that an ottoman with an average height range from 13 to 18 inches will cover most uses. Still, you can always go about 2 inches lower or higher if this is a better fit for your needs.
You can apply some general rules of thumb for the ideal ottoman height and its height to a sofa or couch for different purposes. Let's see what some of these are.
Ottoman Height for a Footrest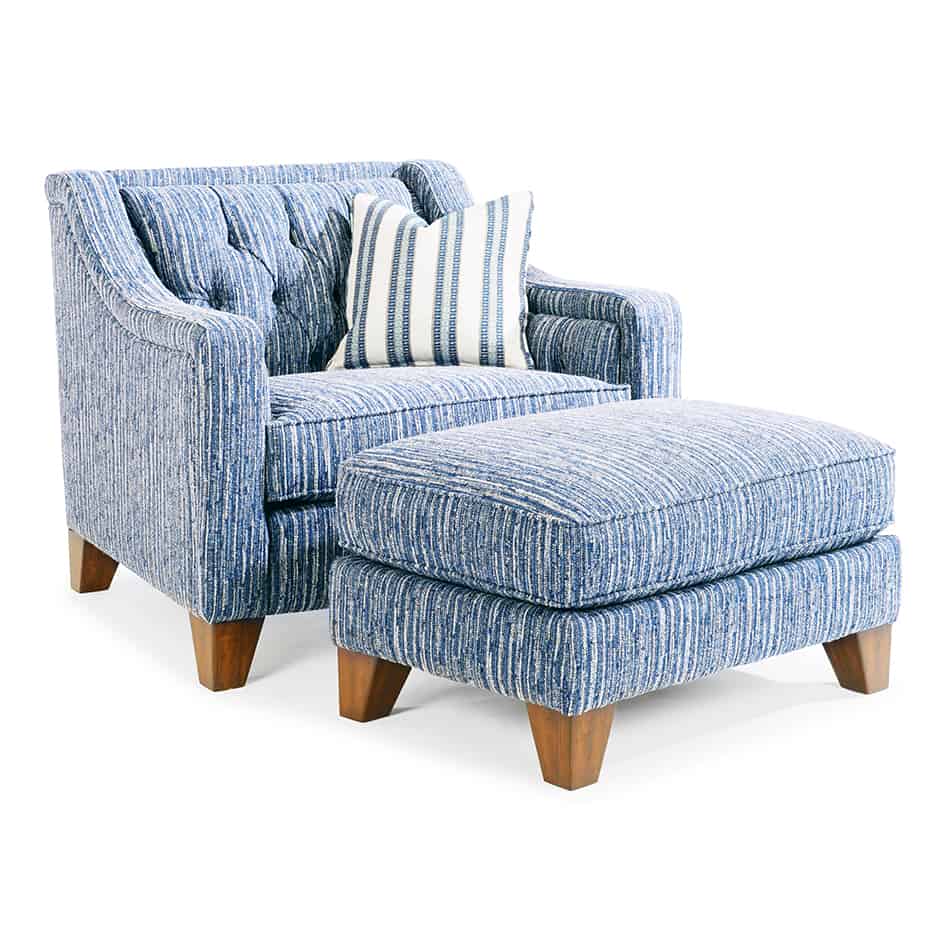 Ottomans are commonly used as footrests. The feeling of being seated with your feet propped up is relaxing and comfortable. However, an ottoman whose height doesn't pair well with the size of the couch or chair you're sitting on could achieve the opposite effect.
An ottoman that's too high or too low will put unnecessary pressure and strain on your hips and back. You're better off choosing a footrest ottoman that is slightly shorter than or the same height as your sofa to ensure you get the proper support.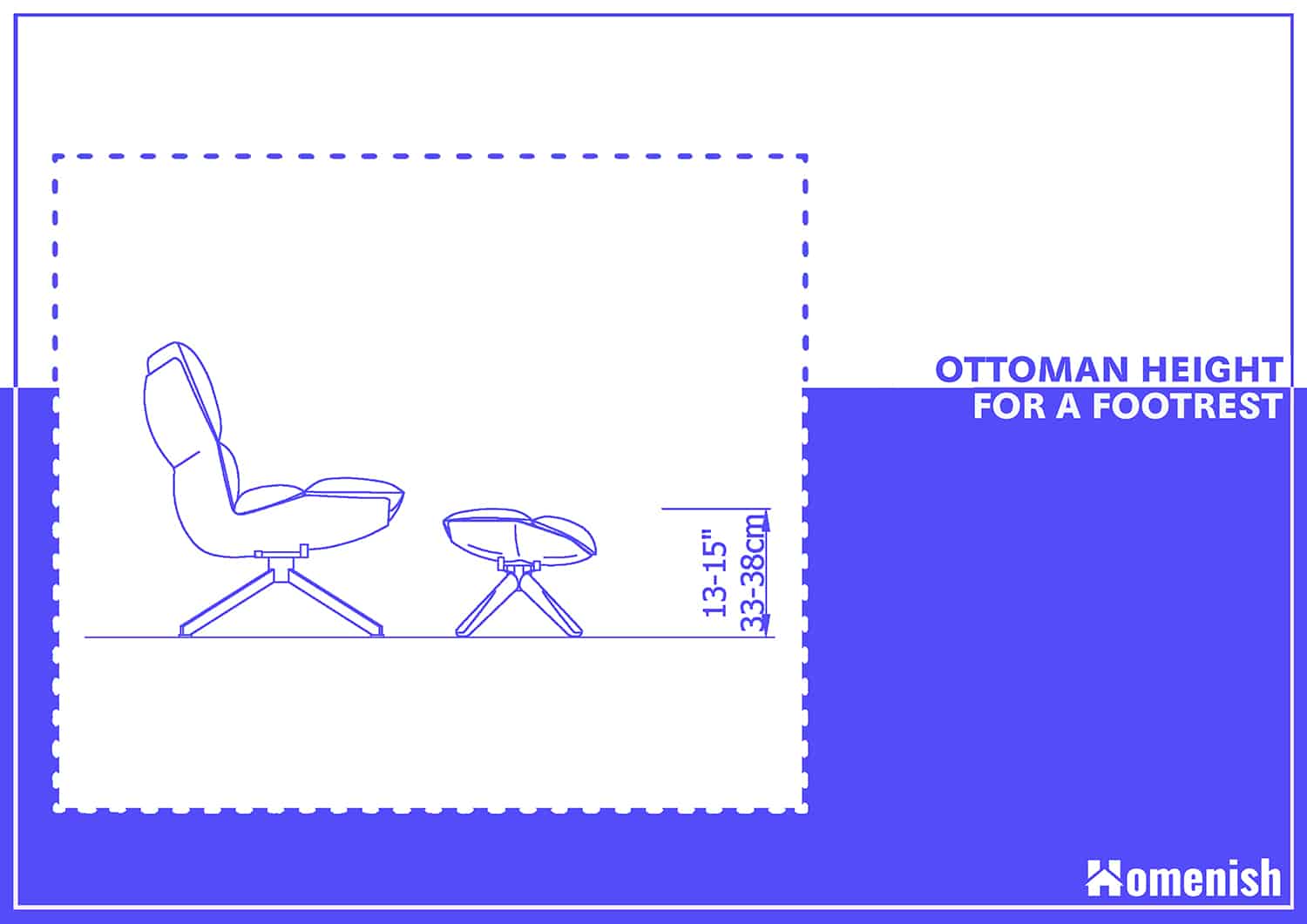 Standard sofa seat heights range from 15 to 19 inches. For couches around this size, a small pouf ottoman between 13 and 18 inches high will work well.
Poufs are usually round, soft, and compact, so it's easy to find space for them or move them around to different seating areas.
Ottoman Height for Extra Seating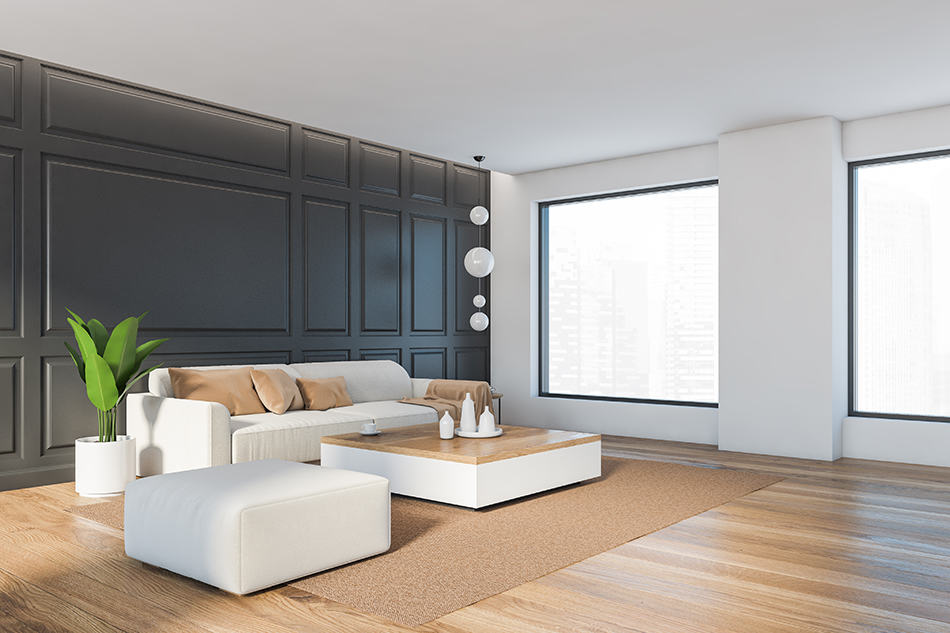 Like many modern furniture pieces, a single ottoman can be used for more than one thing. If you find yourself running low on seating space when you have guests over, your ottoman footrest can double as an extra space. In this case, the minimum height should be 15 inches.
Avoid an ottoman that is lower than this. At less than 15 inches high, the ottoman is too close to the ground and isn't pleasant for the average adult to sit on for lengths of time.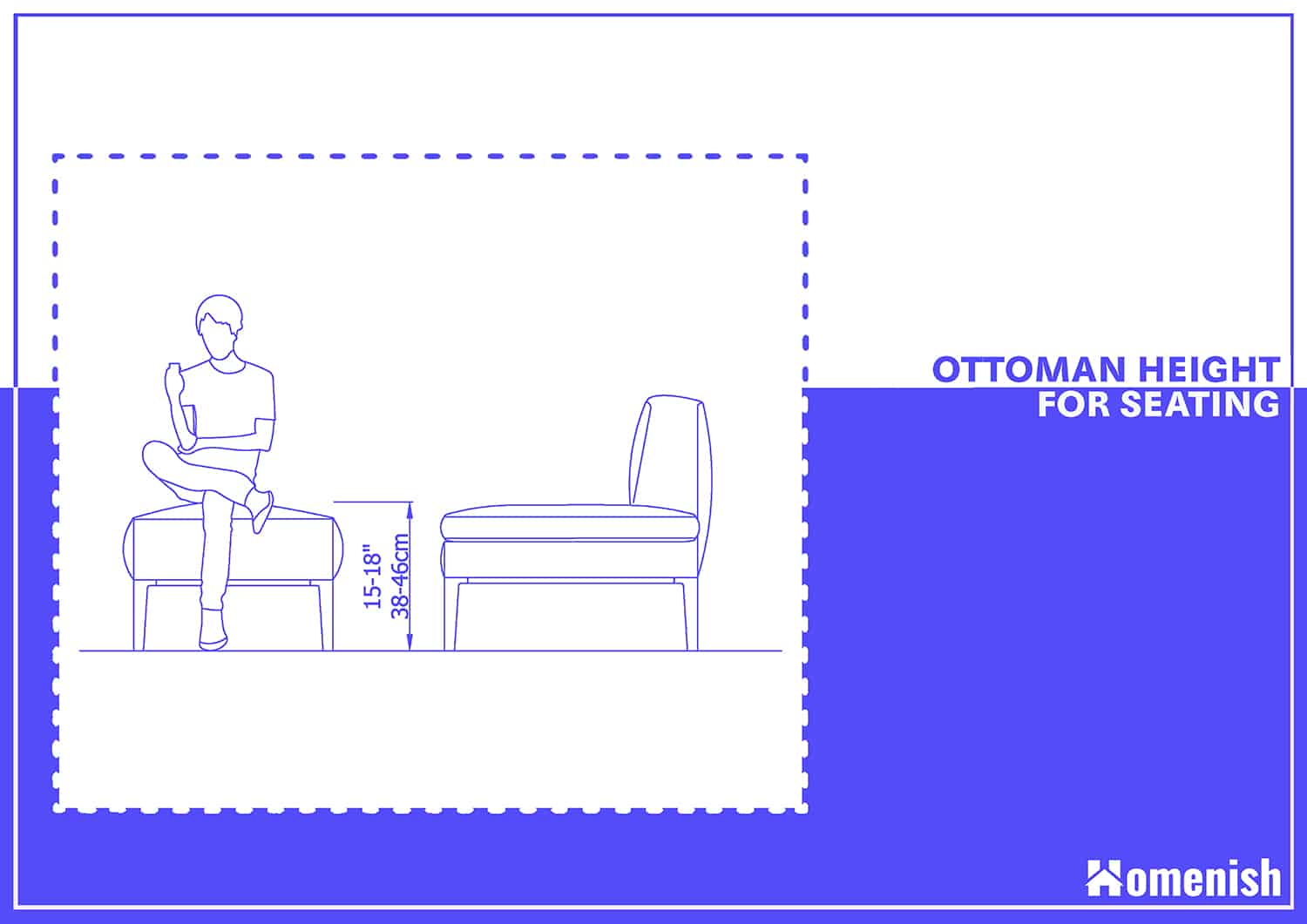 If you want a taller ottoman, don't go over 18 or 19 inches. This will be about the same height as your sofa, so a person sitting on the ottoman will be at the same height as everyone else. If you know in advance that the chances are high of your ottoman being used as seating, it's ideal to buy a sofa or modular couch that already has a matching ottoman.
That way, you don't have to worry about finding one that's the right size later.
Ottoman Height for a Coffee Table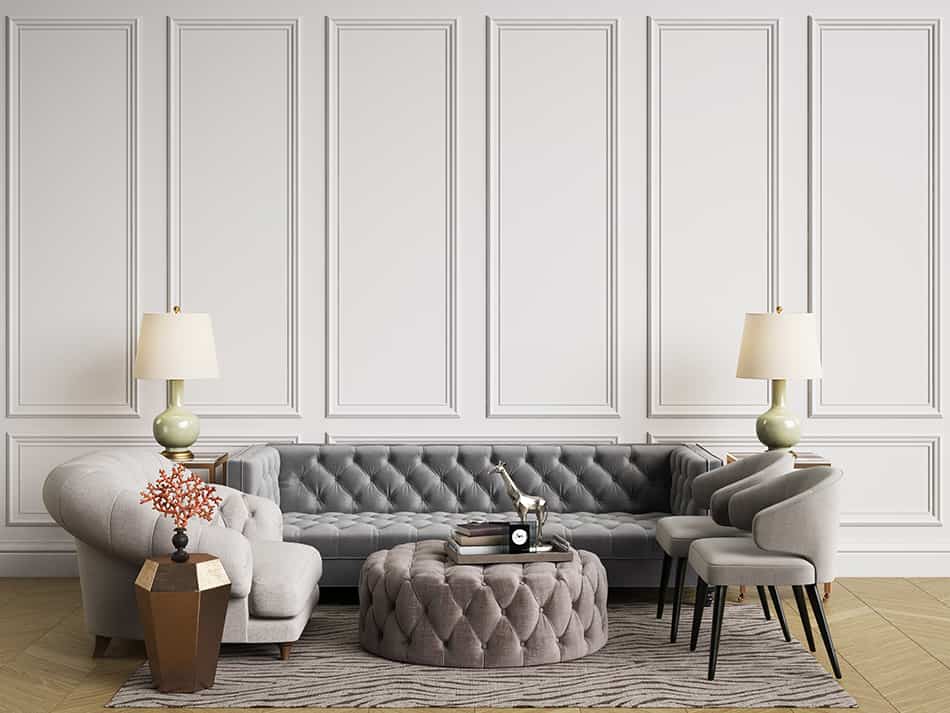 An ottoman can be a creative coffee table placed by a sectional or traditional sofa & couch, giving your room a warm and relaxed feel compared to a traditional wooden or glass table. Also, if you have toddlers in the home, a fabric or leather ottoman could be a better option to use as a coffee table as it has soft edges that won't cause as much hurt when bumped.
Depending on the size of your room, a medium or large ottoman makes a great table. Look out for one with foam cushioning that creates a flat and even surface so that items resting on top of it don't fall.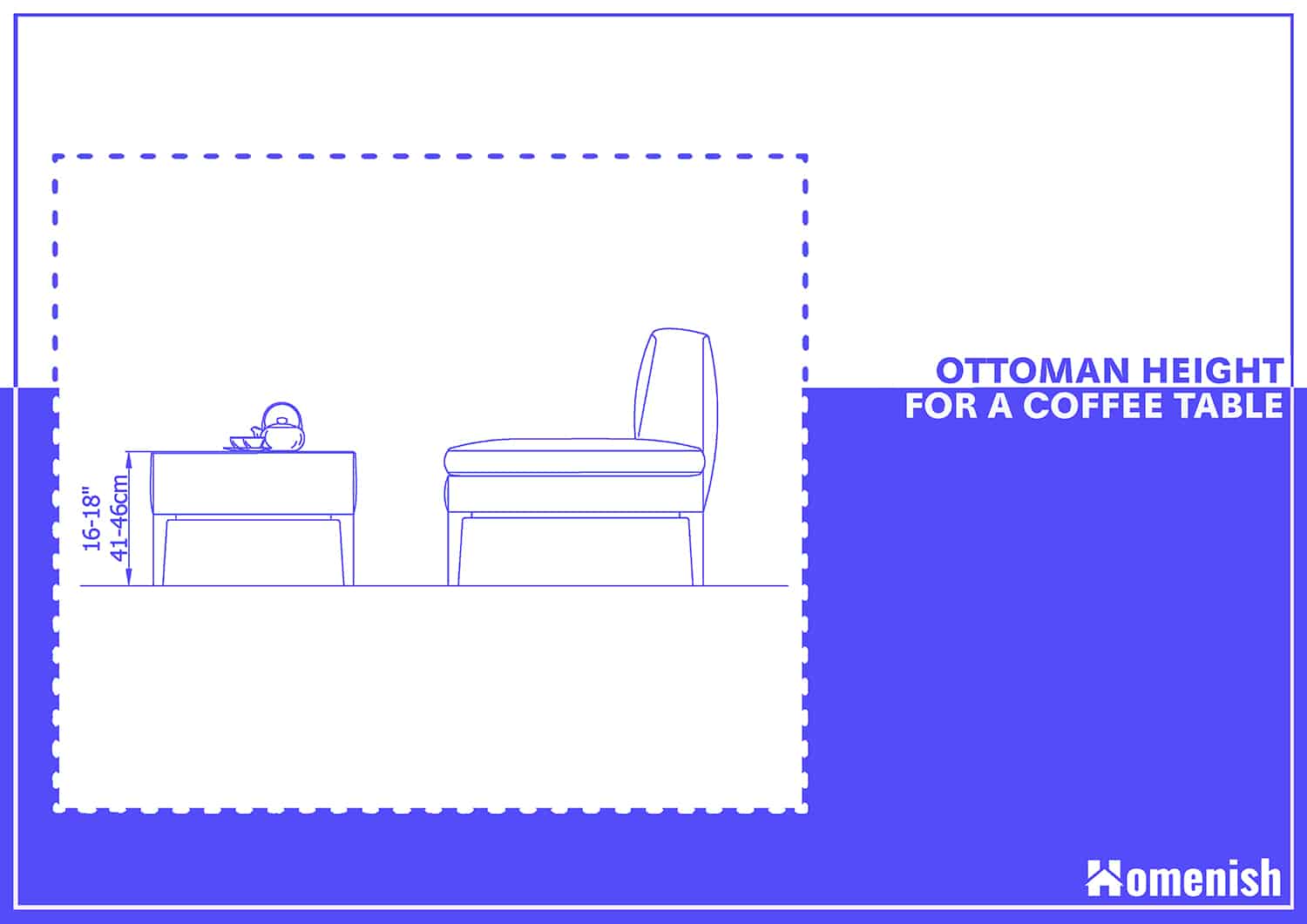 Your ottoman coffee table should be 16 to 18 inches tall, which is about 1- 2 inches lower in height than your couch. Keep in mind that you'll need to leave some space around the ottoman so there's enough space to walk around it.
You can refer to the coffee table size if you decide to use your ottoman as a coffee table.
Ottoman Height for Storage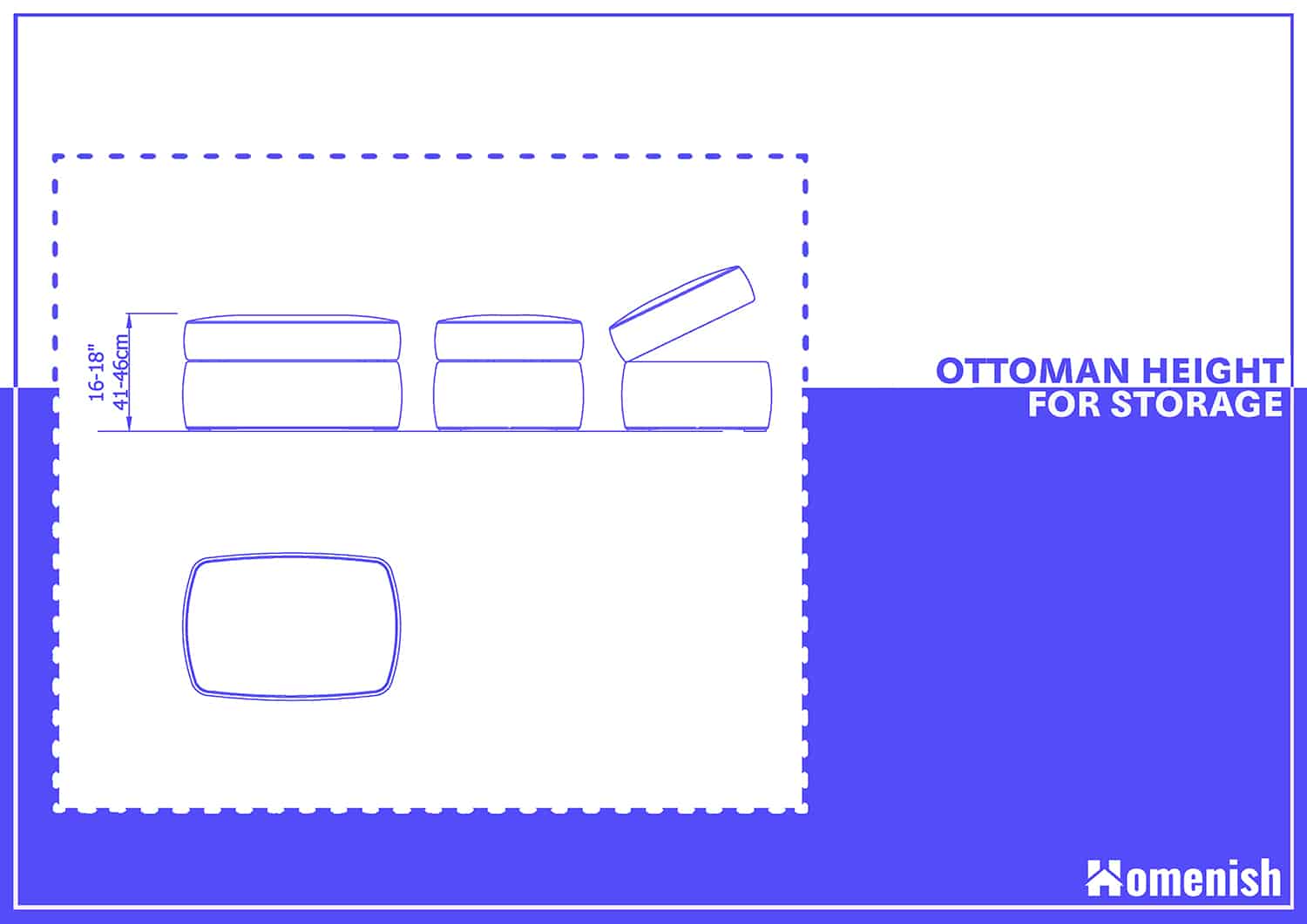 Ottomans with built-in storage space need to be quite large if they have enough space to store items in them. They're a neat and convenient solution for packing away books, pillows, blankets, and children's toys, depending on where you use them.
In a bedroom, rectangular storage ottomans positioned at the foot of a queen or king-size bed are a trendy décor style.
And in a lounge or sitting room, a chunky ottoman with a removable or hinged lid can be used as a coffee table and stash away clutter. In fact, large ottomans are probably the most versatile. They can also easily be used for additional seating space or as a footrest for more than one person.
Like the coffee table ottoman, the ideal height for a storage ottoman ranges between 16 and 20 inches.
Key Takeaways
Modern ottomans are excellent multipurpose furniture items that can also beautify your living spaces. While there are no hard and fast rules for choosing the right ottoman size, it's helpful to consider a few things. How do you intend to use your ottoman?
How does it fit into your overall room setup? Is the comfort of high importance or a nice-to-have? If you have clear answers to these questions, you'll find the process of finding an ottoman with an ideal height much simpler!