A bathroom is usually the smallest room in the house, but it doesn't mean it can't be colorful. If you have a small windowless bathroom, you can easily incorporate some bold and bright colors to open up the space and create an illusion of a well-lit room.
There are many paint color options as long as you know which works best with your small bathroom.
To help you decide on the best paint color for a small bathroom with no windows, take a look at our selection right here.
White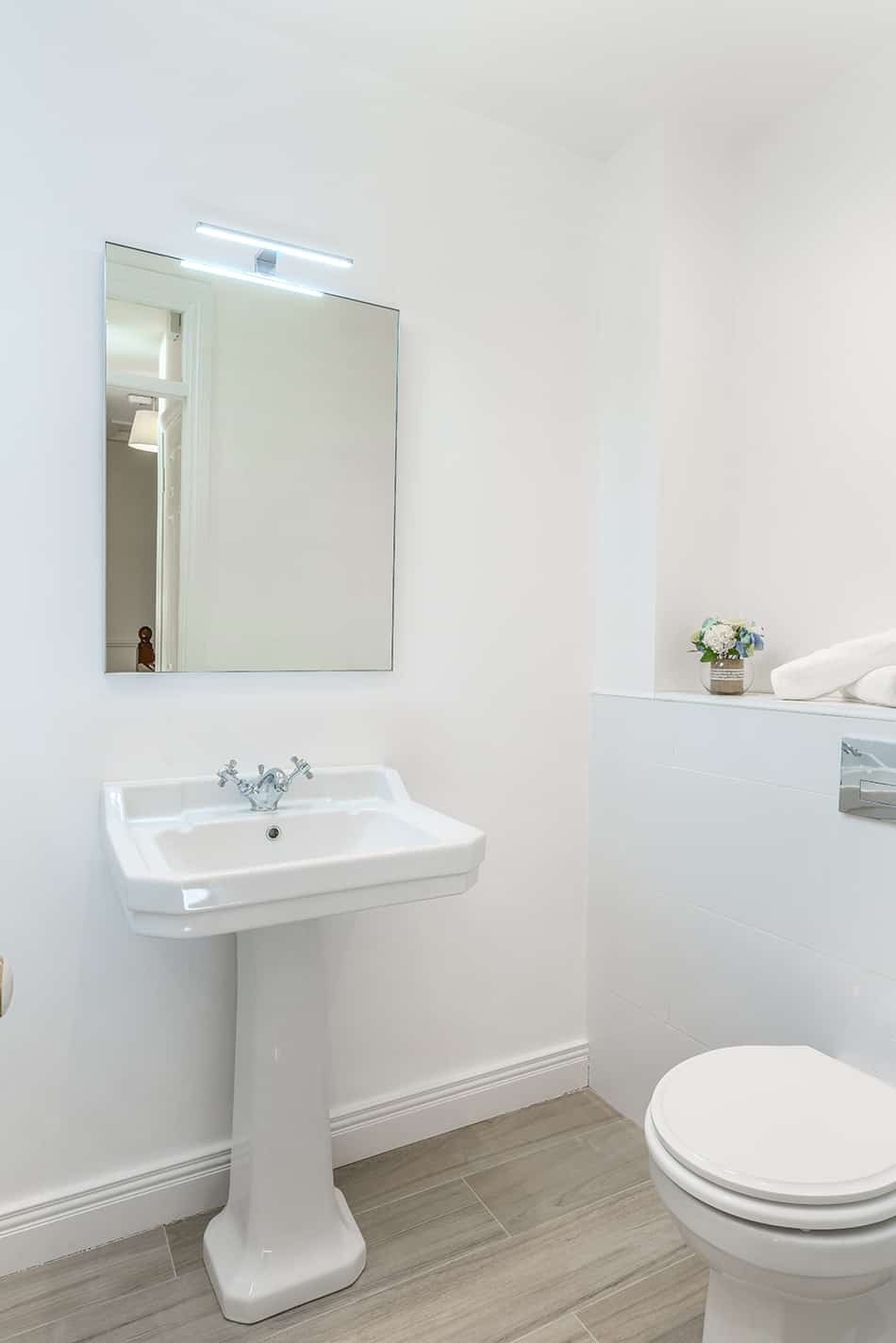 It is no secret that a white paint color makes any room feel lighter and brighter. White is an incredibly versatile color that adds warmth to a small room.
If your small bathroom lacks natural light, go for a cool white paint color or warm white to give your room a welcoming feel. Pure white works best in modern bathrooms or even in country-style ones.
When using white for your small bathroom walls and ceiling, think about the accessories and units that you want to pair with your white bathroom design. For example, white vanities work well with white walls, or you can add some silver accessories to complement the white hue.
Cream or Beige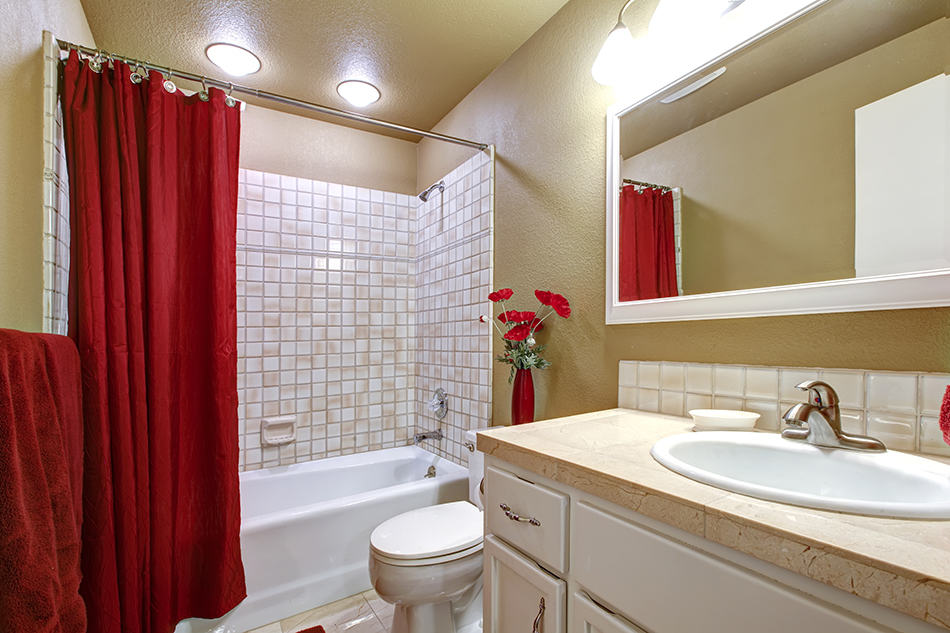 Light neutrals like cream or beige serve as safe hues for a small bathroom. A windowless bathroom will look so elegant with cream or beige walls no matter how small its size.
Beige reflects light, and you can pair it with beautiful gold accessories or mirrors. You may even choose gold-framed cupboards or shelves to complement the beige. Your small windowless bathroom will appear more spacious with this light neutral hue.
In this example, the combination of red and beige works perfectly to brighten up the small bathroom. You won't even notice the lack of windows here, thanks to the subdued neutral hue next to the bold red.
Pale Yellow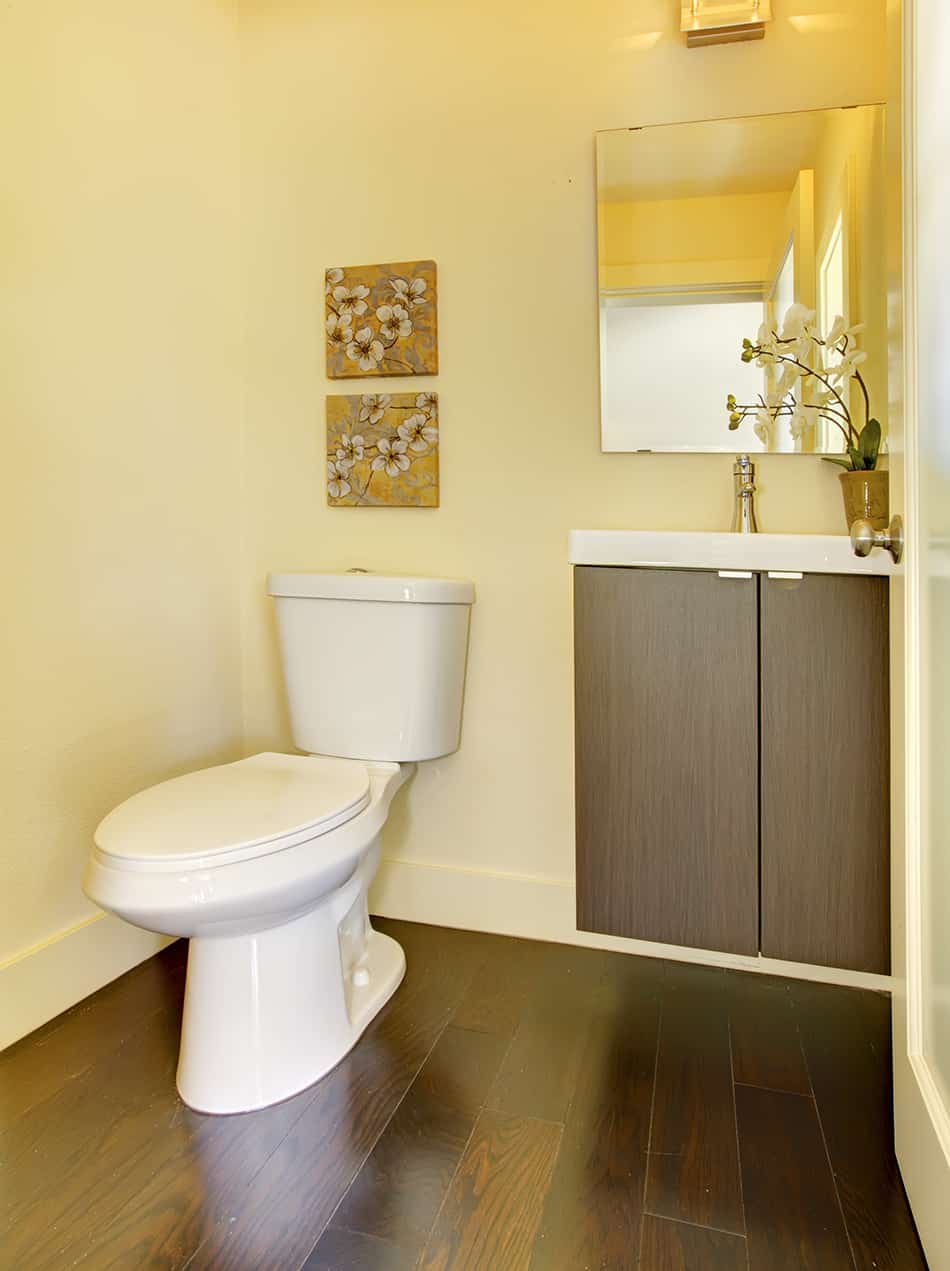 Yellow can be a little overpowering when used in small bathrooms. However, in modern spaces, a pale yellow shade will bring a cheery and bright feel to the place.
Play around with other complementing colors to pair with your soft yellow bathroom to compensate for the lack of natural lighting. Yellow works best when used as an accent or mixed with other accessory colors.
Light Blue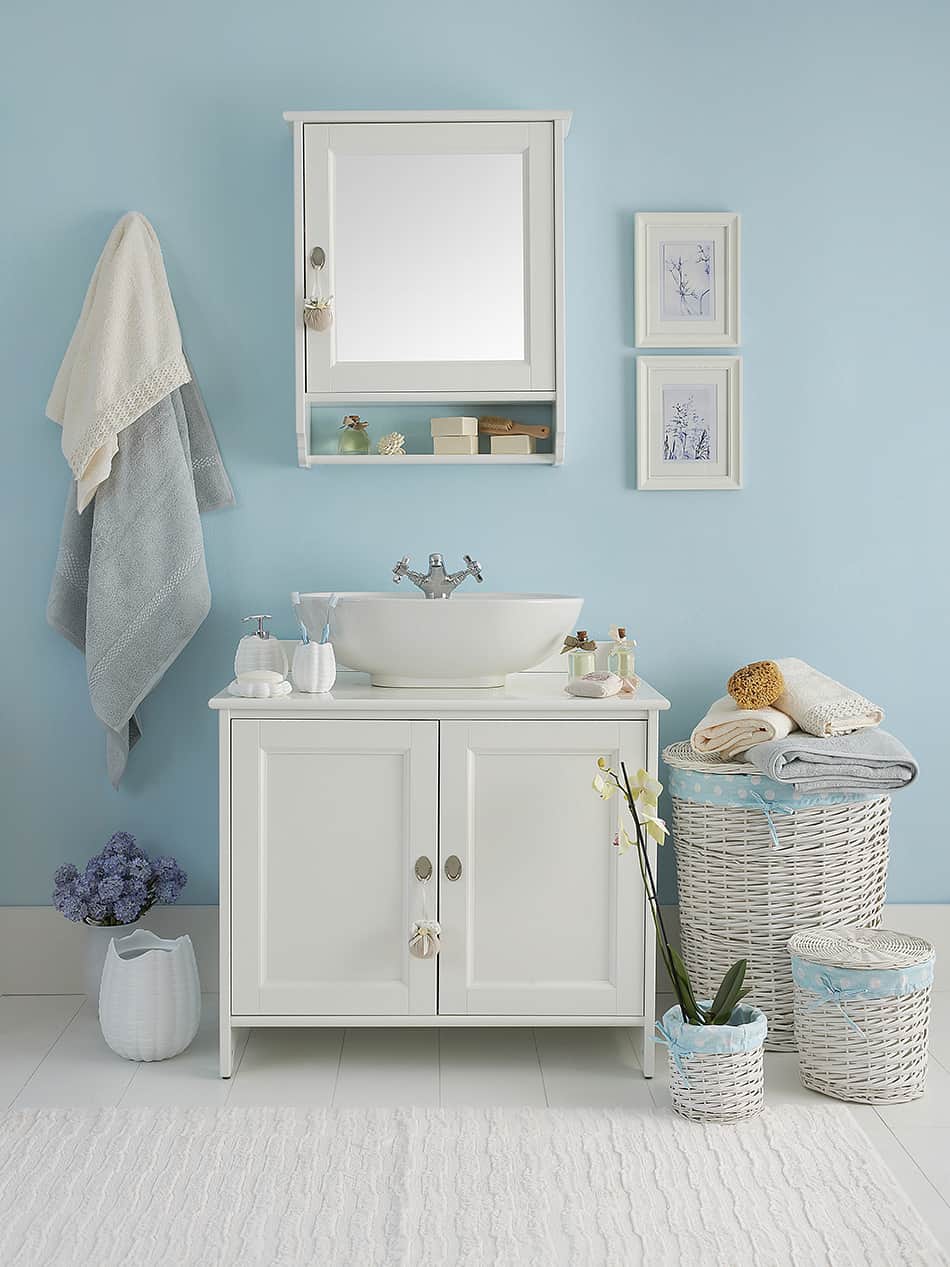 Blue creates a peaceful and relaxing vibe in a bathroom. Any windowless bathroom can benefit from a refreshing shade of blue like turquoise or ice blue.
This hue will add color to your windowless bathroom to make it ultra-vibrant. Here, the combination of blue walls and white vanities has given the small bathroom a calming and relaxing feel.
Pink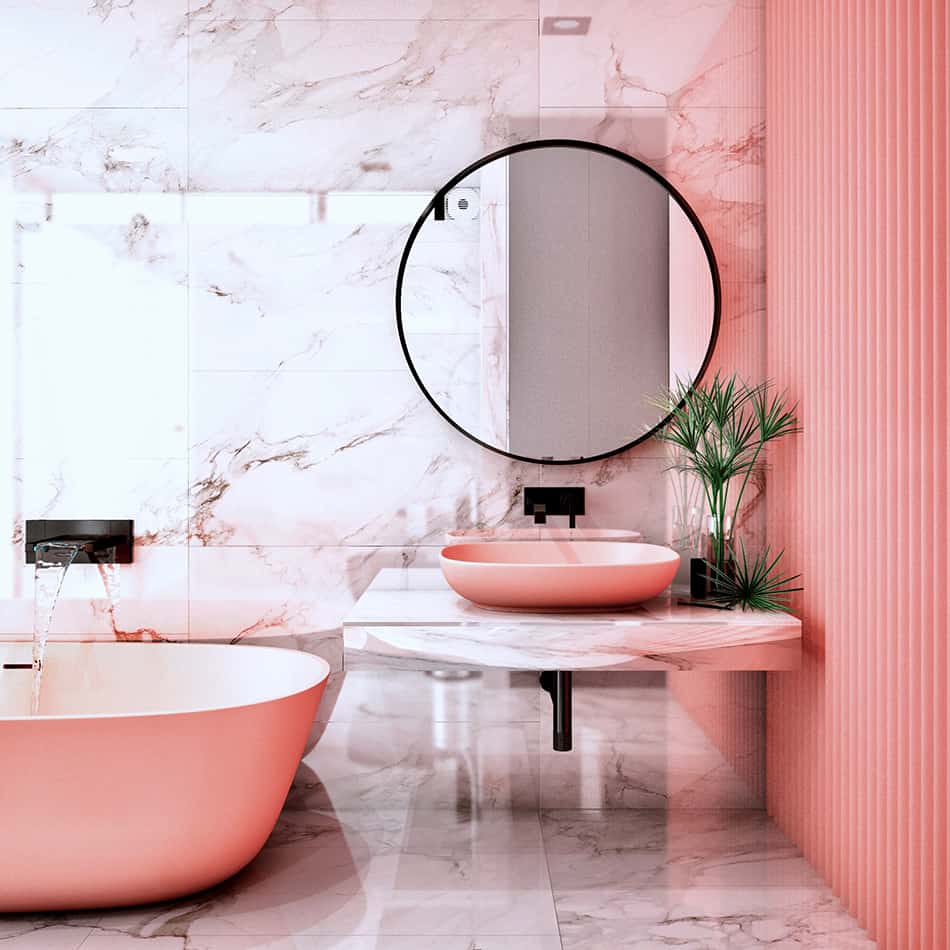 Pink adds femininity to a windowless bathroom. This elegant hue is ideal for anyone seeking a vibrant and lively bathroom. If you use a soft shade of pink, your windowless bathroom will appear less stifling.
This welcoming paint color is sure to bring sophistication and brightness to your bathroom space, as shown in this example. The pink bathtub and pink wall have added the much-needed vibrance to this stylish marble bathroom.
Navy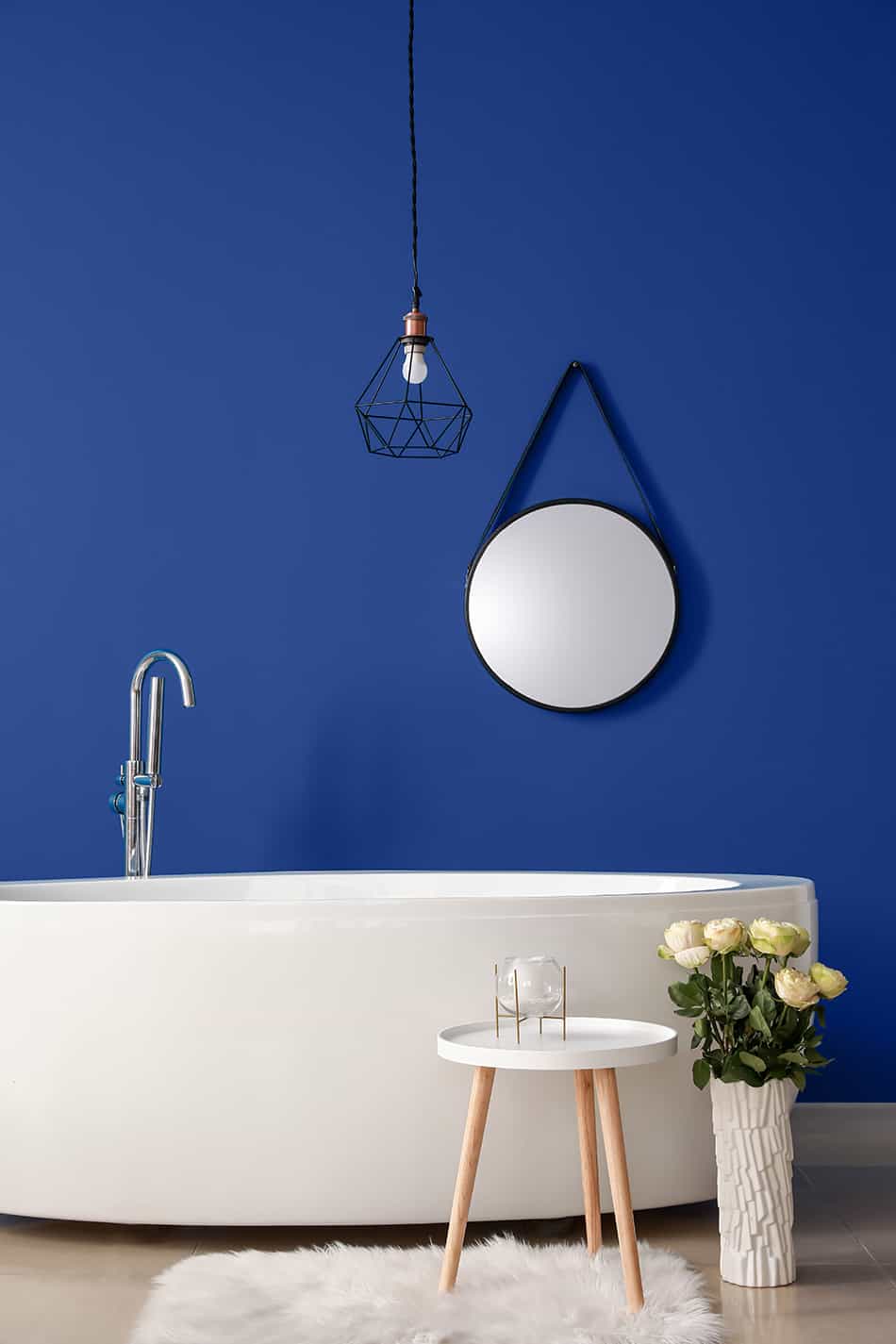 If you're not keen on a bright and cheery color, how about navy blue for your windowless bathroom? Navy is a calming hue that will shine in your small bathroom, just like the starry sky.
Although dark colors can make a small bathroom appear smaller, navy tends to add more depth rather than shrink the space. Throw in a couple of white accessories and vanities to create a modern, serene vibe, just like in this example.
Gray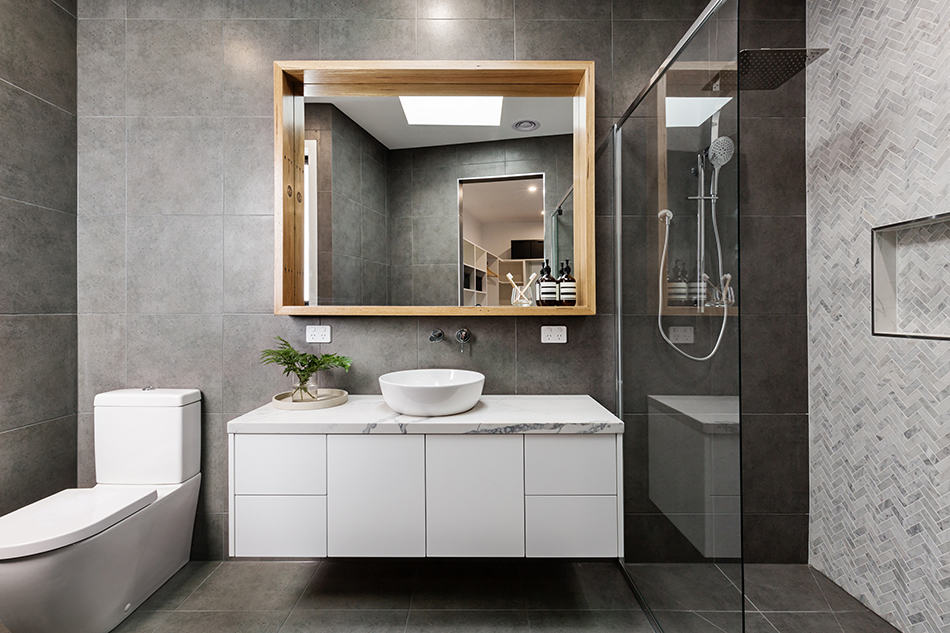 Who said gray was a dull paint color for bathrooms? This subdued hue is, in fact, perfect for small windowless bathrooms. Gray can easily blend with tiles for a cohesive look and make a small bathroom appear bigger.
Choose any shade of gray you like, or combine several shades to make the room visually interesting. This universally loved hue is actually a popular choice for tiles and walls, especially in spaces with a lack of natural lighting. Opt for cool gray and pair it with white or black accents – or even both, as shown here.
See more gray bathroom color schemes in our guide on gray paint colors for bathrooms.
Lilac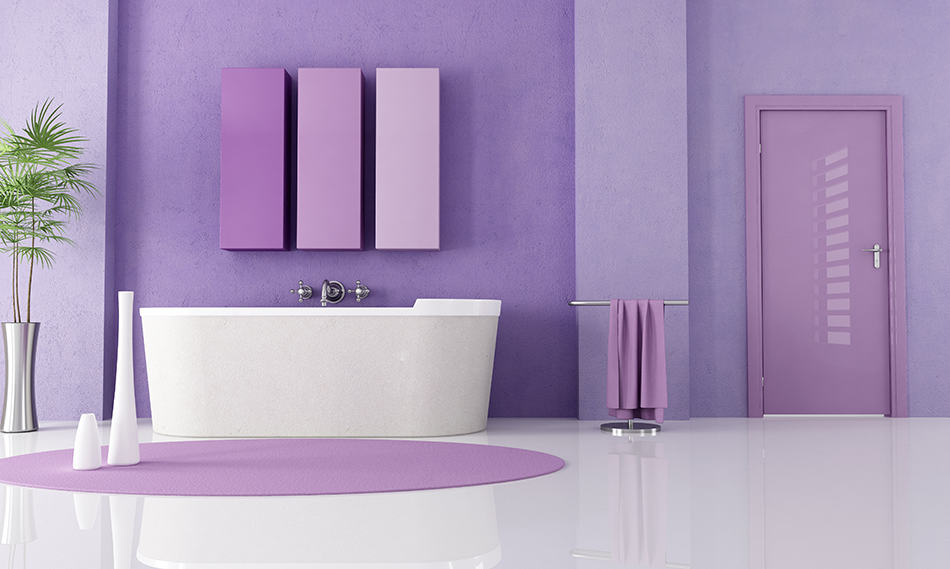 A beautiful shade of purple, like lilac, adds femininity and elegance to any space. For a windowless bathroom, lilac will make the space appear brighter and airier.
In small windowless bathrooms, prevent feeling claustrophobic by painting the walls lilac. You can also experiment with other shades of purple to complement your lilac wall. Add a few decorative pieces, like a gold-framed mirror, to make the bathroom look spacious.
Pastel Green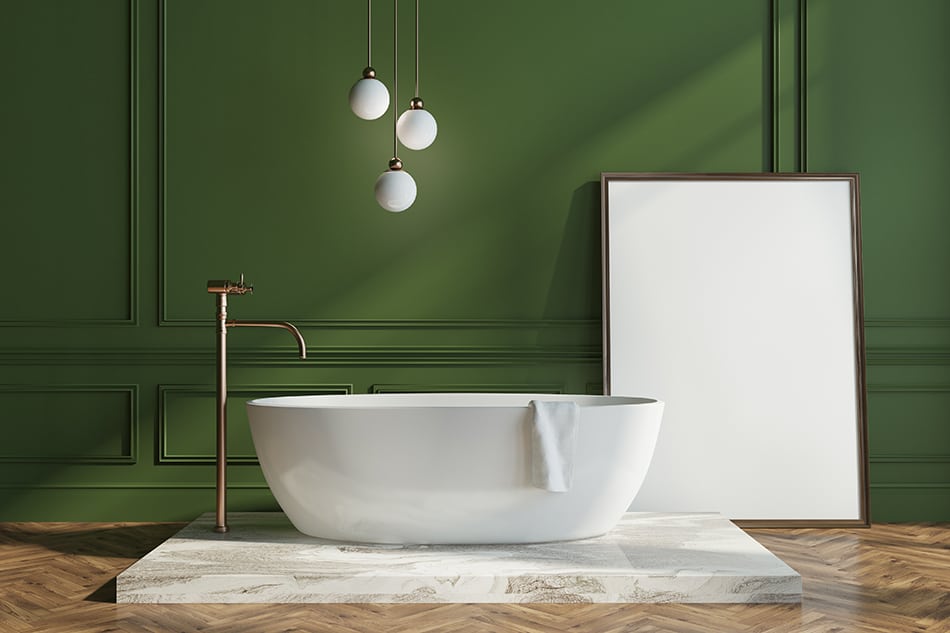 Want to create a calm and relaxing atmosphere in your small bathroom? Then go for a pastel shade of green paint. Green helps lighten up a small bathroom in a subtle way.
Although it won't reflect light as much as neutral colors, it does nevertheless add a special effect to the windowless bathroom. This hue will transform the space into a serene and relaxing environment. As you can see in this example, the dark green wall certainly sets the mood for a deep soak in the white tub.
Don't Limit Your Bathroom with Just One Color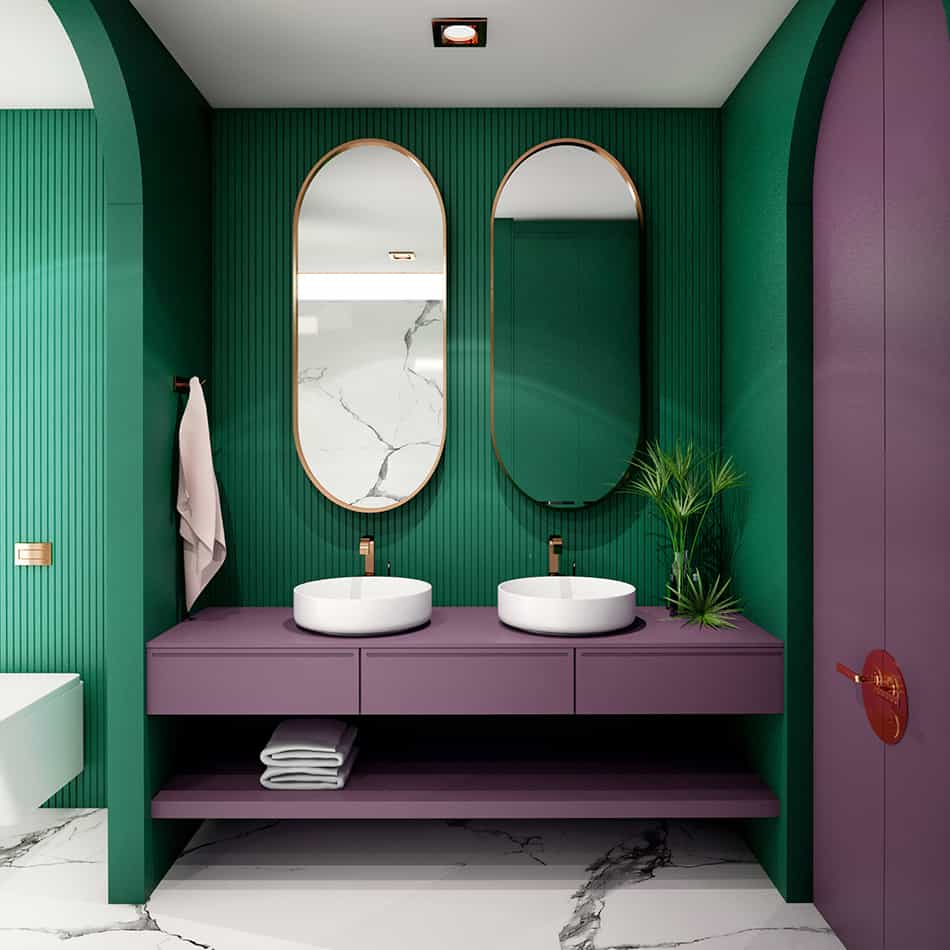 Another effective way of opening up the visual interest in your small bathroom is to experiment with two bold paint colors. When done correctly, a two-tone color can make the bathroom pop.
A combination of green and purple is a great way of creating accent walls, with the addition of white vanities or accessories. Just as you can see here, the green walls next to the purple door and matching countertops work beautifully in this trendy windowless bathroom. The design keeps the entire interior cohesive while looking bright and airy.
Can I Paint My Small Windowless Bathroom a Dark Color?
Yes, of course, you can paint your small bathroom dark paint color. As long as you consider the right colors that match your space to help you achieve the look you're going for.
Dark paint colors can have a big impact on a small, windowless bathroom. They help create depth and substance, so it is well worth considering such colors. When done correctly, your small bathroom could even appear larger. For example, a combination of black and gray or navy and green can give the illusion of more space rather than visually shrink it.
How Do I Make My Small Windowless Bathroom Appear Brighter?
A small bathroom without windows can feel dark and dingy. However, with the right decor and design, you can successfully create a relaxing and peaceful haven. While natural light is the best source to make a bathroom brighter and airier, sometimes it is impossible to add a window to a bathroom.
Consider the following tips and tricks to make your small windowless bathroom appear brighter and airier:
Choose a Bright Color Palette
If your bathroom feels cramped without a window, it is best to choose a light or neutral color palette. A bright color will help open up your space, especially if it is paired with artificial lighting. The paint color can be anything from whites, grays, or pale pastels like cream. These paint colors will draw the eye to the white vanities rather than make your bathroom feel confined.
Invest in Bright Lighting
Adequate lighting is a must for windowless bathrooms. In addition to overhead lighting, add some spotlights wherever possible. This will help encourage the flow of light into the bathroom and make the space feel brighter. Make sure the bulbs you choose are similar to natural light, like warm yellow or cool white.
Keep your Bathroom Clutter-Free
An over-furnished, cluttered bathroom will only feel smaller and cramped. This is especially true for bathrooms without windows. To avoid making the space feel dark, move any unnecessary clutter out of the room. Invest in some cupboards to store away your shower products.
Keep the accessories to a minimum as space is of premium. Only include the items you use every day. The idea is to uplift the space instead of making it feel claustrophobic and cluttered.
For an Airy Feel, Install Proper Ventilation
The last and most important tip to make your small windowless bathroom feel airier is to install an extractor fan. Ventilation is a huge problem in windowless bathrooms as there is no fresh air to dry out the wet shower or bath area.
Over time, the excessive buildup of dampness can lead to unsightly mold. To prevent condensation, you should consider installing an efficient ventilation system to extract the steam and dry out the bathroom.