Here is a controversial statement: Do you want to hear it?
Here it is. Mason jar is a lot like love, and vice-versa.
I know that it sounds silly (and certainly not overly romantic) but bear with me for a second.
Like a mason jar, true love is clear, transparent, and firm. It can take in a lot; it can keep the stuff of life fresh and safe. The only thing you have to be wary of is recklessness – because the human heart nor the mason jar can't take is to drop them and break them.
Also, like love, mason jars can be beautiful. And I mean beau-ti-ful!
Besides being ideal for food storage, you can make a lot of decorations, crafty projects, or even very functional household items from mason jars. Their minimalist simplicity is an invitation to use them in various projects.
A short history of mason jar
Mason jar is named for its inventor, the quiet genius, and New Jersey tinsmith named John Landis Mason (1832–1902). Although glass jars had already existed, in 1857, John L. Mason patented a screw-threaded glass jar which made them a whole lot practical. Today they come in a variety of shapes, sizes, and cap designs.
27 years later, in 1884, bought a license for Mason's design and began the production of their home-canning jars. It was these jars that established Ball as a household brand. The iconic Ball Mason jar remains one of the most iconic household objects ever made.
Their simplicity and 'Ball' company name written in cursive made them a favorite among crafters, giving their mason jar projects a warm, nostalgic, homey feel.
Would you like to be the maker of one of these awesome projects? The internet is full of them, and that is exactly why it is so hard to pick the worthy ones.
But worry not, we're here to help!
Mason Jar Ideas And Projects
Let's take a look at the 18 best Mason Jar ideas out there. We will look not only at the craft projects but also at many practical mason jar ideas that may have not occurred to you.
Let's go (just be careful not to break anything!)
Mason Jar Crafts
Mason Jar Pincushions (+ sewing storage)
Credit to doodlecraft
One thing that has always irritated me with typical pincushion is the fact that they are so light. The small ones can easily topple over and fall somewhere – and you don't want to just drop and lose a thing full of needles somewhere in your house!
If you follow this practical tutorial by Doodlecraft, you will end up with an incredibly practical pincushion mounted on a mason jar. The jar's stability means that the cushion isn't going anywhere, and you can use the mason jar to store all your other sewing equipment safely and transparently.
Difficulty: Easy
Mason Jar Drink Cozy
Credit to JHMasters
You probably know that jars make a trendy, zero-waste replacement for regular drinking glasses. They look hip and have become very popular as a part of retro-chic garden parties and other setups.
Although the attractive photos often feature cold drinks, you could serve hot drinks in jars as well – provided that you can protect your hand. Here is where cozies come in.
Mason Jar Cozy tutorial by JHMasters shows you how to crochet a cute girly mason jar cozy – although you can change yarn colors and leave out the flower for a neutral look.
The stitch is simple so this is a project suitable for beginners. The density of the stitching promises that you won't accidentally burn a part of your finger.
Difficulty: Easy
Crocheted Mason Jar Cover-slash-Cozy
Credit to https://yarnandchai.com
This mason jar cozy tutorial by Little Monkeys Crochet is more decorative, but also more advanced than the first cozy project.
Also, this cover is not originally intended for serving drinks, but for home decoration. The author says that she "wanted to make something that would look cute during the day and, with the addition of a tea light, would cast a beautiful patterned shadow around it at night for those summer campfire evenings."
You can also download patterns from the website.
Difficulty: Medium
Mason Jar Toothbrush Holder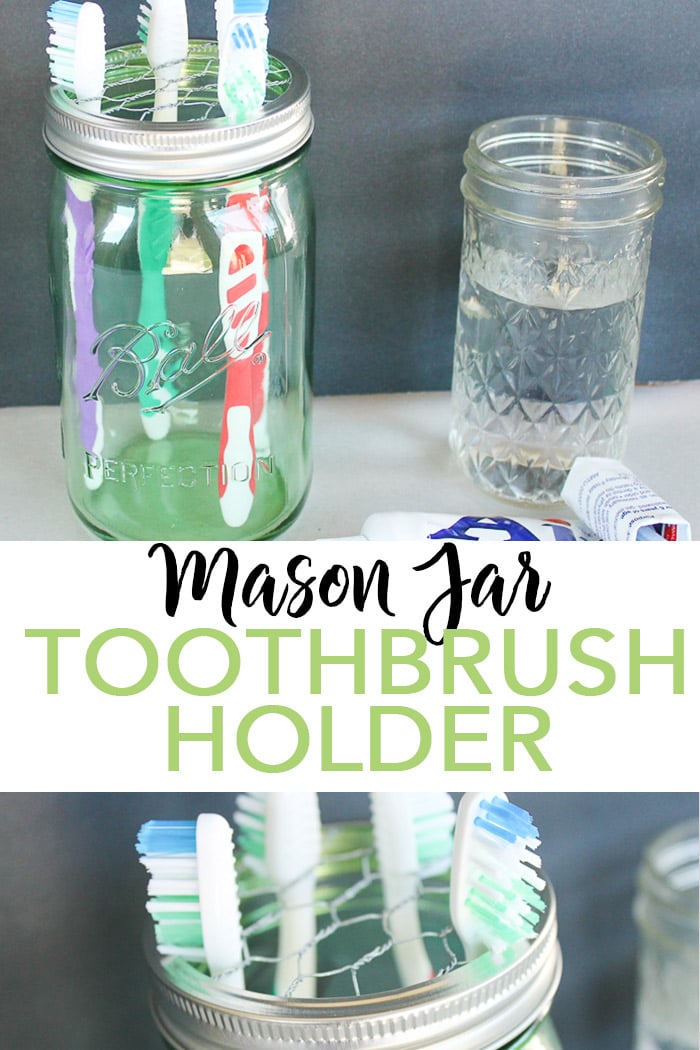 Credit to ANGIE HOLDEN
If your family has a common toothbrush holder, don't you hate it when they touch each other? I'm not particularly germophobic, but since COVID-19 coronavirus has been in circulation, we've all been a bit more on the edge about stuff like this.
Angie Holden shows you how to make a simple and tidy toothbrush holder from some fancy chicken wire and – you've guessed it – a mason jar, specifically wide-mouth quart jars. The chicken wire-jar lid combo serves as a nifty toothbrush separator. Because the holder is all metal and glass, it can be disinfected better than any plastic toothbrush holder.
Difficulty: Easy
Patriotic Mason Jar Light Decorations
Credit to https://www.apieceofrainbow.com/
Originally intended for celebrating the 4th of July, this mason jar light decoration by A Piece of Rainbow is a perfect holiday project for the whole family. It is easy enough so the kids can participate, and satisfying enough so it won't be boring for adults.
If you're not from the US, of course, you can use any flag as the main motive – just make sure the paper decorations are made for the right, half-transparent kind of paper.
Note: The tutorial says to use just any kind of printable paper and print the flag. While you can certainly do that, it would be better to repurpose some flag-themed prints from thinner decorative paper.
Difficulty: Easy
Back To School Easy Mason Jar Pencil Holder
Credit to LINDA
If you're in short of a gift for the famous first day of school for your kids (or their teacher), here's a perfect idea – this ultra-simple Mason Jar Pencil Holder. It is very unpretentious, so it could easily be a child's gift for the teacher.
Did you notice how nicely designed mason jars make even the simplest craft product somehow luxurious?
The project is ultra-simple – get a mason jar, decorative School-Themed Craft or Scrapbook Paper, decorative ribbon or baker's twine, and some tape. Measure, cut, and put together according to instructions, and done!
Pro Tip #1: To make the decorative paper more long-lasting and stain-proof, you can try fitting it in and securing it on the inside of the jar.
Pro Tip #2: Always keep your Mason Jar Pencil Holder somewhere near the middle edge of the table – never on the corner edge. I believe that reasons are quite obvious… *sound of glass breaking*… Whoops!
Difficulty: (Super) Easy
DIY Mason Jar Chime
Credit to Saved by Love
Here's an idea for a charming and original chime, which I bet produces wonderful sounds in the wind. The shape of the "jar bell" certainly provides additional acoustics.
DIY Mason Jar Chime by Bob Villa combines beads, charms, fake crystals, and real crystals with a classic design of a Ball jar – only cut in half.
Yes, you've heard me – for this project you will need to cut the jar. That is the only possible with this project because you to be experienced in using advanced tools such as the bolt cutter – cutting a glass jar in half and piercing the holes can be challenging. Alternatively, you can always find a good (and skilled) soul to do it for you.
Difficulty: Advanced
Mason Jar Wipe Holders
Credit to https://www.landeeseelandeedo.com/
Paper tissues and wipes are super-useful and essential in many places in the house – kitchen, bedroom, baby room. However, the cardboard or plastic packaging they come in is not very durable and it is often impractical. That is especially true if somebody in the house is sick and often reaching for the box of tissues – the classic packaging simply can't be disinfected efficiently.
Naturally, creative crafters and mason jars come to the rescue!
This Mason Jar Tissue Holder project by Landee is simple, practical but also stylish, so don't worry about it spoiling your interior. Also, you'll get free advice on which tissues fit best in the jar holders.
Difficulty: Easy
Glittery Mason Jar Lanterns
Credit to JOHNNIE COLLIER
Since glass jars are transparent and fire-proof, they are ideal for making lanterns. You've already seen an easy patriotic 4th Of July lantern, and now, here is something a bit more advanced.
Patriotic Mason Jar Lanterns by Saved By Love are also made in honor of the 4th Of July, but you can choose any color for any occasion or everyday use. But the point is that they are glittery and that they have a transparent ornamental symbol in the middle. The project also uses Mod Podge so make sure you have it in your supply.
Difficulty: Medium
Gothic Lace Mason Jar
Credit to WANDA SIMONE
We're still in the realm of the luminaire domain. This project was originally intended for Halloween, but if you are a fan of goth aesthetics, it can be an awesome everyday decoration. The candle-holding mason jar dressed in lace will not only look beautiful on its own but will also cast interesting shadows.
The only word of caution I have to point out – most lace is flammable, so make sure you are using jars that are deep, candles that are low, and that no lace is entering the jar itself.
Difficulty: Easy
Mason Jar Food Ideas
There is no better food storage ally than a mason jar. It will ensure your stored oods are airtight, kept fresh, and pest-free, plus, unlike plastic, glass won't leak harmful chemicals.
Here are some ideas on how best to use mason jars in your kitchen and storage.
Spice organizing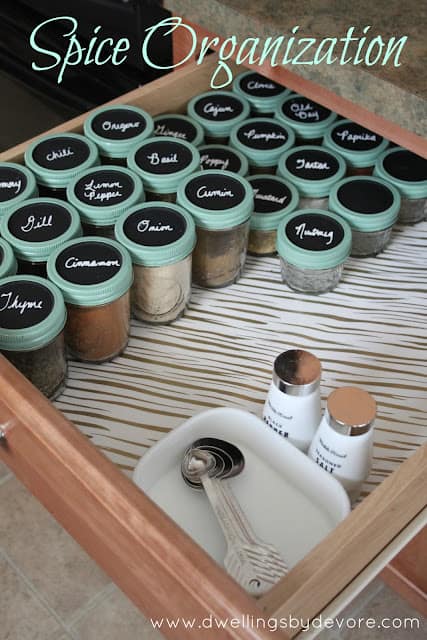 Credit to http://www.dwellingsbydevore.com/
The first mason jar kitchen organizing project I'll mention here is a no-brainer – except it offers some subtle upgrades to the mason jars that will make your storage a lot prettier.
Smaller jars are a logical choice for storing your spice collection. Because the containers are well-sealed and non-porous, spices will remain fresh and potent for longer.
However, since all containers are the same when looking at them from above, sometimes it is difficult to see what is what. That can be especially problematic when you're in a hurry to add a certain spice at just the right moment.
There is where this cool idea from Dwellings By Devore enters the picture. Paint the top of the jar with some black chalk paint and write the name of the spice. If you change the type of spice you're storing in one jar, simply wipe off the name and write a new one!
Mason Jar Herb Garden
Credit to clairezinnecker
We remain in the world of spices. Having fresh herbs in your garden is one of the best things you can do to improve the taste of your home-cooked meals. However, it is not always easy to accommodate the living herbs in an average kitchen. The pots can take up a lot of space on a countertop, and it is difficult to find a spot with enough natural sunlight.
The good news is that mason jars and some craft can solve that too (don't pretend to be surprised)!
This project by Camille Styles requires four mason jars that will serve as pots for the herbs, an old wooden board, and some rustic pipe clamps to attach jars to the board (this is the foundation; you can find a full list of needed materials in the tutorial. By utilizing wall space, this vertical kitchen will save up a lot of space on your kitchen surfaces, plus it will let your plants get optimal sunlight if you fix it next to your window.
Just be careful not to overwater the plants, as the jars have no drainage. You can fill the lower corner of the jar with some rough gravel to increase drainage, and use a well-draining substrate of course.
Painted Utensil Jars
Credit to Megan Duesterhaus
Are you tired of getting your cluttered utensil drawer stuck all the time? Here is a solution – use mason jars to sort and store your kitchen utensils. While you can use plain jars, the appearance of your kitchen will be much more if you paint them.
What I love about the Painted Utensil Jars tutorial by ForRent.com is that it teaches you how to paint mason jars so that the color remains lasting and durable.
One of the possible issues with painting jars is that it is difficult to find a painting technique that will make the color last. The tutorial shows you how to paint the jars from the inside, plus give them a protective polyurethane coating.
Mason Jar Sauerkraut By Sandor Katz
Now we jump from kitchen storage to food prep. Mason jars were originally made and marketed for food preservation. Even though 150 years have passed, there is still no substitute for them that is as good. Pickled foods keep best in the mason jars.
Sandor Katz is a true master of fermentation and all things pickled. That includes sauerkraut. The awesome news is that cabbage can be fermented in the jars directly.
In this video, Sandor is showing how to properly load the mason jar with the cabbagy goodness (but make sure to watch other parts of the tutorial to get the entire process).
And here is the basic recipe
Difficulty: Easy/Medium
Mason Jar Sauce Shaker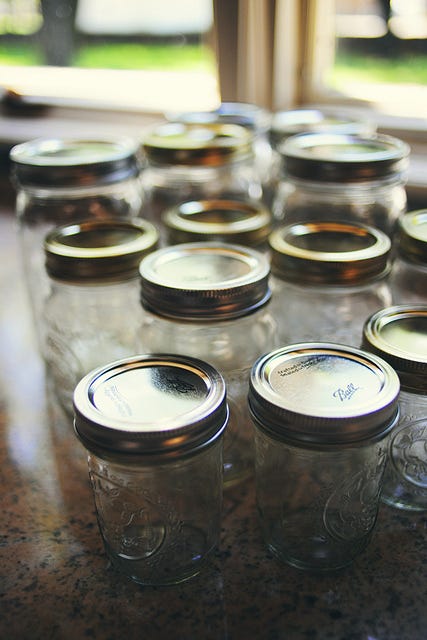 Credit to Ree Drummond
This is more of a life hack than a project, but it's a useful idea anyhow. A smaller mason jar can be turned into an instant sauce shaker, that will perfectly blend your marinades and salad dressings. Even Ree Drummond of The Pioneer Woman fame uses this method to mix the ingredients for sauces in her delicious recipes.
Some dressing ingredients are notoriously difficult to blend together. We all know that oil and water do not mix – and the same is true for oil and vinegar. Add salt, mustard, honey, or molasses to that mix, and you get a mess of layers that just won't accept being connected into one, so a mix like this is notoriously difficult to mix with a spoon.
That's where a shaker comes in handy. Why does a mason jar make a perfect sauce shaker? Because it is airtight, meaning that the liquids won't escape, easy to clean with hot water and dish soap, plus it's transparent, so you can see what's going on in there.
Difficulty: No Effort!
Mason jar lid projects
From time to time, mason jars break – that's almost inevitable. But what to do with leftover lids? Don't throw them away – here are some great ideas on how to repurpose them
Mason Jar Lid Coasters
Mason jars lid coasters are awesome because in the case your drink spills over a bit, it won't end up on your table even if the quantity is slightly larger than what a simple average coaster can take.
There is a modification you'll have to make – you need to glue circle-shaped cork on the inside of the lid to prevent the surface from being slippery. How to do it? The whole process is covered in this video tutorial by Amanda Formaro
Difficulty: Easy
Mason Jar Lid Holiday Wreath
Credit to Heather Painchaud
So, you have a bunch of jar lids hanging around, and you're tired of the classic holiday wreaths? Here's the awesome idea on how to merge the two worlds. Although it sounds unlikely when you first hear about it, trust me, mason jar lids can make highly decorative and original holiday wreaths. And it is very simple to pull it off.
This tutorial by Homemade Heather will tell you all you need to know, plus offer such a nice design for inspiration. Heather uses Christmas-themed washi tape for decorating the lids, but you can use any patterns and color schemes you like – there are a ton of different washi tapes available.
Also, you could go for a rustic, shabby-chic version with no washi tape – although the lids would have to be the weathered, slightly rusty type.
Difficulty: Easy/Medium
Mason Jar Lid Plant Label
Credit to https://theprudentgarden.com/
Mixing up where you've planted the seeds in your garden is one of the typical mishaps in gardening – unless you've got proper plant labels. These are easy to make at home from various materials, but making them from mason jar lids, plant prints, and outdoor Mod-Podge will make them durable and very decorative.
Difficulty: Easy
Conclusion
I hope you've generated some new ideas on how to use the most versatile container on Earth – the mason jar. From fun crafts to serious storage, and even food prep, mason jars can do it all – and look stunning while performing their many roles. Just handle with care, and mason jar goodies will serve you for many years to come.
Of course, there are many more ideas out there – don't be shy and explore. And – why not – try to develop your own mason jar idea from scratch.
Do you have a favorite mason jar use or a project that I haven't listed here? Let us know in the comments and make the cult of the Mason Jar even stronger!