A rectangle is a good shape for a living room, but when the rectangle becomes very long and narrow, it can make the space difficult to furnish and difficult to use functionally.
Here we look at some example layouts of long and narrow living rooms to see how you can work with this type of room shape to create a stylish and comfortable space that works on a practical level.
Narrow Kitchen and Living Room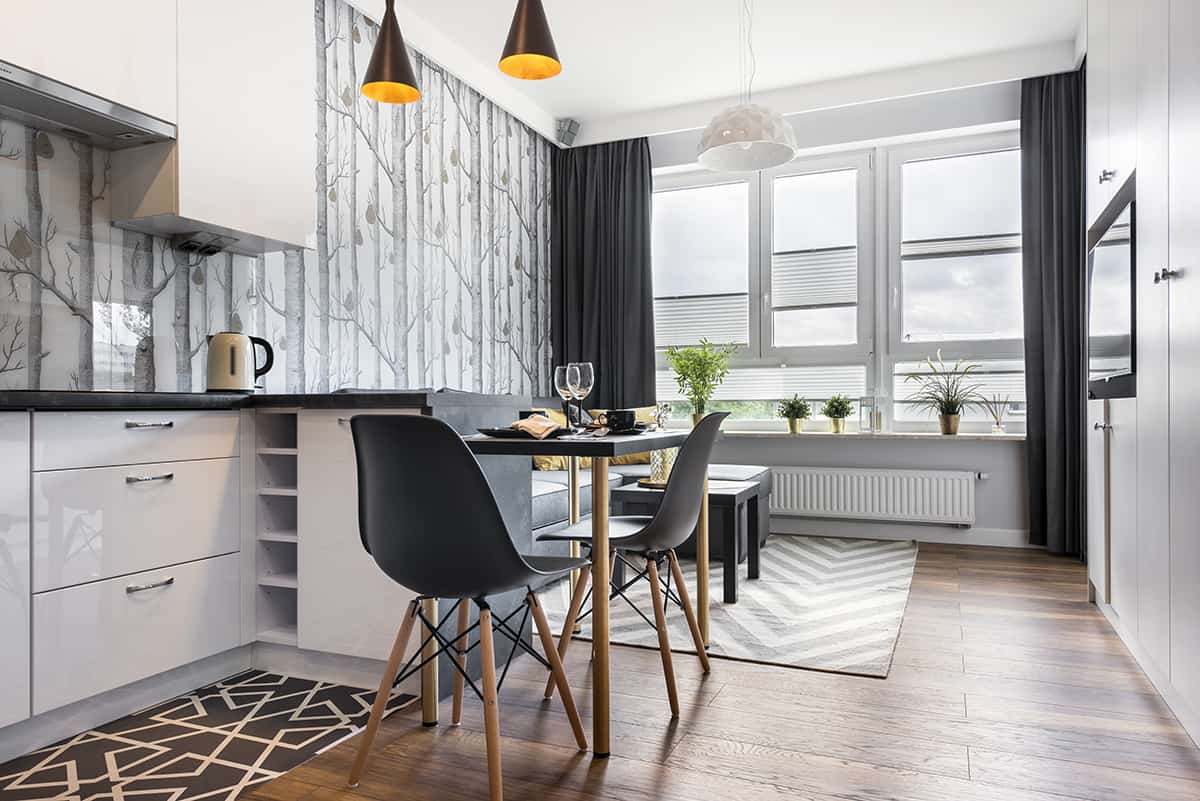 This long and narrow room has been utilized as an open-plan kitchen and living room. By splitting the space up into two areas, the result is two better proportioned, almost square rooms rather than one very long room, which would be difficult to furnish and use practically.
A peninsula has been used as part of the kitchen to create a barrier between this space and the living room, which works well to visually separate the two areas and define their uses.
In the living room, built-in cupboards have been put to good use so that additional furniture isn't required for storage. A sofa and small coffee table provide enough seating and a place to put down a drink or book.
Check out the floor plan here.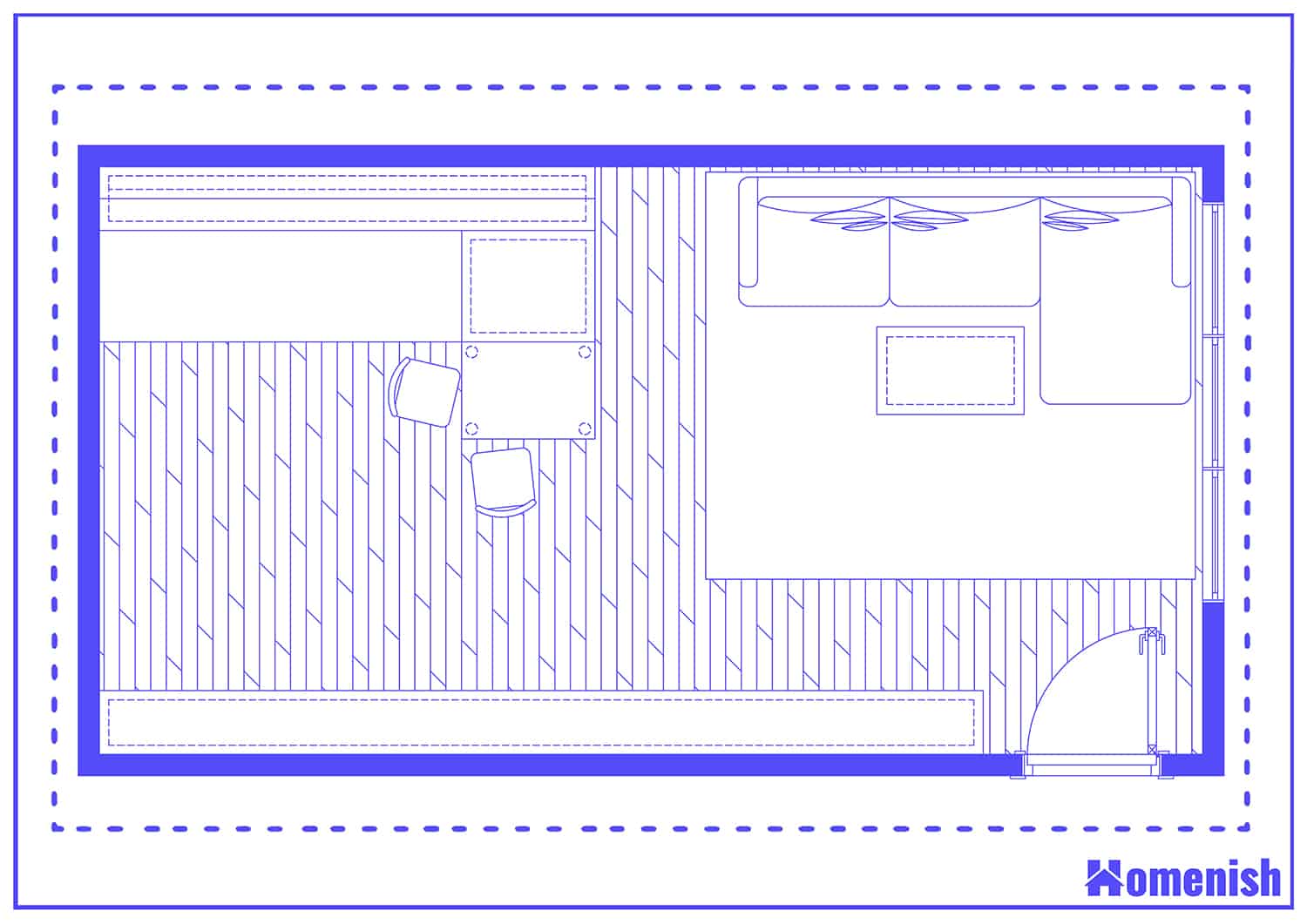 Open Plan Living Room Layout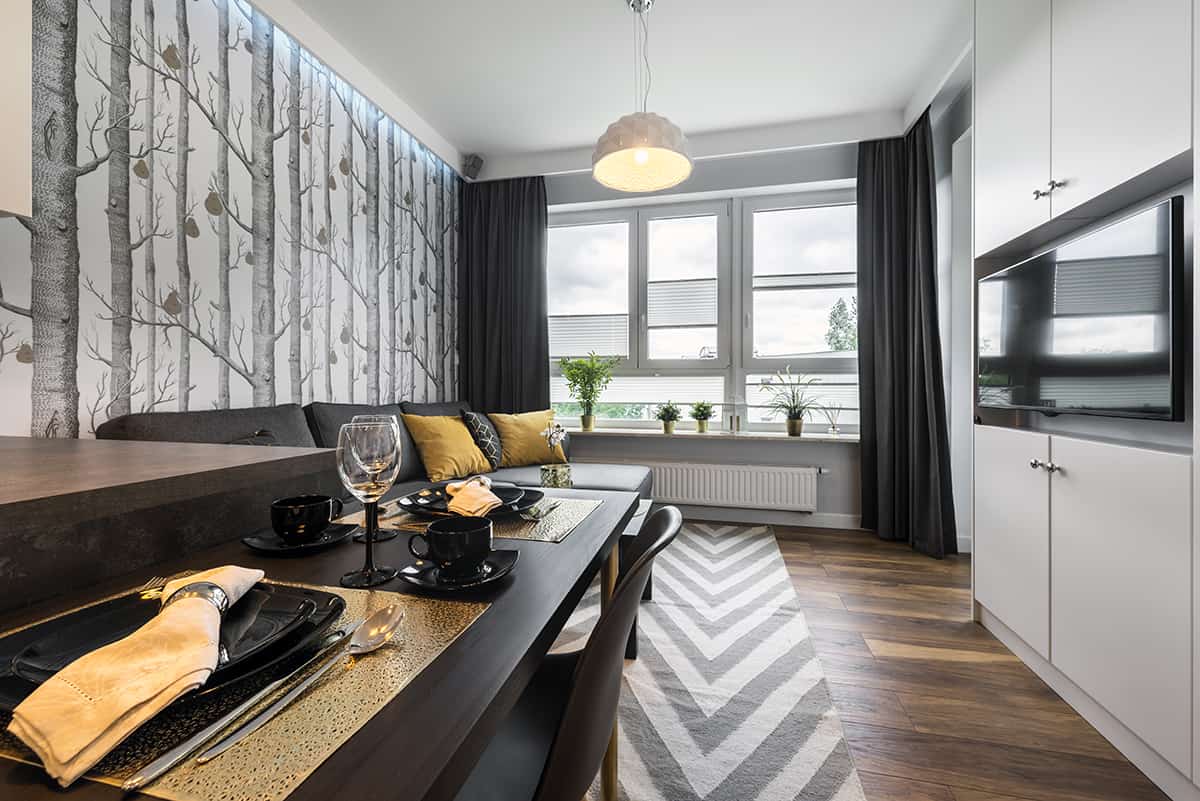 This is an open-plan space where the living room and dining area share the same room. The living room features a corner sofa that creates extra seating space without the need for another piece of furniture.
The area rug helps to define the living room area as a separate space, which is key in open-plan living areas.
Check out the floor plan here.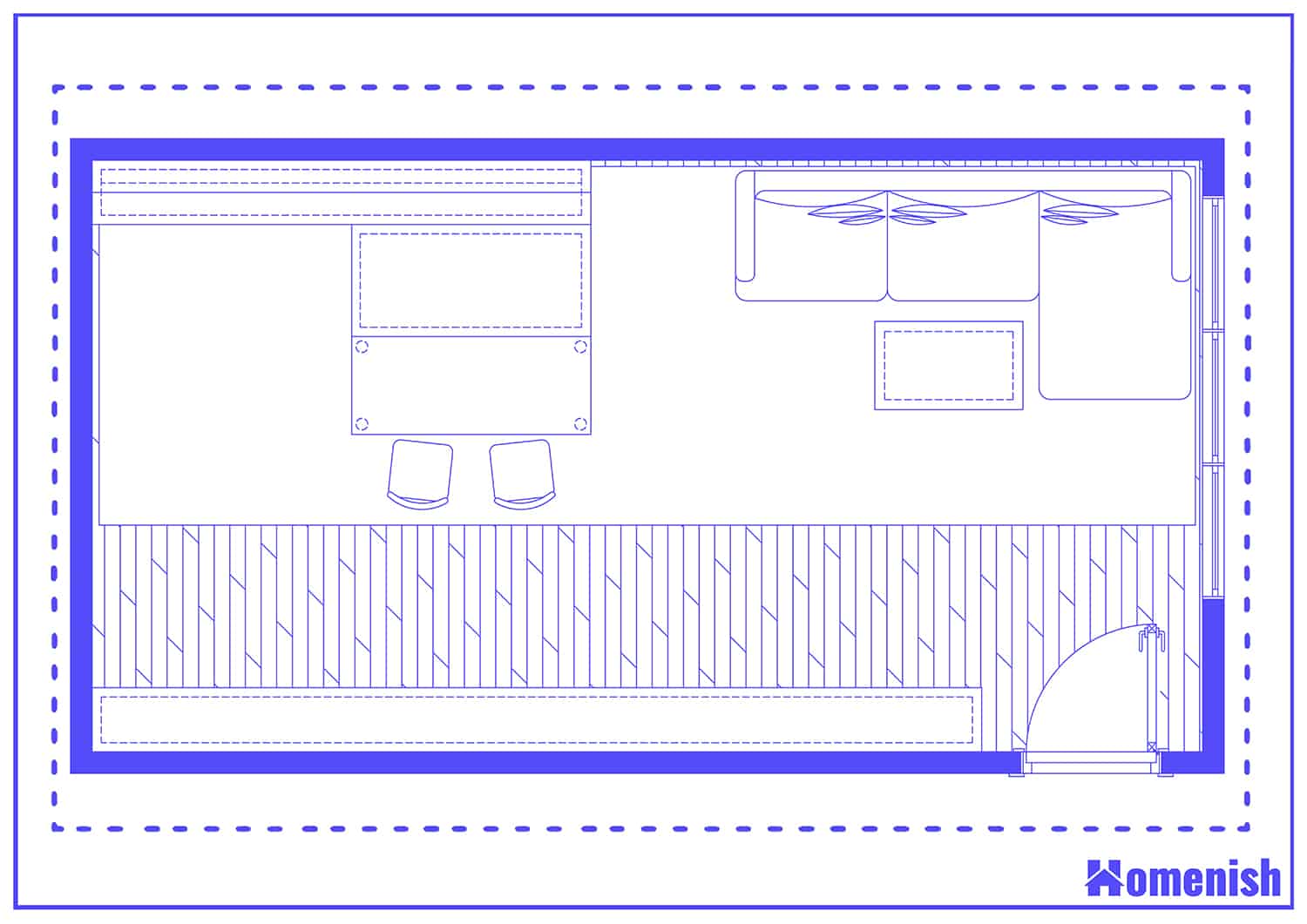 Rectangular Living Room Layout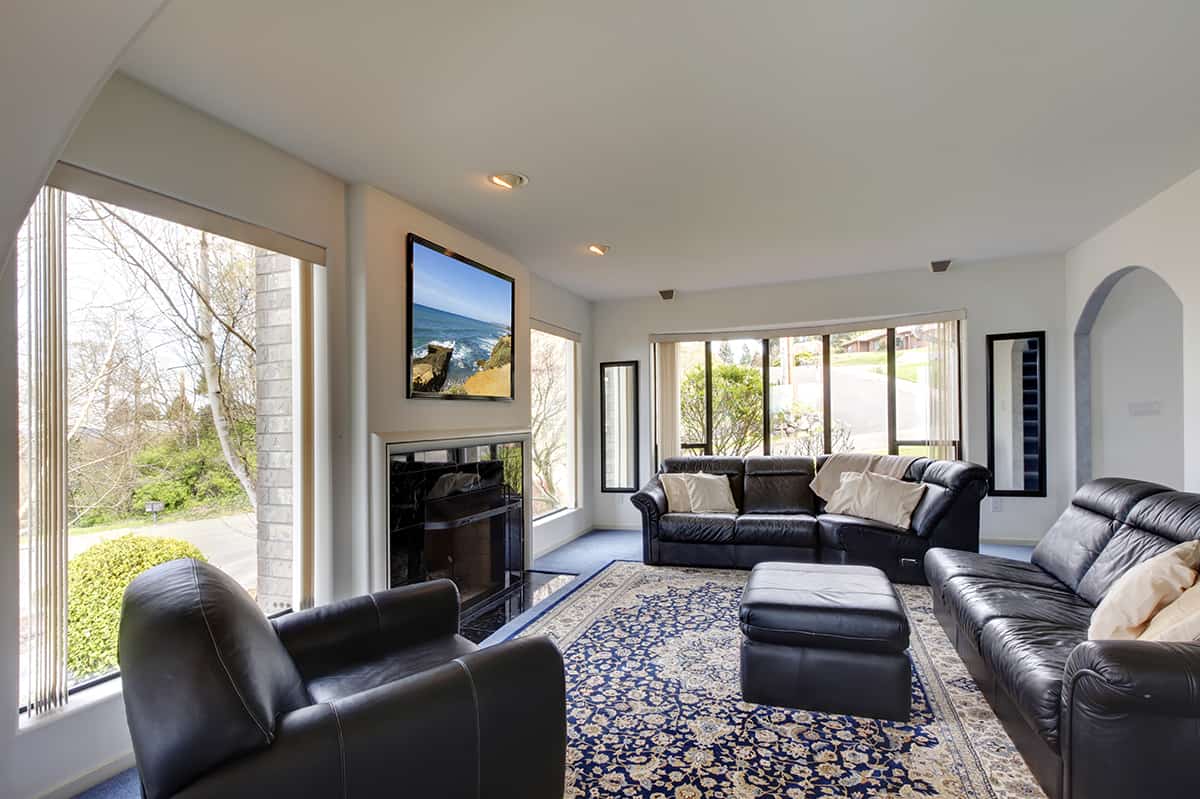 This living room is a classic rectangle shape, making it quite long and narrow. A rectangular-shaped rug has been used in the center of the space that echoes the shape of the room. The sofas and chairs are then positioned around the rug, facing the fireplace and TV.
This layout works well both for socializing and relaxing and enjoying screen time.
The narrow width of the room means that there is not enough space for both an ottoman and coffee table without causing overcrowding, so instead, an ottoman has been used that can double up as a footrest and a coffee table if you placed a tray on it for drinks. You may find more square living room layouts in our article '9 Great 12×12 Living Room Layouts and Floor Plans'
Check out the floor plan here.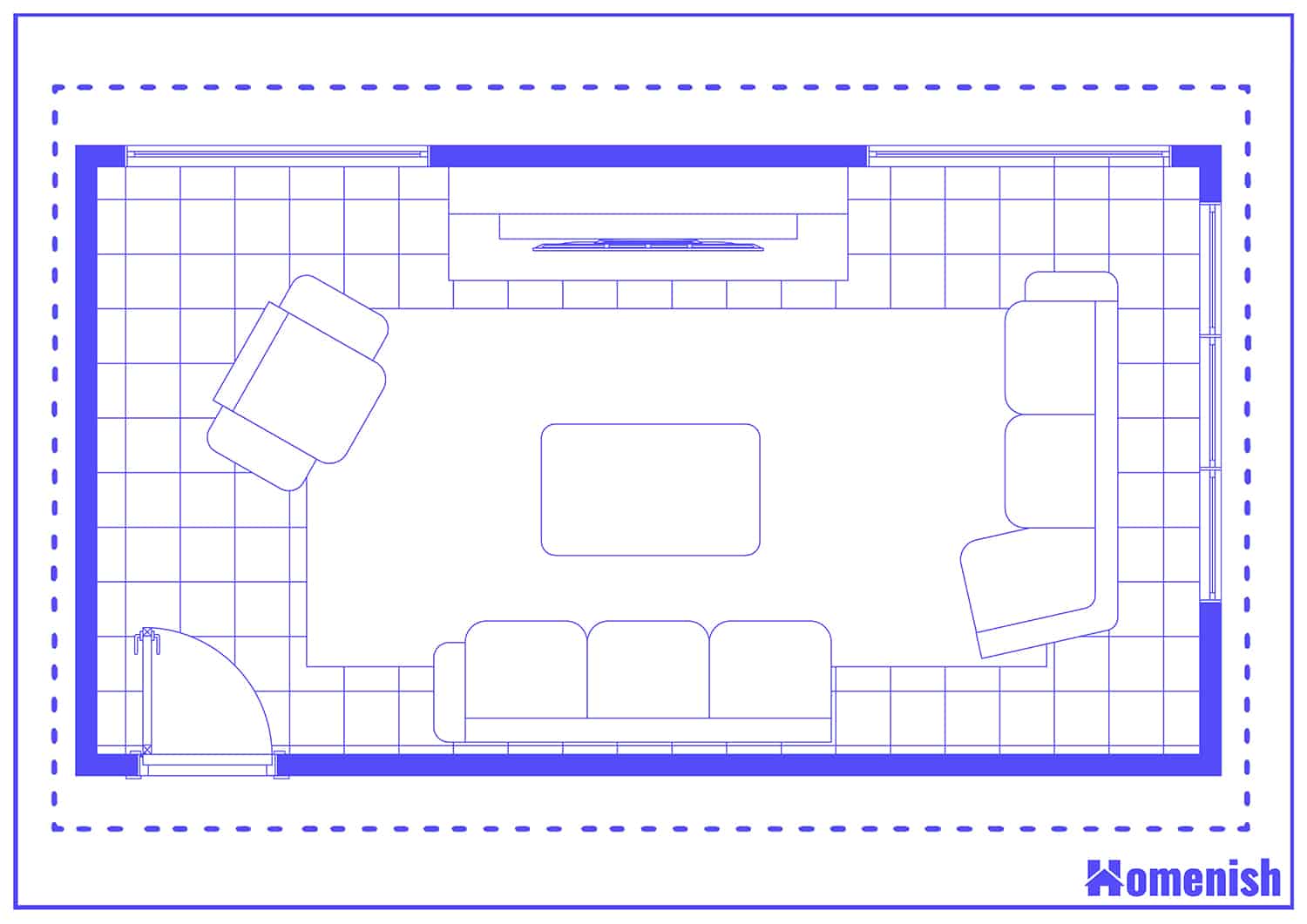 Long Lounge Layout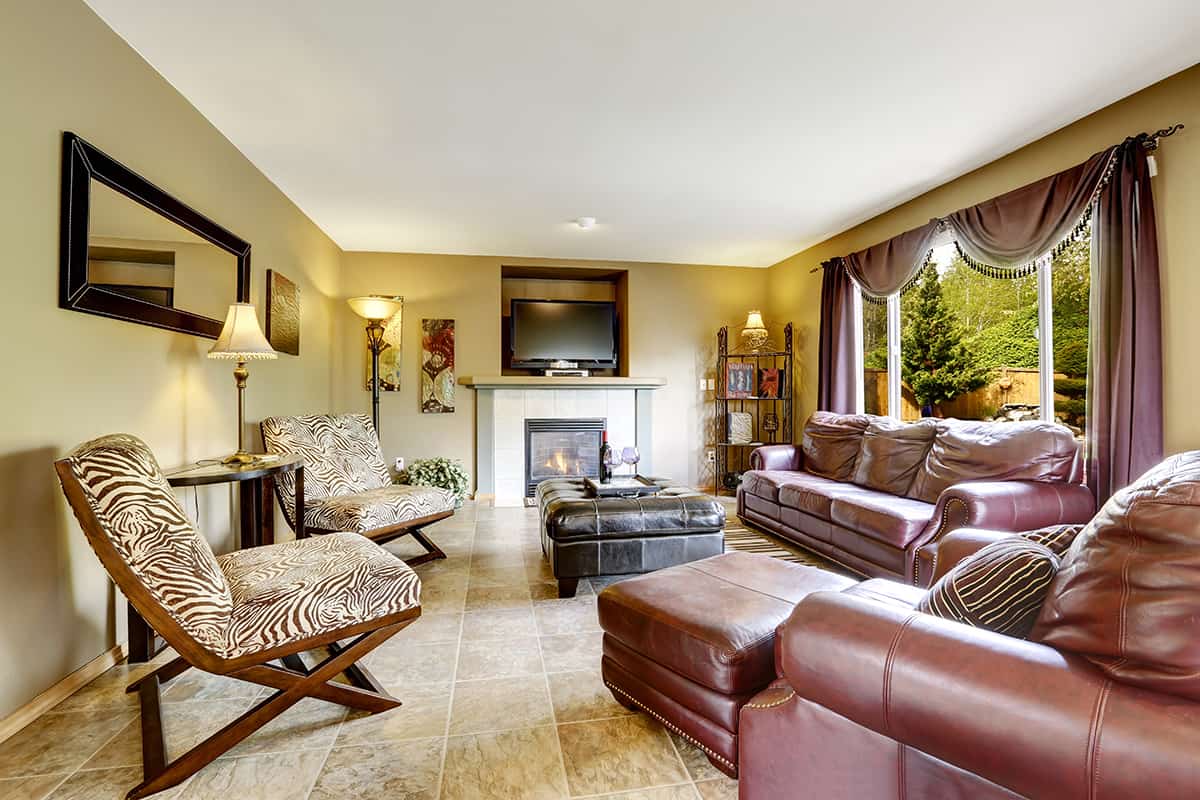 This room is a generous size, though it is significantly longer than it is wide, which creates a difficult narrow shape to furnish. Plenty of seating options are available in this room, and although there is space for sofas, and predominantly chairs that have been used.
The use of chairs helps to detract from the feeling of a long and narrow space, whereas sofas, which themselves are long and narrow, would echo the shape of the room.
The seating furniture is all positioned around the edge of the room pointing inwards, which works well for conversation, and also for watching TV.
Check out the floor plan here.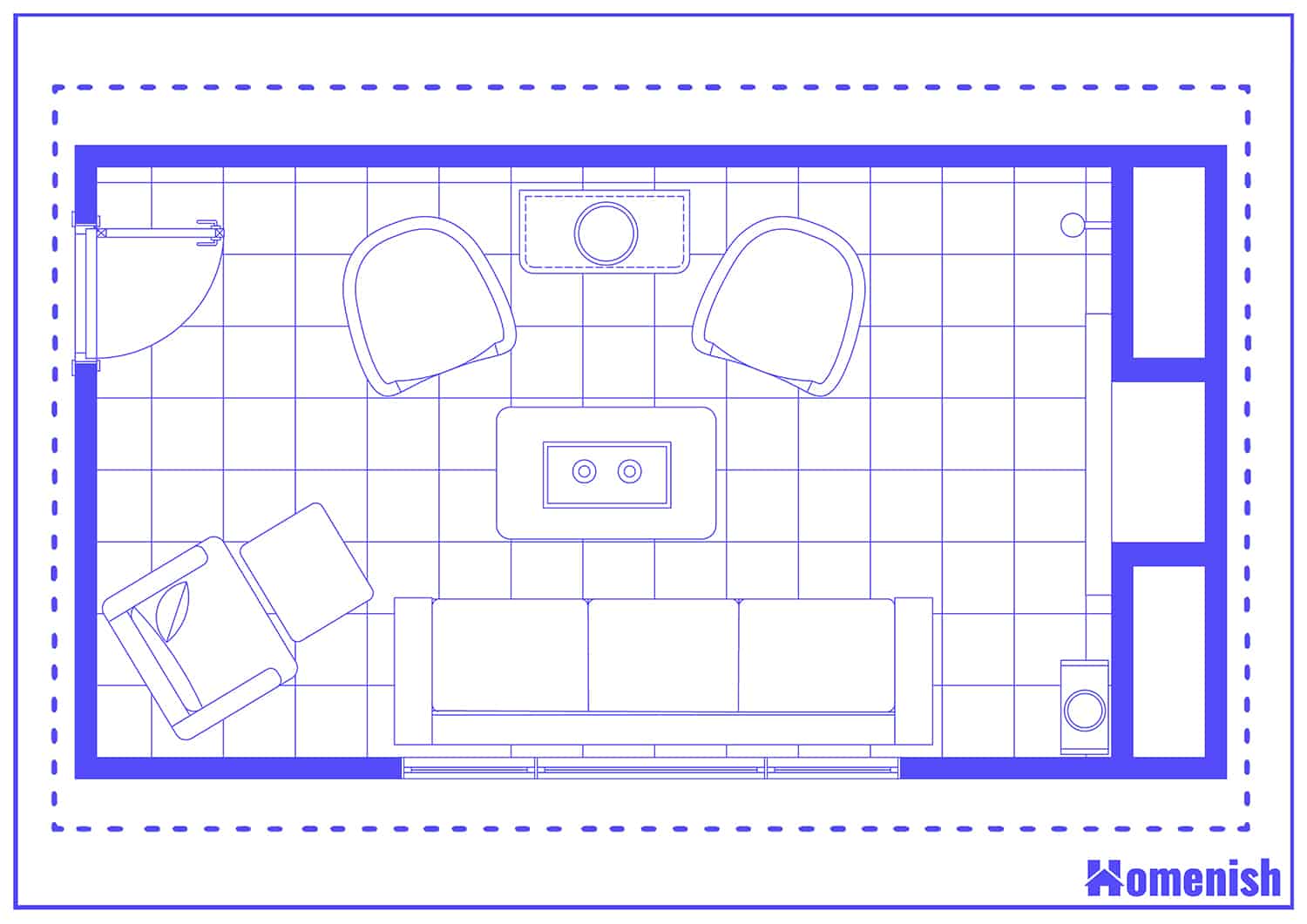 Country Style Living Room Layout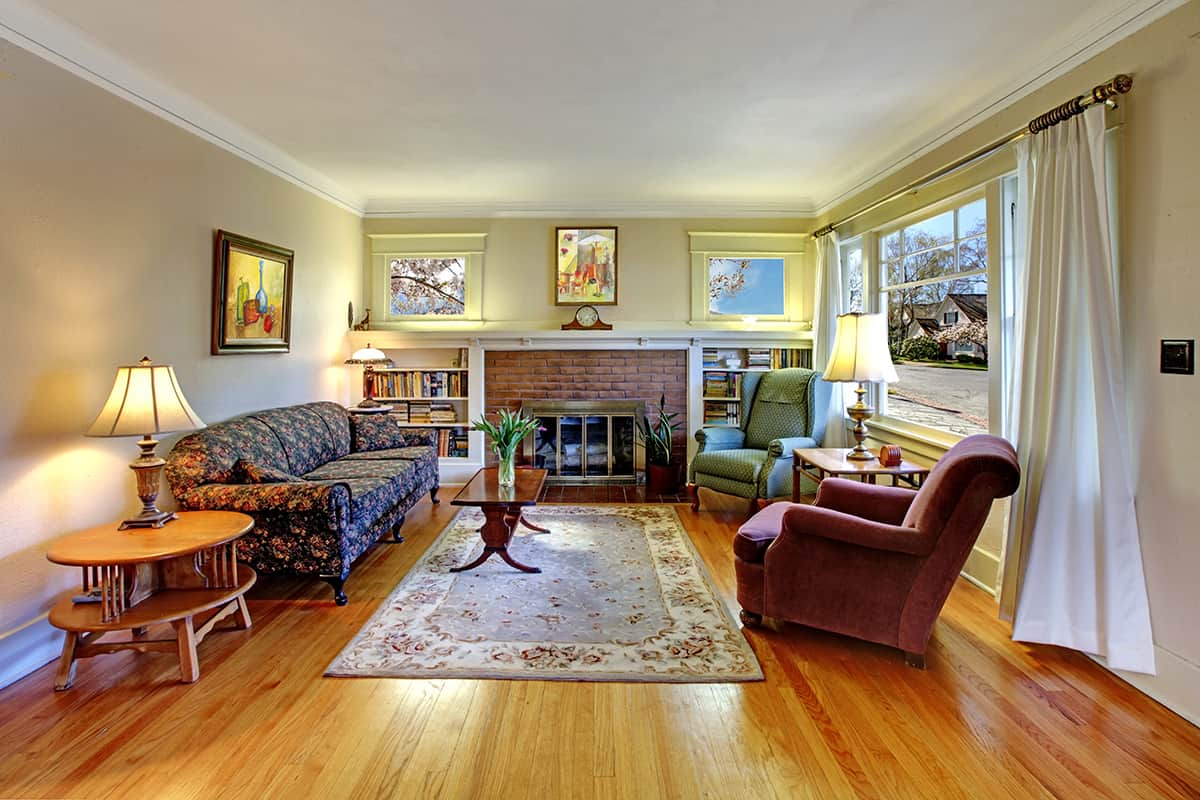 The furniture in this room has been positioned at one end of the space, creating a square area in a long and narrow rectangular room.
This is a good way to layout furniture in a room of this shape and size because it makes the space more functional rather than spreading chairs out on a long wall.
It also helps to create a cozy seating area that feels more snug and comfortable, as opposed to being some distance from other people who are sitting in the room.
Check out the floor plan here.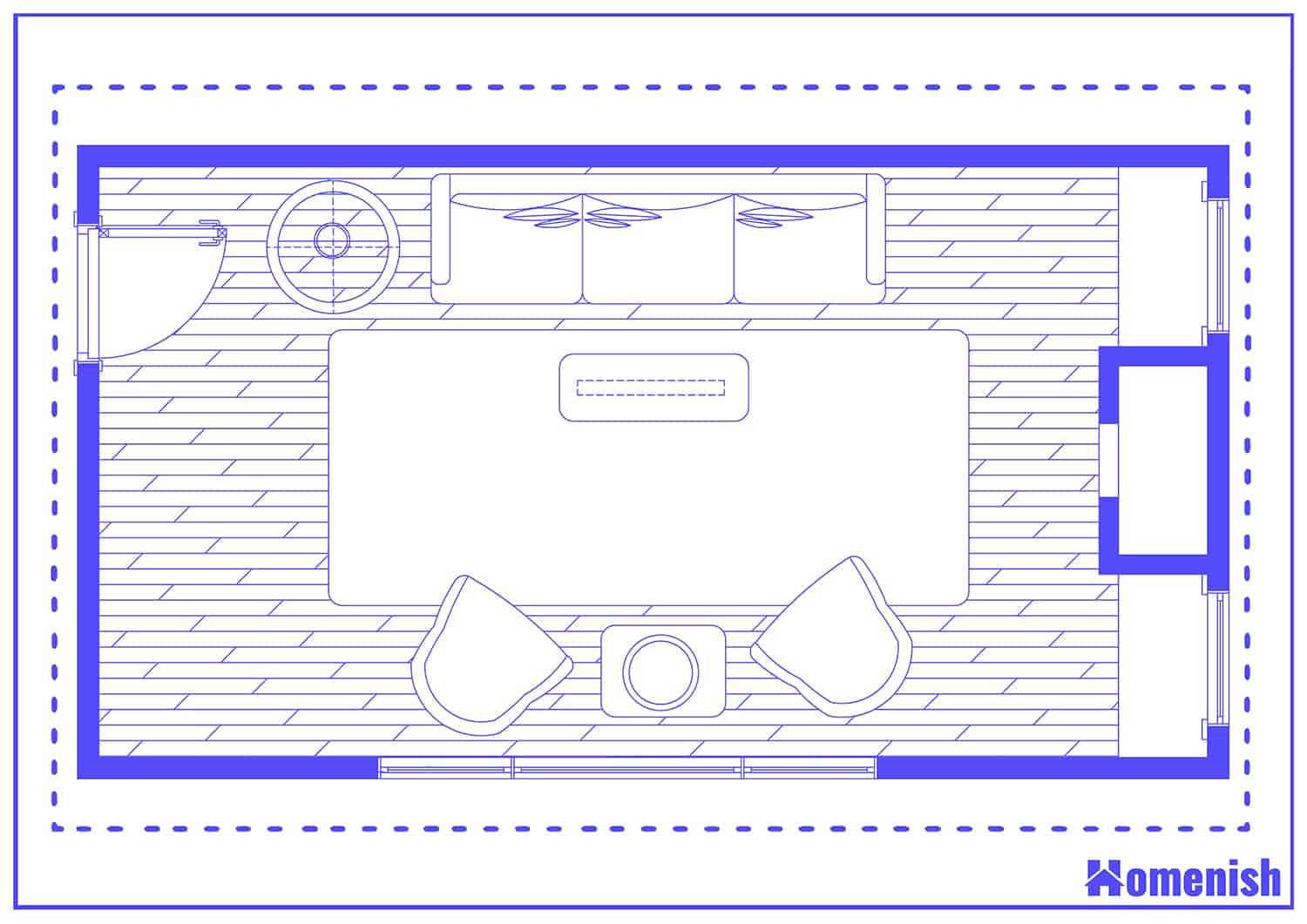 Long and Narrow Living Room Diner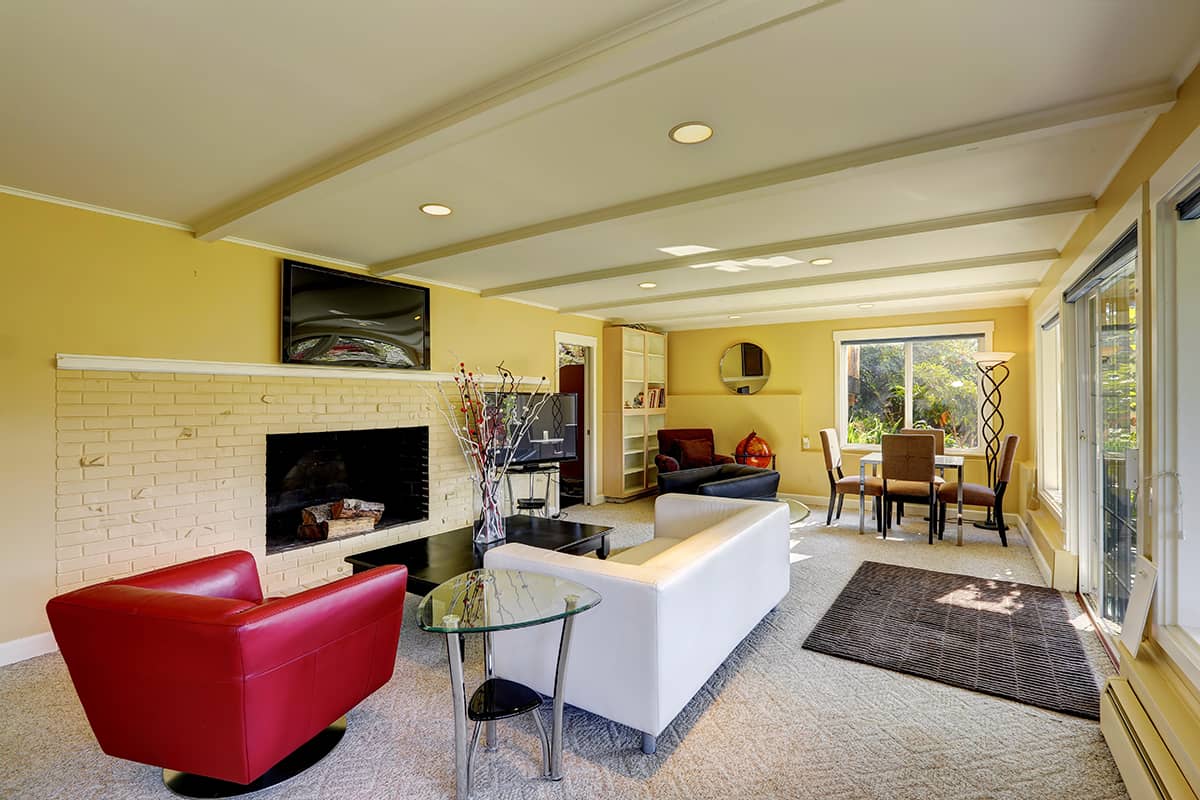 Two areas have been created in this long and narrow room, which creates a better aesthetic and more functional use of the space.
In separating the room into two areas, you end up with two square parts of the room that are easier to furnish and layout, rather than one very long rectangular space that can be awkward to work with.
The position of the armchair with its back to the dining table is what helps to divide the space in this room. If you want to further highlight the two different areas, use an area rug.
See more layouts with a long and narrow living here '20 x 25 Living Room Layouts' and ' 12 x 16 Living Room Layouts '
Check out the floor plan here.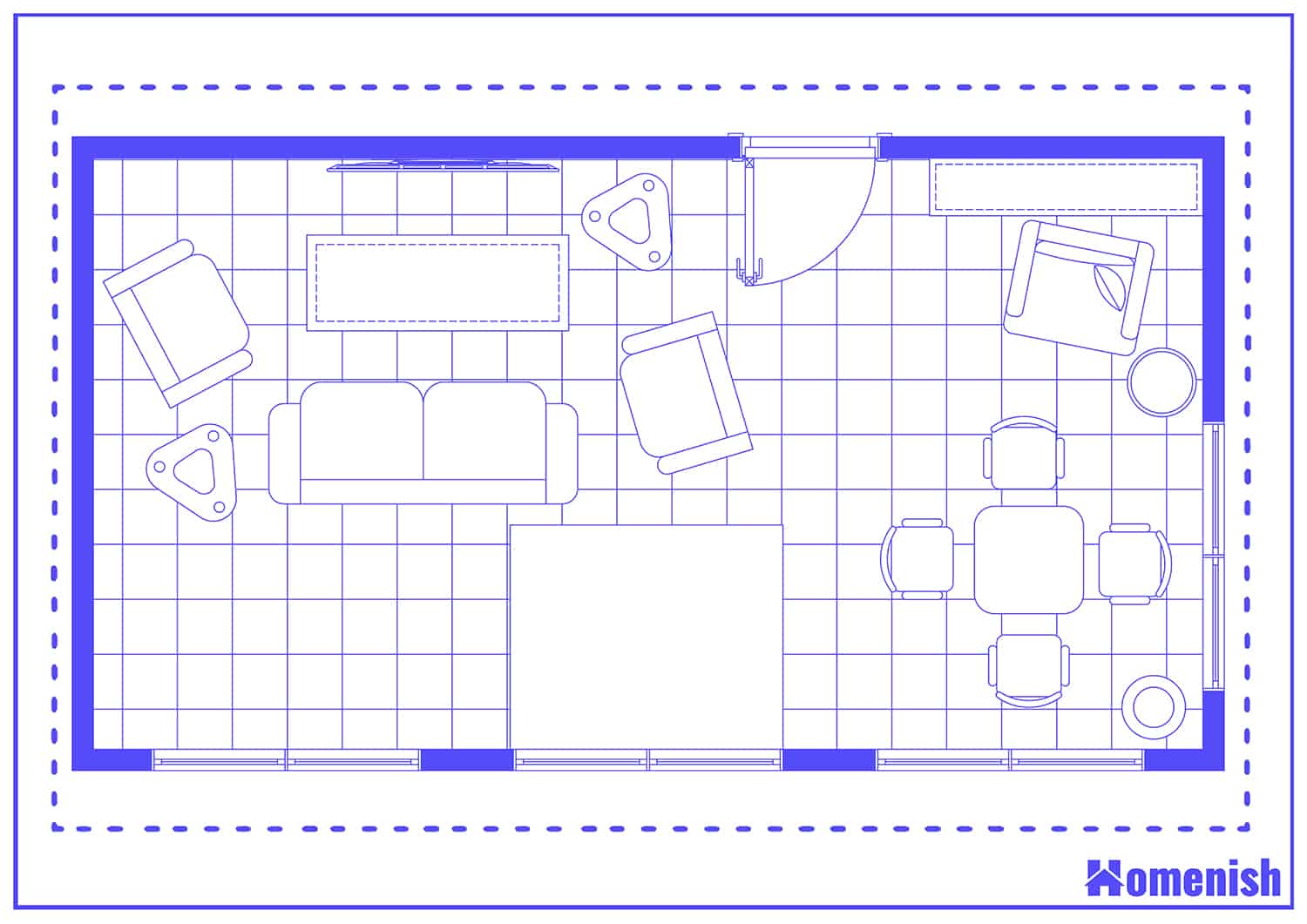 Apartment Living Layout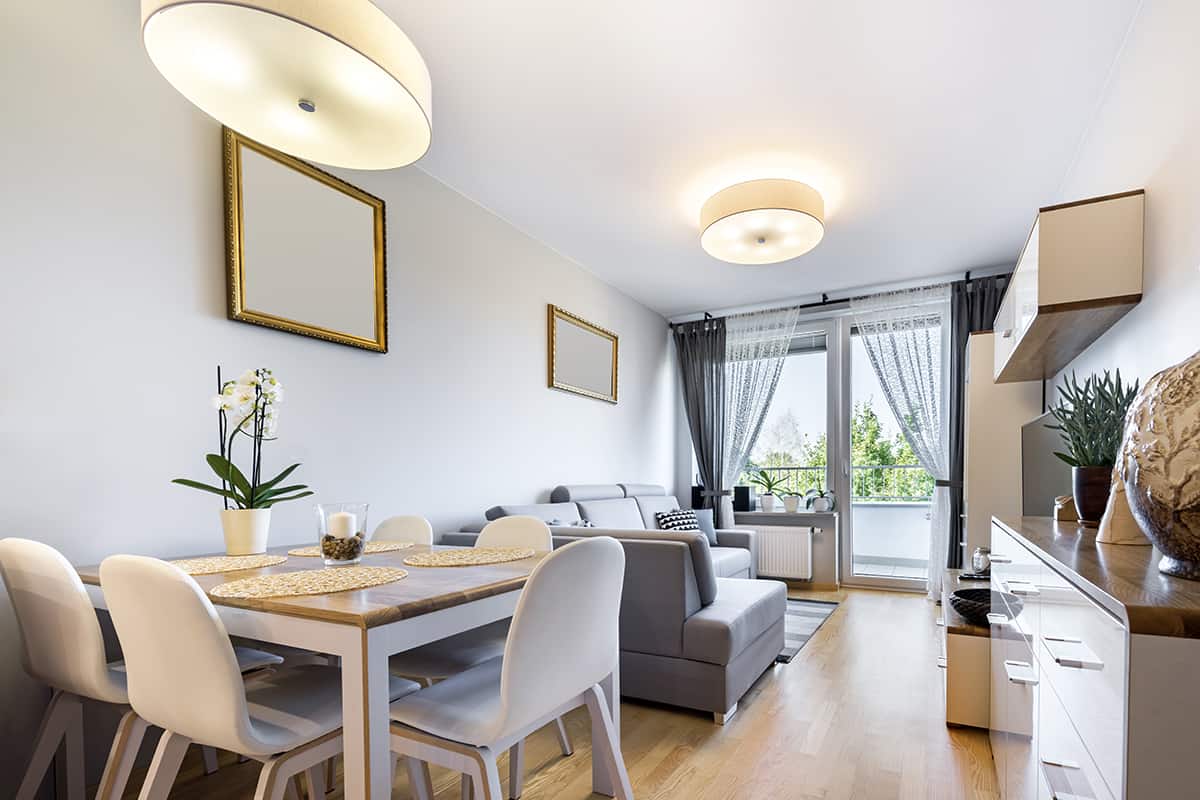 Apartments with long and narrow rooms are best utilized as open living spaces. This means you can have a more practical and functional home while also making the rooms easier to the layout.
In a long and narrow space like this, divide the room into two and use one end of the room as a living room and one end as a dining room or office.
Here, a corner sofa with its back to the dining table works to separate the two spaces, and an area rug in the living room further highlights this.
Check out the floor plan here.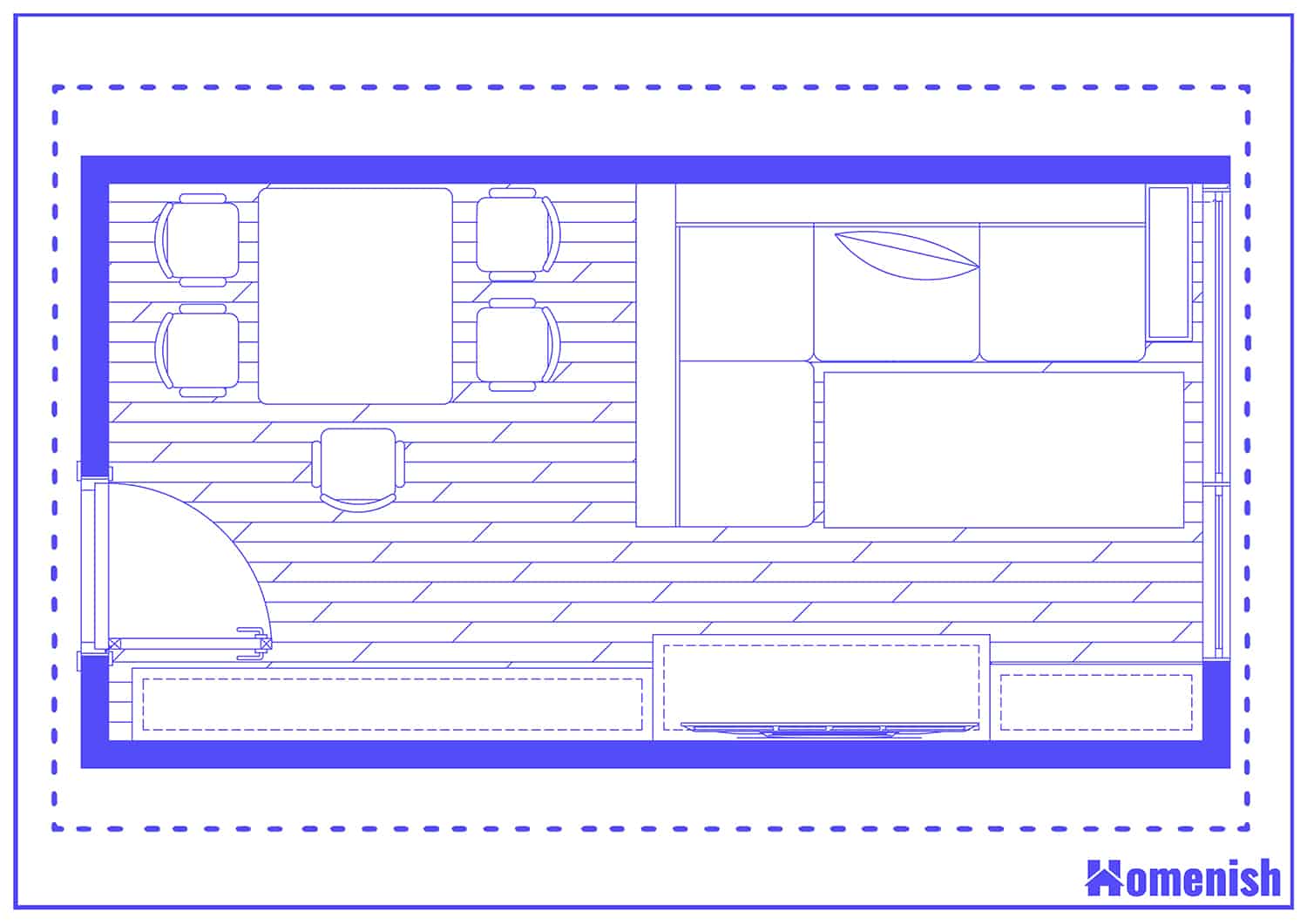 Narrow Living Room with Large Window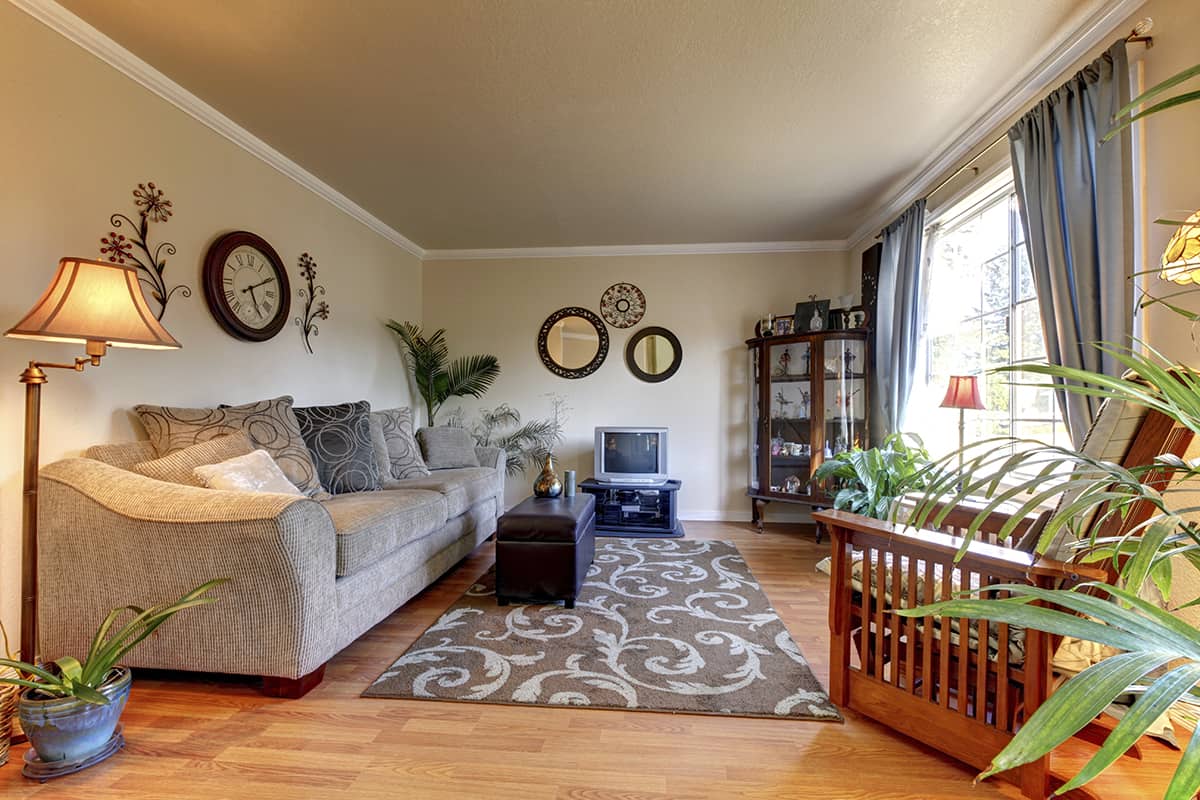 This room features a large window, so the sofa has been situated on the opposite wall to allow anyone sitting on it to enjoy the view and the direct natural light. The decision not to use any furniture in front of the window helps to balance out the space because it means there is the more open floor area.
If a sofa had been positioned in front of the window, the narrow room would have felt even more narrow because the available floor area would be like a corridor. Sometimes the best way to make a space feel bigger is to not overwhelm it with furniture.
Check out the floor plan here.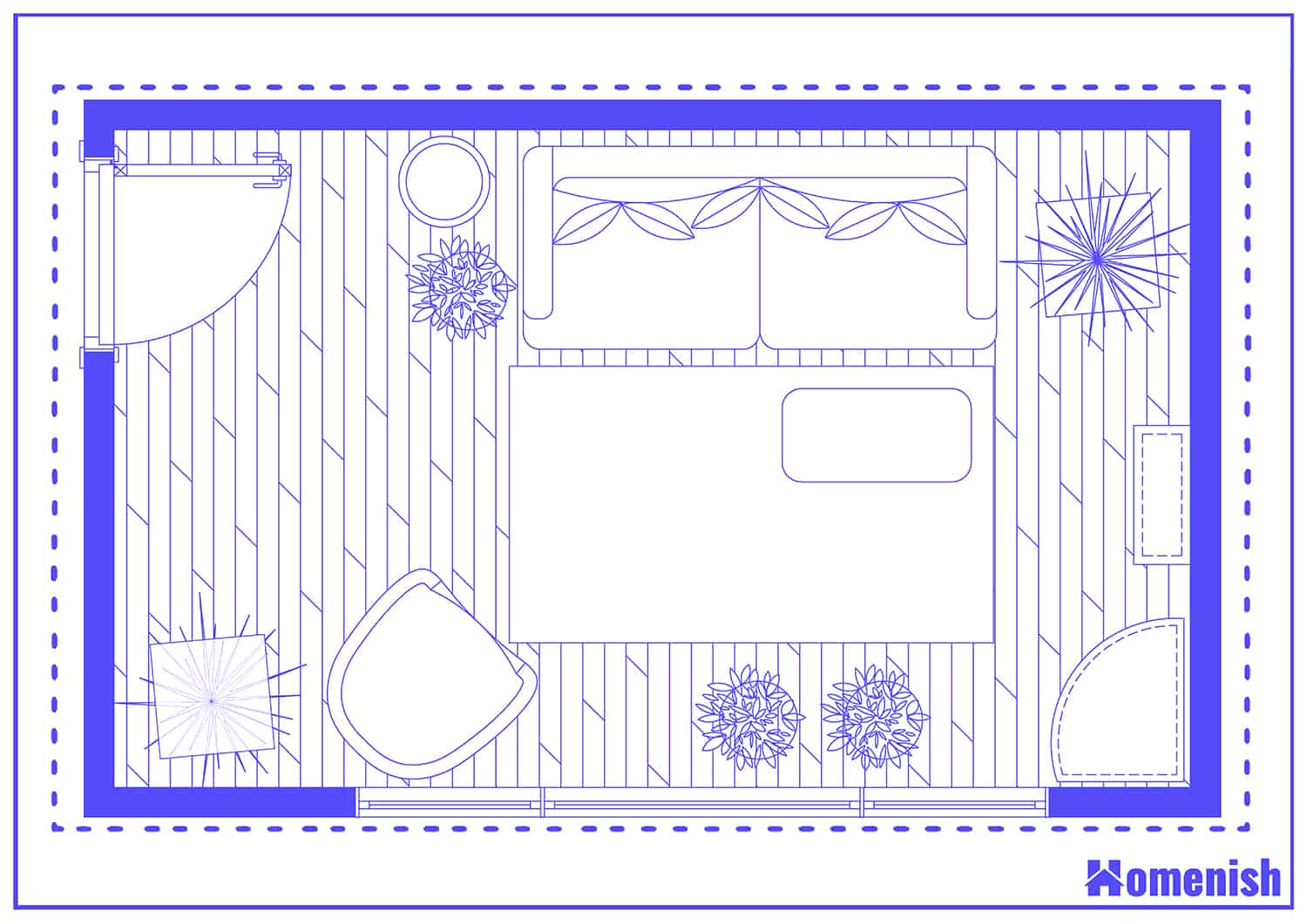 Narrow Studio Apartment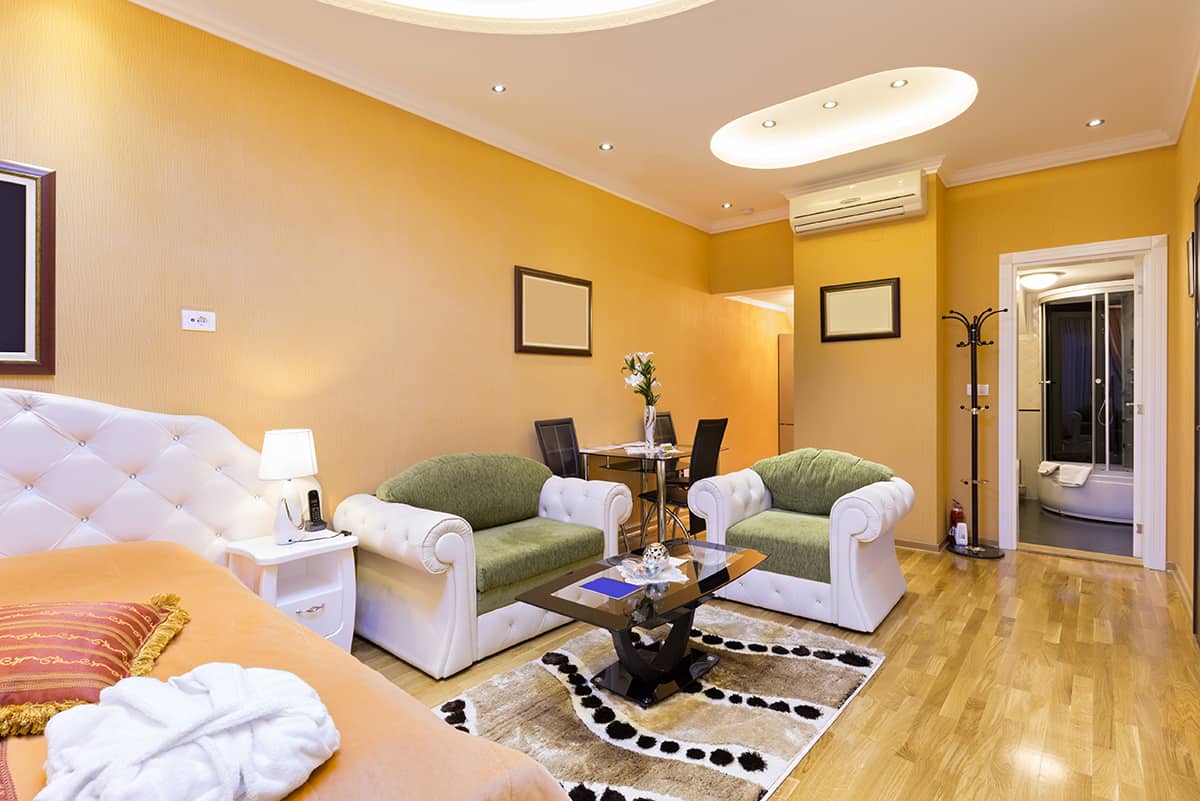 This long and narrow room is being used as an entire living space, including a bedroom, a living room, and a dining area. The way the armchairs have been set in an L-shape with their backs to the dining table help to create a feeling of separation between the two areas.
A rug with a coffee table helps to define the center of the room as the living room area. This is a good example of how one seemingly awkward room can be laid out in a way that makes it very practical and multifunctional.
Check out the floor plan here.