In a 12′ by 12′ living room, you might think your layout options are limited, but actually, there are multiple ways to arrange your furniture or use interior design to completely change the look and feel of the space. The layout you choose will need to reflect how you want to use the room.
For example, you might like to entertain, watch TV, or eat dinner in your living room, and all of these things will affect which layout will work best for you.
Check out these different layout options of 12′ by 12′ living rooms for inspiration.
Entertaining and Socializing Living Room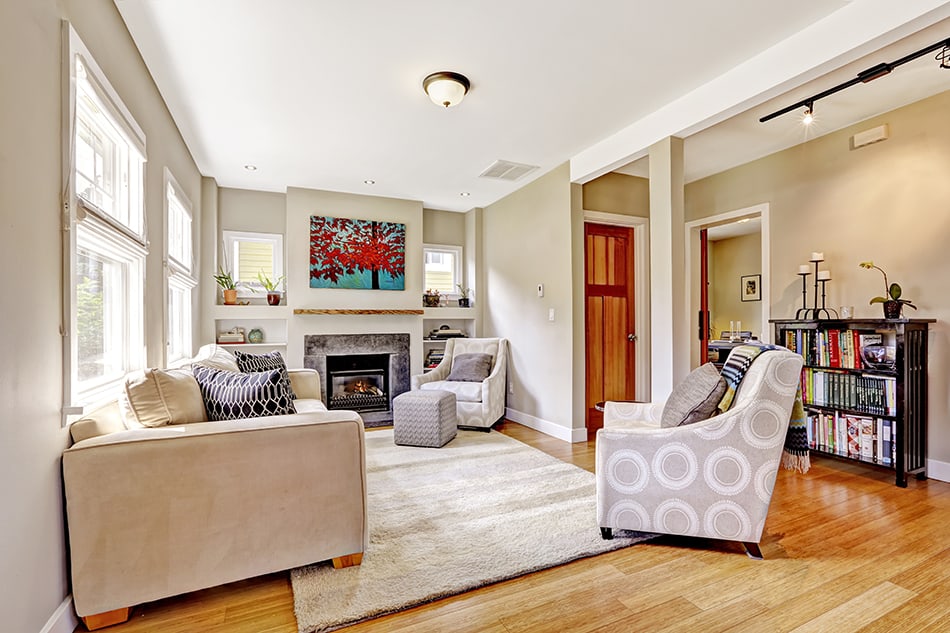 This layout is ideal for a 12′ by 12′ living room if you want to use it for entertaining and socializing rather than as a TV room. The room features a sofa and two armchairs, with the armchairs facing the sofa at an angle that encourages discussion and a shared experience. The sofa and armchairs are all connected by the floor rug, which helps to define the space.
In spite of the room being fairly small, it looks bright and airy due to the use of pale furnishings, which reflect the light streaming in through the large windows.
Check out the room layout & plan here.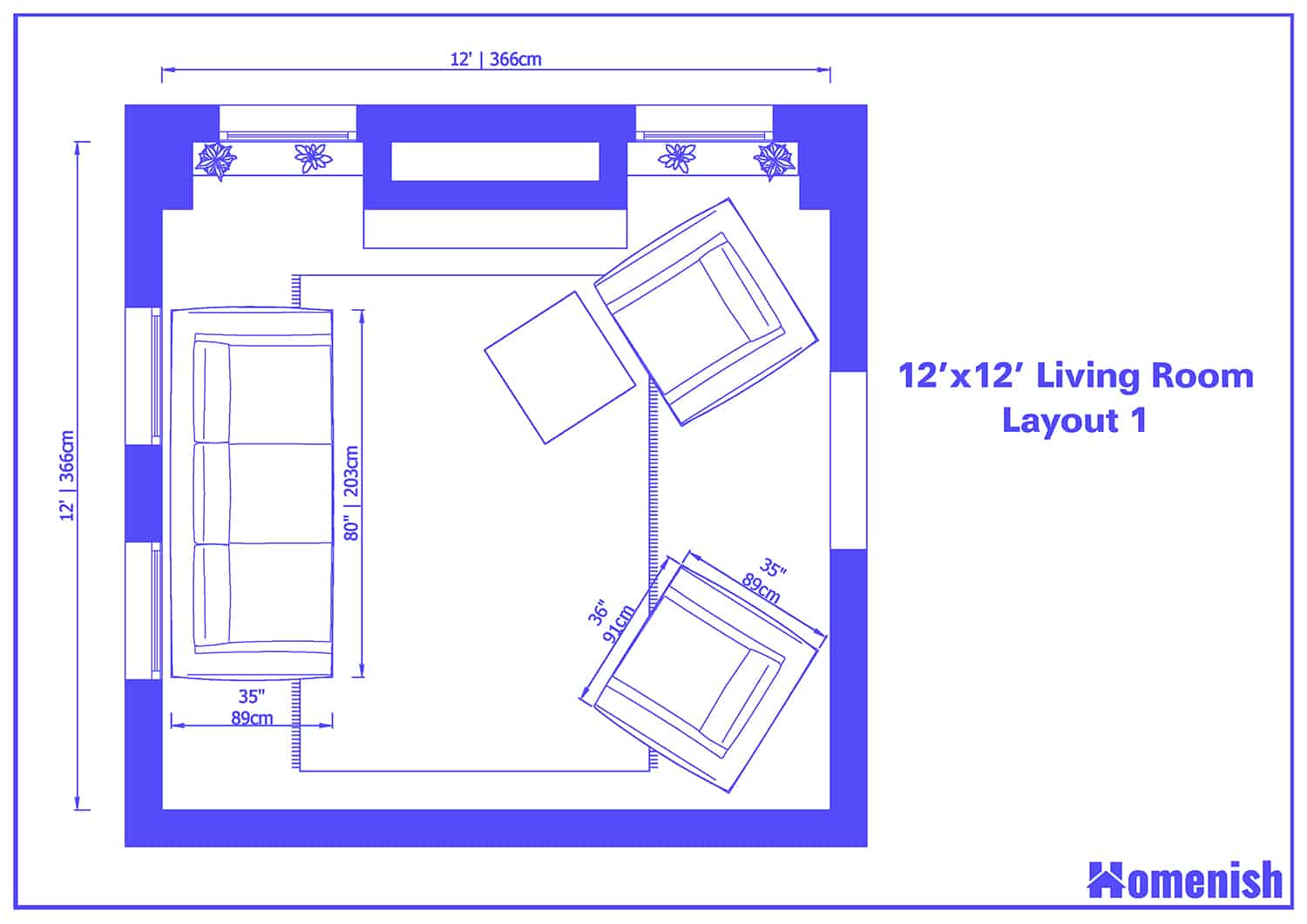 Functional and Stylish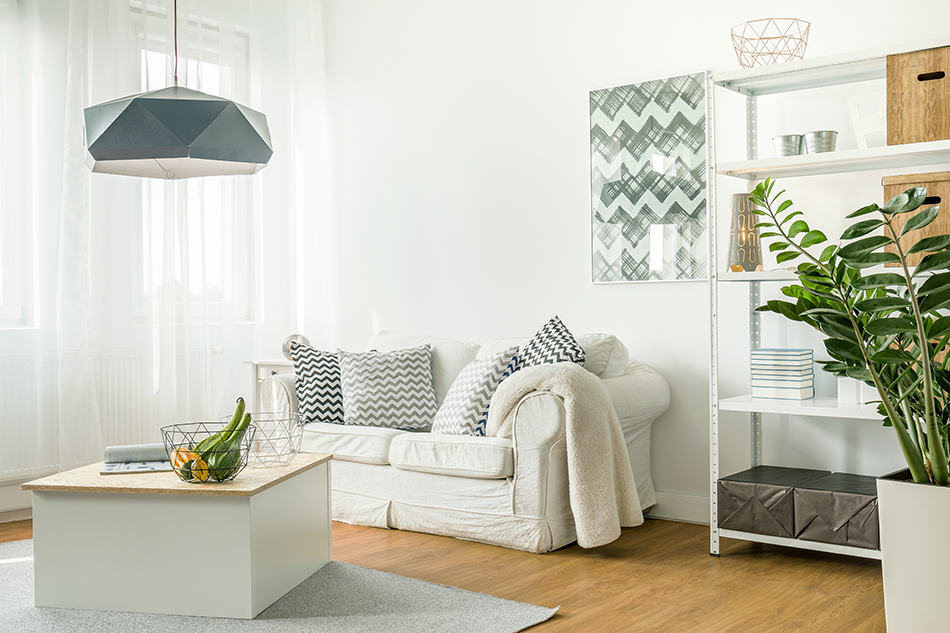 If you have a 12′ by 12′ living room in which you want to create a calming chill-out area to relax, then one great idea is to limit the seating. If you're a couple or you live alone, then one sofa will be enough seating for day-to-day use, and it frees up the rest of the floor space for other pieces of furniture and accessories which can add style and atmosphere to the room.
The layout of this room is both functional and stylish, with a modern coffee table and shelving unit for storage which also helps to anchor the space and define the vibe. By using pale colors and classic shapes, the room has a casual feel which is ideal for relaxing in.
Check out the room layout & plan here.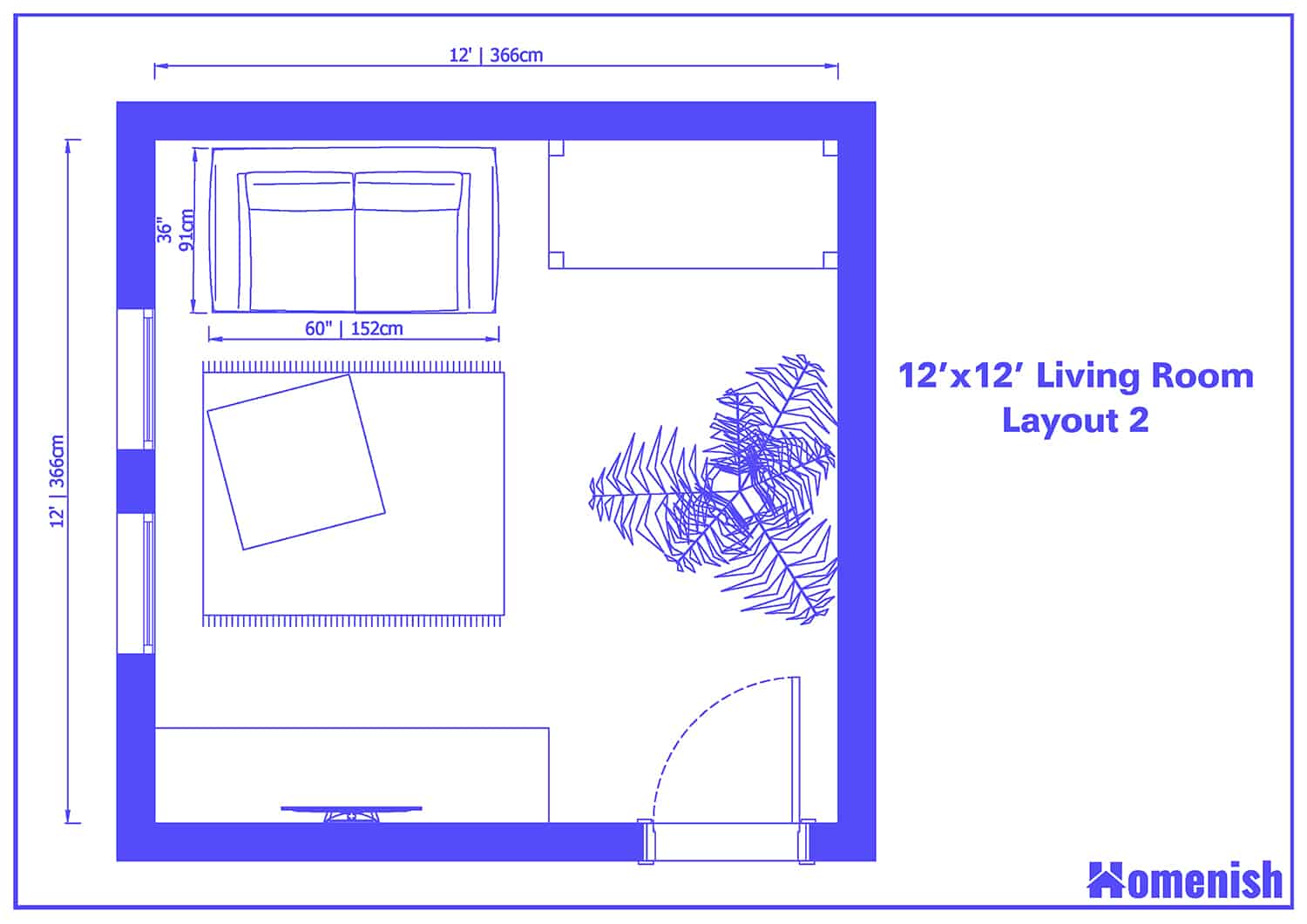 Many Seats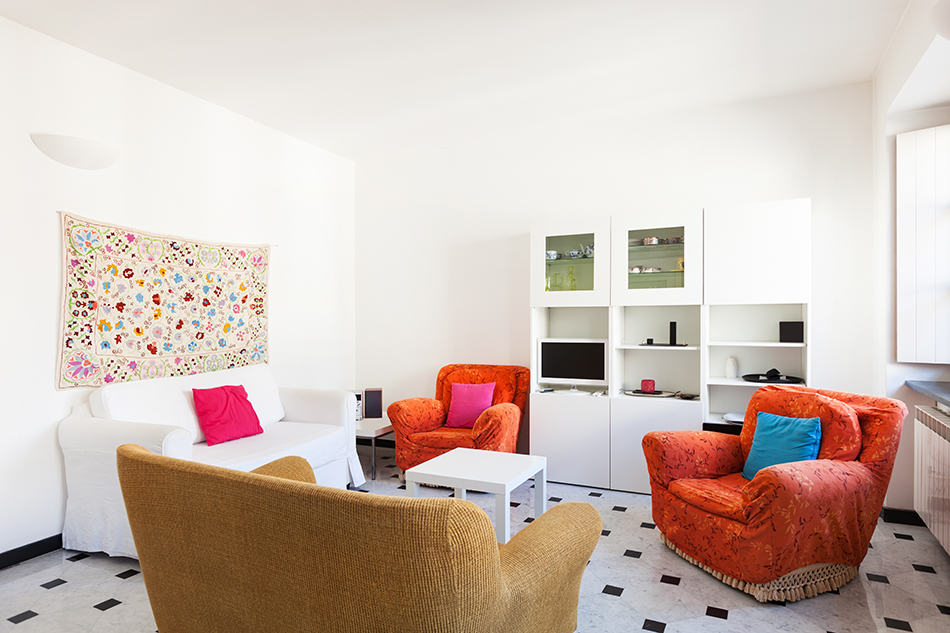 This living room layout has enabled the owner to fit in a large amount of seating in a relatively small space. They have achieved this by centering the armchairs and sofa around the coffee table in the middle of the room.
If you have a large family who all likes to hang out in the same room together, or you live with a group of friends, then this kind of layout will work well. Avoid making the room feel too full by choosing small armchairs and a petite sofa or loveseat.
Check out the room layout & plan here.
Modern and Minimalist Feel
In a 12′ by 12′ living room, it can be hard to create a modern and minimalist feel while still ensuring functionality, but it is possible. If you want a minimal design, then choose a simple layout like this. Minimalism is all about negative space, the illusion of which can be achieved by using angular furniture with legs that extend the eye line underneath it.
In this room, the chair, tables, and sofas are all designed in a way that allows us to see the floor beneath them, which creates the look of there being more space than there really is. The addition of built-in shelving helps to create storage without the need for freestanding furniture, which makes it feel like part of the structure of the room as opposed to more clutter.
Check out the room layout & plan here.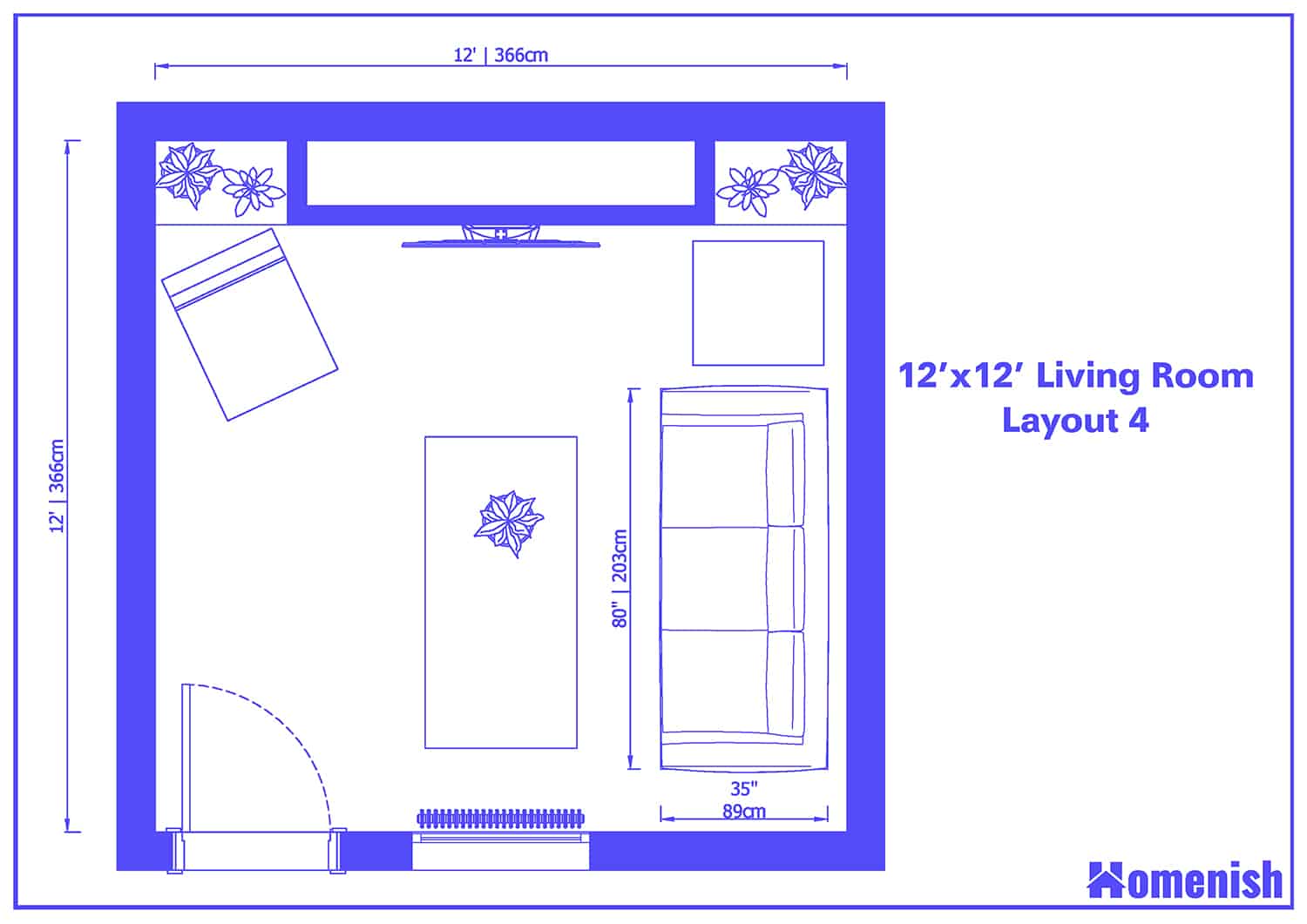 Open and Airy with White Walls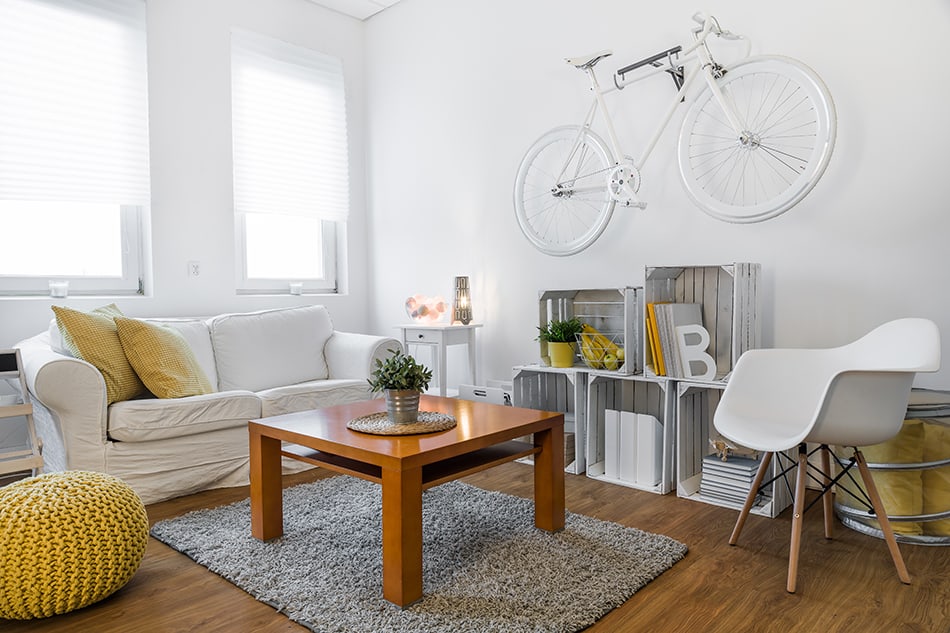 This square living room layout has a spacious and light feel due to the layout and choice of colors used for the interior design. The center of the room is signaled as the focal point due to the space-defining rug underneath the coffee table, which all of the seating is directed towards.
This small room has fitted a fair amount of furniture in it and, in other circumstances, might look cluttered, but in fact, it looks open and airy because of all the blank space that has been left on the clean white walls. If a patterned wallpaper had been used or a dark color of paint, this layout would look too busy, which shows that the color scheme and interior design style you pair with your layout needs to be well thought out.
Check out the room layout & plan here.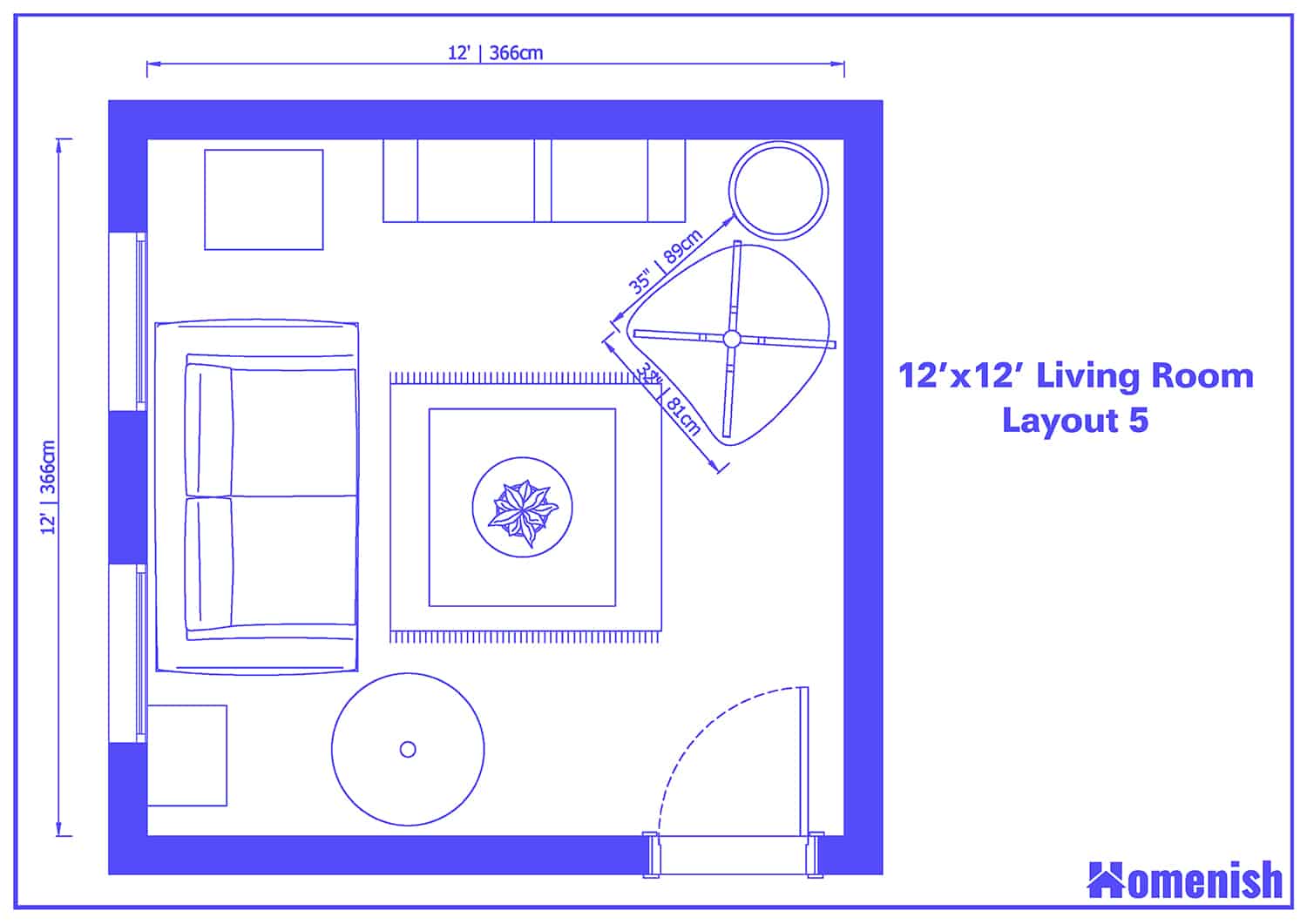 TV Room or Home Theatre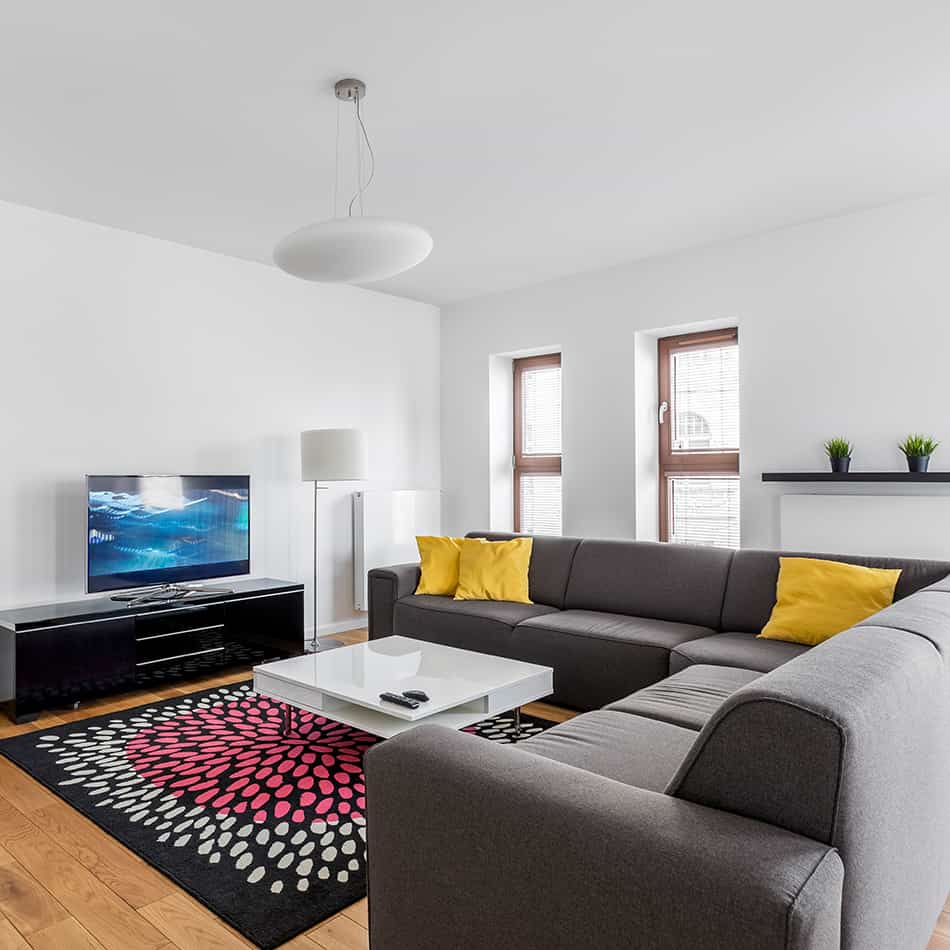 The layout in this space is ideal for a TV room or home theatre. By using a sectional or corner sofa in a 12′ by 12′ living room, you can maximize seating and relaxing space without having multiple pieces of furniture which could overwhelm the room.
If you want to use a large sofa in a small room, then the key is to embrace it and make it a focal feature rather than try to disguise it. In this layout, the sofa is a bold color that stands out from the walls, and it is complemented by minimal pieces of furniture in a sleek design.
Check out the room layout & plan here.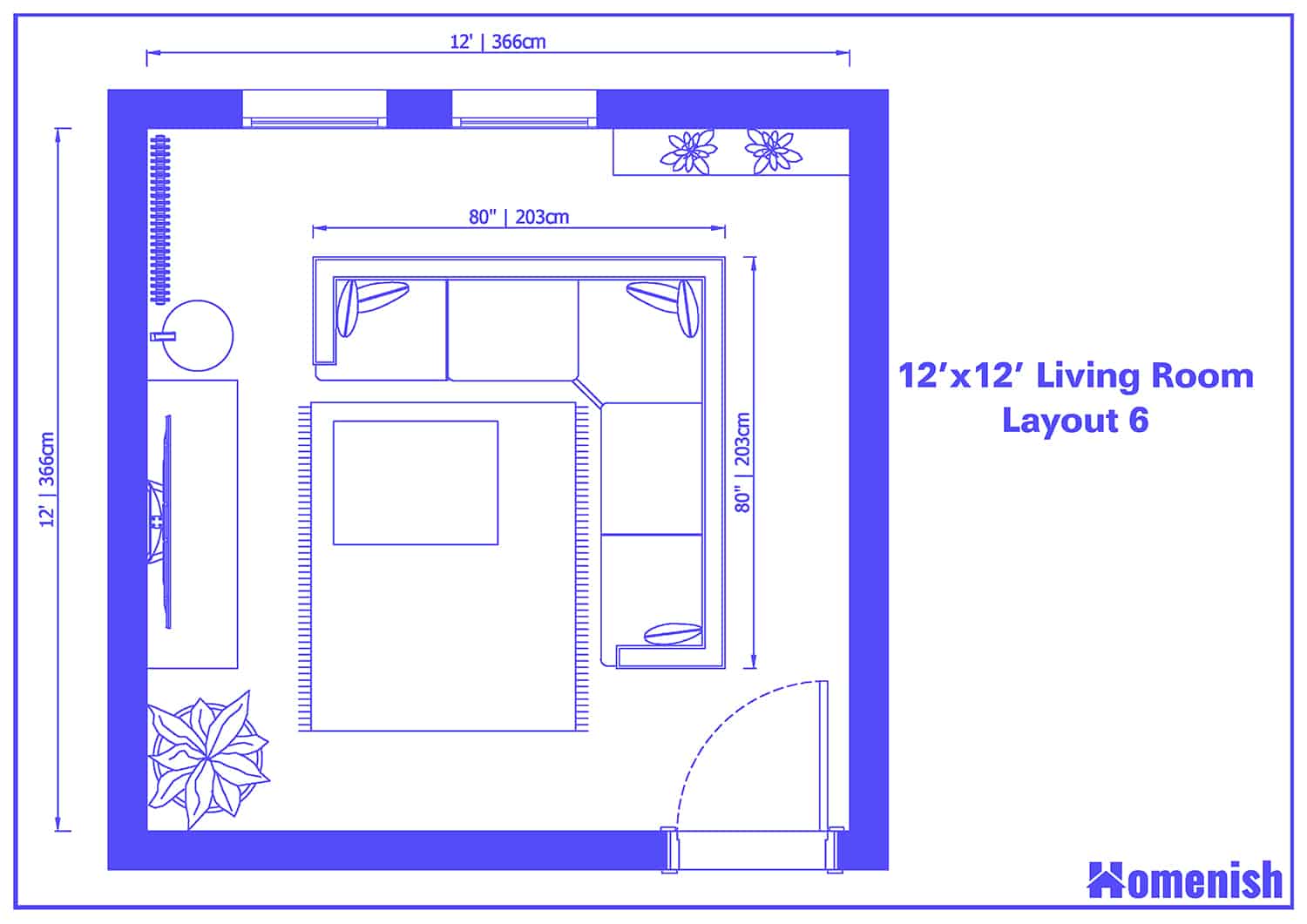 Multifunctional Space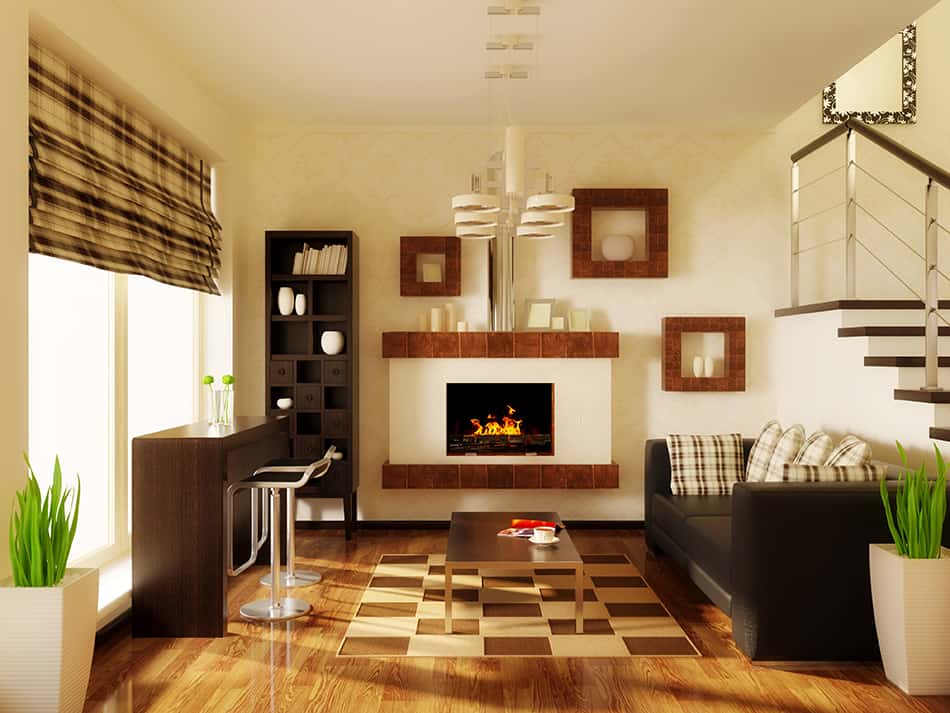 If you have a living room that needs to be a multifunctional space, you can achieve it with this layout. The room features a sofa and coffee table for relaxing and a tall desk and bar stools, which could be used as a dining area, as additional seating for entertaining, or as a study space.
Check out the room layout & plan here.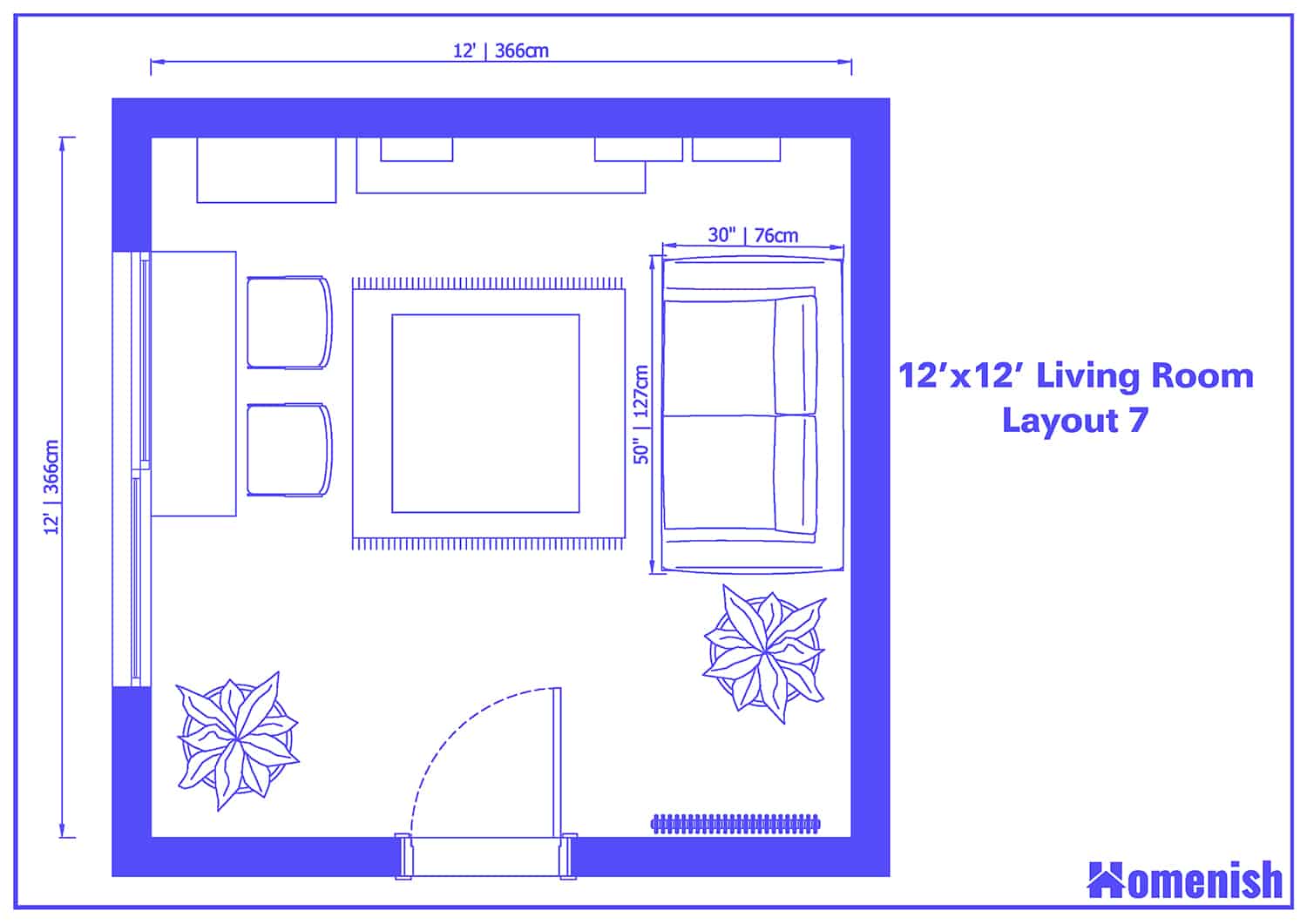 Large Picture Window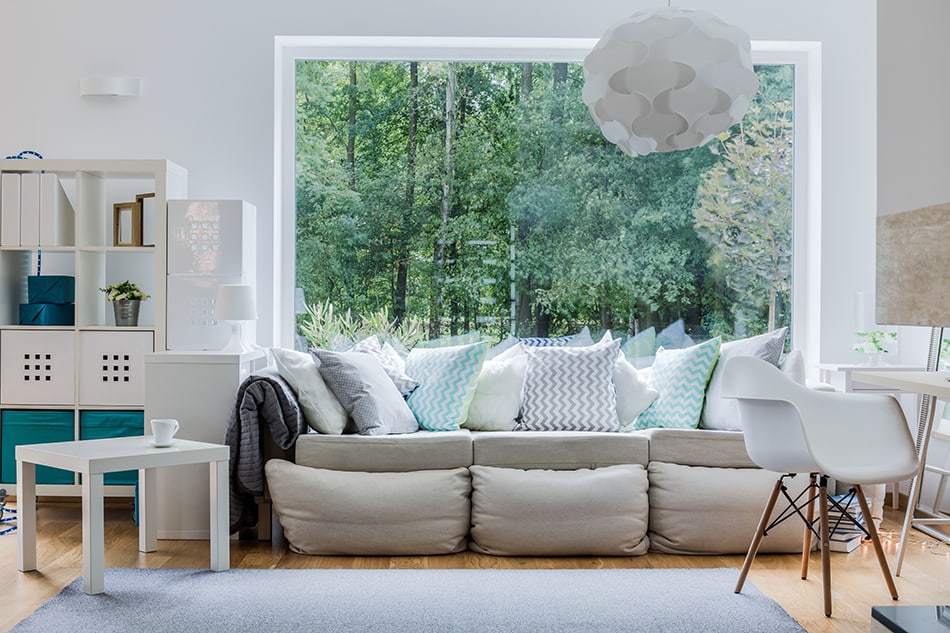 In this living room, the large picture window has been emphasized by keeping the furnishings and interior neutral. A multifunctional area has been made in a small space by having the sofa pushed back against the wall and a coffee table close by at the side. A desk and chair also feature as a working area or additional seating.
Check out the room layout & plan here.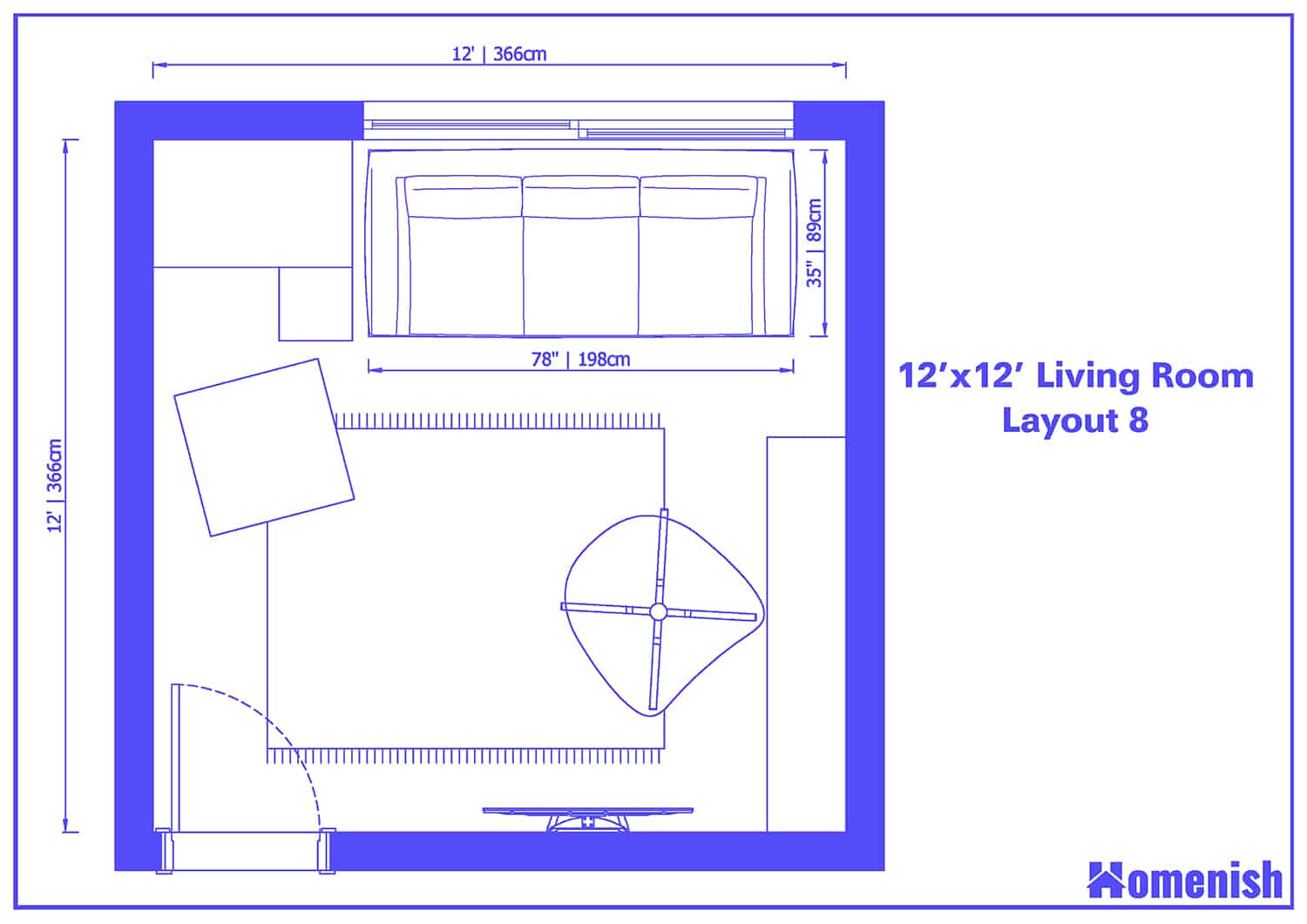 Symmetrical Living Room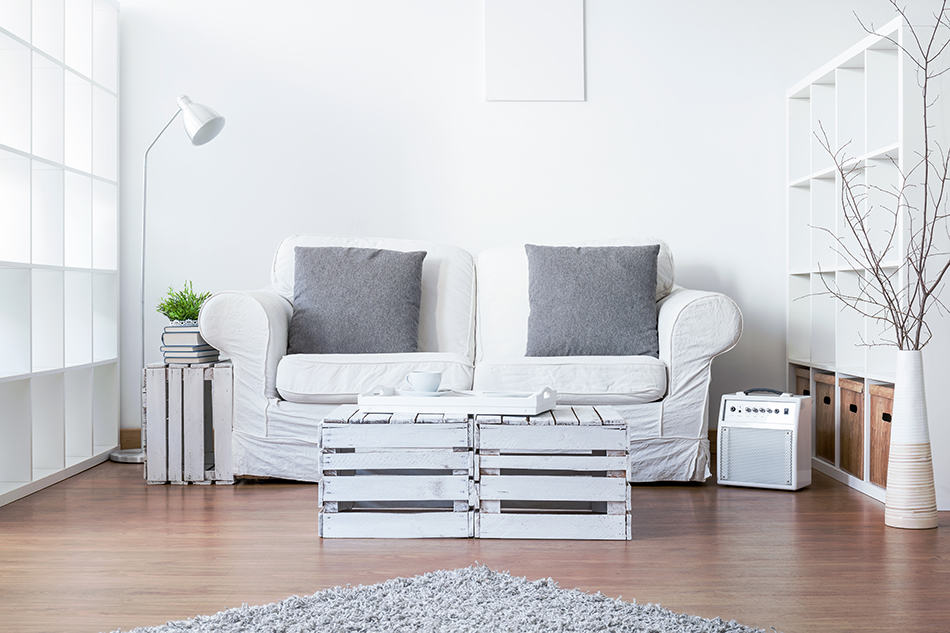 In a 12′ by 12′ living room, the space is square, so you have the opportunity to create symmetry to make the area feel organized and streamlined. Here, cubed shelf units have been used on opposite walls with the sofa in between them, providing plentiful storage space without intruding on the relaxing area.
By sticking to shades of white for furniture and wall colors, the room gives the illusion of being larger than it is because the furniture blends into the background. Bunch your furniture together to create a large empty space in the room which is another way your layout can help to extend your space.
Check out the room layout & plan here.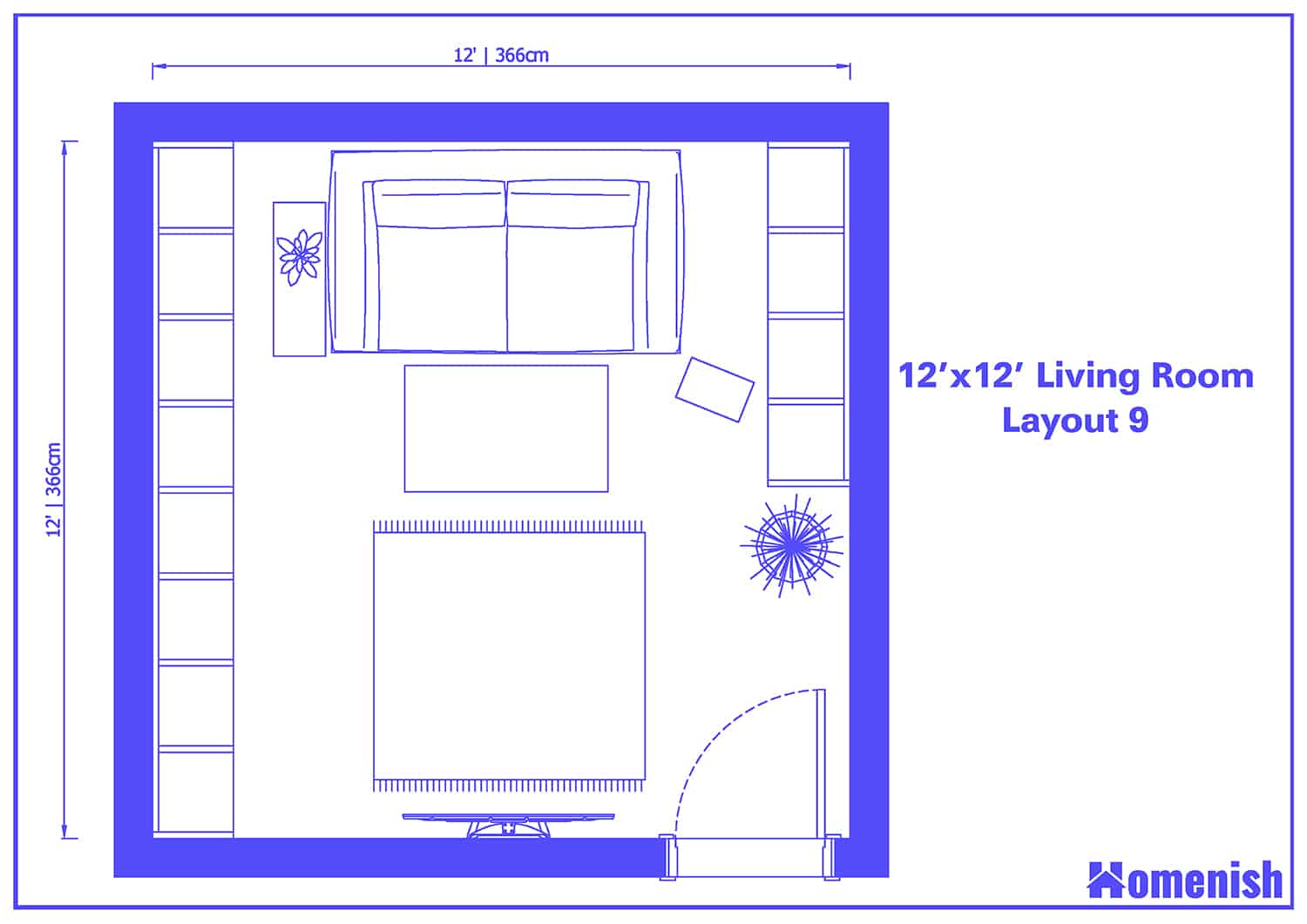 If you have a larger living space, say a 12′ x 16′ room, check out our guide on ' Best 12 x 16 Living Room Layouts'.