Having a big well-furnished living room is a dream for many householders; however, it can be challenging when it comes to choosing what furniture and how to arrange them.
That's why, in this article, we'll give you some inspiring ideas with these 20′ x 25′ living room layouts.
Large and Cozy Living Room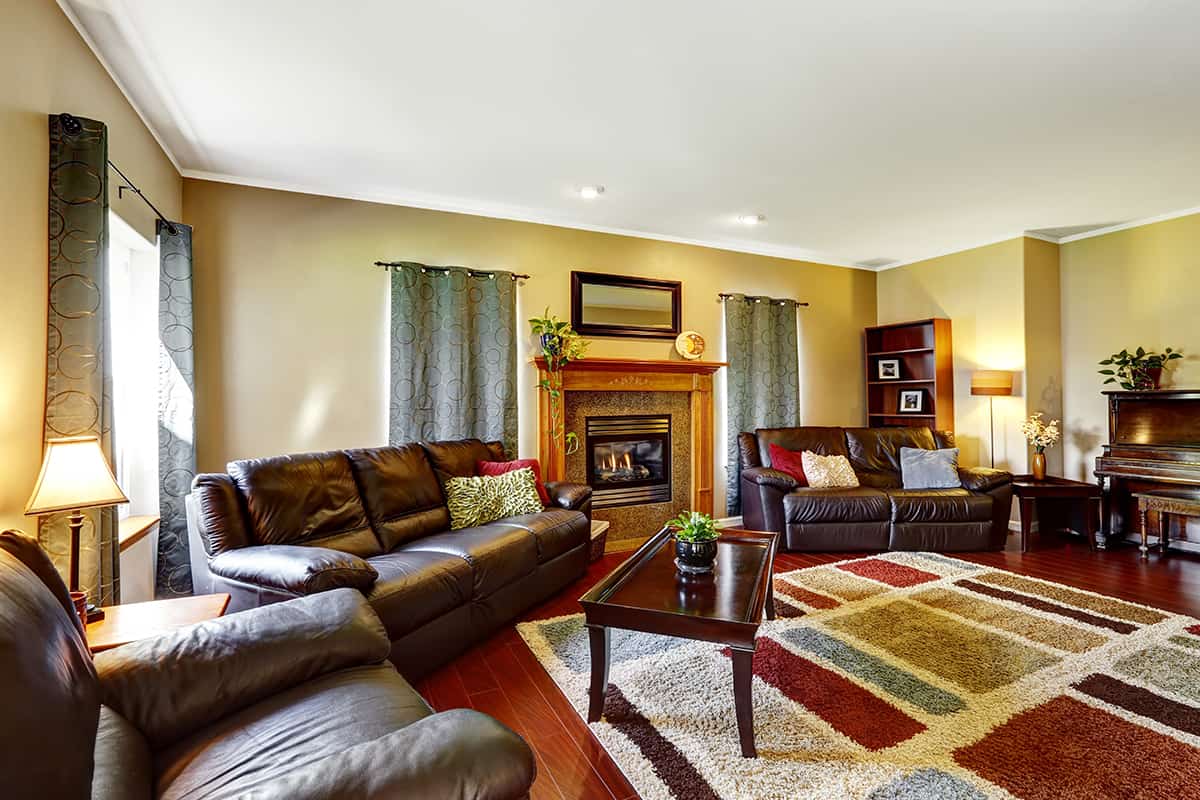 The layout of this living room, along with the furniture and colors used, creates a cozy vibe despite the room being large. The spacious room allows for a chunky armchair, three-seater sofa, and two-seater sofa to fit easily into the space.
A square area rug in the middle of the room helps to add warmth to the room, upon which a single coffee table is positioned in front of the biggest sofa. A central coffee table would not have been reachable from all of the seats, which is why this provides a better layout option.
Check out this layout.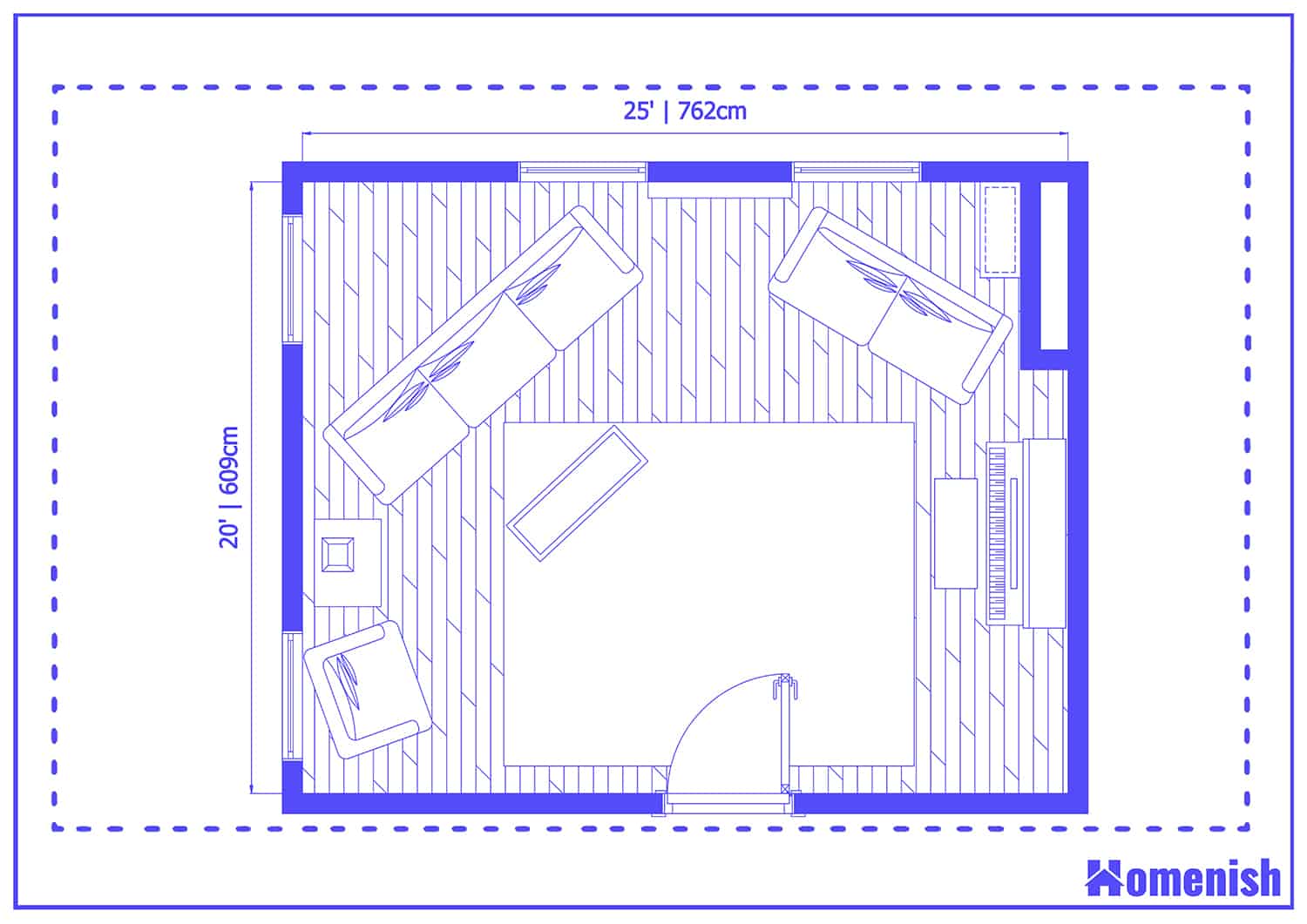 Traditional Living Room Layout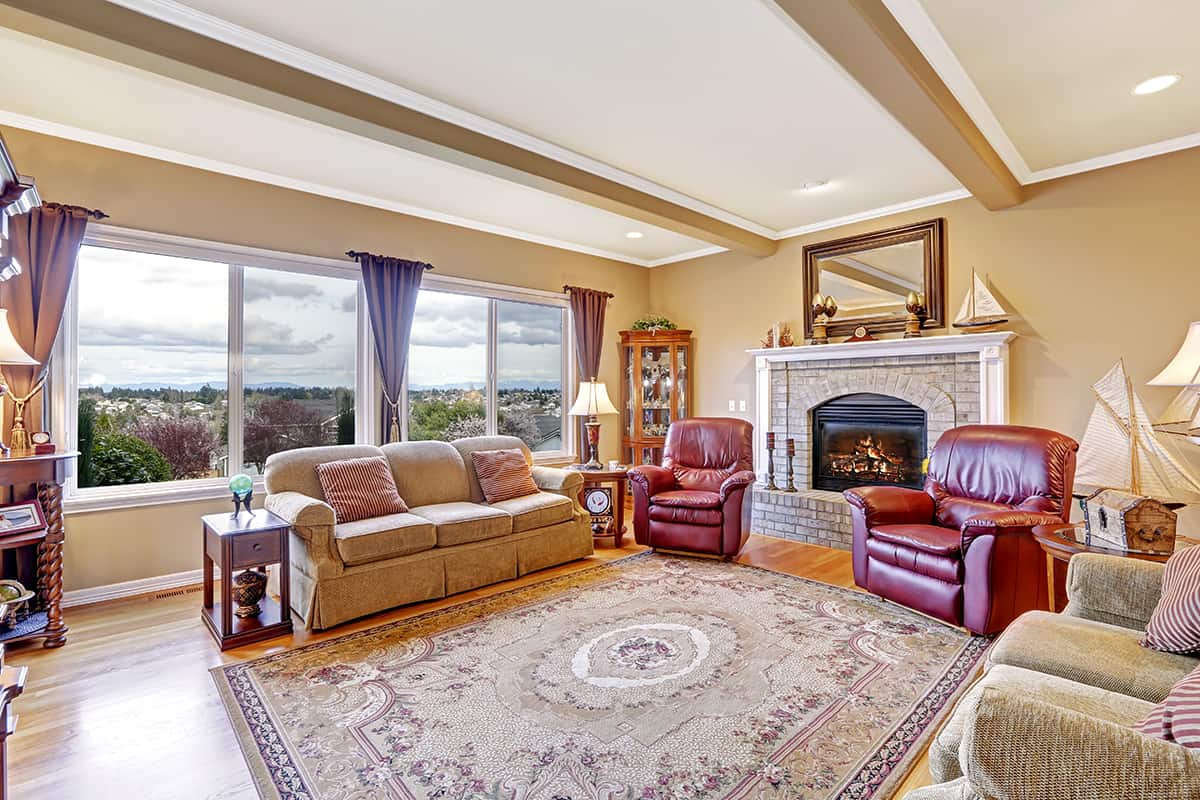 The furniture in this living room is all positioned around a central area rug. This includes armchairs, a sofa, and several side tables, which can be used to hold drinks or other small items while seated.
A fireplace is set at the back of the room and framed by two red leather chairs that are angled in front of it.
Check out this layout.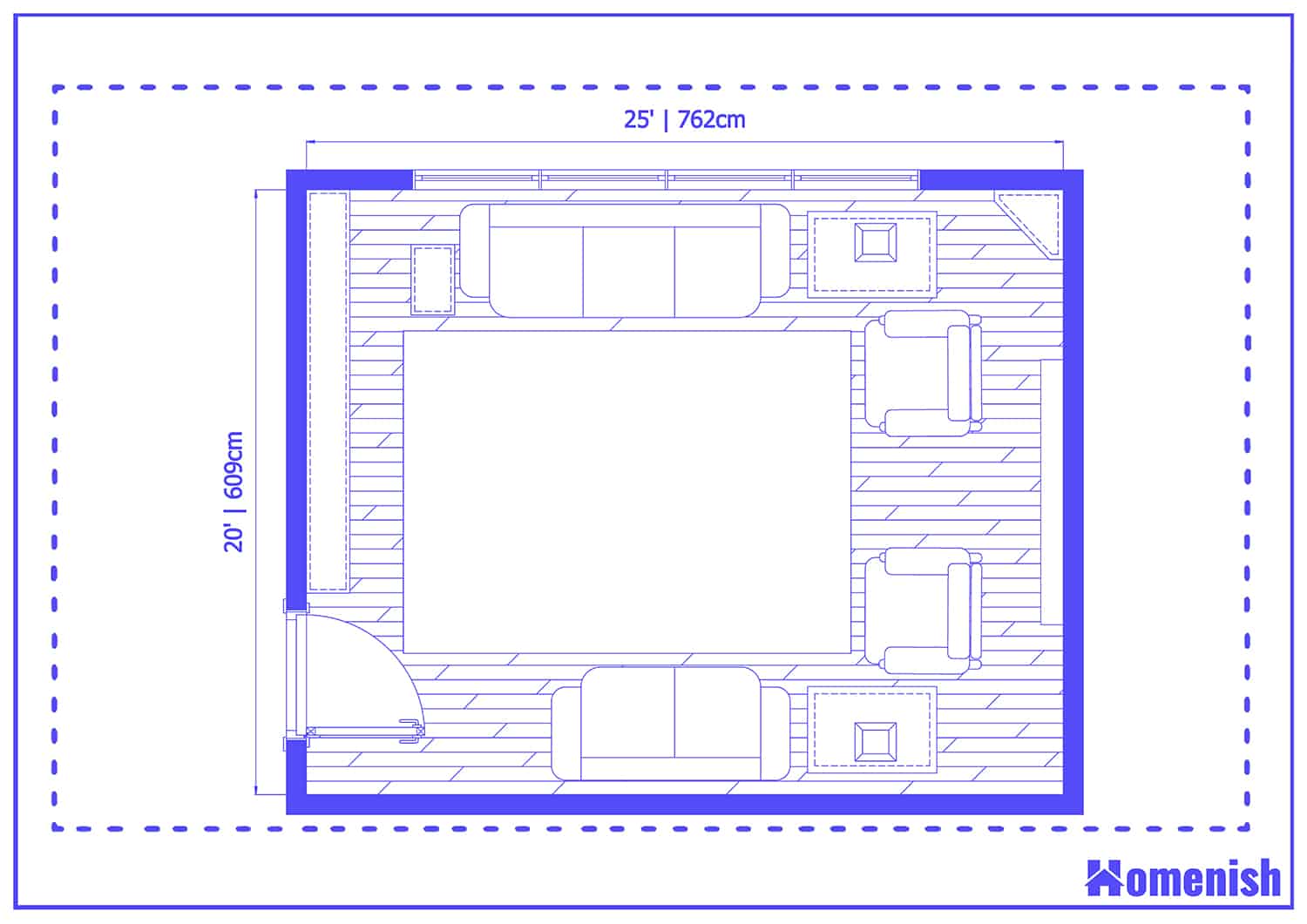 Large Formal Living Room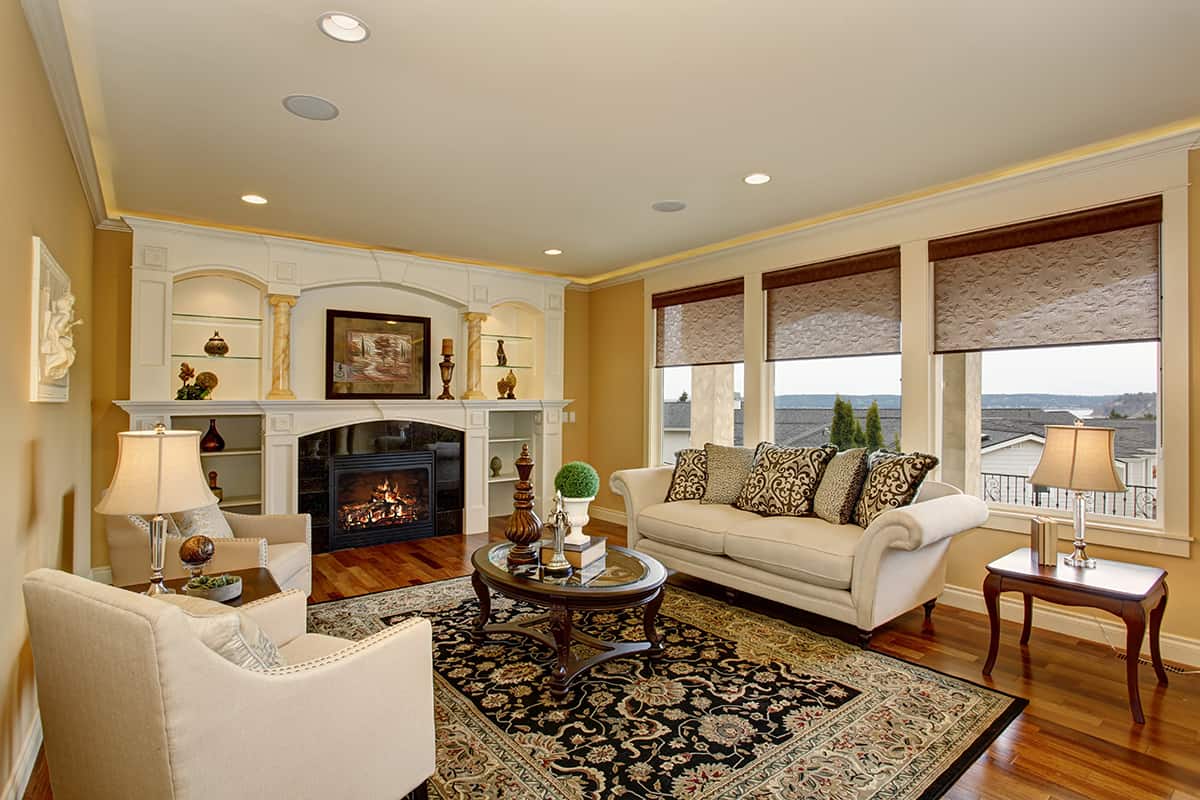 This 20 by 25-foot living room features a large built-in unit at one end, which encompasses shelves and cabinets, and also has a fireplace integrated into it.
This feature provides the focus of the room, with seating furniture positioned at either side of an area rug.
On one side of the rug is a sofa, while on the opposite side, there are two armchairs separated by an end table. This gives the space balance, while the central coffee table ensures that the room doesn't feel too empty and vacant.
Check out this layout.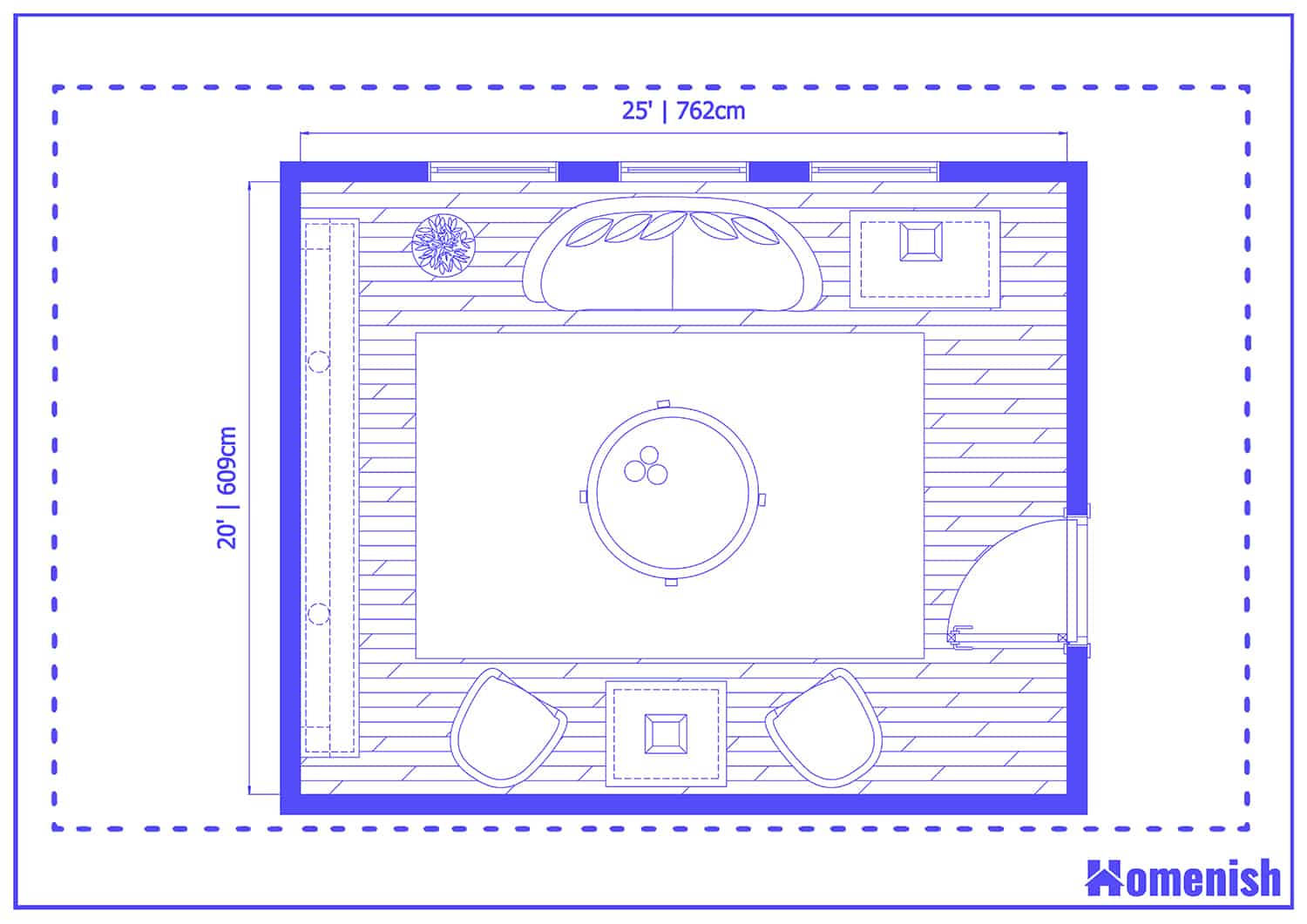 Symmetrical Living Room Layout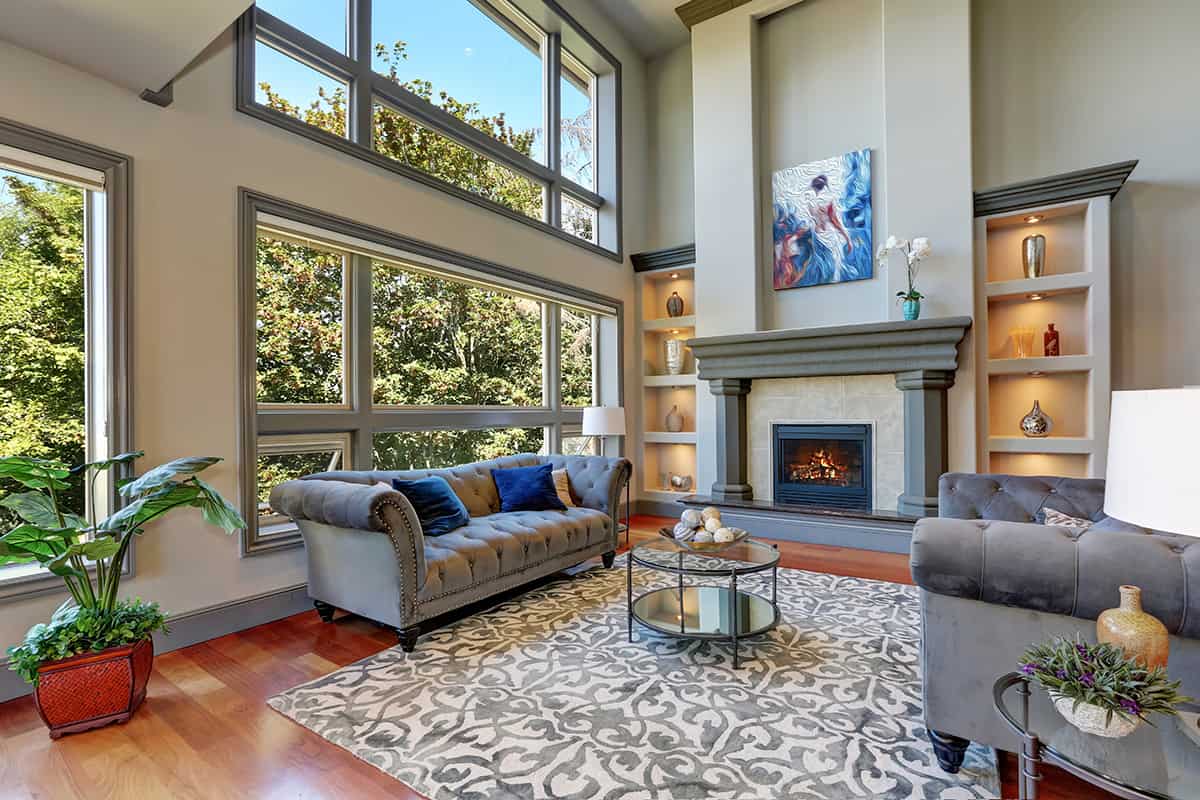 This large living room is anchored by a fireplace at one end, which is surrounded by custom-built shelving units. This provides the main feature of the room, which dictates where the furniture should be laid out.
There is an area rug in the middle of the space, with a sofa flanked at either side. The coffee table in the middle of the rug finishes off the layout nicely, ensuring balance and a good proportion of furniture to the amount of negative space.
Check out this layout.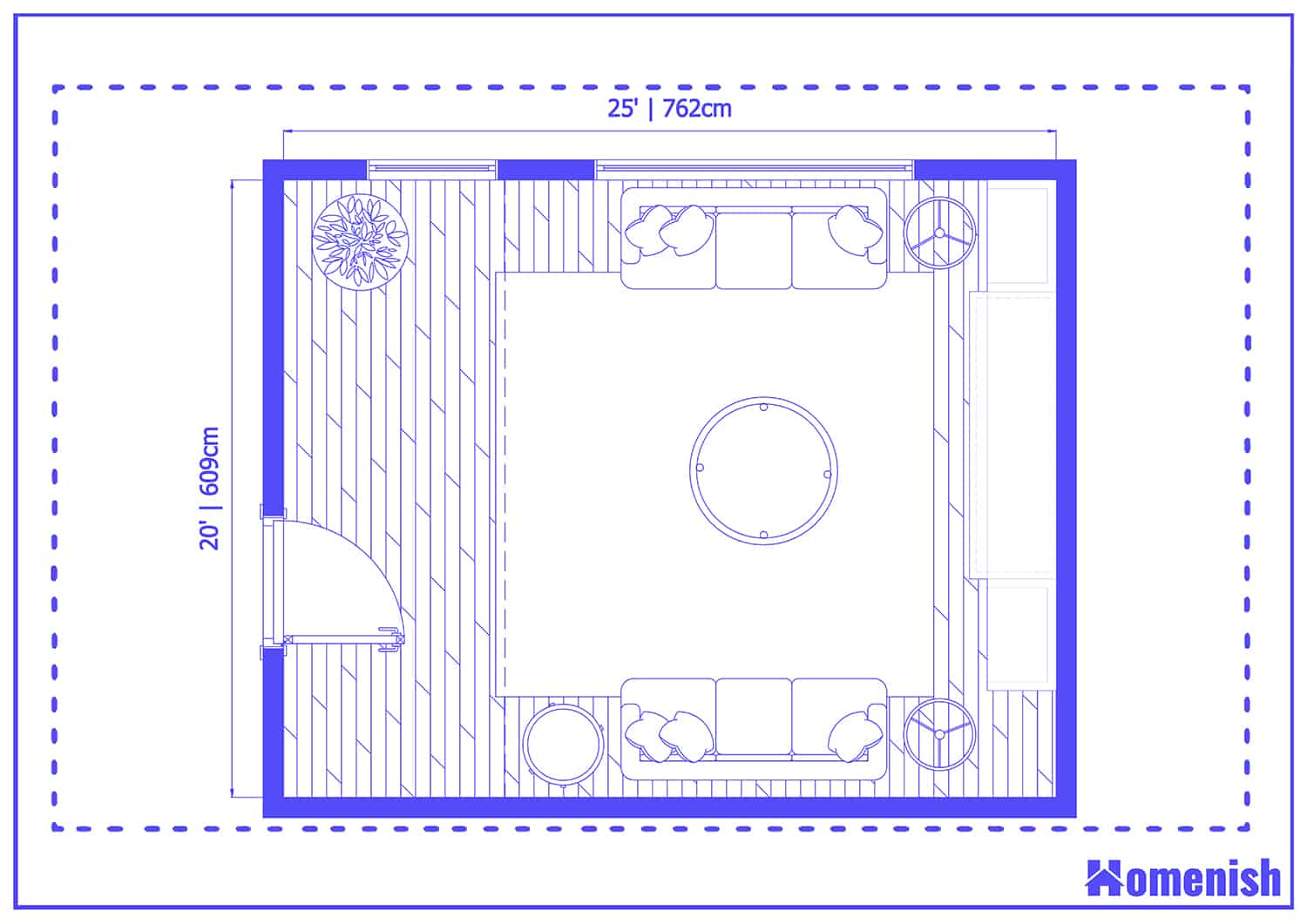 Minimalist Living Room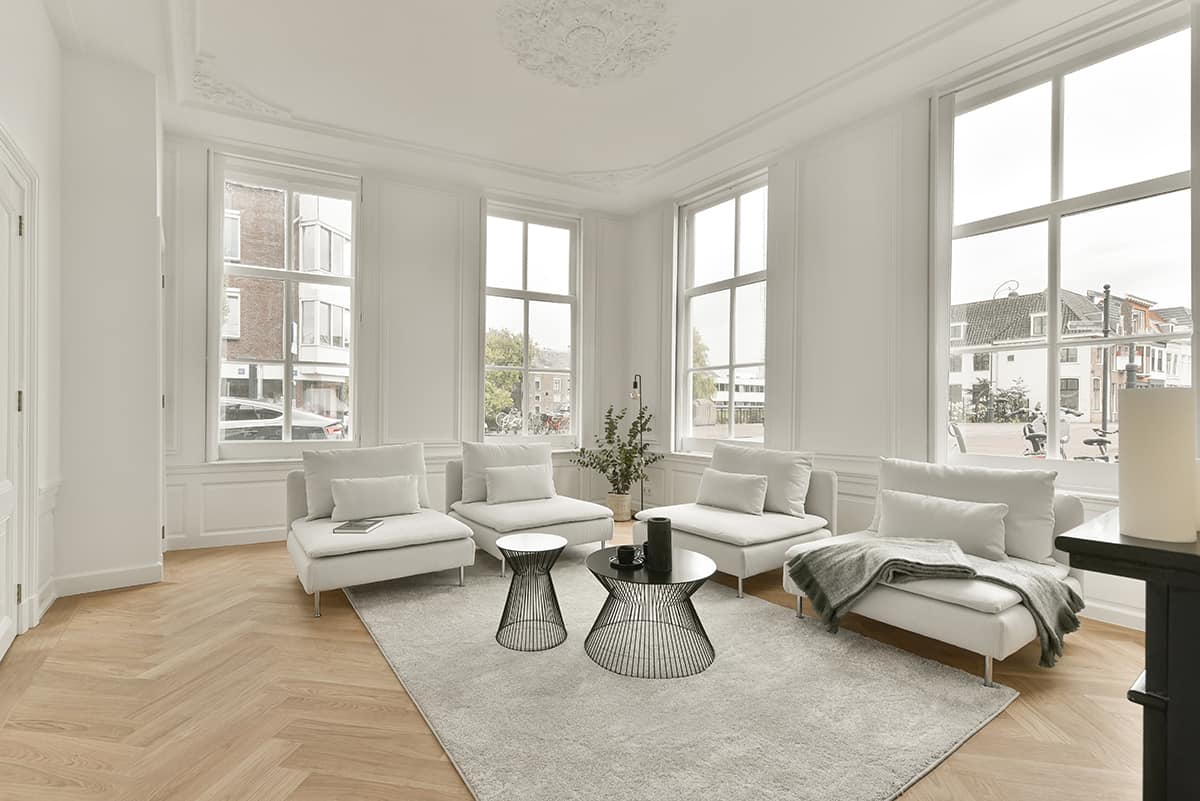 You might expect that a living room of 20 by 25 feet would struggle with a minimalist look and end up looking like a bare and uninviting space.
However, a minimalist style has been achieved in this large living room with the use of several standalone seating items arranged around the central rug in an L-shape.
Very pale shades of gray have been used for most of the decor in this room, which ensures a very contemporary vibe, but the warm tone of the hardwood floor prevents the space from feeling cold. Very little furniture has been used, and there are no window blinds or drapes, which further highlights the minimalist look.
Check out this layout.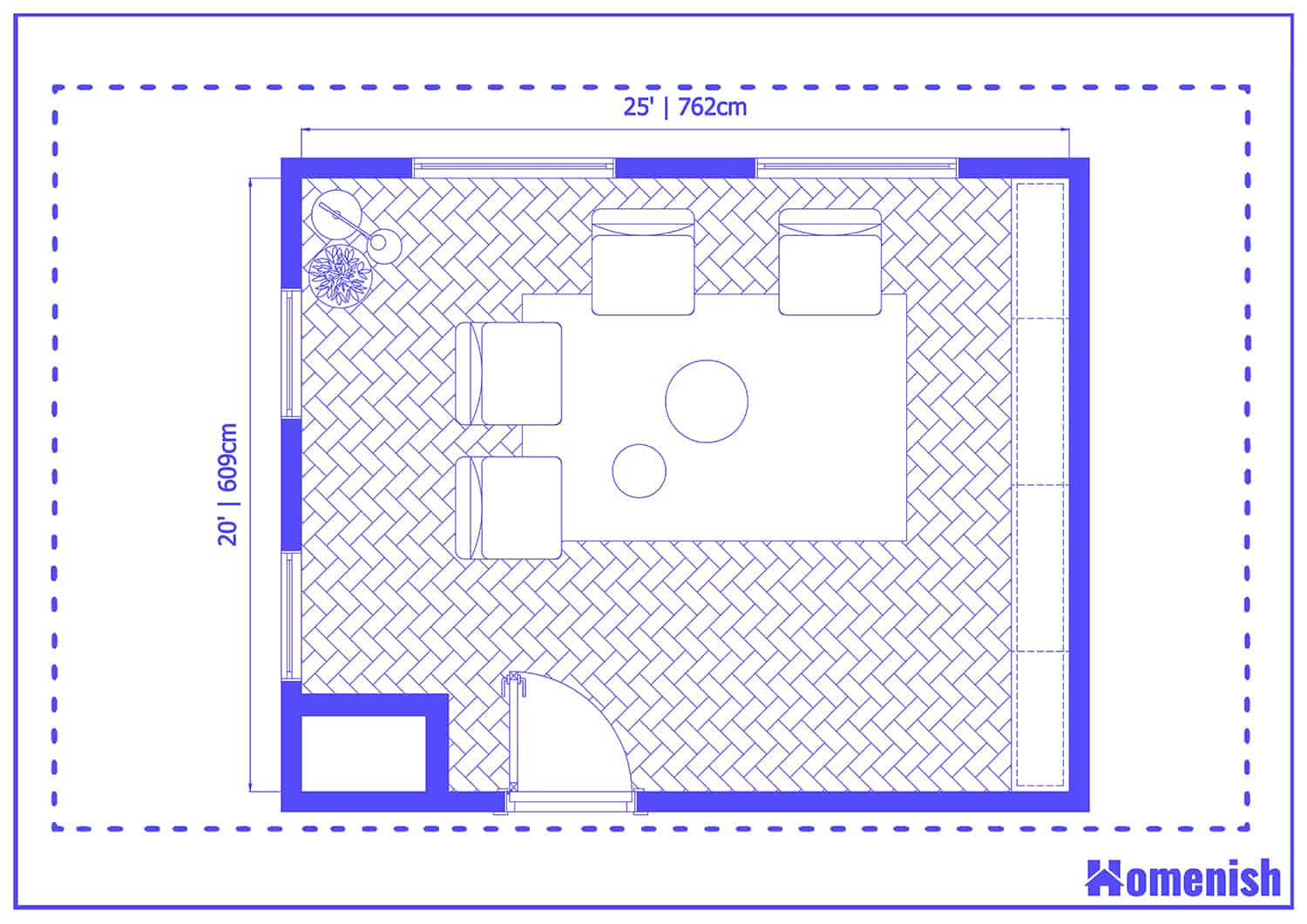 Open Plan Living Room and Kitchen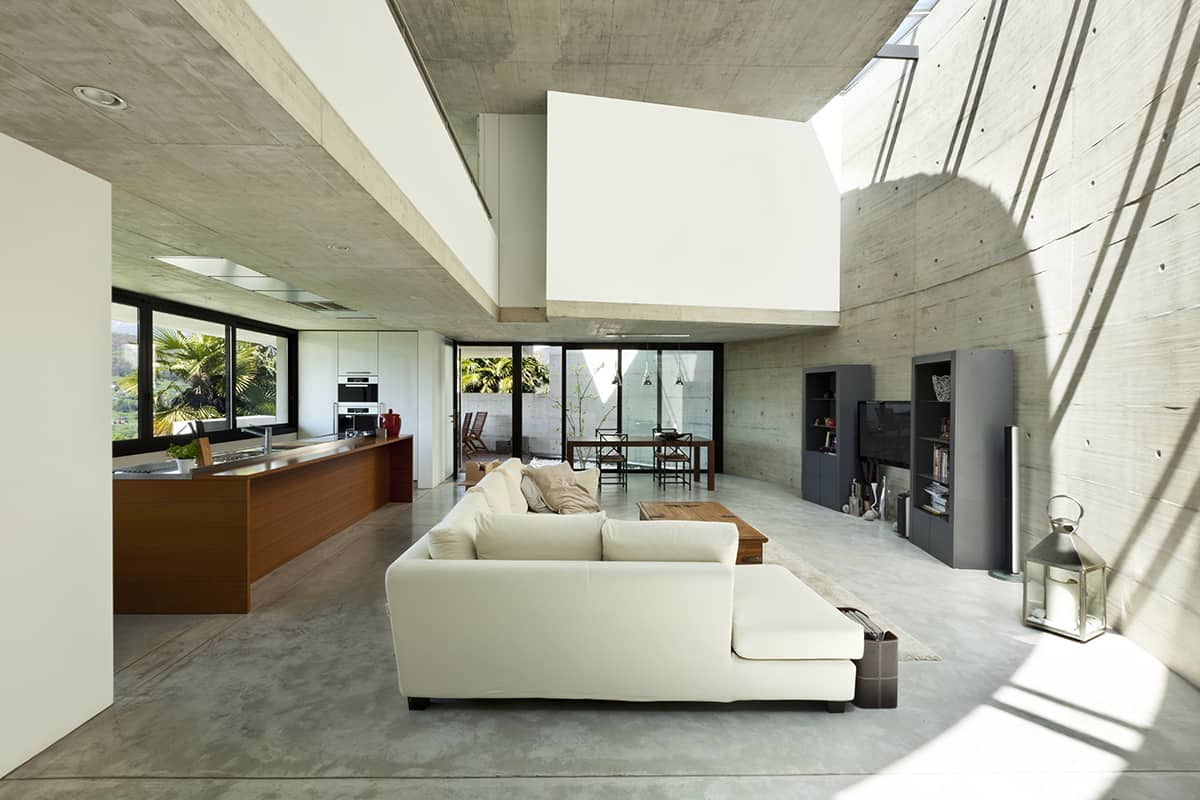 This living room backs onto a kitchen in an open-plan layout design. The separation between the two rooms has been achieved with the use of a long corner sofa, the back of which is facing the kitchen, to signal a physical divide.
A minimalist style has been adopted in this home, and so there is a distinct lack of furniture aside from functional necessities such as a coffee table and a TV unit for storage.
With the bar tables in the kitchen, the layout also encompasses a functional living room with an open dining room.
Check out this layout.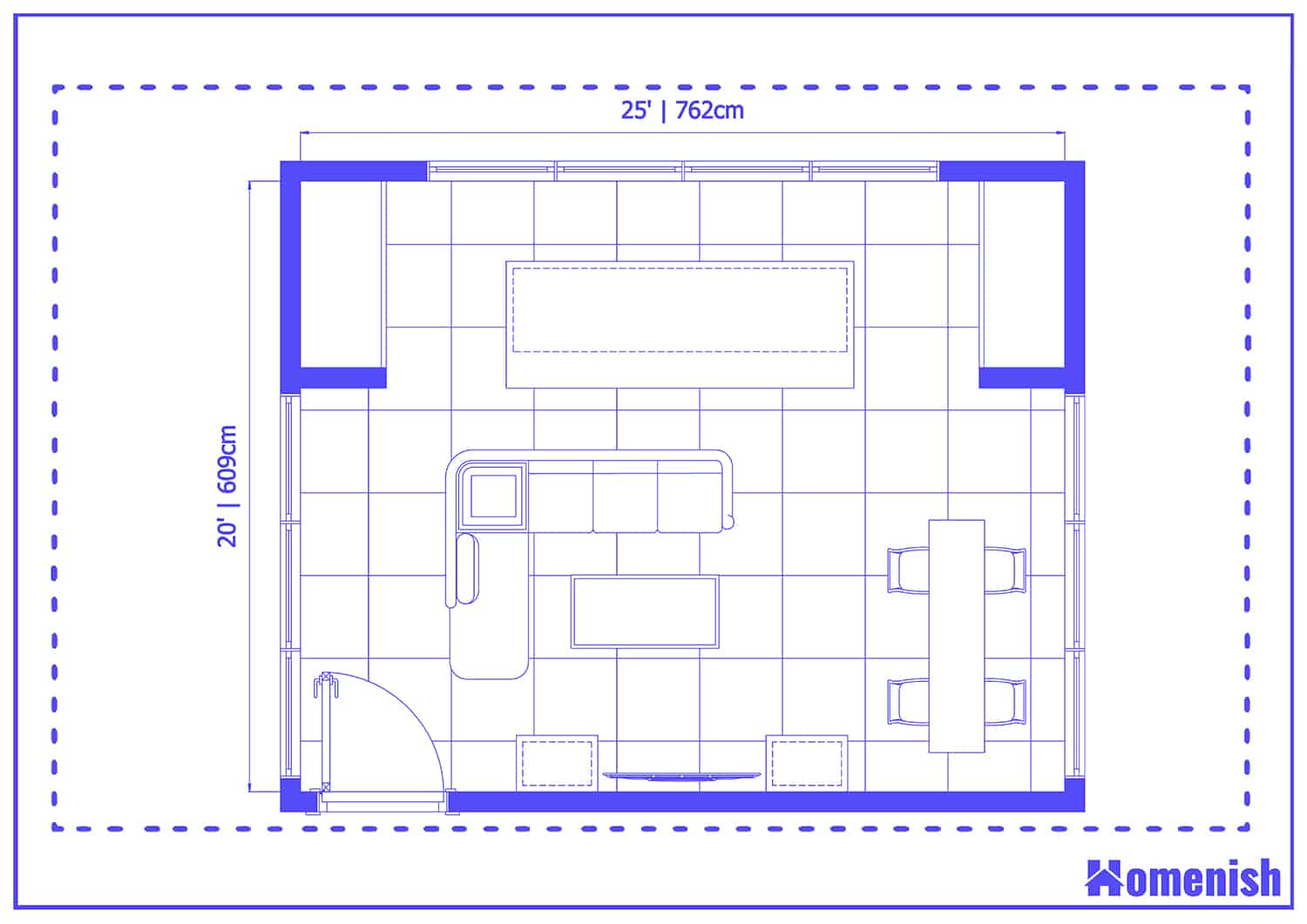 Ultra Modern Living Room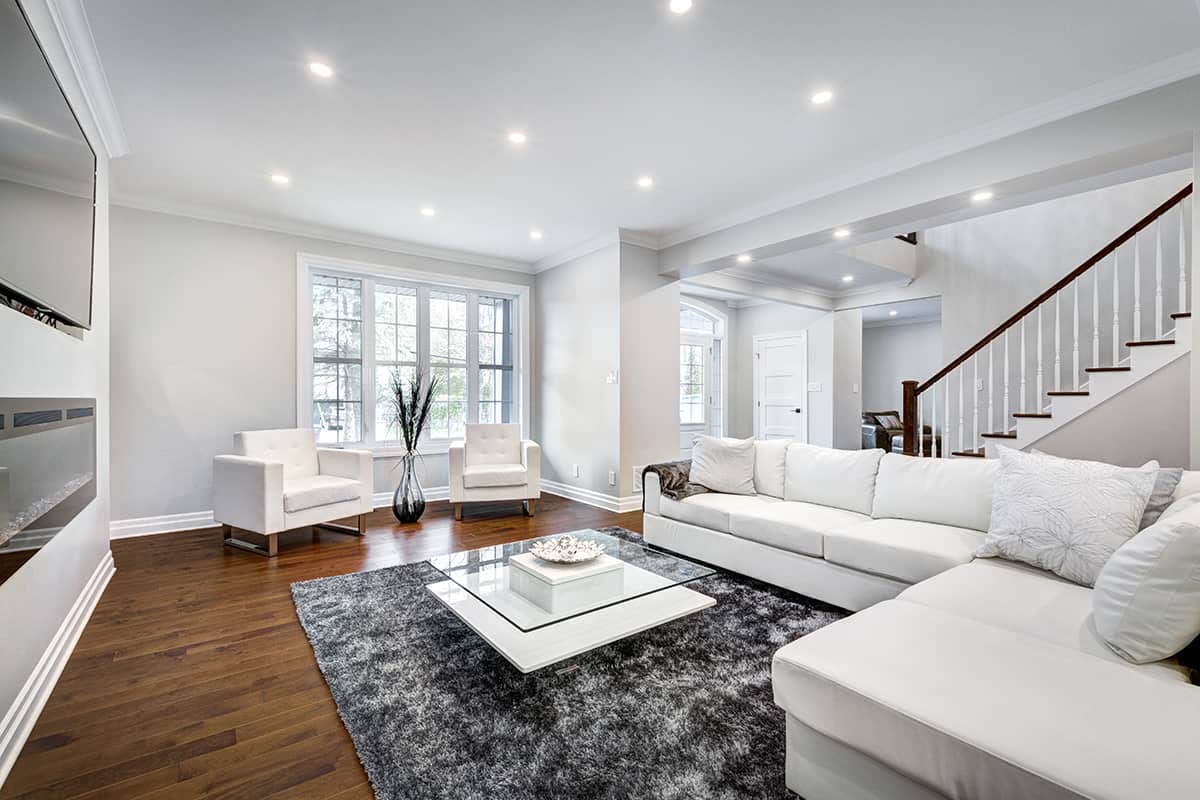 This living room has a central area rug on the floor, around which the rest of the furniture is based. An L-shaped sofa is positioned at one of the corners of the rug, facing both the TV and a pair of matching white armchairs at the other end of the rug.
Both the fireplace and the TV have been installed within one of the walls in a very minimalist style. This means that the amount of furniture needed in the space has been drastically reduced, further adding to the modern look.
Cold tones are predominant in this room, but the rich tone of the hardwood floor ensures some warmth and balance.
Check out this layout.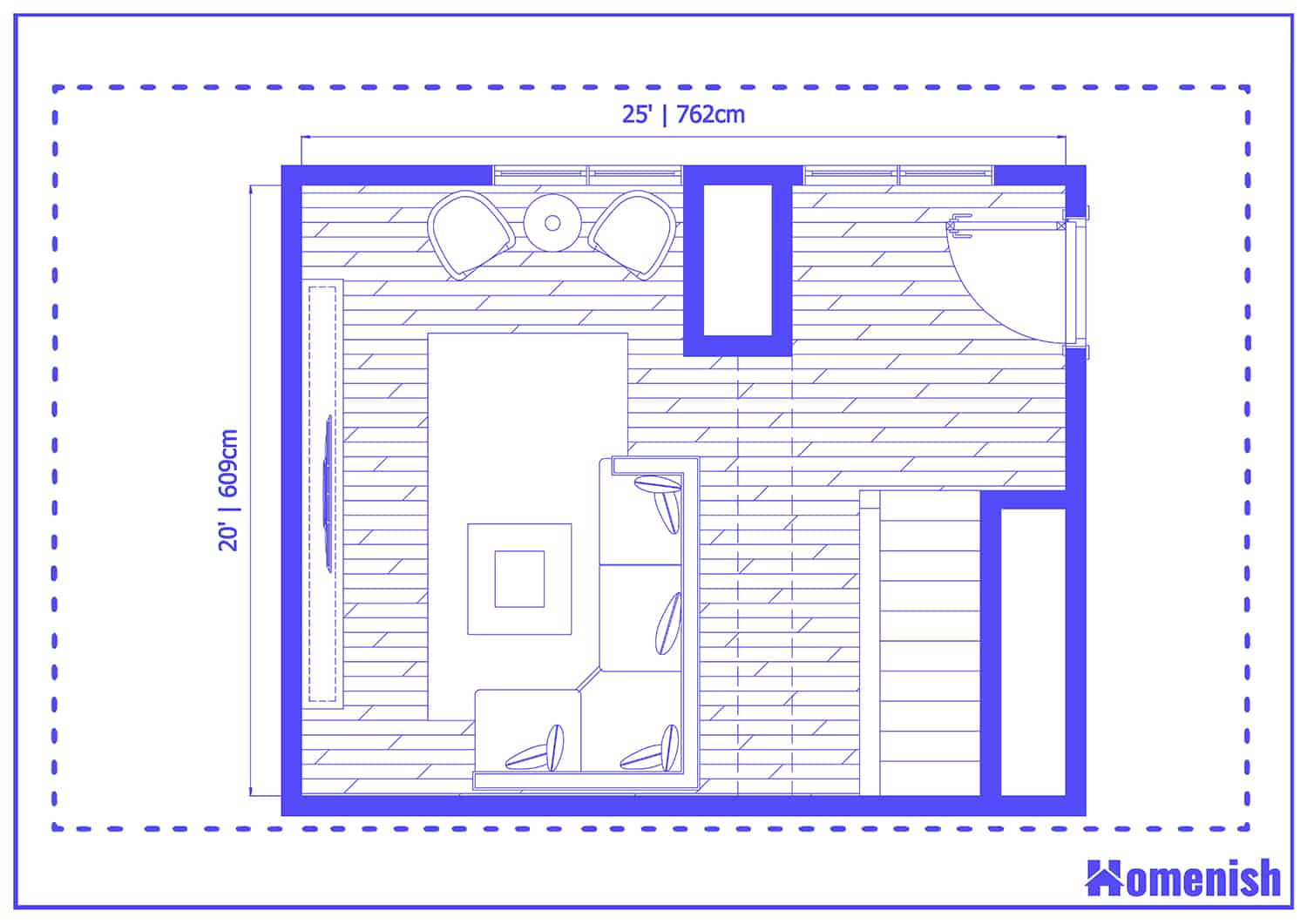 Multi-Area Living Room Layout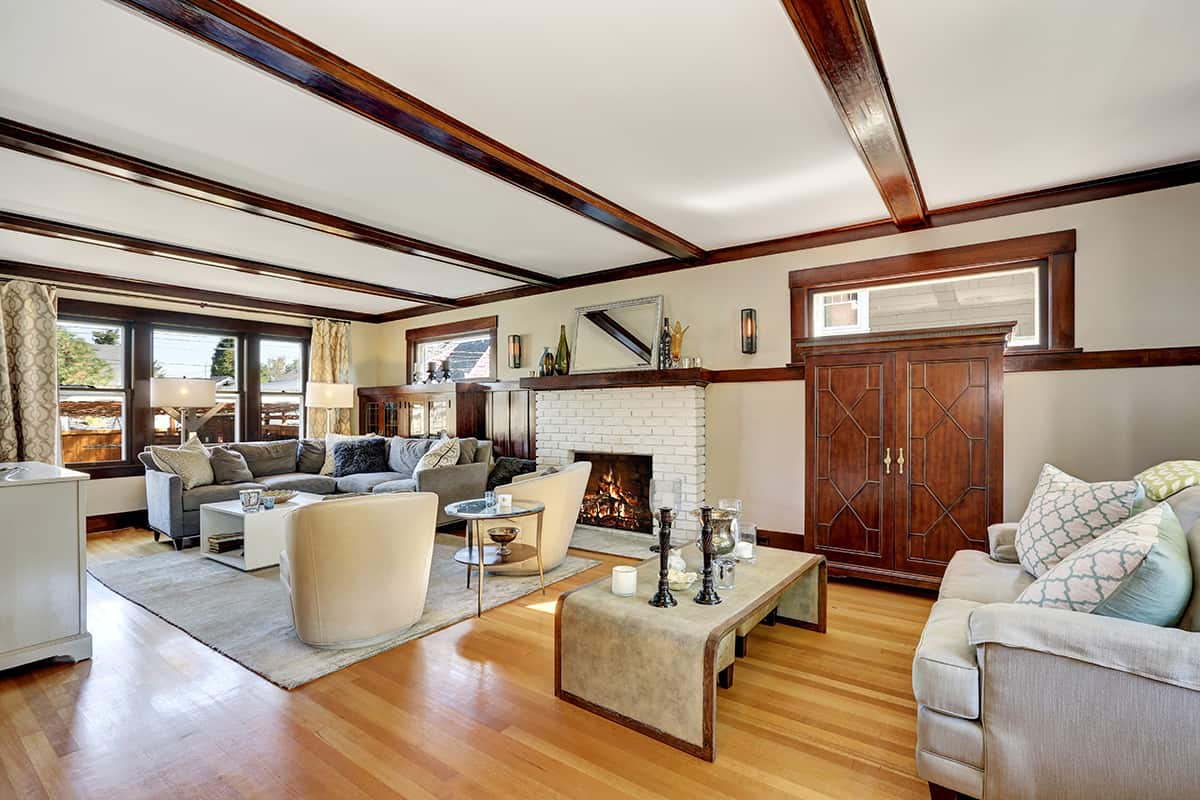 A living room measuring 20 feet by 25 feet is very generously proportioned. Some people may struggle to furnish a room this large, so one solution is to separate it into two different areas in the same way as this example.
A main living room area has been created at one end of the room, as signified by the area rug and the layout of the seating, all pointing in towards the middle of the rug. At the other end of the room is a smaller lounge area with a two-seater sofa and a coffee table.
This room could accommodate two groups of people hanging out, for example, teenagers and their friends at one end and parents at the other end. Alternatively, one end could be used for TV or socializing, and the other end a quieter reading space.
Check out this layout.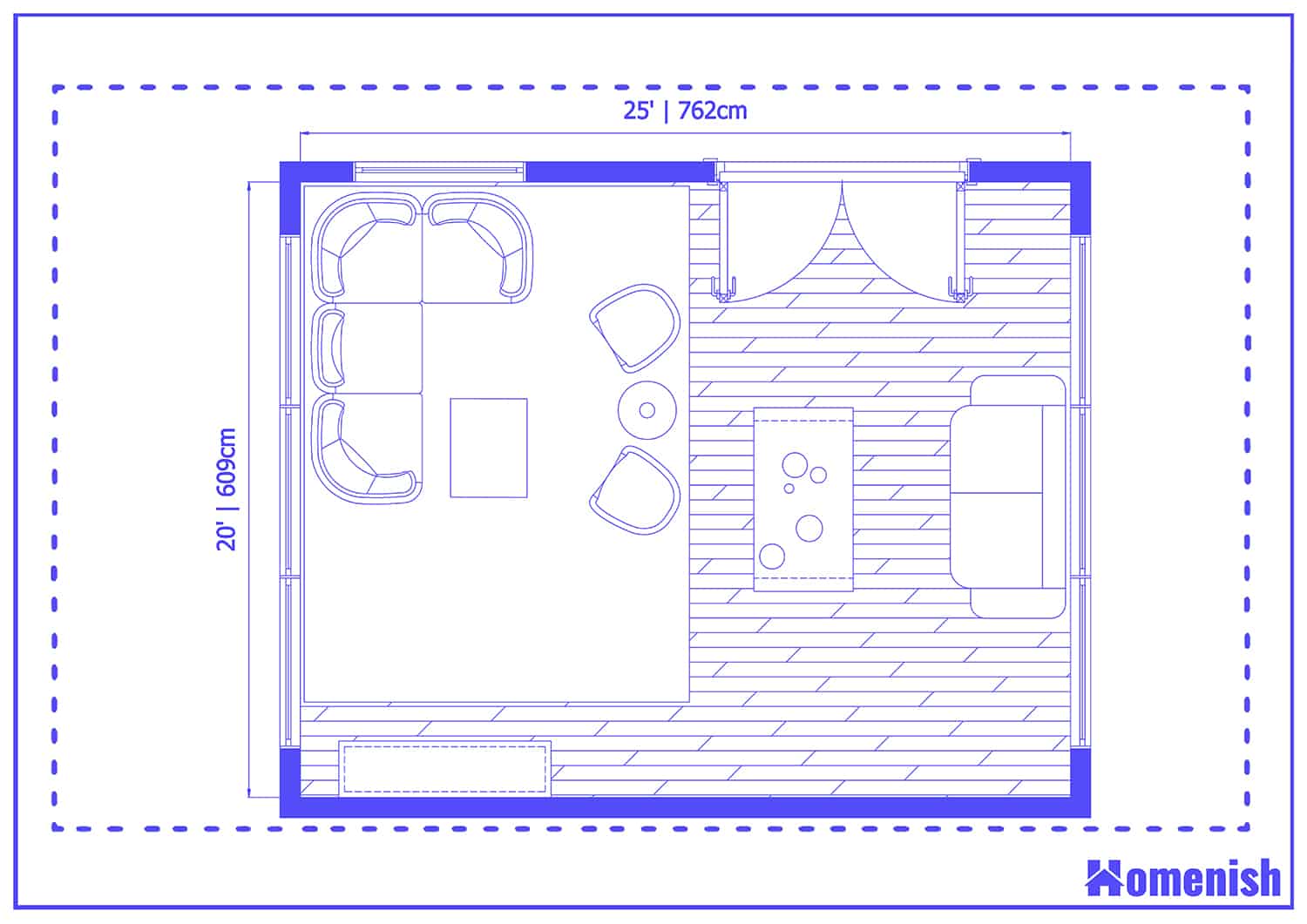 Open Plan Living Room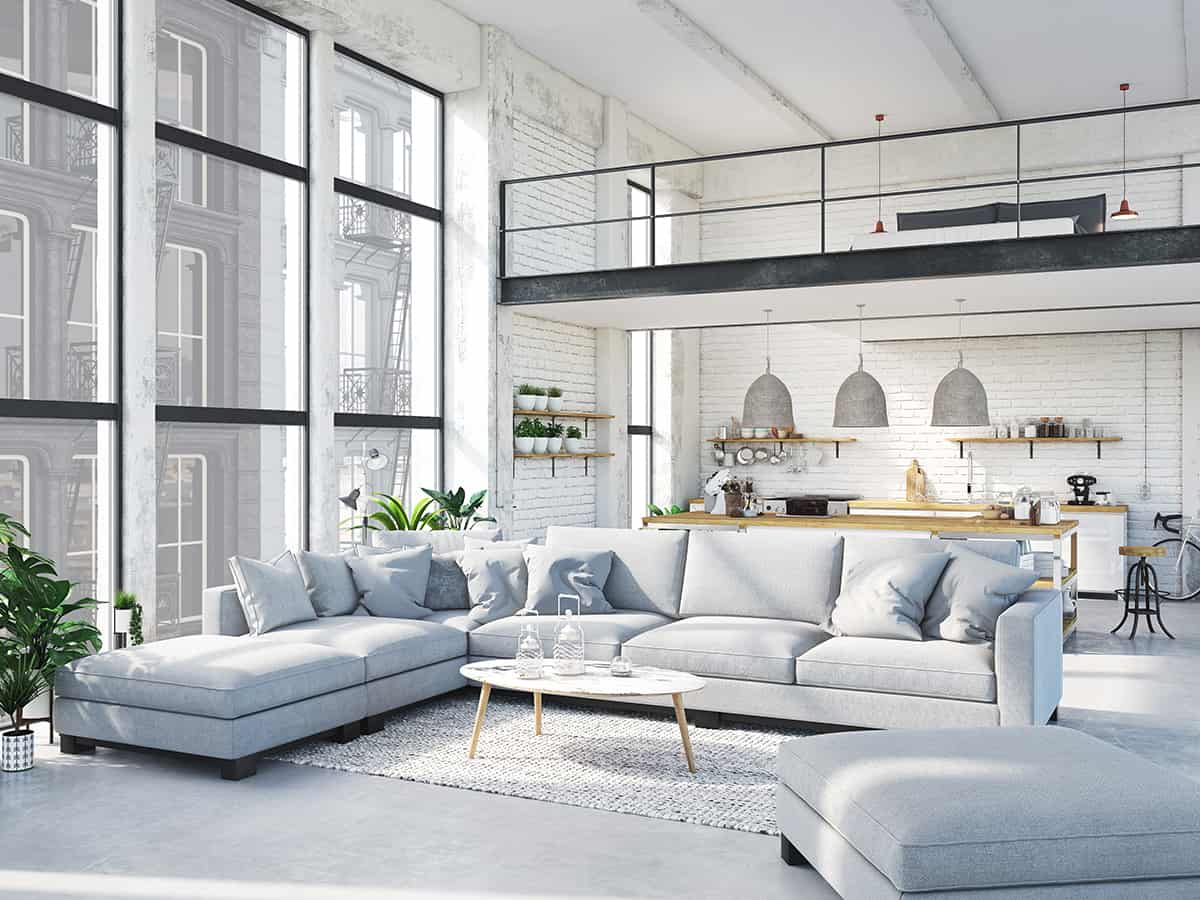 This loft apartment has a large open-plan living room and kitchen, which is divided visually by a long corner sofa.
An area rug also helps to designate the space, along with a coffee table in the middle, which is reachable from all areas of the couch. An additional matching ottoman is positioned at one corner of the rug, which could be used as a footrest or as an additional seating surface for a guest.
Check out this layout.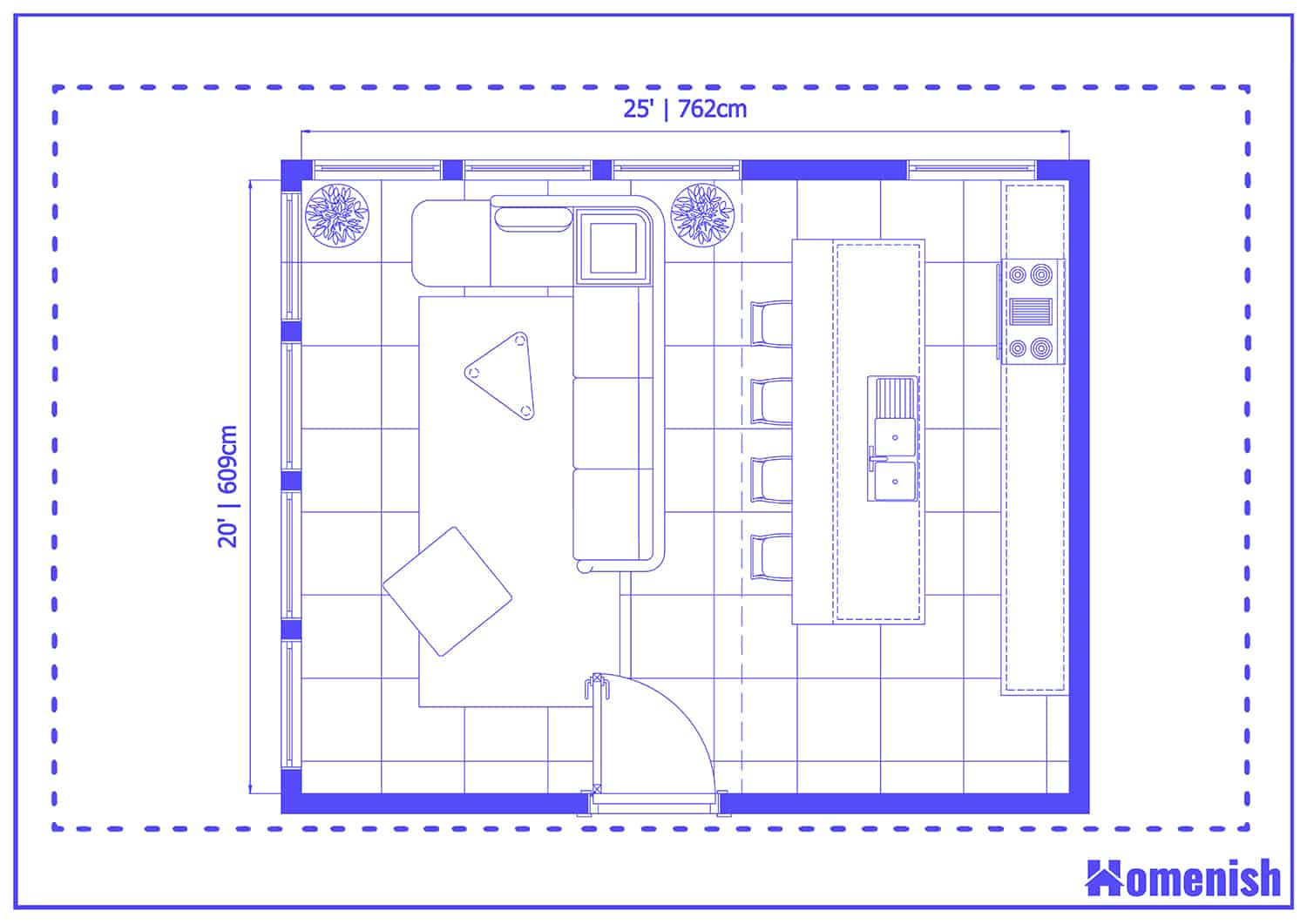 Divided Living Room Layout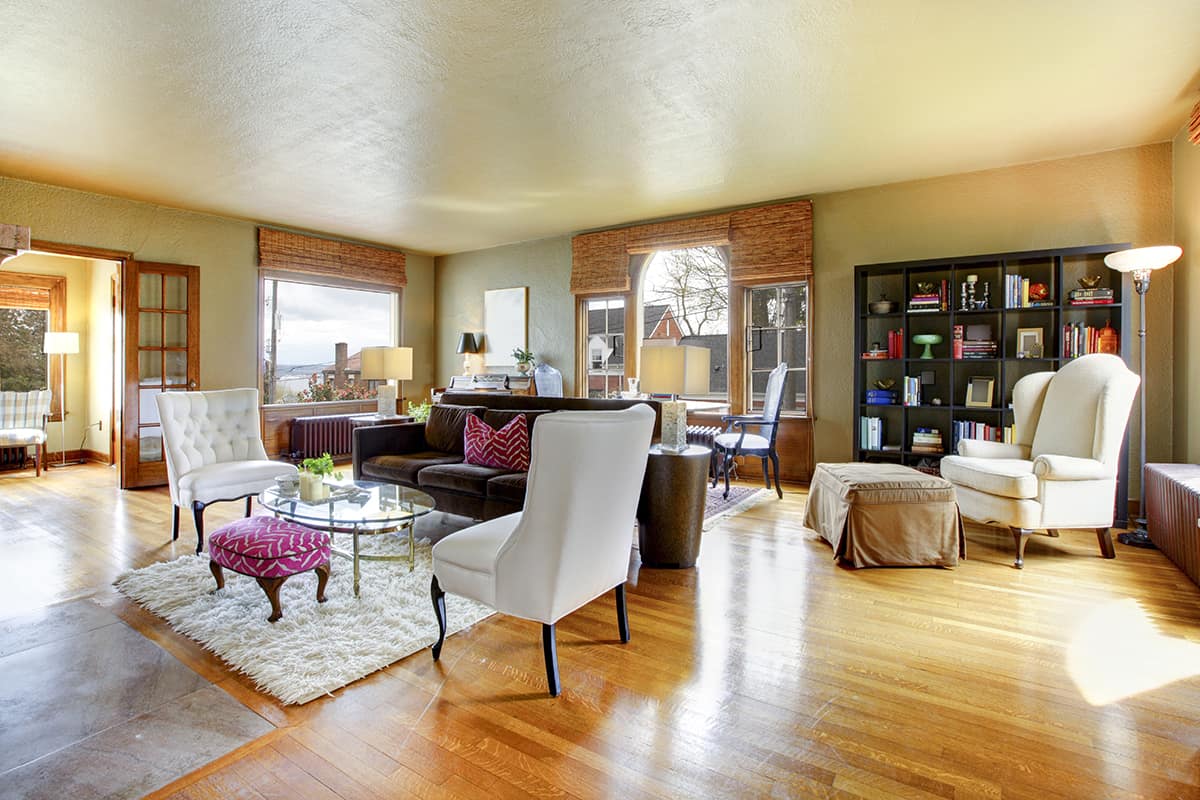 This large 20 by 25-foot living room has been divided into different sections to make a more functional use of the space. The main area is in the middle of the room, and it features a rug surrounded by a sofa, two armchairs, a stool, and a coffee table.
Another area is a reading nook which has been achieved using a bookshelf and a comfy armchair with a footstool.
Another area at the back of the space features a table and chair, which could be used for dining or as a space for studying, doing homework, or using a laptop computer.
Check out this layout.