If you have recently built your ideal log cabin in your garden or purchased one as your weekend retreat, then you should think about the best paint color for the exterior. There are so many stain options to choose from when looking to give your log cabin a fresh coat of paint.
Whether you want to enhance the natural beauty of your wood cabin by applying natural wood stain, or you want to brighten up the exterior by painting it an attractive color, we have some excellent suggestions for log cabin exterior paint colors as well as simple instructions on how to paint this wooden structure.
Log Cabin Exterior Paint Colors
A typical wooden cabin siding color is brown, but what some people don't realize is that the exterior can be painted a different color to suit their taste.
If you want to create a customized look while at the same time retaining the rustic appearance of your log cabin, we have compiled a few color examples right here. Note, we have also included brown as it is most people's favorite for a wood cabin
Red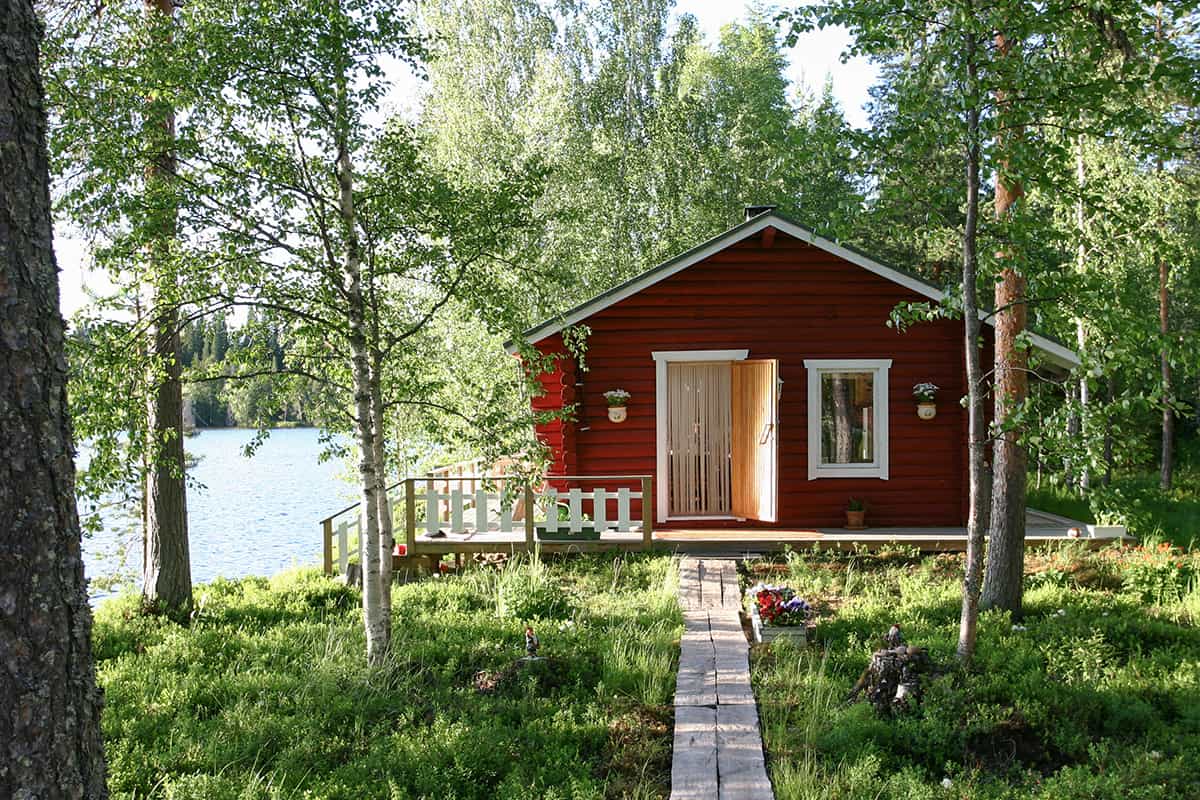 If you want your log house to stand out but at the same time blend in with the surrounding nature, why not paint it a bold red color.
In a wooded or lakeside landscape, the red hue stands out beautifully and makes your cabin pop against the colorful leaves of the trees. Such a color for the siding of your log cabin highlights your character and shows off your personal taste.
Brown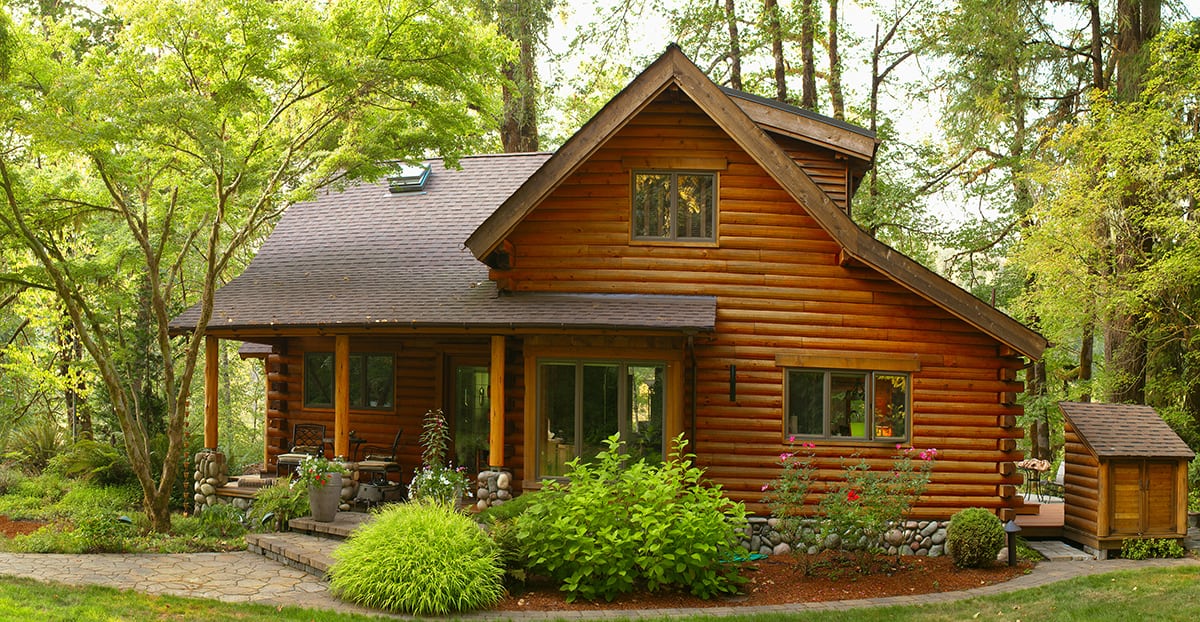 If, on the other hand, a traditional brown color is more to your taste, be sure to choose a light shade. This will help your log cabin blend with nature and bring a traditional look to the surroundings. Any light brown shade will work on a modern or traditional log cabin siding.
Natural Oak Stain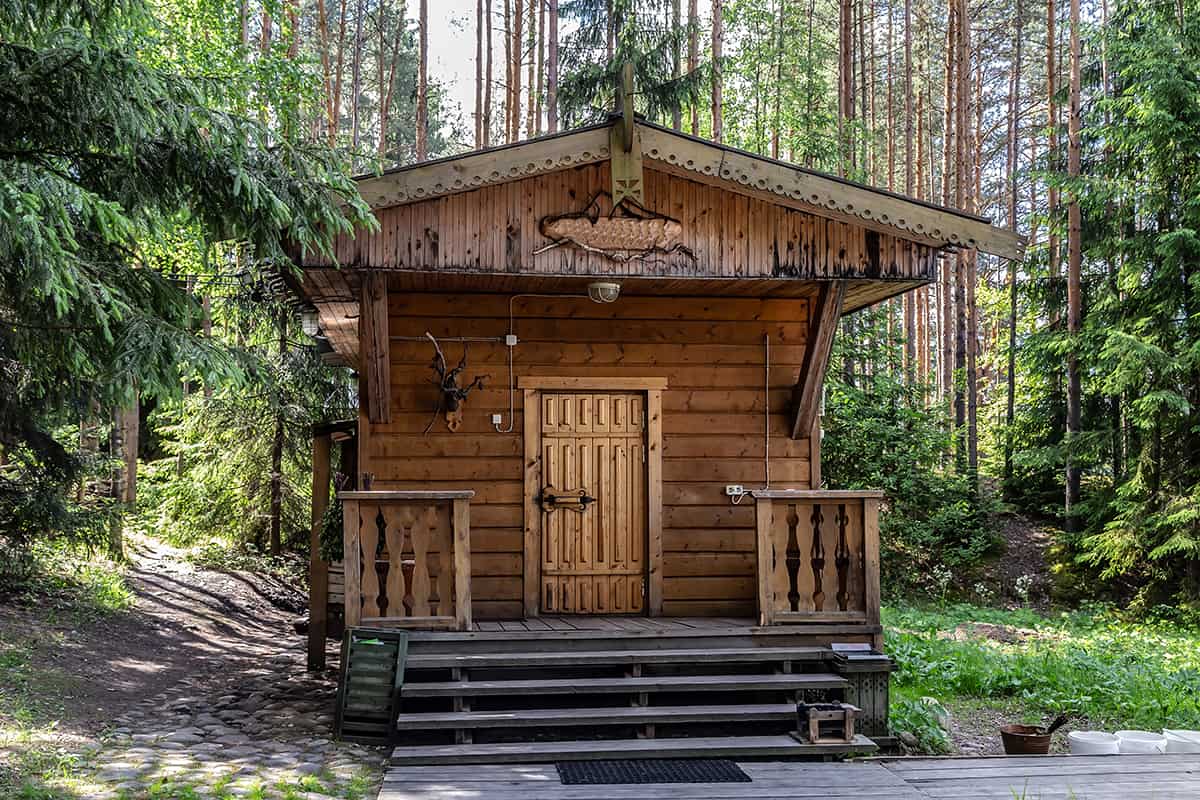 Another traditional color for a log cabin exterior is natural oak. This unique shade is very popular for chalet-style cabins as it gives you the opportunity to create an aesthetically pleasing exterior. If your log cabin is made of oak, opt for a dark brown oak shade for a luxurious look.
This is the ideal stain color that most log cabin owners prefer in order to keep their wooden exterior rustic looking.
Grey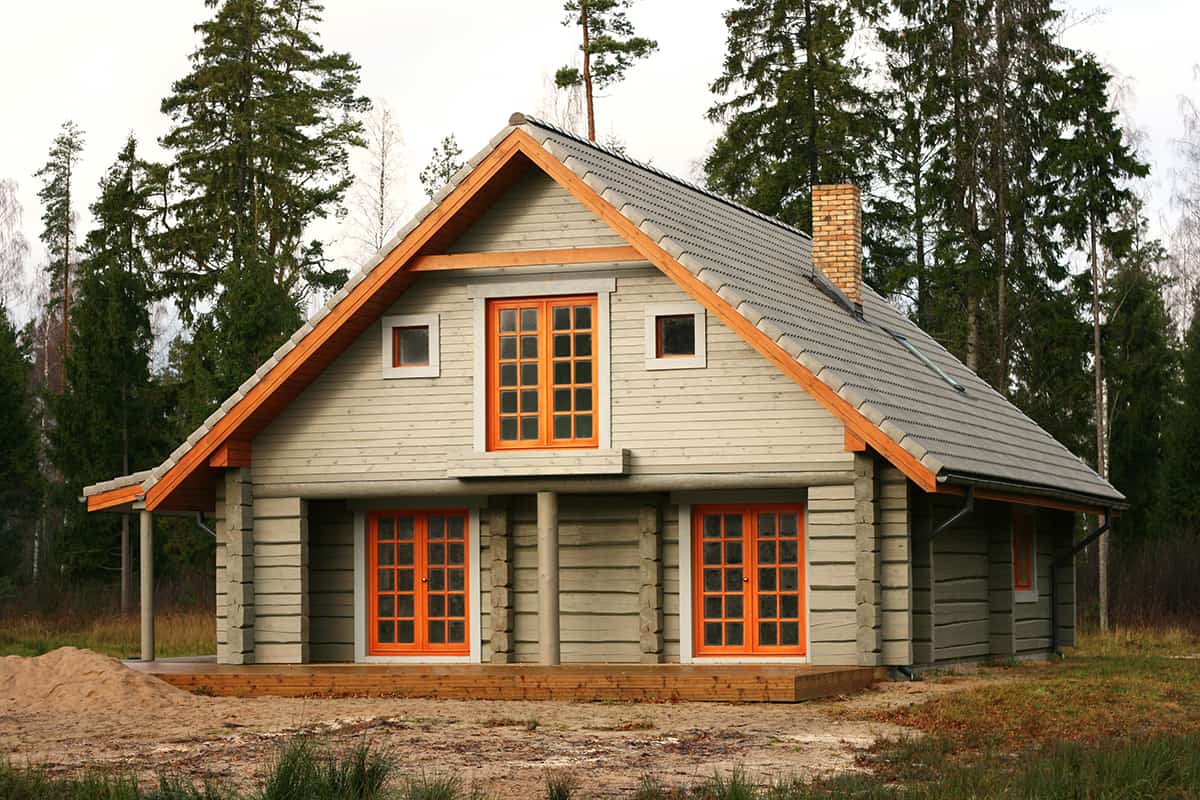 For those who prefer a trendier look than the traditional brown stain, why not paint the log cabin siding grey. This unique shade is a popular exterior design color and makes the perfect siding for any type of exterior including wood.
Tip: To highlight the grey tone, you may paint half of the log cabin in brown and the other half in grey as shown here. A two-tone design makes the cabin stand out visually so feel free to use any of your favorite colors for the top part.
Other Neutral Tones
Aside from soothing grey, other neutral tones for a log cabin exterior will also work beautifully. These can be seamless white or warm beige among others.
Neutrals are complementary to any roof shingle color, thus making them easier to match different themes. Neutral paint colors have a fresh and earthy undertone that can highlight the aesthetic appeal of the log cabin.
Yellow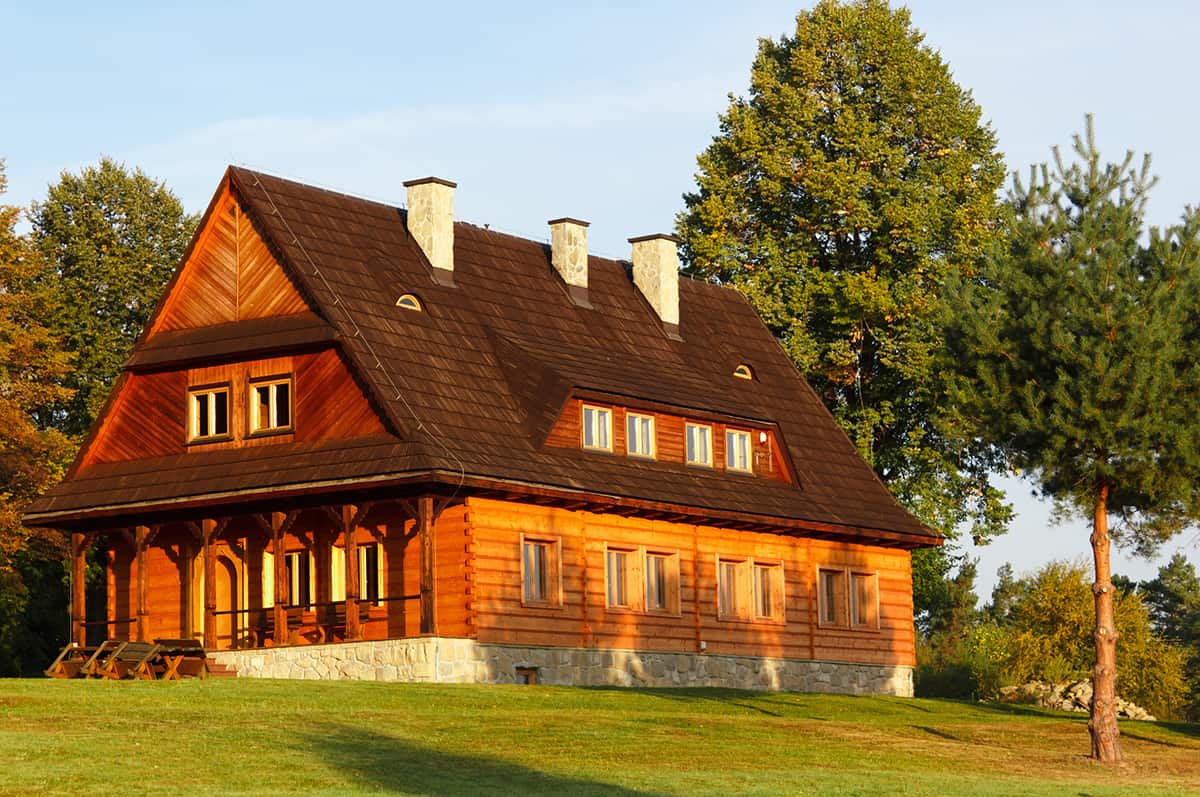 Yellow is another warm color that is often seen on traditional homes. This bright and sunny hue works perfectly with dark roof shingles, such as dark brown, and since it is closely associated with nature, it makes sense to consider the paint or stain color for your log cabin. You can go as bold or muted as you like when picking a yellow shade.
What Type of Paint Should You Use for a Log Cabin?
Deciding which type of paint or lacquer is the best one for your log cabin exterior can be a little confusing, especially if you're not familiar with different types of wood treatments.
While you want your log cabin's exterior to be protected from the elements, such as snow, wind, rain and UV rays of the sun, you will also have to think about the most suitable types of paint or stain. These days, you can find all kinds of different options, including waterproof wood paint and lacquer that don't sacrifice protection for beauty.
First, decide whether you want to use paint or lacquer as they both offer UV protection if applied correctly. All DIY or home improvement suppliers provide an excellent range of wood lacquer in vast colors, but be sure to choose a high-quality lacquer that covers the texture and grain of the wood.
So what type of paint should you use for your log cabin exterior? The most popular type of paint for a wood cabin exterior is latex-acrylic paint.
This type of exterior wood paint dries quickly and provides a good layer of protection against the elements. What's more, latex-acrylic paint for wood is mold resistant, thus making it a better option for log cabin exterior.
Since this type of wood paint is water-based, it is much simpler (and less messy) to apply than oil-based paint. In addition, the paint or lacquer tends to stay in good condition and last longer, making this type of wood paint ideal for all wooden surfaces, which are exposed to the elements, not just log cabins.
Other factors you should consider when picking the right wood paint or stain are its low-odor qualities as well as low VOC levels (volatile organic compound). Always read the label before purchase as these two elements are a good way of ensuring you get a consistent coating across the entire wooden surface.
After choosing the paint or stain, the next step is to correctly apply it in order to get the best out of the product. Applying the stain over a dirty or wet wooden surface can only lead to a disaster within a short time as you will need to buy more paint and reapply the same process.
To avoid wasting money and time on painting your wooden cabin more than once, always read the product's instructions before you start.
To get a better idea of how to paint your wooden cabin, keep reading the rest of this article…
How to Paint Log Cabin Exterior
Preparation
First make sure the entire surface of the wood cabin is smooth by sanding the cabin thoroughly. Next, clean the surface using a damp cloth but not a wet one.
Any gaps or holes on the wood must be sealed using wood putty or high quality silicone. Alternatively, you may fill the gaps using a caulk that's suitable for exterior surfaces as it tends to dry faster than silicone.
When applying the caulk, use your hand to evenly smooth it out on the surface as this method will retain the look of the wooden exterior. If there are any cracks on the wood, cover them prior to painting.
Applying the Paint or Stain
Apply the base coat by brush not a roller or sprayer. This will ensure you get a consistent finish and your log cabin exterior will be properly protected. You can use your roller later for the second application. Coat all the tongue and groove corners using your brush, including all those hard to reach places.
Warning: do not thin the paint prior to application as mixing it with other agents may contaminate the stain or paint, thus leaving your wooden cabin exposed to the elements. In fact, log cabins must not be painted with products that have up to 50% water content and thinning agents. The level of moisture in the timber will be impossible to rectify.
It is advisable to repaint your log cabin exterior every two to three years in order to ensure the wood is optimally protected. The type of exterior paint you use ensures lifetime protection of the timber. Avoid using cheap paint or stain, otherwise you'll be painting your log cabin more often.
Once you've applied the second coat of paint or stain, allow at least 24 hours of drying time. Dust the dried surface lightly using a 120-grit sandpaper before cleaning down with a damp cloth. That's all it takes to ensure your log cabin exterior remains in tip top condition for years to come!
In Closing
Now that you've learned about the best type of wood paint and how to paint your log cabin exterior, be sure to select your favorite color from our above list of suggestions. Remember, brown isn't the only option for a rustic wooden exterior.
Yellow, grey or any other neutral tone will look just as beautiful on a log cabin with dark brown or red roof shingles.