Deciding between light or dark furniture in a bedroom can be a tough call. In most cases, light or dark furniture can work well, but if you're trying to create a specific style, then there will be one choice that looks better.
Your bedroom furniture is also key in developing an atmosphere in a room, so you'll want to consider if you would prefer a light and airy bedroom or a moody and cozy feel.
Here we look at various ways to incorporate dark or light furniture into your bedroom based on other decor factors.
Things That Work Well With Light Bedroom Furniture
Dark Flooring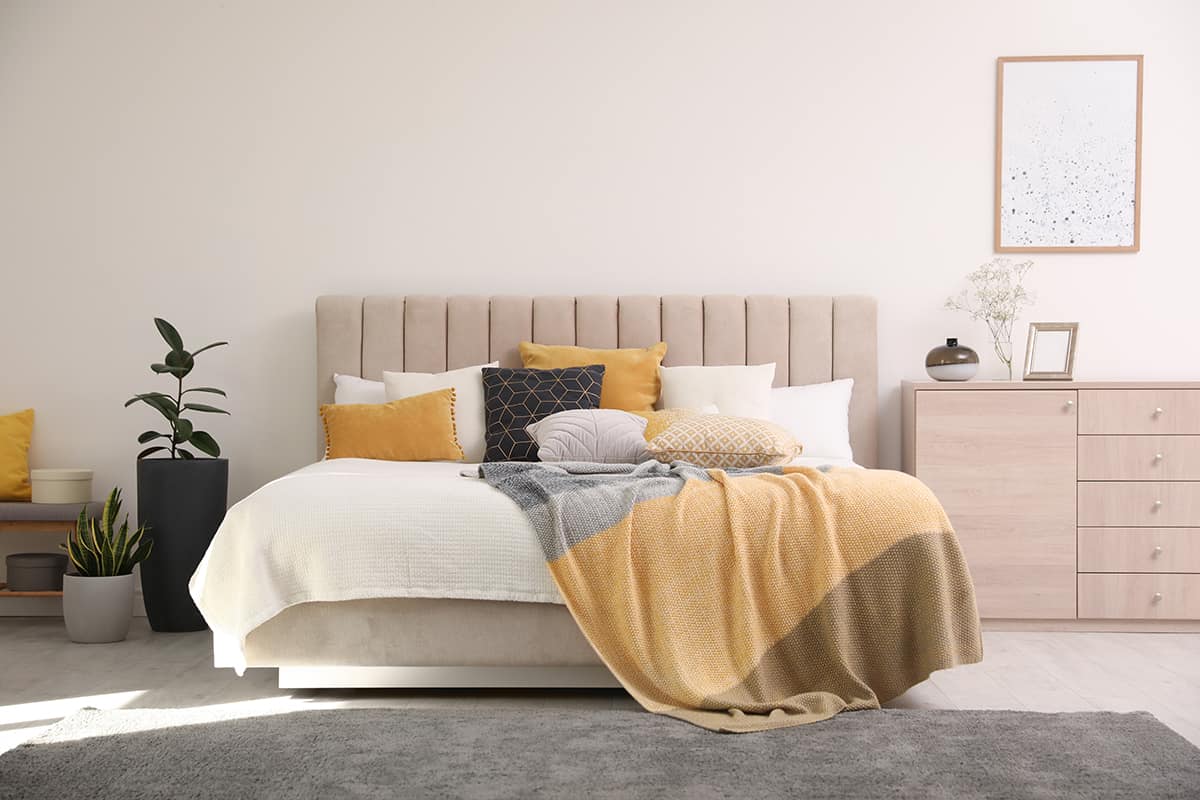 If you have dark floorings, such as mahogany hardwood, or dark gray carpets, then light bedroom furniture will help to lift the feel of the room and prevent it from feeling oppressive. Light furniture will also present a contrast with the dark floor of the bedroom and create some definition.
One issue with light furniture is that it can look stark and sterile, especially against a pale-colored floor surface, but darker floor coverings add warmth to the room and help to ground it so that light furniture doesn't fade into the background. Light-colored furniture will also help to reflect light which can make a room feel more spacious than it actually is.
Pale Color Palettes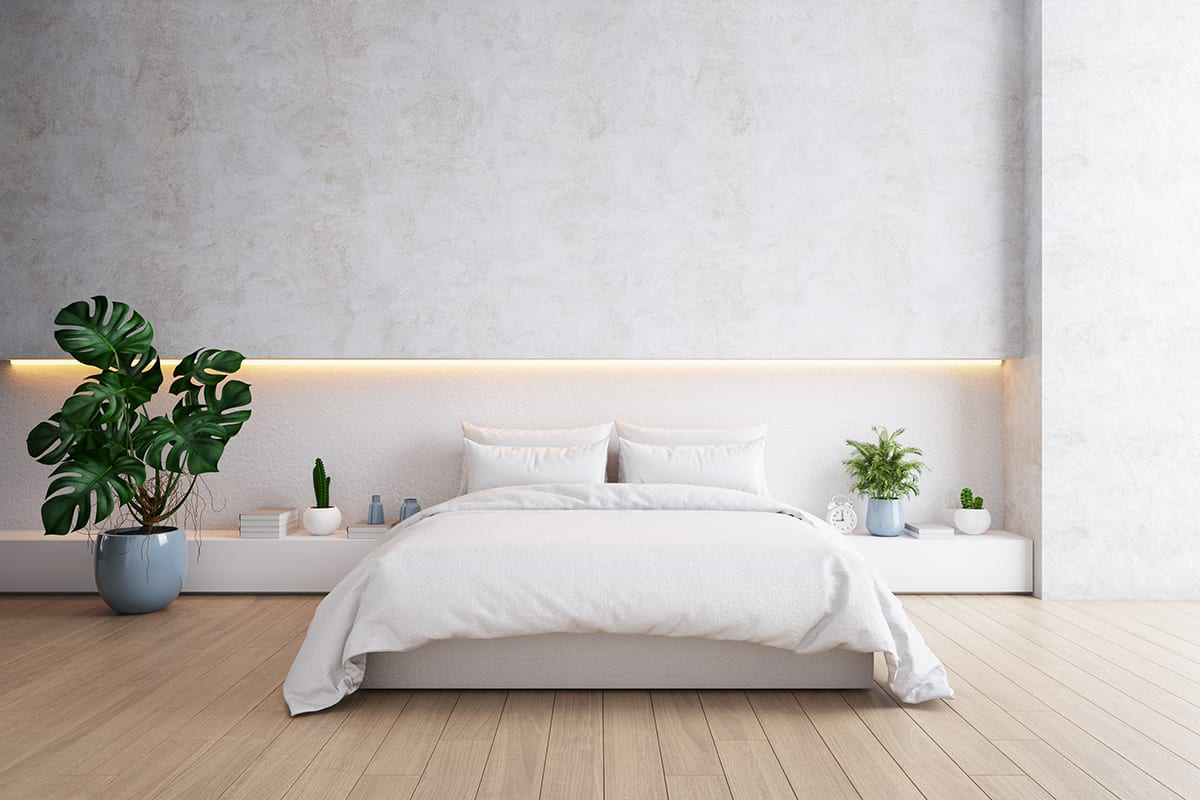 If you are going for a bright and airy feel, then you should use light furniture with a pale color palette. Choosing to use all light or pale colors in a bedroom will create a crisp and relaxing space. You can take this to the extreme and paint walls white, with white furniture and white bed linen to achieve a truly fresh feel. This is a popular interior design style for bedrooms, and the key to preventing the space from looking clinical is to add rich textures to the space.
You might consider a faux fur rug, white lace drapes, or a suede headboard. For a softer look, paint walls in an off-white shade, and select furniture in a muted color such as dove gray or dusky rose pink. This will make for a more comfortable and inviting room with a soothing feel.
You can also choose light-colored wood furniture in a bedroom to inspire a casual or coastal feel alongside a pale color palette. For beachy style interiors, consider whitewashed furniture as this will look attractive next to pale blue walls or soft beige wall paint. Coordinate white furniture with white accessories such as white cushions.
Dark Color Palettes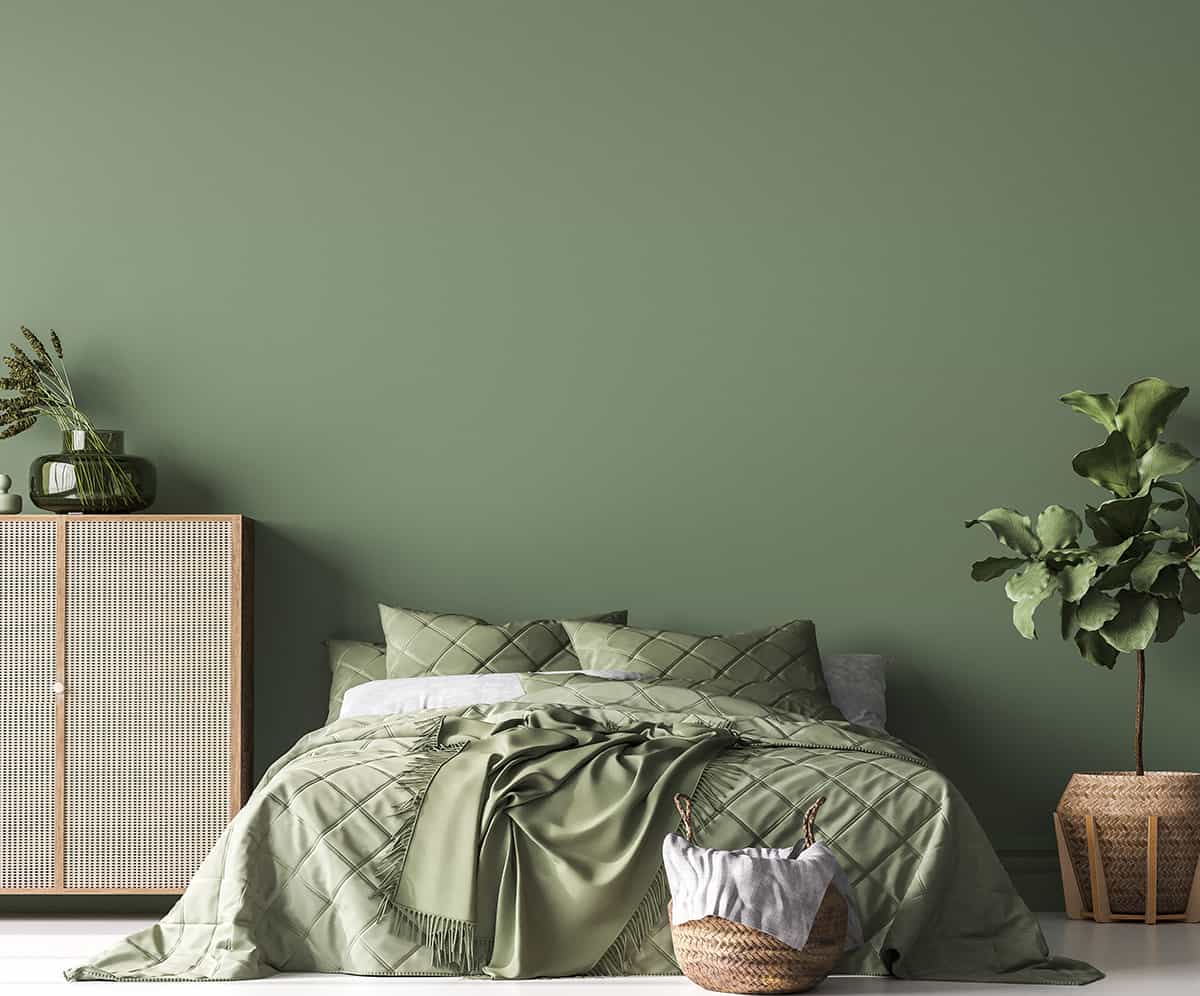 If you have a dark color palette in your bedroom, the light-colored furniture can create an appealing contrast. If you have, for example, a dark green bedroom, then try out furniture in lighter shades such as pale gray or light tan. This will make for a contrast that is pleasing to the eye without being too striking.
Avoid heavy contrasts in a bedroom because this can make the space feel too energetic and overstimulating, which is the opposite of what you want the atmosphere to be in a relaxing bedroom.
Minimalist Styling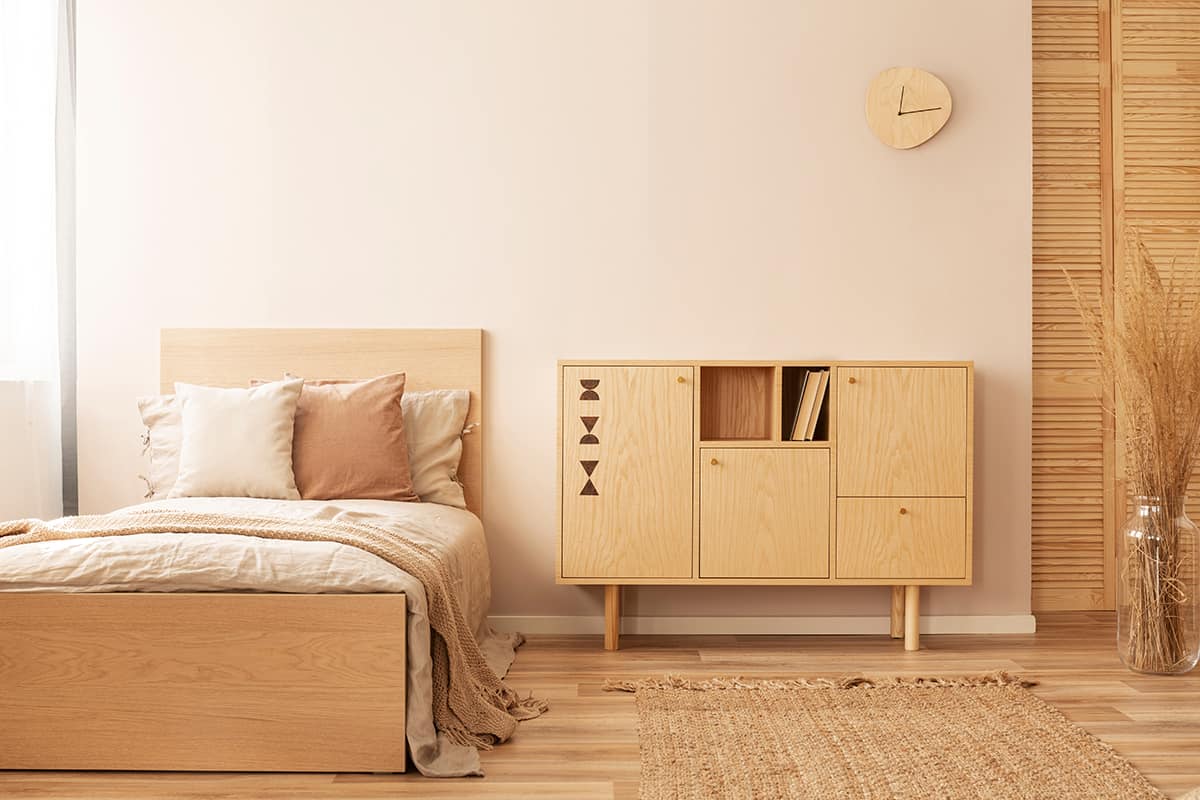 Light furniture is a staple in minimalist decor, creating a sleek and crisp look in interiors. For a minimalist style bedroom, choose light furniture in the same color as the walls or floors; this will help the furniture to seamlessly blend into the space.
If you are a fan of painted furniture, then white is a good choice in minimalist-style bedrooms. You could opt for white shelves on the walls or a white bed frame. The shape of minimalist furniture is just as important as the color, so opt for pieces that have simple and sleek designs.
Scandinavian Styling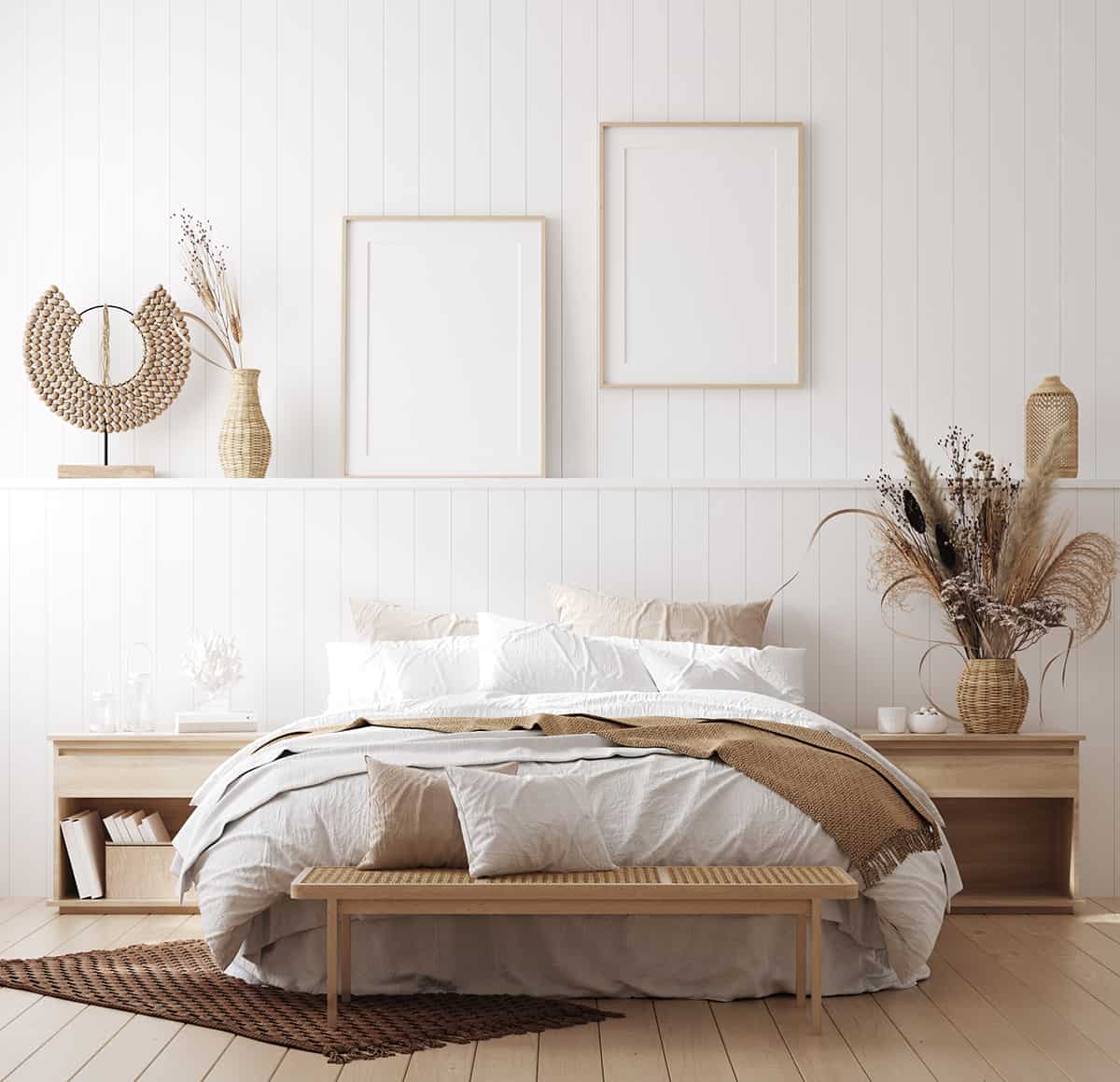 Scandinavian-style interiors have become increasingly popular over the last decade. This style puts the focus on functionality over decoration, and it is an easy and inexpensive style to emulate. For this look, stark white walls are a safe option, which you can add an eclectic color palette to.
Painted furniture is popular in Scandinavian design, as it's a way to repurpose old furniture which is still functional. You could paint a wooden stool in a light shade of yellow, with a wooden desk painted in bright blue. White furniture and pale wood furniture such as beech are also common choices in Scandinavian design. These light furniture choices help to make a bedroom feel spacious and casual.
Traditional or Vintage Styling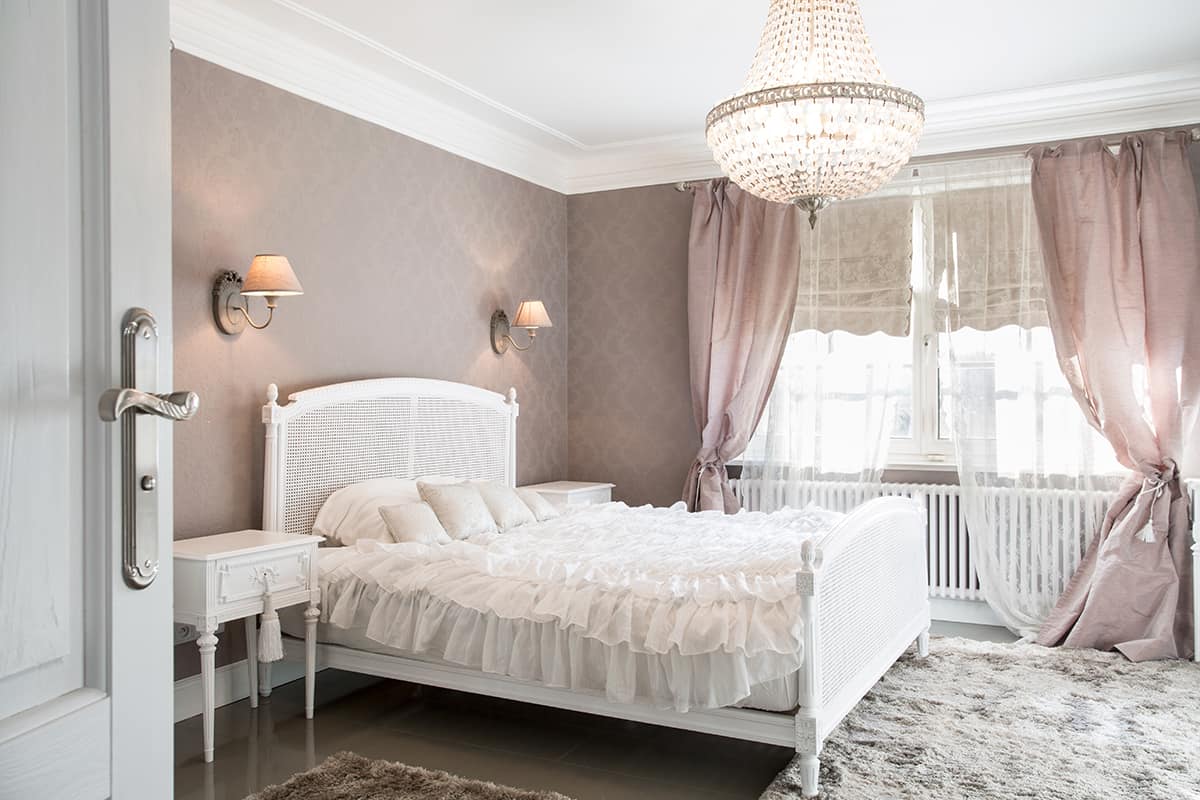 Light bedroom furniture is a good choice in a bedroom where you want to achieve a vintage or antique style. Instead of choosing furniture with a visible wood grain, painted light furniture will work best in this scenario.
For an authentic vintage look, paint wooden furniture in a light color and then use sandpaper to gently scratch away some of the paint on the edges of the furniture to create a distressed look. Light furniture also works well in a more traditional bedroom, either with painted furniture or light wood furniture such as beech or ash.
Things That Go Well with Dark Bedroom Furniture
Dark Color Palettes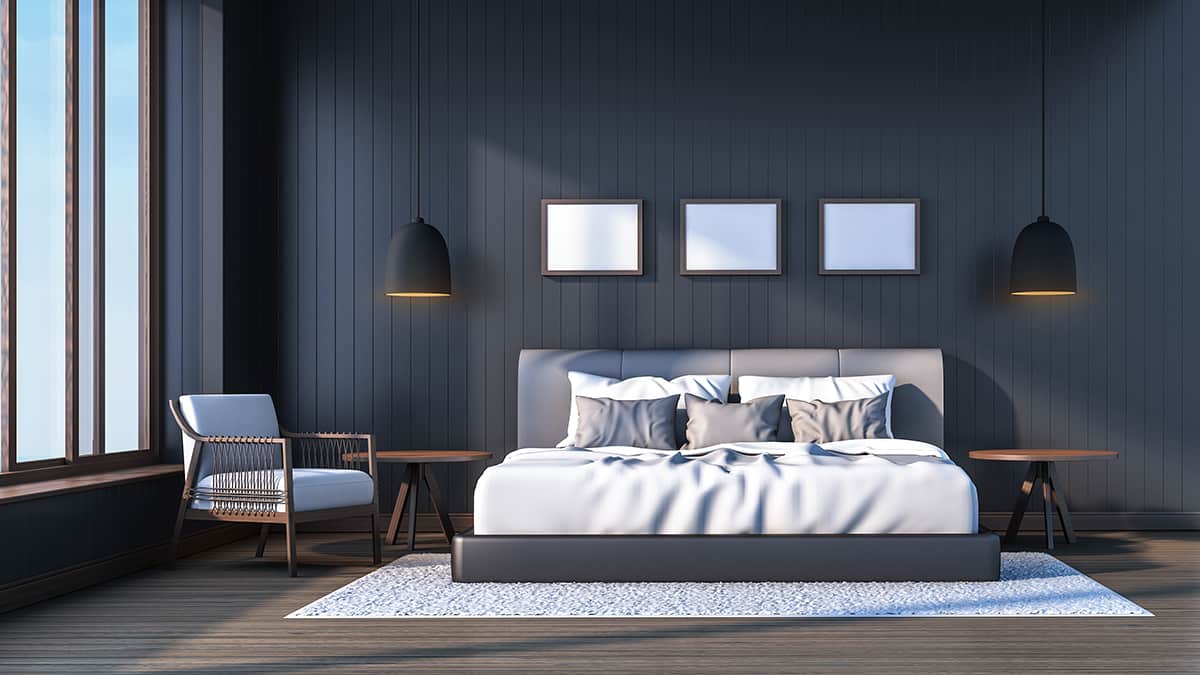 If you are going for a moody and atmospheric bedroom, then choose dark furniture alongside a dark color palette. This will create a cozy and intimate feel in the bedroom which can be conducive to better sleep and relaxation. You could paint the room in a dark color such as emerald green, charcoal gray, or midnight blue, and then opt for furniture in a dark wood finish such as walnut or furniture which has been painted black.
Using a completely dark palette can make a space feel small, so this works well in medium to large size bedrooms. By being surrounded by dark colors, the room will feel like it's wrapping you up in a warm blanket, which creates a degree of safety.
Light Color Palettes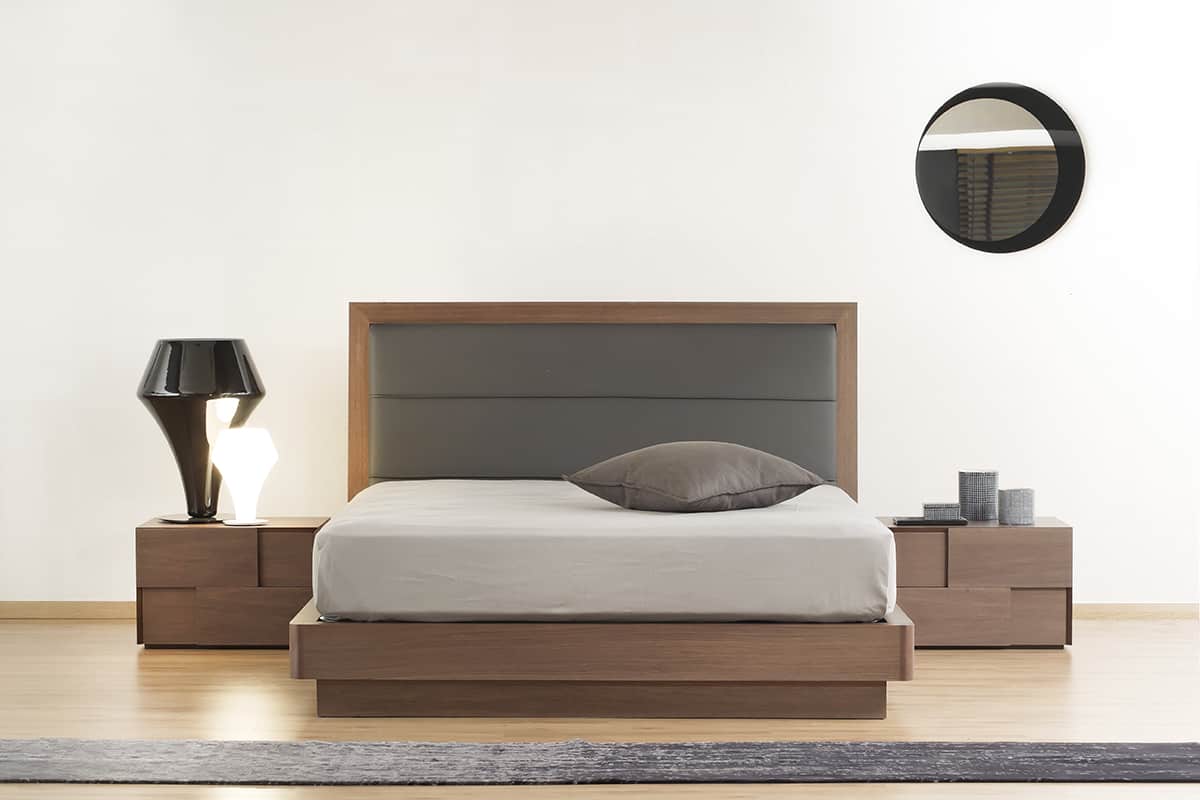 Dark furniture will work well with light color palettes in a bedroom, creating contrast and a distinction between the furniture and its background. For a stylish monotone vibe, paint walls white and then select black furniture, or for a more subtle take on this style, choose dark gray furniture.
This will be less jarring for the eyes and will achieve a modern feel. Neutral color palettes work well with darker colors in the same hue to create a layered, tonal feel. You could paint the bedroom in a pale beige color, then add tan bed sheets and dark brown wood furniture. This will result in a calming, almost therapeutic atmosphere in the bedroom.
Pale Flooring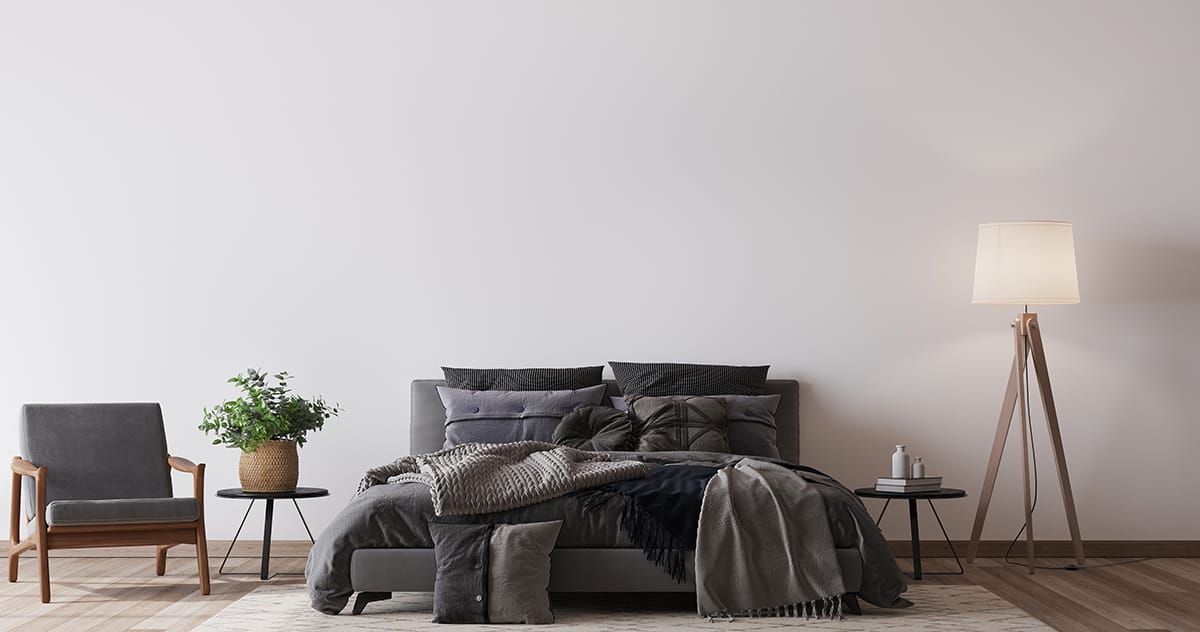 If you have pale-colored floorings, such as light hardwood or beige carpets, you can use dark furniture to try to ground the room. To stick to a natural color palette, choose rich wooden furniture, or for a more dramatic look, use furniture painted in a dark color.
Light-colored flooring can serve to make a room feel bigger than it actually is but can lack character or warmth. By using dark bedroom furniture, the space will be more welcoming.
Rustic Styling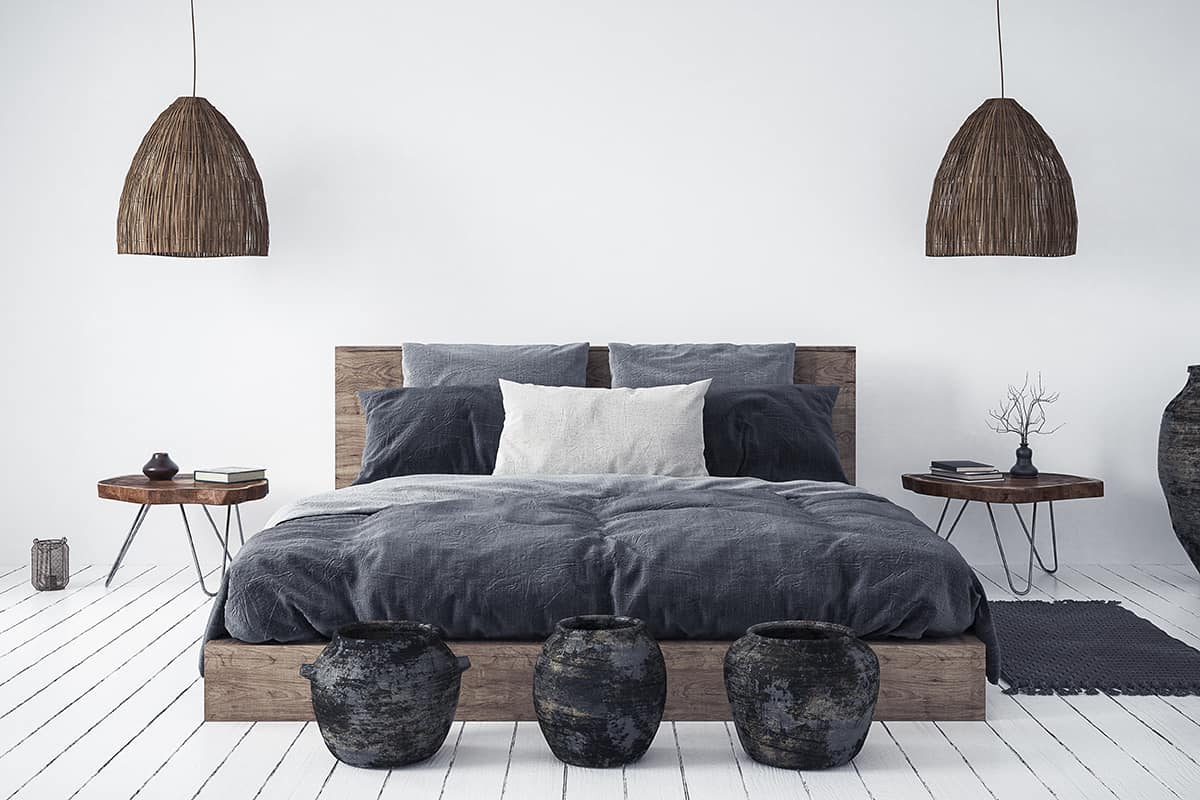 Dark furniture is ideal for rustic style interiors, where you want to achieve a homely, warm atmosphere. For a rustic feel, choose dark wooden furniture with rich grains in shades of gold and brown. Chunkier dark furniture will be a good choice to keep the rustic vibe going, with raw edges or visible hardware.
Dark wood furniture in a bedroom, when styled in the right way, will help to create a rustic farmhouse look or a country cottage vibe. Pair this dark furniture with other warm colors such as orange and red for a wholesome and comfortable atmosphere. Dark furniture will add warmth and richness to the room, which contributes to a welcoming and homely space.
Formal Styling
For rooms where you want to create a formal atmosphere, dark wood works very well. Furniture in darker colors tends to have a serious feel to it, which can make a bedroom space feel more mature, or masculine. Decorative dark wood furniture will be in keeping with a formal style, so lean towards traditional or ornate pieces.
Red-toned furniture, such as mahogany, can make a bedroom feel grand and luxurious while maintaining warmth. Dark furniture typically looks more substantial and demanding of attention in a bedroom compared with light furniture, so use it to draw attention to certain areas of the space, such as a magnificent bed frame or antique dressing table.
Romantic Atmosphere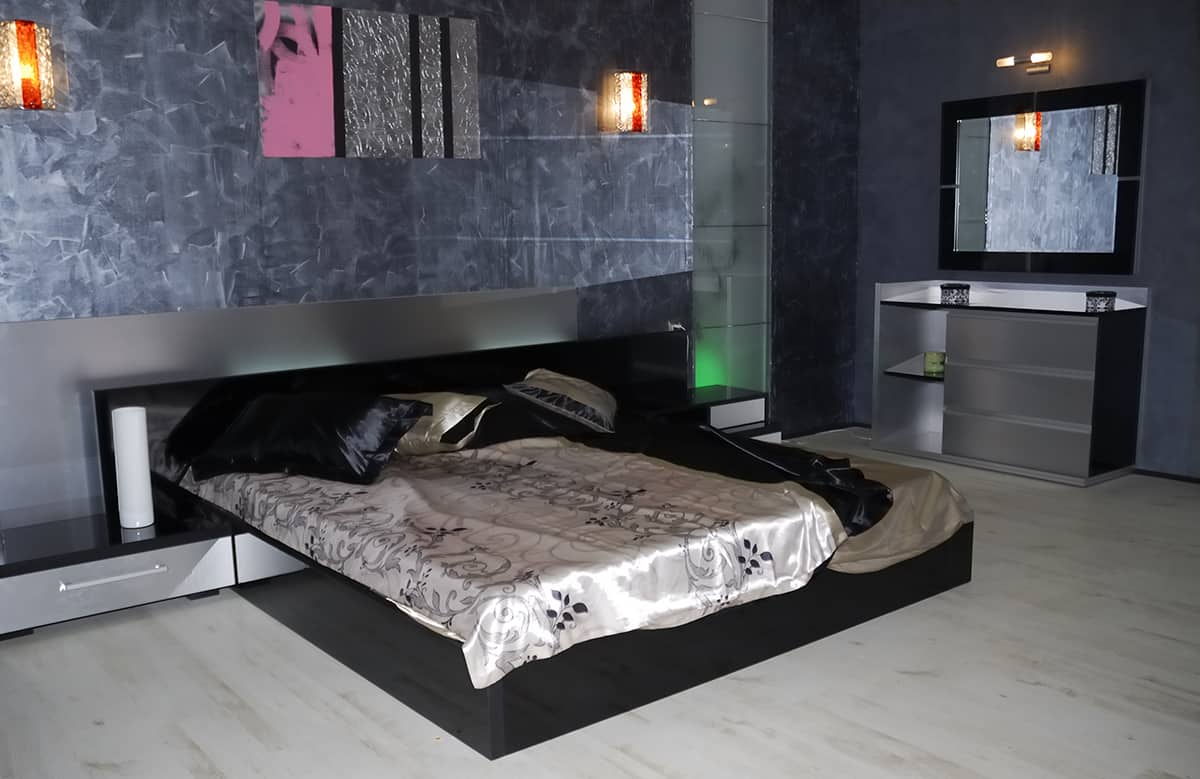 If you want to create a bedroom boudoir, then you will want to select dark furniture. Darker colors are more seductive and conducive to intimacy. This may be because they remind us of the evening and nighttime.
Comparatively, light-colored furniture creates a fresh and airy feel synonymous with daytime, so this would be a poor choice for creating a romantic feel in a bedroom. Instead, choose furniture in a black or dark gray finish or dark wood furniture with rich brown or red tones. Black metal furniture is also a good choice, for example, a cast iron bed frame.