Black is such a dramatic and powerful color that it never seems to go out of style. When used in furniture, this color is less difficult to pair with other bold or neutral hues, but you have to be very careful when choosing complementing bedding colors that work with your black furniture.
If you are thinking of furnishing your bedroom with black furniture, you'll want to pick the right color bedding that goes with this distinctive color.
Read on for our top suggestions of the best bedding colors that go with black furniture right here.
Why Choose Black Furniture for Bedroom?
While black isn't usually everyone's first choice when it comes to picking the palette for their interior decor, it is a different story when it comes to bedroom furniture. Most people love the attractive look of black bed frames and headboards.
Black furniture can look especially chic in the bedroom as it's bold and versatile. From stylish modern decor to black lamps and wall decor, a black bedroom can be furnished in endless ways.
Dark furniture is a great choice in large, spacious bedrooms as it creates a comfortable and sleek feel. What's more, black helps make the bedroom more inviting and intimate.
If, however, you have a small bedroom, it's not such a good idea to opt for black furniture as it feels overwhelming and shrinks the space even more.
If you like the modern look of your bedroom, the color black is the way to go. Although this color is more on the neutral side than bold, it offers a striking dimension when chosen as bedroom furniture. By opting for black furniture, you'll create a stately and dramatic vibe that's hard to ignore.
Depending on the atmosphere you want to create in your bedroom, you have several options when it comes to choosing black for your furniture. Since most other colors go perfectly with black, it is ideal to use pops of color in the form of lighting, rugs, and wall decor to complement black.
But be careful so as not to make the bedroom feel obnoxious instead of balanced by picking the right bedding color. It is, after all, about a balancing act and you can only achieve that by matching your bedding with the furniture.
If you want to go dark with your bedroom interior design, then take a look at these bedding colors that work great with black bedroom furniture:
Best Color Bedding that Goes with Black Furniture
White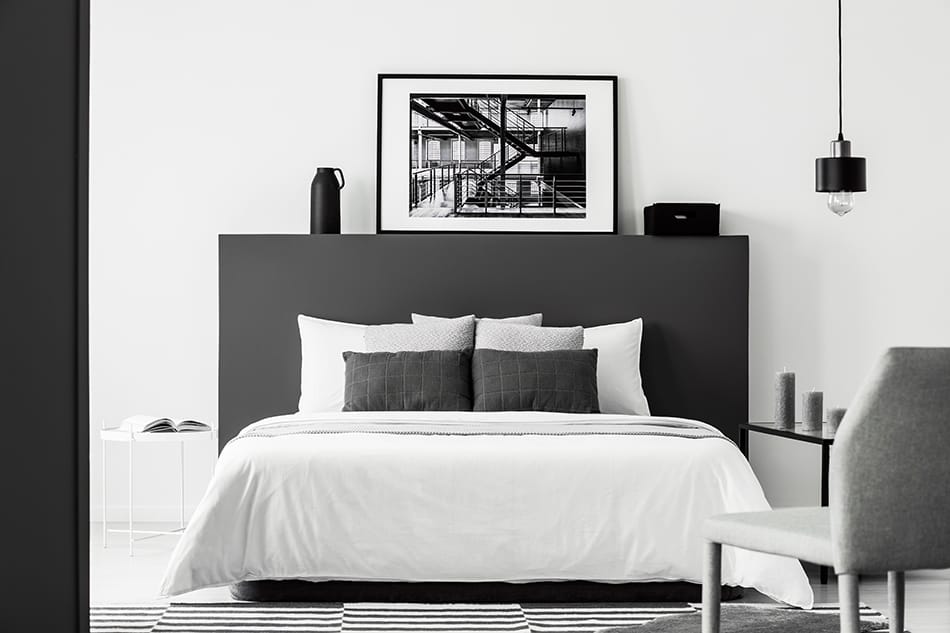 White always goes with black, but in some spaces, it can feel a little too heavy. If you want to tone down the color, consider adding small hints of black furniture or accents to create the perfect compromise between black and white.
Pair your black bed frame with white pillows as these neutrals match beautifully, with or without other accent colors. Since white is such a popular choice for bedding, it makes sense to use it with black bedroom furniture in order to lighten up the room.
This is a great way of providing tons of contrast, especially when you introduce other neutral colors like gray. Here, the combination of gray, white, and black works in harmony in this modern bedroom.
Cream and Beige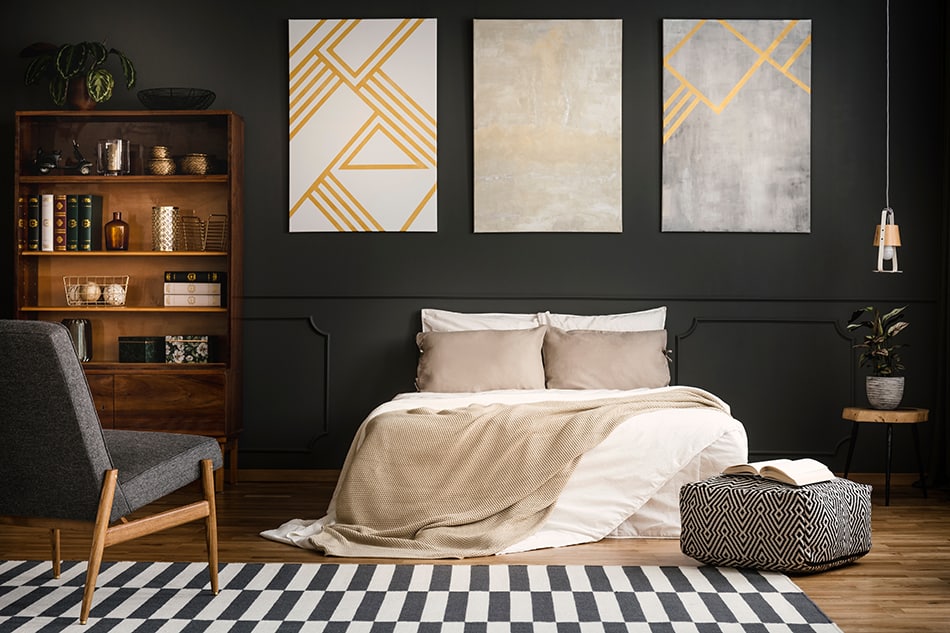 As black is such a strong color, it doesn't have to always take the spotlight from other furniture pieces. Beige has a natural, cozy feeling that brings warmth to any bedroom setup. Other neutrals like cream are also perfect shades for the bedding and pillows.
Match your neutral bed sets with black wall art, bed frame, or lamps. Get creative with the black and beige combo to create interesting designs featuring bold patterns like the one shown here.
The rug, wall art, and footstool feature quirky patterns that break the monotony of this bedroom. Cream and beige in a black bedroom are perhaps the only combinations that can be used with textures or patterns so feel free to experiment with these pairings.
Yellow and Orange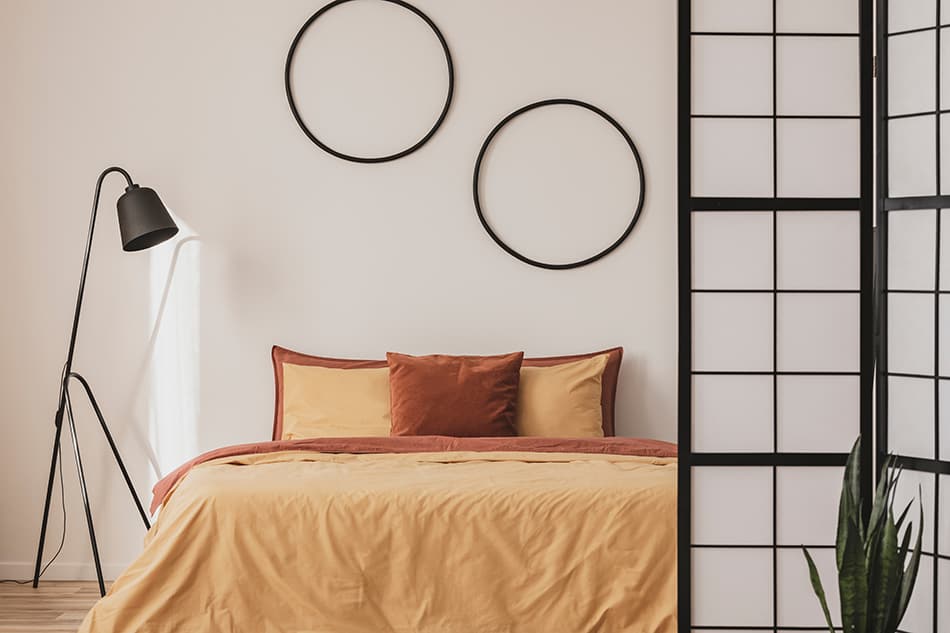 Now for something a little more vibrant and bold: yellow and orange. Combine your sleek black bedroom furniture with these two cheery colors to bring pops of color to your room. These are striking shades that look great next to black so you can use them as bedding colors as well as accent tones.
In a minimalist bedroom, add yellow and orange bedding to brighten up the room. If you plan on having black bedroom furniture throughout the room, the combination of muted yellow and burnt orange shades will provide the perfect colorful bed as shown here.
Black and White
To give your black bedroom a contemporary glam feel, decorate it with a black and white bedding color scheme. White headboards are modern and chic, especially when paired with matching colors like black and white bedding and black bed frame.
Keep the black theme going throughout your bedroom by adding a black rug as shown in this example. Patterned black and white bed covers with simple outlines add symmetry to any style of bedroom.
Whether you love the glamorous Mid-century modern or contemporary theme in your bedroom, black and white patterned bedding always works well with black furniture and walls. Alternatively, you may choose polkadot pillow shams in black and white to enhance the striking black furniture in your bedroom.
Gray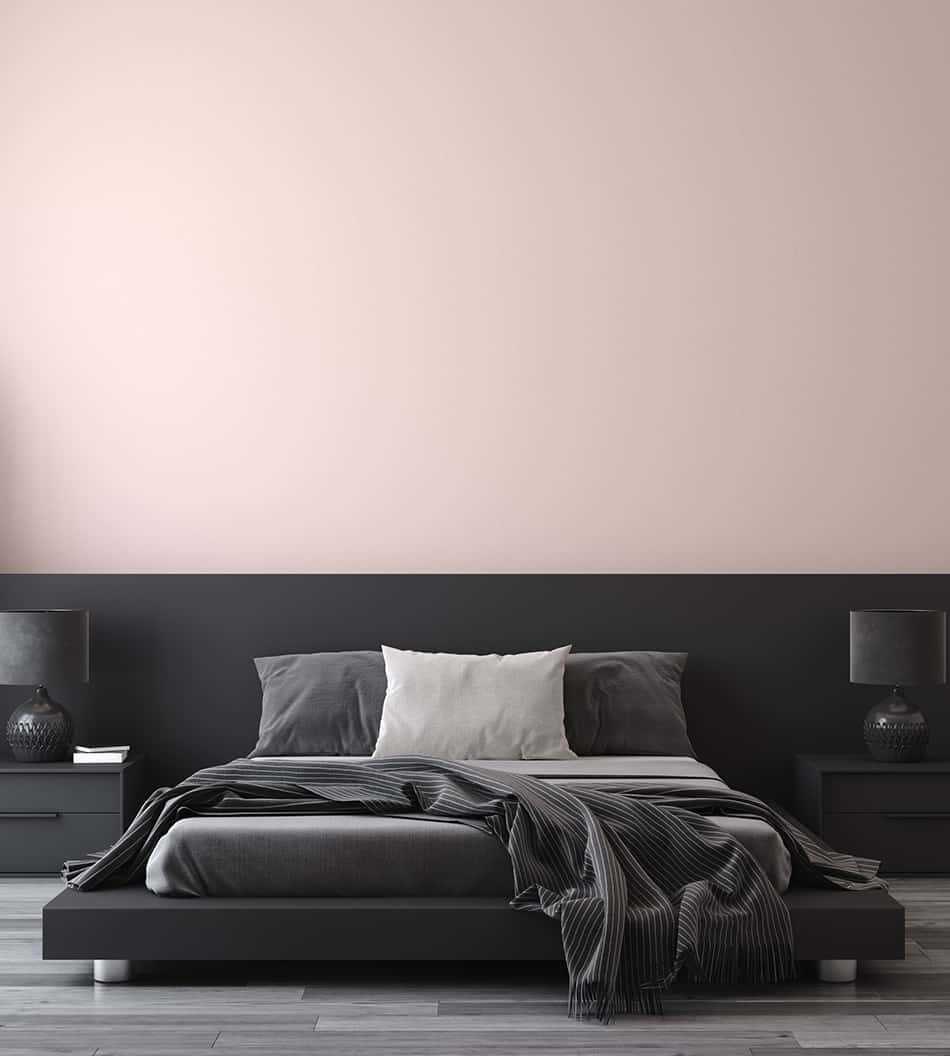 If you want to add an intense monochrome effect to your black bedroom, opt for light or dark gray bed sheets and pillowcases. This neutral yet striking color goes hand in hand with black furniture.
If you choose light gray, make sure you bring some dimension to your bedroom by adding light-colored gray lamps or wall decor to match the bedding. Go for a full spectrum of grays to add depth to the room. This idea won't make your bedroom look too overcrowded as shown here. After all, gray and black are bold, but they are not bold enough to overtake the design of the room.
Red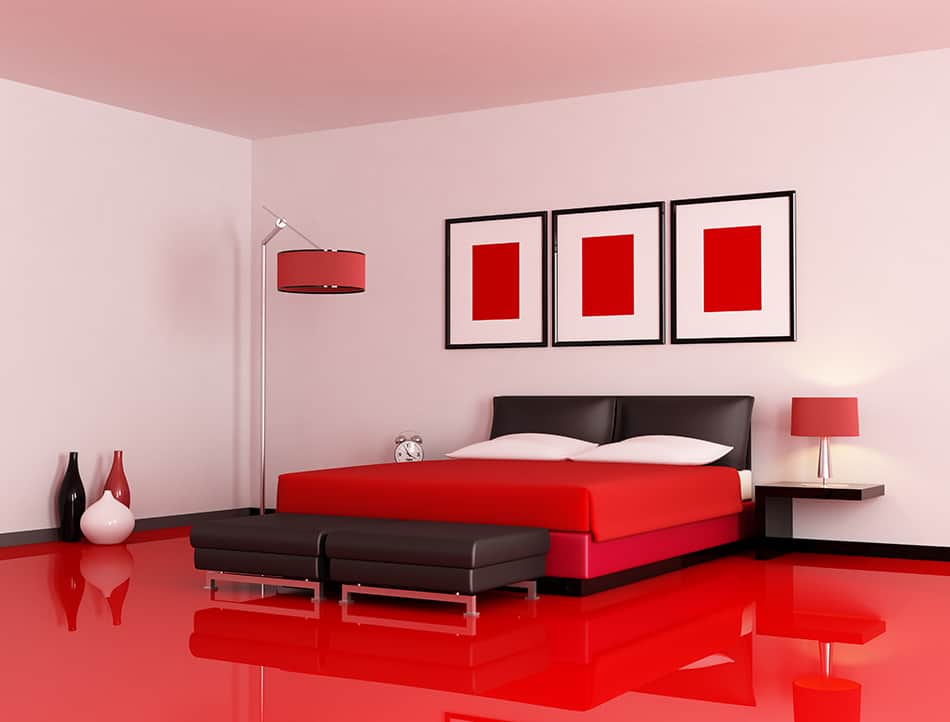 A modern bedroom will benefit from a bold color like red. Black leather bed frames with red and black furniture will look out of place if they are not paired with red bedding.
Whether you're designing a master bedroom or a guest bedroom, red and black are primary colors that will go beautifully together in a sexy and appealing way. We love the color combination of this modern bedroom, where the black on the bed and surroundings are not overpowering thanks to the stark red bedding and wall art.
Purple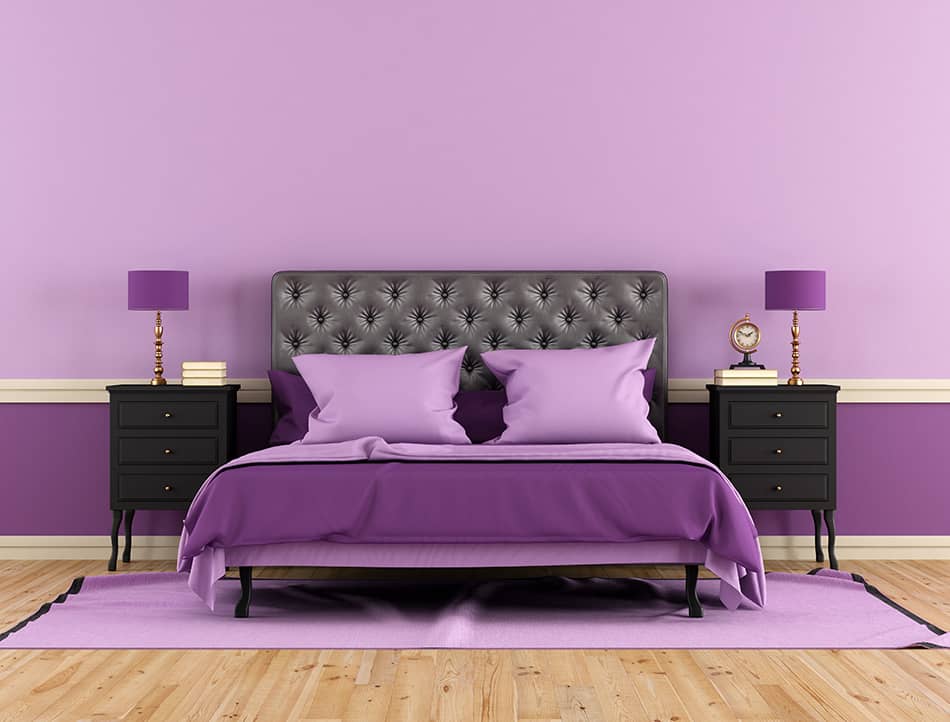 We bet you never considered purple for your bedding color. But did you know purple and black look beautiful together as proven in this example? This smart-looking bedroom is dominated by the color purple as it is seen in the lamps, rug, and of course, the bedding.
The headboard is black, which matches the black side tables. While this is the only hint of black you see here, it still manages to stand out – even among all that purple! The only missing feature is a wall decor or framed mirror above the bed. Hang a gold or silver picture frame to complete the modern theme of the room.
What Color Sheets Go with Black Bed Frame?
If you want a pop of color in a bedroom with black furniture, go for dark color sheets to match your furnishings. This means you can pick navy blue, dark green, red, purple, or even black for a masculine and balanced vibe.
A black bed frame will complement any of these sheet colors, but if you want to brighten up the bedroom and create contrast, go for beige or light gray. These hues are sleep-inducing while bringing a more calming ambiance to your bedroom.
Should Pillowcase Color Match the Sheets?
Just like matching your shoe color to your handbag, there is no reason you shouldn't match your pillowcase color with your sheets or the rest of the bedding.
To ensure your bedroom looks put together, opt for fabrics in the same color family. You don't necessarily have to choose the same colors for your pillowcases and duvet cover. Even if you prefer bold colors, you don't have to cover your pillows in an identical shade.
Experiment with blue or green for your pillowcases while going for navy sheets, as typical examples. This will create a balanced look and your bed will appear serene. Just remember if you are going to pick a neutral or bright color for your pillowcases, make sure it works with your bedsheets.
White, for example, will work well with blue while sandy beige works with mint green. It is all about matching the same color palettes to find the perfect blend for your bedding.