The choice between light or dark living room furniture can make a dramatic difference to the overall mood of your space. Here we look at the many considerations you should take into account when choosing between light or dark furniture for your living room.
Before selecting your living room furniture, you should think carefully about these points to help you come to the right decision with regards to light or dark furniture colors.
The shade of your furniture will, of course, impact the style and feel of the space, but it can also affect how you use the room and how often you need to clean.
Style
The style you are trying to achieve will affect the type of furniture you select, as it will need to work within the framework of this style. Light and dark furniture can work with a variety of styles, but some styles are better suited to certain colors of furniture.
Light furniture has a casual feel, and so it is well suited to styles that have an informal look, such as coastal or Scandinavian styles.
Dark furniture has a dramatic appeal, so this type of furniture works well with mid-century modern styles or rustic, and ski chalet looks.
Maintenance
If you are thinking about whether you should opt for light or dark-colored furniture, you should consider the type of use the items are likely to get. If you have young children or pets who jump onto your sofa, then you will probably be best choosing a couch in a dark color because this will be better able to hide stains or scuffs.
Light-colored fabric sofas can be difficult to keep clean if they are heavily used. This can mean additional maintenance if you are able to remove the sofa cushion covers and machine wash them, or you may need to use a handheld wet vacuum to routinely clean light-colored sofa fabric.
When it comes to wooden furniture such as coffee tables or shelf units, light furniture may work well because scratches won't show as obviously on light wood compared to dark wood. However, light-colored solid furniture pieces will show dirt and dust more easily, and therefore may need to be dusted or cleaned more frequently.
Mood
Light or dark furniture will contribute to the mood in your living room. To help you decide between light or dark furniture, think about the types of gatherings you use your living room for and what type of atmosphere you want to create.
If you have guests over for coffee mornings in your living room, then you might be looking for an airy and casual yet comfortable space to socialize, in which case pale-colored furniture will help you achieve this.
If you prefer to have a cozy living room where you spend your evenings snuggled up with a book or watching TV, you might benefit from darker-colored furniture. Dark furniture in warm tones will create a comforting mood in your living room.
If you are lucky enough to have two living rooms, then you may have one formal living room and one informal living room. Homes like these will typically use the informal living room for daytime guests or for family socializing, whereas the formal living room will be used for evening guests and therefore want a more mature, intimate feel.
To make a distinction between the two, the casual living room would be ideal for light-colored furniture, and the formal living room is better suited to dark furniture because it creates a more dramatic atmosphere.
Room Size
The size of your space can also impact how dark or light furniture will be perceived in your living room. In a large room, if you have a lot of light colors already, then dark furniture can help to ground the space.
In a small space, dark furniture might be too overbearing, and in this case, lighter-colored furniture may present a better option to make the room feel as airy and open as possible.
Color Palette
If you are choosing new furniture for a room that has already been decorated, then you'll need to choose a shade that works with your existing color palette.
Contrasts tend to work well to prevent a room from feeling flat or bland, so if you have dark walls or dark floors, then light-colored furniture can provide some balance, whereas if you have a lot of light colors already, then adding dark furniture can create definition and contrast.
Whether you decide to go for light or dark furniture, you'll want to make sure that the color you choose works with your color palette.
Types of Light and Dark Furniture Colors
Once you have made the decision between light and dark furniture, you will still need to choose a suitable color for your furniture. Here we will look at warm and cool colors in dark and light versions as a guide to help you select an appropriate furniture color.
Warm Lights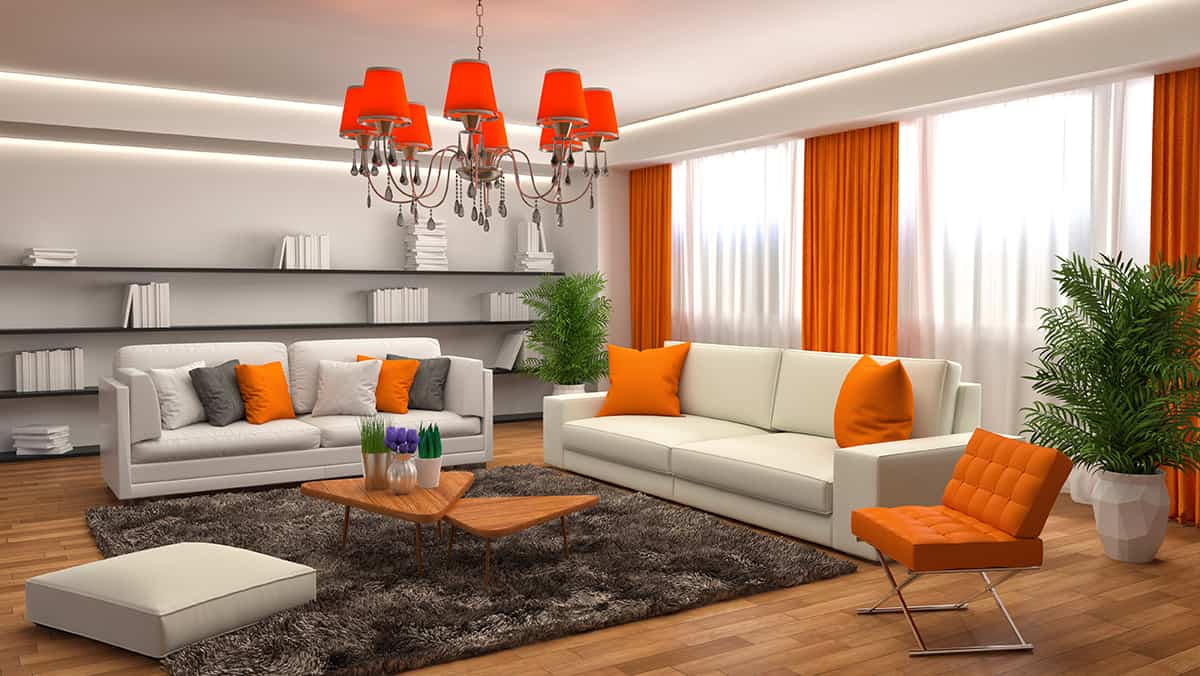 Light colors with warm undertones create a cozy and welcoming space. Warm undertones are those with red, orange, or yellow hues.
You can find neutrals in warm light shades, such as beige, taupe, tan, and shades of off-white with warm undertones, as well as more vivid light colors in warm tones, such as apricot, lemon yellow, and blush pink. Although gray is typically thought of as a cool color, you can also find pale shades of gray with warm undertones for a modern yet inviting feel in a living room.
These are the colors to choose for your furniture if you want to create a feeling of calm and relaxation. These colors also tend to make for a casual, informal feel in most instances, which can also help to put people at ease. For soft furnishings, any of these colors would work well on a sofa in a variety of fabrics, while solid furniture is more commonly made from wood or metal.
For solid furniture in warm light colors, choose shades of wood that are pale and have orange or yellow hues, such as beech. Alternatively, you could choose solid furniture which has been painted in a warm light color to match your living room color scheme.
Cool Lights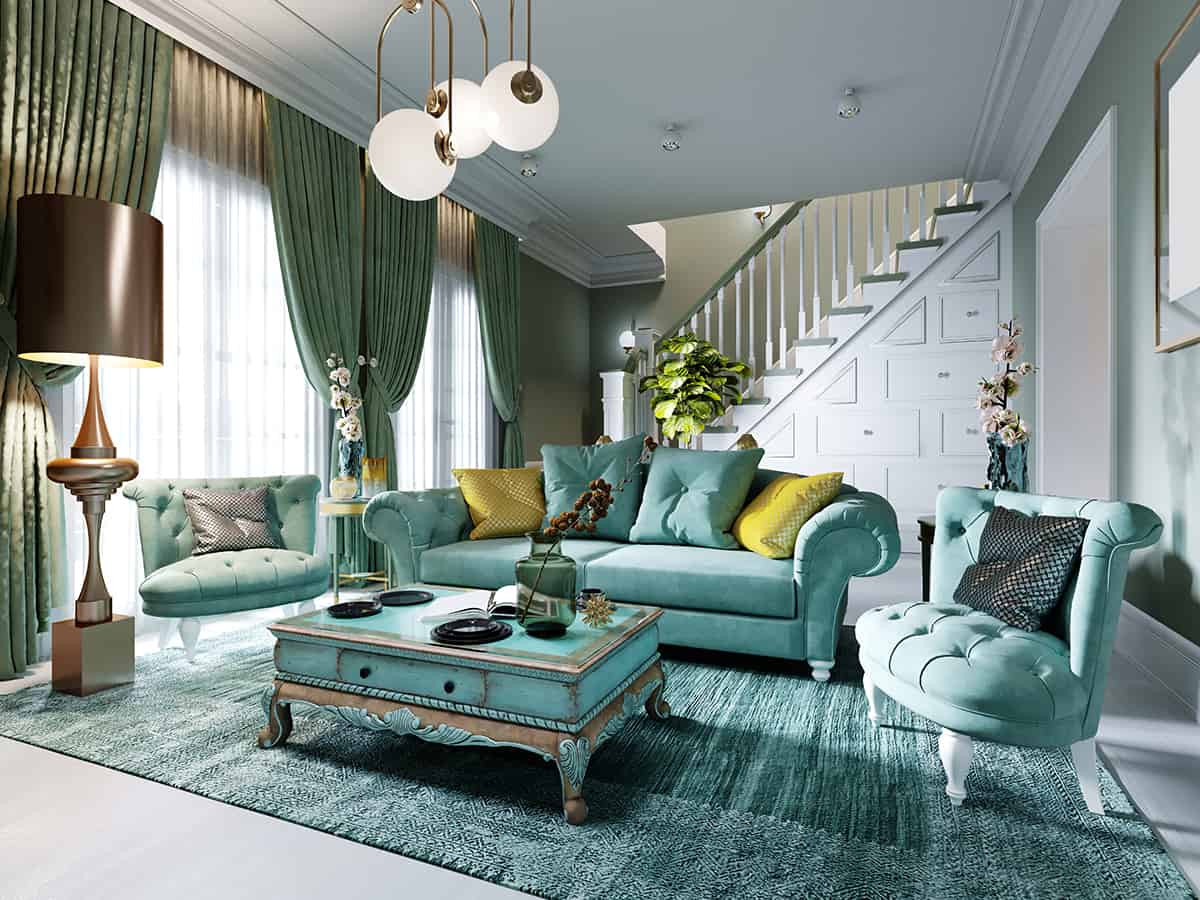 Light colors with cool undertones make for a more crisp, refreshing mood. These colors are pale shades with undertones of blue, green, or purple.
Common colors in this category include soft lavender, mint green, sage green, pale olive green, sky blue, and light gray-blue. You will also find a range of neutral colors in cool light shades, including greige, shades of off-white with blue or green hues, and grays with hints of blue, purple, or green.
If you want your living room to feel airy and breezy, with a modern minimalist edge, then cool light colors are a good option. These shades are more energizing and restorative compared to warm light colors, which have relaxing energy. Furniture in cool light colors always gives a contemporary feel to a living room, so these will work well in modern interior design styles.
Warm Darks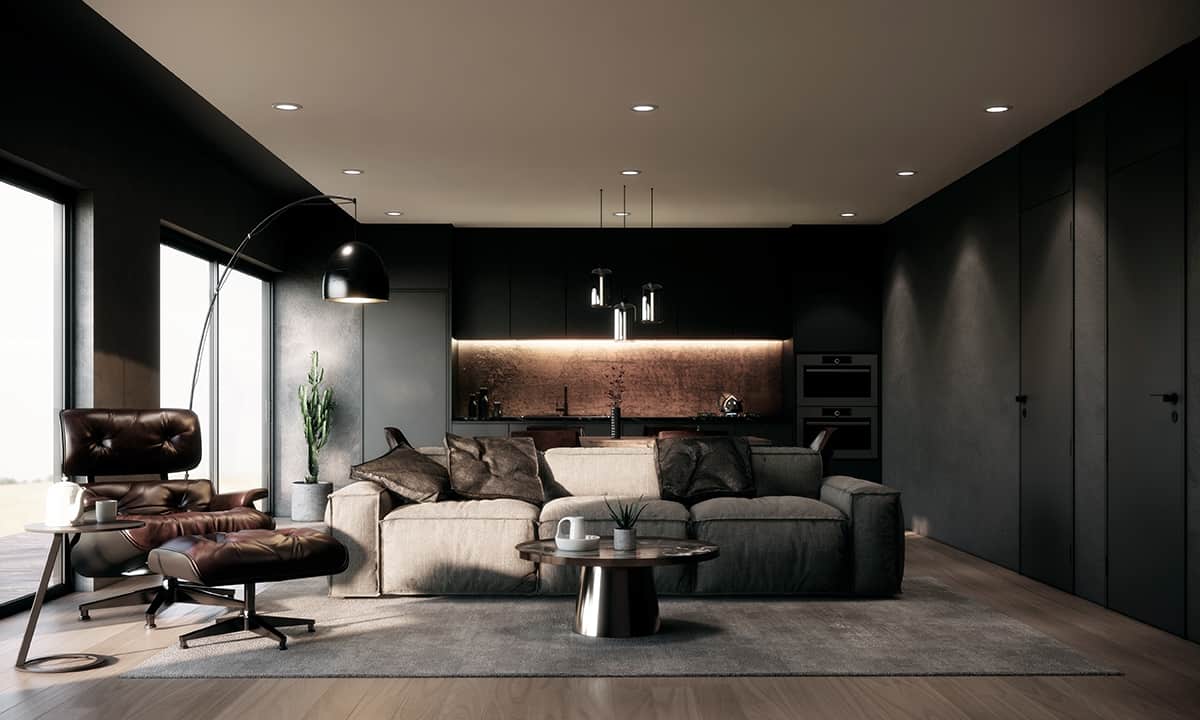 Warm dark colors are darker shades with warm hues. Colors in this category include maroon, burgundy, burnt orange, chocolate brown, black-brown, dark berry red, mahogany, and deep brass. These are shades that, when used in furniture, can create a very formal atmosphere, or they can have the effect of feeling like you are being surrounded by a cozy blanket.
The type of material will play a big part in the mood that warm dark furniture creates. In solid furniture such as wooden side tables and desks, warm dark colors like mahogany can make for a grand, stately, and imposing impression.
However, when used on bulky comfortable sofas, warm dark colors will feel rich and inviting. Use these colors in your furniture to add drama to a living room. Wonder what wall colors to pair with? see our article on which wall paint colors go with dark brown furniture.
Cool Darks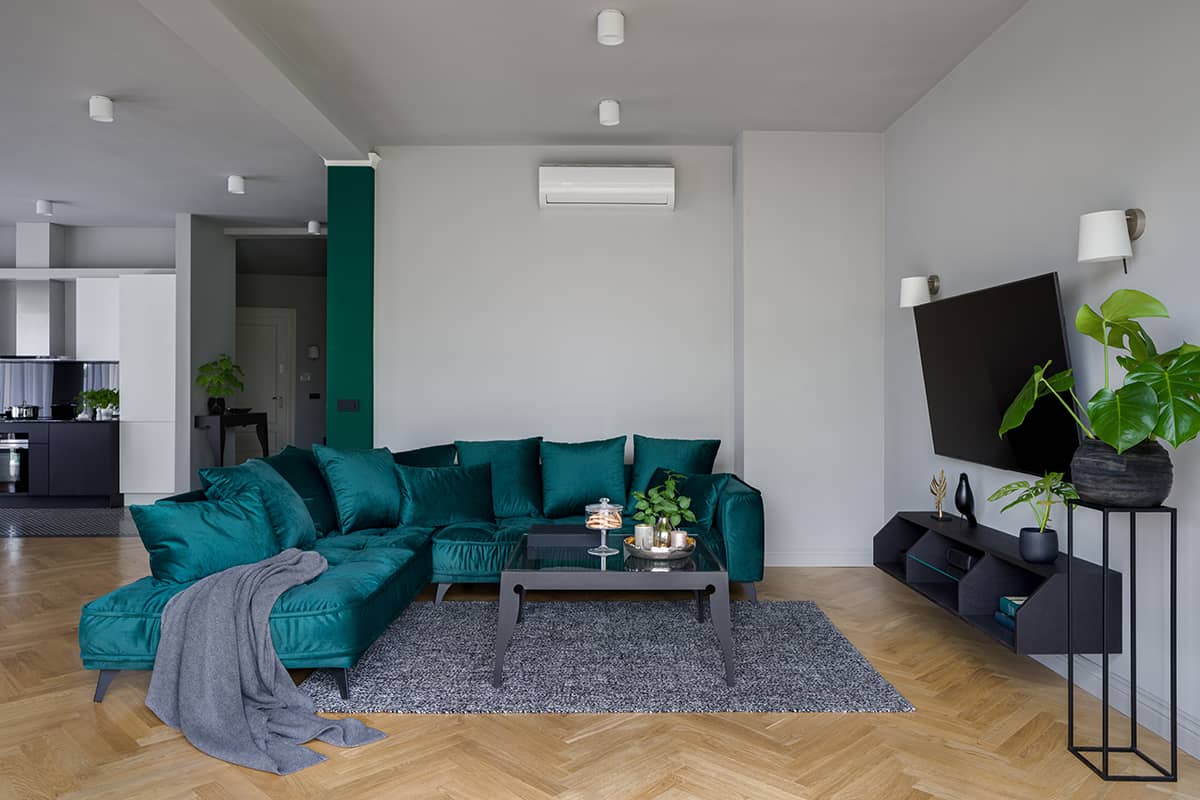 Cool dark colors are dark shades with cool hues. The colors you will find in this category include navy blue, deep emerald green, denim blue, peacock blue, charcoal gray, slate gray, dark olive green, plum, and eggplant purple. These are colors that add depth and drama to a living room, especially when used liberally.
Sofas in cool dark colors are very on-trend right now, so if you enjoy these shades, consider a velvet couch in navy blue or emerald green for a luxurious, elegant atmosphere in your living room. For solid furniture, wooden pieces which have been stained or painted in dark gray are a stylish choice.
These can add a bold contrast in a room with light walls, or they will further increase the intimate atmosphere in a living room which is decorated in dark shades.
Although you might expect cool dark colors to make a room feel cold and uninviting, they actually make a space feel moody yet vibrant. They can also add a sense of fun and personality to an otherwise bland space.
Aside from the living room, choosing light or dark furniture for the bedroom is also a very important factor you should consider.