The effortless look of industrial-style interior design has long been a favorite of loft apartment dwellers. This easy-to-maintain style is so versatile that it's not unusual to find exposed brick walls, shaggy rugs, iron pipes, and concrete floors all in one room. But there is more to industrial style than meets the eye, which you're about to find out.
Since creating this look is in trend, we have come up with some exceptionally affordable and simple industrial living room ideas that serve to customize your space. But first, let's familiarize you more with this particular interior design.
What is Industrial Interior Design?
Industrial interior design is a blend of mid-century modern and vintage. This style is synonymous with raw, unfinished decor in wide open spaces, much like a typical warehouse. Some common industrial room materials include exposed ductwork, Edison bulbs, distressed wood, brick or concrete walls as well as utilitarian objects. The idea is to recreate an old factory setting that not only extends to the architecture, but it goes further to the walls, ceiling, and floors in large, airy spaces.
There are many ways you can bring your living room to life with industrial interior design. By adding elements in different styles, you can easily create the same look.
To give you some ideas, we've put together this list of 11 industrial-style living rooms that prove just how versatile this interior design style is. Take a look and pick your favorite example for your own living room.
Industrial Living Room Ideas
Choose Minimalist Furniture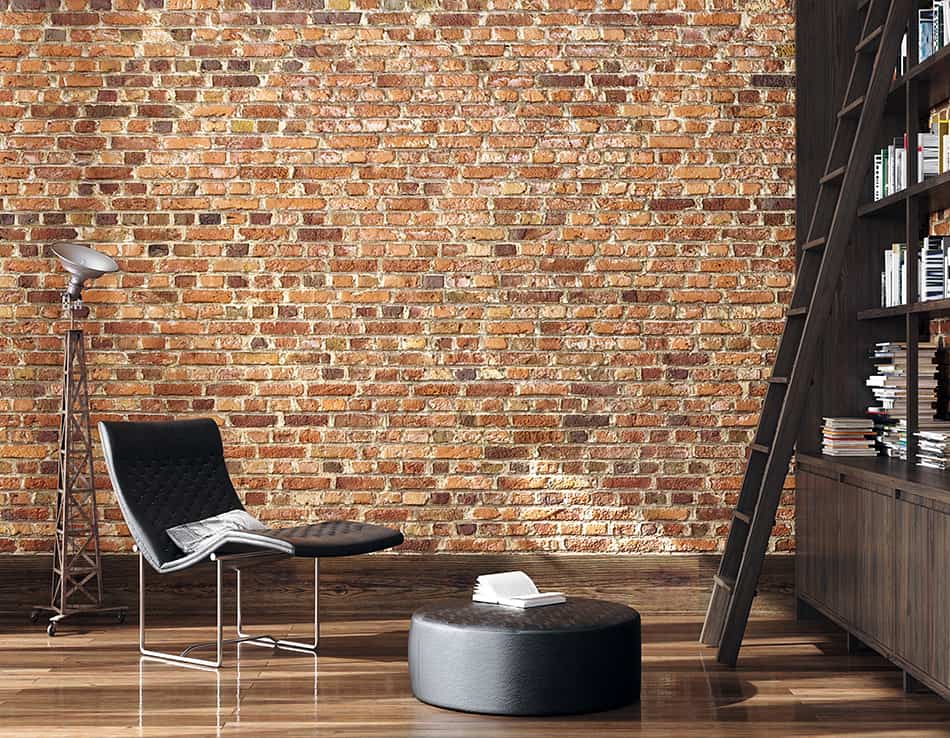 Minimalist industrial decor is growing in popularity, which is why a good number of furniture manufacturers are now embracing this concept. In an industrial home, it makes sense to choose simple, furniture pieces with minimal detailing. For example, wrought iron or leather chairs adorned with metal legs will provide a clean and simple look. Pairing your minimalist furniture with monochromatic colors and lighting is the best way to introduce the industrial interior design to your living room space.
Here, the exposed brick wall serves as a typical backdrop for the minimal lighting, seating and dark wooden bookshelf. If you're trying to come up with a minimalist style living room that mimics the industrial theme, all you need to do is invest in some simple furniture pieces.
Include Some Metallic Elements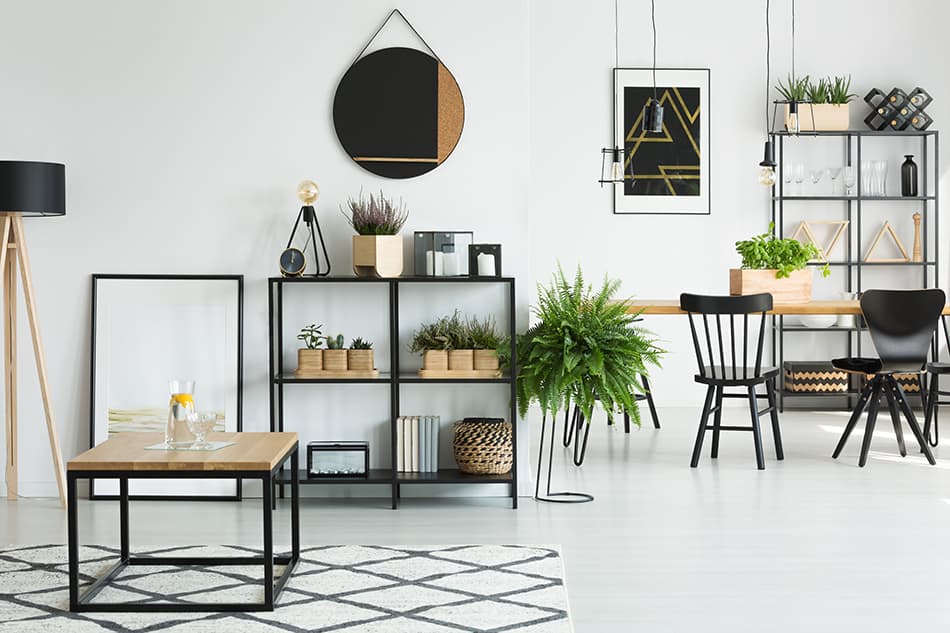 During the Industrial Revolution era, metal manufacturing became very popular in the US. Other countries soon followed the hype and used rustic metals in furniture, plumbing and lighting. Rustic metal is also used in structural components of buildings. Perhaps the best way to achieve the same look is to use wrought iron shelves, tables, chairs, lighting and decorative pieces in your industrial living room.
See how contemporary and industrial this living room looks with its abundance of black metal furniture and accessories. But aside from wrought iron, you can also use other rustic metals, such as copper or brushed nickel. The idea is to keep the furniture simple and bring in some unexpected items to your rustic or contemporary industrial living room.
Mix the Old with the New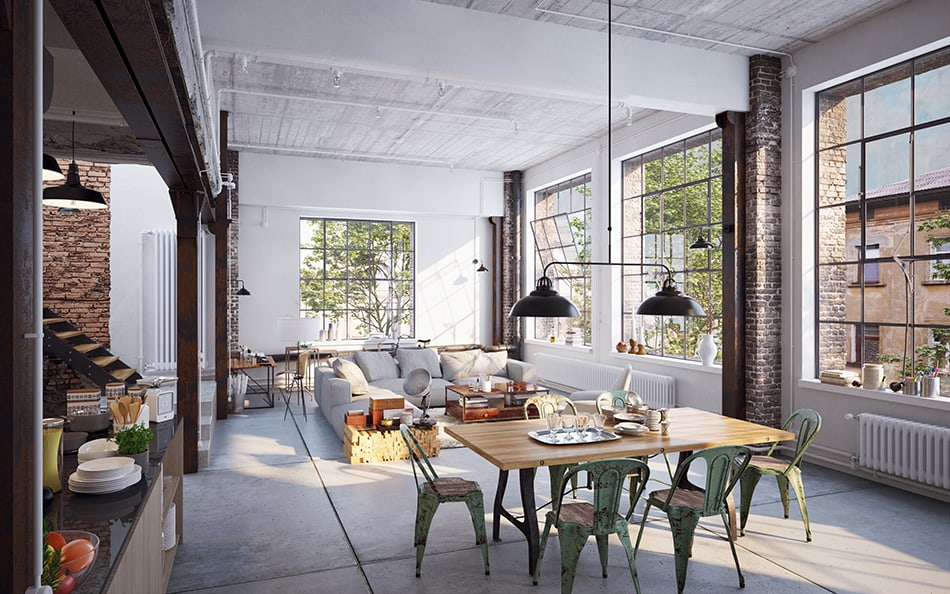 The beauty of a modern industrial living room is the versatility of mixing contemporary designs with vintage elements.
To give you an example, you can mount a modern TV on the exposed brick wall, with a variety of wrought iron shelves next to it. When paired with some long ceiling lights in open spaces, you can help create a rustic vibe in your modern industrial style living room.
Take a look at this modern vintage apartment that boasts a typical industrial theme thanks to its brick walls, concrete floors and exposed beams.
Take Eclectic to the Industrial Level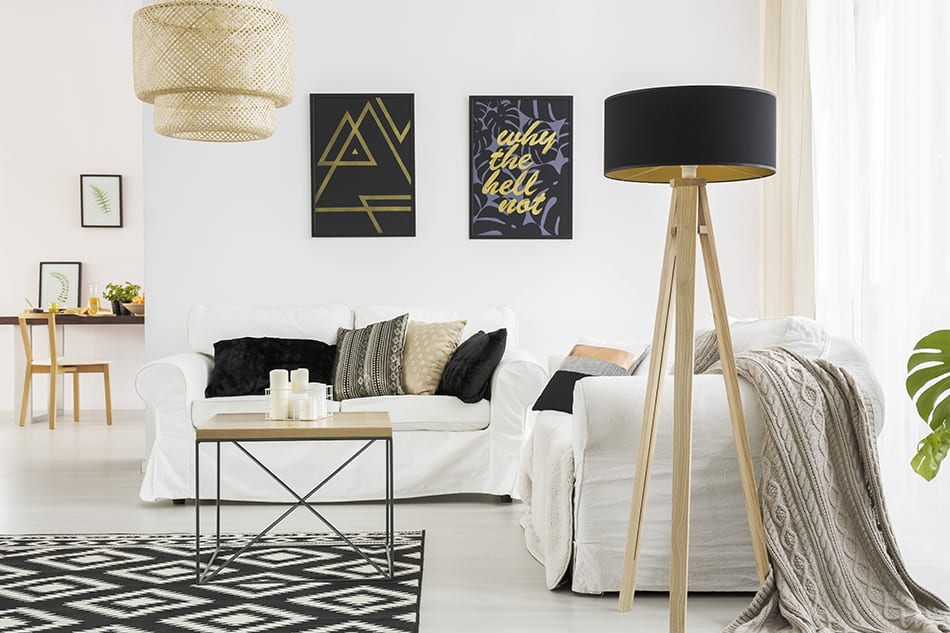 A contemporary living room design goes hand in hand with industrial style. This trendy living room has a blend of neutral colors with black and white furniture for extra personality. The overall vibe is light, bright, and of course, eclectic! The mix of wood and metal with a touch of minimalism don't overwhelm the space. And the highlight of this room has to be the funky wall art that complements the rest of the furnishings.
Emit an industrial Feel with Brick or Concrete Walls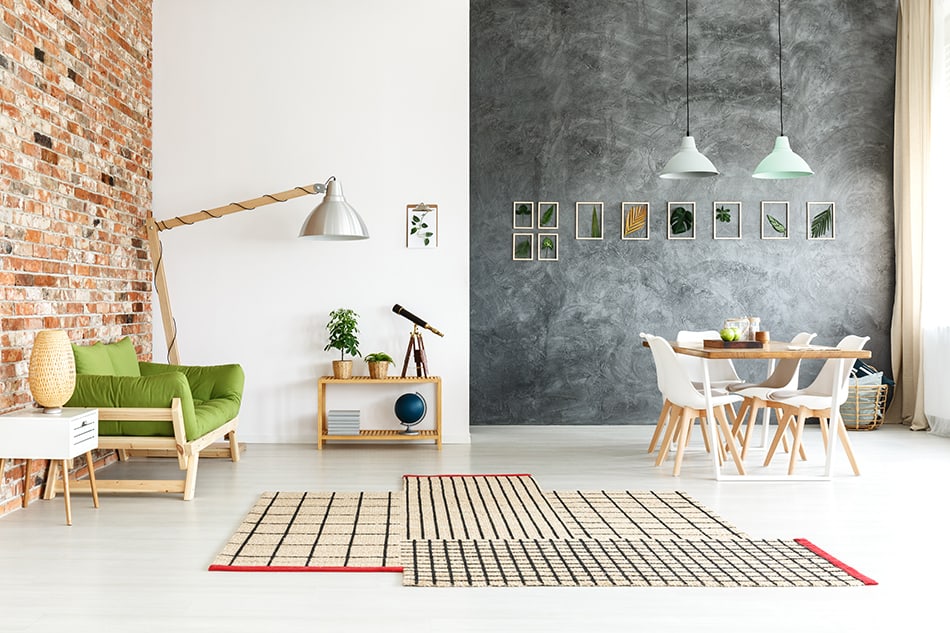 The best way to recreate an industrial living room is to go for exposed brick or concrete walls. Bricks come in various shades: from red to whitewashed. You can cover just one wall with bricks to make a statement, or you may choose faux brick panels as an inexpensive option. Concrete is another industrial idea that can be used on the ceiling, floor and the walls.
Whichever material you go for, there is no denying that concrete and brick are the must-have for industrial living rooms. And once you add some metal coverings on the walls, you will bring your cool industrial interior to the next level!
Choose Concrete Flooring for an Industrial Twist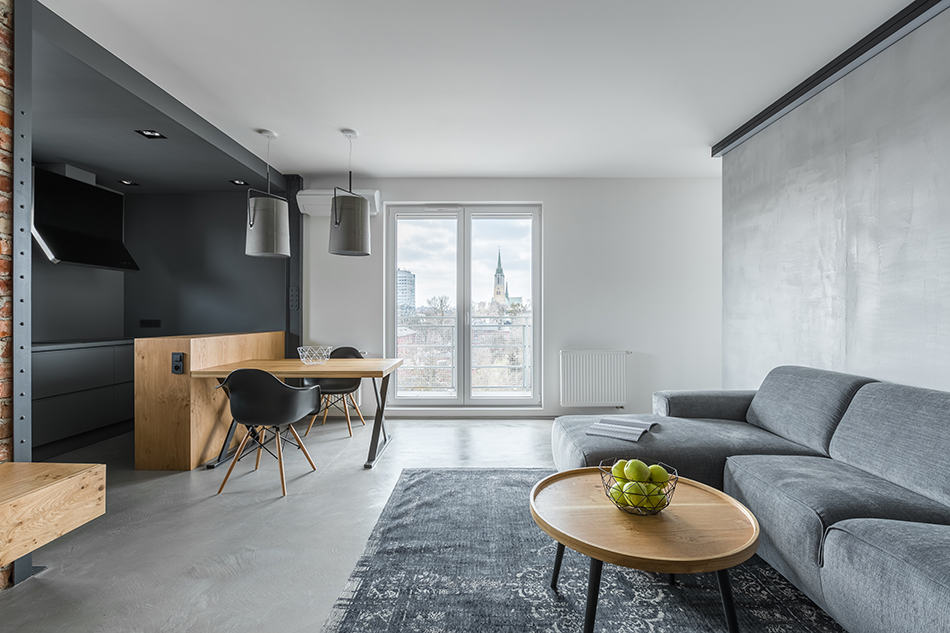 We've already mentioned walls, but if you want to go all the way and create a rustic interior with an industrial twist, you'll need to change your flooring too. Concrete floors have a seamless look that are typically seen in warehouses. When you add minimal furniture, you'll complete the laid-back look.
In this living room, the gray concrete floor complements the wooden furniture and gray decor and gives the space an extra dose of sleekness.
Add Bold Pops of Color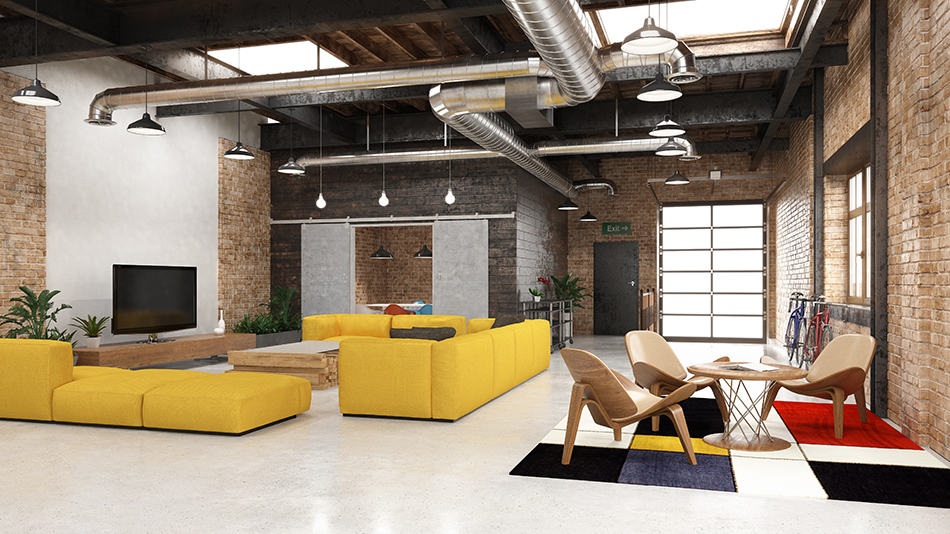 Bright colors are always a good idea, especially in gray or brick-dominated industrial living rooms. While we normally associate industrial decor with being monotonous, bold and vibrant colors will enhance the eclectic appeal of an otherwise minimally decorated space.
See how the bright yellow sofa and multi-color rug in this modern industrial apartment stand out. The entire room feels fresh and vibrant thanks to the addition of minimalist furniture in bold colors.
Add Plenty of Textures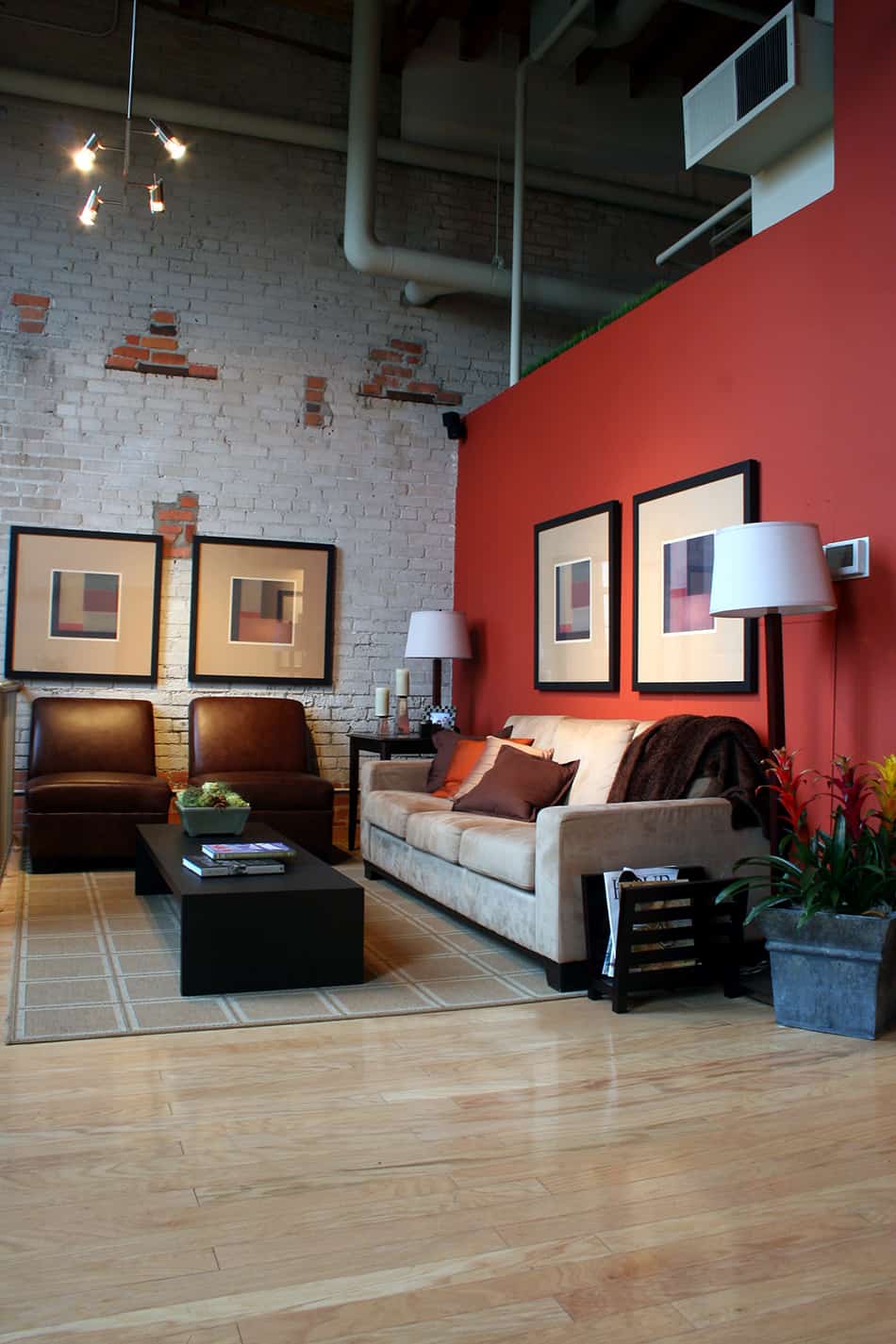 Aside from bold colors, textures also play a vital role in industrial interiors. Leather chairs, large wall art and statement lighting are great additions to large open spaces. All these items add texture to an industrial loft living room, especially if they are paired with black metal accents for character.
Here is the perfect palette of modern industrial interior in a mix of colors that have created a uniquely relaxed vibe. With such a variety of colors and textures used in this living room, we can't help but feel totally at home!
Experiment with Accessories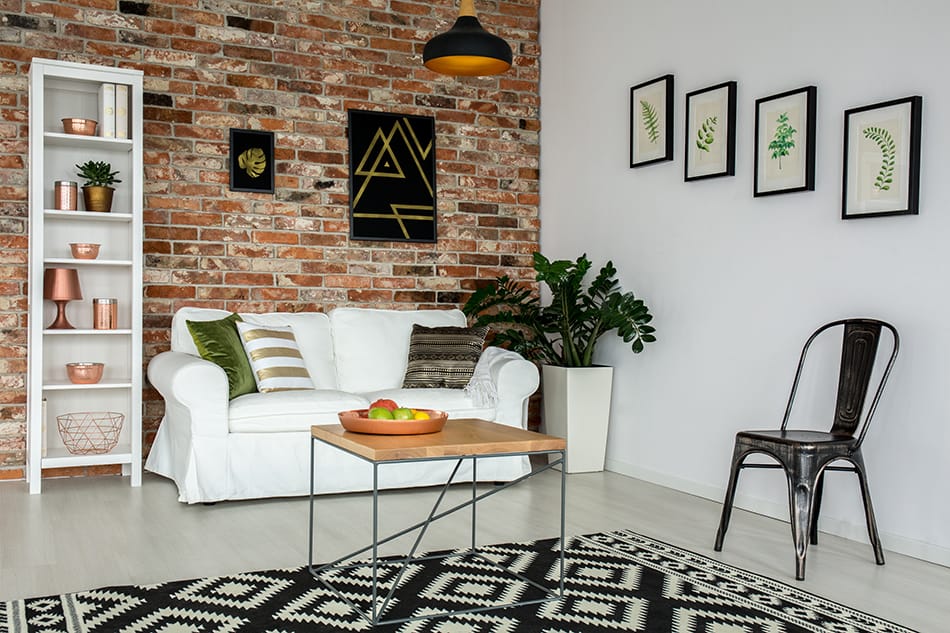 Accessories are always a must to bring personality to your industrial living room. In a modern living room, for example, table lamps, metal furniture, artworks and other decorative pieces can do wonders in a contemporary living room. Accessories will help complete your color palette or even balance the overall vibe by taming the industrial features of your room. There are plenty of industrial-themed items you can add to your space, whether it's in the form of repurposed wood, metal pipes or statement flooring. Whatever items you go for as accessories, you can match the vibe of an industrial interior by adding lots of color, texture and different materials.
Don't Forget the Lighting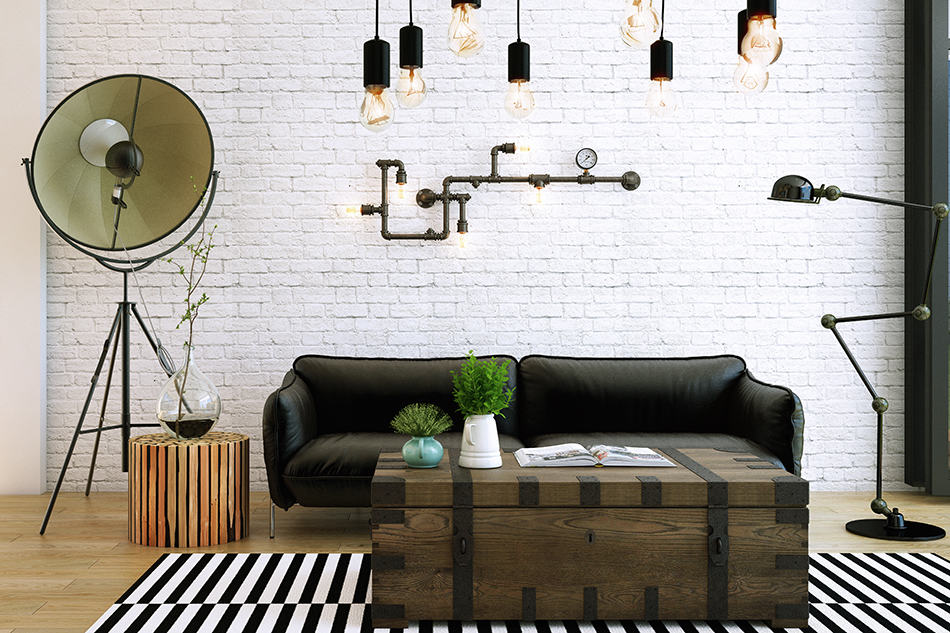 Statement lighting is extremely important when it comes to decorating your living room in the industrial style. While simple chandeliers or light fixtures can brighten up the room without much effort, you'll need to think of lights that stand out and make a bold statement.
Take a look at this industrial-style living room with white exposed brick walls that serve as a backdrop to the unique Edison lights all over the room. The whole look can easily and effortlessly be mimicked with just one large lighting or multiple ones throughout your living room.
Add Cozy Gray in an Open Layout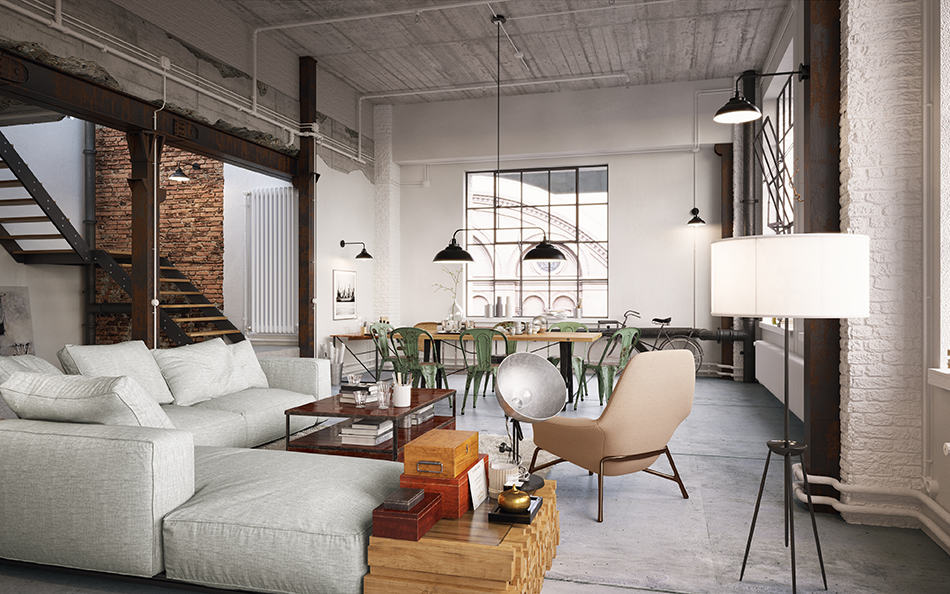 If you already have an open-plan living room, then consider turning it into an industrial-style space by adding some of the above-mentioned ideas. The industrial style offers ample room in open layouts so you have the freedom to turn your living room into a laid-back and cozy space using just a few accessories here and there. For example, you can incorporate modern with vintage decor by adding metal, concrete, wood, and brick to your room as shown here.
To summarize, an industrial-style living room doesn't have to break the bank! With a few simple additions to your room, you will transform your loft apartment or open-plan living room just like an old warehouse. A relaxing and welcoming living room in the industrial theme can easily be recreated on a budget, and with our list of ideas, you'll be mastering this style in no time!