If you want to create a warm and welcoming environment in your living room, consider painting your walls brown. This earthy color is an excellent opportunity to bring nature into your home and provide a comfortable ambiance. Brown is often an overlooked color that not many homeowners consider for their walls. But did you know this color is incredibly versatile and creates a sense of calm in any living room space?
If you love the idea of a living room with brown walls, but you're not sure how to create the perfect look, here are some great examples to help you get started.
10 Examples of Living Rooms With Brown Walls
1. Combine Brown Brick Wall With Accent Colors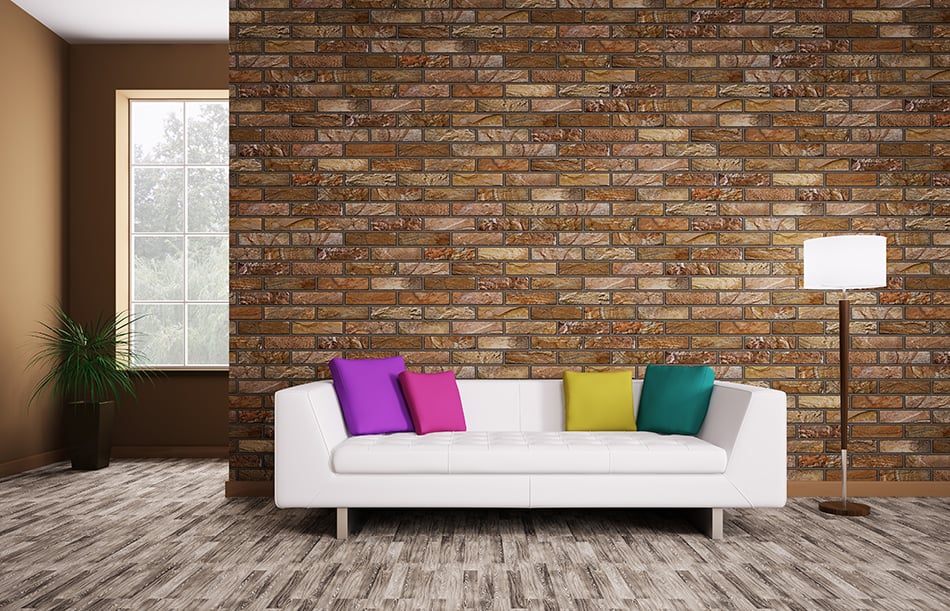 To brighten up a dark brown living room, decorate it with accent colors. Bright-colored cushions blend beautifully with brown walls and add vibrance to the room. In this image, the brown brick wall is accentuated with bold cushions that stand out in this modern living room. Remember, the brighter the accent colors, the richer your room will look. In small brown living rooms, you shouldn't use too much of a dark theme. Go for solid accent colors and pair them with light-colored furniture like a white sofa. Wall art pieces will further bring out the airy and bright feel of the room as they will help make the brown wall pop without feeling overwhelming.
2. Boho-Chic Funiture to Match the Brown Walls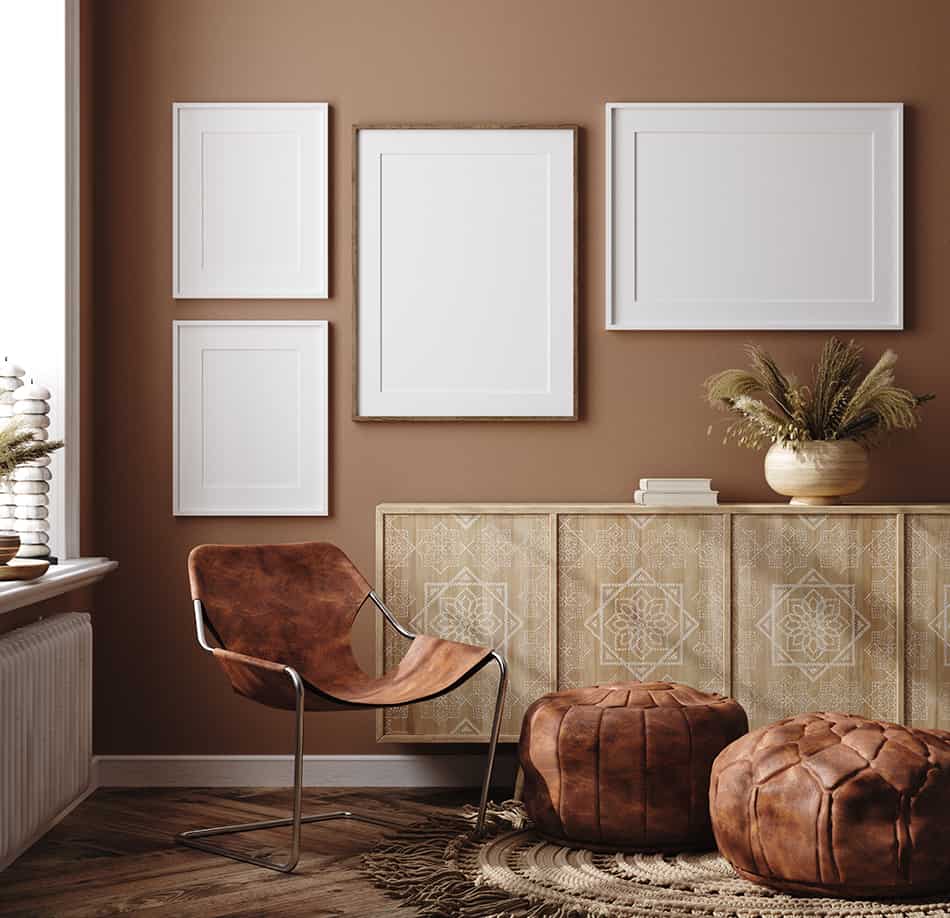 If your living room has a specific theme, you'll want to add wooden furniture to give the brown wall a more dramatic appearance. In a bohemian style living room, for example, your statement pieces can be in the form of brown furniture in rich reddish brown or mahogany. When you place these pieces in the middle of the living room, you call attention to the furniture while highlighting the brown wall. As a rule of thumb, if your living space is compact, use small furniture items so as not to make the brown wall disappear in the background. Similarly, if you use different tones of brown to accessorize your living room, you will instantly draw the eye towards the dark brown wall.
3. Hardwood Flooring to Complement Brown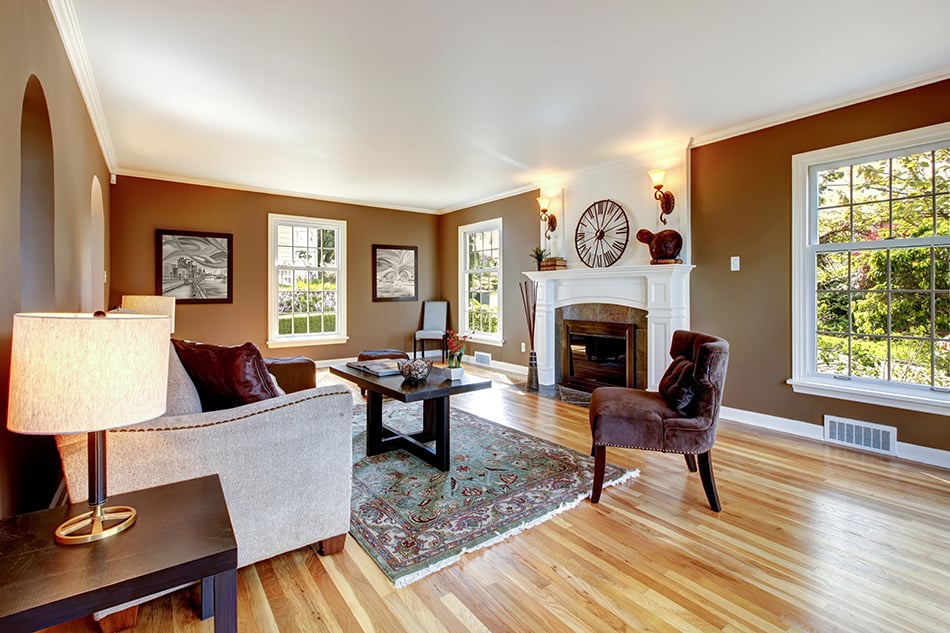 Hardwood flooring is another excellent example of providing an earthy contrast to brown walls. Since the walls and floor take up the most space in a living room, you'll want to ensure they complement each other. Even if you don't want to use real hardwood flooring, there are plenty of cheaper alternatives that mimic wood. Rustic-style barn wood laminate flooring looks almost identical to actual woodgrain plus it's easier to install and maintain. In this example, the large living room's walls are a light tone of brown with an even lighter shade of brown for the flooring. This room looks airy and feels welcoming.
4. Add Fluffy Rug and Throw Blankets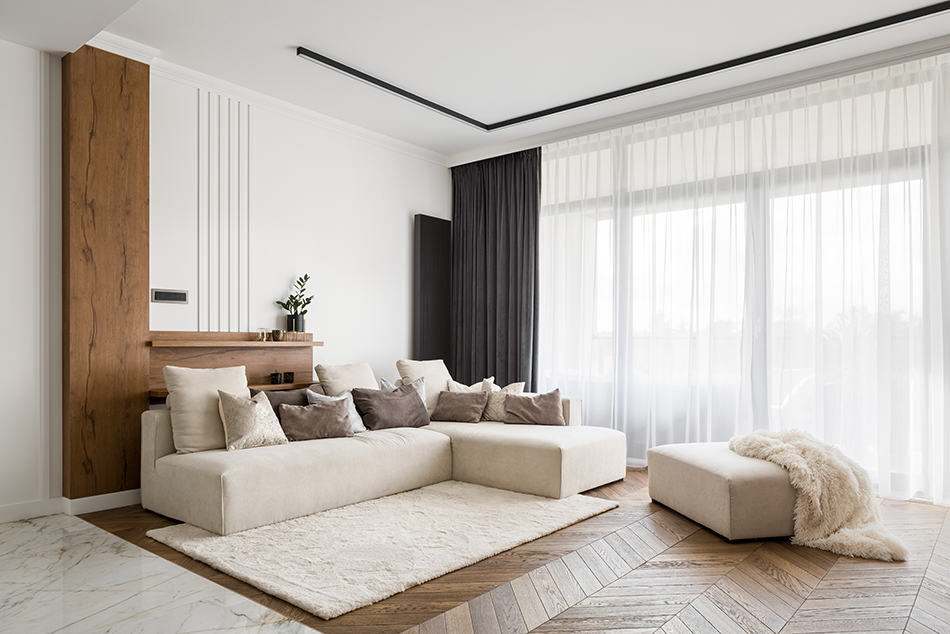 We all know brown is an earthy color. When paired with neutral accessories and other earthy components, it emits a natural look that softens the room. A fluffy rug on hardwood flooring is great to walk on and feels comfortable under your feet. This can be a good choice when paired with matching throw blankets. In this image, the neutral seating with the rug and blanket looks so relaxing that it's almost tempting to lounge on the sofa all day!
5. Brown Leather Couch Next to Brown Wall as a Focal Point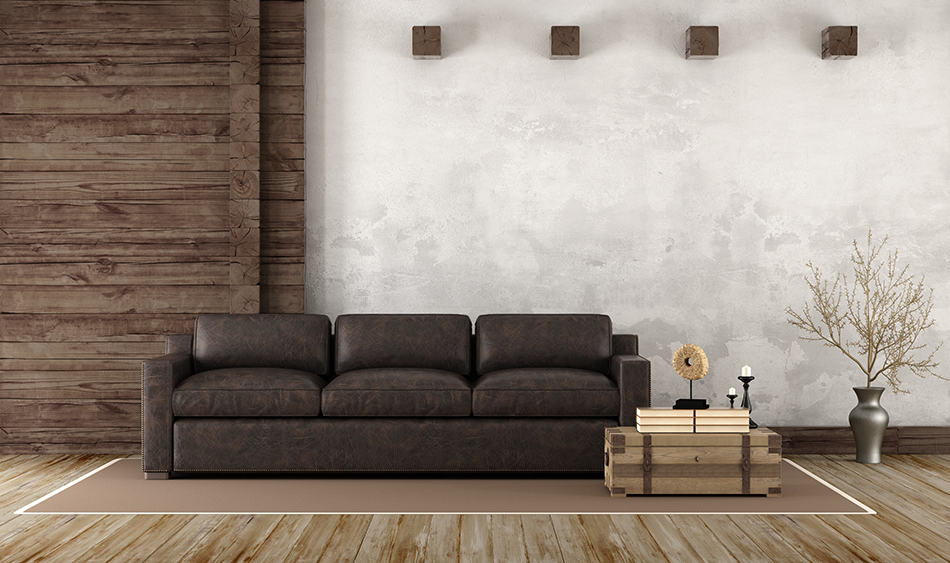 A rich brown leather couch is a common way of adding depth to a brown living room. Leather sofas bring elegance without feeling forced. When mixed with other earthy wooden accents, they create a simple yet inviting color scheme. In this image, the large brown sofa with the tall brown wall are both the focal points of the living room as all the other accessories sit quietly in the background.
6. Decorate with Different Shades of Brown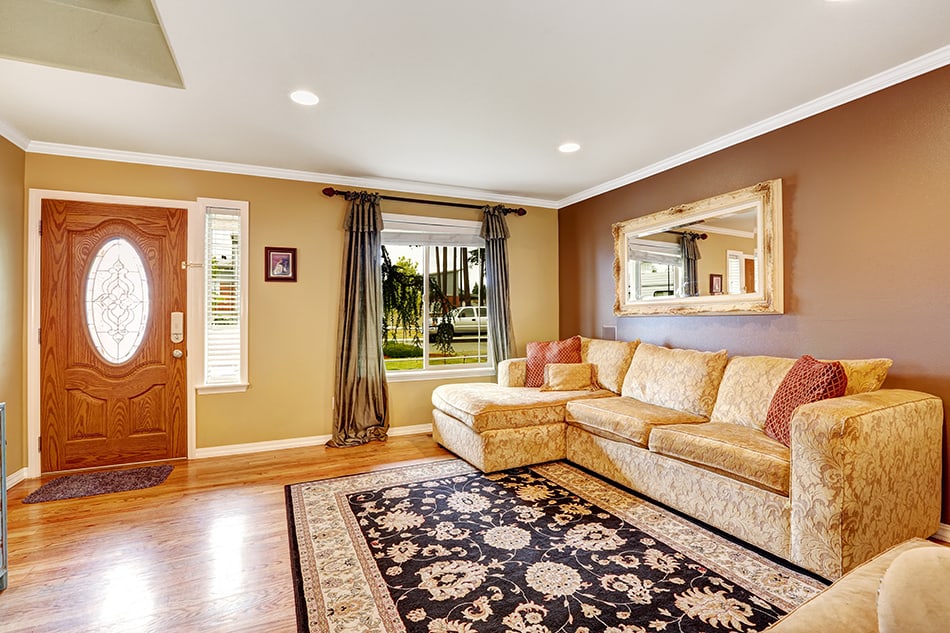 Decorating with various shades of brown will add visual interest and much depth to your living room. Even if you subtly incorporate two or three shades of brown in your room, you will instantly add richness to the space. Brown pairs well with almost every other color on the spectrum like deep mahogany or espresso.
7. Brown Brick Wall With Green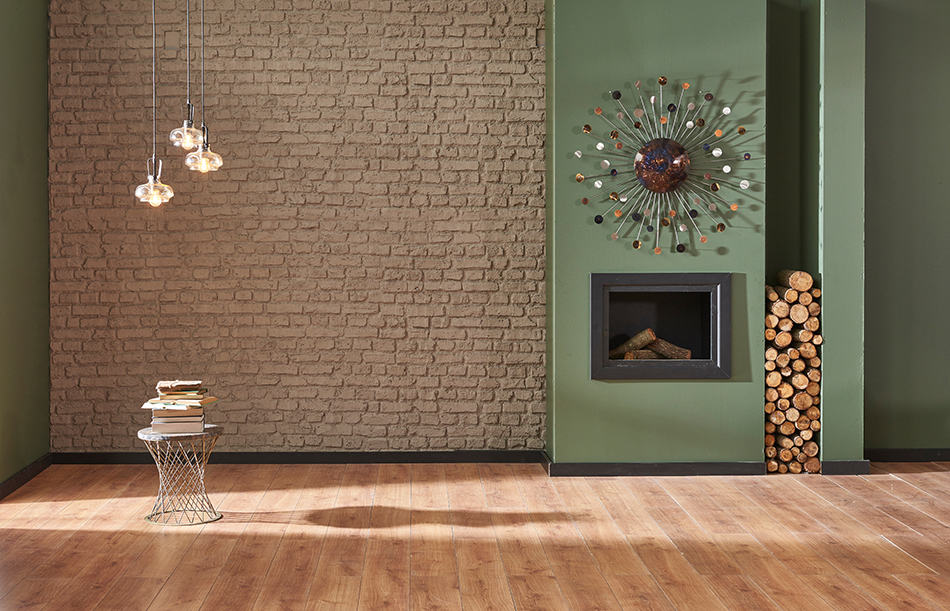 One of the best ways to decorate your brown living room is by using shabby chic design schemes. This living room, for example, has a large brown brick wall next to a green wall as an interesting feature. This has given the room a visually appealing look. You can achieve the same look by mixing in unique patterns or wall decor to avoid creating a bland feel in your brown living room.
8. Illuminate the Brown Wall With Decorative Lights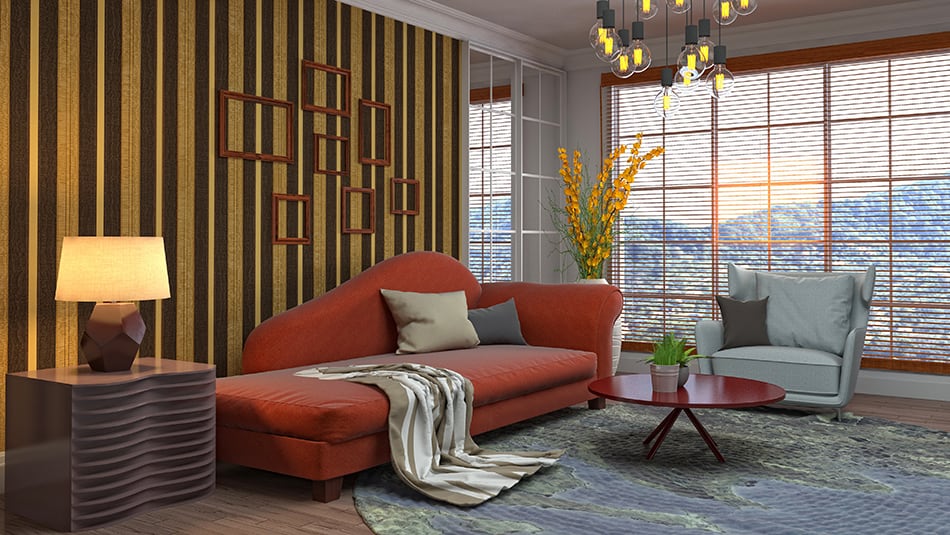 Liven up your brown living room with a couple of statement lighting in the form of wall sconces, recessed ceiling lights or table lamps. In fact any type of lighting will help lighten up a dark brown wall. Round ceiling lights, for example, provide targeted illumination and they work well with other arrangements like framed mirrors or wall hanging. If you love glitter, consider adding metal shelves and gold framed mirrors for a more traditional ambiance. Fill your shelves with candlesticks or figurines and don't forget to focus your sparkling lights on those features.
9. Complement Brown Walls With Classic White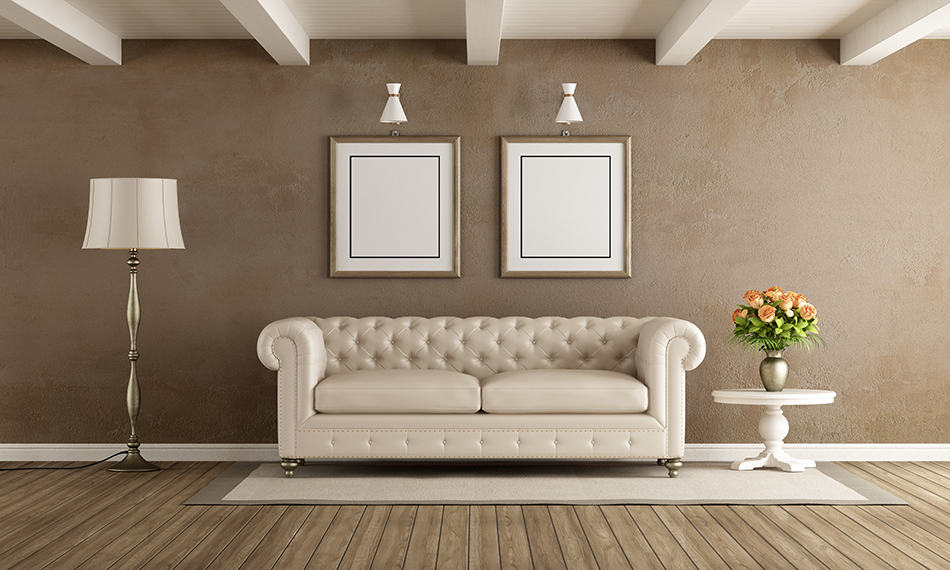 Creating a warm and inviting space in a brown living room can easily be achieved with bright white ceiling and furniture. This color palette works very well with brown walls and wooden flooring as a warming element. Here, see how beautiful this living room looks with its classic white sofa, white wooden beams and brown wall.
10. Combine Brown Walls With Beige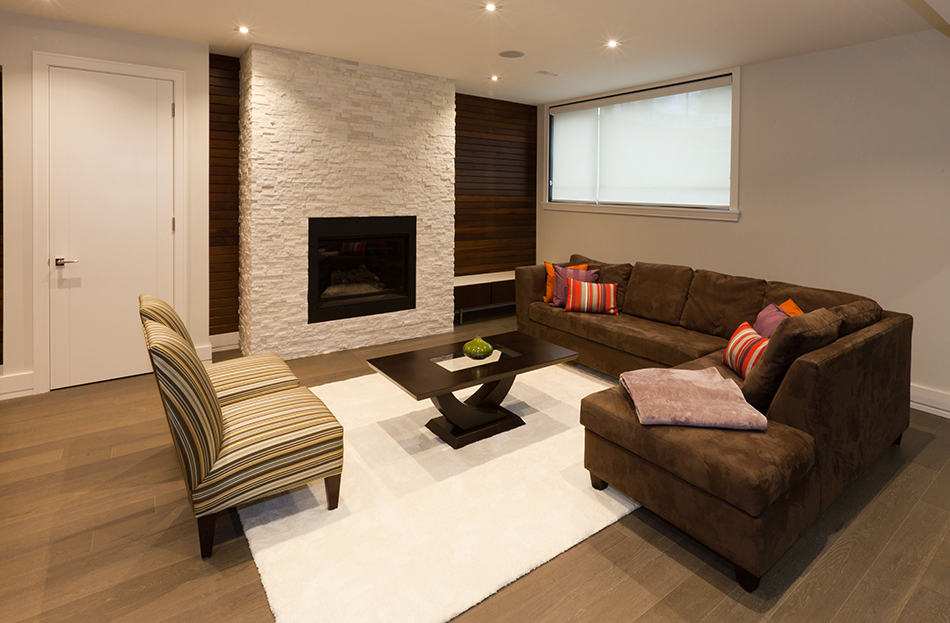 Brown is one of those colors that can easily be combined with neutrals like beige. So if you have brown walls in your living room, it makes sense to choose beige and brown furniture. You can even mix bolder colors as you see fit. In fact, all sorts of textures can create a warm atmosphere in a brown and beige living room. Here, the blend of brown, white and beige work in harmony to create a cozy feel.
Other Ways to Decorate Your Brown Living Room
– With such a wide variety of brown tones and shades, this popular color for walls can be combined with other neutral shades like tan or taupe for small living rooms. In large living rooms, you can choose richer shades of brown for your walls. Chocolate brown, for example, is an attractive and elegant shade. When paired with warm tones like orange, gold or red, you can create an inviting and cozy look. For contrasts, use cool accent colors like sage green for a sophisticated look. If you want to use rich shades of brown for your living room walls, incorporate some ivory elements to bring brightness to your space.
– Green wallpaper can bring a distinction to brown painted living room walls. This color will add an especially attractive blend to brown hued wooden furniture.
– If you love the idea of using green, take it to the next level by introducing teal and blue to your brown living room. Throw pillows in the mentioned colors are a perfect way to complement your brown walls.
– White furniture, such as white leather sofas will harmonize your brown living room walls and provide a luxurious look.
– To go for a completely brown theme, add all-brown furniture, wooden flooring and gold-framed mirrors to complement the look.
– Neutral tones, such as white or beige table lamps and curtains work very well with brown walls. You can also use drapes that have blueish green prints or patterns.
– Lastly, if you want your living room to be all-brown, you must decide how brown you want it. Brown shades range from chestnut brown to coffee and cocoa and everything in between. If you want to incorporate these colors onto your walls, decide how dark or light you want them.
Of course, this depends on whether your living room is small or large as dark browns can visually make a room feel smaller. On the flip side, dark bown walls can make a living room feel cozy and warm, thus making them ideal for large and open spaces. The best way to use dark brown is to offset the walls with neutral-colored furniture.
This will make the brown walls pop. Just make sure you don't go too heavy by painting all your walls dark brown as coordination is key here. A good tip is to decorate your room with some patterned chair choices and vibrant cushions for added texture.