If you have a round table for the first time, then you might be surprised to find you'll have to set this differently from your previous square or rectangular dining table.
Your old rectangular placemats or square plates may not work with your new round dining table, and you will almost certainly need to buy a new tablecloth to suit both the shape of size of a round dining table. Follow these tips for the best-looking decorated round dining table.
Decorating your dining table is something you can do on a daily basis to style your dining room, or you might only wish to decorate the dining table when you are having guests. Consider these elements when decorating your round dining table.
Tablecloth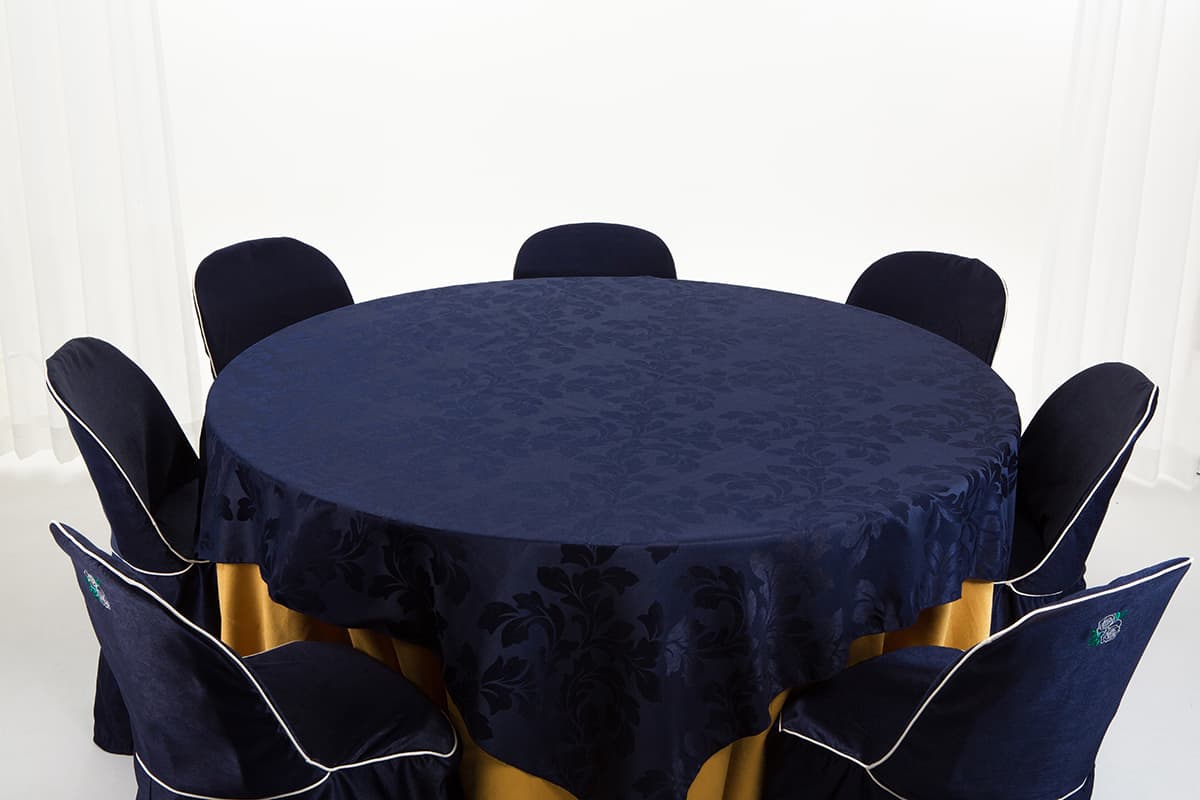 Not everyone uses a tablecloth, but they can be really useful to have on hand, even if you don't like having a tablecloth covering your table all the time.
Wipe-clean tablecloths are a great choice if you have children or if you simply want to protect your new dining table. These types of tablecloths are really easy to keep clean just by wiping them down with a wet soapy dishcloth or a spritz of antibacterial spray and some disposable kitchen roll.
Alternatively, you might opt for a fabric tablecloth or even a lace tablecloth if you are going for a more traditional look. These can protect your dining table from fading caused by sun damage, and they can be easily cleaned in the washing machine. Tablecloths are also a nice way of coordinating your table with the color scheme in the rest of the room, as you can choose a tablecloth color and style that matches your decor.
If you do decide that you want a tablecloth for your round dining table, then the tablecloth itself also needs to be round. This prevents any awkward angles from hanging over the side of the table and gives a much neater appearance. Round tablecloths are widely available; just be sure to measure the diameter of your table beforehand to make sure you buy the correct size.
At a minimum, the tablecloth will need to cover the entire surface of the table, with some extra fabric to hang over the edge. An extra-long tablecloth can look elegant, but it can get in the way when sitting at the table, so also factor this in. The tablecloth should not reach the floor, and if it does, this means it is too big for your table.
Table Runner
A table runner is a long piece of fabric that on a square or rectangular table would run across the whole length of the table, hence the term 'table runner.' The middle of the table runner is where you might place a large dish of food that the family can help themselves to, or it would be where you position a centerpiece.
The point of a table runner is to protect the table in lieu of a tablecloth, but it can also be used as a means of decorating the table to give it a more finished look. You can use a table runner on top of a tablecloth, or you can use it instead of a tablecloth on a bare table.
For a round dining table, table runners are usually round in shape and are placed in the middle of the table. The diameter of a round table runner should be about a quarter of the total diameter of the table itself in order to keep the look proportional. Fortunately, if you already have an old table runner from your square or rectangular dining table, you can actually use this with a round table.
Place the table runner exactly across the center of the table, ensuring that the ends hang over the side of the table surface. Although when decorating a round table, you need to make sure most of the accessories are also round, a table runner is actually the exception to this.
A rectangular table runner can add another dimension to a round table, but you must ensure that this is the only angular element you use on a round table; otherwise, it can look awkward.
Place Mats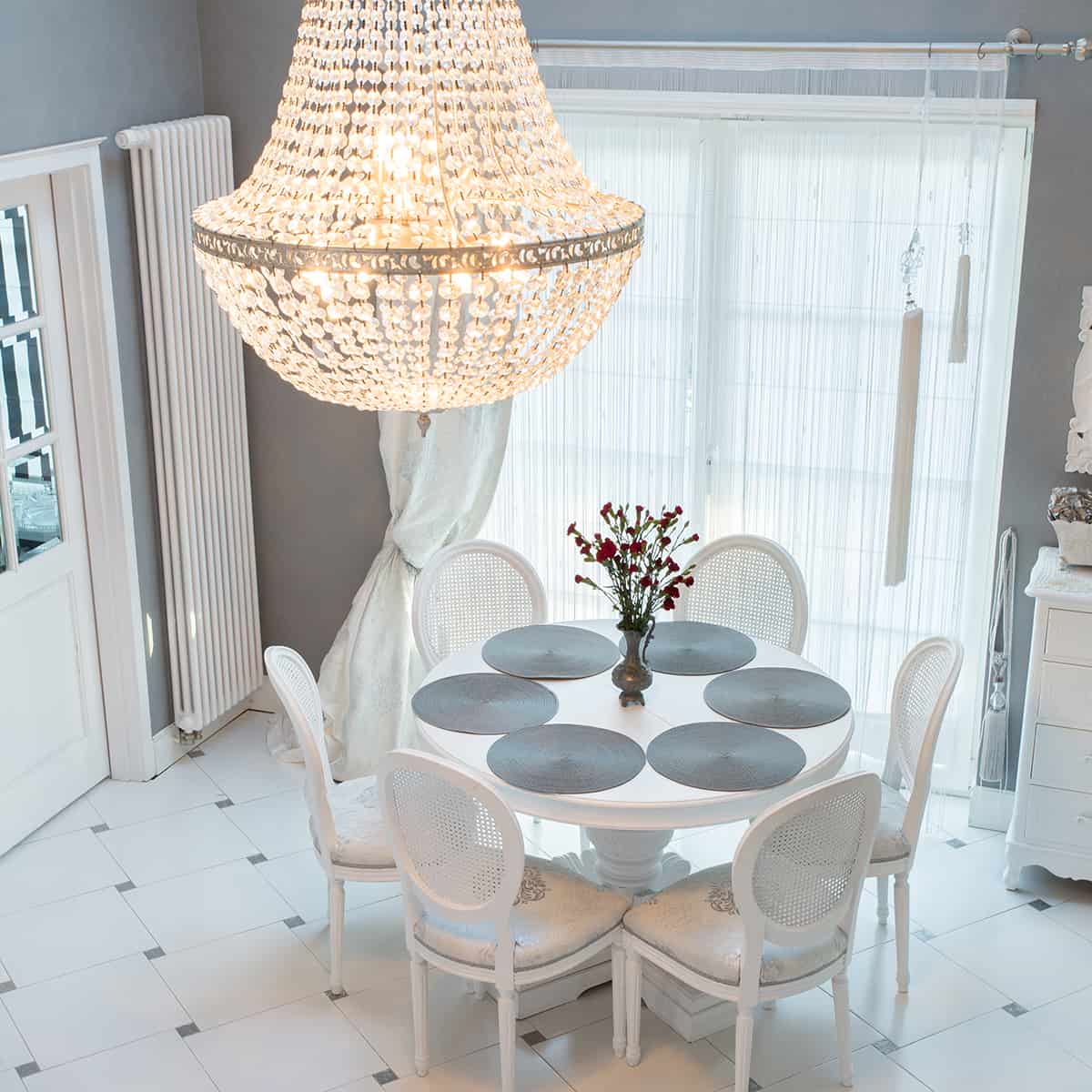 On a round table, you will need round types of placemats. These are widely available in a huge range of colors and materials, including fabric placemats that can be washed in the washing machine, PVC placemats that can be wiped clean, as well as cork placemats or braided placemats. This is an essential part of decorating your table, which you can really have fun with.
Choose fabric placemats with a pattern that compliments your decor or metallic placemats for a luxury look. Placemats will elevate the look of your set dining table, and they also protect your table from hot plates, which can cause permanent damage and marks.
Round placemats fit better on a round table due to their shape and size. If you try to fit rectangular placemats on a round table, you will find that they overlap and look problematic, while square placemats might physically fit on the table, but they will look odd on a round table.
Place Settings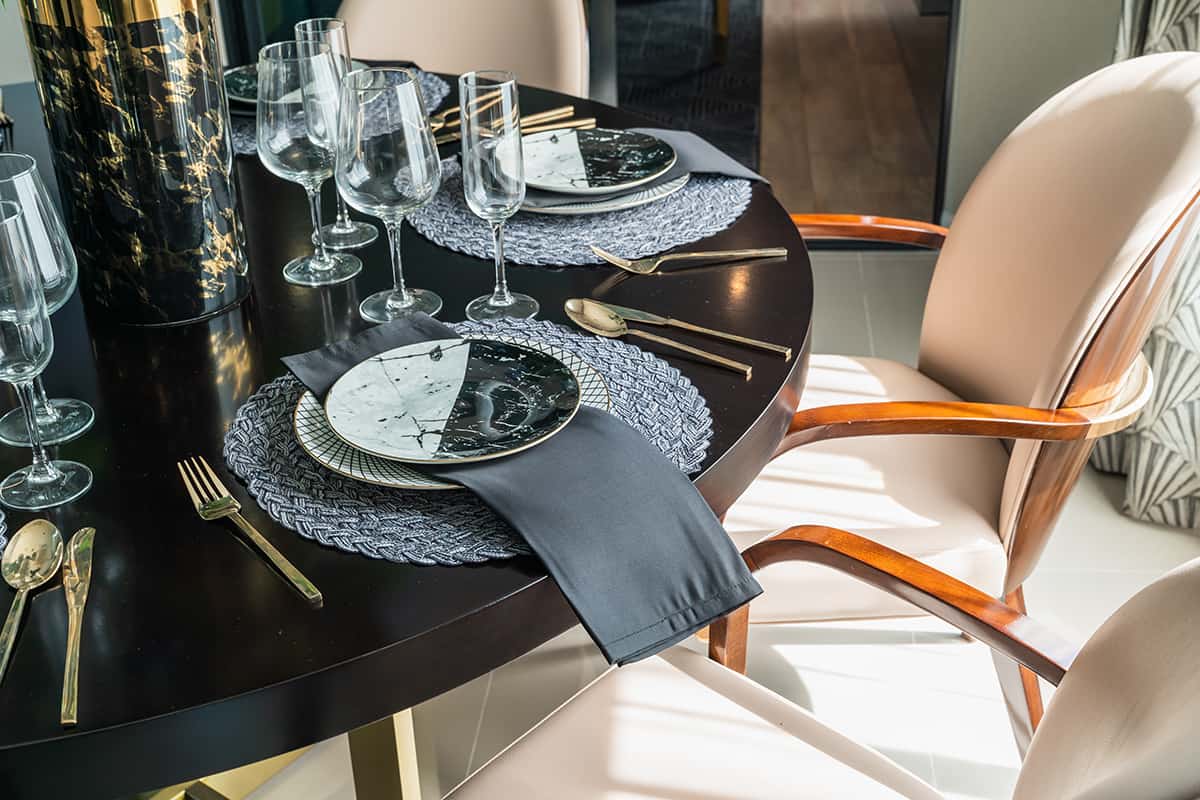 The place settings at a table include the plates, bowls, cutlery, and glasses that each person is going to use during their meal. On a round table, you should keep it simple and opt for round plates and round bowls. Some people like square plates, but this will look out of place on a round table with round placemats.
White dinnerware is a classic choice that will go with any color scheme, and they present a long-lasting option because you can still use white dinnerware to decorate your table even if you change the color of decor in the room. However, if you want to coordinate your dinnerware with the rest of your dining room, this can look very stylish.
Choose complementary colors and layer dishes with the largest dish at the bottom, with a smaller side plate on top, and then finally a small bowl. Set cutlery at either side of the place settings with forks and the left and knives on the right, with spoons at the top.
You can also have fun with your cutlery by choosing a style or color that compliments the rest of your dining decor. Silver is the traditional color of cutlery, but you could match it with the other metalware in the room, for example, copper-colored cutlery to coordinate with a copper light fitting or a copper vase as the centerpiece of the table.
Centerpiece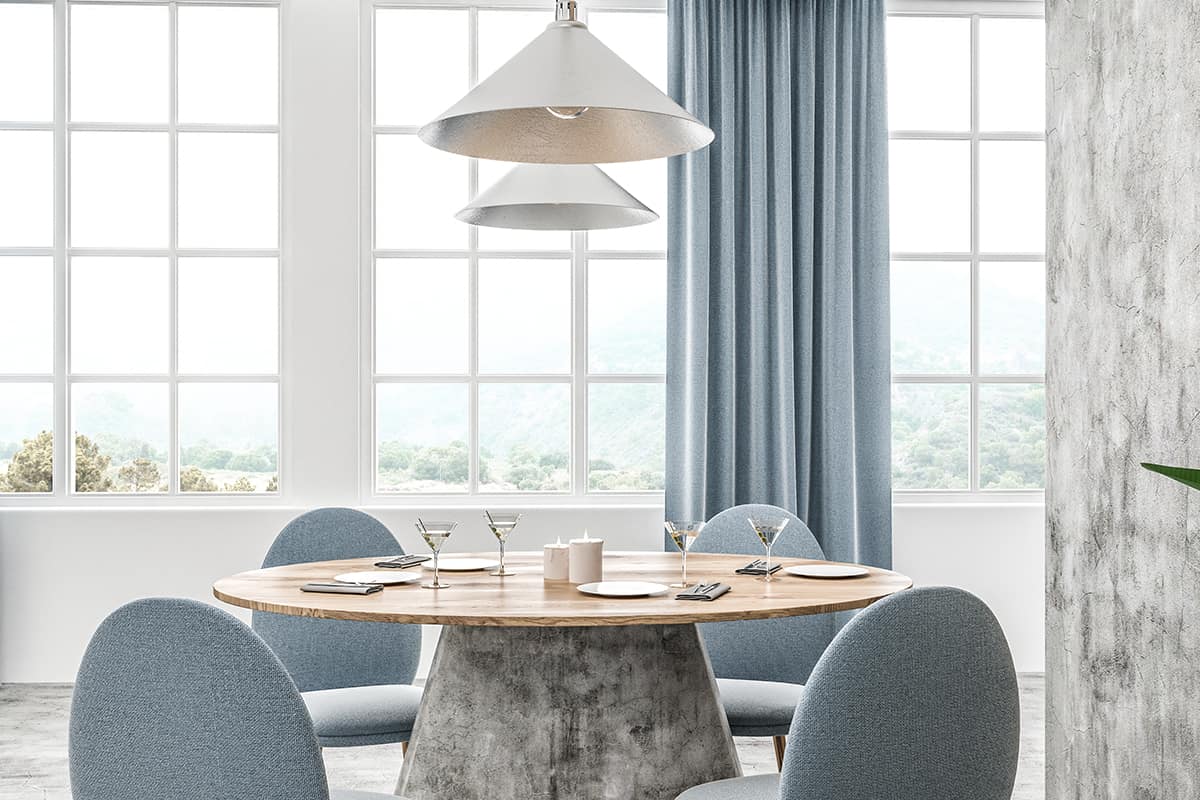 One of the best ways to decorate a dining table of any shape or size is with a centerpiece. If you choose a large centerpiece like a bouquet of flowers or a houseplant, then you might wish to remove this when dining at the table because the height of it will prevent guests from being able to see each other.
This can work well if you dine family-style anyway because your dishes of sharing food will be in the middle of the table instead of a centerpiece.
If you want a centerpiece that can be enjoyed while dining, opt for something smaller and with a lower height so that it doesn't get in the way. Small plants like succulents work well, as do candles, small vases, or a few fresh flowers picked from the garden in a glass tumbler.
When choosing a centerpiece for a round table, you should ensure that it also works with the round theme of the rest of your decor. Avoid vases or candles which are angular, and instead, stick with decorative objects that have a round base. This is fairly easy as most vases, candles, plant pots, and decorative dishes do tend to be round.