Trying to figure out how to decorate a large wall in your living room or bedroom? You're not alone! Filling large walls is one of the most common interior design dilemmas, and we can see why. Staring at a blank wall can be intimidating, but deciding on what to hang on it can be downright overwhelming.
Whether you hang a huge piece of art or a cool mirror, you'll want to make sure the wall not only looks good but it also shows off your personal style.
The good news is that there are tons of budget-friendly and super creative ways to decorate your large walls. Keep reading our article to get a better idea of how to fill your large walls.
16 Large Wall Decoration Ideas
Mount a Large TV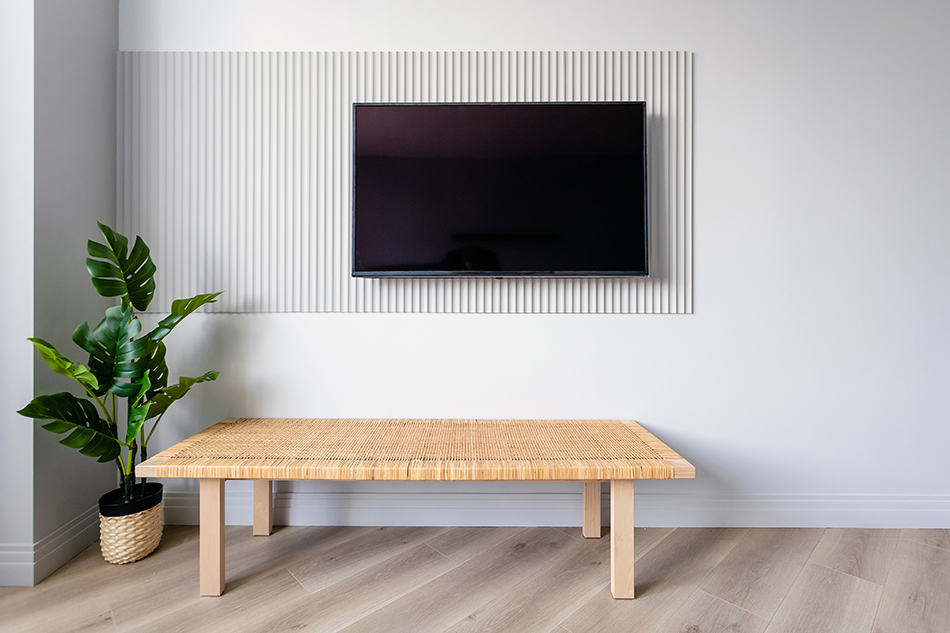 Sometimes decorating your large empty wall is as simple as mounting a large flat-screen TV there. Just make sure you pick the right spot for your TV, so it's not too high up or too low on the wall.
A large TV can take up most of the wall's space, so you won't have to worry about filling the rest of it with other items. But in case you still have some space left after installing the TV, hang a decorative basket next to the TV for storing remotes.
Add Extra Lighting to the Wall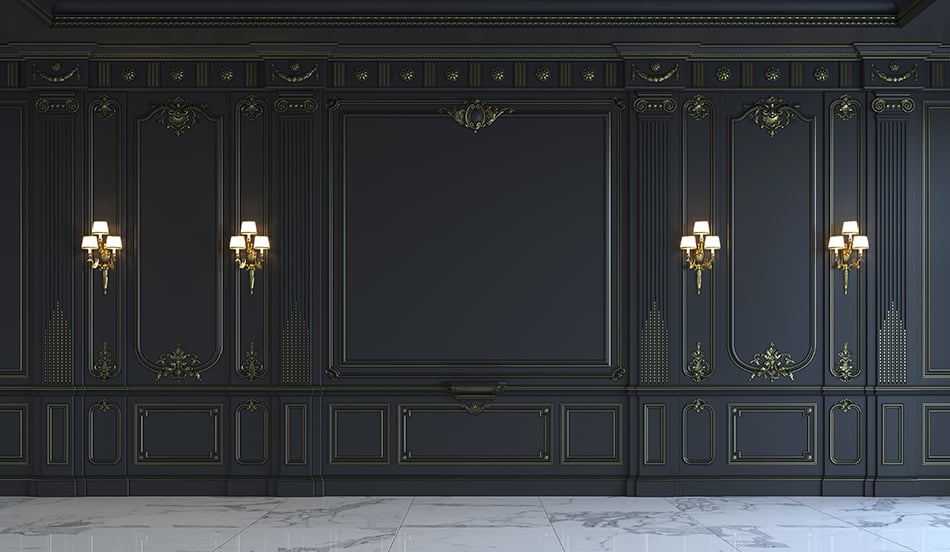 The easiest way to brighten up a large living room or bedroom wall is to install lights. Wall sconces on either side of the wall work well, especially when paired with a mirror in the center of the wall.
Pick sconces with interesting finishes and shapes, and if your wall is still looking bare, add extra lighting on both sides, as shown here.
Create an Indoor Garden with Hanging Plants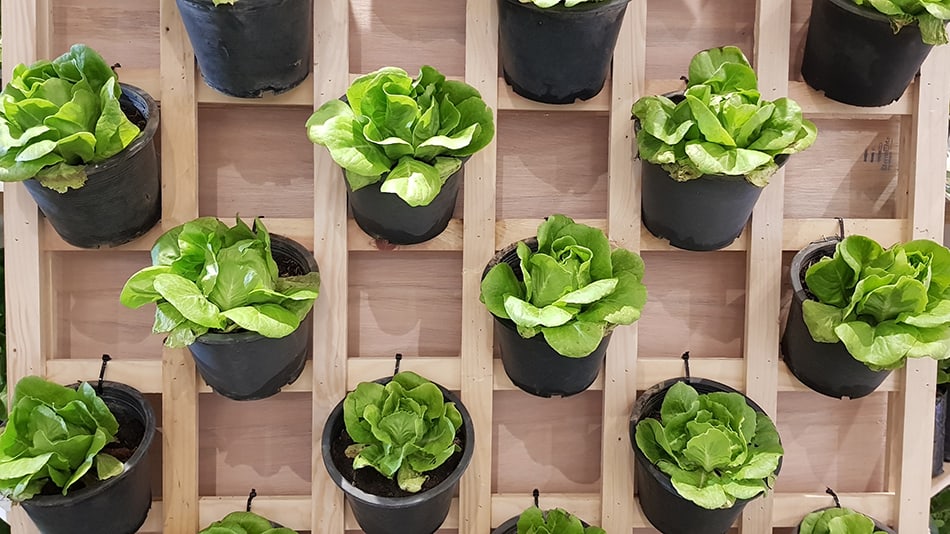 Give your living room a boost of oxygen by mounting potted plants on your large wall. These days, many nurseries sell ready-to-hang planters for succulents and other small plants, so you can easily install the pots on your walls or place them on shelves.
If you like the idea of hanging plants on your large walls, remember to remove them from the wall before watering. The last thing you want is water dripping down your freshly painted walls!
Install Wall-towall Shelves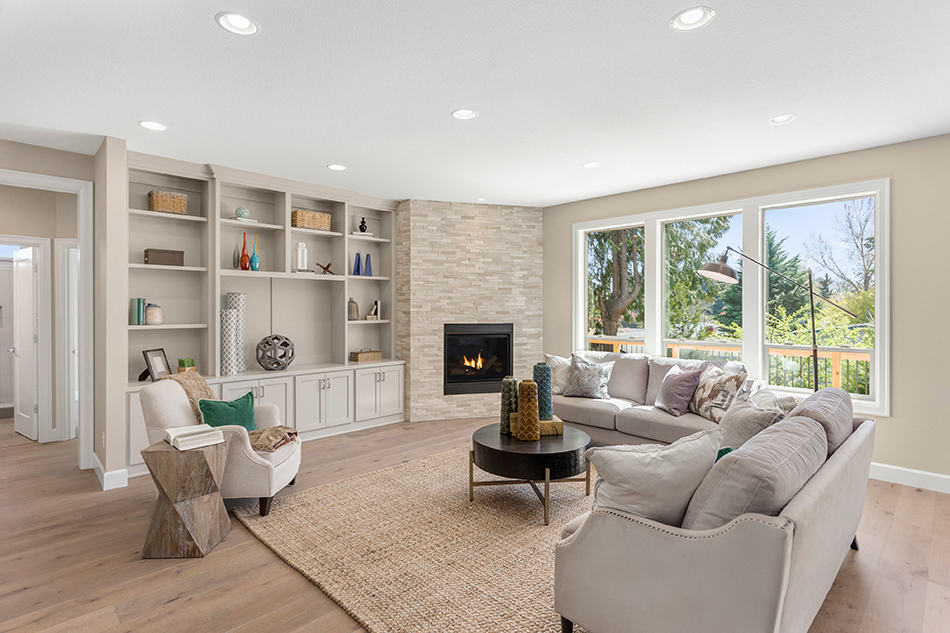 Whether your large wall falls between two sidewalls or it is one single panel, the best way to decorate it is to get some use out of the bare space.
Integrated shelves add functionality to the space as well as provide an opportunity to increase your home's resale value. With such shelves, you can store your prized possessions and even add a desk to further increase their usability.
If, however, integrated shelves are out of the question for you because you're either a renter or simply aren't able to create such shelves, go for plan B and install a large bookshelf on one side of the wall. A large bookshelf will create a nice balance of visual weight on an otherwise bland and empty wall.
Keep it Simple with Floating Shelves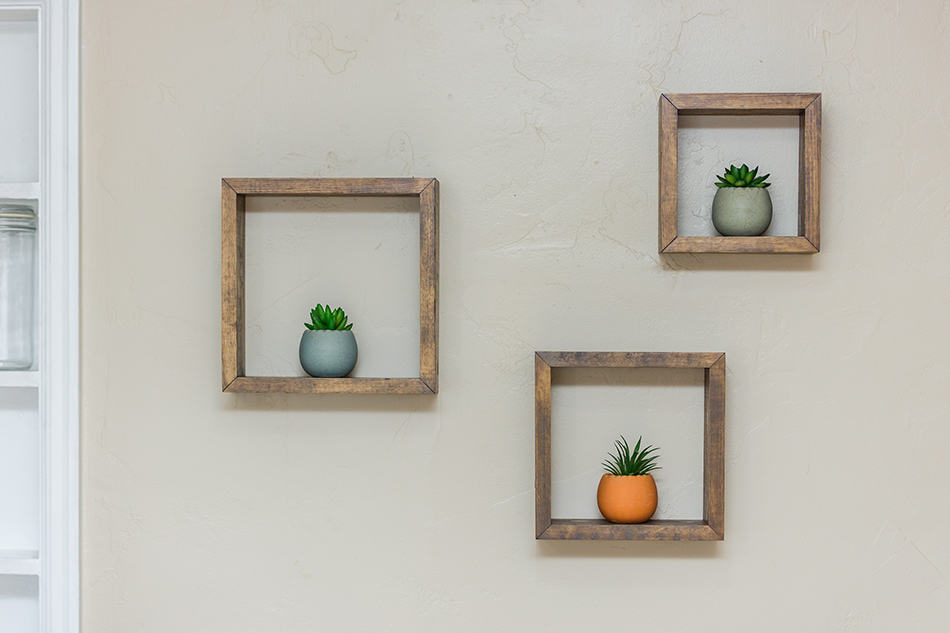 Another one of our favorite decorating ideas for large walls is to use floating shelves. These shelves can display your artwork, small plants, or other knick knacks. Floating shelves create visual interest while showcasing your personal style. But remember not to overdo it as less is always more.
In this example, the simple design of square-shaped floating shelves is used to display small colorful succulents. However, the wall doesn't look cluttered with too many shelves and decorative items.
Display Large Artwork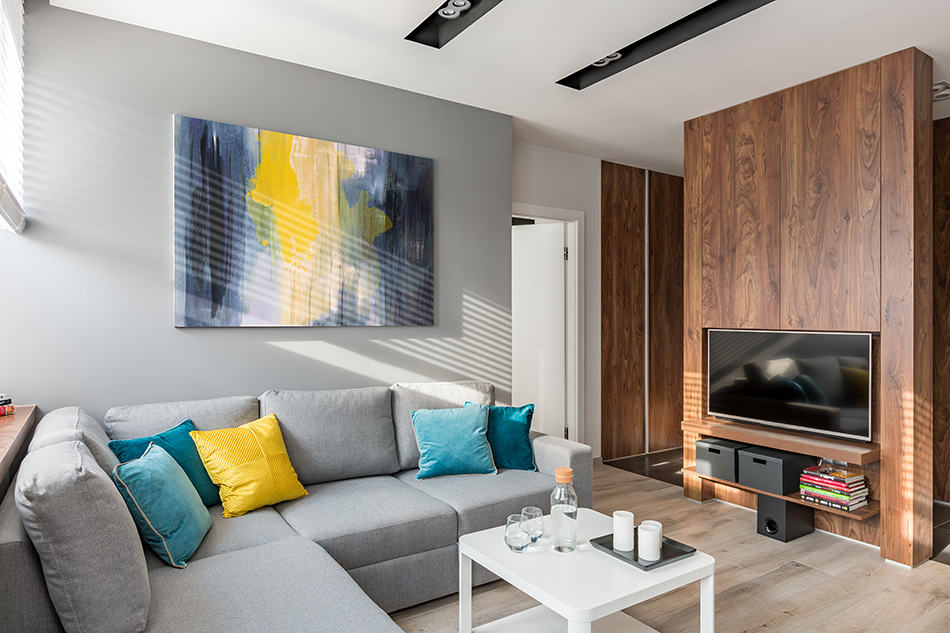 A large piece of art can make a major visual impact on your large wall space. But you don't have to spend a fortune on such artwork. The easiest and most affordable way is to choose a simple statement-making wall art piece to hang above your sofa.
This is a great way of adding a central focus to your wall, so feel free to go as colorful and large as possible. Even if you don't want to buy an oversize painting, a large framed photo will suffice. Just make sure you pick your favorite picture so you won't be replacing it in a year or two.
Showcase a Classic Gallery Wall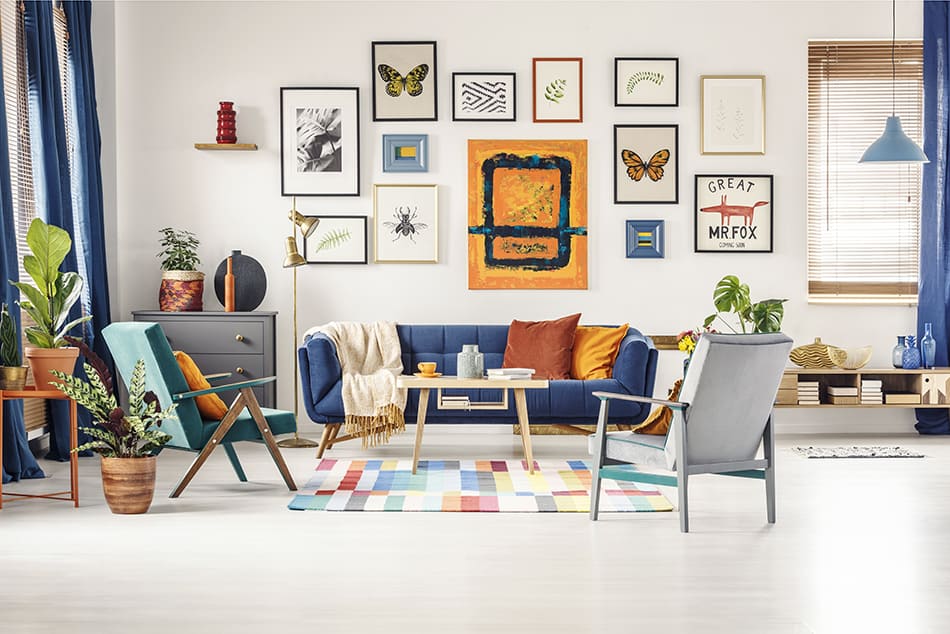 A grid gallery wall is an excellent – and popular way of decorating a large wall. This idea gives you the freedom to express yourself with any theme you want for your gallery wall. One way to create a gallery wall is to think of your favorite color, theme and artwork. To display your photos or artworks, get creative and make sure the aesthetic flow of your room is kept in line with the wall.
Here, the gallery wall portrays the person's love for nature. See how the entire wall space has been filled with various-size framed pictures to express personal taste.
Boho-Style Woven Baskets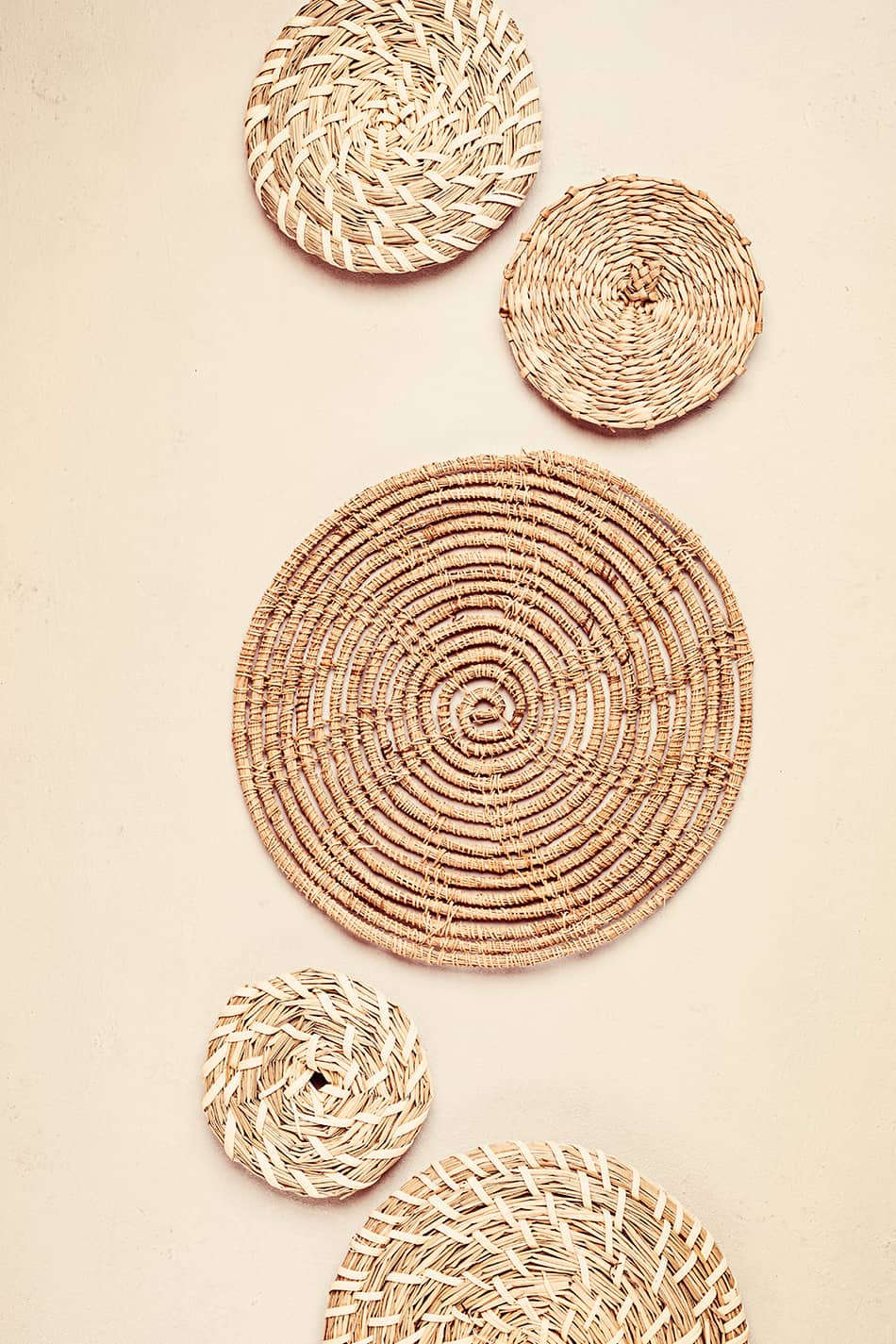 For an alternative approach to gallery walls, how about a display of woven baskets? These wall decorations add tons of texture and make a nice contrast to clean-line furniture. Woven baskets often come in various color combinations and are typically made of rattan. These wall hangings are ideal for boho-style living rooms that need a touch of vibrance.
Choose a Statement Mirror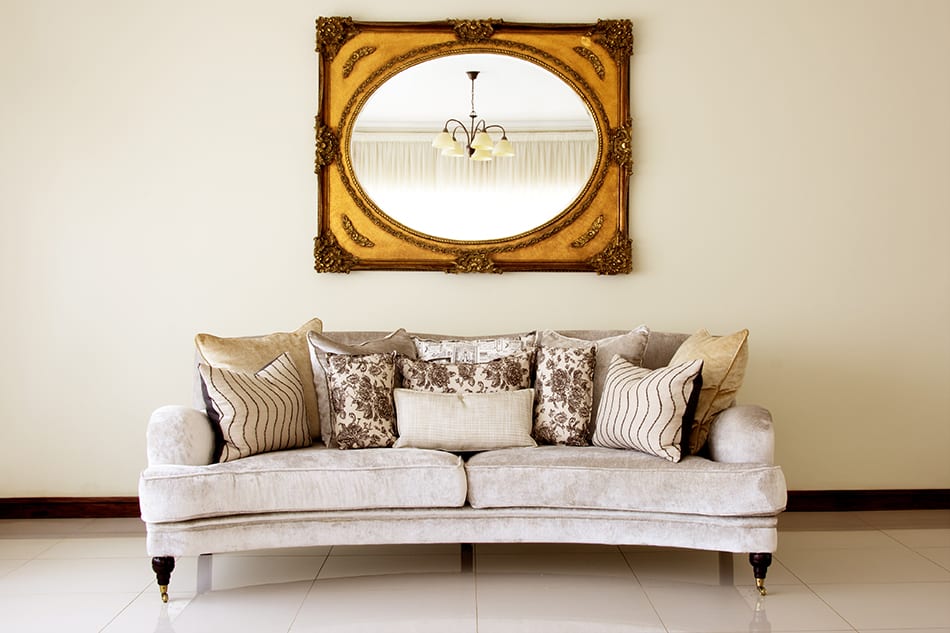 When it comes to choosing just one single piece of wall decor, a unique mirror often pops to mind. Mirrors aren't just great for reflecting light; they also open up the room by giving the illusion of a large space.
For large walls, a bold shape will be stunning, especially if the frame is elaborately designed.
Board and Batten the Wall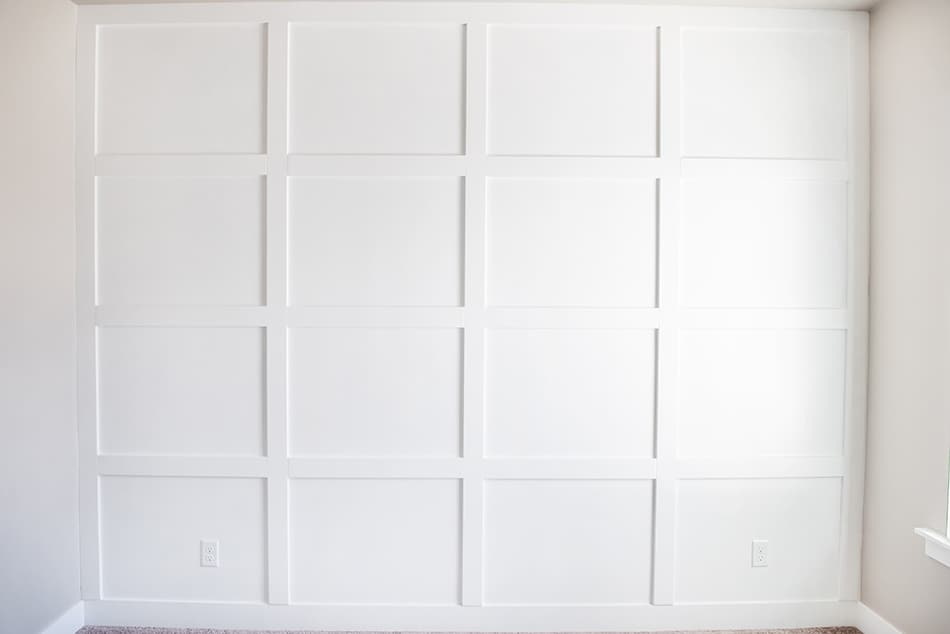 Board and batten may sound a little fancy, but all it means is that you attach some wooden planks on the wall to create an interesting pattern at an appropriate height. Most hardware stores supply wide strips of wood cut to size so you just need carpenter nails or wood glue.
For a super chic and luxurious look, paint the wooden wall in a white hue, as shown here. This is a budget-friendly way of decorating your large wall, especially if you take on the task yourself.
Add Class with Waiscotting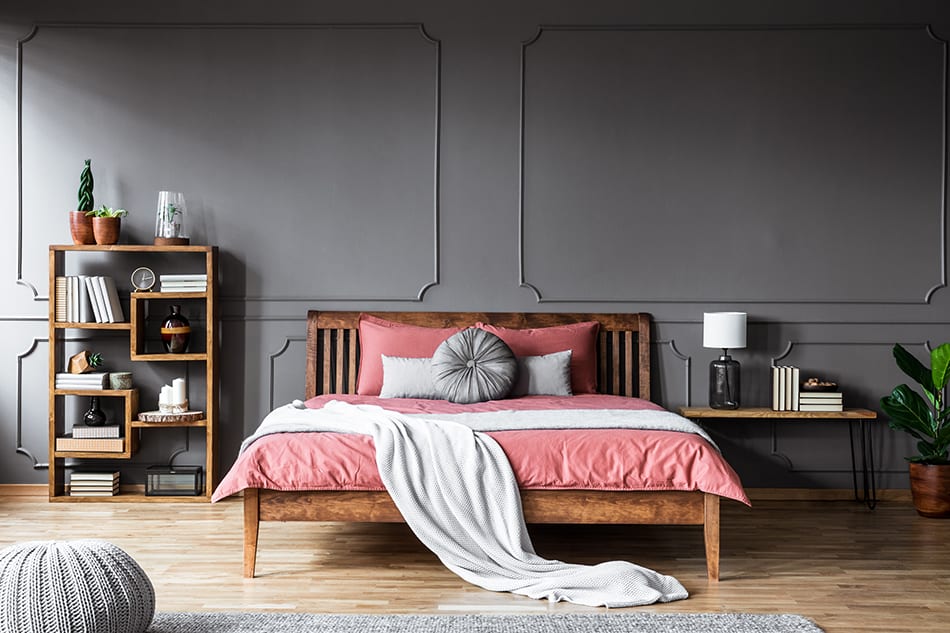 Another wooden wall decoration idea is to wainscot the large wall in your living room, dining room or bedroom. Wainscoting is an easy, inexpensive, and classy way to fill a large wall.
When you add a few coats of dramatic-colored paint like dark blue or purple, you'll see how your space will be transformed. Like board and batten, you can simply buy the wood from a hardware store and install it yourself.
Paint the Wall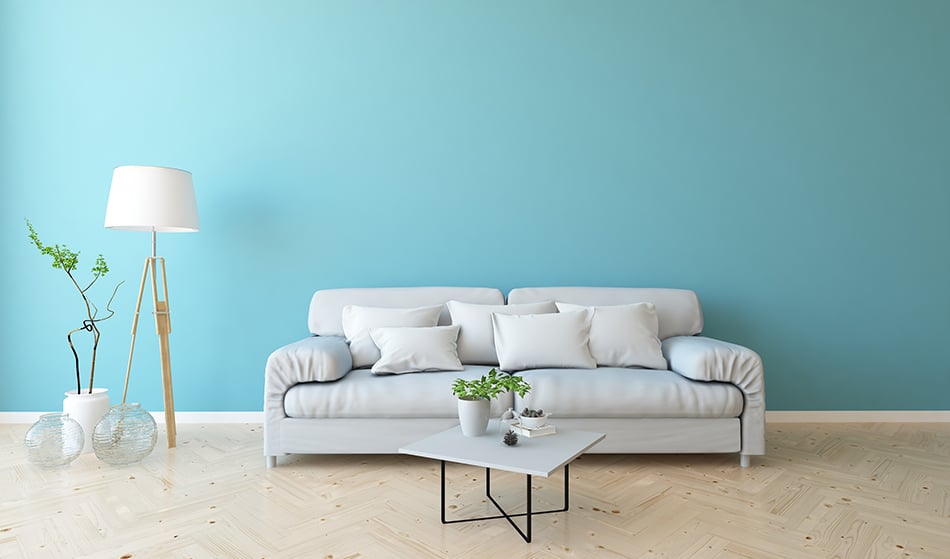 If you're not keen on mounting wooden planks on your wall, then a fresh coat of paint is sometimes all you need to liven up the large wall. But before picking up the paintbrush, figure out which color will most suit your room.
Bright colors instantly turn the wall into a focal point, while softer colors can shift your attention to other accessories in the room. Once you've decided on the best paint color, you can hang your favorite artwork to give the wall some depth. Alternatively, you may leave the painted wall empty as the main feature of your room.
Hang Tapestry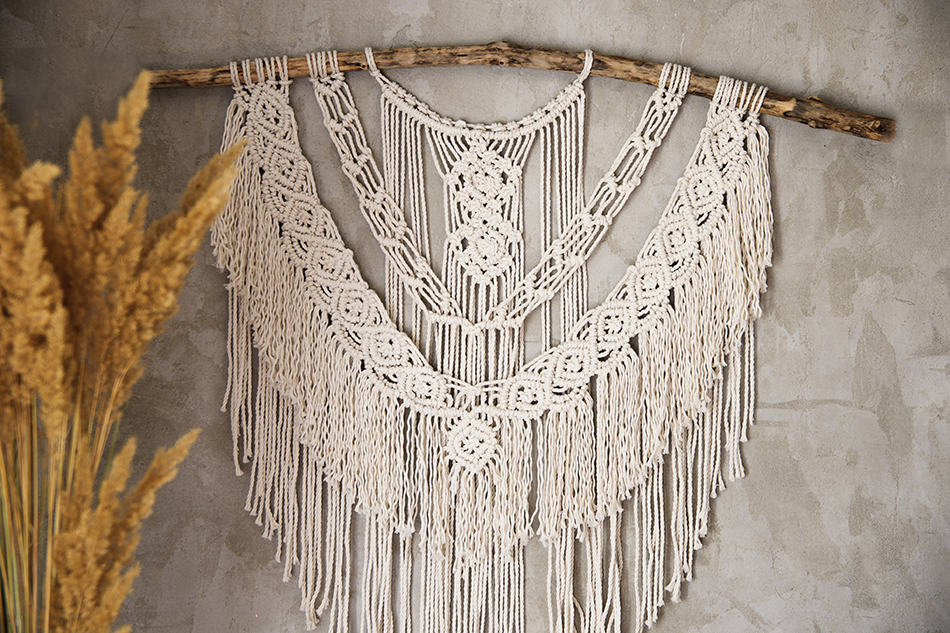 If you love expressing your artistic work through hand-crafted art, or you are a world traveler, a keepsake quilt-like tapestry is a great piece to show off on your large wall space.
Woven tapestries come in all colors, sizes and textures, so you're bound to find the right design as your wall decor. Alternatively, you may grab a weaving kit from your local craft store and create your own woven wall hanging!
Wallpaper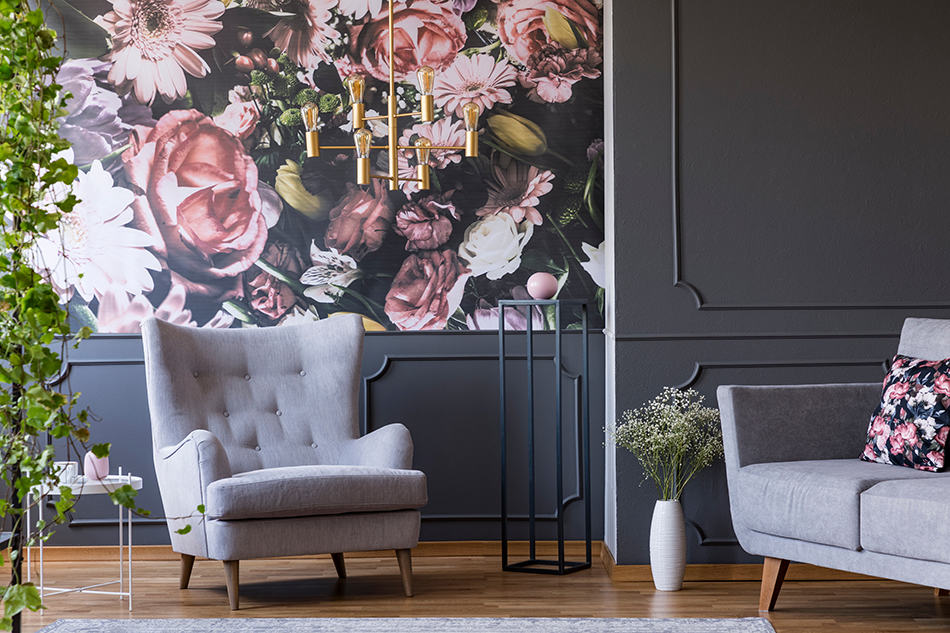 A simple and chic way to literally cover your large walls is to use wallpaper. A floral pattern or nautical theme, for example, can turn the space into a showstopper.
You may install the wallpaper on just one wall or on all the walls of the room for some serious drama.
Wall Mural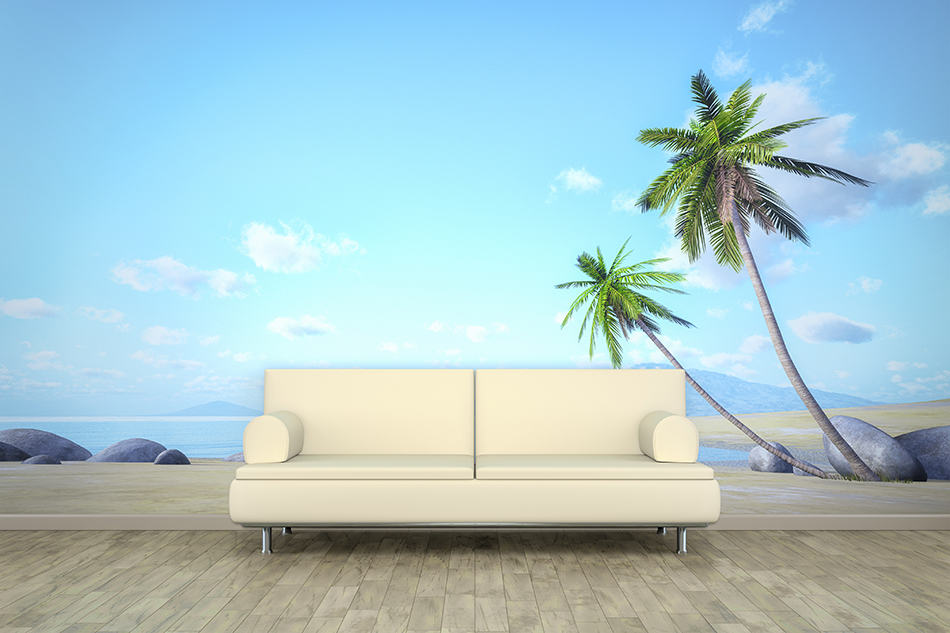 For something a little more captivating than wallpaper, hang a wall mural. This large piece of art is affordable and doesn't require framing.
Think of your favorite scenery that you would like to hang on your wall: a tropical beach, waterfalls, forest, skyscrapers… your options are endless!
Just Leave it Bare!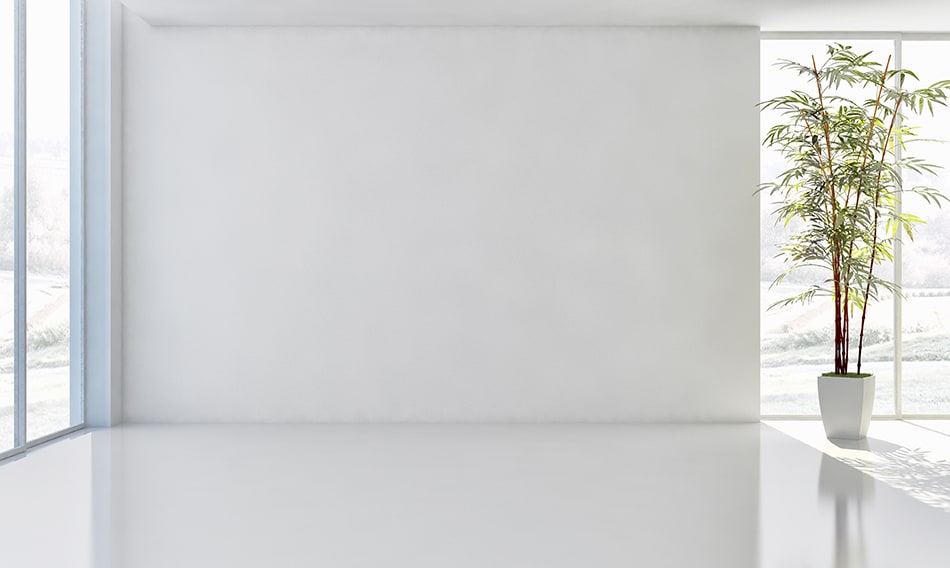 Finally, you may just leave the large blank wall as is. This idea is for those minimalists who don't want to spend any money or effort on decorating their walls. Having said that, a coat of paint in a neutral color wouldn't go a miss!