Decorating your house so that each room feels connected will create a harmonious feel throughout the property.
This doesn't mean that each room needs to look the same, or even that it has to have the same color scheme, but there should be elements in each area of the home that match or coordinate so that the space doesn't feel disjointed, like an unconnected series of small rooms.
In this article, we'll learn where and how to connect the room with colors.
Where to Create Cohesive Colors Within a Home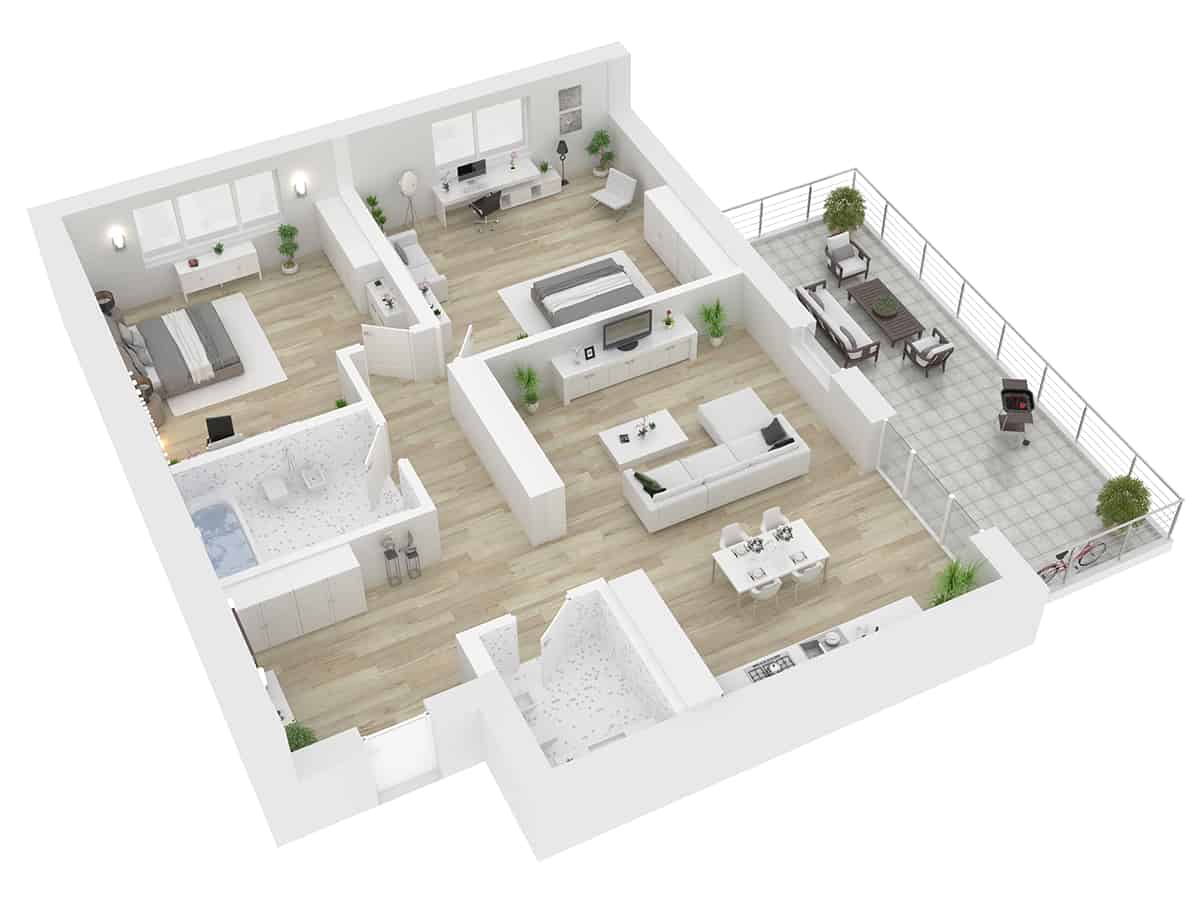 Creating a continuous look throughout a home can also make it feel bigger and encourage each room to flow into the next.
You can create a cohesive color look throughout a home that has rooms separated by doors, but in a home with adjoining rooms or even open play layouts, you might wonder if one color scheme has to be continued across the whole space.
Rooms that are adjoining through an archway, or rooms that are open plan, will usually be a living room and dining room, a kitchen and dining room, or all three.
You can choose the option of painting the whole space in one wall color, as this will be sure to connect all of the space together; however, if you want each part of the layout to have its own distinct personality, then you can alter the wall color and the entire color scheme in each room or each part of the open-plan space.
For example, in a living room that is joined via an archway with a dining room, you could have a living room with navy blue walls, a gray sofa, and yellow accessories such as cushions and curtains.
In the adjoined dining room, the walls could be the same gray shade as the living room sofa, with navy blue dining chairs. This will continue elements of the color scheme but alter the way it is presented and result in two areas that feel distinctly different.
This not only helps to make the home feel more interesting, but it helps to separate areas that are intended for different uses. In an open-plan space where rooms flow directly into each other, this can be harder to achieve, but it is certainly possible.
In one large space, which includes a living room and dining room, using the same color scheme mentioned above, you could paint the whole room in pale gray and apply a feature wall of navy wallpaper at the end of the space where the dining room is. Highlight this with navy blue dining chairs and gray seat cushions.
At the end of the space where the living room is positioned, use yellow sofas with navy blue cushions and yellow curtains. This will help to create a living area that feels more vibrant and lively and a dining space that is darker and more intimate. It will also help to divide the two areas and create two distinct spaces, rather than one large space which is blended together.
How to Connect Each Room with Colors
Using color is the easiest way to create harmony and a feeling of connection throughout different rooms in a home. There are several ways to do this, and you can choose just one of them or try all of them together.
Plan ahead
If you want to create a continuous and harmonious style throughout your house, then you need to plan ahead with your decor. When you first move into a new property, you can get carried away with the excitement of making it your own and jump into wall colors before you've really set out a plan for the whole house.
This is a decision you will probably regret further down the line because you'll have to base the color scheme for your whole home around the first room you painted, or you'll simply have to repaint the room to make it work with the rest of the house.
Instead, when you are planning to decorate the first room in your new home, consider how this is going to affect the possible color schemes in the rest of your space. If you want each room to be painted in a different shade of the same color, then you might want to choose a color that is going to be easy to live with, such as gray or blue.
Select a color scheme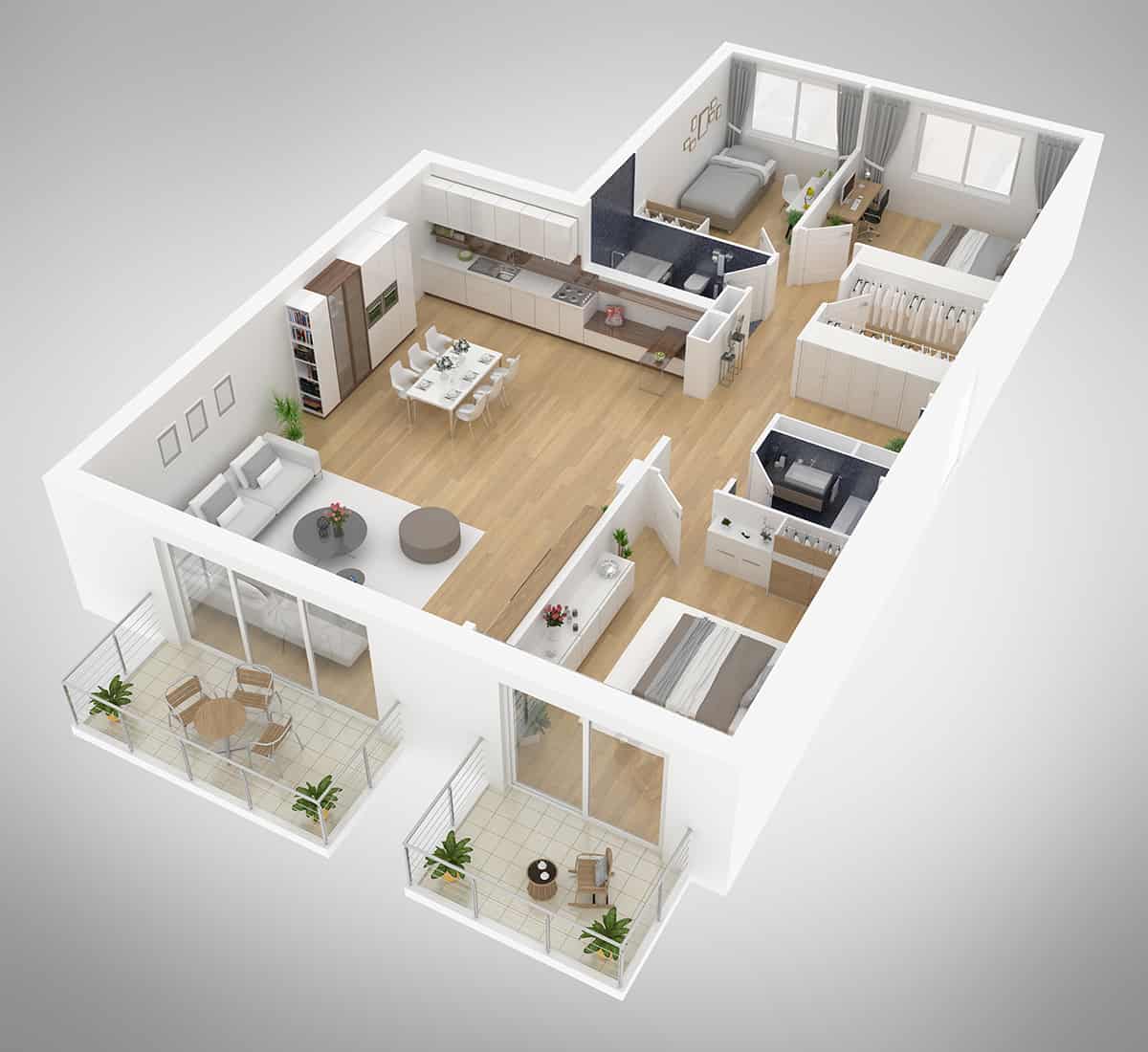 Ideally, each room should feature a minimum of three and a maximum of five different colors. This is a good rule to follow to help you achieve an interior decor look that is interesting without being intense or overwhelming.
When choosing a color scheme, it's important to understand that you can achieve continuity of color without committing to using the same paint color throughout the house.
For example, if you have chosen an emerald green, blush pink, and gold color scheme, then in a living room, you could paint the walls in blush pink have emerald green velvet sofas and gold light fittings, and other gold hardware details.
You could continue this through to the dining room without the need for more blush pink walls. For example, paint the walls in emerald green and choose blush pink dining chairs with gold table legs and gold placemats.
This way of linking rooms through the home utilizes the same color scheme in each space, but each room selects a different color from the color scheme to be the dominant color. The dominant color is typically the wall color, as this is going to be the largest and most obvious surface in any room.
You can use the color scheme in varying levels throughout the home to achieve a look that feels continuous and harmonious without being bland or expected. In a bathroom, for example, you could focus on gold as the dominant color by using gold floor and wall tiles with blush pink towels.
Vary shades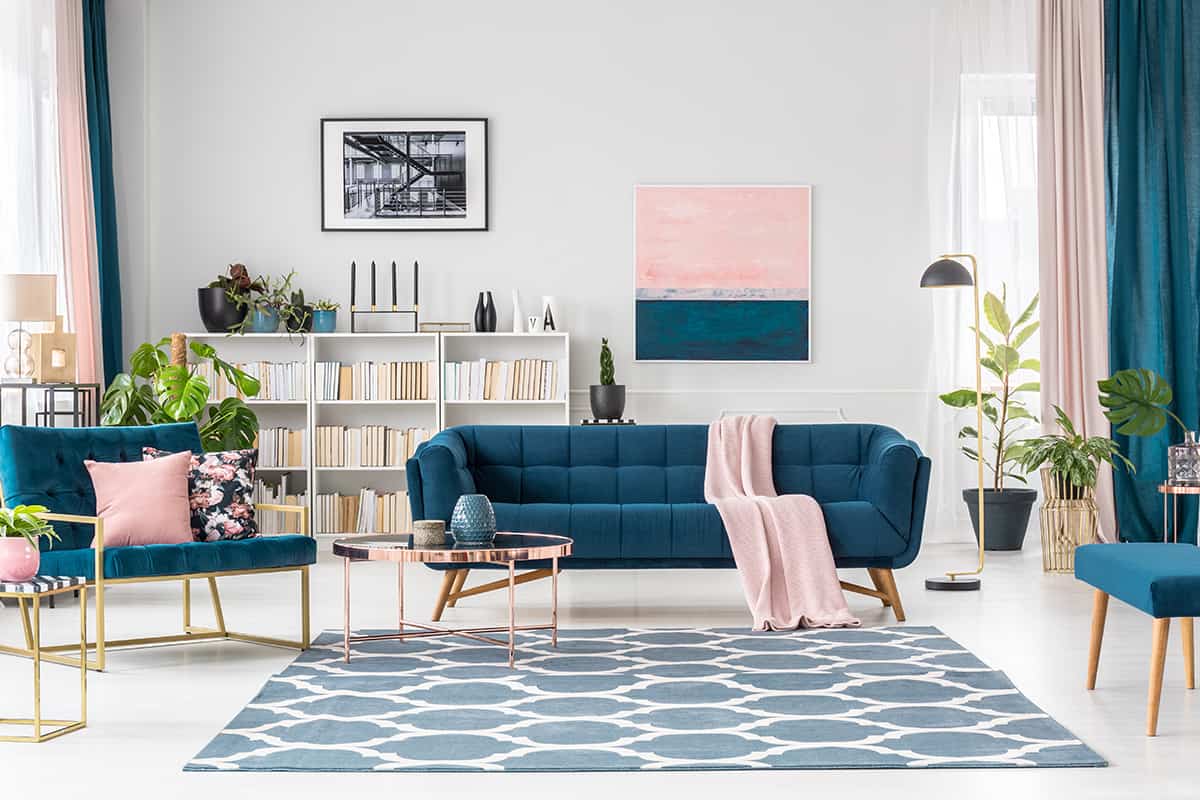 Choosing one color but using it in various shades will create a sense of continuity throughout a home that won't feel bland. To do this, you can use one color in slightly different shades of paint and apply this to walls throughout the home.
Most paint swatches will display one color in numerous shades, from the palest through to the darkest, and this is an invaluable tool to use if you want to create this look.
Choose various paints from the same color swatch and use a different one in each room to create a look that will feel layered and very high-end.
For example, if you have chosen a cool blue-gray color, use the palest version of this color on walls in a living room and the same color in two shades darker in the dining room.
In doing this, you can create a distinct personality for each room, changing the atmosphere accordingly while maintaining a feeling of continuity. For example, choose a dark shade of your color in your bedroom for an intimate feel and a pale shade of the same color in a guest bedroom for a more airy look.
Match trim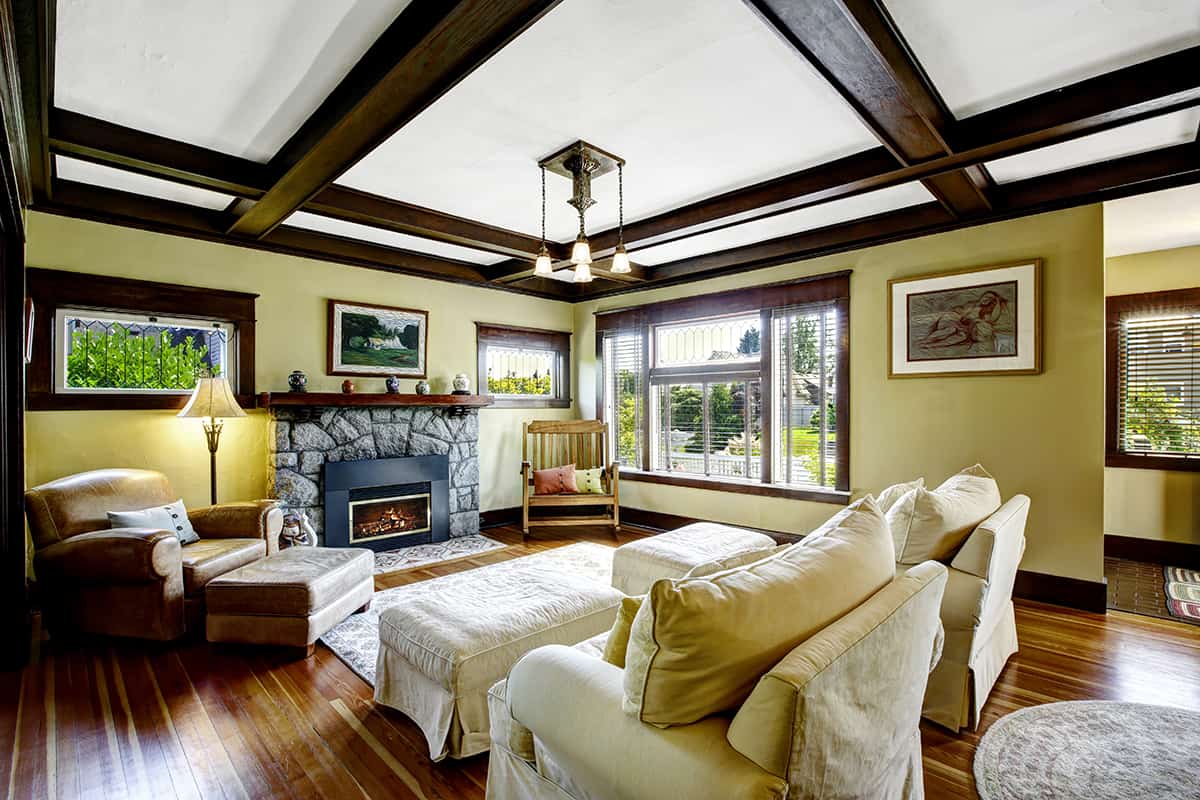 If you aren't keen on using the same color scheme, or the same color in different shades throughout your home, then instead try to match the trim. By ensuring all of your trim, along with internal doors, are painted in the same color, you will create a sense of continuity throughout the home that links each room together.
In doing this, the trim will become the anchor for the home, which enables people to have a sense of predictability and safety when moving from one room to the next.
If you are going to be using various colors throughout the home, then you may want to choose a simple shade such as pure white for the trim, as this will be guaranteed to work alongside any paint color you choose in any room.
However, if you know that you are only going to choose pale paint colors in each room, then you could make a bolder choice with your trim color, such as charcoal gray, navy blue, or black.
Choosing a trim color besides white will make for a more personalized look in your home, which can elevate the style to another level.
Maintain a theme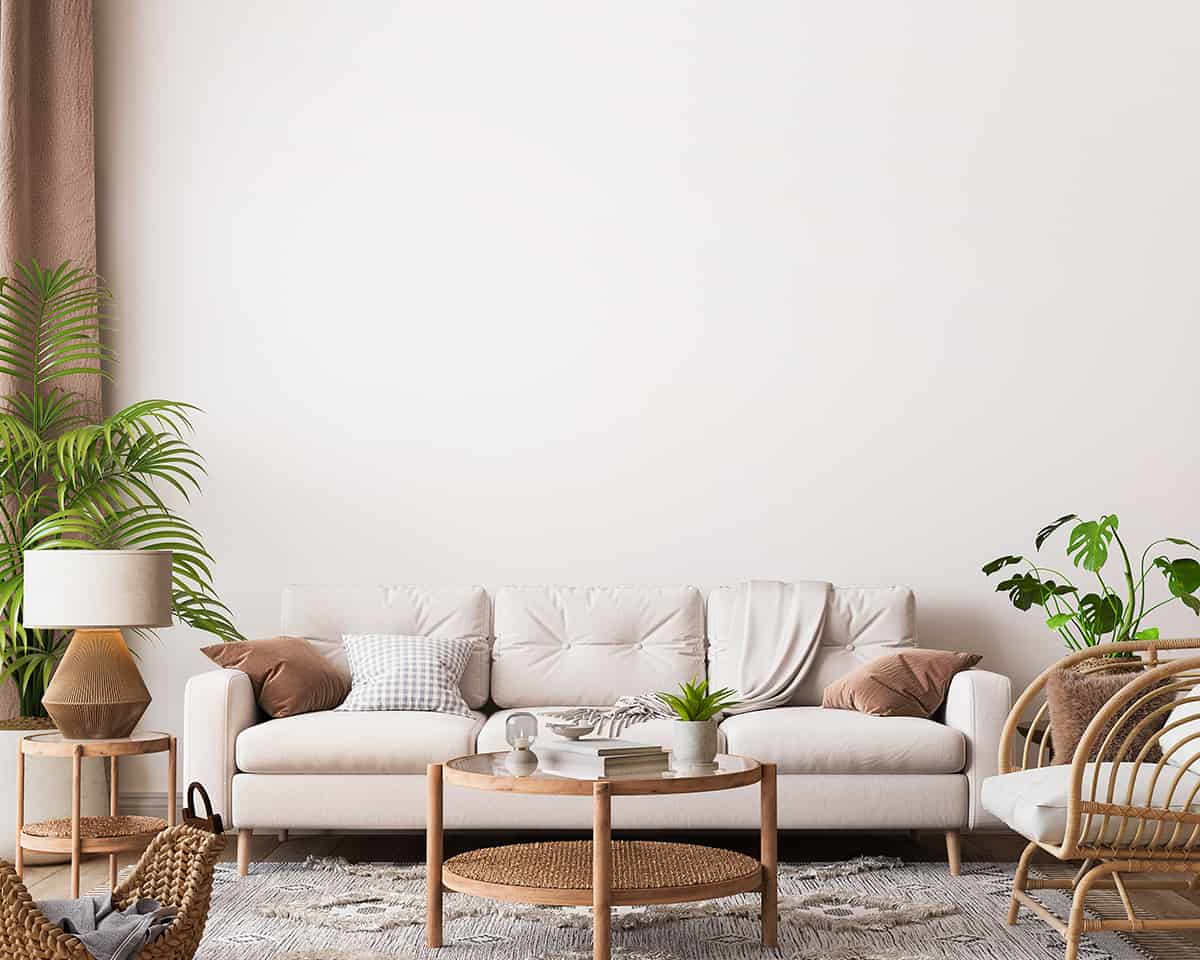 Along with opting for the same color trim throughout a home, or using the same color palette, another way to achieve a harmonious look is with a style theme or even with a specific finish. For example, you could use different colors throughout a home but maintain a rustic or industrial look.
This will enable each room to feel connected in spite of the use of different color schemes. Choosing a finish or material which you will feature in each room can also help link rooms together.
This could be copper finishes in each room in the home, such as copper light fittings, copper handles, and copper frames. Or you might link each room by using the same fabric for curtains at every window throughout the home.