For many families, the upcoming arrival of a baby will mean that the guest bedroom needs to be transformed into a nursery. While designing a nursery is an exciting time, it can also be stressful trying to figure out where you are going to put your guests when they come to visit.
Combining a nursery with a guestroom is an obvious solution, and with careful planning, clever storage, multi-functional furniture, and nice decor, it can be pulled off surprisingly easily.
Prioritize
Even if you have frequent guests who come to stay over at your home, the fact of the matter is that no guests will be using the guest room as often as your baby uses the nursery.
This means that the needs of the baby and parents will need to come first, and guests will have to fit around that. A crib is an essential item for a nursery, and so when it comes to choosing a guest bed, you'll have to assess how much space you have left once the crib is in place.
A baby will also need storage for essential items such as diapers, baby wipes, clothing, and muslins, as well as a surface on which to get the baby changed. After you have chosen your must-have baby items, you can see what space remains for additional guest room furniture, such as side tables or a wardrobe.
Clever Storage
When a baby joins the family, you'll soon realize that you accumulate a lot of stuff, so storage becomes a priority. Instead of filling up the room with wardrobes and drawers, finding clever storage solutions will help to keep floor space free, so you can fit in both your baby's furniture and your guest's furniture.
One good storage solution is to pick a guest bed that is raised a few feet from the floor. This will allow you to utilize the space underneath for storing baby blankets, toys, or diapers in underbed boxes.
You can also buy under-bed storage containers on castors to make them easy to roll out from under the bed and give you easy access to your stored items. If you have a large enough closet, you could consider storing a chest of drawers inside the closet, as this will provide additional storage without taking up any floor space. Floating shelves are a good way to store baby books or small tubs full of diapers and baby toiletries, as this also won't take up any valuable floor space.
Multi-Functional Furniture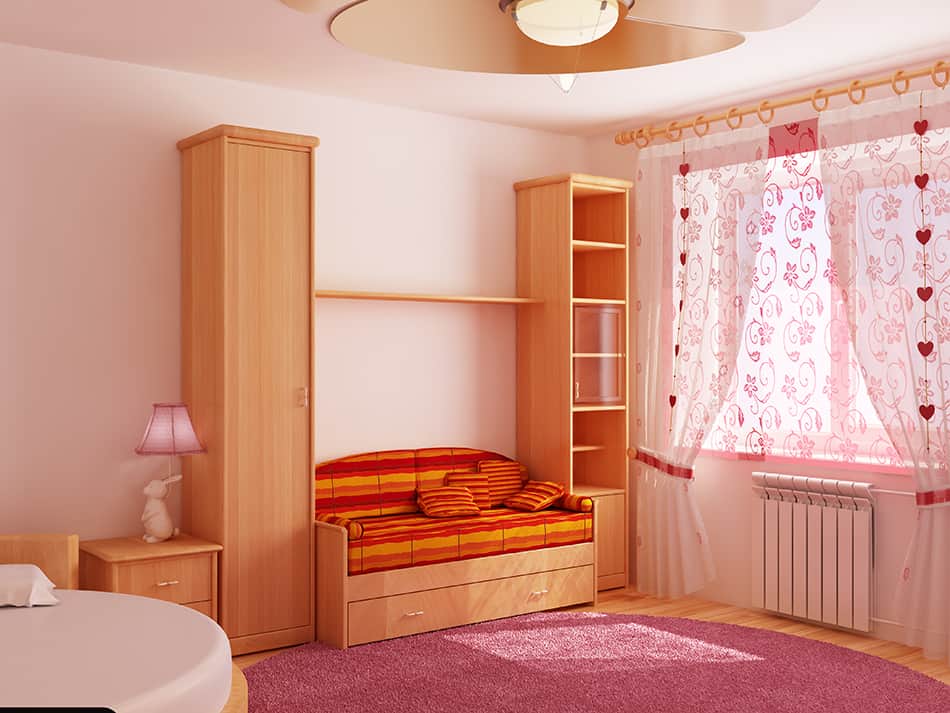 Selecting versatile furniture which has multiple uses is absolutely key if you are trying to achieve both a nursery and guest room in a small space. If you don't have enough space for a full-sized guest bed as well as a crib, then a sofa bed, futon, or other bed alternatives is an excellent space-saving solution.
A sofa bed can be folded up to around half the size of a bed and be pushed against a wall and used as a seating area when guests aren't present. It can even double up as a nursing chair and provide a comfy place to rest while you are feeding your baby, which will save additional space and prevent you from having to purchase a nursing chair.
Another great piece of multifunctional furniture is a chest of drawers with a changing table fixed to the top. You could leave one drawer empty as a place for guests to store their clothes or other belongings and use the rest of the drawers to keep essential baby items or baby clothing.
Having a changing table on the top surface of the drawers will save space as you won't need a separate changing table. If you have the space, you can position bedside tables next to a guest bed or guest futon, as somewhere to put a lamp, and a convenient surface area for guests to put a drink, a book, or their phone. Choose bedside tables with drawers so that this space can double up as additional storage for baby items.
Decor
When it comes to decorating a room that will be used as both a nursery and a guest room, the style you choose is completely down to personal preference. If you want your guests to have a relaxing place to stay, then you might choose not to decorate the room in a traditional nursery style and instead opt for a neutral color scheme.
However, you might prefer to decorate your nursery to suit your baby, and your guests will have to adjust to staying in a child-themed room.
Does a Baby Really Need a Nursery?
When you add a baby to a family, one of the first things many parents do is start to plan their child's nursery. However, if you are tight on space, it actually isn't essential for a child to have their own room until they are a little older.
Recommendations are for newborn babies to sleep in the same room as their mother until they are at least six months old, as this is the safest place for a baby to be and can help to reduce the chance of SIDS. There are different ways to achieve this, such as having a bassinet or crib in your own bedroom for the baby to sleep, having a cot that is fixed to the side of your own bed, or co-sleep with your baby in between two parents.
Some parents will choose to co-sleep beyond six months, and in this case, you wouldn't need to create a nursery in your home until the age when your child wants to move to their own bed. If your baby is ready to move into their own room at six months of age, and you want to reclaim your own space in your bedroom, then this is the point at which you will need to create a nursery space.
Many people will still want to create a nursery before their baby is born, in spite of the fact that the baby won't be using it for a while, as it becomes a place for baby items to be stored, as well as a place where you can change and dress your baby. This essentially comes down to personal preference, and a baby doesn't technically require a nursery until they are at least six months old.
Essential Items for Guest Rooms and Nurseries
When planning your guest room combined with a nursery, there are certain items you will need to include. This list will help you to plan your space.
Crib
Every nursery needs a crib, and even if your baby is currently co-sleeping or sharing a bedroom with you, a crib is still a useful piece of furniture to have because it provides a safe spot where you can put your baby while you shower, content in the knowledge that your baby cannot escape or cause injury to themselves. You can also use a crib for daytime naps or as a safe play space for babies to explore. Once your baby is old enough, the crib will become the place where they sleep every night.
Guest Bed
The essential item every guest needs is a place to sleep. If you have enough space, this could be a bed, but if not, then a futon or sofa bed can work too. If your guests are usually couples, then a twin bed won't suffice, and you'll need a full-sized or queen-sized bed. Don't opt for a king-sized bed unless you have a huge room, as this will take up extra floor space and isn't necessary for guests who will only be using it occasionally.
Change Table
Most parents consider a changing table as an essential piece of nursery furniture, as it provides a flat surface to change the baby on, which is at an ideal height for parents to lean over. Change tables can be wiped clean in the event of any accidents and can be equipped with nappies, wipes, and other essentials, so they are close by when you need them.
If you really want to minimize furniture, then you could do without a changing table and instead put a wipe-clean changing pad on the guest bed or in the crib when you need to change your baby. This will be slightly less convenient, but plenty of families make this setup work.
Clothes Storage
You will need somewhere to store your baby's clothes, and your guests will also need somewhere to put their clothes when they stay over.
Depending on the size of the room and the space you have available, this storage could be in the form of drawers, a wardrobe, or a closet. If you are tight on space, then select just one piece of furniture for clothes storage and leave a drawer, shelf, or rail free for guests to use when they visit.
Bedside Table
A bedside table next to the guest bed is very functional. It provides a surface for guests to put their small belongings on and a place to put a table lamp.