The SNOO is a luxury bassinet and soother for your newborn baby. It was created by Dr. Harvey Karp, who is a renowned pediatrician and author of parenting books.
The aim of the SNOO is to help babies transition into life outside of the womb with ease, enabling them to feel safe and secure, which translates to more sleep. The intended result of this is that new parents are also able to get the rest that they need. Find the sizes of a SNOO baby bed in the below section.
SNOO Baby Bed Dimensions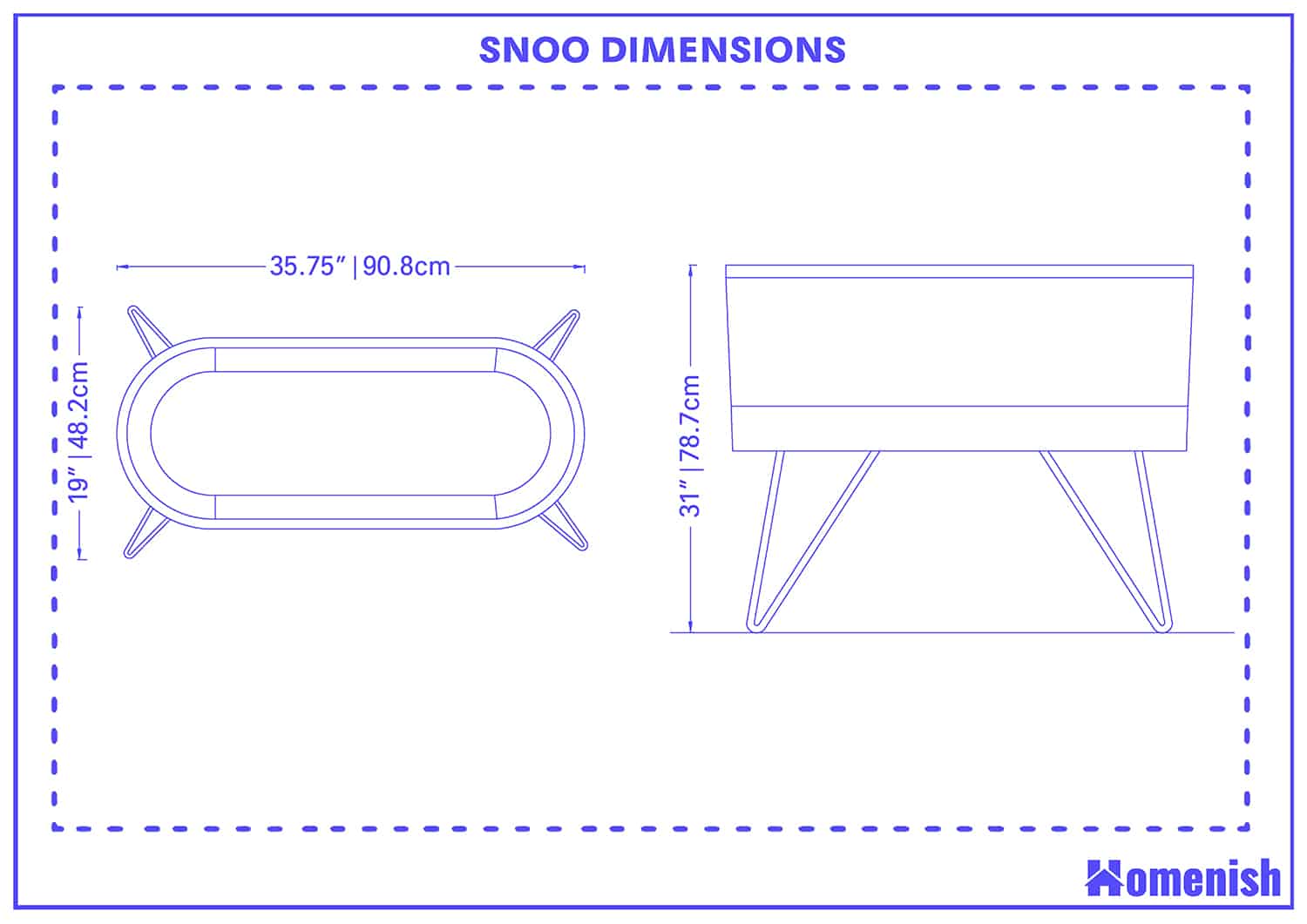 The dimensions of the SNOO bed when it is fully assembled with the legs in place are 35.75 inches in length, 19 inches in width, and 31 inches in height.
The size of the SNOO is designed for use by babies who are anywhere from newborn through to six months of age (or when the baby is able to roll over and lift themselves onto their hands and knees).
How Much does a SNOO Cost?
The SNOO package costs $1595, though if you want to save money, you may be able to buy it secondhand from a friend or on online marketplaces.
SNOO now also offers the option to rent the bed and all of the equipment for as little as $49 a month, making it accessible to parents with a range of budgets. This option includes three new SNOO sacks to keep.
How Does the SNOO Bassinet Work?
The SNOO is able to automatically respond to a baby if he or she wakes in the night or during a nap. It features an advanced algorithm that is able to detect the sound of a stirring or fussing baby and can differentiate these noises from other background noises in the room.
When the SNOO detects movement, it will start gently rocking the baby or playing soothing sounds, depending on which settings you have enabled. The motions and sounds of the SNOO are designed to recreate the feeling of being in the womb so that the baby is quickly calmed down and feels safe and reassured.
There are five different settings to control the sound and motion aspects of the SNOO, so you can specifically choose which setting your baby likes the best.
The motor on the SNOO is of the highest quality so that it is reliable, is also very quiet, and won't wake up parents or anyone else sleeping nearby when it goes into action.
You can customize the way that the SNOO responds to your baby using a dedicated app on your phone, which is also able to track your baby's sleep so that you know how long they have slept each day.
The sleep monitoring aspect will help you to figure out what works best for your baby and if they are gradually sleeping for longer periods at a time. The SNOO is marketed as a 24/7 virtual babysitter because it is the ideal place to set your baby down while you need to take a shower, make a snack, or just have a few minutes' rest.
The SNOO is able to soothe the baby and keep them safe so that you can get on with what you need to do, safe in the knowledge that your baby is secure and unable to get hurt. Studies on the SNOO show that it typically calms an upset baby in under a minute.
Is the SNOO Safe?
The SNOO baby sleeper is an award-winning baby sleep solution that is so safe it is even believed to prevent the main causes of sudden infant death syndrome. Since its introduction onto the market, it has become the most awarded product for babies in history. It is now under review as the first-ever product to be able to prevent SIDS.
The walls of the bed are made from breathable mesh, which means that airflow is not restricted, and if a baby gets stuck with their face against the mesh, then they will still be able to breathe.
The sleep sack, which is used in conjunction with the SNOO, keeps the baby strapped into place, which prevents them from rolling over into a potentially dangerous position.
The sack has a unique design with 'wings,' which are secured onto the surface of the mattress sheet, preventing a baby from being able to roll in either direction.
This is because one of the leading causes of sudden infant death syndrome is babies who roll onto their front and are not strong enough to lift their head away from the mattress and suffocate as a consequence.
Though some parents feel uneasy at the idea of strapping their baby into bed, this is a very safe feature that is able to prevent every parent's worst nightmare.
The motion of the bed is so gentle that it is not able to cause any sudden movements which might harm a baby. Even on the highest setting, the SNOO is only able to move a quarter of an inch back and forth, which is a very subtle motion unable to harm a baby but certainly able to soothe them.
What is Included with a SNOO Bed?
When you buy a SNOO you will receive the entire setup that you need to have the whole SNOO experience. This includes the SNOO smart sleeper, which is the bassinet bed frame, along with a mattress and a waterproof mattress protector.
Also included is an organic cotton bedsheet and three SNOO sacks, which are a cross between a sleep sack and a swaddle, which ensure your baby will feel snuggled at sleep times while also keeping them in a safe sleep position that prevents rolling.
The SNOO also comes with a one-year warranty and unlimited access to sleep consultants seven days a week. You will need to download the SNOO app to your smartphone or tablet to operate the SNOO and enjoy all that it has to offer. This will be free to download for anyone with the SNOO bed.