A pack n play, or pack and play, is a lightweight structure that can be set up as a confined area for babies to sleep in or play in. They are made from plastic and aluminum, with mesh walls and a thin removable base that is lightly padded.
Pack n plays can be folded down to a compact size and stored in a bag, making them a convenient choice for parents who travel or who have limited space.
If you need a straightforward answer, find it below.
Pack n play is not regulated, unlike crib, which means they will come in various sizes. The average size of a pack n play is 40 inches by 28 inches by 29 inches in height – this can vary by a few inches by different manufacturers.
Pack N Play Sizes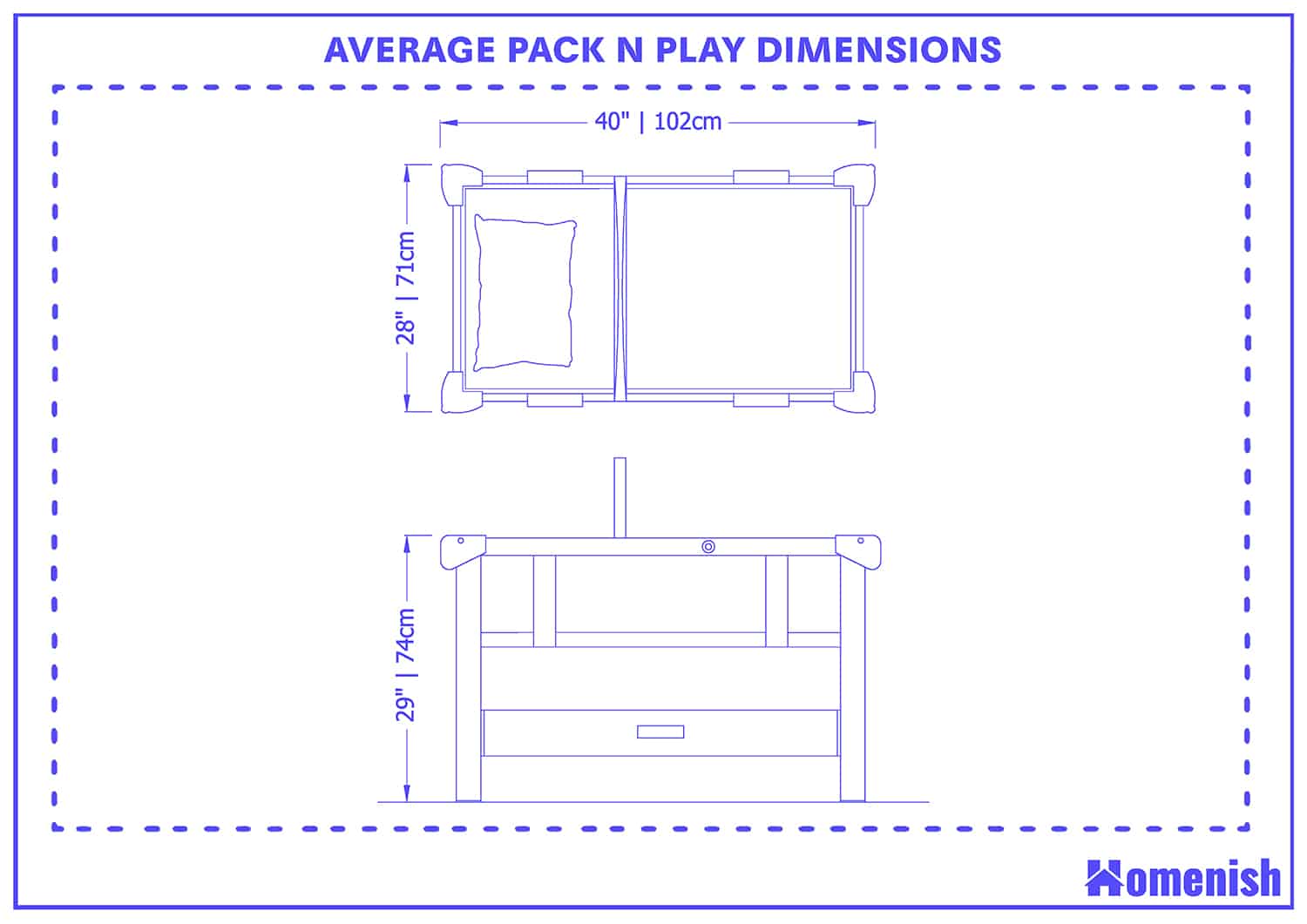 Unlike cribs, the size of a pack n play is not regulated, which means they will come in various sizes. This means that each model of pack n play can have slightly different dimensions, and therefore it is important that you only use the mattress intended for your pack n play and don't try to use a mattress from a different model.
If the mattress doesn't fit perfectly, then it can become a suffocation hazard for a baby. Crib mattresses are also not intended to be used in conjunction with pack n plays because the baby could roll over the edge and get caught between the mattress and the wall of the pack n play.
Although you might think the original pack n play pad is too thin and doesn't seem comfortable enough for a baby to sleep on, this has been designed with safety in mind, and it is the only mattress you should use with the pack n play.
The average size of a pack n play is 40 inches in length, 28 inches in width, and 29 inches in height, although this can differ by a few inches either way, depending on the manufacturer. This is smaller than standard crib dimensions but bigger than a mini crib.
Benefits of a Pack N Play
Compact
One of the great things about the pack n play is that it can be folded down in just a few minutes and stored in the supplied bag. If you live in a home that doesn't have a lot of space, you can keep the pack n play in a closet or under a bed and just bring it out when you want to put your baby in it to play or for a nap.
Some parents choose to use a pack n play instead of a crib because it takes up less space when it is fully assembled and can be put away when not in use to free up some space.
Portable
Pack n plays are super portable because they are very lightweight and can easily be transported within the home or to outside of the home. Some people will use a pack n play upstairs as a crib overnight and then carry it downstairs for use during the daytime as a safe and secure place for a baby to play.
Pack n plays are also commonly taken over to a grandparent's house for a sleepover, as they will easily fit in the trunk of a car. Traveling further afield with a pack n play is also a popular choice because they are so lightweight that they are easy to carry around an airport before checking them onto a plane.
If you are going on vacation and are unsure of the sleeping facilities for a baby, having your own pack n play with you can offer extra peace of mind when traveling with a baby.
Versatile
Pack n plays can be used in different ways, which makes them an invaluable addition to the household of many new parents. If you have ever wondered what you should do with your baby while you're in the shower or while you're cooking a meal, then a pack n play is the ideal solution. You can set your baby in the pack n play with a safe toy and leave them in there for a few minutes, knowing that they will not be able to come to any harm.
You can also use a pack n play for your baby to nap in during the day, as well as to sleep in when they stay over at a grandparent's or babysitter's house.
Some people also use the pack and play as a permanent sleeping solution instead of a crib in their own home. Basic pack n plays will just come with one level, but if you opt for a more deluxe version, it will have a second, slightly elevated level. This makes the pack n play useful as a change table as well.
Peace of Mind
Worrying about your baby is part and parcel of becoming a new parent, but investing in items you know to be safe will help keep your anxiety to a minimum. Pack n plays are known to be one of the safest spaces for a baby to sleep or play because the walls are made from mesh which means a baby cannot suffocate even if they end up with their face squished against the side.
Unlike a crib, a pack n play does not have wooden bars around the sides, so you can leave your baby to play in a pack n play without worrying that they are going to get their arms or legs stuck in the spaces between crib bars.
The tall sidewalls of a pack n play make it impossible for a baby to climb out, so you can take a shower or leave the room for a while with the peace of mind that your baby cannot escape and that they are safe.
Inexpensive
Considering how many ways you can use a pack n play, they are very inexpensive. Deluxe pack n play models with extra features are around the hundred dollar mark, while more basic models can be picked up for between $40 and $60. This represents a great investment for most parents because the pack n play will likely be used every day as a play yard and a sleeping area.