Nothing says "I'm home!" like the feeling of shaking off your heavy coat, kicking off your boots, and settling into your favorite comfy slippers. This is especially true during those harsh mid-winter days. In my household, this daily routine resulted in a messy pile of shoes accumulating in my entryway and scarves and gloves being draped over chairs or bunched on the table.
Recently, I bought a hall tree, and it's taken my hallway from disastrous confusion to organized and clutter-free. And everyone knows where their stuff is! So, I thought to put together this brief guide to help you find the ideal hall tree furniture for your home.
The Origin of Hall Trees
Hall trees, or hall stands, became popular in mid-19th-century Victorian homes. They were designed in response to a very specific problem. During Victorian times, it was customary for homeowners to remove the clothing items intended for outdoor wear and leave them in a room known as the foyer before entering other parts of the home. With time, furniture was designed primarily to be used in the entrance room – the hall tree.
The original hall trees had a few hooks for coats and hats. They also had a small bench, mirror, table, and umbrella stand so that residents and guest could deposit their shawls, gloves, and other clothing items. Foyers typically weren't large rooms; however, the ceilings were high, so the hall stands could be between 6 to 9 feet in height.
As living spaces became smaller in the 20th century and fashion tastes changed, the need for a foyer room disappeared. The oversized hall stands of old were replaced with smaller, more practical furniture, like coat racks and free-standing hall trees that could fit modern hallways.
How to Choose the Right Hall Tree for You
Hall trees are a homey and warm addition to any home. But just because you've walked into a store and fallen in love with one doesn't mean it will work in your entryway. It's worth taking the time to think about how you're planning to use the coat rack and realistically assess whether you genuinely have the space for it.
How Much Space Do You Need?
Most traditional wall-mounted hall trees need a decent amount of flat wall space. If you have a straight wall of about 77 to 80 inches in your hallway, you have enough space for most modern hall trees. If you don't have a room, don't worry. Narrow or corner models are just a few examples of coat racks adapted to make the most of tight spaces.
One thing to note is that a standard hallway size is about 42 to 48 inches in width, so you should pick a hall tree that is wide enough to still leave space for people to walk through.
What Materials Do You Prefer?
Hall trees are commonly constructed with hardwoods like oak, cherry, and maple, which are usually varnished and left in their natural state to show off the beauty of the timber. Contemporary hall trees incorporate materials like aluminum. And they are often available in a broader range of colors to suit your home décor.
What Type of Storage Do You Need?
If all you need is a place to hang a few coats and hats, a full-sized hall tree will be under-utilized. You'd be far better off with a stylish bird branch coat rack. However, suppose you want adequate space to store heavy coats, rainwear, boots, shoes, and other accessories like umbrellas and bags.
In that case, a multi-purpose hall tree is your best bet. These multi-functional units are equipped with shelves, individual compartments, drawers, and baskets that may be better adapted to your needs.
Types of Hall Trees
Bird and Branch Hall Tree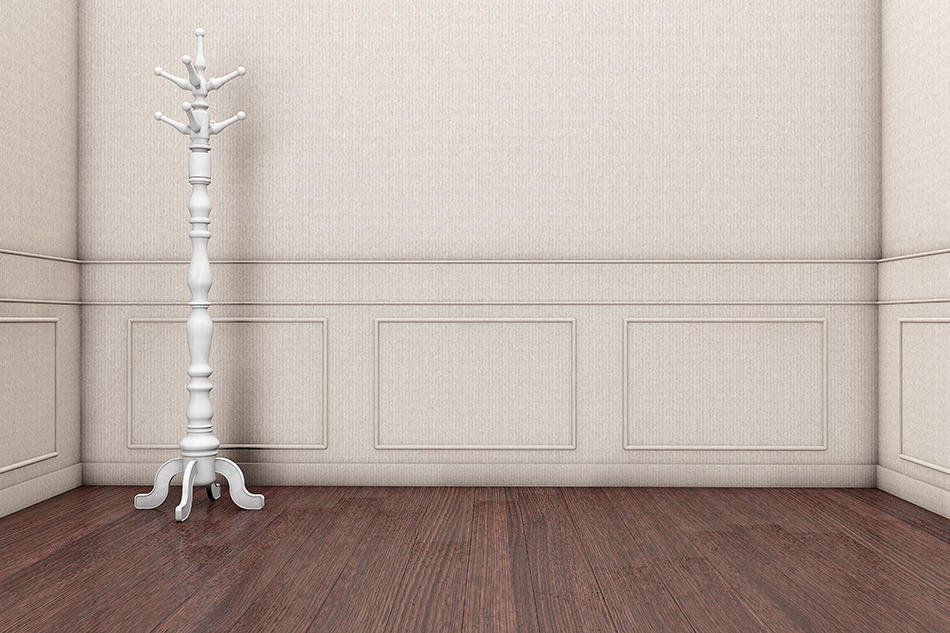 The name given to this hall tree gives a hint about its appearance. The bird and branch style features a long vertical pole in the center and smaller poles or hooks – the "branches" – that protrude horizontally along part of the pole's length. Jackets and hats are hung on the hooks in the same way that birds sit on a tree.
The bird and branch style is among the most common hall tree you'll find. It stands freely on a base or legs, so it can be conveniently moved from one location to another if needed. Bird and branch hall trees also don't occupy a lot of room, so they can be positioned in small entryways without getting in the way.
Bird branch hall trees can be made with various materials, including wood, metal, and plastic. Some are even made with actual large tree branches and can bring an authentic touch of the outdoors into your home. You can also find bird branch coat racks with a basket at the foot that can hold wet umbrellas on a rainy day and prevent them from dripping on your floors.
This style of hall tree provides excellent storage for a few coats and hats. However, you should pay careful attention to the maximum weight capacity recommended by the manufacturer to make sure you don't overload the tree.
Wall-Mounted Hall Tree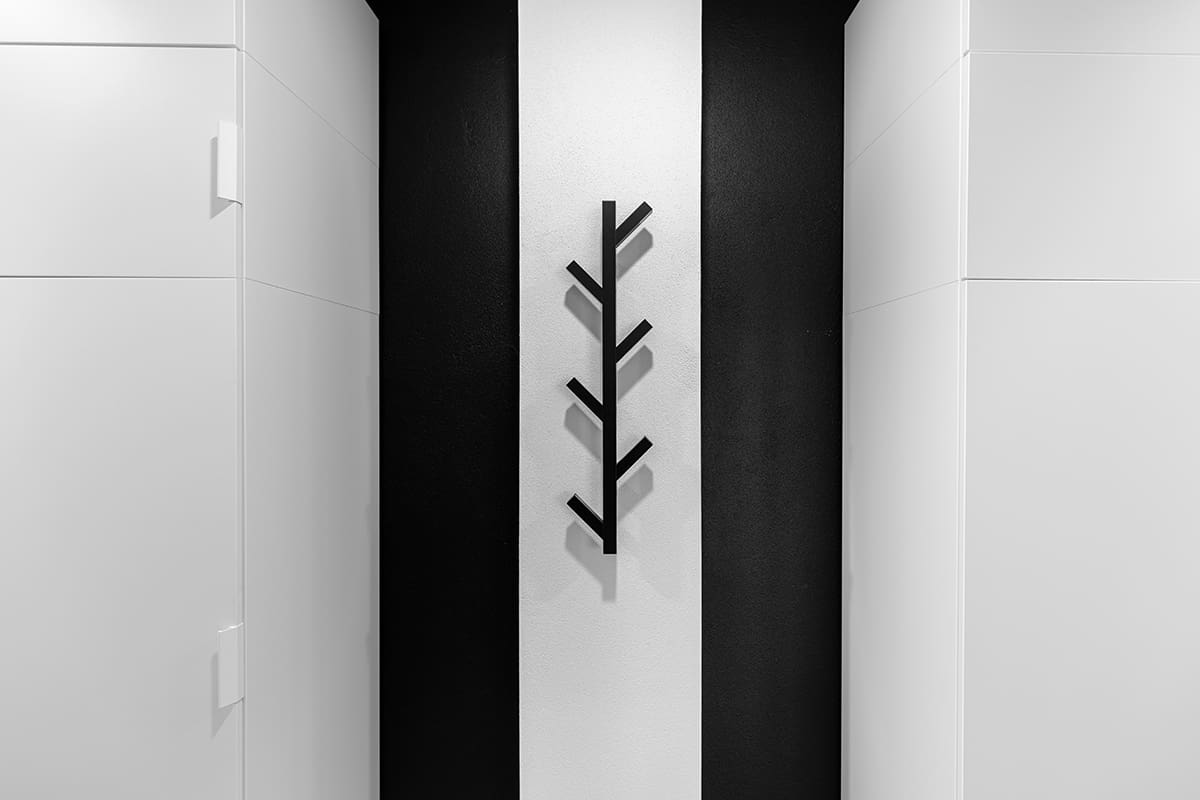 Wall hall trees usually comprise a horizontal wood or metal slab with several hooks attached to it to hang clothing items. The coat rack is positioned flush against a wall, so it's an excellent space-saving option if you have a narrow hallway.
It can also easily fit on a wall directly behind an opening door. Bear in mind that its installation requires a bit more work than a free-standing coat rack, though, because you'll need to drill holes into the walls. For this reason, a wall hall tree is a more permanent solution, too, and they can hold a significant amount of weight on each hook.
Although a wall hall tree's structure can sound quite basic, you can find many designs that can make them an attractive décor element in your home. Natural hardwood racks with the textured grain exposed have a rustic look that works well with farmhouse-style décor.
Wall coat racks made with reclaimed wood from old furniture or disused railroad tracks add an effortless vintage feel to your hallway décor. At the same time, a brushed steel or nickel wall tree looks right at home in a contemporary setting.
Hall Tree with Bench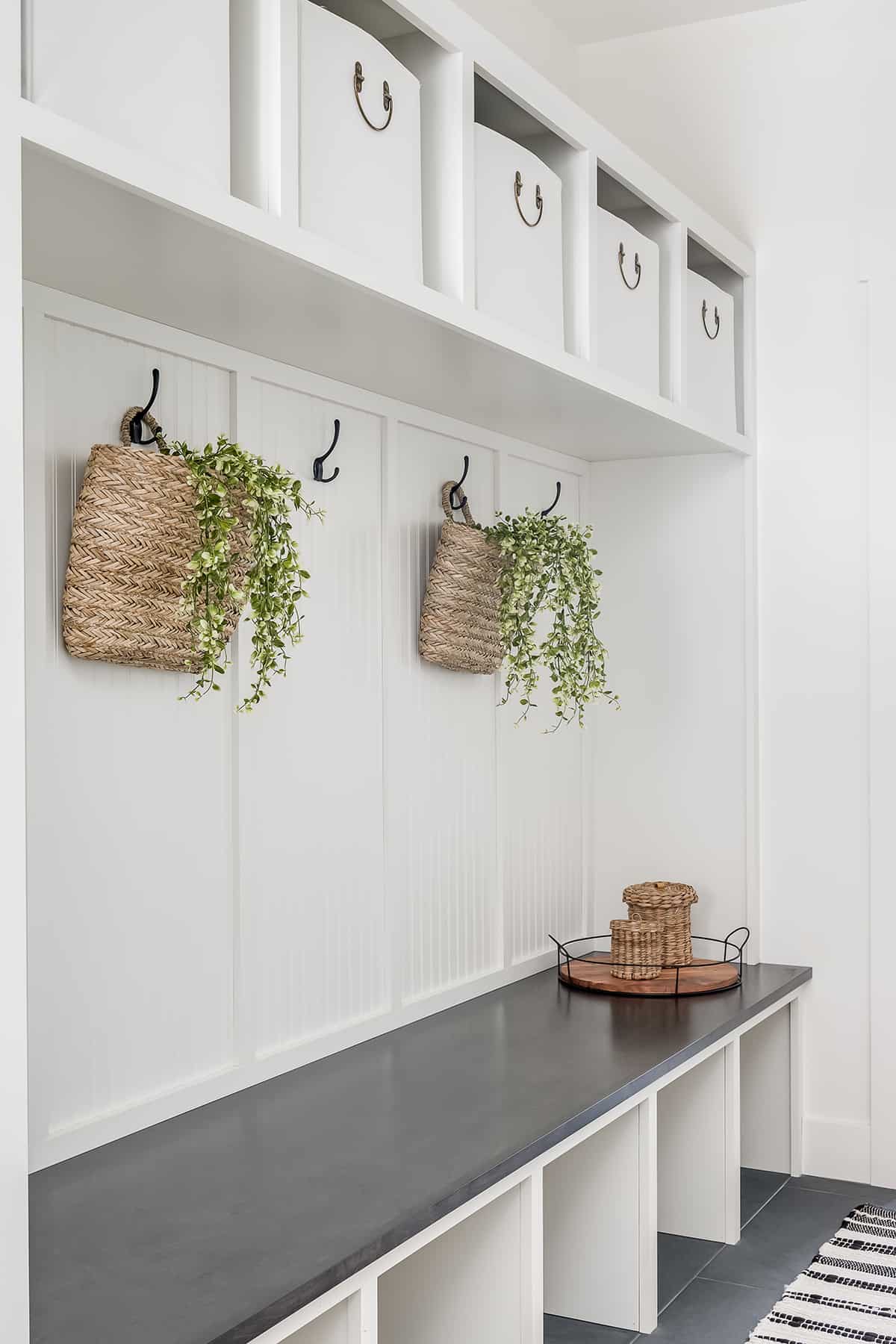 Some hall trees are designed with more than one purpose in mind. A hall tree fitted with a bench is one such style. It allows you to not only hang your coat, scarf, and hat on the hooks but you can also take a seat on the bench to remove your shoes too. In some cases, the bench seat has open or concealed storage for you to put your shoes and boots in, so your entrance hall stays uncluttered and neat.
Hall trees with benches do more than serve a functional purpose. They also make any home feel instantly welcoming and offer an invitation to residents and guests to shed their heavy coats, kick off their shoes, and get comfortable.
These hall trees are often made with warm and natural woods, and the bench can have cushions that add to the comfort. In some instances, the benches can have scatter cushions placed on them. You can change and coordinate these with your home's décor theme so they are decorative as well as comfortable to sit on.
Hanging Hall Tree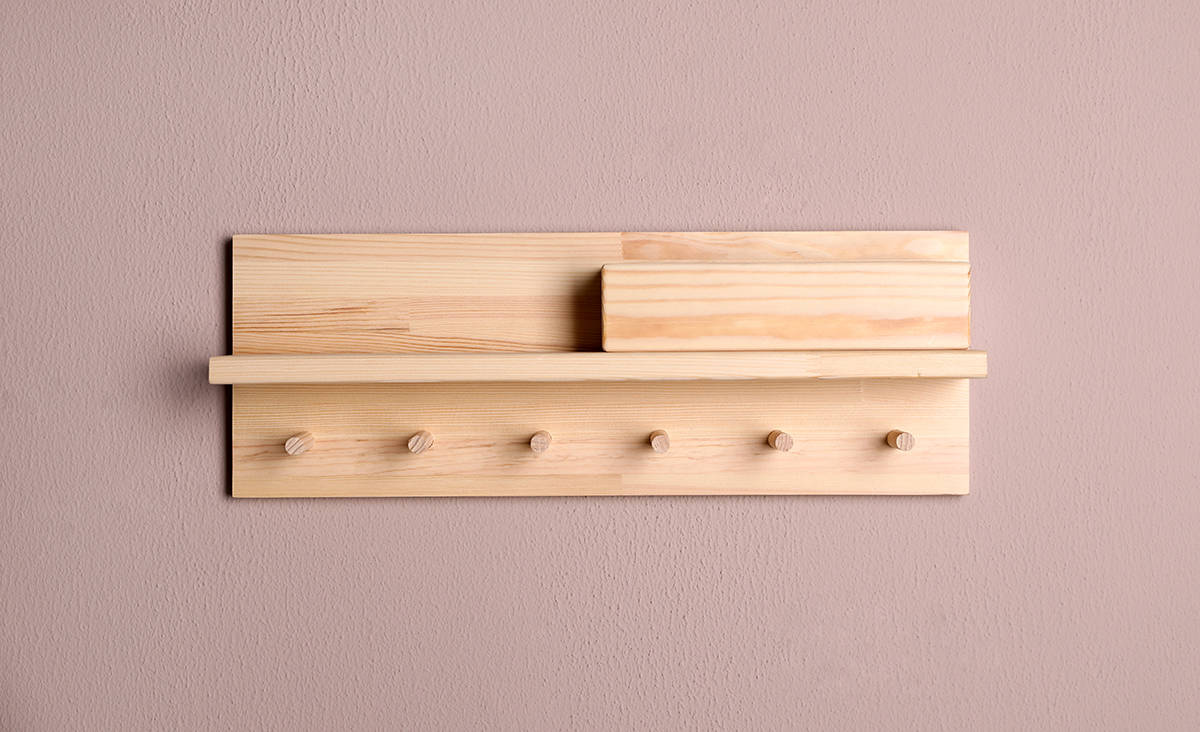 Hanging hall trees give you the functionality of a wall-mounted hall tree. Still, they are more convenient because they are not permanently installed on the wall. The coat hooks are usually already attached to or are constructed onto a plate. The whole contraption is then simply suspended over a door using fixing clips or attached to it via an adhesive, with no drilling necessary.
The main advantage of hanging hall trees is that they are some of the most affordable coat rack options you can find. They are also easy to move to another room if needed.
Corner Hall Tree
What do you do if your wall isn't wide enough to install a traditional wall-mounted hall tree? And you desperately need more storage space than a free-standing bird branch can offer? You get a corner hall tree, of course!
These hall trees are a creative solution to not having enough flat wall space, and they can be free-standing or wall-mounted against the adjacent walls. Corner hall trees fit snugly into the corner of a room, ensuring that an otherwise unused area is turned into an ample and neat storage nook. Indeed, the efficient use of a tight space is one of the main benefits of the corner hall tree.
A corner hall tree setup can be as basic as having several hooks on a wall-mounted slab. It can also be a larger piece of furniture incorporating hooks plus open or closed cabinets at the bottom, so both coats and shoes can be stored.
Hall Tree with Shelf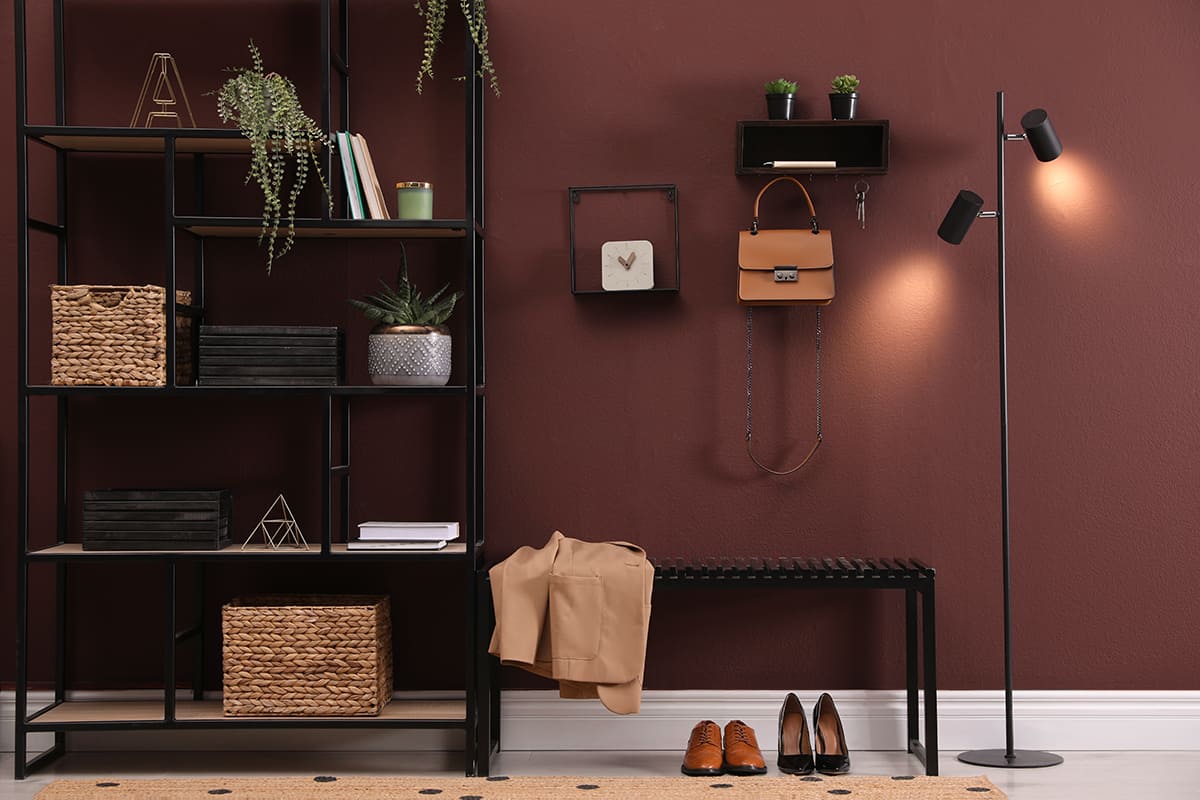 A hall tree that has shelving is excellent if you want to maximize your storage space. They usually include one or two rows of hooks positioned towards the top and several shelves below or alongside the hooks. The benefit of this hall tree is that it provides enough room for you to hang coats, bags, and scarves, and the shelves can be used for other folded clothing items or shoes.
Locker-Style Hall Tree
If you want a coat rack that has slots allotted to each member of your family, a locker-style hall tree is an easy way to make sure everyone has a fair share of the space for all their stuff. Locker-style hall tree designs have the typical coat-hanging section at the top, with opened or closed shelves at the bottom.
However, the overall storage space is split by dividers, creating individual sections that resemble changeroom lockers at your local spa or gym. When considering this style, it's important to note locker sizes to ensure each family member has enough space for their belongings. Except, the locker coat rack in your home is more stylish. Locker-style coat racks are a great solution if your kids are always mixing up their coats.
They're also an ideal storage solution if you don't have enough closet space in your bedroom and need a permanent alternative for your jackets and favorite pairs of shoes. You can add the names of each family member to each section, which adds a warm and personal touch.
Narrow Hall Tree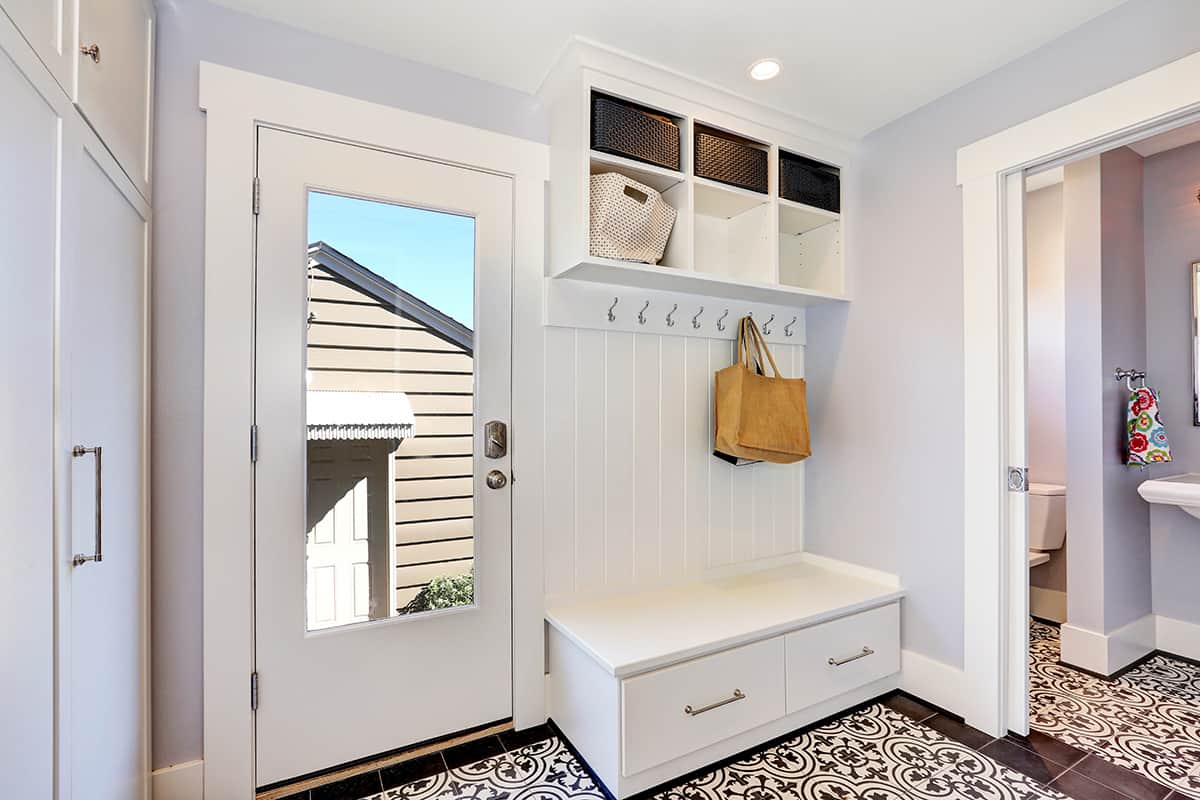 Many traditional hall trees are relatively big furniture pieces that are perfect in spacious entryways. But just because you live in an apartment with a cramped hallway doesn't mean you have to miss out. Many furniture manufacturers have adapted the hall tree for smaller homes.
These hall trees tend to be narrow, usually no more than 25 inches wide, with two or three hooks and a small shelf or cabinet for extra storage.
Traditional Hall Tree
Wood has long been favored as the preferred material for making hall trees. Its popularity continues today in traditional hall tree designs. Not only is solid wood loved for its durability, but it's also versatile and adds natural beauty to your home.
Although wood is the original hall tree material, it doesn't mean that it's stuck in the past. Contemporary wooden coat racks have been adapted to suit 21st-century décor tastes. Some are painted in untraditional colors or boast clean, sleek lines instead of a rough and rustic look.
Hall Trees Made From Reclaimed Wood
Reclaimed wood is often used to make beautiful hall trees. The history these furniture pieces carry just adds to their character. If you want a unique item and have the skills and passion for DIY projects, you can source wood from old barns, factories, or barrels and make a simple coat rack yourself.
Or you can find local carpenters to custom-make a wall-mounted hall tree to your exact specifications. This can become a unique and treasured family heirloom, passed down from one generation to the next.
Antique Hall Tree
If you're looking for an antique hall tree style, wood lends itself perfectly to this look. Antique hall trees feature intricate designs, which became popular during Victorian times when hall trees started becoming commonplace in homes.
Apart from their sculptured look, antique hall tree styles also feature a mirror and marble tabletops above their shelves or drawers. These design features are elegant and serve a practical purpose. You can rest your bag and other small items on the tabletop without damaging the wood while checking your appearance before leaving your home.
Industrial Hall Tree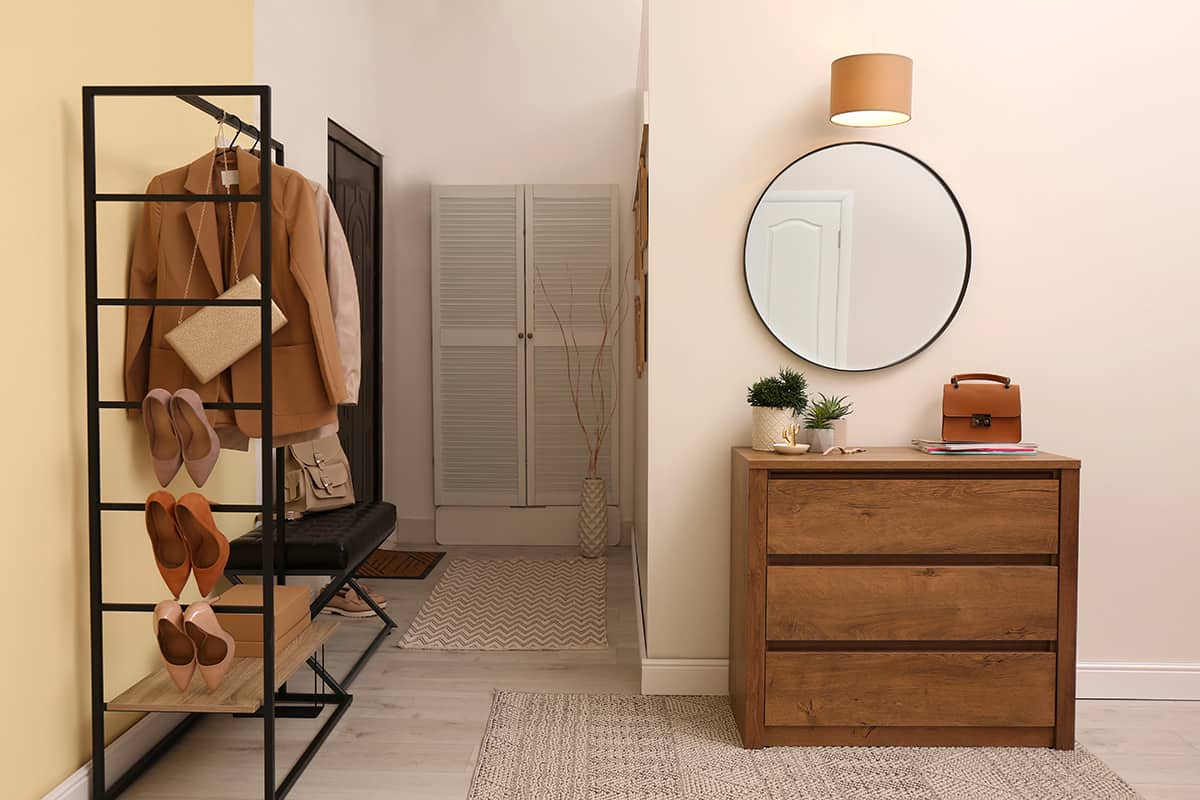 The dominant material in an industrial hall tree is metal, which makes it a durable and solid option. Their design is usually basic, but this works well in homes with minimalistic décor. Popular metals used in constructing the frame are steel and iron, typically painted in matte black to give it a contemporary feel.
Many industrial hall trees also have a simple wooden bench seat and multiple shelves for storing shoes, but the backing is left bare, so the wall behind them is exposed. Industrial hall trees are also tall at around 75 inches high. They have more than one row of hooks, so they have plenty of storage capacity.
Scandinavian Hall Tree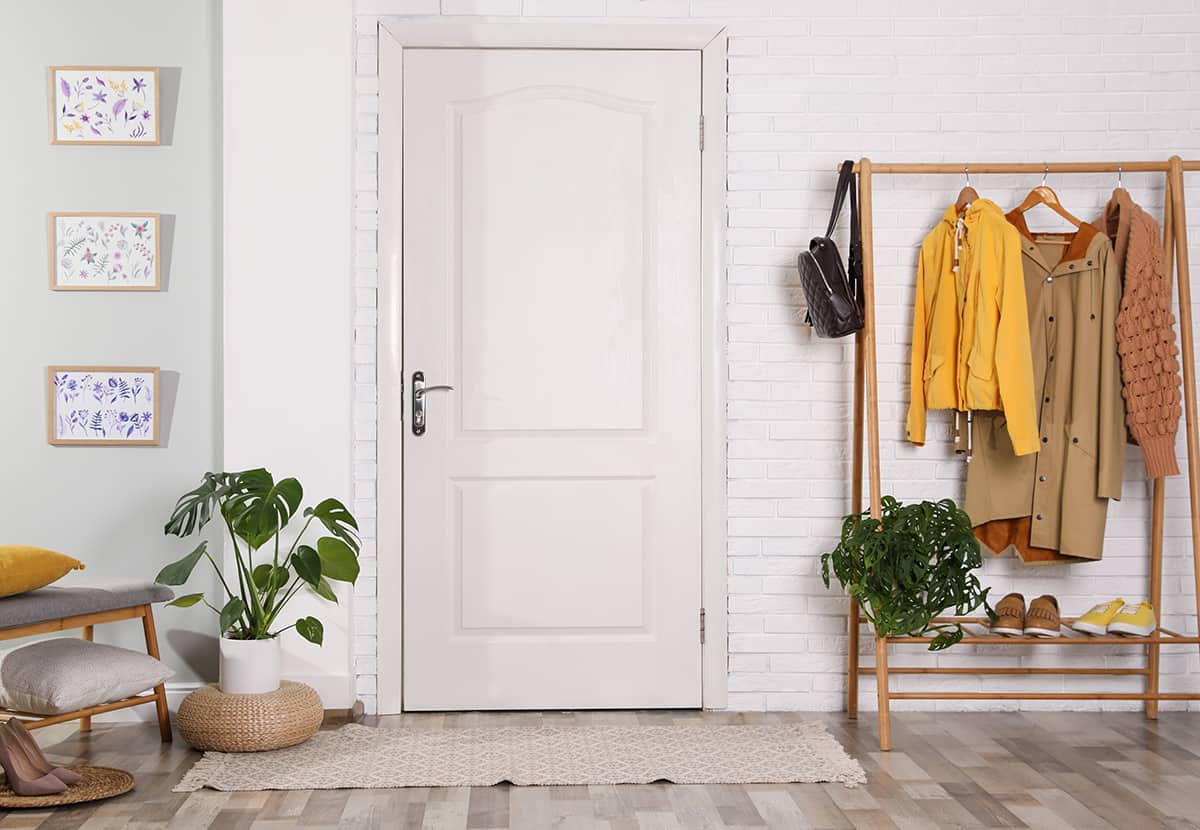 The Scandinavian influence can be seen everywhere in home décor today. So it's no surprise that this wildly popular style has made its way into entryway furniture design too. Scandinavian hall trees have an uncomplicated and uncluttered design aesthetic.
They have simple and clean lines and are made with light-colored woods or metals painted white to round off their casual look and feel. You can find them in various designs, but wall-mounted styles with shelving and drawers are on-trend, as are flat wall-mounted bird and branch styles.
Contemporary Hall Tree
Contemporary hall trees are typically made with traditional materials like solid wood but showcase them in entirely new and fresh ways. Metal designs also don't follow the classic rectangular structure, opting for tiered angular shelves instead.
The use of upcycled material is also prominent. For instance, old industrial pipes are coated with high-end finishes and turned into stylish and bespoke coat racks.
Children's Hall Tree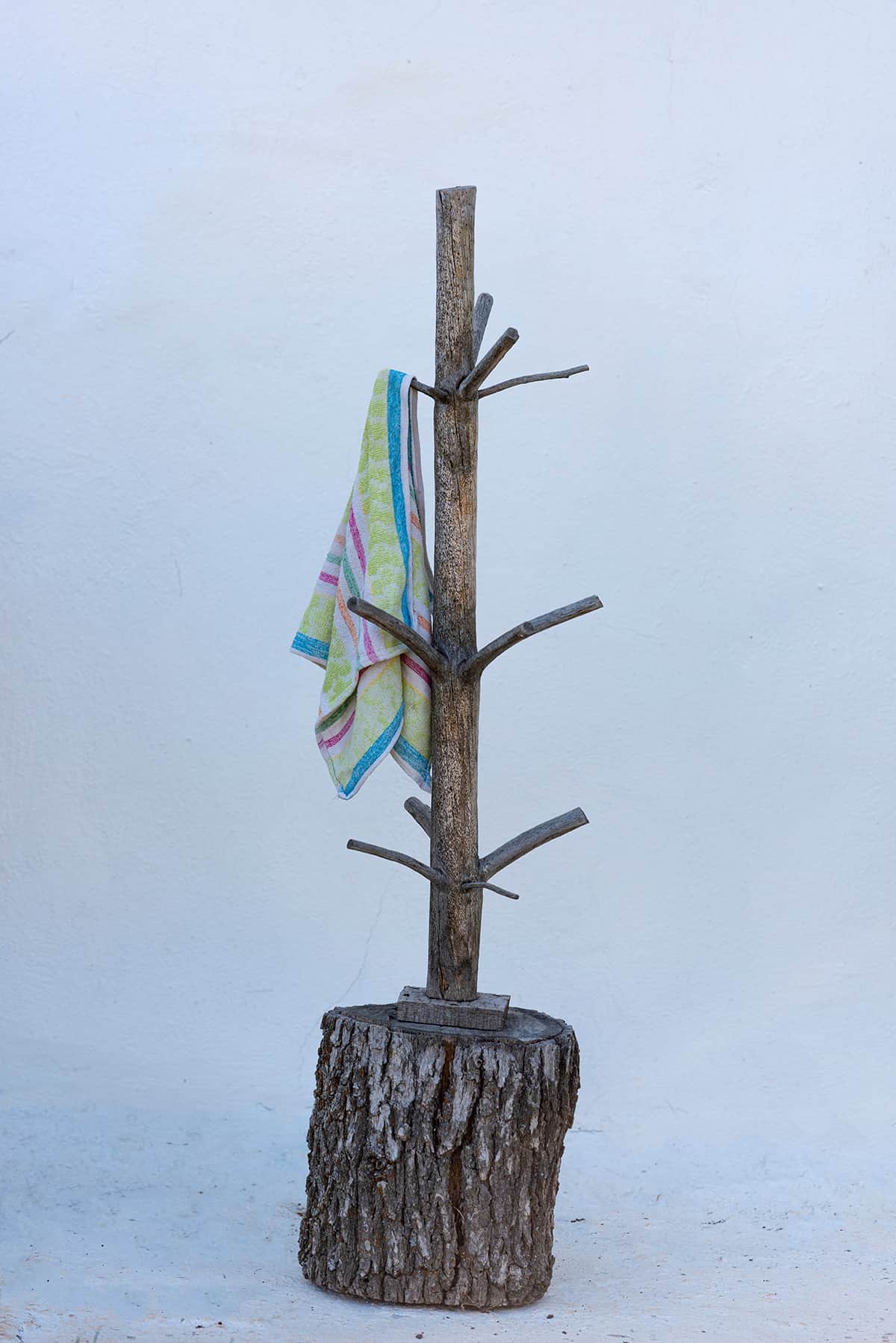 Hall trees designed to be used by children are usually shorter in height, so their hooks are easily reachable. Your child's hall tree can sit alongside the "grown-up" version if your hallway is large enough. This way, little kids can observe and also learn the habits of taking off and hanging their jackets and packing shoes neatly and out of the way as they come home.
A kid's hall tree will be used during the early years of their life, so keeping it free-standing might be easier. They can be basic plywood structures, but you may want to find one that has fun and bright colors because children sometimes need a bit of encouragement to tidy up.
Safety is also an important consideration when looking for a hall tree for your little one. Hall trees that feature fabric padding along edges and corners will cushion their heads, elbows, and knees from bumps.
A Final Word…
Hall trees are a genius way to maintain a neat and organized hallway. They aren't only functional; they're beautiful to look at, too. You might think that you need a massive hallway to be able to fit a hall tree in your home, but there are many design variations and sizes available, so you can find the solution that works best for you.