Your entryway is the first part of the house that visitors see before stepping inside your home. Therefore, it should be welcoming and warm. A bold color for the front door can build curiosity and show off your personality. Red is one such color that creates a characterful entrance, especially if it's paired with a gray siding. This combination is compelling and immediately noticeable.
Red is a fun option for a gray house as it can liven up the neutral exterior and complement your home's architectural elements. In fact, a red front door can serve as the perfect accent next to the gray background.
Whether you choose a fiery shade of red or a muted hue like coral, this bright and bold color is undoubtedly the most popular color for doors. So if you're thinking of upgrading your front entrance, be sure to read this useful article on choosing the best shades of red front doors for a gray house.
Understanding the Different Shades of Red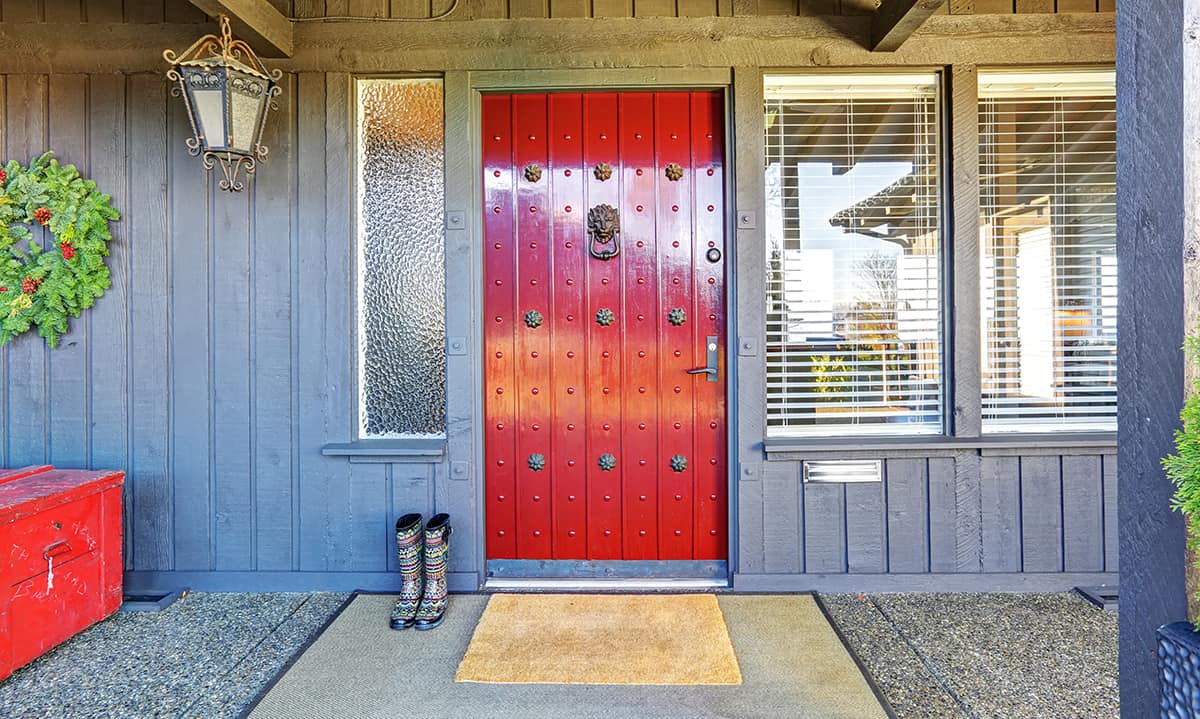 Red is a blend of black, white, and various base shades. By adjusting these amounts, you can obtain the desired tone. For example, a rich burgundy has more black than white with a soft shade of red to deepen its tone.
On the other hand, if you want to create a more muted shade of red, you must blend more white with a coral shade of red to soften the appearance. This is the ideal shade for dark gray exteriors and white trim.
With hundreds of red shades out there, including ruby, maroon, crimson, and cherry, this has to be the most versatile color for a front door. Any shade of red can offer an energetic elegance to an entrance and complement your gray exterior.
Regardless of which shade of red you choose for your front door, it can certainly make your entrance pop and draw striking contrast. What's more, this shade can bring a huge boost of curb appeal to your entryway.
Once you've learned more about all the different shades of red for your front door, you can select the right hue for your gray house. To do this successfully, you must make sure your red front door serves as a complement to your home's architectural details.
For example, a rich shade of red creates a solid feel and is immediately noticeable from the street, while a brighter hue conveys more excitement. The vibe you want to create for your gray home's exterior will be the determining factor in selecting a red paint color for your front door.
Match Your Red Door with the Gray Tone of Your House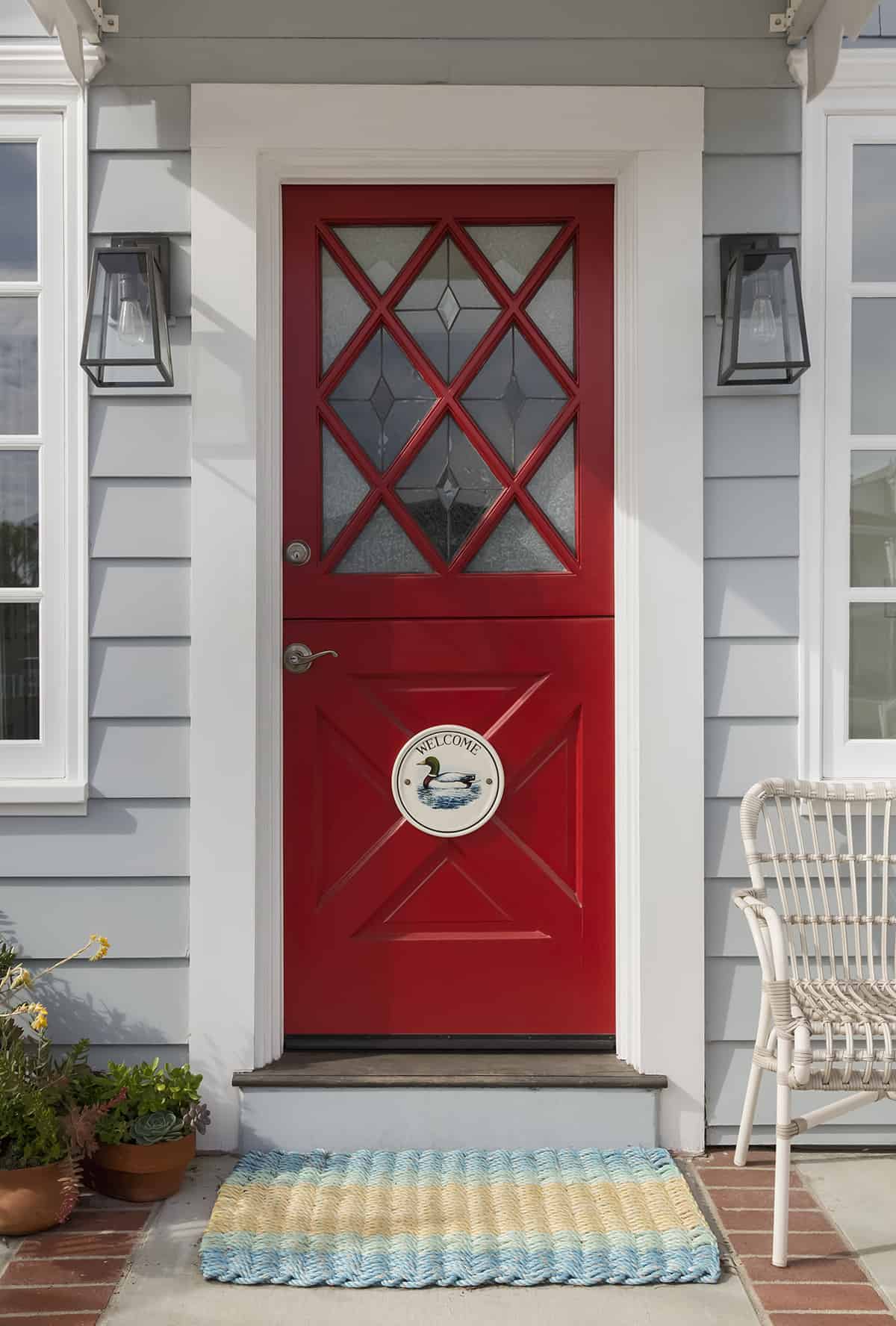 On a gray exterior, a red front door can contrast or complement your home's architectural details as well as boost the particular style of the house. For example, a home with dark gray siding will need a pop of color with a bright shade of red in order to attract attention to its entryway.
A light shade of gray siding, on the other hand, will benefit from a deep, rich red hue on the door. Both of these options will draw the eye and act as a visually appealing contrast.
When matching your home's gray tone with a particular shade of red, you might want to start from your home's architectural style before picking the red shade. A traditional-style home could benefit from a classic shade of red like berry or mahogany. A contemporary-style home might look better with a quirky shade of red like ruby.
Be sure to pay attention to the gray tone of your home as well as its style before selecting a shade of red for the front door.
Some Examples of Gray Houses with Red Front Door
Dark Red Door on Light Gray Siding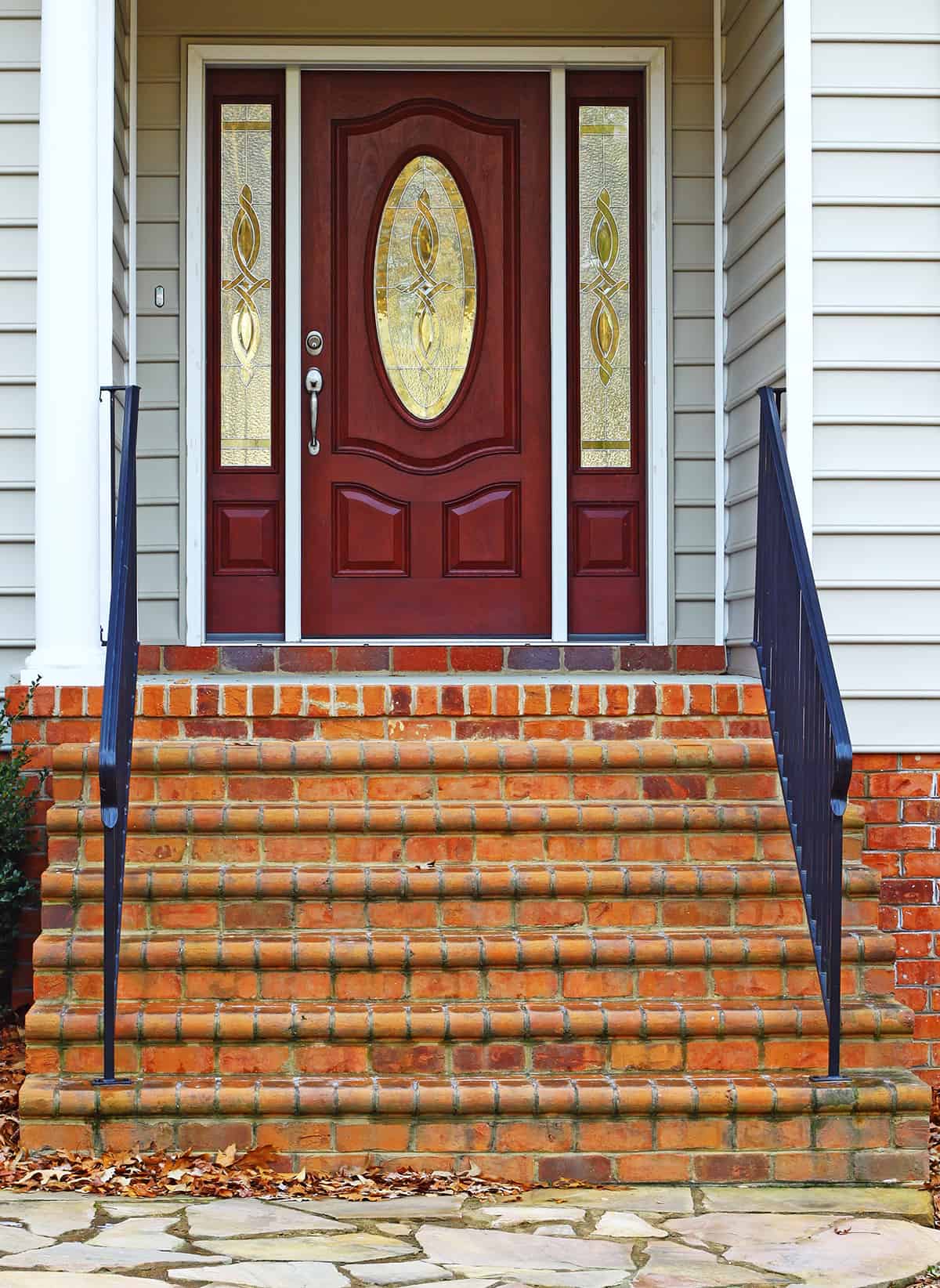 If you love a bold red shade, then you'll appreciate the example we've picked for you. On a light gray siding, a deep, rich red front door makes a strong statement.
This saturated red works excellently with other complementing trim colors such as black, white, and blue. The elegant exterior color palette works on both modern and traditional-style homes.
Light Red Door with White Trim on Gray Exterior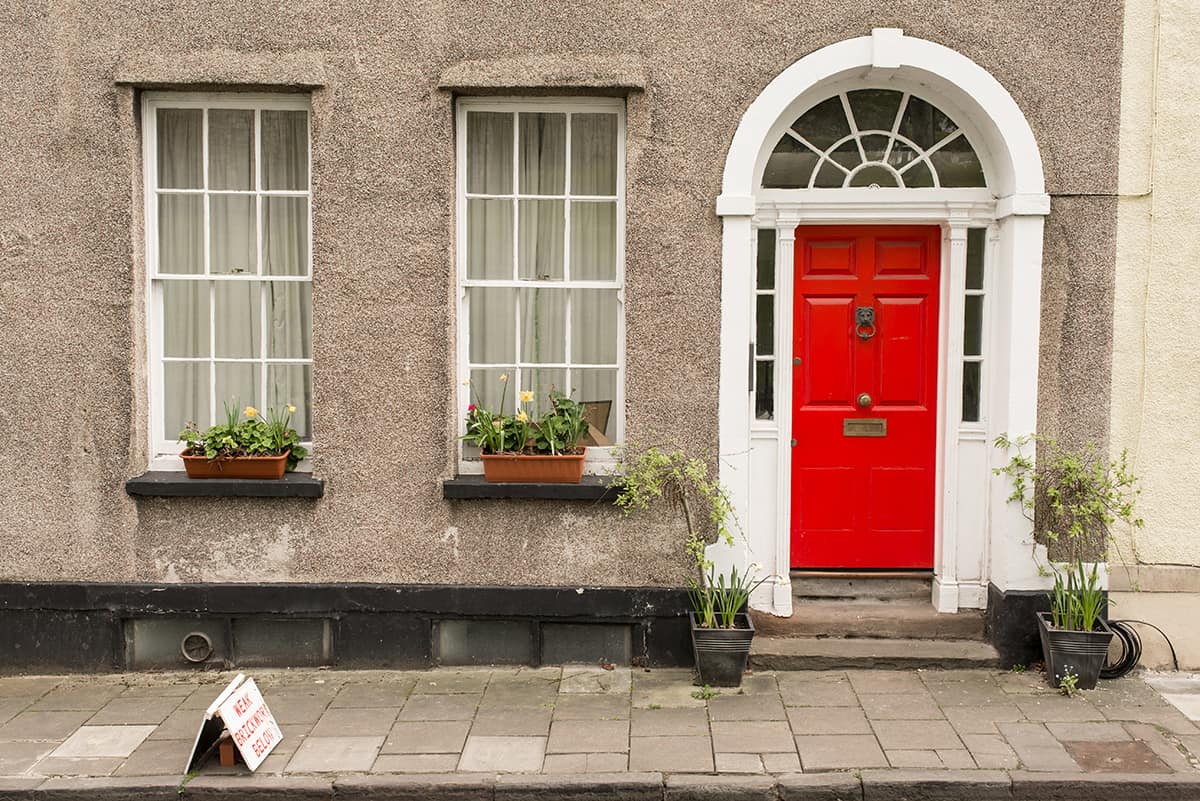 Another sophisticated color scheme with the same stunning effect is a combination of light red with white trim. On a muted gray background, a light red front door combined with white trim can create drama.
The soft gray can act as a traditional base for the more intense red as you can see in this example of a traditional gray-walled house with white trim and a light red front door.
Red Door on Brick and Gray Exterior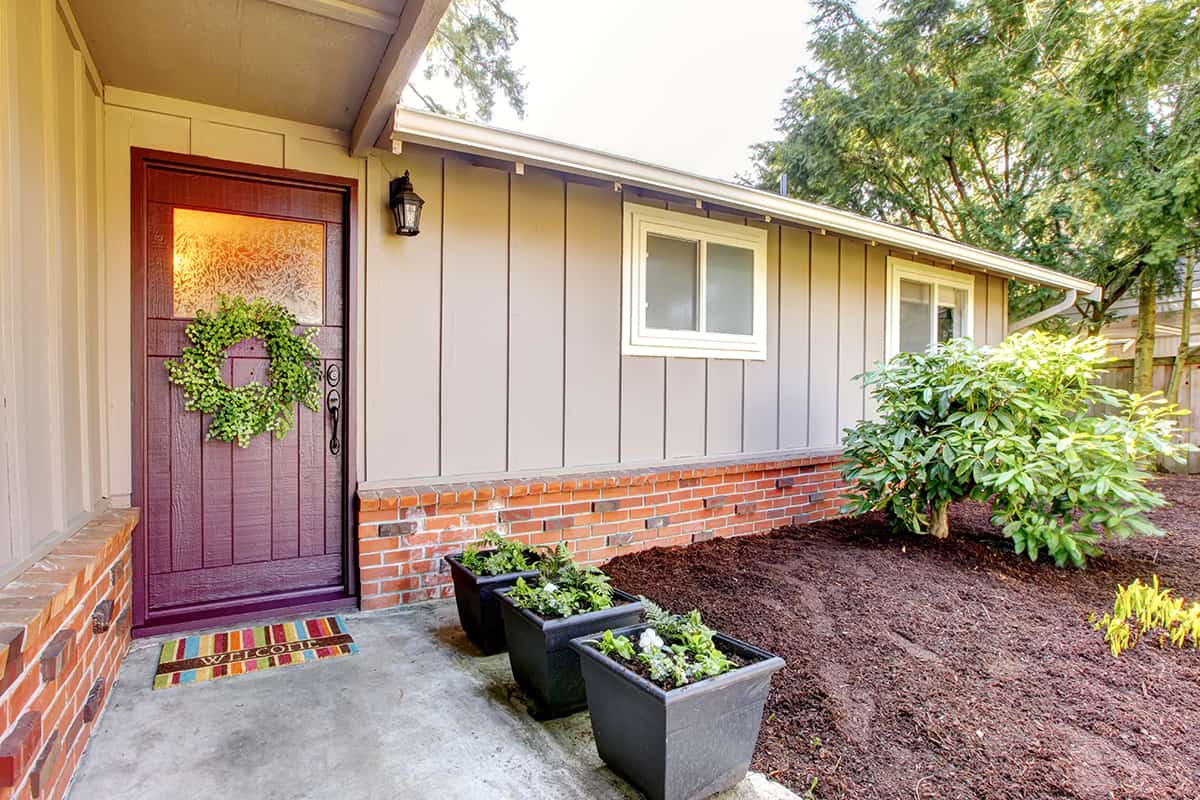 For homes with a combination of vinyl and brick siding, a splash of dark red on the front door can make a dramatic statement. Whether your exterior is in brown or red brick with a blend of gray, a red front door can certainly be a striking option.
Red Door with Black Shutters on Gray Exterior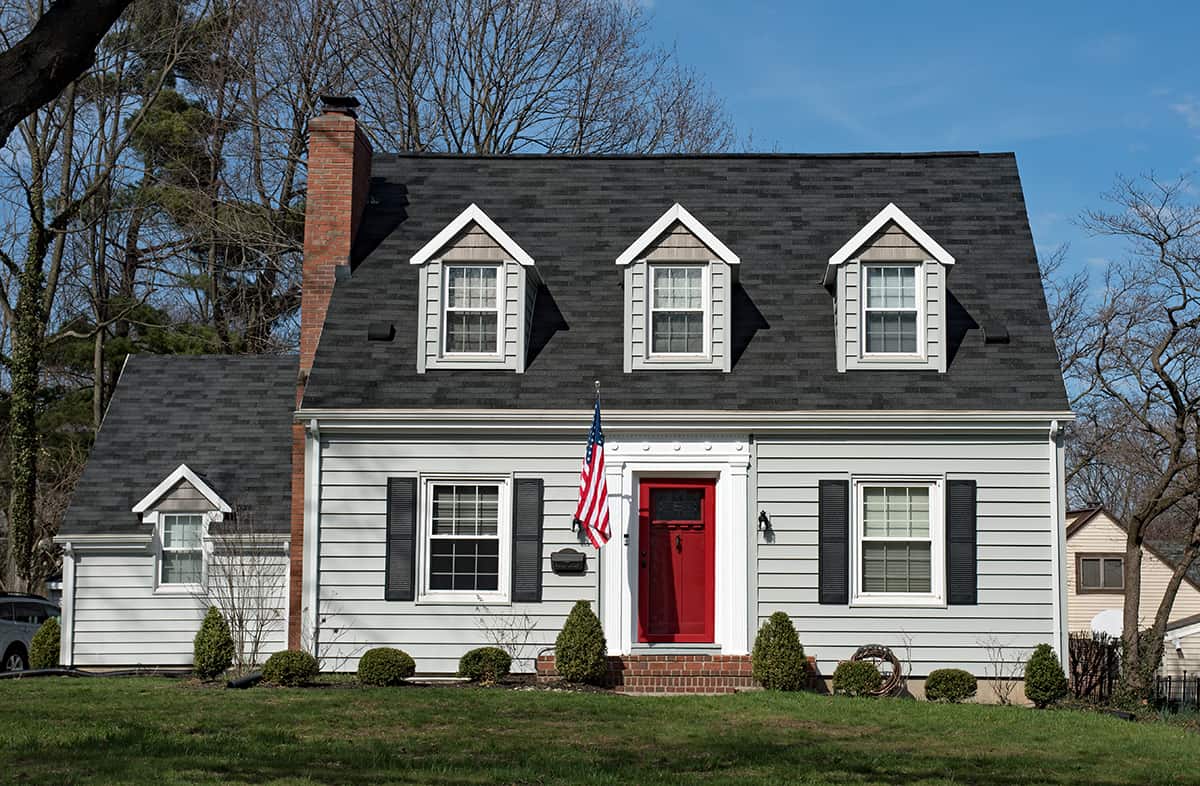 On a gray house with a red front door, we must not forget to add other striking accents, such as shutters. The most dramatic color you can choose for your shutters is black, as it goes perfectly with red and gray.
This dark element works especially well on bluish-gray siding with white trim and a red front door as per this image.
In Closing
A red front door can have a huge impact on the curb appeal of a gray house. Regardless Of which shade you choose for your entryway, all reds are associated with positivity and energy, so what better color to go for than red? This dramatic color will allow your gray exterior to stand out, as proven by the examples we've shown you.