A white door with wood trim is a great combination to use in any interior design.
To create visual interest, pairing your white door with an attractively painted or stained wooden frame can look fabulous. White interior doors are compatible with virtually any trim color, so it's not difficult to blend this combination with your home's decor.
Interior wood trim can be found in many modern and traditional homes. But this feature is often overlooked by home buyers who don't see the importance of wood trim on interior doors. Wood trim framing the interior door can significantly elevate the elegance of a house, so it's definitely worth considering.
In this article, we will give you some examples of white interior doors with wood trim to inspire you as well as some wood trim painting tips.
White Door with Wood Trim Examples
Dark Brown Wood Trim as a Smart Option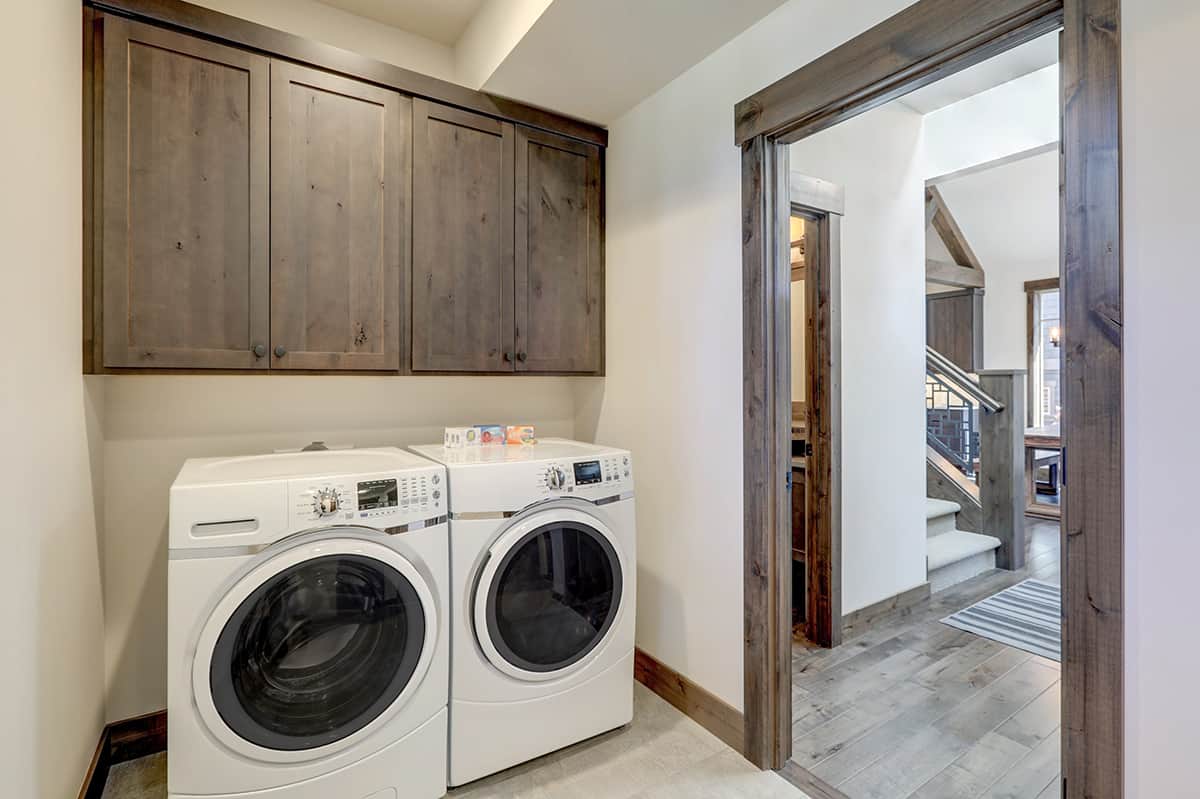 Those who want to connect their white doors to a visually interesting feature should opt for wood trim. Without this type of door frame, it would be harder to highlight the white tone of your interior door. As a blend of these two elements, you can inject a welcoming vibe into your home and make your visitors feel comfortable.
A dark brown wood trim, for example, paired with a white door, can stand out in any room as shown here. What's more, the dark brown stain is, without doubt, the most welcoming in a home with dark brown hardwood flooring.
Make a Statement with Orange-Toned Wood Trim
Another stain or paint option for a white door's wood trim is an orange-toned hue that will really stand out next to white. You may even match the wood trim to your baseboards and hardwood flooring to bring the entire interior design together and make a beautiful statement.
White Wood Trim with Blue Skirting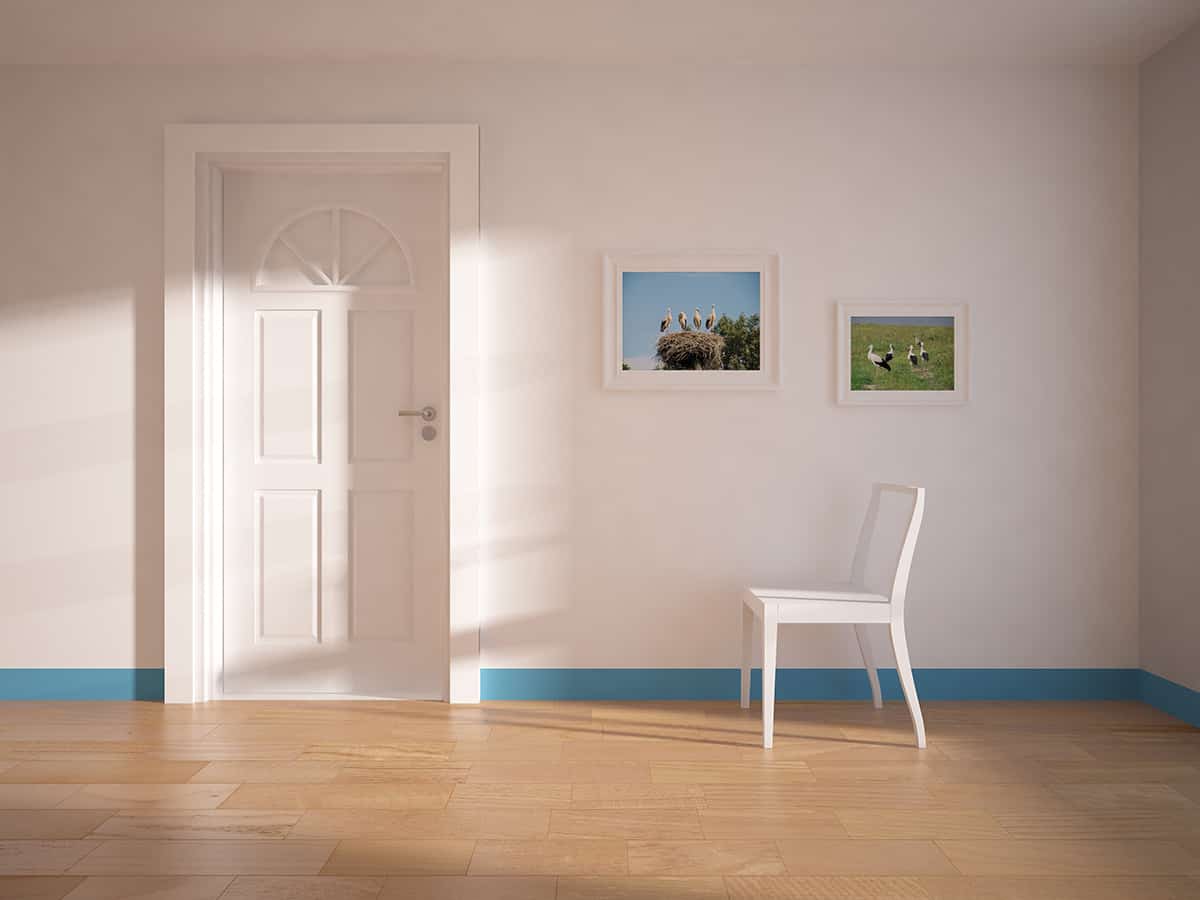 One of the best ways to bring warmth to a bedroom or living room is to pair your white door's white wooden trim with blue skirting. This color combination will make the interior cozy and comfortable.
In the example shown here, you can see how the bright white door with the white wood trim goes beautifully with the blue skirting. You can even add bright white furniture to complete the design. The warm tones of the wall, the decor, and the flooring have made this room feel cozy and comfortable.
A wall painted in beige or yellow will look great as a backdrop to a white door with matching wood trim. All this will create a cozy feel so go ahead and try it for yourself!
Match the Wood Trim Color with the Stairs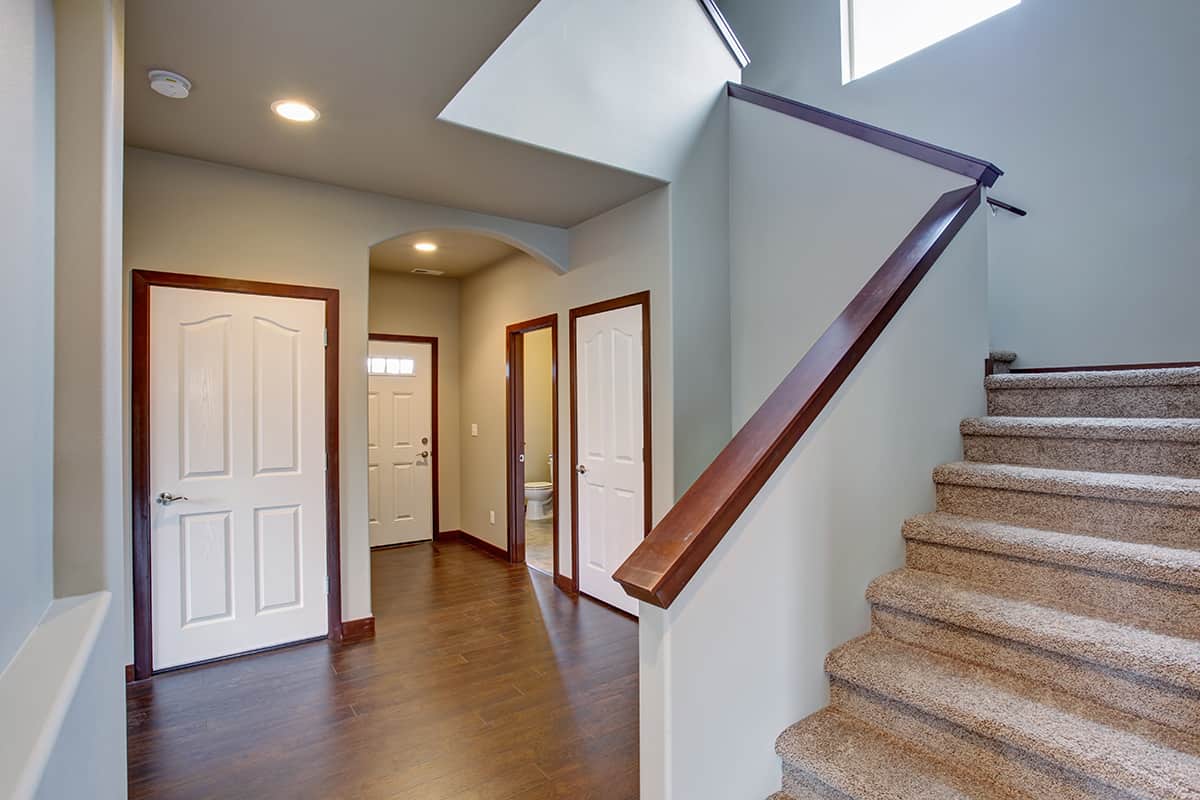 In most hallways, we usually find the doors in the same location as the staircase. If your interior has this kind of layout, try pairing the wood trim of your white doors with the staircase. This will create a coordinated visual and keep all the elements in sync.
The white doors in this example stand out thanks to the matching wood trim color with the staircase wooden railing. The mahogany trim looks elegant throughout this hallway, which makes the design warm and inviting.
You can apply any paint color to the wood trim as long as it matches the staircase trim and, ideally, the hardwood flooring. The combination of these elements will create a truly classic look, especially in a space where white (door) dominates.
Medium-Toned Wood Trim with Matching Exposed Beams

Now how about matching your white door's wood trim to other natural elements, such as the exposed beams. The idea is to coordinate the color of the wood trim with the beams. For this, you can opt for a medium brown paint or stain color for the wood trim.
As you can see in this example, the wooden beams are in medium-toned stain so you can use the same for the white door's trim. This will result in a finished look, but why stop there? You can also pair your room's other natural features with the color of the beams and trim.
For example, a room with a stone fireplace and wooden beams can work in harmony with the wood trim of the white doors by incorporating the same color into the design. With this idea, your white door's wood trim can steal attention while creating a brighter impression next to the crisp white door.
Hand-Carved White Door with Matching Wood Trim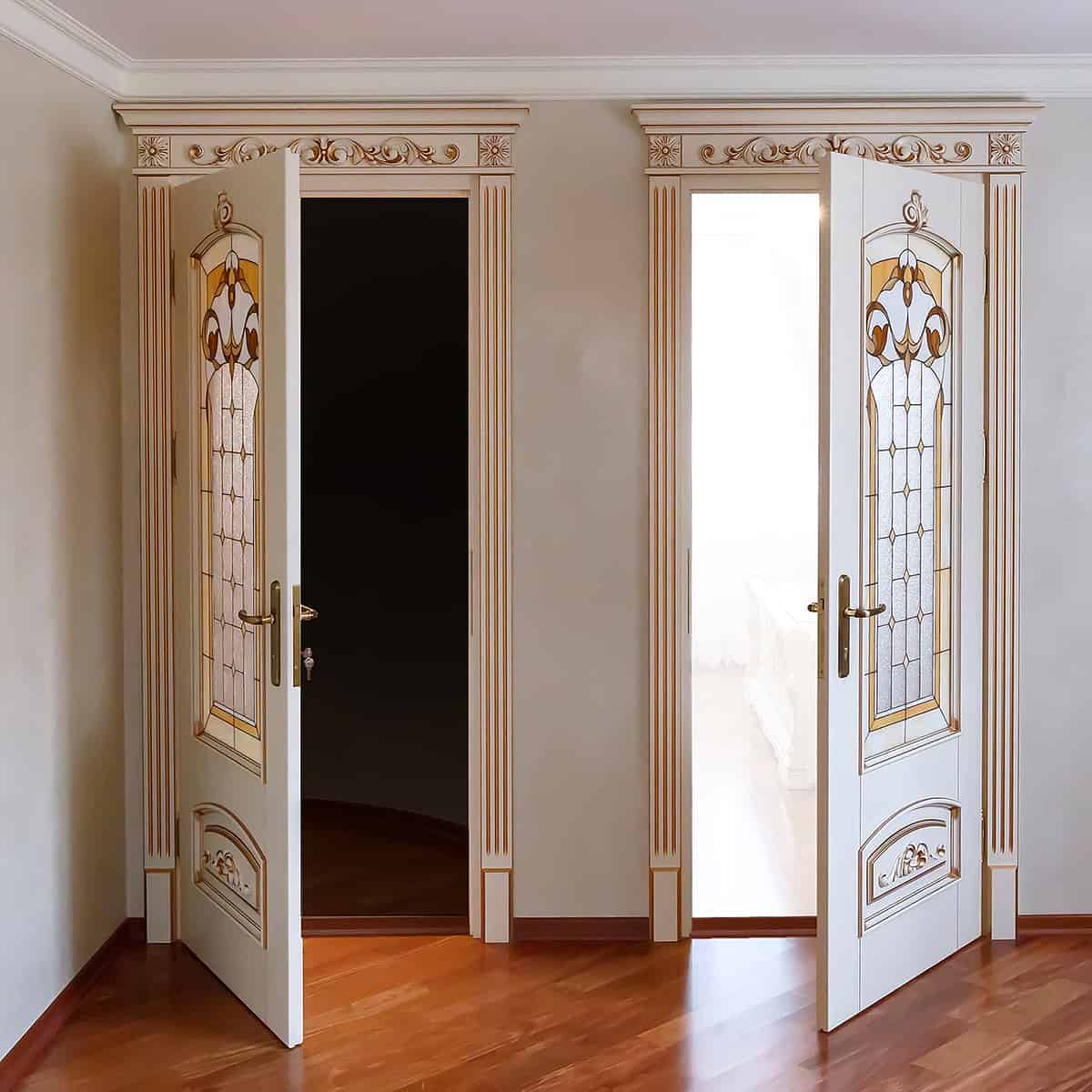 A home with white doors can look and feel a little cold. To create a cozy and warm ambiance, why not give your white doors a total makeover by considering adding hand-carved wood trim. With this idea, you can be as creative as you like and incorporate gold accents to the door's trim.
For example, here are some beautiful luxury white doors with elaborately designed trim for an elegant feel. We love the design and recommend it for both modern and traditional interiors.
Is White Door with Wood Trim Still in Style?
Yes. In modern homes, more and more homeowners are leaning toward painting their white door's wood trim. Whether you use a traditional shiplap or wainscotting frame to highlight your white interior door, wood as trim is still very much valued to this day.
In fact, white doors with painted wood trim will never go out of style as they are appreciated for the overall airiness they bring to the house.
The color choice for the white door's wood trim can be quite challenging as there are so many different stains and paints for wood. Having said that, you can be sure that a white interior door with painted wood trim will always remain in style, no matter what color you choose for the trim.
Should I Paint or Stain My Interior Wood Trim?
Whether your wood trim features intricately designed molding or just a simple frame, it must give your interior a polished, elegant look. If you have unstained wood trim framing your white door, you must think about the best color to paint your trim. By far the easiest and most coordinated paint color for a white door's wooden trim is white. But the question is, should you paint your wood trim in the first place? Let's take a look at the following factors to decide whether you should paint your white door's wood trim or leave it in its natural state:
Check the quality of your wood trim: your white door's woodwork can either be stained or painted grade. You must first determine the quality of the wood trim. If it's already been lacquered, take a look at the stained surface to see if the woodgrain shows. If it does, then you can be sure your wood trim's quality is high and there is no need to paint it.
If however, the wood trim is already painted and you wish to stain it, you'll need to remove the paint from the surface in order to determine the quality of the woodgrain. Once you've removed the paint, two or three coats of stain are necessary to give the wooden surface maximum coverage.
Some wood trims can easily be combined with both stains and paint in order to create a unique look. Consider the following tips before you start painting or staining your white door's wood trim:
You can paint your white door's trim white, but to balance out the room's other features, stain the window frames a darker color.
To highlight the impressive woodwork details of your room, paint the baseboards and crown molding around the ceiling the same color as your white door's wood trim.
By simply staining the wood trim a light color will help brighten up the room while retaining the charm of a traditional interior.
In a modern kitchen, you may paint the cabinets white to keep them cohesive with the white door. To visually break up the room though, stain the wood trim the same shade as the floor or the walls.
In Closing
Pairing your white interior door with a beautifully painted or stained wood trim can give your entire home a visual boost. But the trick is knowing how to use this combination for a cohesive and harmonious design.
The staircase railing and any other nearby features of your home must match the look of your wood trim in order to tie everything together. Since white doors go with most other colors, you can paint or stain the wood trim any color you like – as long as you also pay attention to your home's other architectural elements!
Hopefully, our ideas have inspired you to implement the same design in your own home.