If you are looking for a new rug for your home, then you may have heard about Ruggable. This is a company that produces a range of rugs with coveted qualities such as stain resistance and anti-slip bases, making them a popular choice for homeowners.
Here we look at the benefits of Ruggable rugs and investigate whether these types of rugs will be suitable for use on top of a carpeted floor surface.
What is a Ruggable Rug?
A Ruggable rug is a type of rug made and sold by the home interior company, Ruggable. These rugs are marketed as a revolutionary type of rug that is easy to clean so that you'll never have to throw a dirty rug away. You may also use the tips to clean a sheepskin rug for a Ruggable rug.
The Ruggable system comprises two pieces that make up the whole rug; this is a non-slip pad made from foam and a rug cover that attaches to the top of the foam.
The system is designed to give the user a comfortable rug that can be separated into two pieces to allow the cover to easily fit into a standard washing machine.
The non-slip pad does not go into the laundry, but it can be spot cleaned with an all-purpose cleaning spray and a cloth, or you could hose it clean and hang it out to dry.
As well as providing a comfortable feeling underfoot, the pad is also designed to ensure the rug stays in place and doesn't slide around to cause annoyance and potentially dangerous trip hazards.
Ruggable rugs break the mold when it comes to rugs since regular rugs cannot be laundered at home, and as a result, many people simply throw out their rugs and replace them when they get dirty.
Ruggable rugs are significantly more expensive than standard rugs, but they represent an investment purchase since they are the only rug you will need to buy because you can wash them rather than replace them.
Benefits of a Ruggable Rug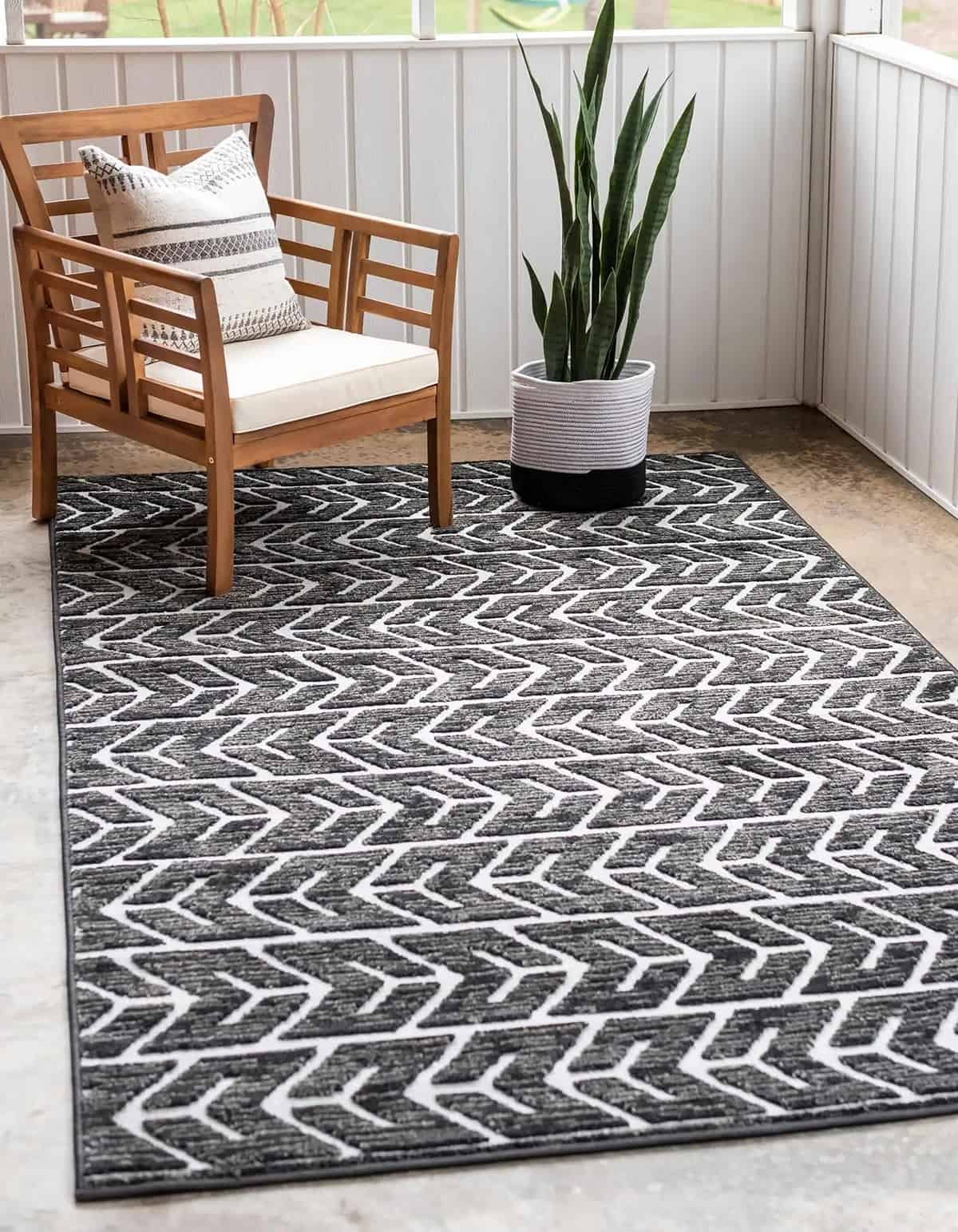 Machine washable
The covers of Ruggable rugs are machine washable. You simply remove the cover from its foam pad and throw it into the laundry on a gentle cycle at a low temperature.
Avoid using bleach or harsh laundry detergents as these can shorten the lifespan of the rug, and instead add half a cup of white vinegar to the laundry if you want to neutralize any odors on the rug cover.
The fact that the rug covers are machine washable makes these rugs stand out against all of their competitors because it means you can keep your rug clean and hygienic with ease.
Dryer compatible
Rug covers can be air dried on the washing line, but if the weather isn't conducive to this, you can put your rug cover in the dryer. Set the dryer to the lowest temperature, being careful not to overheat it.
The fact that the rug covers can be dried in a dryer makes them very convenient because you can speed up the drying process and get your rug back in place on the floor instead of having to wait for it to dry naturally.
Stays put
The foam pad, which makes up half of a Ruggable rug, is non-slip, so it can be placed on a hard floor, and you can be sure it won't slide around. The pads are made from a latex-free material and 100% recycled polyester, similar to what you would find in a yoga mat.
They offer comfort as well as functionality and will stay put even on a floor that is ordinarily slippy, such as glossy marble, tiles, or hardwood.
Wide range
Ruggable offers a wide range of rugs so that everyone will be able to find something suitable for their needs. As well as a vast selection of patterns, styles, and colors, Ruggable rugs come in numerous shapes and sizes to suit any room in the home.
The wide range is ideal for people who have specific requirements for their rug.
Stain-resistant
The rug cover on a Ruggable rug is stain-resistant and water-resistant. This means that when you accidentally spill a drink, for example, the liquid is not going to absorb into the rug and instead will sit on the top of the fabric.
This is a huge benefit for anyone with small children or pets, who ordinarily need to be kept away from rugs. If any stains do get pressed into the rug and leave a lasting mark, you can simply remove the rug cover and throw it in the laundry so that it looks as good as new.
Versatile
The fact that Ruggable rugs are stain-resistant and can be machine washed means you can use them in areas of the home that you might ordinarily avoid laying a rug in.
For example, you could position a rug beneath a dining table without worrying about potential food spills because you can simply put the rug cover in the laundry if it gets stained.
You could also position a rug in a playroom so that children have a soft and comfortable surface to sit on, content in the knowledge that any marks caused to the rug by the children can be removed by washing the cover.
Ruggable rugs also offer a selection of rugs that are intended for different uses, such as outdoor rugs and doormat rugs. Their unique qualities make them extremely versatile for a wide variety of situations.
Can You Use a Ruggable Rug on Carpet?
Ruggable rugs are designed to be used on flat, level floors, and the company themselves advises that the rugs will perform best on a hard floor surface. However, there are many customers of Ruggable rugs who have used them on carpeted floors, and they have been happy with the results.
Ruggable comments, "Our Ruggable Rug System has the most effective grip on hard surfaces. Customers who have placed their Rug System on carpeted floors have seen the best results when the rug is anchored with a sofa or heavy table and away from heavy traffic areas."
If you want to use a Ruggable rug on a carpeted surface, you should follow their advice and position some heavy pieces of furniture on top of the rug to help keep it in place since the foam pad is not quite as effective as it should be when it comes to non-slip qualities when used on carpet.
However, the carpet, of course, does not affect the other features of a Ruggable rug, so you will still be able to benefit from the anti-stain properties and the fact that a Ruggable rug cover can be machine washed.
If you are most interested in purchasing a rug that will stand the test of time since it can be laundered at home and won't incur any lasting stains, then a Ruggable rug is a great choice, even when used on carpeted floors.
However, if your interest in Ruggable rugs stems from the fact that you want a rug that won't slide on your carpet, then these rugs may not be the best solution for you.
Can You Use a Ruggable Rug on Heated Floors?
Heated floors have grown in popularity as an alternative way to traditional methods of keeping a room warm, which feels cozy on the soles of your feet. Ruggable rugs are compatible for use on heated floors, and they have been tested on surfaces with temperatures of up to 100°C or 212°F.
The heated floors will not cause any damage to the rug, and they are considered safe to use.
However, you should consult the manufacturers of your heated floors, as some recommend that floor covering are not used on the floors because they can increase the heat levels and result in warping of the floor surface.