If you are having carpets fitted for the first time, then you are likely to have many questions about what is going to happen on installation day.
The most common thing that homeowners want to know about having carpets installed is whether the carpet fitters will be prepared to move the furniture out of a room before they lay the carpet.
Here we investigate exactly what is included when you have a new carpet installed.
Will Carpet Fitters Move Furniture?
The answer to this is not quite as simple as 'yes' or 'no,' and for this reason, it is important that you discuss with your carpet fitters beforehand what they are prepared to do.
Planning
This will enable the fitters to plan their diaries properly and also allow you to prepare for the carpet installation. Carpet fitters will need to know in advance if you will require them to move furniture out of the room before they install a carpet. This is because furniture removal can add several hours to their job, so they need to be able to schedule you accordingly.
If a carpet fitter is expecting to simply install the carpet, then they may allocate a whole morning to your job and be required to install a carpet for another customer in the afternoon.
If they arrive at your home to find that they also need to move all of the furniture, then this is going to throw their schedule off, and they may even inform you that they simply don't have enough time to complete your carpet on that day.
Cost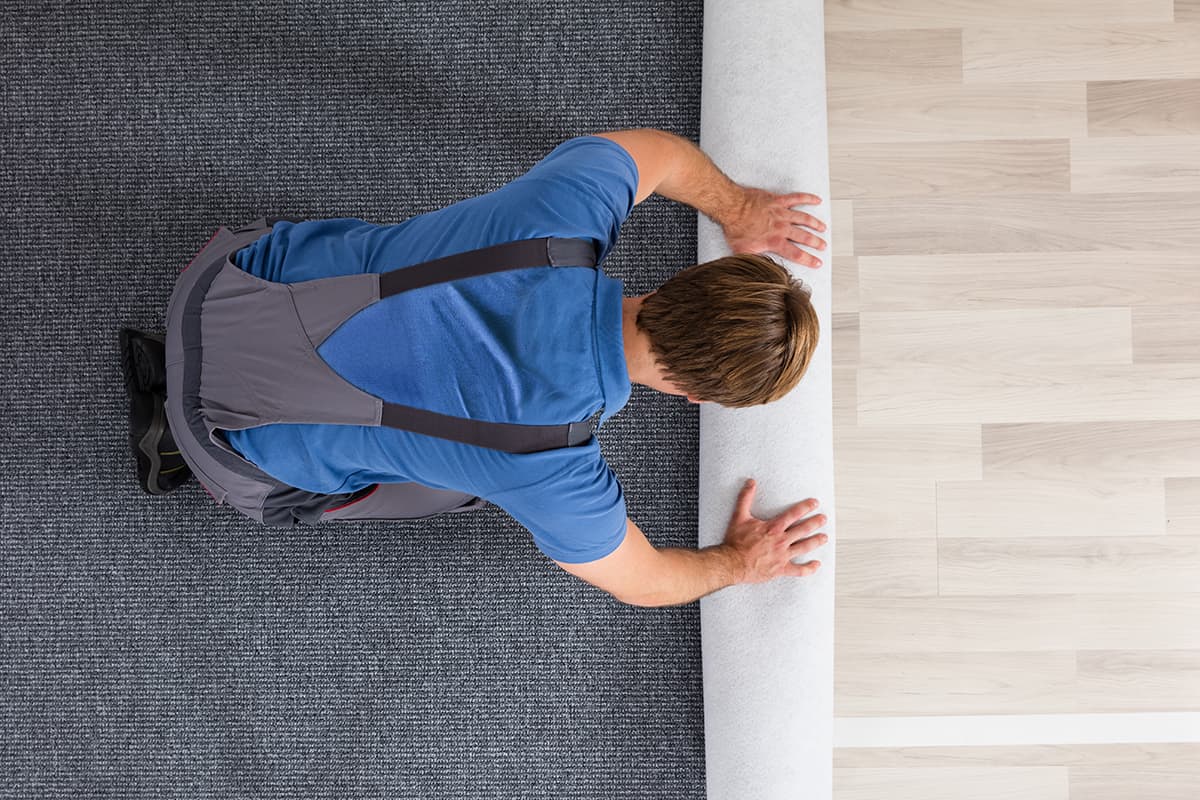 As well as being a planning issue, moving furniture will also be a cost issue. Since moving furniture takes a considerable amount of time, your carpet fitters need to know that you want this service included so that they can factor this into the price they quote you.
If you don't forewarn the carpet fitters about having to move the furniture, you could end up with an unexpectedly high invoice to pay.
Ability
Many carpet fitters work alone, so if you are expecting your carpet fitter to move heavy items like a bed or a sofa by themselves, then this will need to be discussed beforehand. Your carpet fitter might be able to bring a team to move the furniture, or they may inform you that the room will need to be cleared of all large or heavy furniture items before they arrive.
Breakables
Most carpet fitters are not going to want to be liable for moving delicate items such as vases, mirrors, and other breakables, since it is simply not worth the risk. For this reason, it is best to remove any breakable or specialist items from a room before a carpet fitter arrives.
Musical instruments are also a type of item that most carpet fitters will avoid handling, as these can be easily damaged and are typically worth a lot of money.
If you are unable to move these items out of a room before a carpet fitter arrives, you should hire a moving company who will be able to do this for you with the relevant insurance to protect them.
Preference
In many instances, the decision of a carpet fitter as to whether or not they are willing to move furniture in order to install a carpet will be one's personal preference. The job of a carpet fitter is simply to install carpet; it is not their job to move furniture, so on these grounds, a carpet fitter might insist that the room is already empty when they arrive.
Some carpet fitters may be happy to move a few pieces of furniture for you, but this is highly likely to incur an additional cost.
It is safe to say that most carpet fitters are very unlikely to agree to completely move all of the contents of a room for you, so at a minimum, you will have to empty the room yourself and potentially just leave a few pieces of furniture for the carpet fitters to move when they arrive.
What Should You Do Before Carpet Installation?
Empty the room
If you are physically able, you should completely empty the room of all belongings before a carpet fitter arrives to install the carpet. If you cannot do this yourself, you could ask a friend or family member or hire a removal company to do it for you.
Some carpet fitters will agree to move pieces of furniture if you discuss this with them beforehand, but this will incur an extra fee and is not considered to be part of the normal package a carpet fitter offers.
Disconnect wiring
All wiring and electricals should be disconnected so that these are not in the way of a carpet fitter installing the carpet.
Vacuum existing carpet
You should vacuum your existing carpet so that when it is removed, it will not create a cloud of dust.
A carpet fitter will remove an existing carpet as part of their job, but this will usually incur an extra charge, especially if you want the carpet fitter to dispose of the carpet themselves. Alternatively, you can save yourself some money by removing the carpet yourself.
Remove existing carpet
If you remove the carpet yourself, do not attempt to lift it all in one solid piece. Instead, use a utility knife to section the carpet into slices which can be rolled up and removed from the house in a much more manageable fashion.
Then the final step is to install the carpet. How long the carpet installation takes depends on how big your room is and whether you want to remove furniture and floor or not. Basically it will take from 1 to several days.
Where Should Furniture Go During Carpet Fitting?
Other rooms
If you are only having a carpet fitted in one room of your house, for example, a bedroom, then you should remove all of the belongings and furniture from that bedroom and temporarily store them in other rooms around the house.
For example, you might put the bed in the living room, the nightstands in a guest bedroom, and the dressing table in the hallway.
Garage or shed
If you are having several rooms carpeted in one go, then you could empty all of your furniture into the garage and the shed.
Musical chairs
When having the entire house carpeted, the musical chairs solution is often employed because there simply isn't enough room in the garage to hold all of your furniture, and you don't want to pay to rent out a storage unit. For this method, move all of your living room furniture into your dining room and kitchen while the living room has a carpet installed.
Once this is complete, move all of the furniture from the dining room back into the living room, along with the dining furniture, so that the dining room carpet can be installed. Upstairs, put the master bedroom furniture in the guest bedroom while the master bedroom carpet is installed, then move all of that furniture into the master bedroom while the guest bedroom carpet is installed.
The drawback of this method is that you will be placing heavy furniture directly on freshly fitted carpet, which can damage the adhesive underneath and cause permanent dents in the carpet.
Storage unit
If you need to empty your entire house of furniture to have carpets fitted, a short-term storage unit for rent is a good solution.