Desert homes are typically found close to the Nevada desert or the Grand Canyon, where few landscapes can compete with such inspiring views.
While picking the ranch house color scheme tends to be simple and there are lots of examples, choosing an exterior paint color for a desert house is more challenging.
Colors that absorb heat like black and dark purple don't make a suitable option as desert homes endure long hours of direct sunshine throughout the year.
When you're trying to decide on the best desert house colors, you need to first experiment with light and vibrant hues to create the exterior design you're seeking.
Southwestern regions in the US boast warm and earthy desert homes with awe-inspiring architecture. Whether your desert home's exterior is made of sandstone, plaster, or stucco, we have compiled some excellent color ideas that work with any architectural style and accents of these homes.
But before we show you the examples with photos, let's first learn more about the main characteristics of Southwest-style homes or desert houses.
Identifying Southwest Style or Desert Homes
To help you understand the concept of the desert or Southwestern-style homes, we must first discuss the typical exterior colors of these homes. Influenced by native Indian and Spanish cultures, desert houses are typically painted in warm, earthy hues, such as creamy yellow, beige or tan.
These homes are often seen in the outer Las Vegas area as their color palette allows the exterior stucco to withstand the hot, arid climate. Most homeowners of desert houses tend to stick with a warm beige color, which blends into the desert background.
To put it simply, Southwest color palettes are defined by natural colors that are seen in the surrounding landscape of the region. While there are no set rules on which exterior colors work best, it is best to stick to traditional hues, such as earthy greens, muddy beige or browns, and grays in order to evoke the serenity and tranquility found in the desert region.
These earthy tones make up the main color palette of Southwestern homes and are also displayed in the interior walls, floors, and furniture of desert homes. That said, you can always pair the mentioned subdued colors with bold tones like blue and orange or even rich red to highlight your home's exterior design palette.
Aside from the typical exterior paint colors, there is also the paint finish you need to think about. Glossy tones aren't ideal as they lose their sheen over time under direct sunlight. A matte finish will ensure maximum durability.
Now that you have a better understanding of the concept of Southwestern style homes, take a look at the best paint color ideas for desert homes:
Desert House Color Ideas
Warm Beige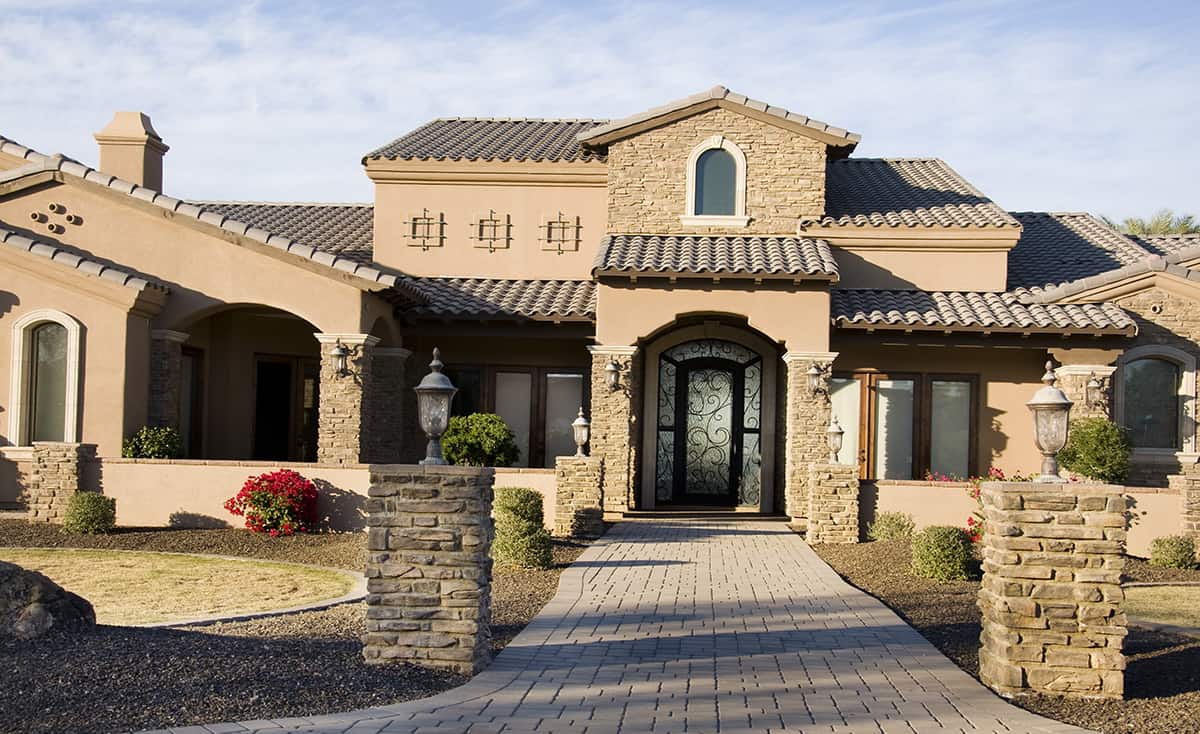 Desert homes are most typically painted in warm beige tones to mimic the desert background. Shades like oatmeal, sand, cream or fawn are the most popular exterior colors for desert homes.
This is because beige functions best under the intense desert sun. This color doesn't absorb heat so when your visitors come to your home, they won't feel uncomfortable in the excess heat. Plus beige blends harmoniously into the surrounding desert landscape.
To add a punch of color to your sandy beige house, choose a darker front door and roof shingles in order to keep the beige exterior in the background as per the example shown here. The warm beige desert house is coordinated well with several trim colors and dark gray roof shingles.
Creamy Light Yellow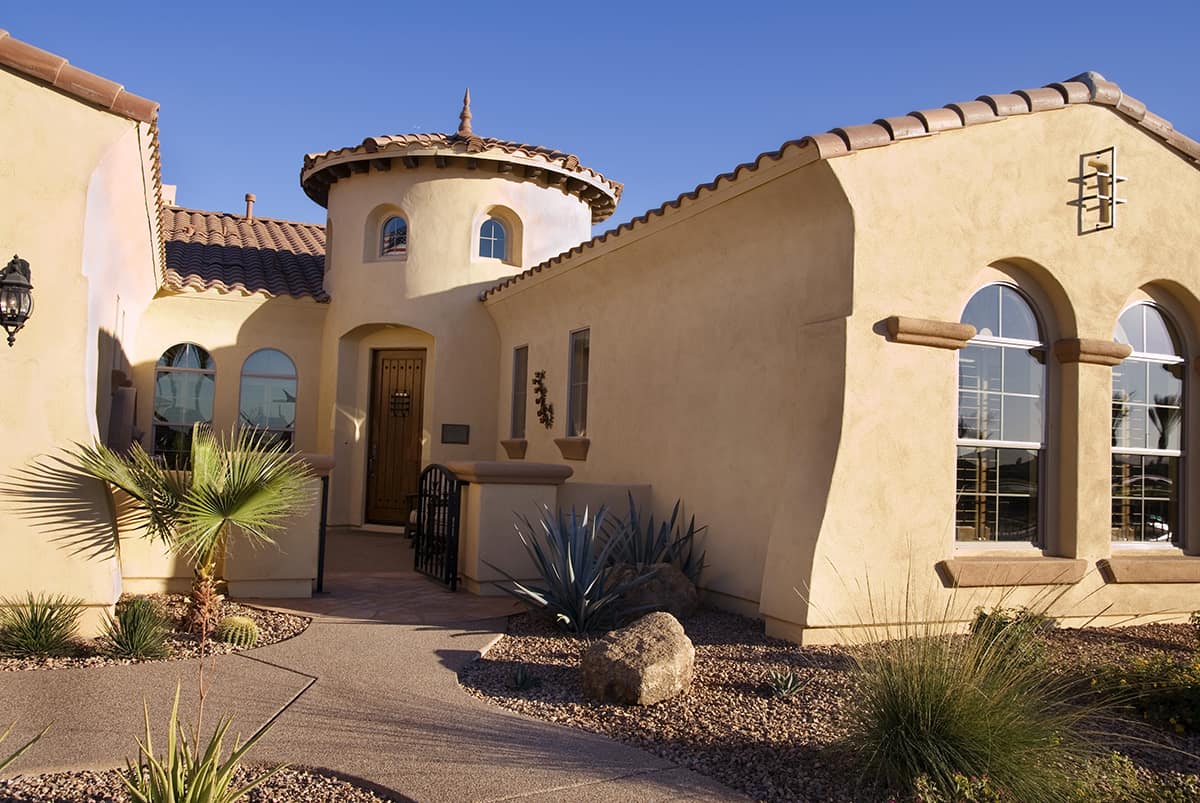 Just like beige, light yellow shades also go well with a desert landscape. This warm color repels direct sunlight and prevents the UV rays from absorbing into the desert house.
A soft, muted yellow shade is ideal for a desert house exterior as it doesn't stick out and overwhelm. From classic yellow to corn harvest and mustard, your choice of yellow paint finish shouldn't be too bold for the desert environment.
Tan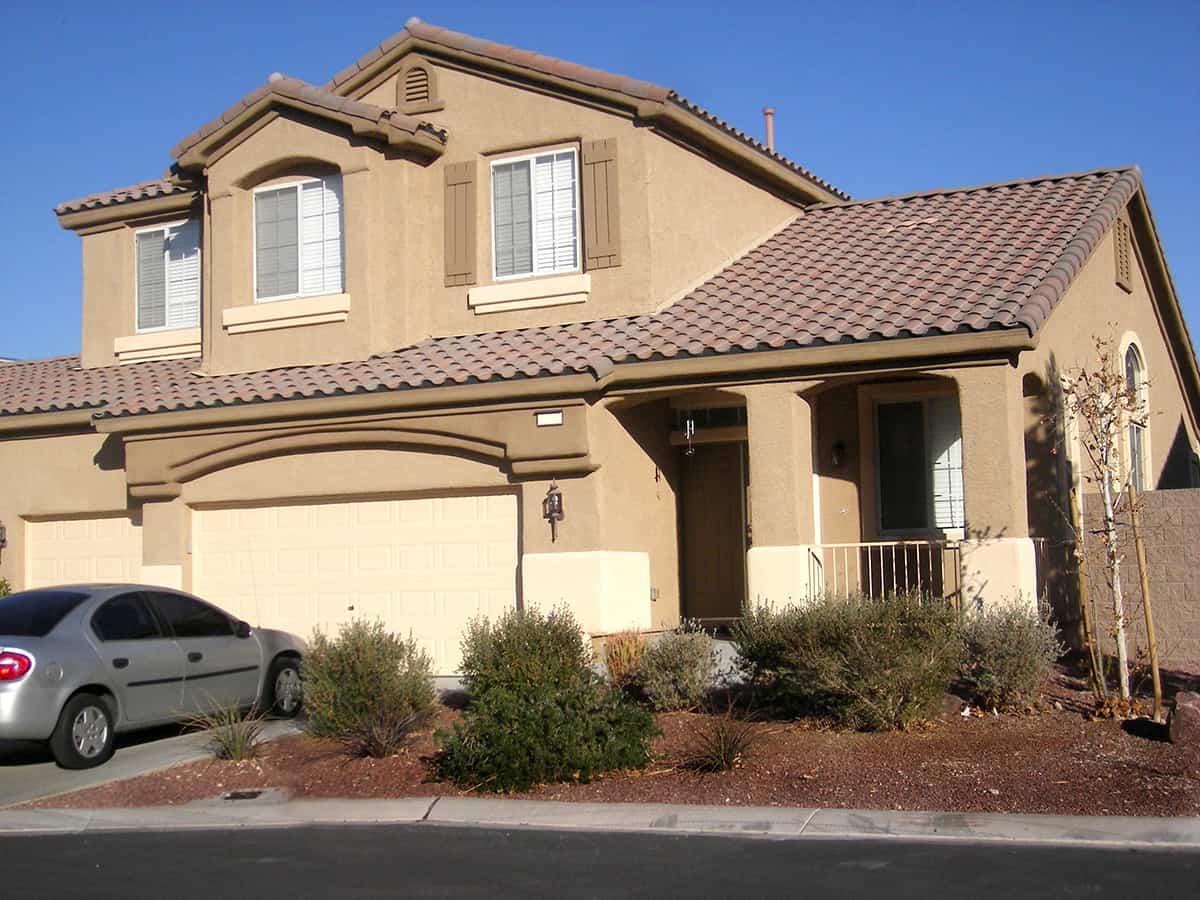 Aside from beige and muted yellow, there are other warm, neutral colors that reflect the richness of the surrounding mountains. Cedar, cinnamon, and tan can alleviate the desert landscape thanks to their light tones. These colors not only prevent heat absorption but are also ideal for pairing with bright trim hues.
This attractive Southwest-style house in Las Vegas boasts tan exterior walls that stand out against the beige trim and tan shutters. The brown guttering is a complementary touch that works in harmony with the rest of the color palette.
Terra Cotta Orange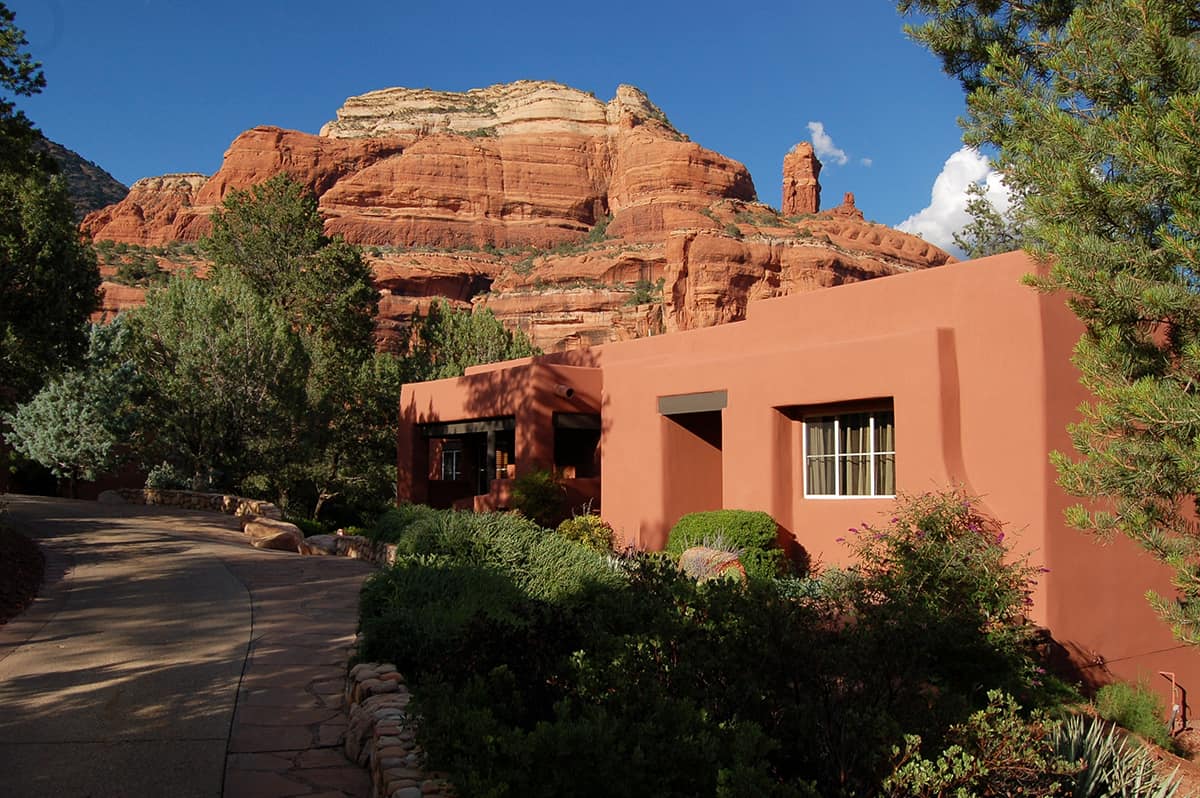 Warm, earthy paints like terra cotta orange have always been a favorite of Southwest homeowners. This hue can withstand the hot sun while creating a beautiful contrast to the greenery and blue sky.
As you can see here, the stunning Arizona mountains in the background look identical to this terra cotta orange desert house. The simple-designed house boasts a brick-colored exterior with a flat roof for a classic desert look.
Light Gray and White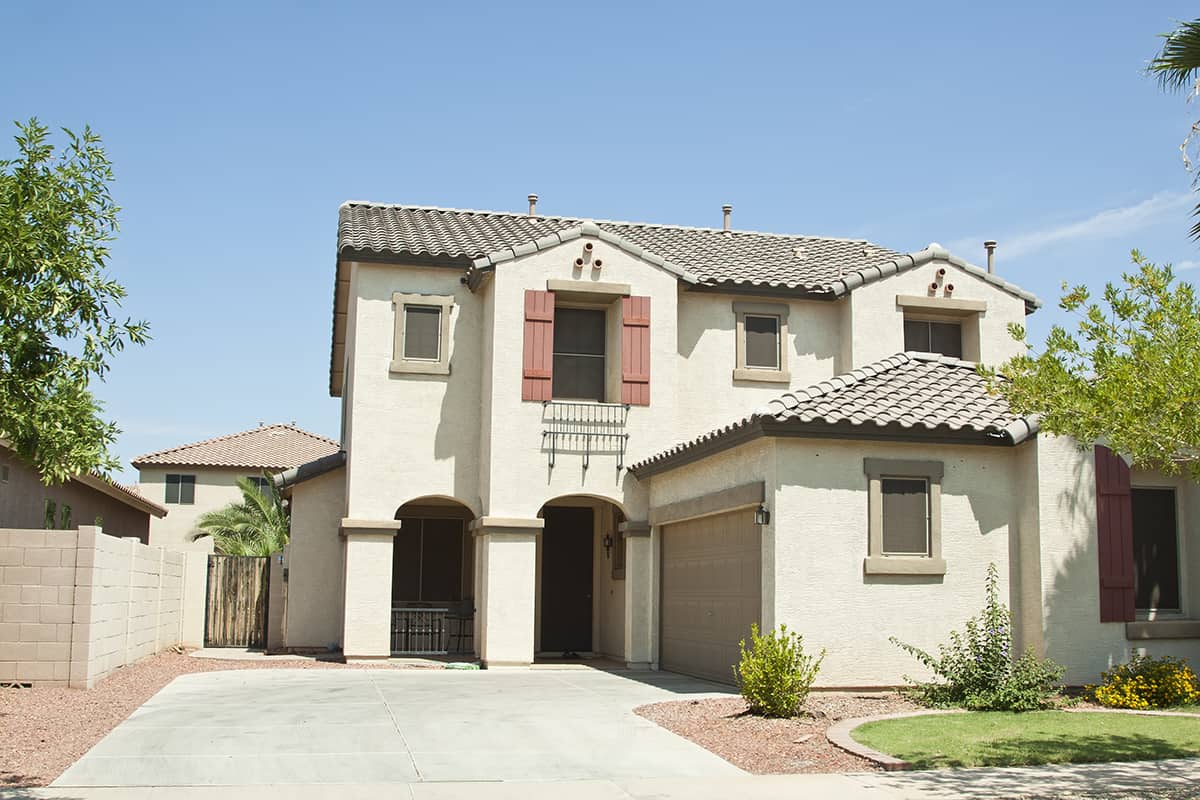 A light gray exterior gives a modern feel to a desert home, without sticking out like other bright colors. When combined with white, light gray can fit naturally into the desert backdrop. Sheer white trim will give your home a clean aesthetic, while the light gray roof and trim will balance the focus on the desert landscape.
This modern desert home boasts a white and gray exterior with a hint of vivid color seen on the shutters. This example is ideal for anyone who doesn't want to paint their entire desert house a single neutral color.
Off-White
Whether your desert home has a panoramic view of the Nevada mountains or it overlooks the Arizona desert, off-white paint can be a great (and modest) alternative to gray. Off-white makes a smart choice given the Southwest region's extreme sun exposure, as it doesn't absorb as much heat as other dark colors.
This charming desert house has an off-white exterior tone that perfectly goes with the greenery and concrete walkway. The dark green shutters and dark roof shingles blend beautifully with the landscaping without overwhelming the exterior color palette.
Brown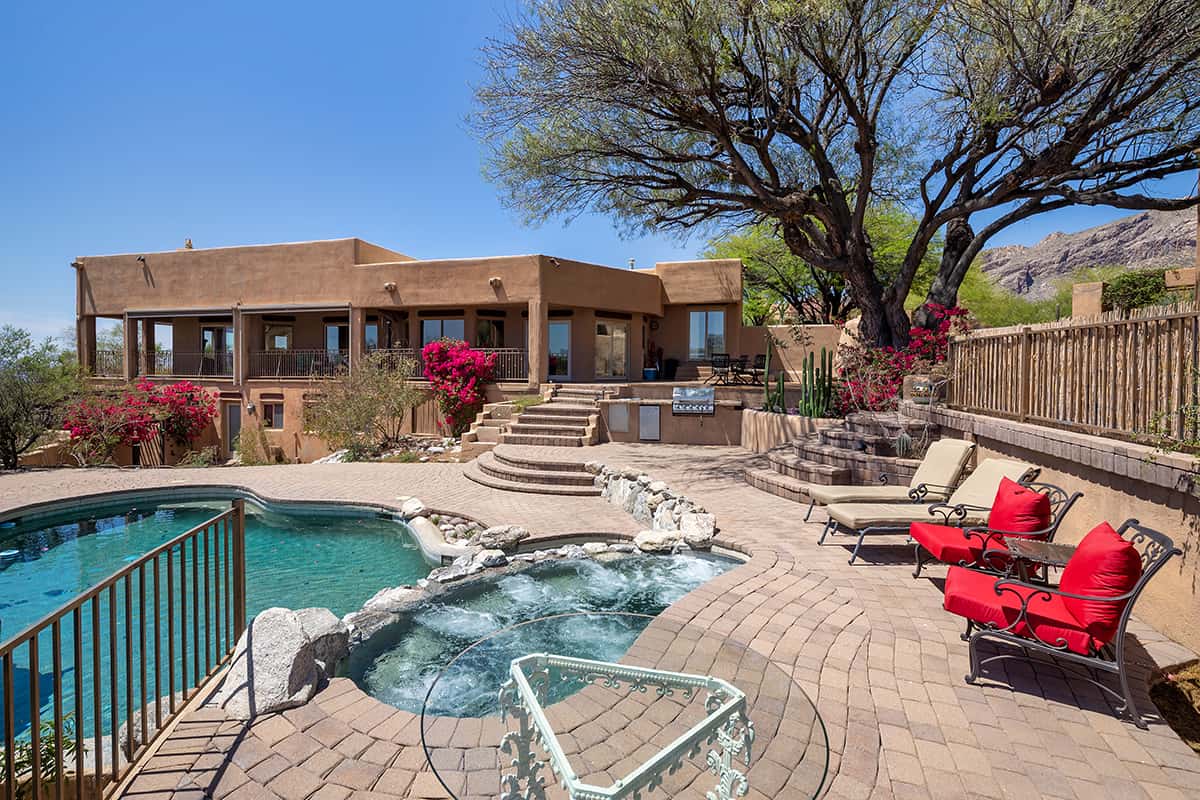 Just like tan and beige, any shade of brown will work for the exterior of Southwestern-style houses. Brown is a neutral, earthy hue that goes hand in hand with the brown mountains in the background of a desert home.
There are numerous brown shades to pick from, including sienna, cinnamon, chestnut and desert sand. Each of these shades blends well into the desert background and can easily be accentuated with other lighter trim colors.
Here is a great example of a brown desert home with a flat roof and a swimming pool.
Dark Gray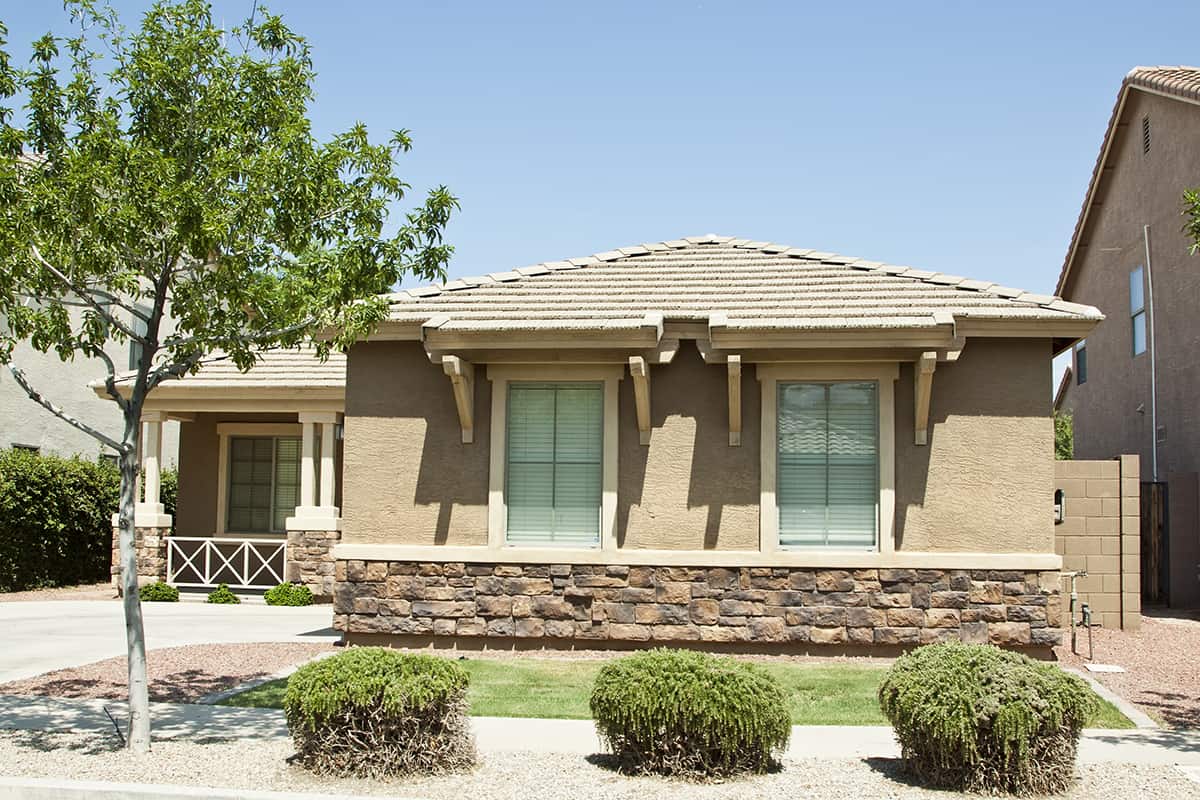 We've previously suggested light gray with the white combo, but how about a darker shade of gray with white trim? You can even incorporate this combination with natural stone siding to make your desert home stand out among the rest.
Stone gray is closely associated with sandy tones so it makes sense to go for a dark gray exterior paint with a matching roof shingle as shown here.
Bright White, Brown, and Tan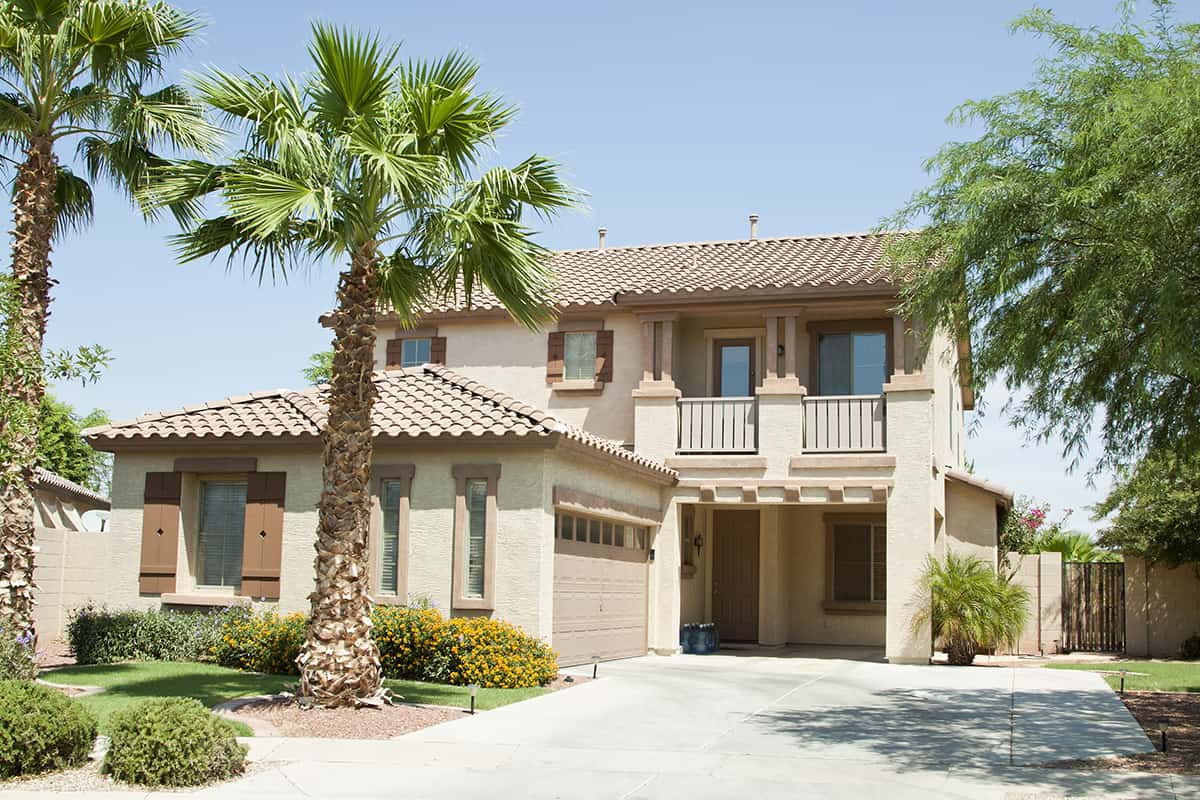 A desert home with a classic white exterior need not look monotonous. When paired with traditional colors like brown shutters and a tan garage door, a white desert home can be a true head-turner as per the photo here. For anyone who doesn't want an all-white exterior paint on their desert house, a combination of white, brown, and tan can be just what you're looking for in terms of mixing neutral colors together.
Bold Colors
Are the colors we've mentioned so far not bold enough for you? Then how about opting for deeper exterior paint shades like greens, blues, or reds. These colors still have an earthy, warm feel but in a more prominent way than grays or beige.
Bold paint colors provide a nice pop on Southwest style and mountain homes as they still blend with the surrounding natural landscape.
Wrapping it Up
Desert home exteriors are typically painted the same color as the surrounding landscape. But if you want your Southwestern-style home to stand out in the desert, you don't have to limit your options to warm, neutral colors.
Vivid exterior colors like orange, blue, and even white can work beautifully when paired with neutral trim and decorative metal elements. If you want your desert home to pop, bright, bold exterior colors are the way to go. On the other hand, if you want your home to blend into the surroundings, then opt for warm, earthy neutral tones.