Shiplap has been around for such a long time; originally used on boats, not it has been used on home siding, in modern style houses like farmhouses, coastal homes, and as accents as well. If you're thinking of using shiplap for exterior or interior applications, learn about the dimensions of the planks here.
What is Shiplap?
Shiplap is a type of siding which was originally used on boats to make them watertight. It is composed of long planks of wood that fit tightly together in a slightly overlapping fashion, using grooves in the wood. This went on to be a popular use of siding for barns and other structures since it was effective at protecting buildings against weather while also being relatively inexpensive and easy to install.
The style has been simulated for the purpose of interior design, creating rustic or coastal themes looks. The shiplap produced for interior use will not necessarily have the same groove features as traditional shiplap since it does not need to be a watertight surface but instead will just have the look of shiplap.
Shiplap Origins
Shiplap dates back to the age of the Vikings when it was used on ships to ensure they were watertight. This meant that the people could sail safely across the oceans without water seeping in. However, shiplap required continuous maintenance due to the natural properties of wood, and it became a less popular method for creating watertight ships as more weather-proof materials were discovered.
Shiplap went on to be used for external property siding since it kept the elements out, making it popular in extremely cold or wet climates. It was also favored for its low maintenance and strength.
Shiplap for exterior siding will typically be constructed from pine or similarly low-cost lumber options, which also makes it budget-friendly. In the 20th century, shiplap became a popular interior surface covering in interior design, creating a homely or nautical look.
Shiplap Sizes
As we already discussed, shiplap is used on home siding or on walls in the interior. Here we'll look at the sizes for each of them.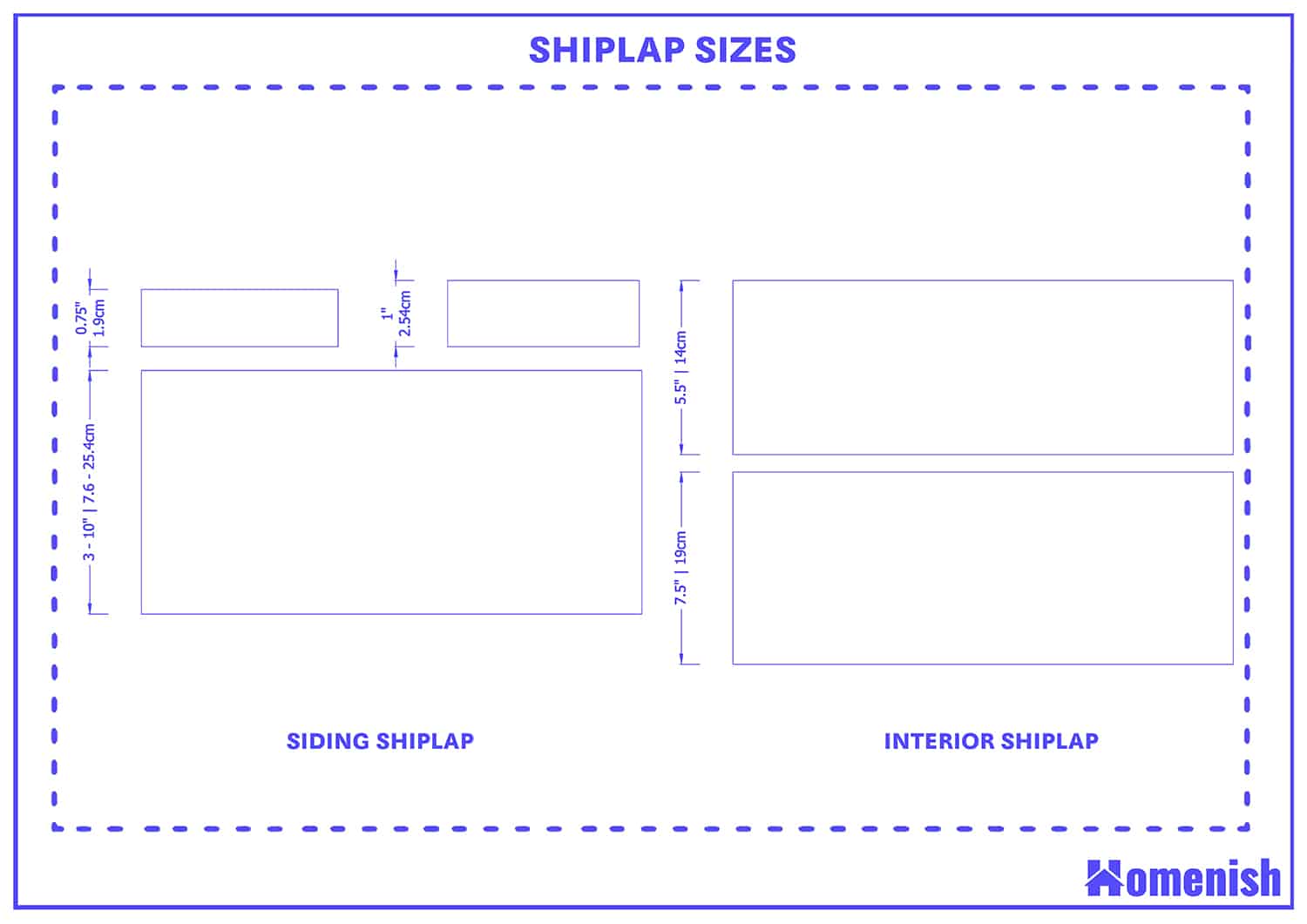 Traditional Shiplap Size
Shiplap used for the purpose of siding will have a thickness measurement of either 1 inch or ¾ of an inch and a width measurement of anywhere between 3 and 10 inches. Each length of lumber will have a groove cut out of it to create a ridge or recess where each piece can overlap and fit together. This is what allows shiplap to have its weather-tight quality.
Interior Shiplap
Shiplap, which has been created for the purpose of interior design uses, is different from traditional shiplap. This is because it does not need to actually fit together; it just needs to create the same look. Shiplap planks can come in various sizes, but the most typical sizes are widths of 5 and a half inches and 7 and a half inches.
A ridge will separate each plank of wood which gives the authentic look of traditional shiplap. Although this is a nice aesthetic finish, it does come with the disadvantage of being a small space where dust can gather. You can remove this dust with a handheld hoover on a regular basis to prevent it from building up.
5 ½ inch
Shiplap with a width of 5 and a half inches is a good choice for medium-sized rooms. It adds interest and detail and helps to emphasize the length or width of a room when it is installed horizontally.
Avoid installing this shiplap horizontally in rooms with low ceilings, as it can make the ceilings appear even lower. Instead, install the shiplap vertically to create a sense of height where it doesn't actually exist. Shiplap, which measures 5 and a half inches in width, is great for traditional or vintage style looks.
7 ½ inch
This size of shiplap will create a more modern and minimalist look due to the oversized planks. It can make a small room feel bigger, so it is ideal for more compact spaces as well as larger rooms. It will be quicker to install compared with shiplap with smaller widths since it will cover a greater surface area in a shorter amount of time.
Shiplap for Interior Design
If you are considering using shiplap in a room, then there are various ways you can apply it to achieve different looks.
Rustic
Shiplap is great for creating a rustic look in a room. To do this, use wood that has raw cuts on it and has not been varnished or lacquered. This will help to achieve a country cottage style that looks unfinished.
Coastal
Shiplap is great for creating a coastal look in a beach or nautical-themed space since it has close associations with boats. For a coastal style look, paint shiplap in white, or whitewash it with a watered-down white paint. You could also paint it light blue or navy blue to give it extra character or leave it in a natural wood finish for a more casual look.
Classic
Shiplap adds a classic look to a room when it is sanded down to a smooth finish and painted in a neutral shade. A high gloss finish works well to accentuate a classic or traditional style.
Feature wall
Use shiplap on just one wall in a room to create a feature or accent wall. You could finish the shiplap in the same color paint as the rest of the room for a textured look or paint it in a contrasting color to help it stand out.
Cozy lodge
A cozy lodge style can be achieved with shiplap left in a natural wood finish or stained in a darker wood shade. This is a look that feels warm and comforting in a ski lodge or woodland chalet. Use soft fabrics and textures to accentuate the cozy style, such as plaid flannel cushion covers and a sheepskin rug.
Extend room proportions
Shiplap is traditionally applied horizontally, and doing this will help to make the wall seem wider. If you have low ceilings, then you can apply shiplap in a vertical position to create a visual illusion of the room being taller than it actually is. In a room that already has high ceilings, apply the shiplap in a vertical direction to draw attention to the dramatic height of the space.