Owning an old ranch house allows you to experiment with a number of exterior colors that give the facade a total makeover. Whether your ranch house has a blend of Cape Cod, Craftsman or Mid-century modern design, you can spruce up the exterior by choosing some excellent paint colors.
A fresh coat of exterior color palette can really transform the curb appeal of an old ranch house, which is why we have compiled some beautiful ranch house color ideas for you to get inspiration from.
But first, let's get a better understanding of this American house style.
What is a Ranch House?
As an essential part of the American living and architecture, the ranch style house has been around for almost a century. This type of home is usually a single story structure built in the late 40s. Often seen as a bland design by Victorian and Cape Cod style fans, a ranch house has undergone many upgrades since its first inception. A simple coat of complementary exterior paint can do wonders to spruce up the entire structure, as you're about to see later.
Although there are many older style homes that are perceived as ranch living, the most popular style we are familiar with was born in the early 30s by the architect Cliff May from San Diego. By the 50s, most homes in America were built in the ranch style. However, by the 70s, people favored two-story homes with more elaborate ornamentation, such as the Colonial style that followed soon after.
The typical characteristics of an original ranch house evolved around the single-story design, with the structure built from simple brick or wood siding. The shallow pitched roof consists of deep overhangs and the top of the entry usually has a gabled roof.
When World War II came to an end, the ranch style homes were mostly bought by the returning soldiers as they were seeking affordable homes for their families. The ranch design was purposely built in a simple layout that embraces outdoor living, with a front patio used for entertaining, family gatherings or relaxation.
Now that we've learned a little about ranch style houses in the US, it's time to show you some excellent exterior paint colors to spruce up your home's facade…
Best Exterior Paint Colors for Ranch Houses
White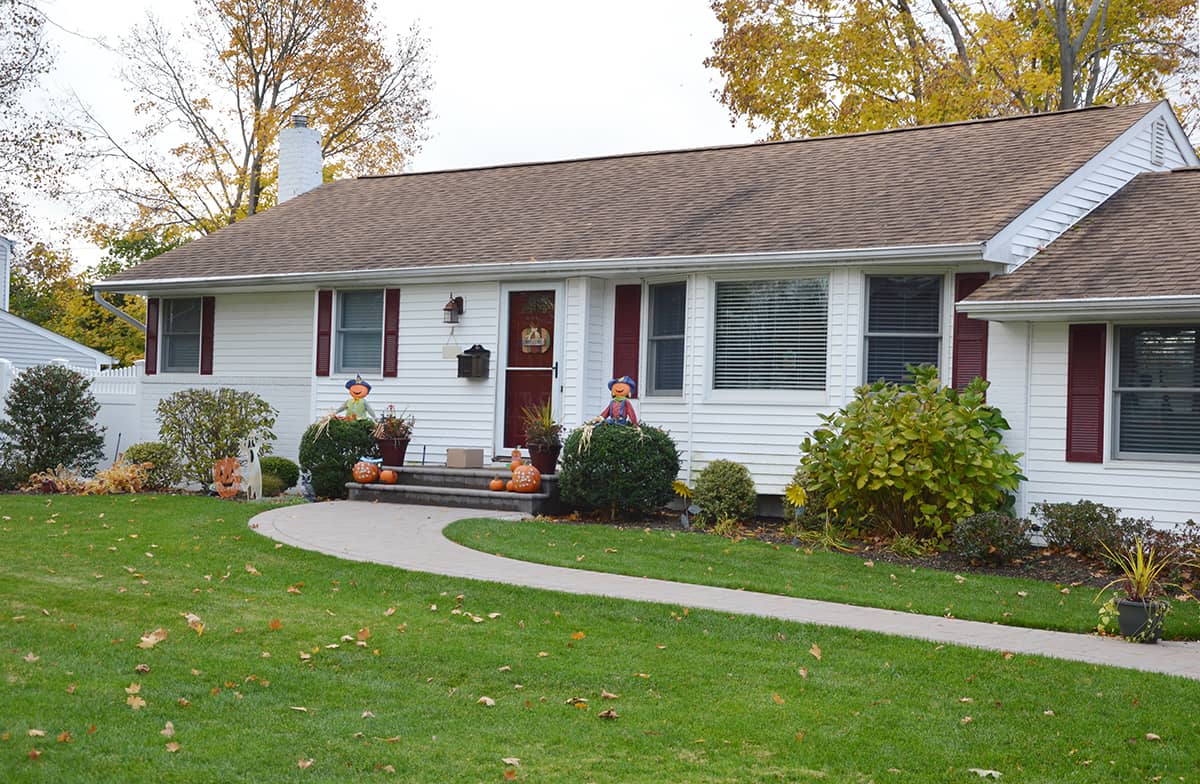 Ranch homes usually have larger than average side windows that make the exterior appear disproportionate. This includes any trim as an odd ratio to the windows. You can make your ranch home appear much bigger by painting the exterior a bright white hue. And as for the trim, add bold red shutters like the picture shown here. A blend of bold trim with white siding will make your ranch home's exterior stand out.
This home's bright, crisp white exterior has a clean look thanks to the red shutters that tone down the white siding without overpowering it. An all-white ranch house looks tidy, especially when it's surrounded by green landscaping. Simple and stylish is how we like it!
Blue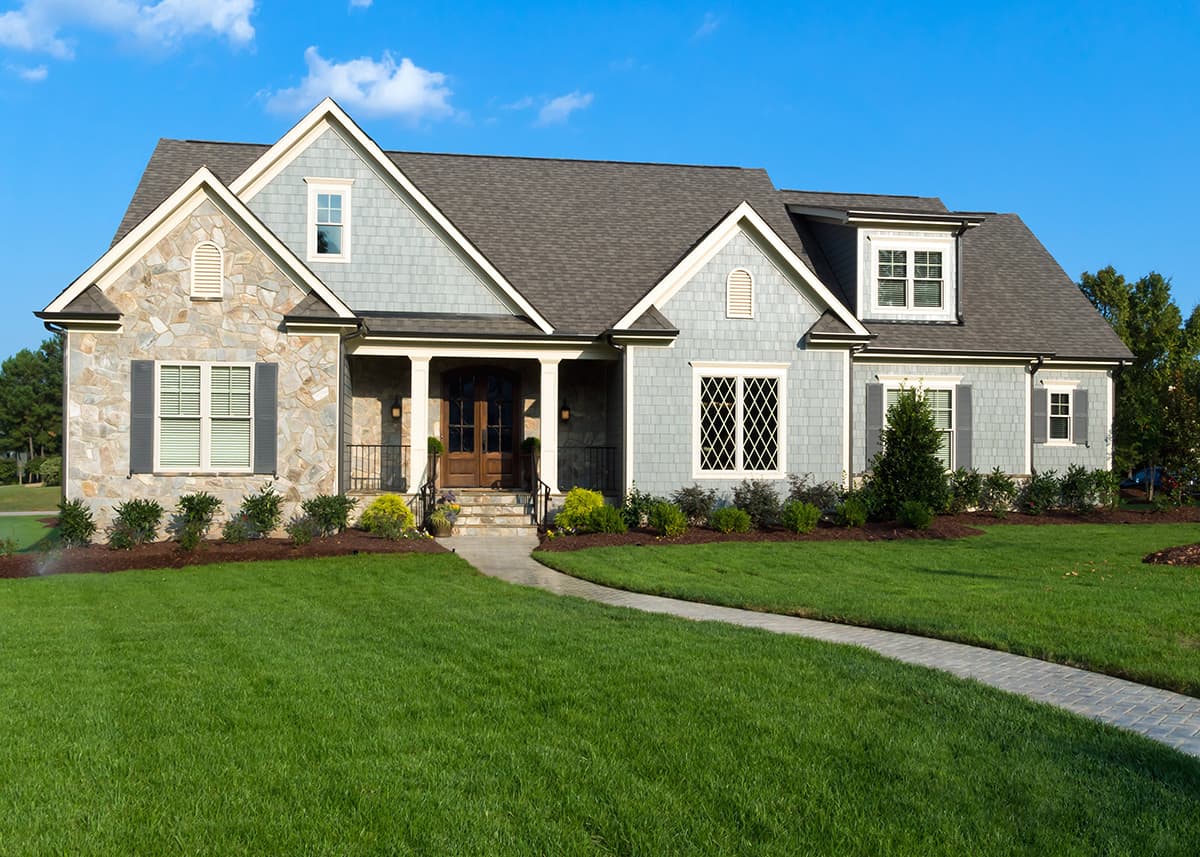 Older style ranch houses mostly feature deep blue or grayish-blue exteriors. This is a sophisticated paint color that unites the trim and accents with the exterior facade. When you have a traditional ranch house surrounded by green nature, a beautiful shade of blue paint will make it look more inviting and comfortable.
This ranch home boasts a mix of gray stone siding with light blue exterior, accentuated with dark gray shutters and roof. The use of white trim has brightened up the exterior and drawn the eye upwards.
Brown Stained Wood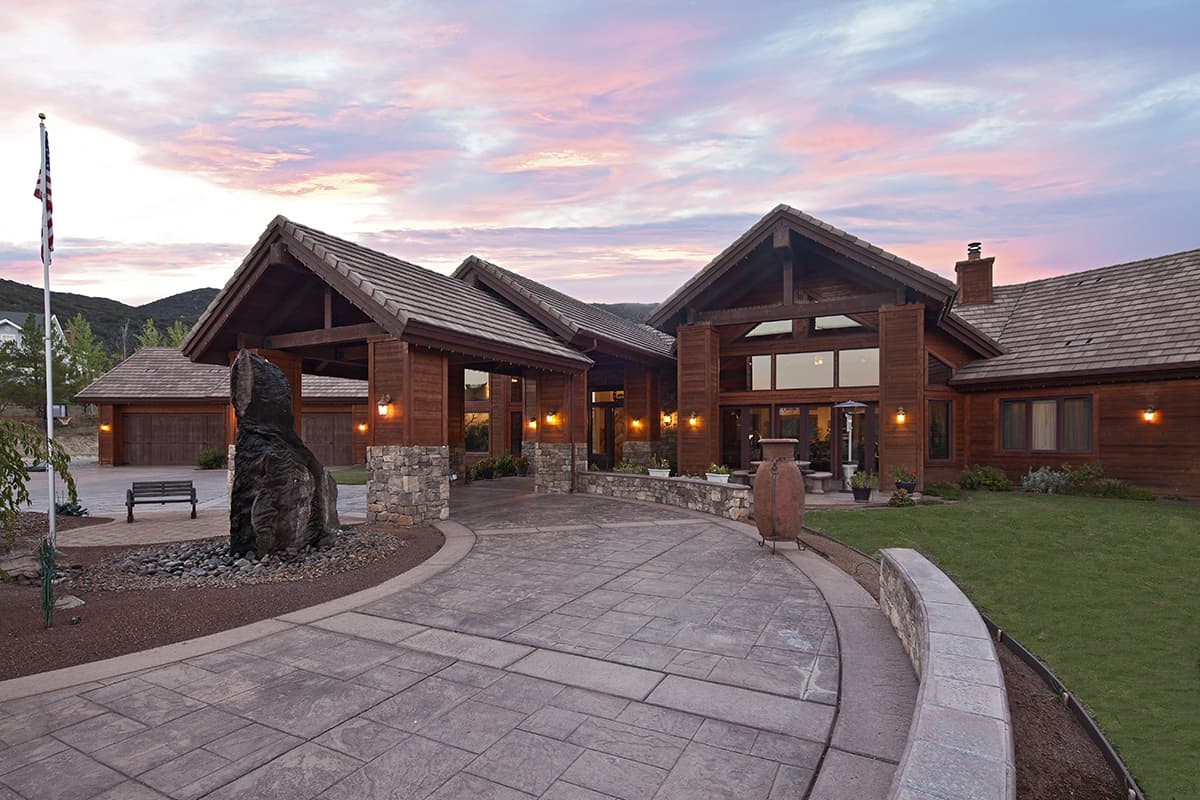 An excellent way to enhance the simplicity of your ranch home and inject some character into its facade is to use brown stained wood siding. If your ranch house is already built with wood, then you may want to just paint the surface brown just like the picture here.
This extensive ranch house boasts a beautiful brown wood siding that complements its dark exterior. The chestnut brown hue goes beautifully with the rest of the facade and adds dimension. Since brown has a warm tone, it blends very well with natural surroundings.
For a cohesive look, use multiple shades of brown for the trim and siding in order to create a warm, rich exterior.
Pale Yellow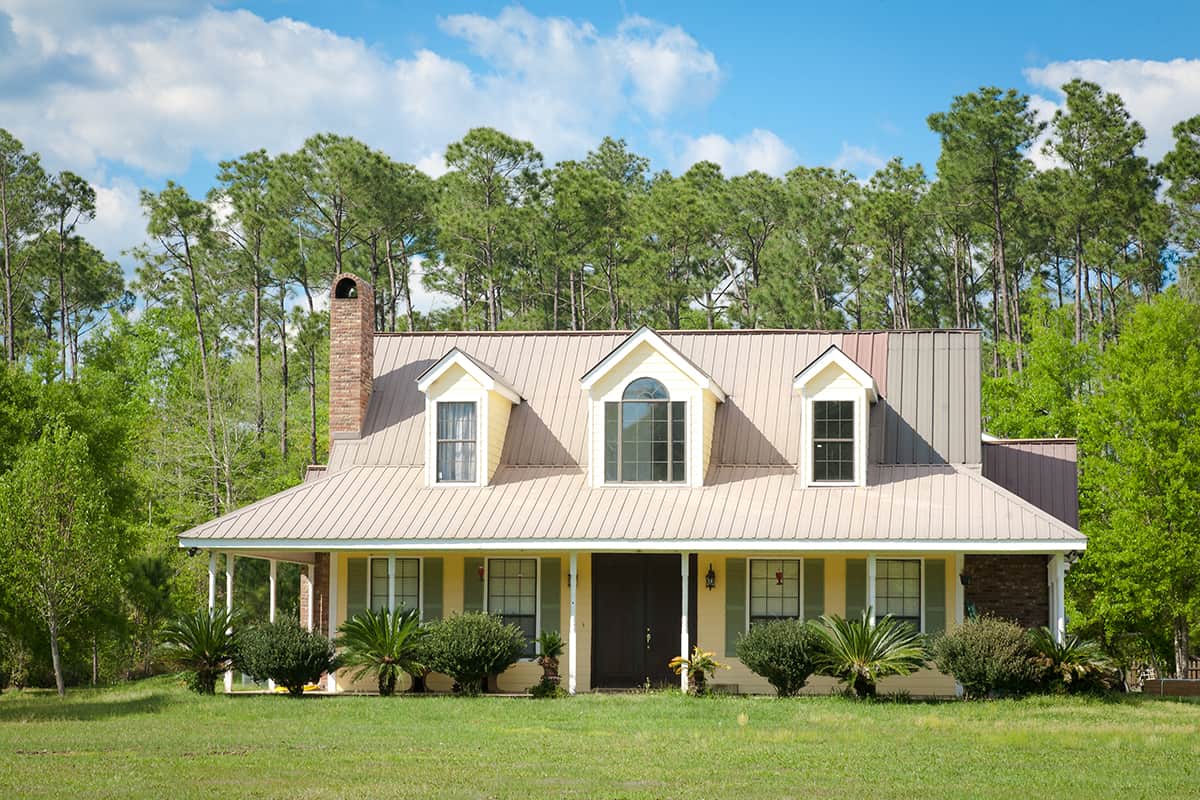 If you favor a brighter exterior paint color for your ranch house, then how about a subtle shade of yellow. This is also a warm color just like brown, but with added visual interest. Yellow blends in nicely with any surroundings and as you can see in this photo, it emits a warm and inviting feel.
Gray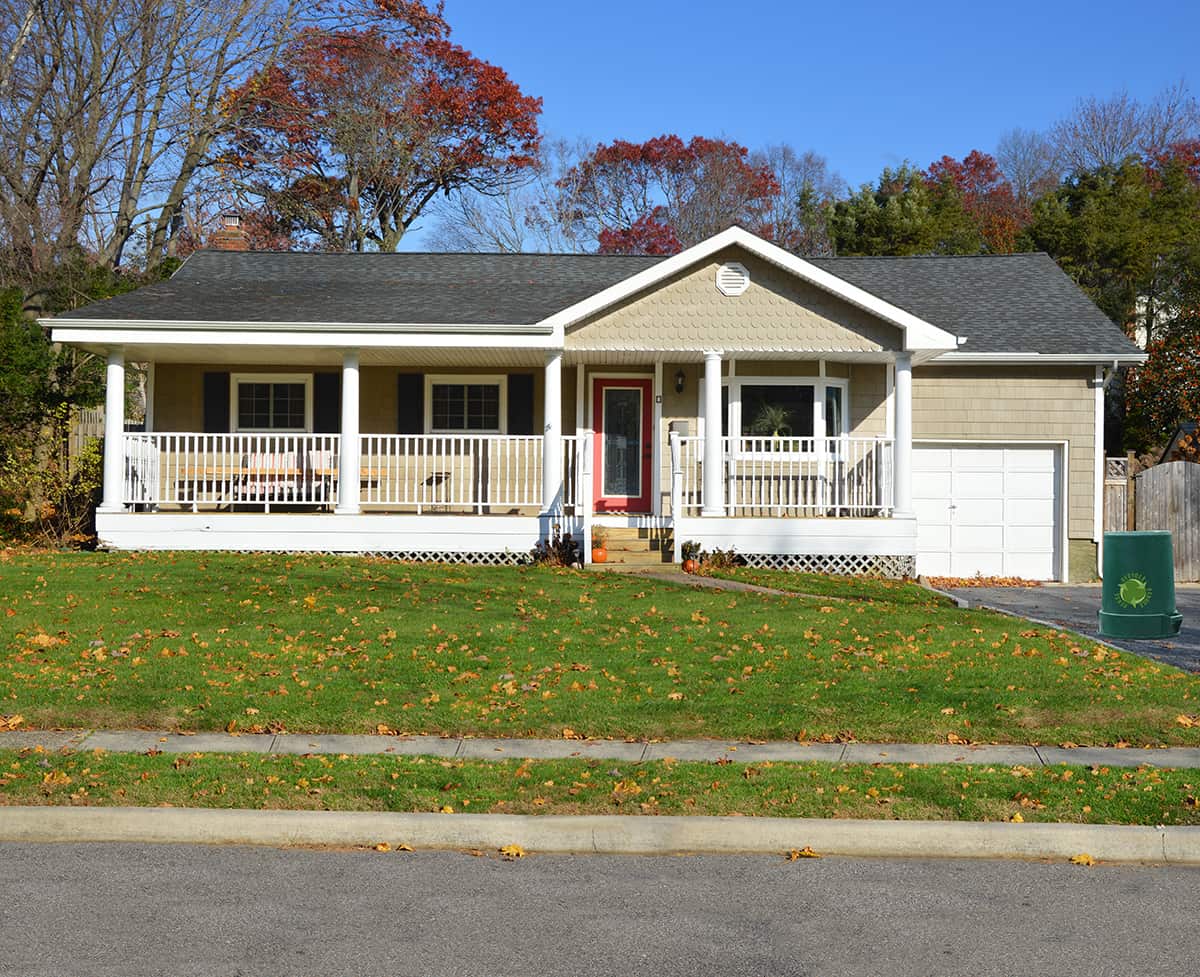 Gray is without doubt a popular paint color for a ranch house as it looks the same as stone siding. A gray siding with white accent or trim is sure to look chic and distinguished. Whether your ranch house is made of stone or stucco, gray can bring depth and texture to your home's exterior.
Light gray pairs well with white trim just like the photo shown here. But even red and black trim will look stunning next to gray. This ranch house looks relaxing and homely thanks to its light gray exterior and bright white trim.
Beige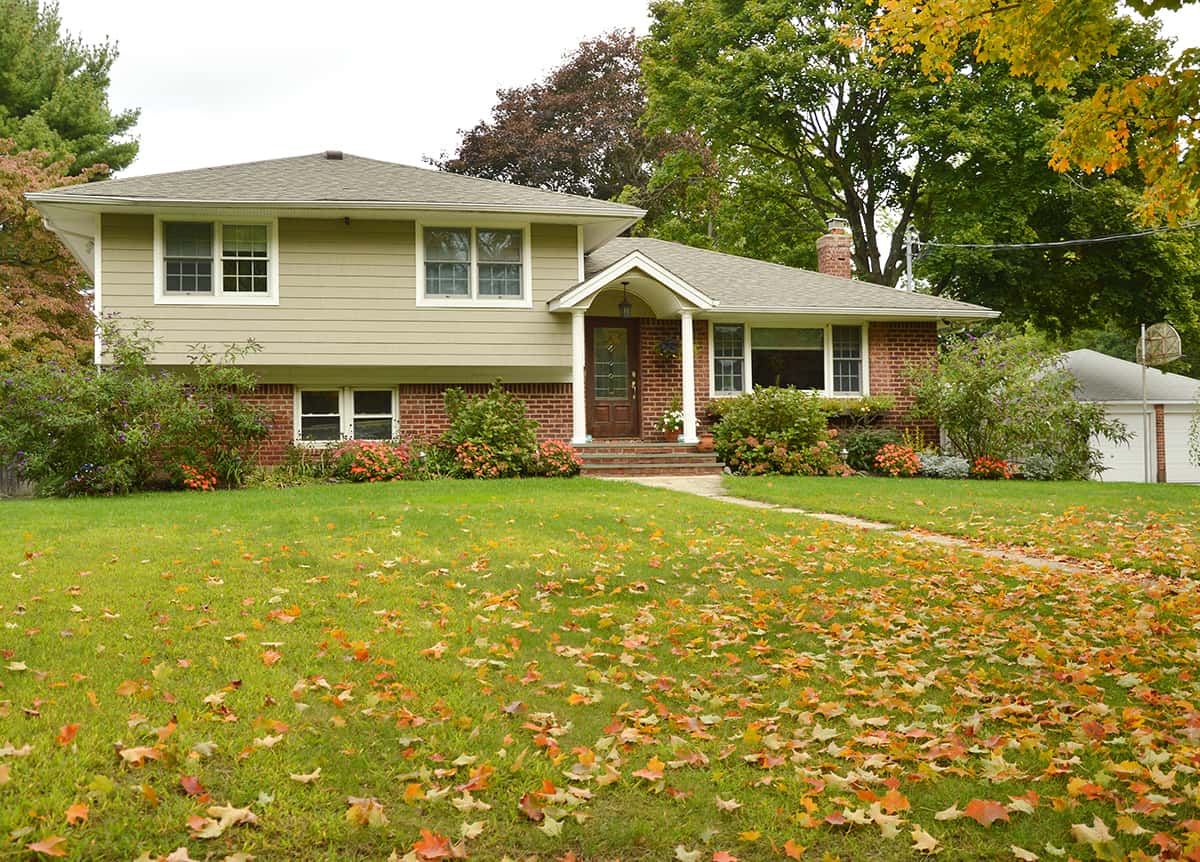 Just like pale yellow, beige is another beautiful neutral color that also brings warmth to a ranch house exterior. Beige works well with most natural siding materials, including brick and wood. It also goes with other warm trim tones like red.
This modern ranch house isn't a typical single story home, but the beige and red brick exterior work very well here. Sandy beige is one of those neutral hues that can be combined with any bright tone to spruce up the overall appearance of your home.
How Do I Update My Ranch Home's Exterior?
There are a few strategies you can implement to give your simple designed ranch house a total makeover. Aside from painting the exterior, here are some additional ways to update an old ranch house:
Boost Visual Interest with Layered Landscaping
Ranch houses are typically single story structures with a low-lying roofline. Since the roofline is horizontal, it helps to add vertical, layered landscaping in order to break up the flow. This can be done by adding hanging pots or decorative details to the front porch.
If your ranch house exterior could do with a little updating, a lack of landscaping will make your home look rather flat or one-dimensional. Tall trees and evergreens will elevate the height of your front yard and raise the eye from the one-story building.
Surrounding your home with greenery at different heights will help elevate your structure's position. After all, if everything sits at different levels, the groupings of varied sized plants keep the eye moving.
Play with Texture
When you paint your ranch home's exterior, you're instantly updating the facade. Paint the exterior a light or bright color to help it blend in with the surrounding, and for pops of texture, include wooden shutters or other attractive trims around the windows. Stone or wooden columns along the front will also bring a nice texture to the ranch house.
Add a Front Porch
Since ranch houses are connected with the outdoors, you will often find sliding glass patio doors at the back opening. But how about adding a front porch to your ranch house in order to create the same effect? A front deck with a wooden porch can add charm and character to your home. Plus it's a great way to invite guests or neighbors over!
Frame the Windows with Wood
Wooden window frames are natural and add the much needed character to a ranch house. This traditional trim styling is a great investment as the wood frame prevents the window glass from breaking. What's more, wooden frames don't crack or warp, thus adding resale value to your ranch house.
Draw the Eye to the Entrance
A ranch house is typically known for its simple and sleek exterior design. But why not spruce up the entrance by incorporating a modern tone. For example, a front door with sidelite windows in a contemporary design can draw attention and set a formal tone, especially if you use double doors.
To inject some personality, spice up the front door by painting it a bold color like blue, red or yellow for an eye-catching pop.
Add a Gable Roof Above the Entry
If you still find your single-story ranch house exterior too plain, consider adding a gabled roof at the top of the entry. This charming addition will boost curb appeal and blend into the front patio to highlight the entrance door.