Gray has emerged as an unlikely new neutral in interior design over the past few years. Once thought of as bland and lifeless, gray has been transformed into a trendy shade with endless versatility. Once you have selected the perfect tone of gray paint for your walls, you may face the dilemma of choosing a couch color.
Though this may seem like an overwhelming task, given that gray can be paired with almost any color and look stylish, you can narrow down your options if you know the type of look you want to achieve in your living room.
Here we look at the most in-demand colors and shades right now for couches that go with a gray wall.
Pink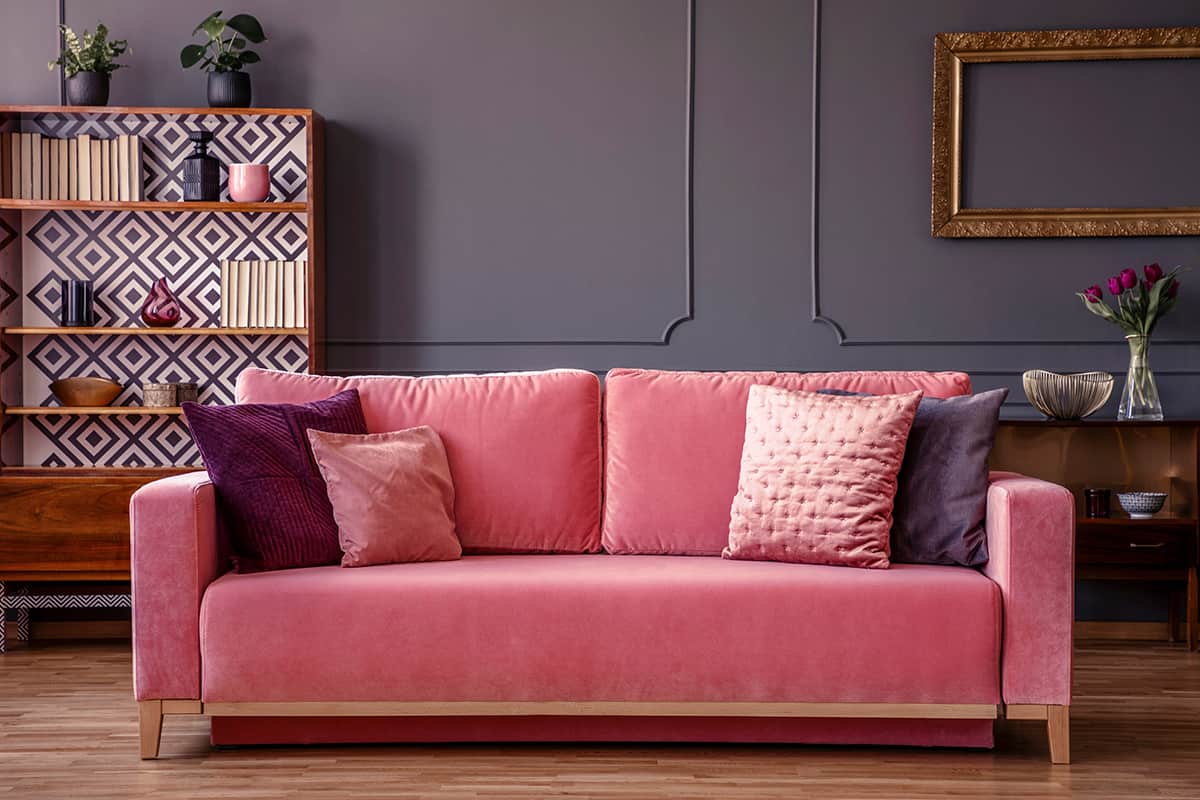 Pink and gray is a color combination that has been gaining traction recently, first in nurseries and children's bedrooms, and now in adult bedrooms and more common areas of the home like living rooms, dining rooms, and even kitchens.
Pink and gray may seem like an unlikely pair, but the right shade of pink can balance out gray perfectly. Opt for a blush pink or dusky pastel pink sofa against gray walls to add a playful and lighthearted touch to an otherwise serious color. Soft pink is a warm color, so a pink couch next to a gray wall will help to level out the cool tones in the gray and create a more feminine feel in the room.
The textures you use when pairing gray and pink are important. For a luxurious yet comfortable style, choose a sofa in a soft microfibre finish and add Mongolian fur cushions for added depth, or to heighten the elegance in a room, opt for a pink velvet sofa against gray walls and add small touches of black into the space with black picture frames.
Green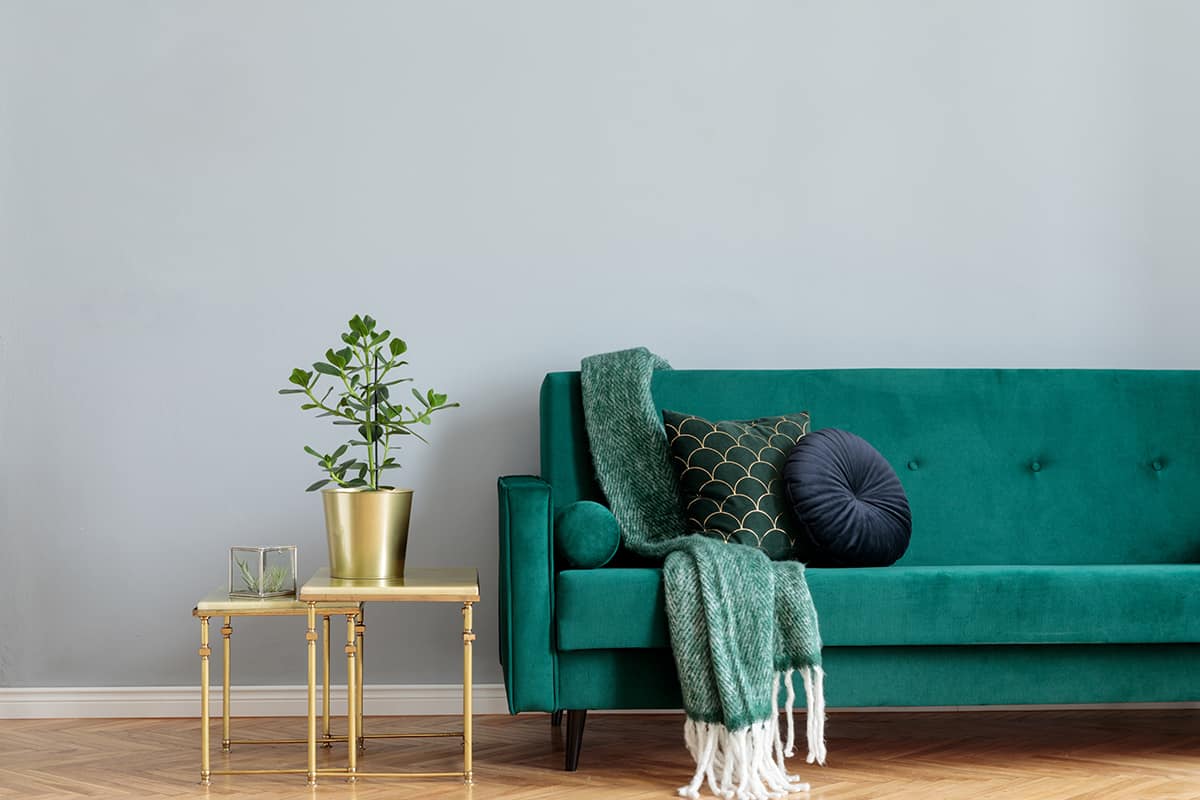 Green brings the impression of nature into a space, so if you want your gray living room to replicate the feelings of the great outdoors, you can choose a green sofa.
The shade of green you opt for will help to define the atmosphere in the room, so consider how you want your living room to feel. An olive green sofa against a dark gray wall will look contemporary and dramatic and can evoke feelings of the rainforest.
To sink into this theme, decorate your room with tropical houseplants like a Monstera deliciosa, and scatter animal print cushions on the couch.
If you lean more towards a cozy style, then a mint green sofa would work better against a gray wall. Use pale or medium gray paint for the walls, and choose tactile fabrics to create a living room you want to snuggle up in.
Blue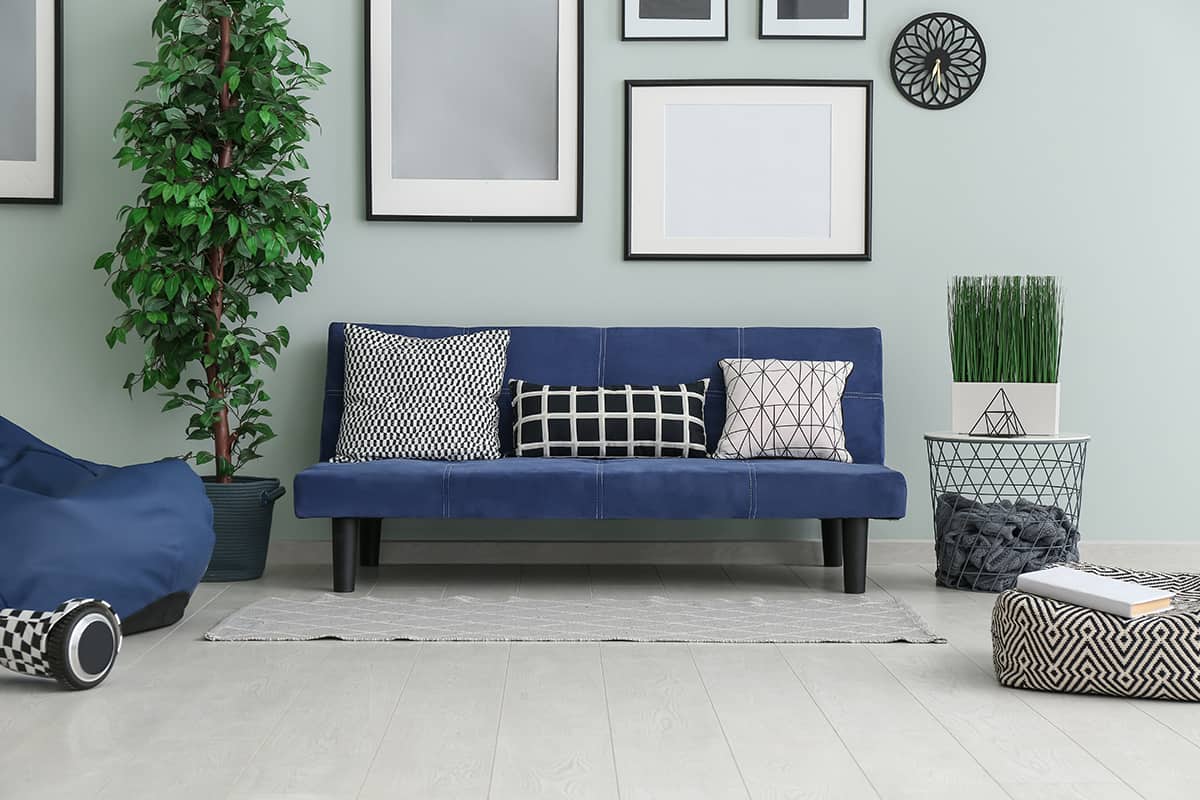 Blue and gray are an easy color pairing that can work in a wide variety of ways. If you have pale gray walls, you could achieve a coastal vibe by choosing a pastel blue or sky blue sofa. These light, cool shades will make the room feel open and airy and induce beach memories.
You could also go for a more formal nautical style by painting the walls in a medium to dark shade of gray, such as slate, and introducing navy blue furniture. This interior theme would work well with touches of gold, such as a gold clock and gold plant pots, or with white accents.
A blue couch set against a gray backdrop also has the capacity to look modern and refined, for example, if the couch is upholstered in a rich blue velvet fabric. You could also achieve a more relaxed, casual space by setting a blue linen couch against a pale gray wall.
Blue is an easy color to use with gray because most shades of blue will complement gray nicely, so if you are second-guessing yourself and feel unsure about which color to use with gray walls, then blue is a safe bet.
Yellow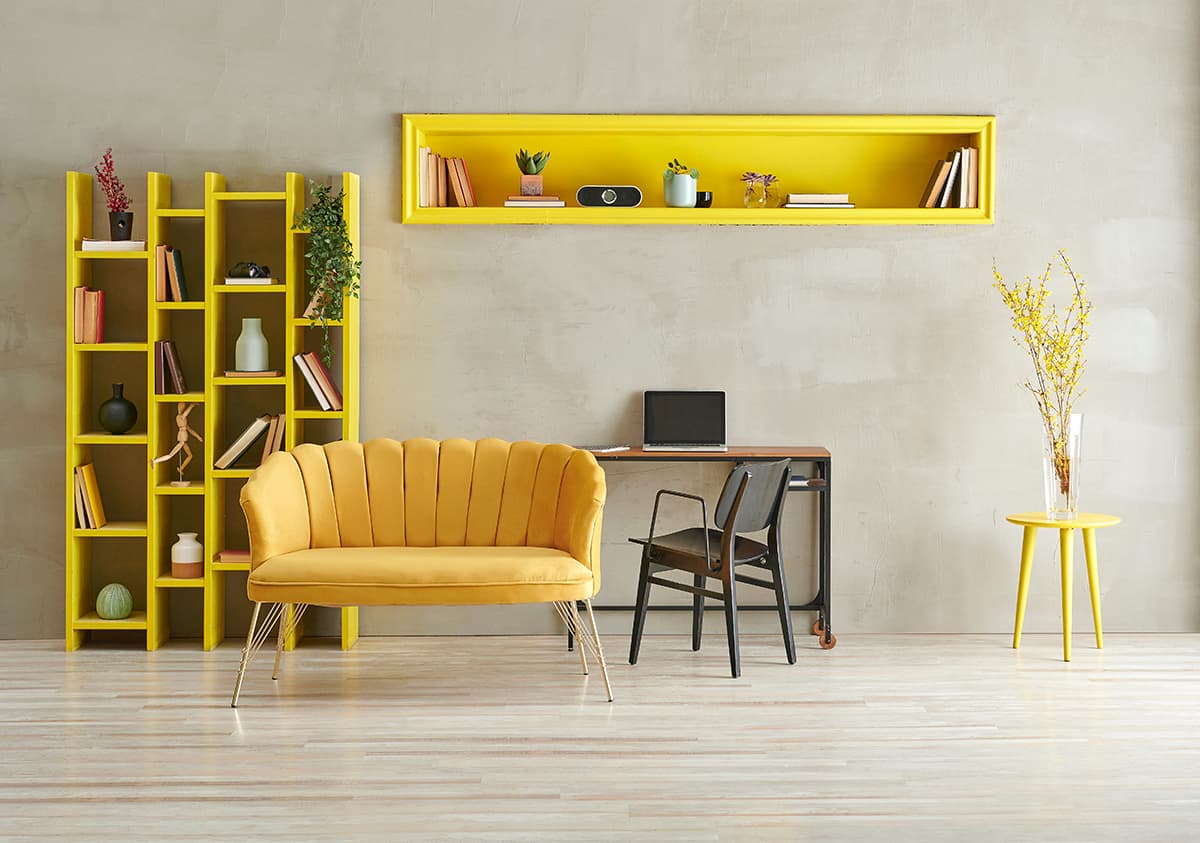 Yellow is a color that helps to brighten up gray and make it feel more lively, so if you want to add energy to your living room, then a yellow couch will work well against a gray wall.
This is a good choice for modern styles, especially in a room that feels too formal, because yellow adds a sense of fun and frivolity. Yellow and gray is a popular color combination for Scandinavian-style interior decor, but they can also work well in traditional and mid-century modern styles.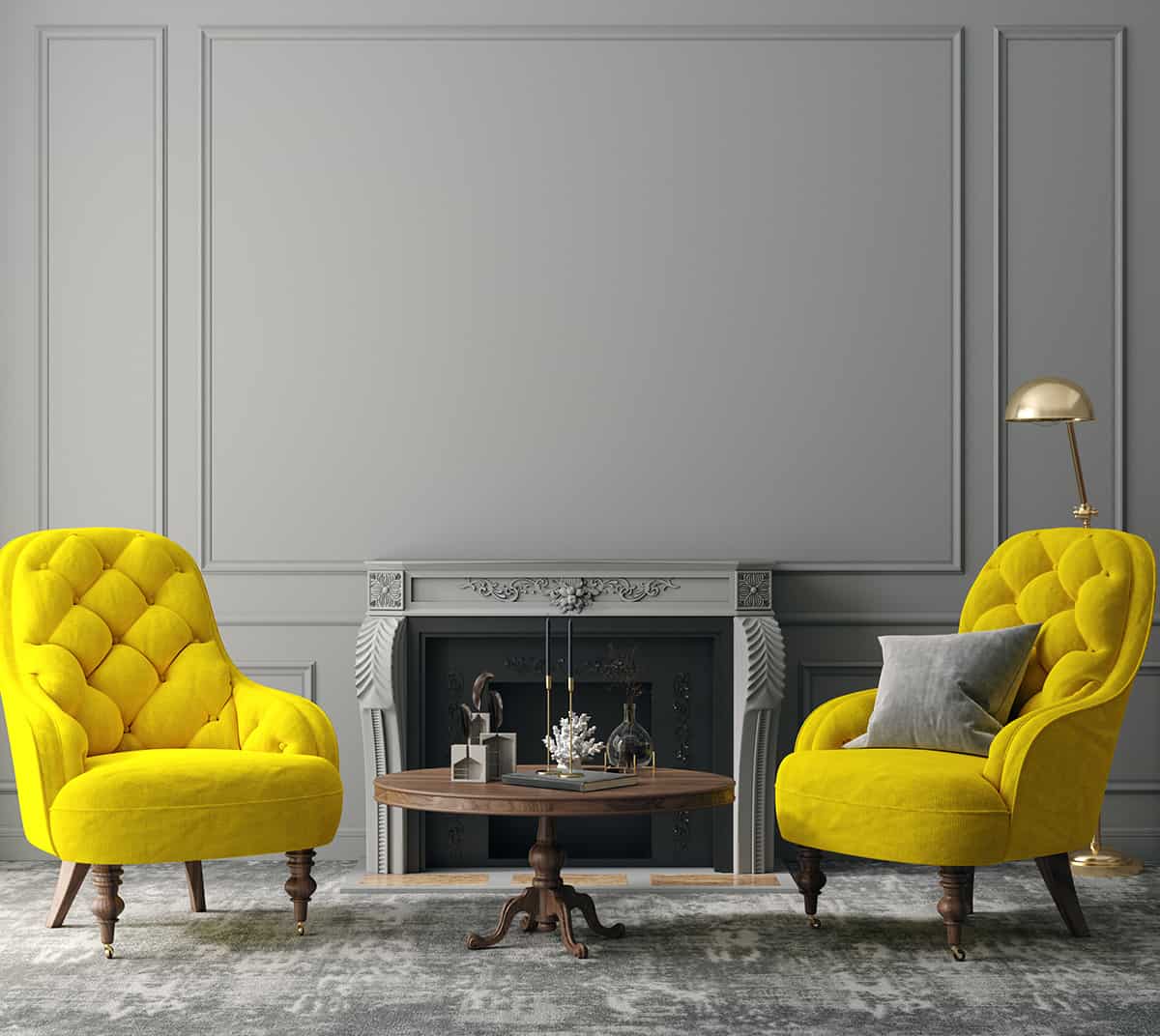 To help define the style of your room, you'll have to think about the style of the sofa as well as its color. Bright yellow is an uplifting color that can add vibrancy to a space, though darker golden or butterscotch shades of yellow can work to make a room feel more homely and welcoming.
If your walls are a dark shade of concrete gray, then consider choosing a mustard yellow couch in velvet for an indulgent feel. In light silver-gray rooms, a sunshine yellow faux leather sofa will look vibrant and eclectic.
Black
Black is a safe color choice with gray because gray is essentially black mixed with white to varying degrees, and therefore we know the two colors will go together. A light gray wall can look chic and monochromatic with a black couch, while a mid-gray painted wall can look formal and sophisticated with a black leather sofa.
In an office lobby environment, black sofas are often positioned near gray walls because they create a serious yet stylish look. It is possible to also achieve a more casual style with black sofas and gray walls if you opt for a plush sofa and a light gray painted wall.
If you are somebody who likes to change their color scheme frequently, then a black couch and a gray wall can work well because you can switch up your color scheme inexpensively with decor items in a third color.
For example, add red cushions and red candles, then switch these out for purple cushions and purple candles when you want a change of scenery. In this way, the black sofa and gray walls both act as neutrals that you can dress up.
Gray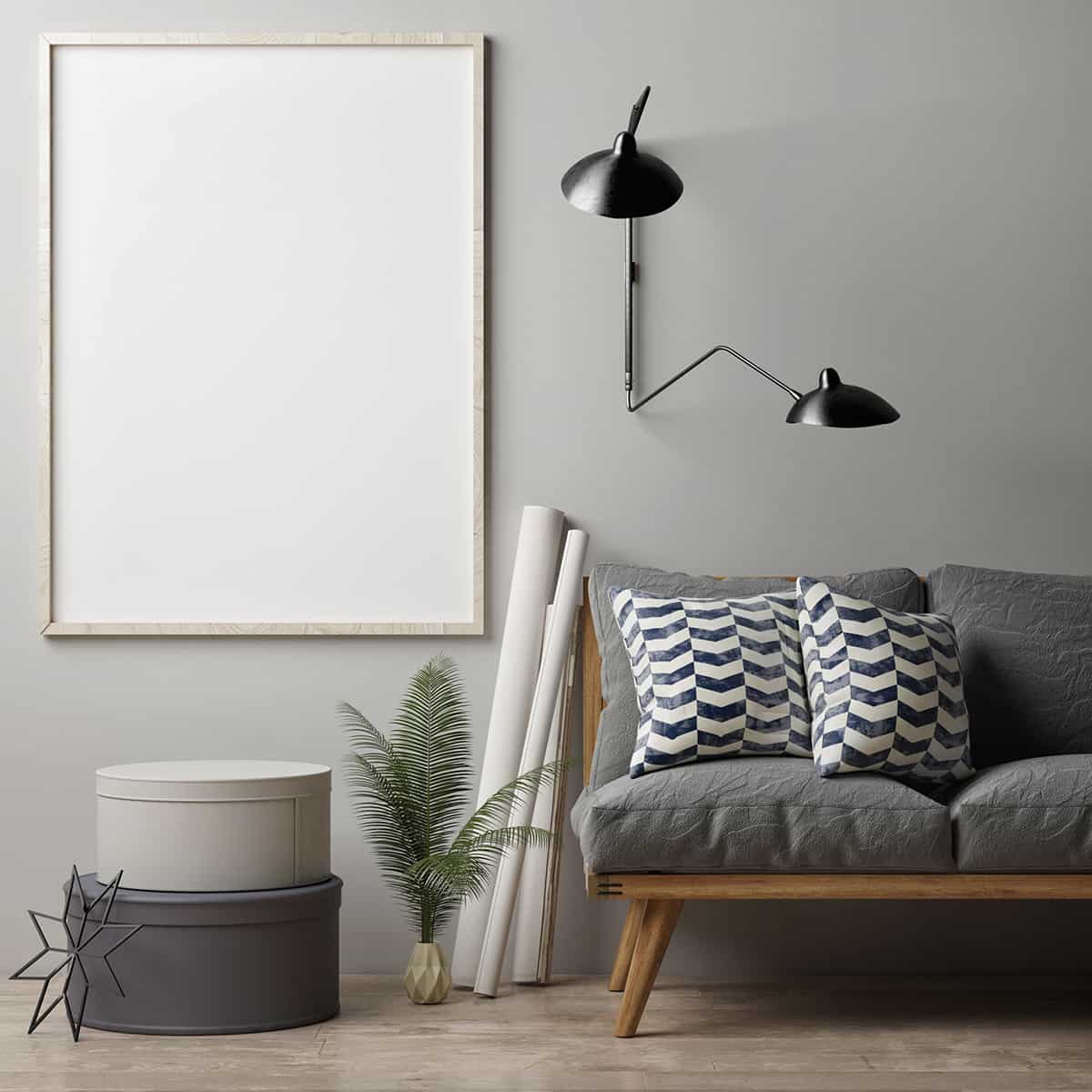 A gray-painted room with gray sofas can look chic and classy if you ensure there is enough contrast between the two shades so that they don't look flat. For example, a pale gray wall should be contrasted by a mid-to-dark gray sofa.
You can maintain a full gray color scheme by adding in further gray items to achieve a layered and contemporary style, or choose an additional color, such as yellow, for the odd splash of color on a rug or on plant pots.
White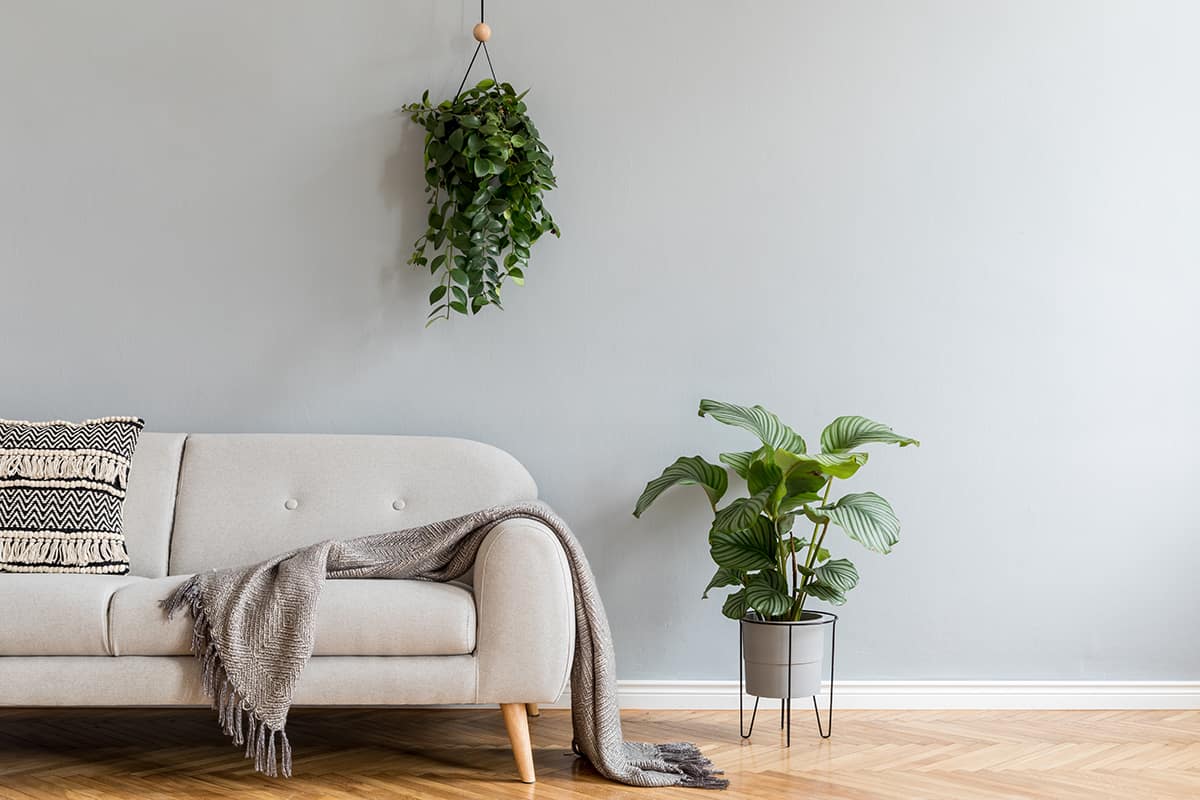 For a monochromatic look, opt for a white sofa against a gray wall. White sofas look beautiful alongside any shade of gray, from the palest off-whites to the darkest anthracite grays. A white couch on a gray background looks sophisticated and classic, though it may pose a challenge when it comes to keeping it clean.
If you love the look of white couches with gray walls, then choose a white leather sofa because these can be wiped clean and therefore present a much more practical option for families. A white sofa alongside a pale gray wall will create an open and airy feel, expanding the space, while a white sofa in a dark gray room will achieve a bold contrast and lighten up the space.
Brown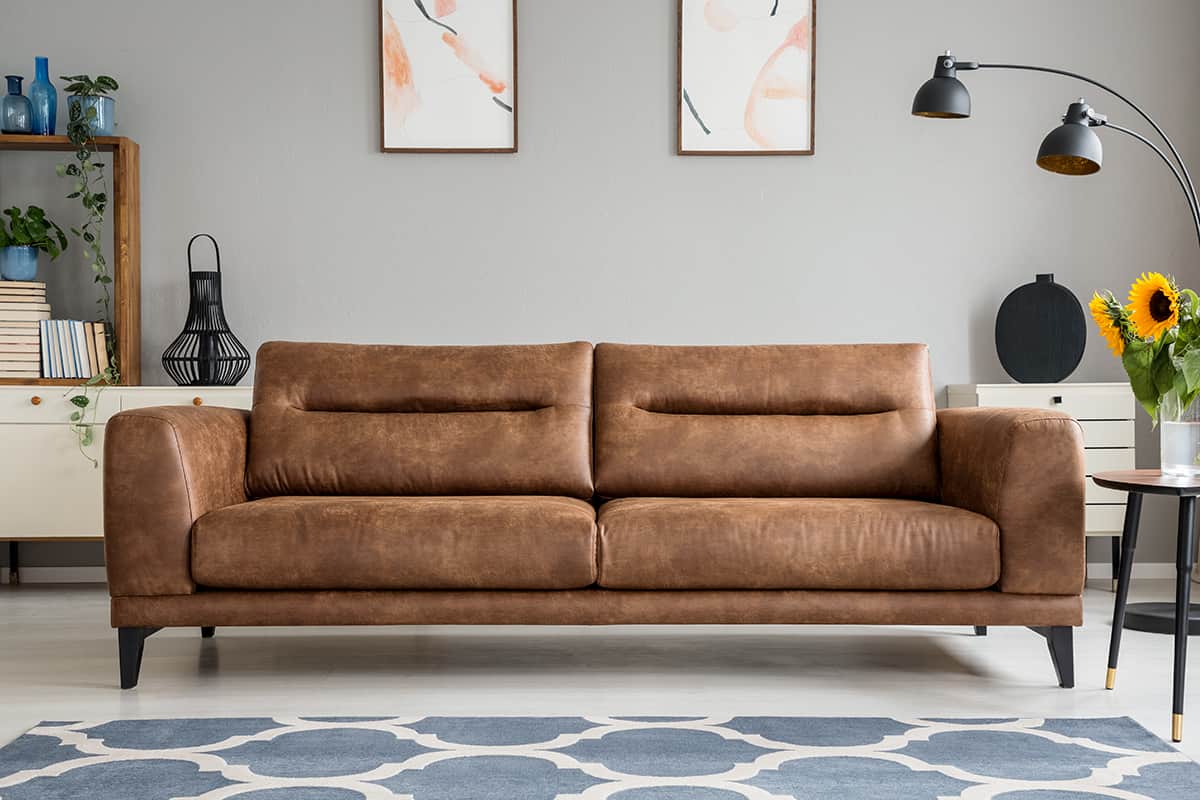 If your gray walls have a brown undertone or are bordering on 'greige' (a cross between gray and beige), then a brown sofa will go perfectly. This color combination will feel warm and welcoming and provide a comfortable haven for you to relax and unwind in.
Brown fabric sofas can create a cozy look, or for a more rustic style, choose a brown leather sofa and accent it with dark wood furniture. Tan-colored brown leather sofas against a gray wall blend modern and casual country styles together, while a dark brown leather sofa can feel more traditional or formal.
Also, brown sofas can be paired with other wall colors, such as white, beige, red, black, dark green, etc.
Orange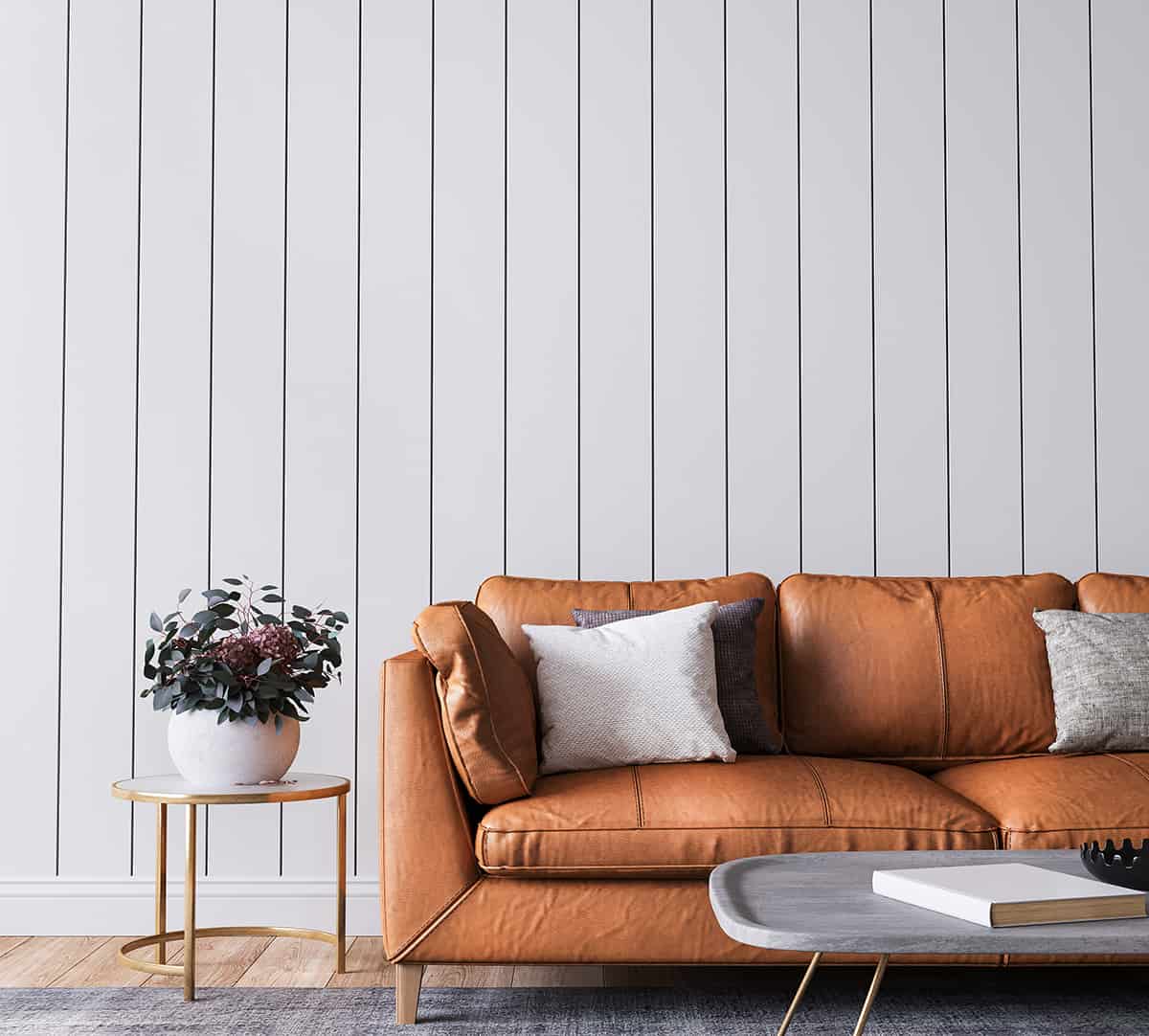 Orange and gray are a nice color duo because they provide a balanced contrast. The contrast is not too extreme nor too subtle, and the warmth in orange levels out the cool hues in gray.
For this reason, many people choose gray and orange as a color scheme in their home, introducing orange in small doses, such as with orange cushions and orange pots. However, if you want to make a bold style statement, then an orange couch against a gray backdrop will look spectacular.
Deep burnt orange or bright carrot orange work equally well, with darker orange shades creating a more comforting feel and brighter oranges adding more vibrant energy.
If you choose an orange couch, let it stand alone as the centerpiece in the room and avoid bringing in too many other, if any, orange pieces. Instead, accent the orange couch with more gray decor and touches of black, white, or beige.