If you're looking for an alternative to a traditional closet door, then you're in luck. Here we look into the many closet door substitutes to fit a range of budgets and styles, whether you're looking to replace a broken closet door or simply want to update your closet in a unique way.
Check out this list of closet door alternatives.
Curtains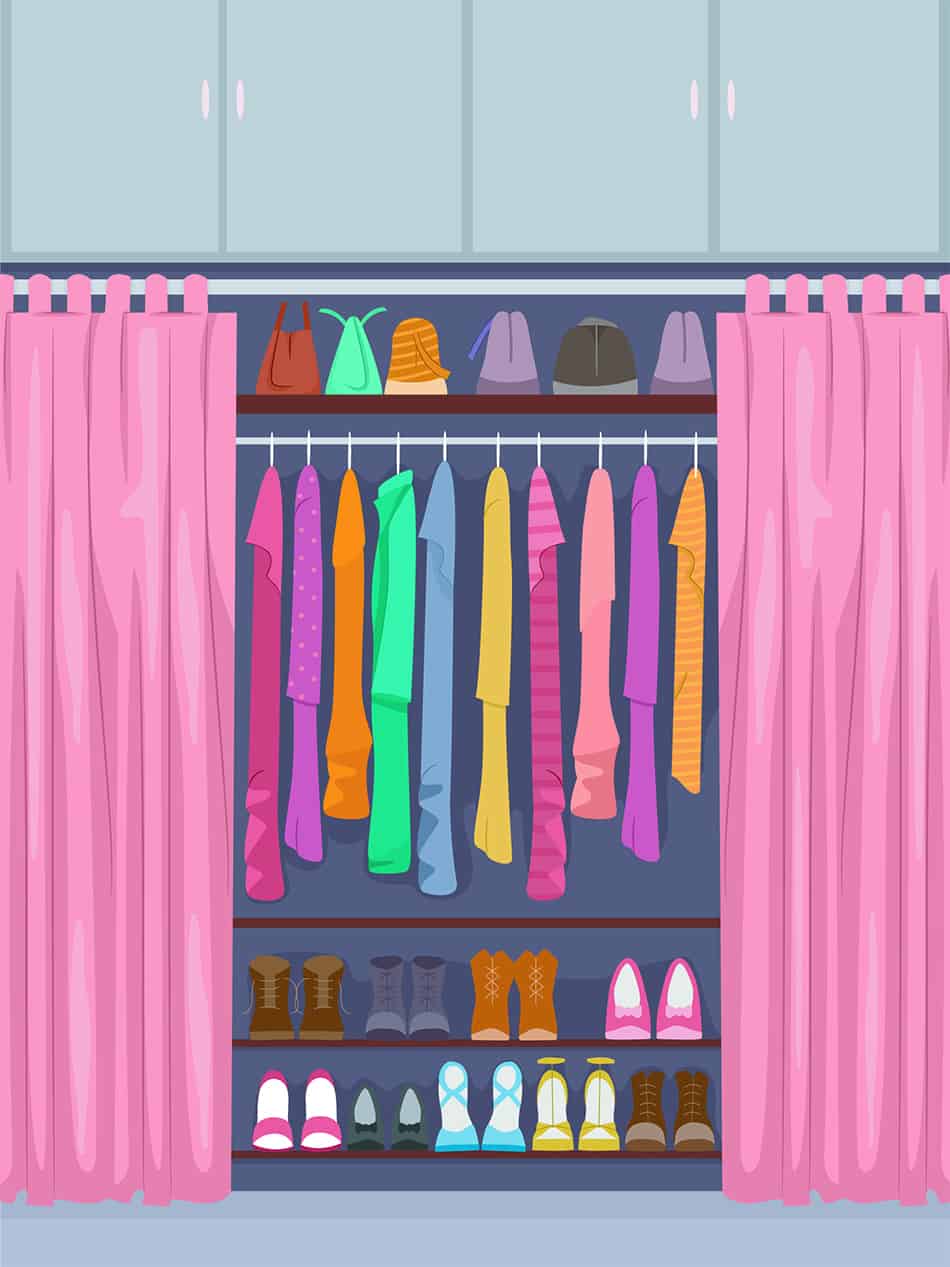 If you want to replace your closet door, then simply hanging a set of curtains to the outside of your closet is an easy and inexpensive idea.
This option is great because you can choose curtains that match the decor of your bedroom, potentially even buying the same curtains which you already have over your window to really coordinate your closet with the rest of the space. Doing this can make the closet curtains look like an intentional design choice rather than a temporary fix.
You can hang the curtains on a standard curtain pole or track, or if you want to make it even easier, you can use a tension shower rod. This works well in rented properties because it does not require making any holes in the walls to secure it, though you might face the inconvenience of it occasionally falling down if you get heavy-handed when pulling the curtains back.
Curtains allow you to access your clothes easily, and you can even use curtain tiebacks if you want to be able to hold the curtains out of the way while you browse your closet.
Curtains vary massively in price depending on the style, fabric, and quality, so if you choose curtains as an alternative to closet doors, you can well and truly adjust your options to suit your budget.
Curtains also come in a wide variety of dimensions but ensure you buy the full-length size so that the curtains fully cover the content of your closet. If you have a wide closet, you'll need a pair of curtains, or possibly more, while slim closets can make do with just one curtain panel.
Shower Curtain
If you want to add some character to a bedroom, then you can look at shower curtains as an alternative to closet doors. Shower curtains come in such a huge variety of patterns and styles, often depicting photographs, paintings, or murals.
This means they work well if you want something more interesting to look at. In a children's bedroom, you could use a shower curtain that depicts a circus scene, a fairytale castle, or the 'ABCs' to help them learn their alphabet. The shower curtain can be hung from the top of a closet with a shower pole or a curtain rail.
Choose a shower curtain that is fabric rather than a plastic one, as these don't hang as well and can look very obviously like they belong in the bathroom. Shower curtains are a good budget choice because they typically cost less than regular curtains, and they will be water-resistant and therefore easy to clean and dry.
Sheer Drapes
Sheer drapes made from voile or lace make a soft and romantic alternative to closet doors. They add a nice texture to a bedroom which makes it feel more relaxing and luxurious compared to heavy curtains or solid closet doors.
Sheer drapes can be hung from the top of the closet using a tension rod or curtain pole. They can even be pinned in place overhead using push pins if you don't need them to glide open, and instead, you can just shift the drapes to one side when you want to access your closet.
Sheer drapes do not completely block out the view of the contents of the closet because they are slightly transparent, but they do distort the view and prevent the inside of the closet from intruding on the look of the room. Sheer drapes tend to be more cost-effective than regular curtains, and they come in a number of colors.
Macrame Curtain
Macrame is a type of crafting which has become increasingly popular over recent years and is now considered to be trendy in interior design. Macrame fabric is achieved by knotting the cord in a specific way. It can then be used to make cushion covers, throws, and even hanging plant pots.
If you want to try your hand at macrame, there are plenty of tutorials on YouTube explaining exactly how to get started and explore this fun craft. One of the things you can do with macrame is make a piece of fabric that can be used in place of a closet door.
A macrame curtain made at home can be completely customized to match your interior and your style. You could use any color of cord you want and even incorporate beads or hanging shells. A macrame curtain on your closet will lend a boho feel to the room and give it a quirky character.
The nature of macrame fabrics is that they are not solid, so you will be able to see through the curtain to your closet, but it will help to distract you from the contents and give you something pretty to look at. A macrame curtain can be achieved on a very low budget if you can make it yourself, as you will only need string or cord.
Hanging Beads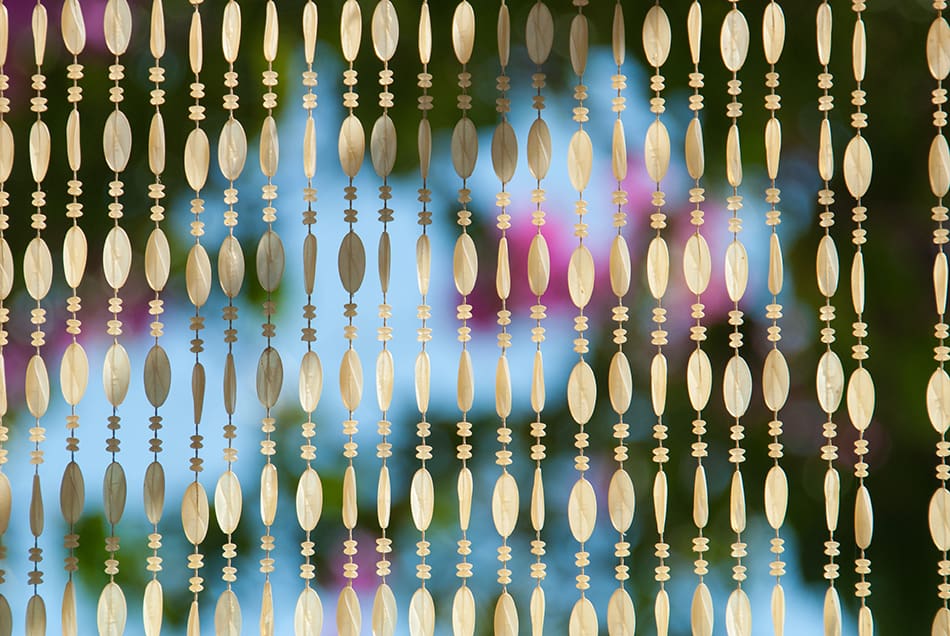 Hanging beads have fallen out of fashion over the last few decades, but if you are drawn to the aesthetic of this type of curtain, then there's no reason why you can't use it as an alternative to a closet door. Hanging beads are made from long pieces of string, which are covered in beads and dangle in vertical rows from an upper main component that holds it all together.
These types of curtains were once very popularly used to hang inside the door of property entryways, especially back doors. This meant that the back door could be left open throughout the day during summer to allow cool air to circulate into the property while preventing flies and other insects from getting into the home.
They work well as closet door alternatives because they create a nice draped look that hides the interior of the closet. They are easy to hang in place with pins or a staple gun and easy to pull back in order to access clothing. If you are going for a laid-back, coastal, or oriental interior decor style, then hanging beads can complement your room.
The drawback of hanging beads is that they are heavy, and so can fall down if they are not fixed securely to the outside of the closet frame. They can also be noisy when the beads knock against each other, which might become annoying if you sleep with your windows open to feel the breeze.
Saloon Doors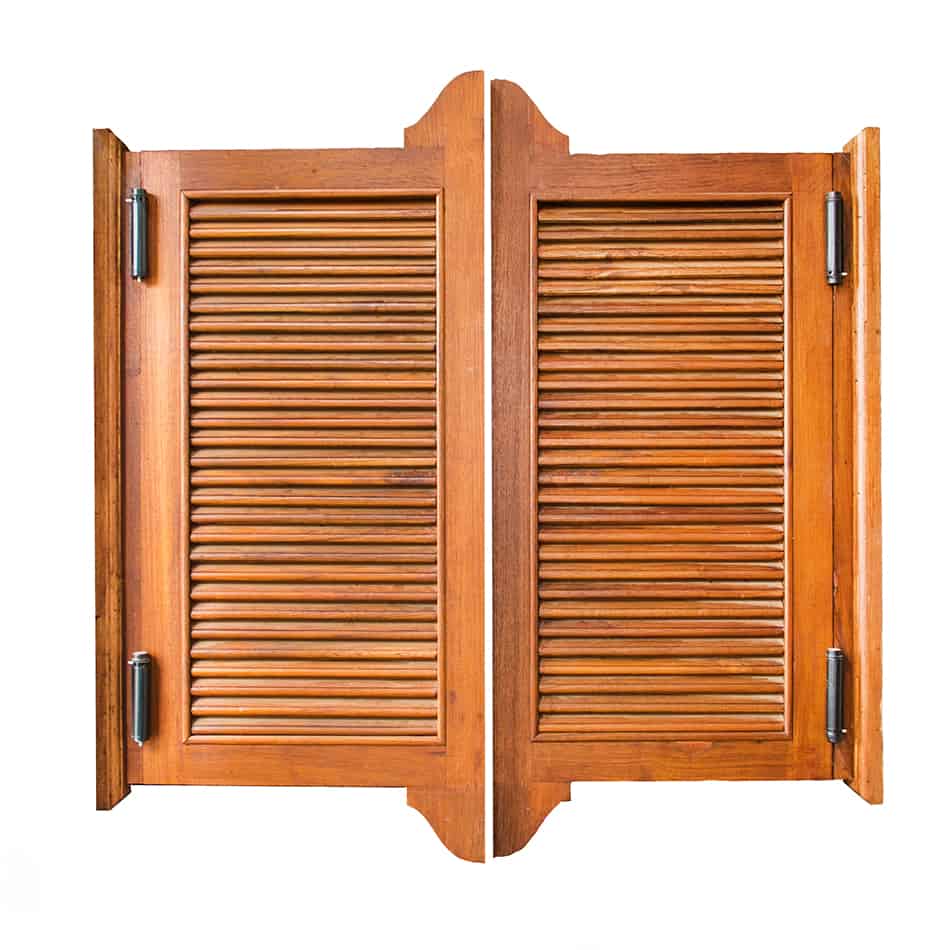 Saloon doors are also known as swinging doors and are synonymous with wild west saloons. They operate on hinges that allow them to swing forwards and backward, coming to a resting position when closed.
Saloon doors can make a fun feature in a bedroom, but they won't completely hide the contents of a closet as they do not go from floor to ceiling and instead will cover the area, which is roughly knee height to shoulder height.
Room Divider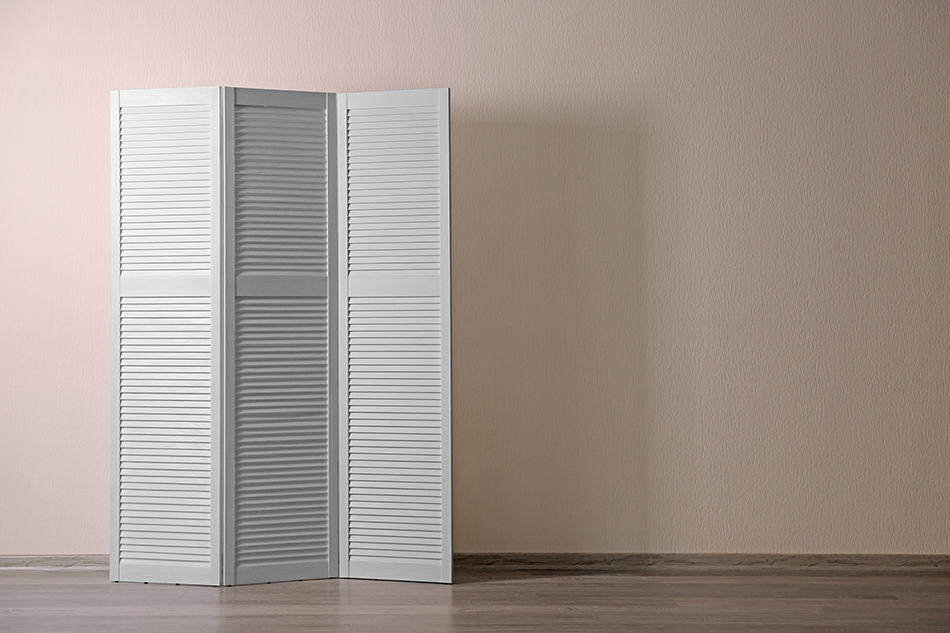 A room divider is a good alternative to a closet door if you don't want to permanently attach something to the frame of your closet. Instead, a room divider is a freestanding piece of furniture that can be made from wood, metal, wicker, or even fabric.
Room dividers usually feature three or more panels that are fixed to each other using hinges, allowing the divider to fold concertina style and giving it stability to stand up unassisted. Room dividers can hide the contents of your closet well, but it might become annoying over time to have to continuously pick up the room divider to move it out of the way so you can access your clothing.
Room dividers come in a range of styles and designs so they can be coordinated well to the interior design of the room. As they are a stand-alone piece of furniture, you can always find another space for your room divider if it no longer serves you well as a closet door alternative, and you can take it with you if you move to a different property.