When you think of the color teal, what comes to your mind? Blue, green, purple, navy? Teal is a combination of all these tones and much more. This blueish green color has so much depth that's awaiting to be discovered. Whether you use teal with warm or cool shades, it can make a modern or traditional living room extra cozy and stylish in all the seasons of the year. If you're considering adding teal to your living room decor, you should first learn about what colors best go with this mysterious shade.  
What are the Best Color Combinations that Work with Teal? 
Black and white

: teal with black and white colors work especially well in contemporary design living rooms.

Mustard yellow

: a darker shade of teal will work great with mustard yellow, especially if you use the two combinations as accent colors.

Grey

: this neutral tone is a contrasting shade against teal. In a modern living room, for example, grey walls can be paired with a bright shade of teal for the sofa to make it stand out.

Gold

: metal finishes like gold make beautiful finishes in a teal living room. For example, in a rustic living room, you can hang a gold mirror and gold chandelier to contrast to teal.

Cream or beige

: this is another neutral tone that goes with almost every other shade. Beige accents in a teal living room emit warmth and soften the dark shade of teal. For example, teak throw pillows on the sofa next to beige pillows work instantly to create a warmer and more inviting seating area.
Now that you have a basic idea of the best colors that work with teal, you're ready to scroll through these 13 teal living room examples. I'm sure by the end of this article, you'll be convinced that teal is the best shade for your home. 
1. Accessorize with Teal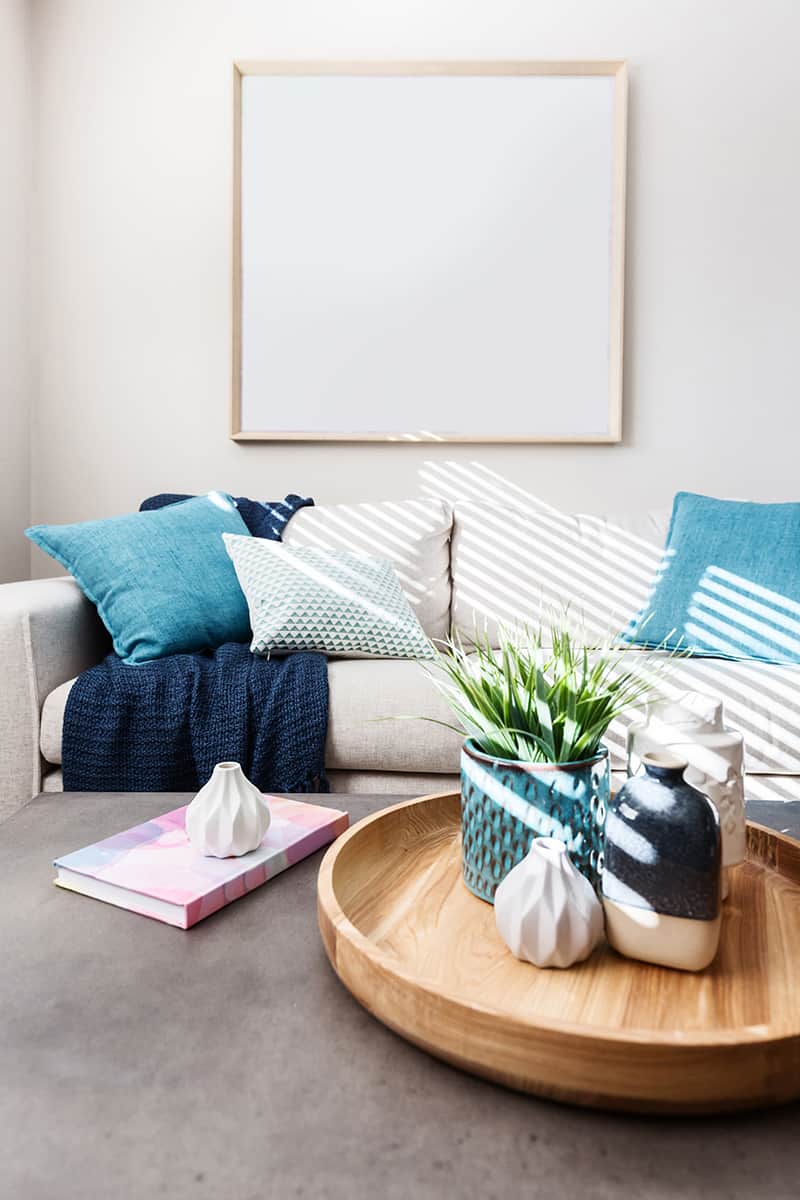 Teal accessories in the living room help add a dash of color to a neutral decor. Bursts of light teal and dark teal pillows with matching throw blankets mean you can introduce this color to your living room without overwhelming it. A subtle backdrop will make the teal accessories stand out even more as shown here. See how splashes of light and dark teal are incorporated into this room as one of the fail-safe options for using teal.
2. Teal Furniture in a Sleek White Backdrop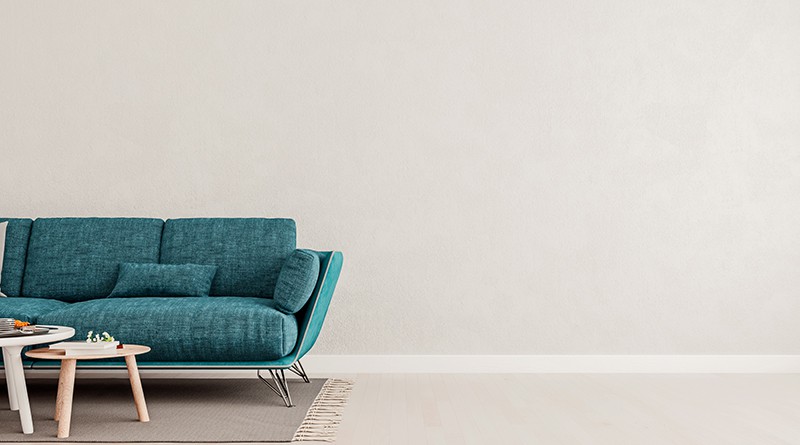 Whether you choose a dark or light shade of teal for your furniture, when it's placed against a white backdrop, it can truly stand out. A teal sofa can be the ultimate statement, especially when it's made of a sleek material or it looks ultra comfortable. To play it even cooler, add white vases and other decorative elements to enhance your teal furniture.  
3. Teal and Grey for Lustre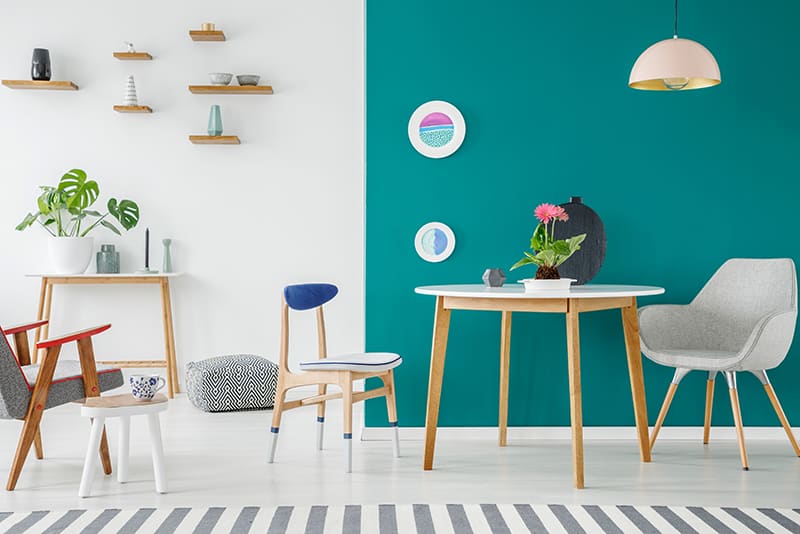 The safest way to add teal to a living room is when the room is furnished in grey. This neutral color works perfectly with teal as it softens the tone. See how the grey wall next to the teal wall has made a statement in this minimalist and modern living room. The grey and white furnishings with hints of teal blend beautifully here. You can achieve the same look by painting half of the wall in teal next to the grey or white wall. A combination of charcoal grey and dark teal also work well here by creating drama. The overall effect will look lustrous and polished.   
4. Dark Teal and Yellow for a Dash of Color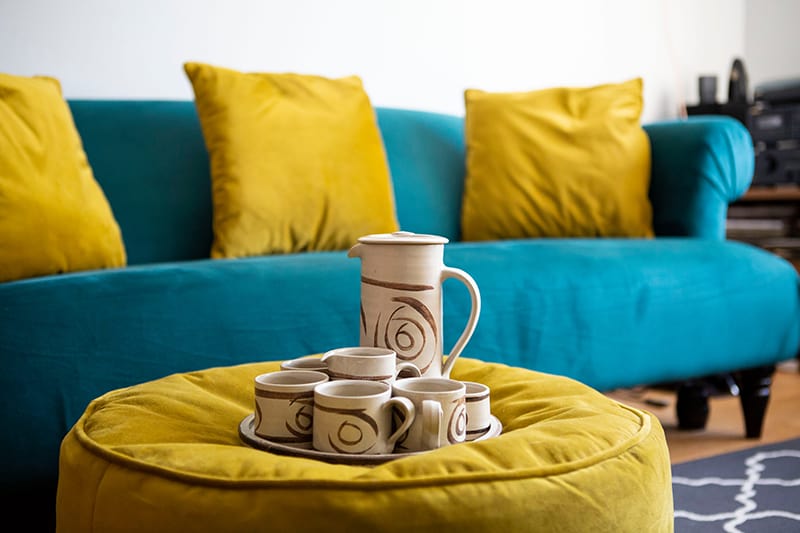 To add a dash of color to your traditional or modern living room, refer back to our list of the best color combinations. Mustard yellow is one of those shades that works well with dark teal. A teal sofa with mustard yellow cushions and a yellow ottoman or footstool adds a sophisticated finishing touch to the living room as shown in this image. You can even add a few more bright yellow accessories, such as a rug or curtain to contrast with teal.
5. Teal and Brown for a Toned-down Look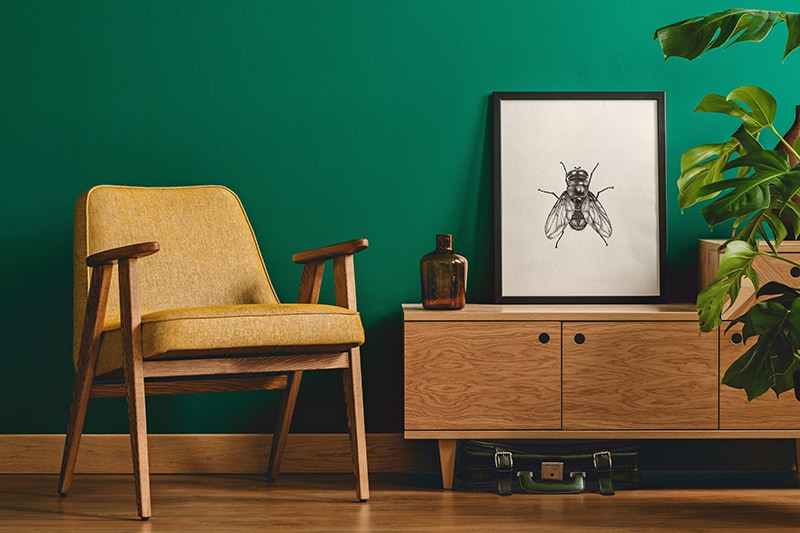 A more toned-down idea to mustard yellow would be light brown with a subtle shade of yellow. In a classy, minimalist living room, a light brown dresser with a modest yellow chair provides an earthy option. If you're not keen on a neutral tone like grey or white and you want to make your room look more stark, consider painting the wall a shade of teal that leans more towards green.  
6. Teal and Wood for Character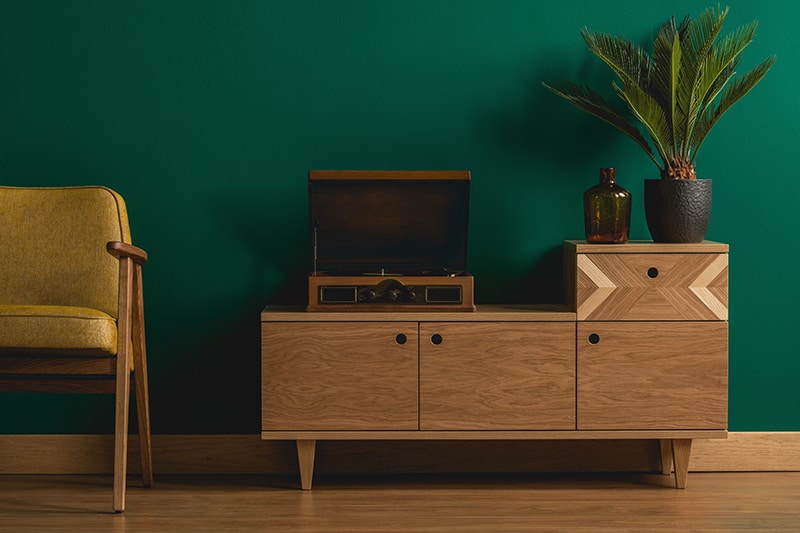 On a similar note, the green shade of teal for the wall will work equally beautifully with wooden furniture. Wood is a shade of brown that contrasts teal as a dream composition. In a retro-style living room with minimal furniture, the teal wall will stand out just like shown here.  
7. Teal and Gold for Glow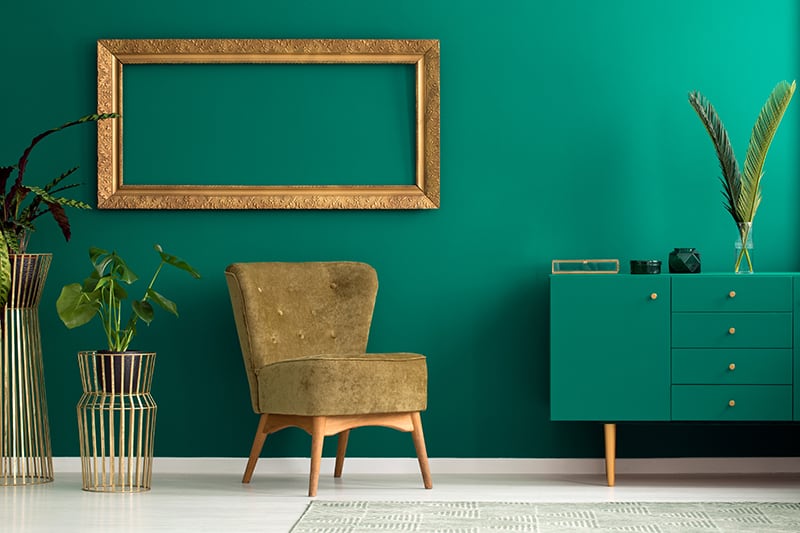 If you recall, I previously mentioned gold being a great color combination with teal. You can use golden decorations in your teal living room to bring out the opulence. See how the teal sideboard and wall have made the golden vases and gold frame on the wall all the more apparent in this living room.  
8. Just a Hint of Teal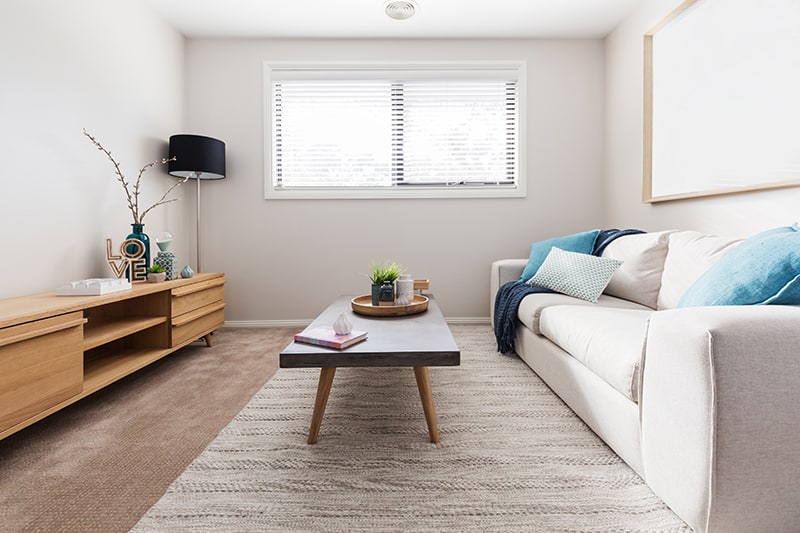 You don't necessarily have to use teal as the main color in your living room. By simply adding small teal accents like vases or cushions throughout the neutrally decorated room, it can work just as beautifully. This Scandinavian style living room boasts teal accent cushions that enhance the overall look of the room. The bright teal color on the cushions here has given an impeccable look to the entire room, don't you agree?  
9. A Darker Shade of Teal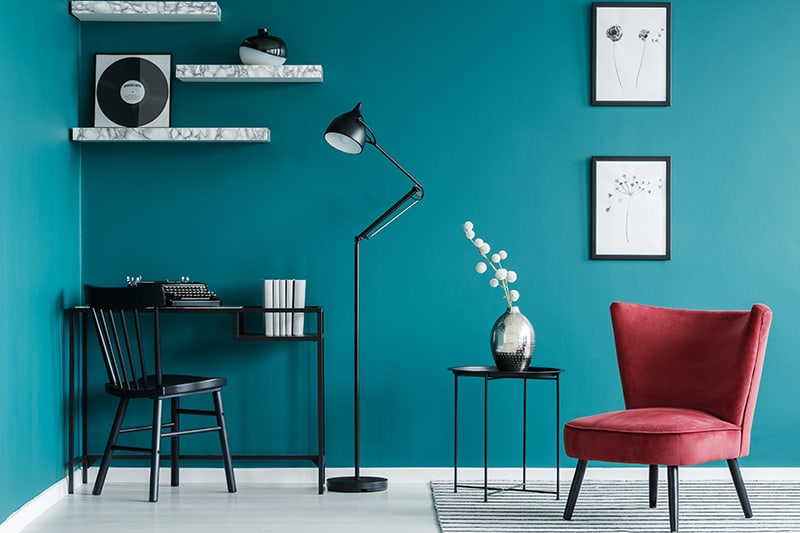 A dark shade of teal can accommodate a stylish living room corner, especially when it's combined with a bold red chair and black metallic furnishings. Teal shows its best quality in black and white rooms. A combination of all these will look elegant on a living room corner, whether you use it as your workspace or just for reading. See how the red chair has provided a glam tone to the teal wall. The black and white display of furnishings truly stands out here.   
10. A Lighter Shade of Teal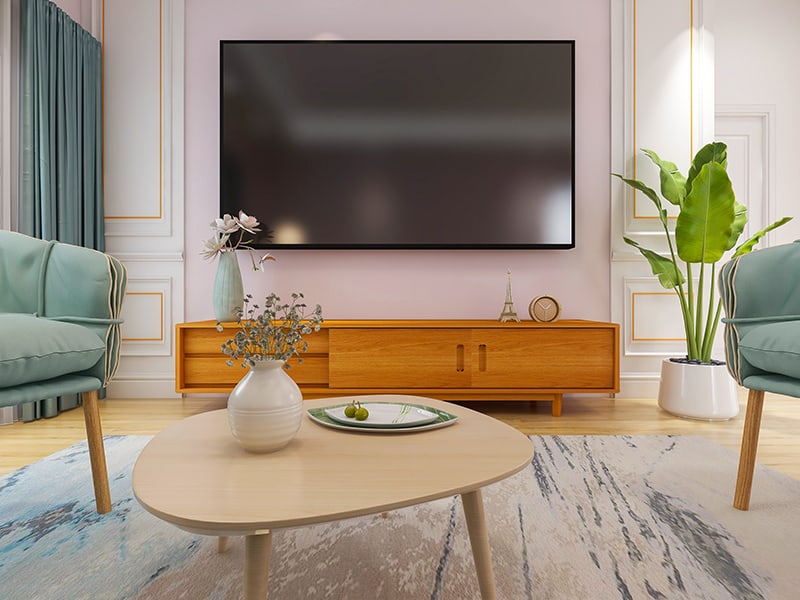 A light shade of teal can soften the living room decor. This shade is especially elegant in a complementing modern living room. Apply the color on the curtains and the seating as per this picture for a stylish and cool look. For extra mildness, add neutral furnishings with hints of yellow and light brown. You can see how the cool shade of teal here has created a contemporary feel to the living room. Adding a green plant has made this room even more stylish as teal is a mixture of green too.   
11. Create a Teal Focal Point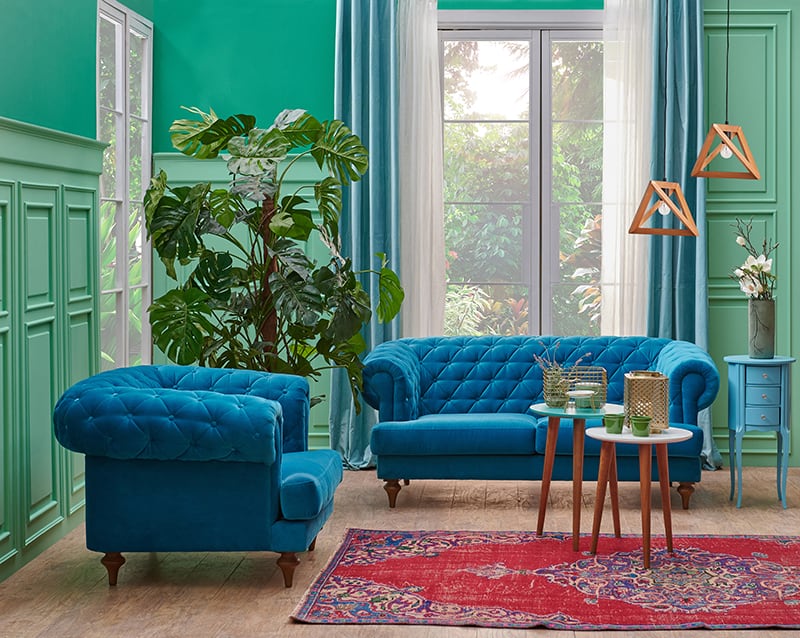 Transform your living room into a warm and inviting seating area by introducing teal as the focal point. It can be applied for the furniture as seen here. Teal is, after all, a shade of blue and green so what better way to match it with a green wall than a bluish shade of teal for the sofas and side table. If you think the color is just too dark, soften the tone by adding a red rug and green plants. Choose wooden flooring for warmth and place modern, small tables in the middle of the room. This will make the sofas stand out as the focal point of the room.   
12. Teal with a Blend of Bright Colors

In an eclectic style living room, teal can feel very intense, but not if it's combined with bright tones like yellow, red, orange, and green. In fact, you can add as many colors as you like for the cushions, floor covering, throw blanket, wall decor, and others to complement your teal wall art and furniture. This stylish living room has a mix of bright colors that blend beautifully with teal. This idea is perfect for those who are daring enough to experiment with brightly colored decorations.  
13. Grey and Teal for a Nautical Look
Grey may not be the obvious choice for a coastal themed living room, but when it's paired with teal accents like the cushions seen here, it can work perfectly as a nautical theme. Another color you can use with teal to create an ocean themed living room is blue or navy with white accents.